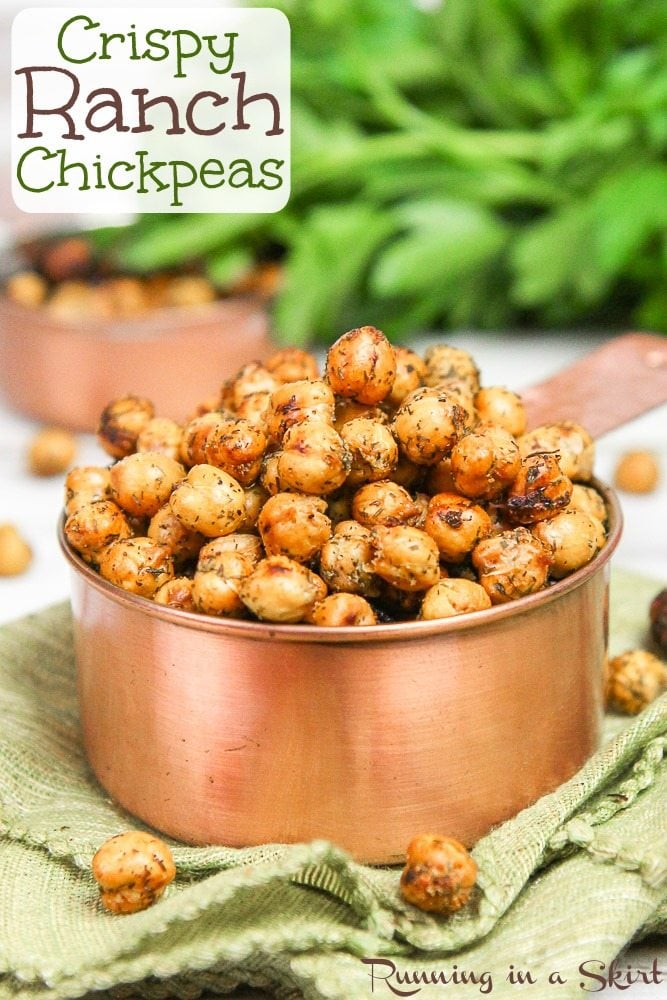 My Crispy Ranch Chickpeas recipe is a perfect healthy savory snack. Roasted to perfection these humble garbanzo beans are popping with ranch flavor and will remind you of eating your favorite chips!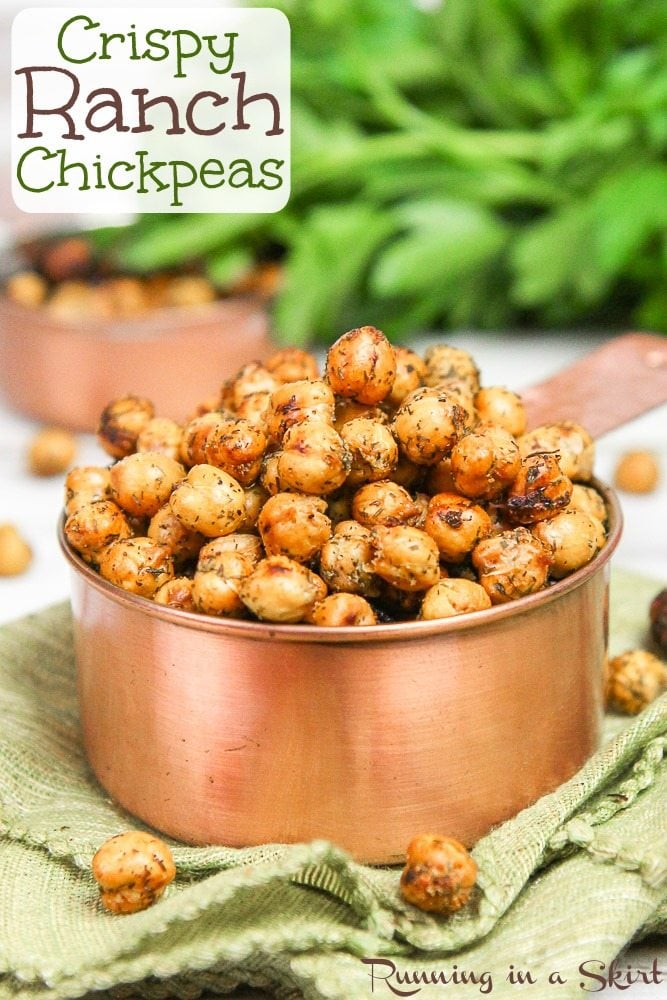 Crispy Ranch Chickpeas
More than often I get the dessert menu and pass, but put a basket of salty chips or crackers in front of me and I generally will have very little willpower to stop munching. Sure... I love sweets and chocolates as much as anyone... but it's the salty treats that can often be my downfall. If you are like me these Crispy Ranch Chickpea will totally win you over.
I love creating salty, crispy, and crunchy treats that are actually good for you. This healthy Crispy Ranch Chickpeas recipe may look a little funny... but these little bites taste amazing! They are perfect for watching a movie, midday munching, or even a fun healthy addition to your Super Bowl party menu. Or even in my Roasted Cauliflower Salad with Crispy Chickpeas & Tahini Dressing.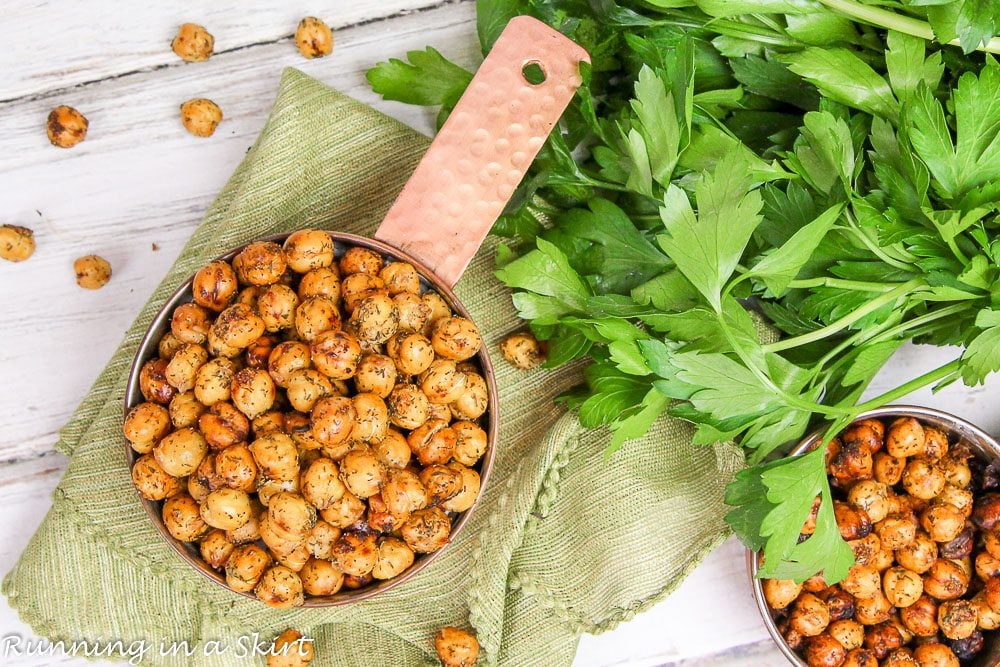 Why You'll Love These Roasted Ranch Chickpeas...
These Crispy Ranch Chickpeas recipe could not be easier. They are simply made with two budget-friendly cans of chickpeas which are also called garbanzo beans. To get the ranch flavor I created my own blend of simple spices. The list looks long, but it's stuff you most likely already keep in your pantry like garlic powder, onion powder, and thyme.
If you are looking for a shortcut you could easily swap out my blend of ranch seasoning with one of those ranch packets at the grocery store.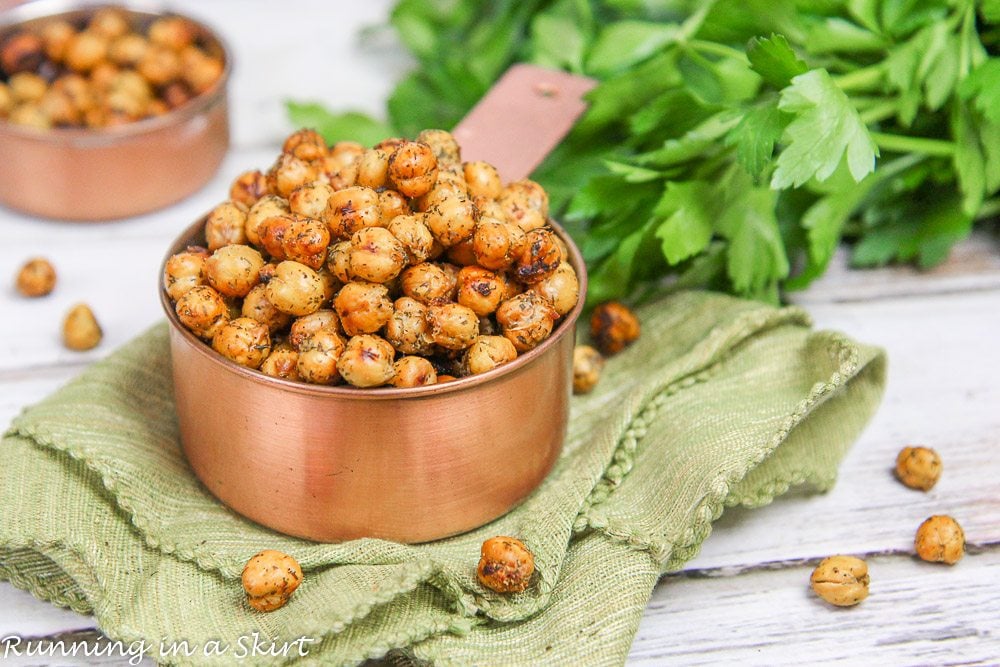 Ingredients in the Recipe:
Here's what you'll need to make these crispy Ranch Chickpeas.
Canned Chickpeas or Garbanzo Beans: These canned beans make the perfect base for crispy chickpeas.
Olive Oil: You will need just enough oil to coat the chickpeas so your spices stick and the chickpeas turn crispy.
Ranch Spice Blend: Dried Dill, Garlic Powder, Onion Powder, Dried Parsley & Dried Thyme
Salt & Pepper
How to Make Ranch Roasted Chickpeas:
Here's an overview of how to make my Ranch Chickpeas but keep reading to see the full recipe.
Rinse and drain your canned chickpeas.
Place them on a paper towel to allow them to dry. Allow them to sit for awhile so they dry out.
Toss the dried chickpeas in olive oil and ranch seasoning.
Roast the chickpeas at 425 for 40-45 minutes. Watch them carefully and pull any of the chickpeas out that are starting to burn.
The result is a super flavorful snack that could not be easier to make and are perfect for when your next salty snack craving hits. They are perfectly poppable.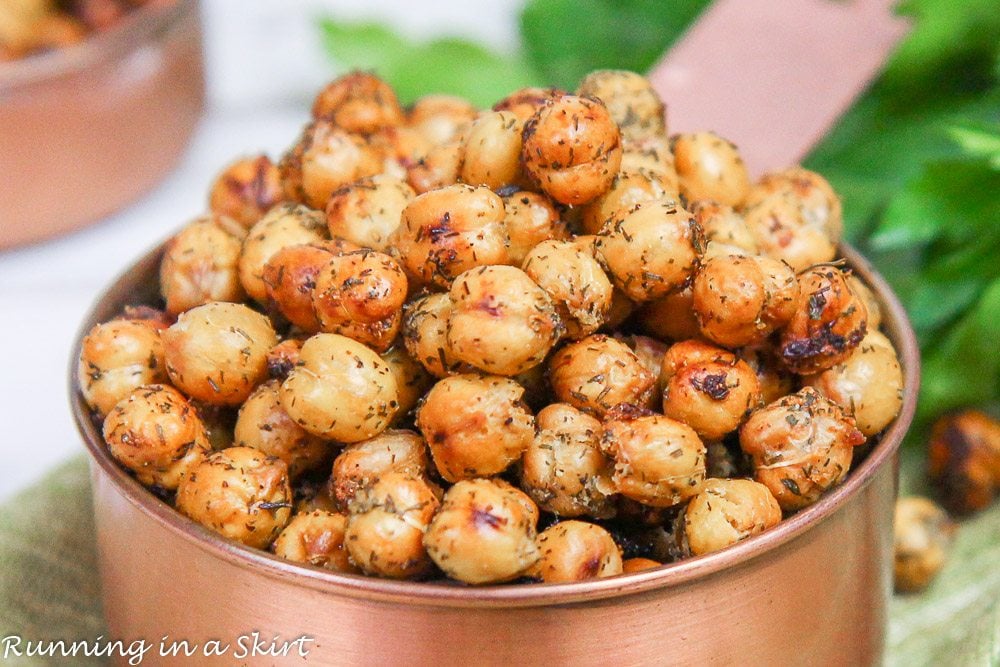 FAQ & Tips
To make your Ranch Chickpeas extra crispy remove the skin (husks) on the chickpeas. You do that while they are drying by rolling them around on the paper towel. The skin should come right off. It'a bit tedious but makes your chickpeas super crispy.
The baking time for your chickpeas might have to be adjusted depending on the brand of chickpea you buy and how much moisture is the garbanzo bean. It's best to check on your roasted chickpeas often while they bake so you can get them really dried out but not burnt.
Making garganzo beans or chickpeas from scratch is great, but canned chickpeas work best for this recipe because they have less water content.
You can also substitute your favor Ranch Packet for my seasoning blend.
Why Are My Chickpeas Not Crunchy?
You need to roast your chickpeas long enough in the oven. If just a few start browning pull those out and keep the rest of the pan in until they really dry out. Removing the skin on the chickpeas can also help. The drier you get the chickpeas before roasting the crispier they will be. I will leave mine on the counter for a few hours to dry out.
How do store the chickpeas?
These Ranch Chickpeas store well in a storage container that is vented or leave the lid cracked. They are best the day you make them but can be stored in a dry pantry for up to a week.
My Roasted Chickpeas are a completely guilt-free, whole foods snack that even has protein! My Crispy Ranch Chickpeas recipe is pretty darn addictive too. You'd struggle to just eat one.
Give these a chance for Super Bowl weekend and add them to your menu! Or if football isn't your thing, try them for your next movie night. Either way, I promise they will be a hit.
More Crispy Roasted Chickpea Recipes to Love:
If you make this recipe, I'd love to hear what you think! Leave a comment and a star rating ★ below. Make sure to follow me on Instagram, Pinterest, and Facebook too!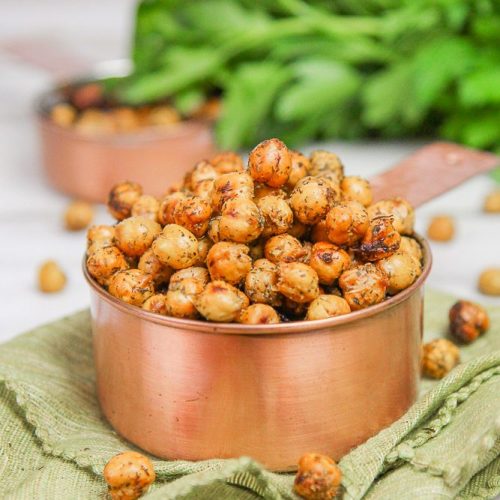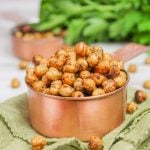 Crispy Ranch Chickpeas recipe
Oven roasted, healthy crispy ranch chickpeas are the perfect snack!
Instructions
Put the chickpeas on a paper towel and dry well. Allow to sit and air dry until the moisture is gone. The drier you get them the crunchier they will be.

Preheat the oven to 425 degrees.

Toss the dried chickpeas with the olive oil, spices and salt. Spray a cookie sheet with cooking spray and pour the chickpeas in a single layer on a cookie sheet.

Bake for 40-45 minutes or until crispy.  Halfway through pull the pan out and shake it to toss them.
Notes
These Ranch Chickpeas as a snack or on top of a salad.
Nutrition
Calories:
229
kcal
Carbohydrates:
33
g
Protein:
12
g
Fat:
7
g
Saturated Fat:
1
g
Sodium:
924
mg
Potassium:
379
mg
Fiber:
11
g
Sugar:
1
g
Vitamin A:
97
IU
Vitamin C:
1
mg
Calcium:
106
mg
Iron:
4
mg
Pin for later