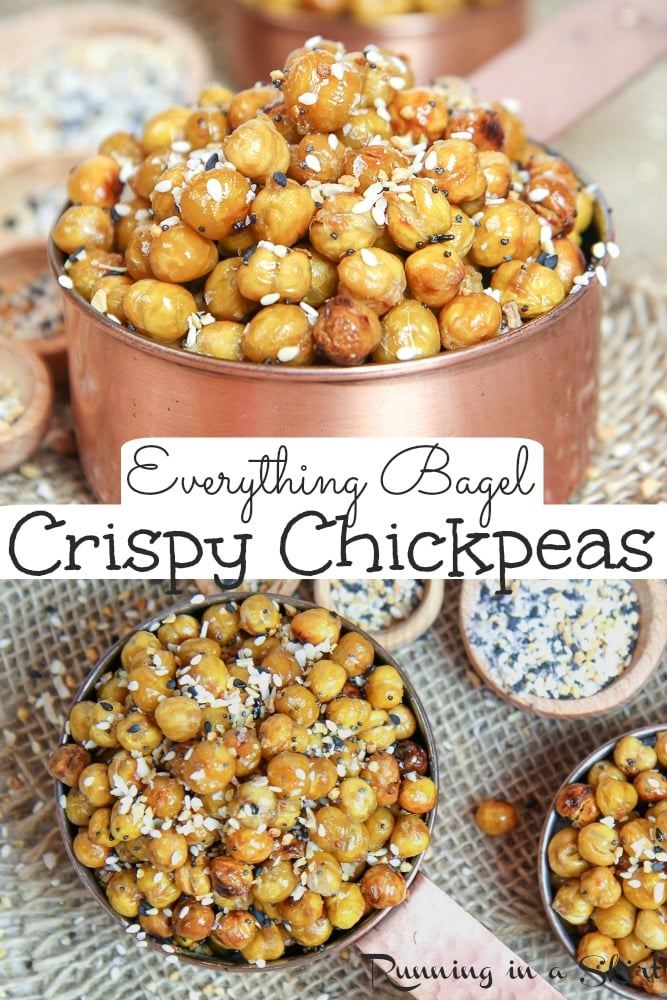 Get snacking with my Roasted Everything Bagel Chickpeas recipe!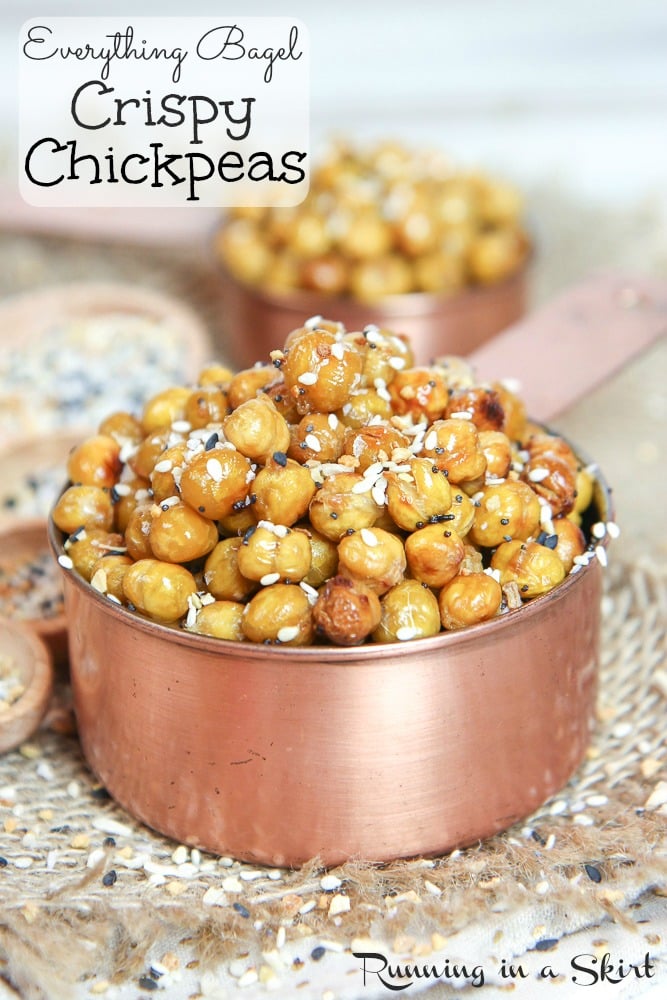 Hi guys!
I've shared with y'all my love of everything bagels before and now I've officially turned the twins into bagel-addicts too. I started giving them more of the same food we are eating instead of specifically plain or bland food and so far they haven't missed a beat. It's certainly making food prep a little easier.
That means on Saturday morning they are getting the same eggs and everything bagels (Cut into small pieces... of course) we are eating. I wasn't sure if they would like all the spices, but they really do! I guess we are just an EVERYTHING family. Whether it's on bagels or part of my Homemade Everything Bagel Spice Blend everything seasoning is so versatile and yummy.
Now it might be a while before the boys can chew crispy chickpeas... but I'm pretty sure they will love these when they can. So if you are an everything loving person to, you are going to love my Roasted Everything Bagel Chickpeas recipe!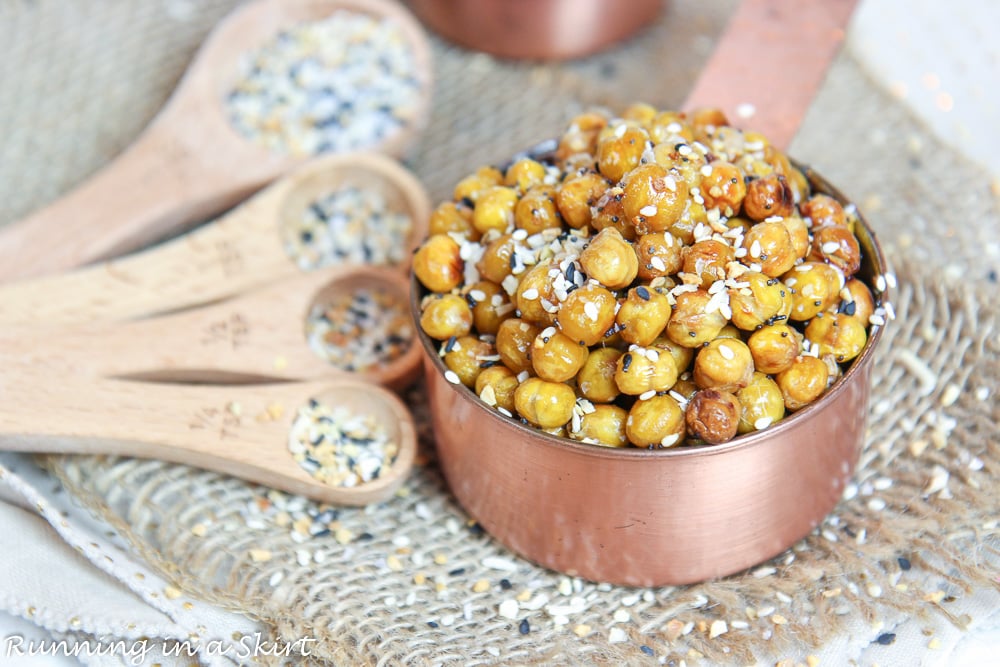 Why You'll Love this Roasted Everything Bagel Chickpeas recipe...
If you are a snacker, roasted chickpeas are the BEST! They are super simple to make and a great source of plant-based protein. They totally satisfy that salty chip craving without actually going for a bag of fried chips.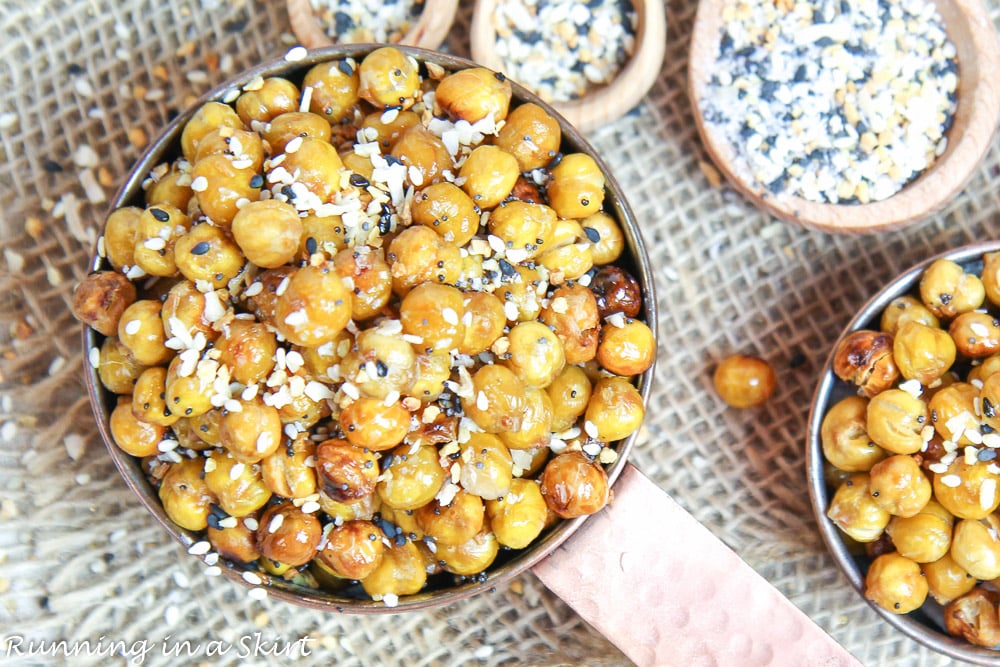 These little babies are roasted in the oven to perfected and then topped with the same seasoning that goes on everything bagels. You can find it at Trader Joe's, ALDI or make your own with my DIY version.
The combination of salt, sesame seeds, and poppy seeds is an everything bagel lovers dream.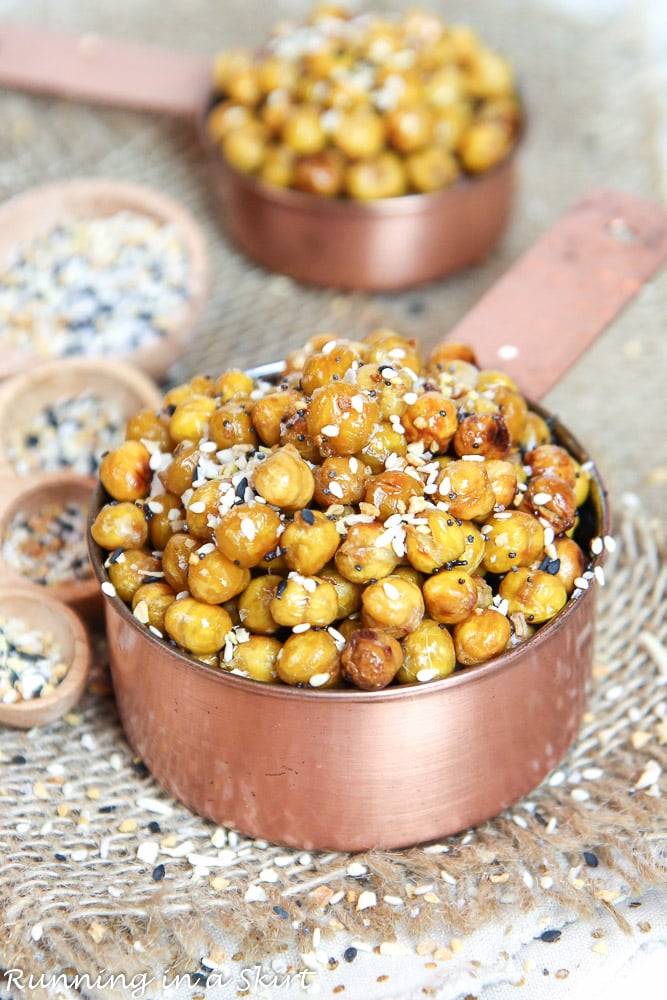 What's in this Roasted Everything Bagel Chickpeas recipe?
This Roasted Everything Bagel Chickpeas recipe is so simple and only uses a handful of ingredients.
Canned Chickpeas
Olive Oil
Everything Bagel Seasoning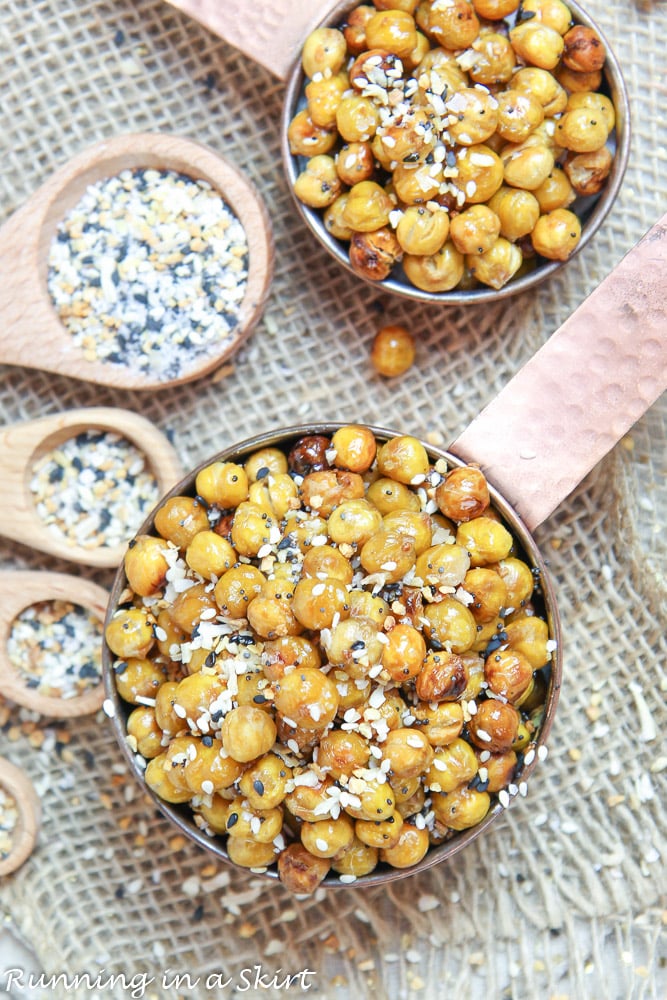 How to make my Roasted Everything Bagel Chickpeas actually crispy?
If you've had "crispy" chickpeas before you might have noticed how sometimes they don't turn out crispy! I have a few hints for you to get them right.
After you rinse and drain your chickpeas you have to lay them out on a towel to dry. Let them layout for at least a few hours to overnight so they really dry out. The drier they get the crispier your chickpeas will be.
If you chickpeas have skins on them remove them. The easiest way to do that is to roll the chickpeas around on the towel. They should start to peel off.
Store the chickpeas in a container that is left slightly open. If you seal the container they get soft quicker.
These three steps help keep the roasted chickpeas crispy.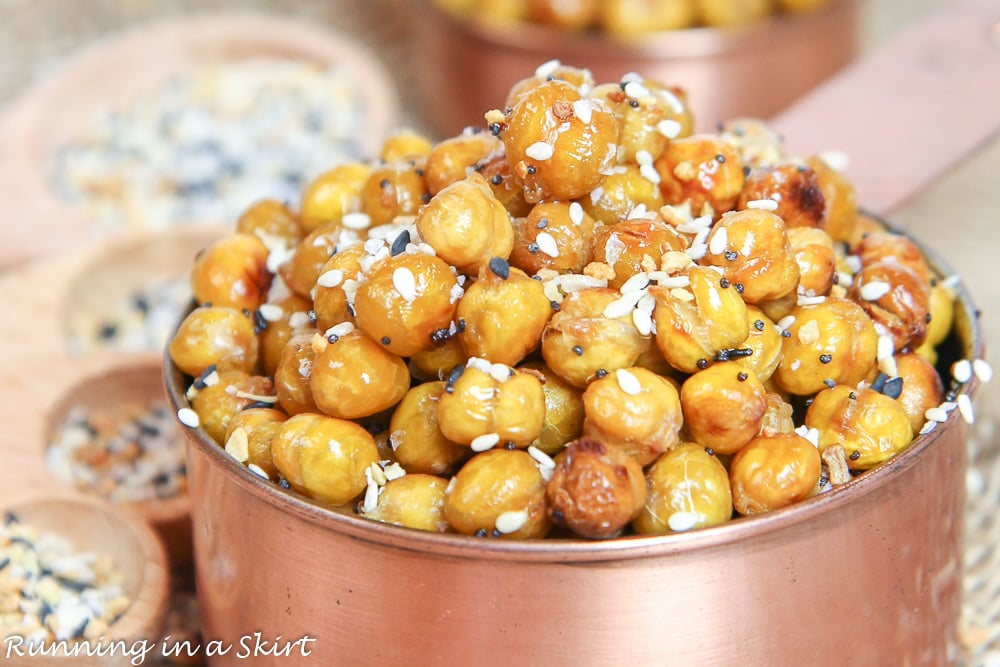 So if you are a snacker and looking for a better snack to enjoy, try these! They are totally crave-worthy and the only problem is not munching on the entire recipe in one sitting.
But if you do... I will not tell!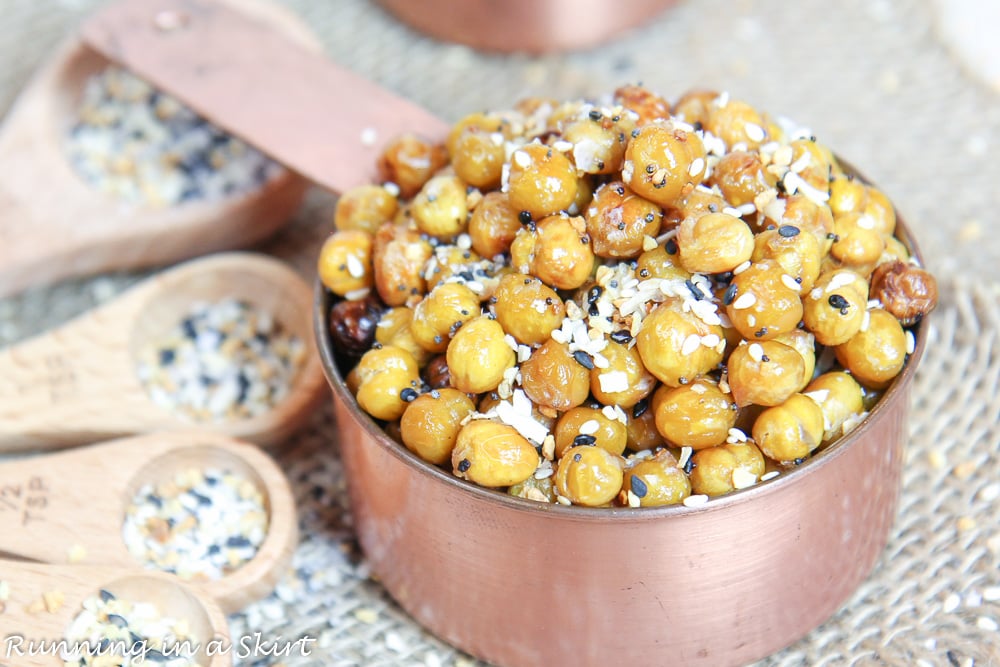 Give them a try and let me know what you think! As always, I'd love to hear what you think in the comments.
Love crispy chickpeas? Also try...
Love Everything Bagels? Also try...
Pin for Later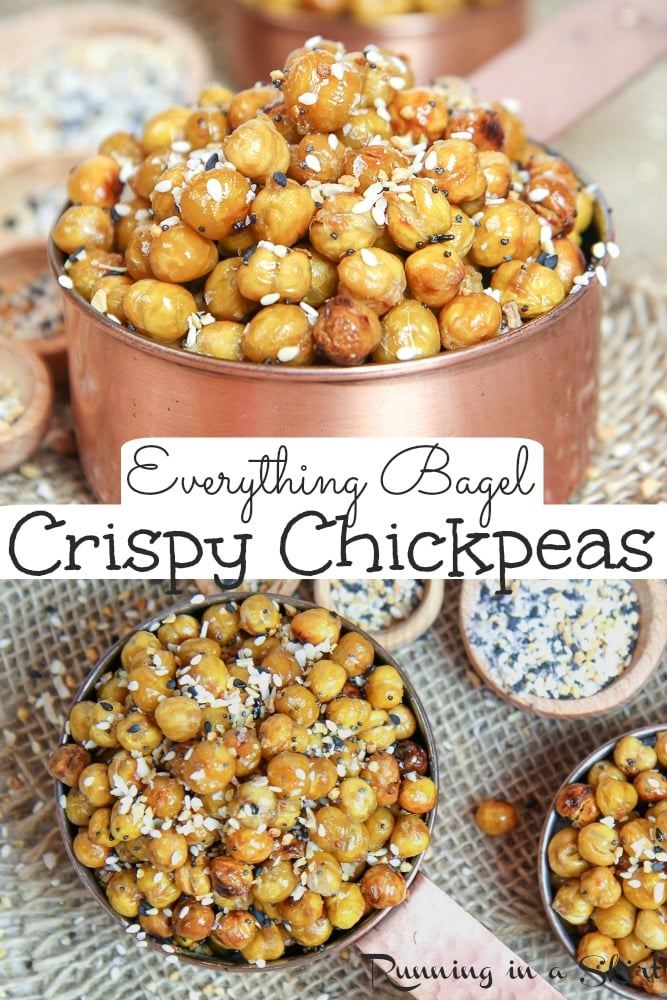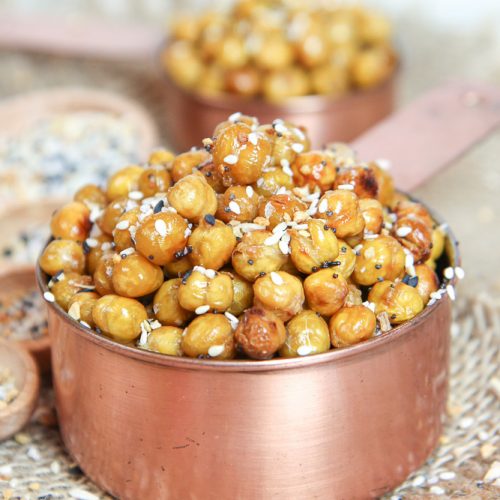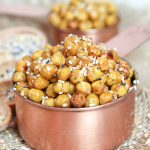 Roasted Everything Bagel Chickpeas recipe
This is the best Roasted Everything Bagel Chickpeas recipe! Crispy and delish.
Ingredients
Instructions
Layout dry towels and put the rinsed chickpeas on them to dry. If your chickpeas still have the white skins on them, roll them around to help remove them. Pulling them off will give you crispier chickpeas. Allow the chickpeas to fully dry for a few hours. The drier they get the crispier your roasted chickpeas will turn out.

Preheat the oven to 425 degrees.

Toss the chickpeas in the olive oil and Everything Bagel Seasoning. Lay in a single layer on a baking sheet.

Pull out the tray and toss the chickpeas. Put back in the oven and roast for another 10-20 minutes. Check the chickpeas frequently after 10 minutes and remove any that are getting dark.

Remove from oven and allow them to cool completly.
Nutrition
Calories:
145
kcal
Carbohydrates:
20
g
Protein:
7
g
Fat:
4
g
Saturated Fat:
1
g
Sodium:
420
mg
Potassium:
218
mg
Fiber:
7
g
Vitamin A:
23
IU
Vitamin C:
1
mg
Calcium:
53
mg
Iron:
2
mg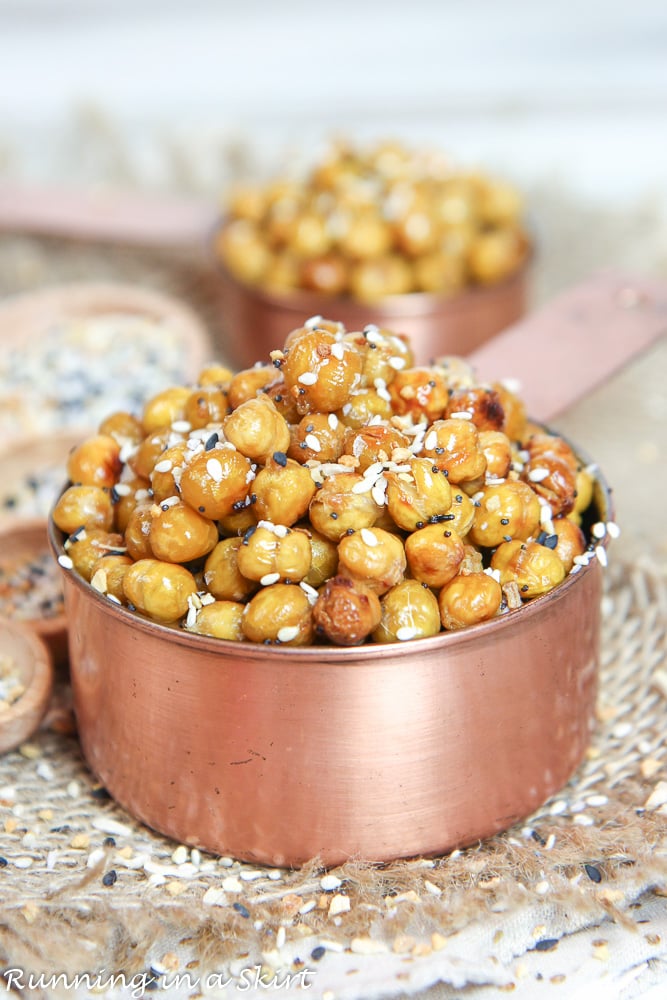 Your turn!
What's your favorite kind of bagel?