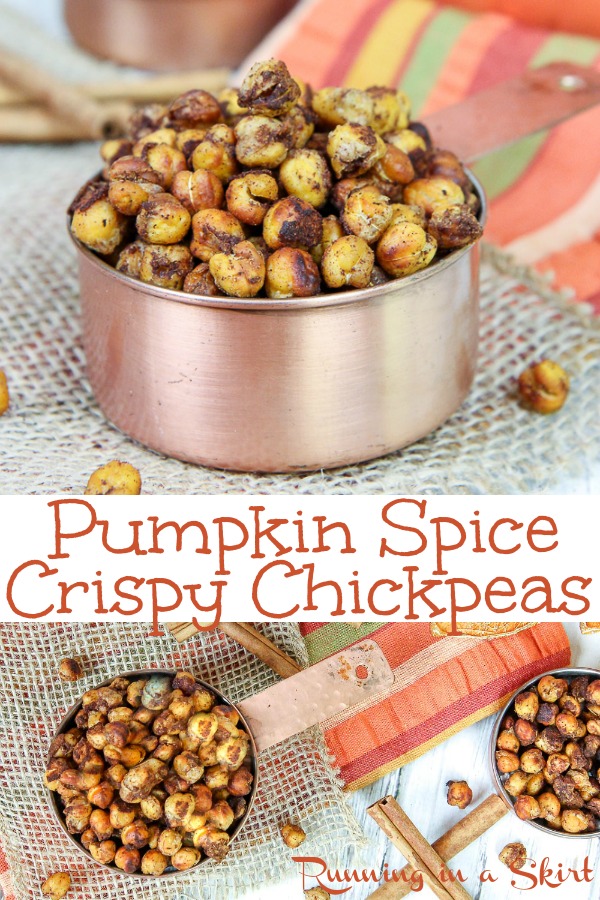 Make fall snacking healthier with my Crispy Pumpkin Spice Chickpeas recipe!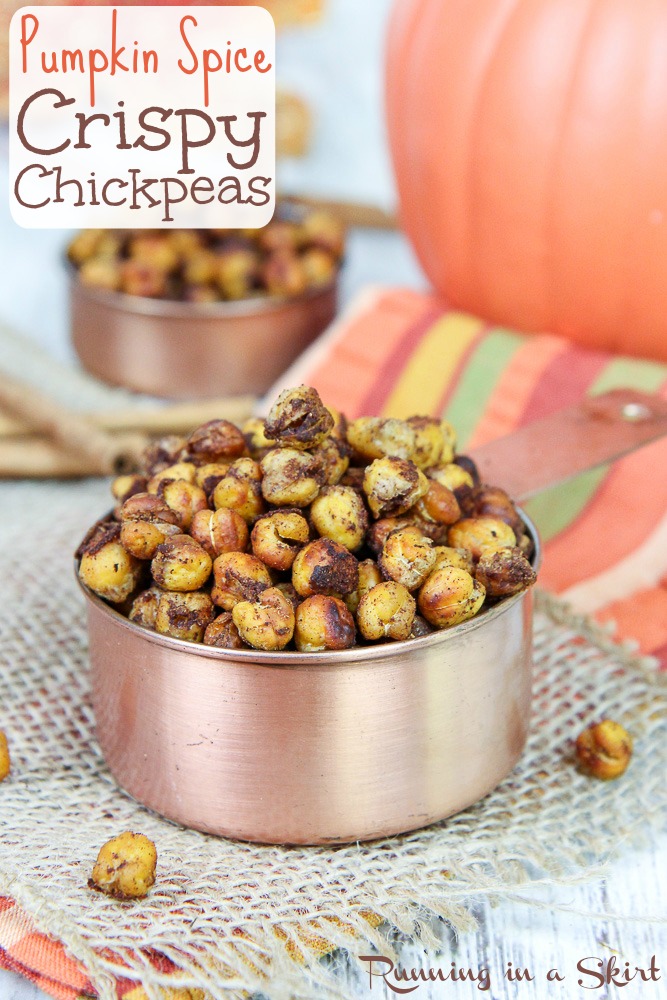 Hi guys!
Before I got pregnant I was never much of a snacker. I'd have something now and again but I preferred eating larger meals and didn't often feel the need to eat in between. My eating habits have done a complete flip and now I seem to need to eat small amounts every few hours to keep these babes happy. These twins are already quite demanding!
One snack I've been loving is crunchy chickpeas so I decided to make a fall version. This Crispy Pumpkin Spice Chickpeas recipe is the perfect snack for the season!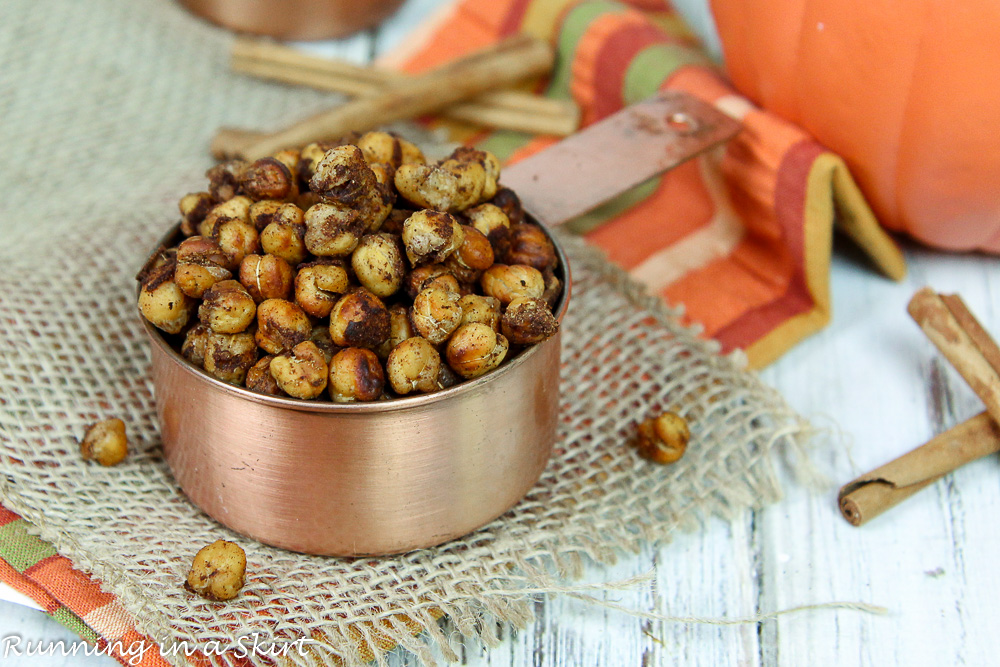 Why you'll love this Crispy Pumpkin Spice Chickpeas recipe...
Most of the crispy chickpeas I've made are actually on the savory side (BBQ, Ranch & Chili Lime) but this Crispy Pumpkin Spice Chickpeas recipe is actually sweeter! I used coconut oil, pumpkin spice, and a touch of maple syrup to get the flavor. The pumpkin spice gives them a darker color like a roasted sweet nut but brings all the tasty flavor.
You can buy Pumpkin Pie Spice or make your own with my Homemade Pumpkin Pie Spice.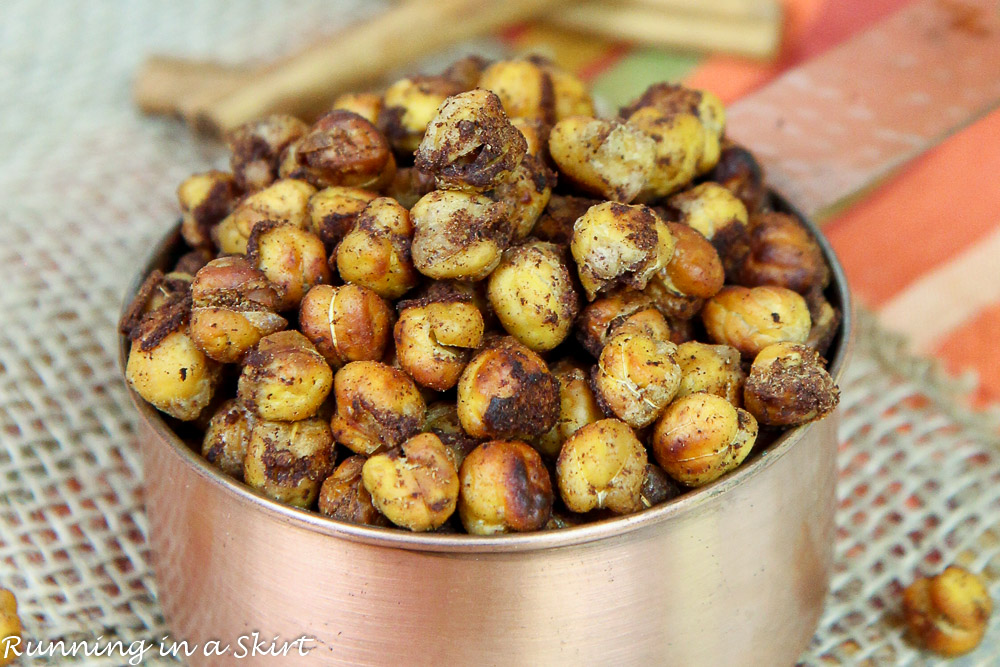 Now the trick to get your Crispy Pumpkin Spice Chickpeas recipe actually crispy is to dry them out as much as possible before roasting. Rinse them and put them on towels to dry. I usually replace the towels a few times to get the moisture out. It takes a little more time, but if you crave a crunch... it's the only way to go.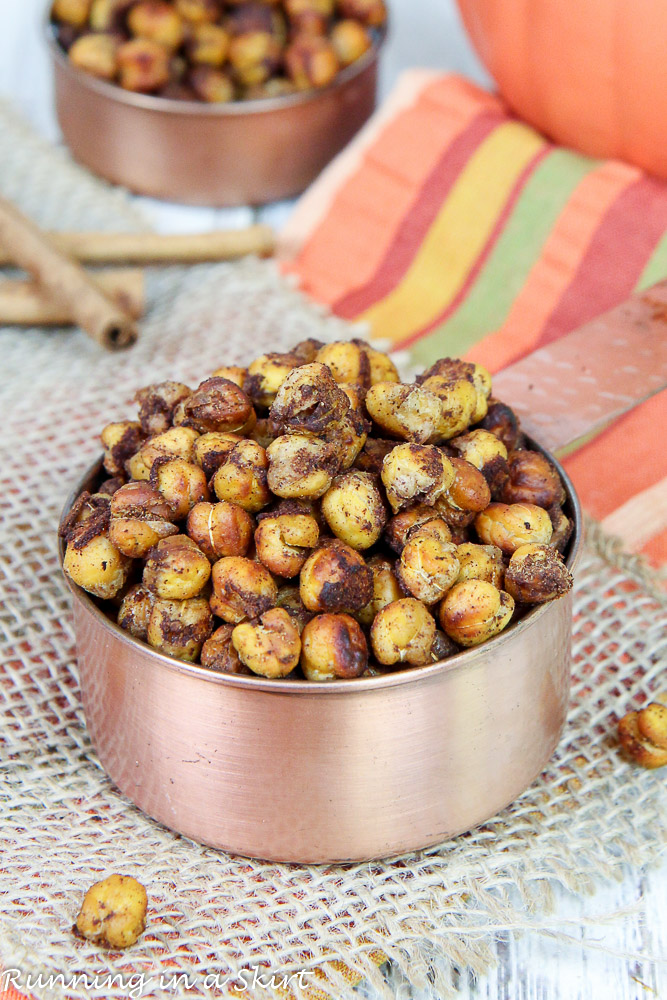 Eat these as an irresistible snack or serve them on top of yogurt to bring more punch to your breakfast.
This Crispy Pumpkin Spice Chickpeas recipe is such a great snack because the chickpeas have protein in them until chips or something else you could just grab.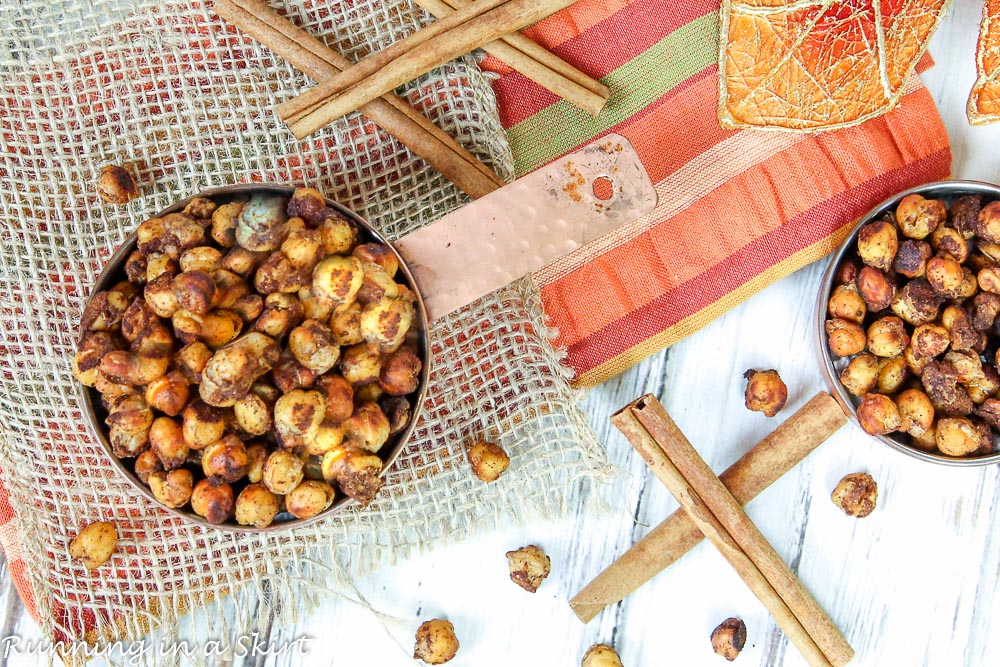 Make a batch and enjoy my Crispy Pumpkin Spice Chickpeas recipe all week! I hope you love them as much as I do. As always, I'd love to hear what you think in the comments below.
Also try...
Pin for later!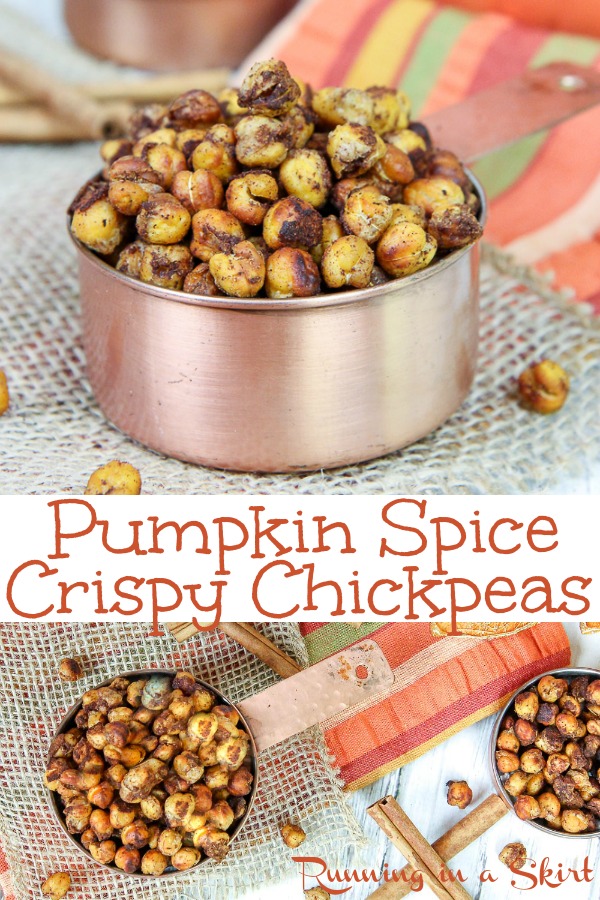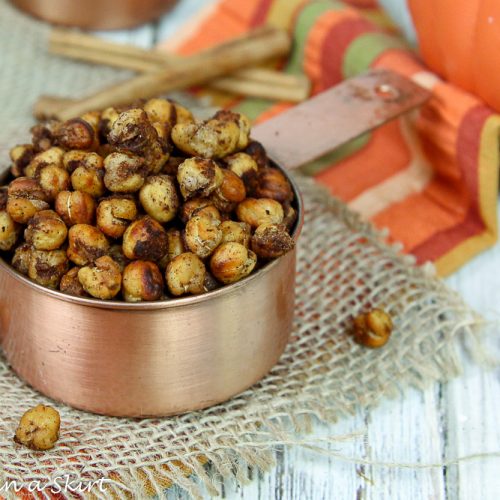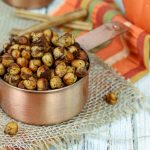 Crispy Pumpkin Spice Chickpeas recipe
This Crispy Pumpkin Spice Chickpeas recipe has all the pumpkin spice flavor in a high protein, healthy snack!
Ingredients
1

can

chickpeas

,

rinsed and drained

1

tablespoon

maple syrup

1

teaspoon

coconut oil

,

liquid form

2

tablespoons

pumpkin spice
Instructions
Dry the chickpeas as well as possible by putting them in a single layer of towels. Leave them to dry for at least an hour or longer. The drier you get them the crispier your chickpeas will be.

When you are ready to roast, preheat the oven to 425 degrees.

Toss the dried chickpeas in the maple syrup, coconut oil, and pumpkin spice. Put the chickpeas on a sheet pan in a single layer.

Roast for 35-45 minutes or until they are crispy. Watch the chickpeas carefully and remove any that are cooked early.
Nutrition
Calories:
264
kcal
Carbohydrates:
41
g
Protein:
11
g
Fat:
7
g
Saturated Fat:
3
g
Sodium:
634
mg
Potassium:
388
mg
Fiber:
11
g
Sugar:
6
g
Vitamin A:
34
IU
Vitamin C:
1
mg
Calcium:
131
mg
Iron:
4
mg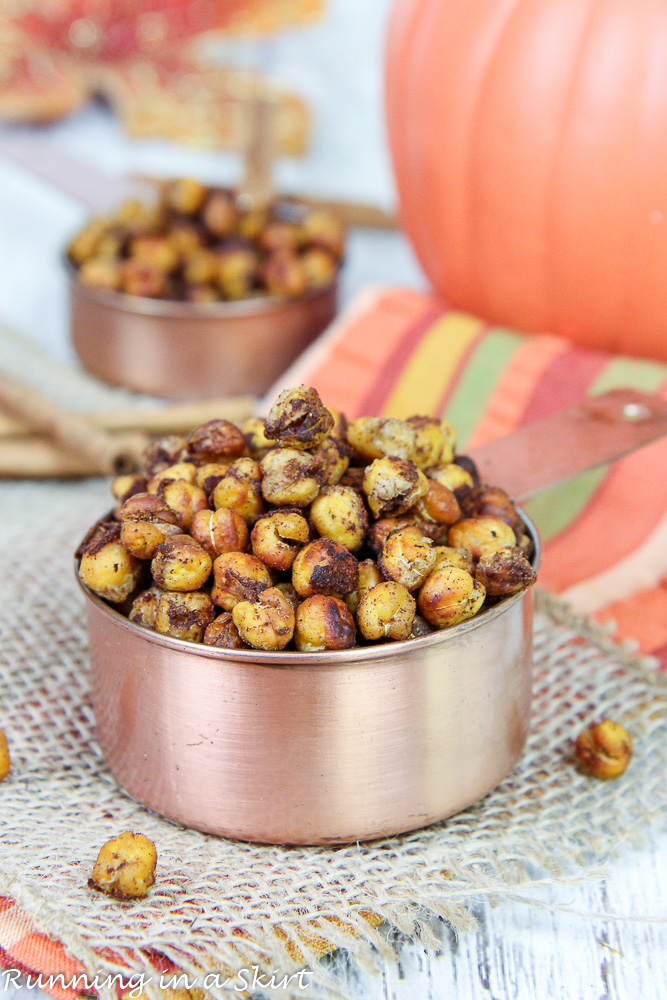 Your turn!
Sweet or savory chickpeas?