I can't believe I'm reaching the homestretch of this pregnancy hitting 33 weeks pregnant with twins. When this journey started back in March I never in a million years thought I'd be at this point with two very healthy babes growing inside of me. Life can certainly be crazy. Since the pregnancy is changing fast and I have a lot more appointments these days, I thought I'd start doing these updates every two weeks until the twins arrive instead of every month. They will be here by the end of November so we only have a few more updates left!
Here's how it has been going...
33 - 34 Weeks Pregnant with Twins
Bump Watch…
I feel huge! The bump is heavy and feels like it is getting bigger daily! This photo is of me 33 weeks pregnant with twins.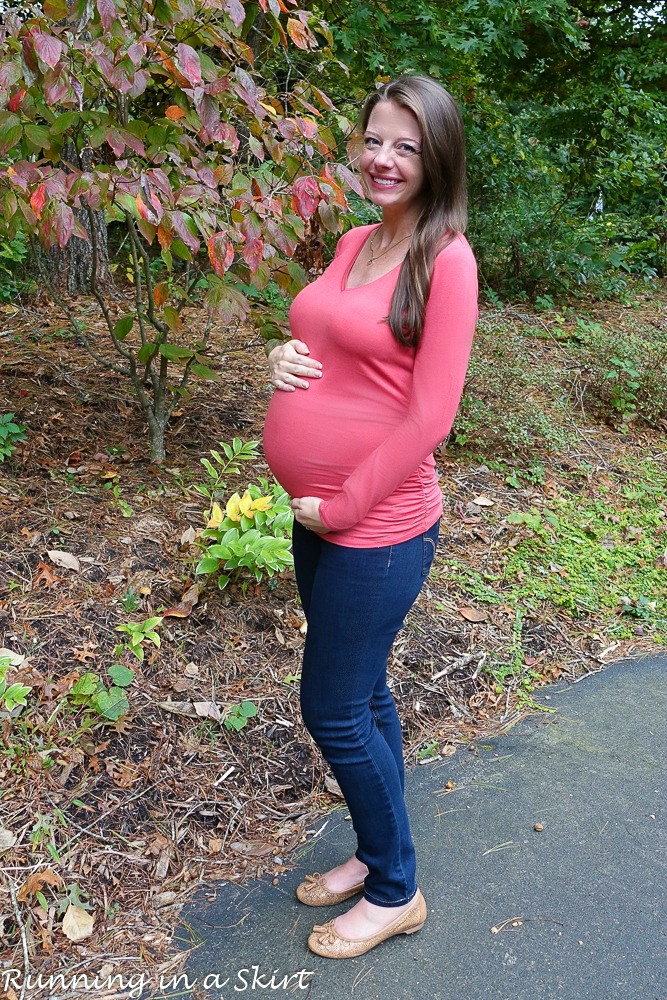 How I've Been Feeling…
I have been feeling pretty rough. The pain in my ribs feels like I have a broken rib and it doesn't feel like it's going to let up. Sitting in a chair is still really painful and standing often hurts too. I'll spare you all the details but my feet are hurting from a flare-up of plantar fasciitis, my back hurts and I can't walk up a flight of stairs without stopping. Sleep is challenging. The headaches have come back for a few random days, but I'm so grateful they haven't hit daily again. I've been spending big chunks of the day in a recliner in our basement because it's the only place I can get a little relief. I've had a few days where that doesn't even help.
We got the all-clear from the doctor to turn our hot tub down to a pregnancy-safe temperature and use it for pain relief. That has been wonderful. I can only do that on days where it is not too cold because the water temp really isn't that hot. I'm hoping for a mild November!
I've done some reading on twin pregnancies and it seems like feeling this bad at this point in the pregnancy is pretty normal with two. I'm trying to stay as positive as I can and take it one day at a time. I'm at a point where I've pretty much stopped planning to do anything out of the house. If I have a good day and can get out for an errand I will, but I'm not pushing it at all.
Again, I'm not complaining just merely documenting.
Doctor's Appointments...
On a much more positive and important note, the boys are totally healthy and doing great!
I've had two doctor's appointments since we last talked. The first was with my regular OB. She checked the baby's heartbeats quickly and said they were great. We talked about the pain I've been in and she said that is to be expected with two. They ran a blood test on my liver just to make sure that wasn't the problem. The test came back fine. They continue to think the pain is something muscle-skeletal... whatever that means. 🙂
I also had an appointment with the high-risk doctor where they did a more complete ultrasound of the babies to check for signs of early labor and their growth. They found no signs of early labor so far. The boys are growing great. They are really long, thin, and have big heads! Baby A is head down and Baby B is breech again. They both weighed almost 4.5 pounds... which means I already have nearly 9 pounds of baby. Since they were on the thin side, they are going to check them again a week earlier than normal to make sure they plump up. Regardless the doctor said they were beautiful babes and the Hubs and I feel SO lucky that they are growing and we are past the stage where they'd have more serious problems if they were born early.
If I don't go into labor on my own and everything keeps looking good they will plan an induction or c-section (depending on the baby's position) at 37-38 weeks. Generally, it's not healthy for the Mom or babies to carry twins to 40 weeks.
Highlights...
The Hubs and I finally finished our master bathroom!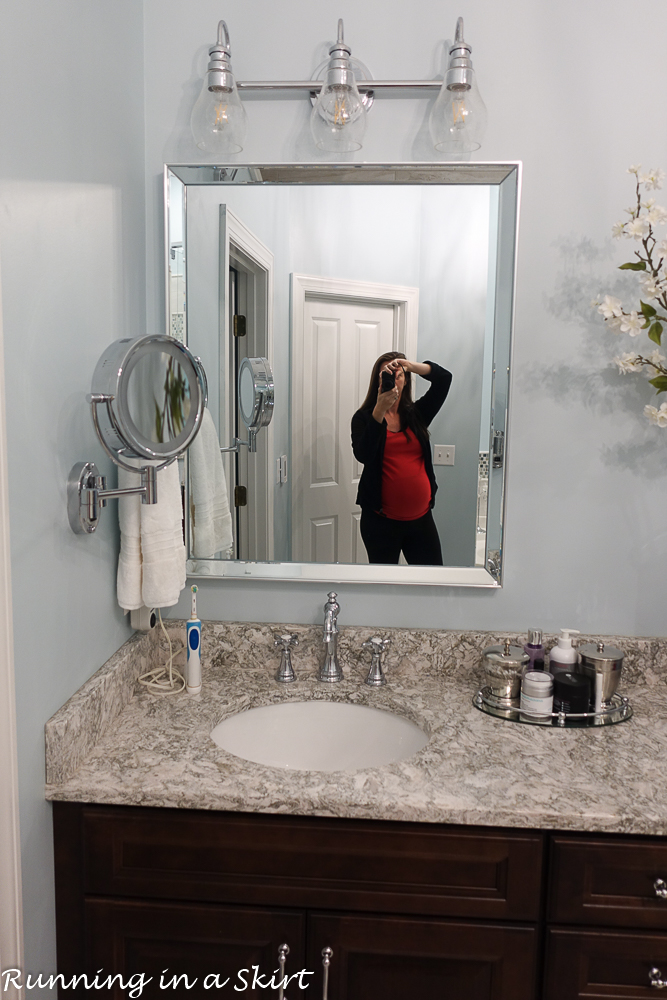 AND... I got my maternity photos back. Check them all out here.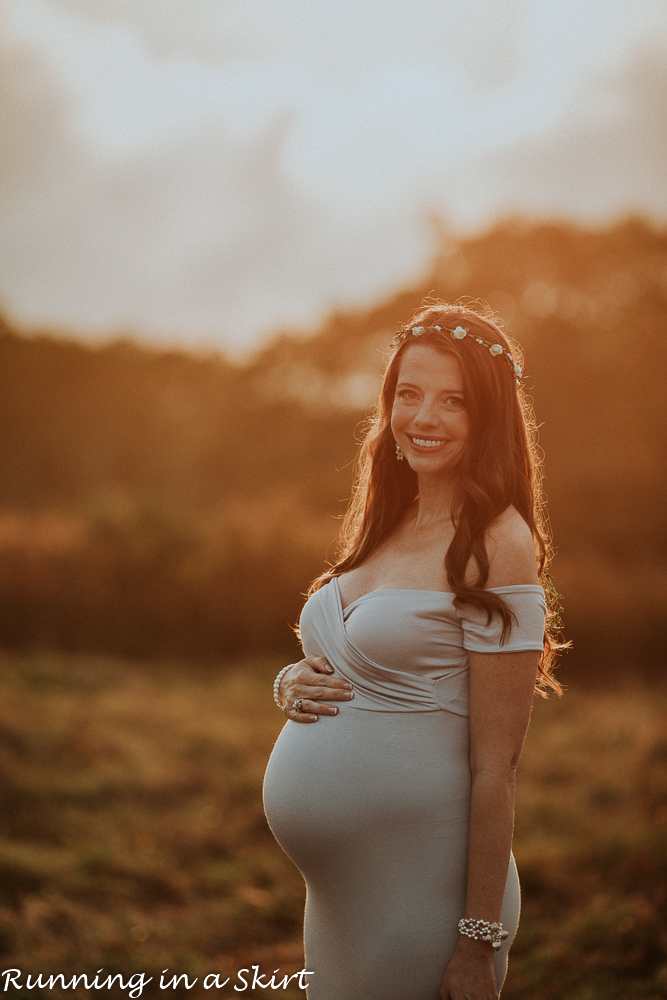 Food Aversions or Cravings…
I'm still at the point where nothing really sounds good to me. I had not even been very hungry, but in the past few days, my appetite has picked back up. The only cravings I've had this week were for a poke bowl one night... which I got with cooked shrimp. I also really wanted a chocolate cake. There isn't any cake in the house, so maybe we can make that happen this weekend. I've yet to have any really strong or strange cravings.
33 Weeks Pregnant with Twins Fitness…
On a good day, I will walk to the end of my street and back just to try to keep moving. I've also been trying to stretch and do a few very basic yoga moves to stay a little flexible and help my feet. Neither of those things resembles actual fitness at all though. I haven't been to my prenatal yoga class because it hurts to drive and it's 30 minutes away. It's been hard to do much of anything hitting 33 weeks pregnant with twins.
I've come to terms with the fact that fitness just isn't possible for a while. That does mean one EPIC comeback is happening in 2019.
Nursery…
The nursery is almost done! I'm just waiting on my window shade and a pillow to arrive. There are also a few things left to hang and some minor organization and clean up to do. The Hubs has really stepped up and put together pretty much the entire thing because of how I've been feeling.
Gender and Names…
We are 99% sure of our names BUT we changed our minds and decided to wait to announce them when they arrive! So, for now, the BOYS are still Baby A and Baby B.
That about wraps it up! I actually have another doctor's appointment today and another growth scans a week from Wednesday. I'll keep you posted.
Catch Up Here