This roasted Chili Lime Crispy Chickpea recipe will quickly be a new favorite!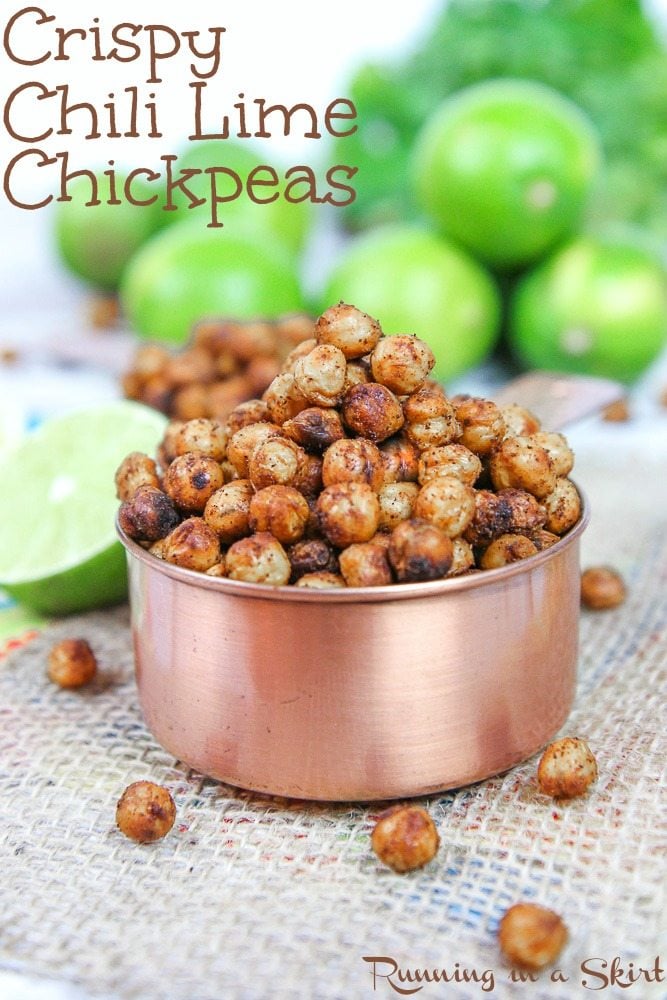 Crispy Chili Lime Chickpeas
Roasted chickpeas are my jam and judging by the popularity of my Crispy BBQ Chickpeas and Crispy Ranch Chickpeas... you guys love them too! They are such a delicious, high protein, and easy to make snack. They come together in no time, are inexpensive to make, and are great on so many things. You can use them as salad toppers, on buddha bowls, or even just as a snack. Any way you eat them they are downright addictive.
I did some experimenting with new flavors and my new favorite is my Chili Lime Crispy Chickpea recipe. It's perfectly flavorful and lime-y... and super easy to put together!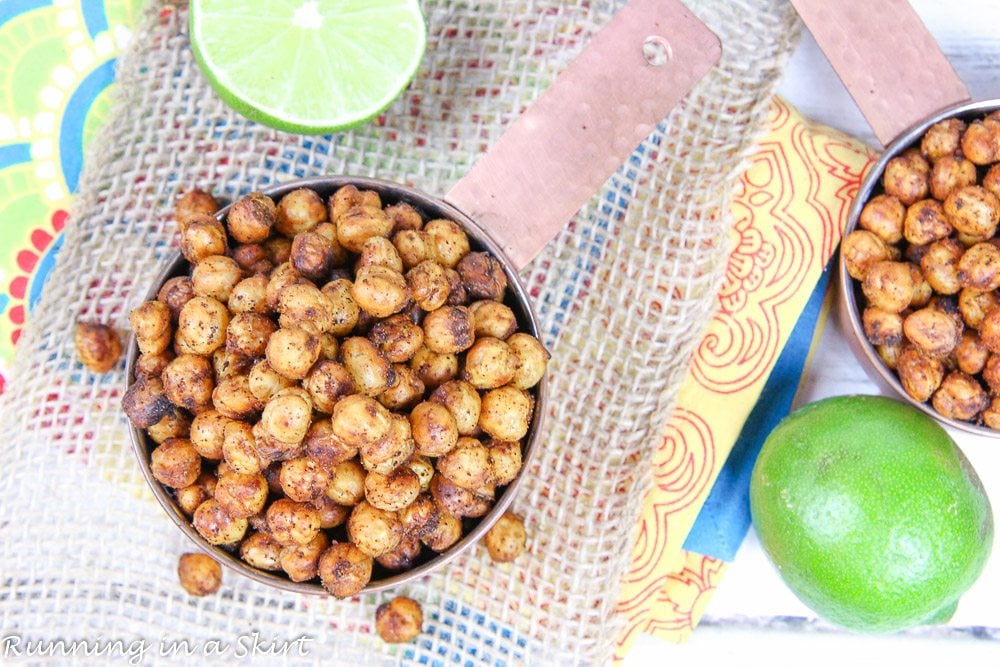 Why you should try my Chili Lime Crispy Chickpea recipe...
If you haven't made roasted chickpeas yet, it is really simple. You just start with a can of rinsed and drained chickpeas. The trick is to get them as dry as possible at this point so they will crisp up in the oven. I like to leave them on the counter to dry for a while or really take a towel to them if I don't have time to wait. That's the key to any good crispy chickpea recipe!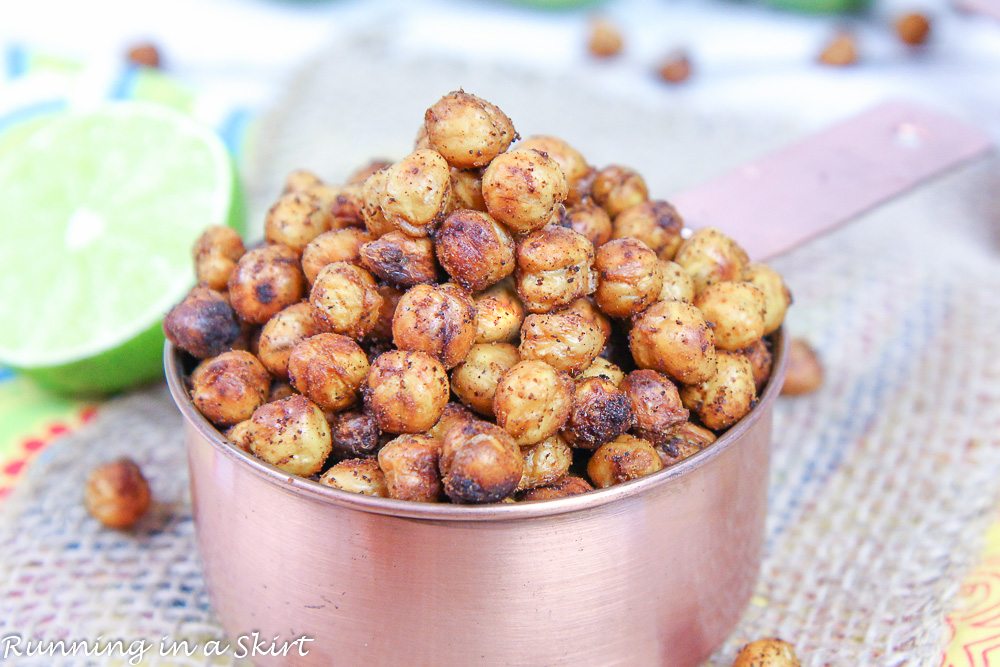 The Chili Lime combo is a nod to all things SUMMER! I love limes year-round but have a special affinity for them when the weather is warm. The simple chili seasoning matches perfectly with the lime.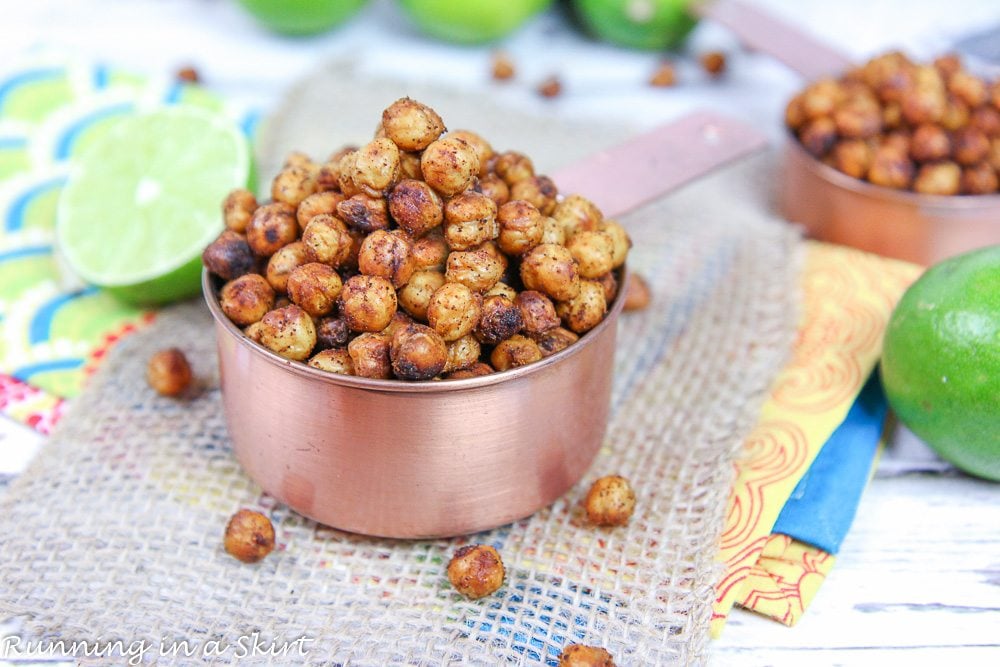 All you do to make them is toss the dried chickpeas in olive oil, spices, and lime! Then you roast them to perfection. Another pro tip is to hang around the oven near the end of the cooking time and check them frequently. You can even start taking some of the browner ones off the tray and allow the rest to crisp up. You can go from soggy chickpeas to burnt chickpeas pretty quickly... and you want to catch that CRISPY window.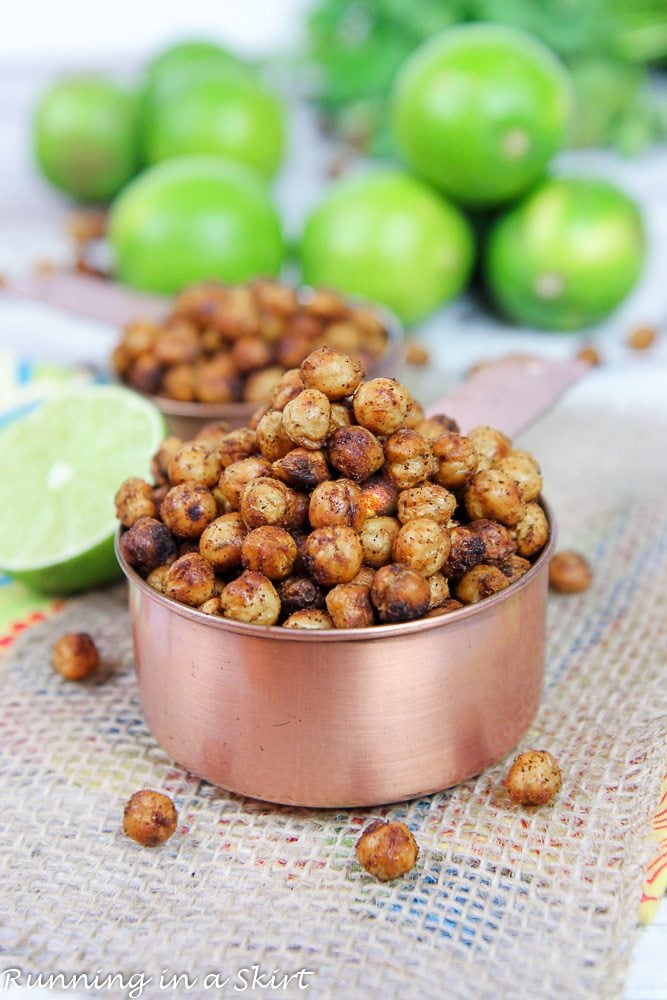 This Chili Lime Crispy Chickpea recipe is a perfect sub for summer chips and great for a snack any time of year. I hope you enjoy it.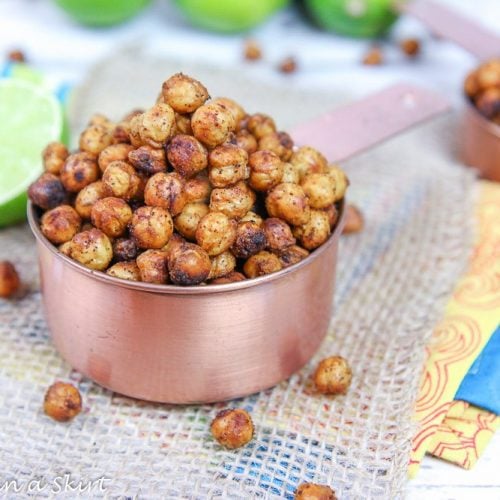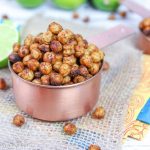 Chili Lime Crispy Chickpea recipe
This crispy chickpea recipe is perfect... spicy with just a hint of lime! Includes a trick to actually make them crunchy.
Ingredients
Instructions
Lay the chickpeas on paper towels and get as much moisture off them as possible. If you have time allow them to sit and dry for a few hours. The drier they are, the crispier your chickpeas will be.

Preheat the oven to 425 degrees.

Toss the dried chickpeas in the spices, olive oil, salt and lime.

Roast for 25 minutes. Shake the pan and roast for 20 minutes more or until the chickpeas are crispy. Watch carefully near the end because there is a fine line between crispy and burnt!

Allow to cool and store in an airtight container.
Notes
** If your lime doesn't have a lot of juice, you might want to use the whole one!
Nutrition
Calories:
152
kcal
Carbohydrates:
22
g
Protein:
8
g
Fat:
5
g
Saturated Fat:
1
g
Sodium:
642
mg
Potassium:
262
mg
Fiber:
7
g
Sugar:
1
g
Vitamin A:
524
IU
Vitamin C:
2
mg
Calcium:
63
mg
Iron:
2
mg
Also try these healthy snacks...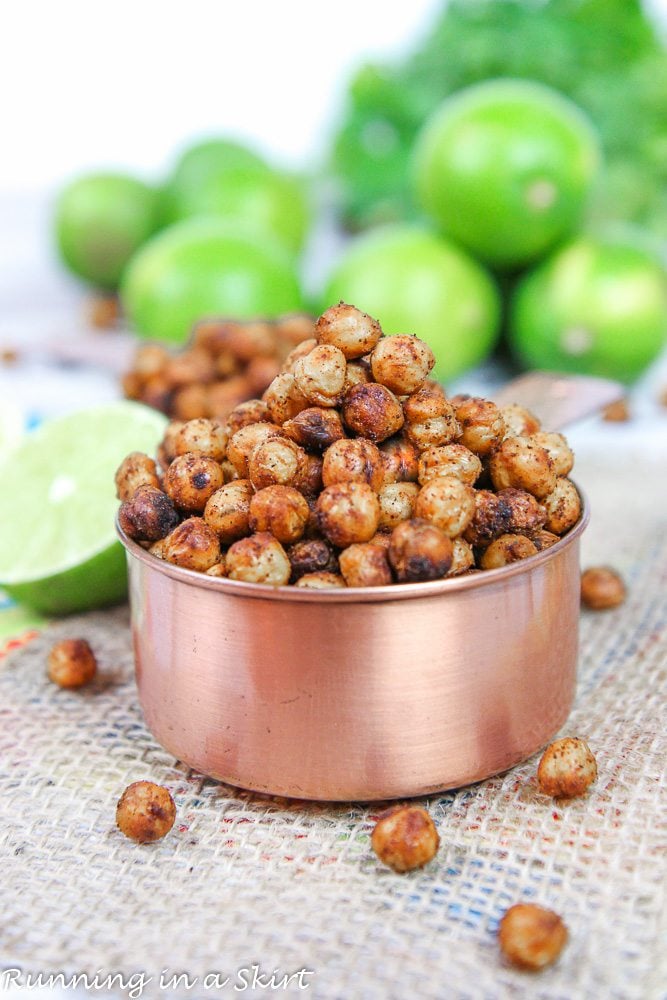 Like my ? I'd love it if you could pin this to your favorite Pinterest board! Thank you so much for the support.


Thanks for stopping by today! Tomorrow I'm sharing April's Currently.
Your turn!
What's your favorite healthy snack?