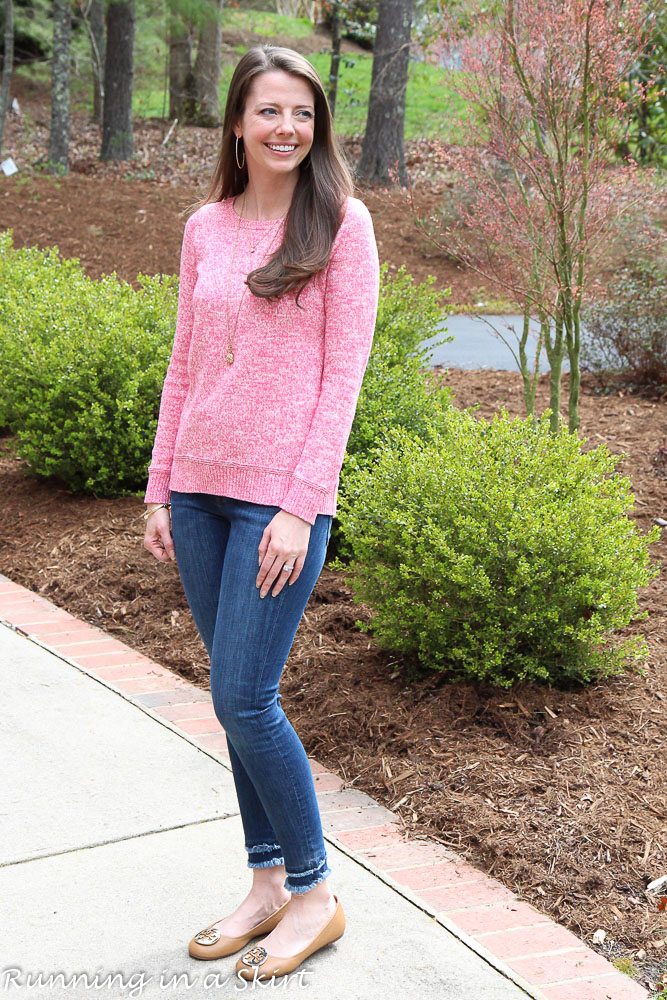 Happy Fashion Friday!
Hi and how has your week been? Mine has been just busy enough. The Hubs is working nearly 24 hours a day, so I decided to hunker down too and work on some behind the scenes stuff for the blog. There is so much that has to happen to keep a website running well and I seem to learn more about it every month.
This weekend isn't going to be that exciting either with the Hubs working, but I'm trying to soak in being at home since I have more travel coming up after the Hubs tax season is over. 🙂 April 17th can't come soon enough in my world.
Did you miss these Running in a Skirt posts?
Fashion Friday - Pink Spring Sweater
This spring has been pretty cold. I think like most of us in this part of the world, I'm anxious for some warmer weather to really settle in... this weekend is supposed to be in the 40's and 50's again! I've been super anxious to wear my spring clothes, but they have not been warm enough at all!
I was walking through the LOFT the other day and come across this adorable, super soft cotton sweater. It's in the perfect shade of spring pink, but comes in a style that is actually warm enough to wear this time of year. It somehow feels springy even though it's pretty warm. AND since it's made out of cotton, if the day pops into the 60's I still will not be too warm.
I also picked up these fabulous jeans with a double fray at the bottom. I'm not much into ripped jeans for myself, but I liked this look as a nice compromise and feel a little edgier than the finished type. They are really soft (especially for LOFT jeans), higher rise, have stretch and are easy to wear. They will be perfect with so many things this spring.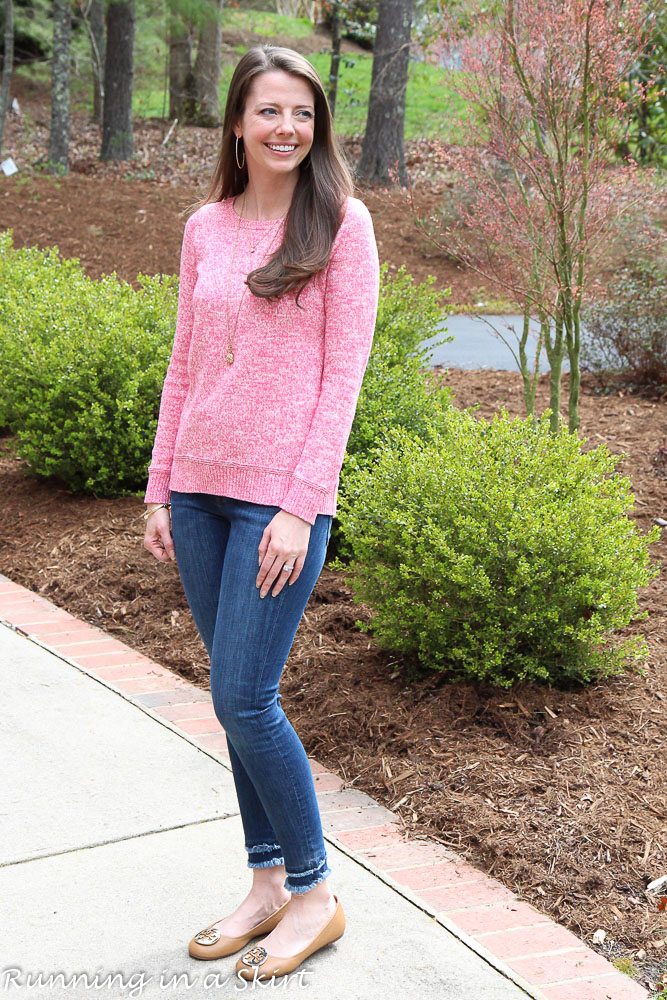 So I'd dare say this is the perfect pink spring sweater! The sweater also has a little white in the knit, so it would also be super cute with white jeans.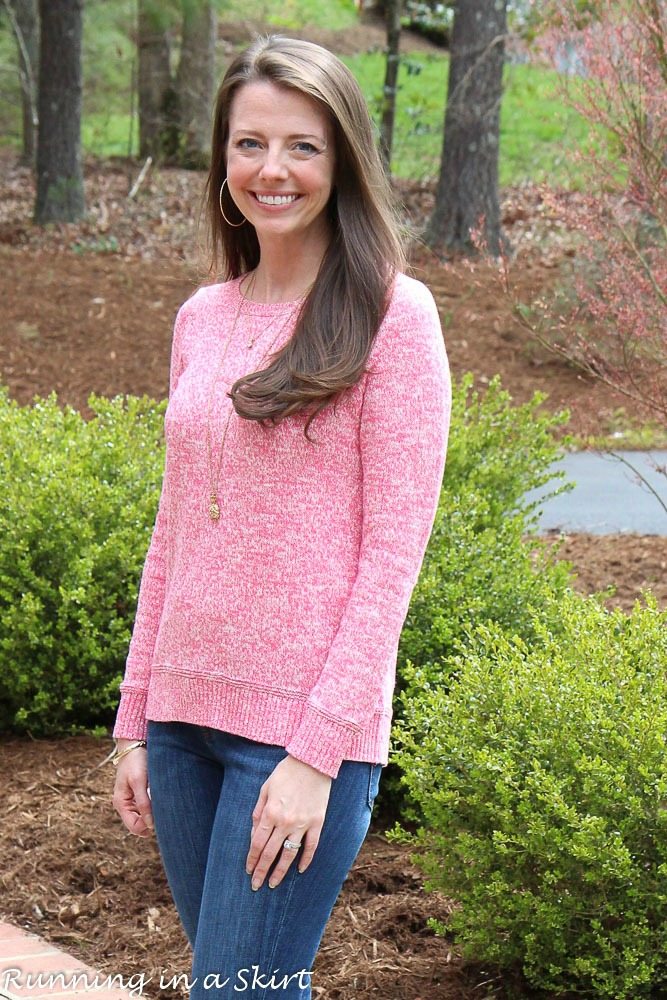 I paired the look with my Tory Burch flats and layered necklaces including my pineapple necklace. I think it all came together for an outfit that is ideal for when spring's weather doesn't want to play nice!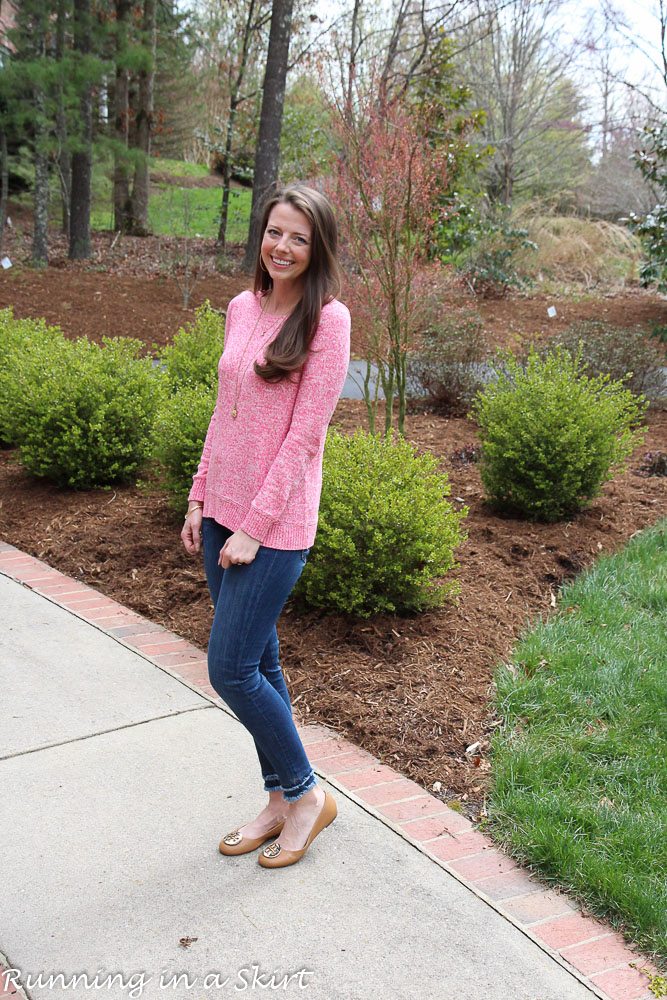 I linked to this exact outfit below so you can get it too if you like it. Happy shopping.
This post is not sponsored, but contains affiliate links. I do make a small commission for clicks and purchases. It cost you nothing. Thank you for supporting Running in a Skirt.
Shop the Look:
Sweater: LOFT
Jeans: LOFT
Shoes: Tory Burch
Necklace: JCrew <--- on sale!
So nice to see you today. Have a great weekend and come back Monday for a new roasted chickpea recipe.
Your turn!
What are you doing this weekend?
I'm linking up with: Nicole for the Fit and Fashionable, Jolynne Shane for Fashion Friday, Turning Heads Tuesday. Thank you so much for the lovely linkup ladies.