Need a dish for a crowd or to take to a party? Try my no boil, easy to make Vegetarian Lasagna!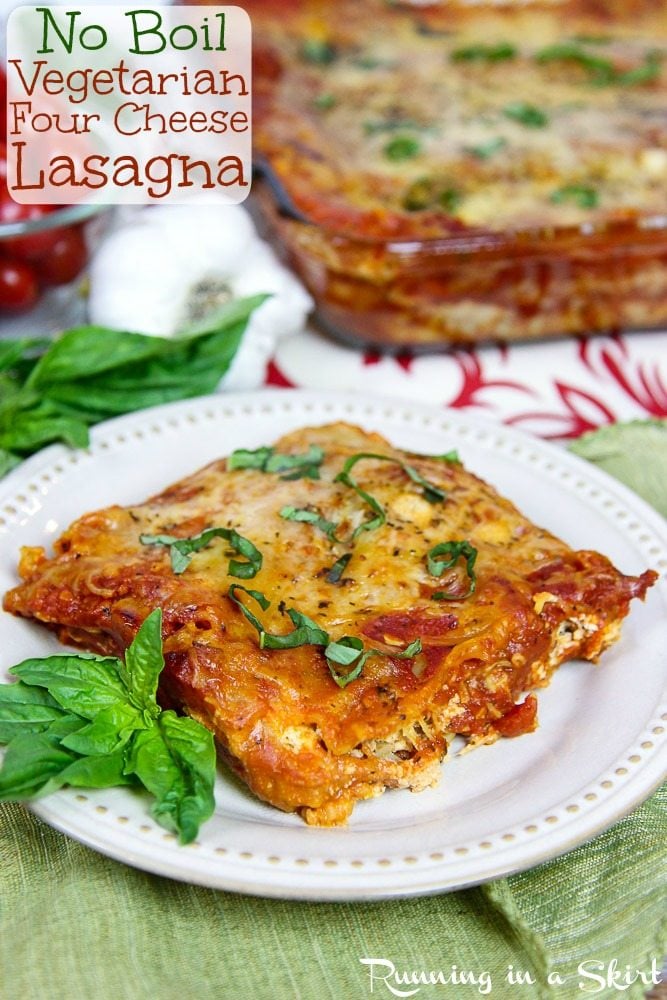 Hello! Hello!
So I make a pretty darn mean lasagna. If you get really sick or I'm asked to bring a entree like dish to a party... you're probably going to get this. No... it's not the healthiest thing on this site, but it is DAMN good. I don't think I say thing enough, but I'm a firm believer in eating things in moderation and enjoying food that you really enjoy (and that doesn't make you feel bad) on occasion. There was a time in my life where I was more restrictive about what I ate, but these days I try to be more mindful and open about my cravings... and yes... on occasion that includes some good ole', beautiful, cheesy lasagna. I don't eat this all time, but I savor it when I do. Life is too short to live any other way... in my humble opinion. 🙂
But here's the big secret.... my go to... tried and true lasagna recipe is actually an easy to make Vegetarian Lasagna. Yes... this gorgeous plate of food requires no boiling and no fuss.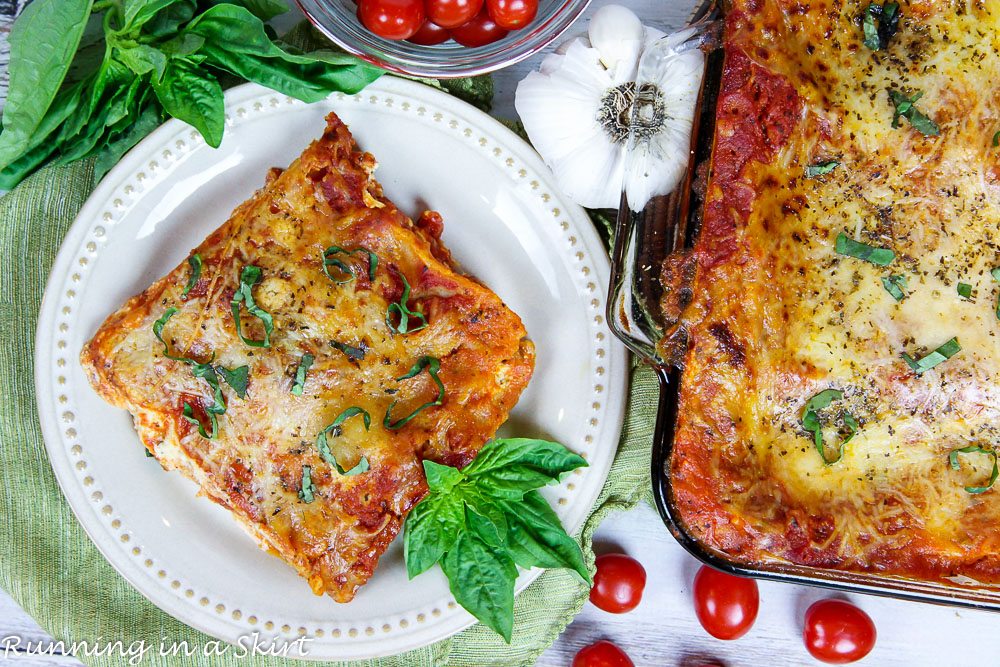 No Boil Easy Four Cheese Easy to Make Vegetarian Lasagna
I originally learned a version of this recipe in my early 20's. I had an Italian friend who showed me the basics of lasagna construction. At the time my idea of "cooking" was putting rice in tomato soup (yes... and I ate that more often than I care to admit,) so the idea that I could make my own lasagna was a big deal.
I was surprised at how this easy to make Vegetarian Lasagna tasted so good and really didn't require that much work.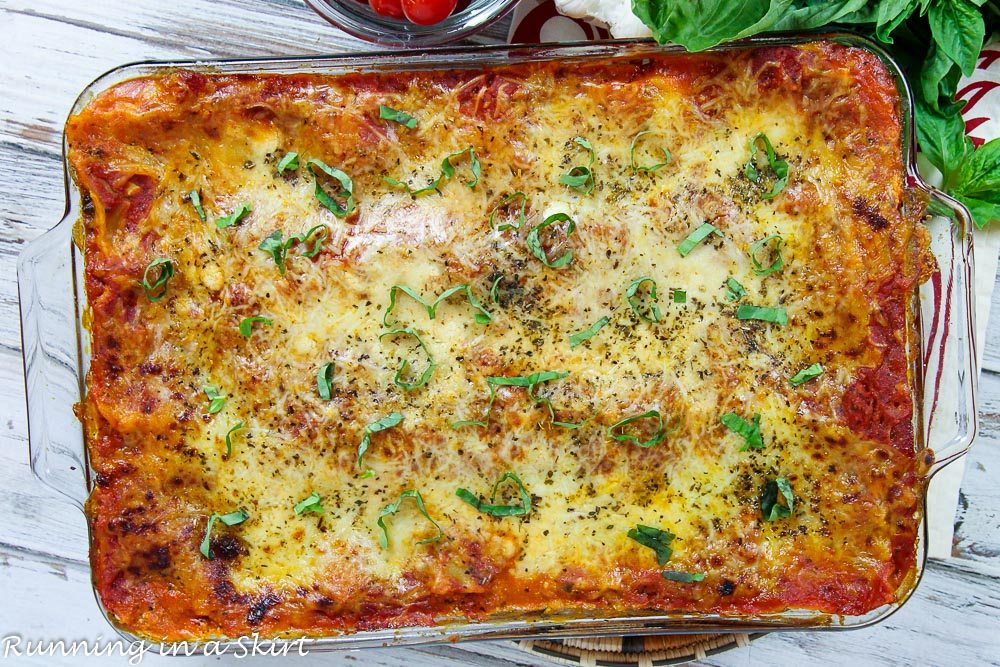 All you do to make my easy to make vegetarian lasagna is mix the ricotta with parmesan, eggs and herbs. Other than that all you need is lasagna noodles, cheese and your favorite tomato sauce. You can make your own (try my Crock Pot Marinara) or use your favorite store bought type. If you are trying to be healthier, look for a version with less sugar. You also can buy the regular lasagna noodles... no need for the special no boil ones.
Then you just layer the lasagna... starting with a small amount of sauce, then going to the noodles, the ricotta and finally the shredded cheese.
The trick is to add a small amount of water around the dish when it's done so the noodles will have some liquid to absorb when it's cooking.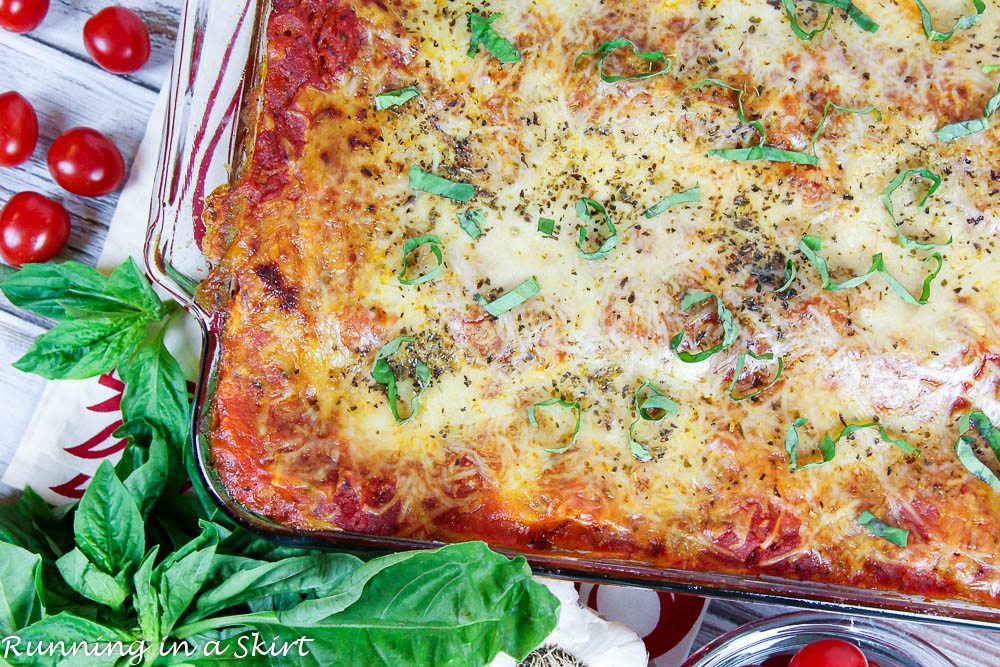 Over the years I've made this a 1,000 different ways... I've added tons of chopped spinach to the ricotta and even added layers of mushrooms. But time and time again I come back to the classic version with just cheese and tomato. There's something so classic and comforting about this easy to make Vegetarian Lasagna.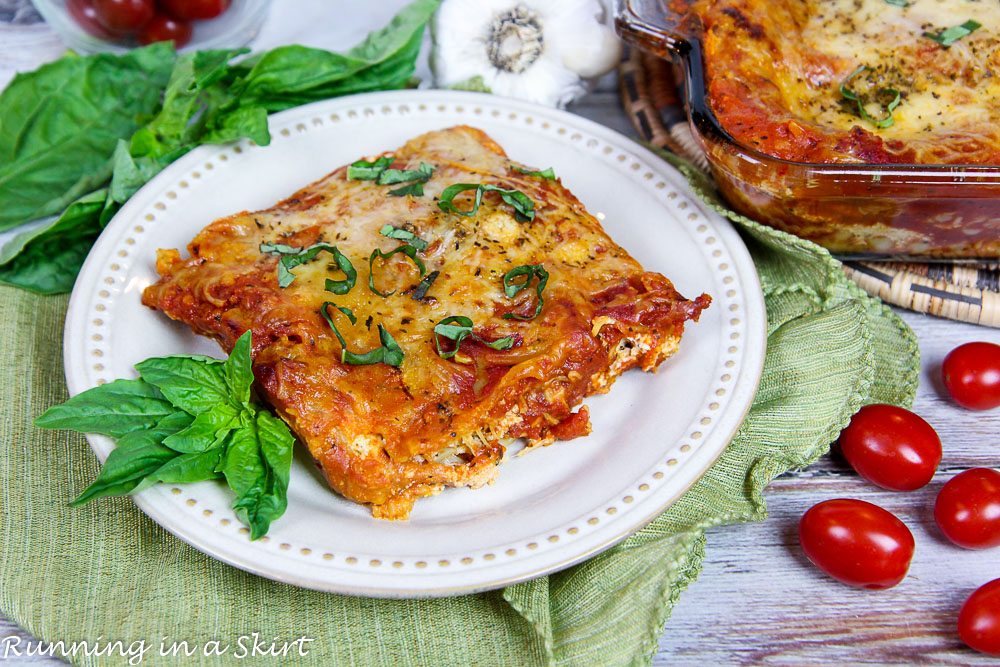 I hope you will get a chance to try it. And if we just so happen to end up at the same potluck one day... don't be surprised if you get a taste made by yours truly. Enjoy.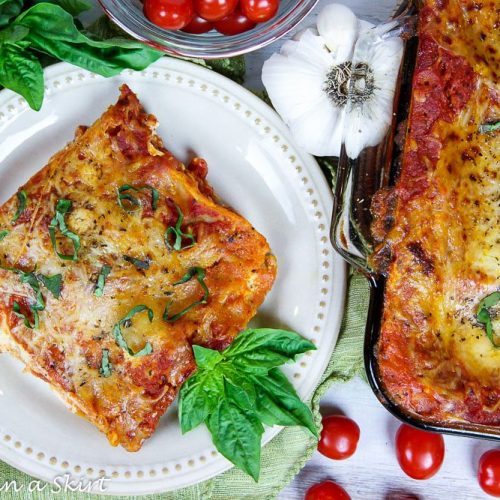 No Boil Easy Four Cheese Easy to Make Vegetarian Lasagna
This No Boil Easy Four Cheese Easy to Make Vegetarian Lasagna is the best, fast classic lasagna recipe!
Ingredients
2

30 ounce containers ricotta cheese

2

eggs

1

teaspoon

dried basil

1

teaspoon

dried oregano

1

teaspoon

garlic powder

1

cup

parmesan,

divided

2

24 ounce jars tomato sauce

15 lasagna noodles *

3-4

cups

shredded italian four cheese blend (with mozzarella!) **

¼

cup

water

topping: dried basil, dried oregano and garlic salt

garnish: fresh basil
Instructions
Preheat the oven to 350 degrees.

Mix the ricotta, eggs, basil, oregano, garlic powder and half of the parmesan in a bowl.

In a 9x11 pan spread about a ½ cup of tomato sauce into a thin layer.

Add three and a half lasagna noodles to cover the bottom of the pan leaving room for them to expand. Spread a third of the ricotta mixture on top and sprinkle with some the shredded cheese. Then top with a thicker layer of tomato sauce.

Repeat the layers three times. On the last layer of sauce top with the remaining cheese including the other half of the parmesan. Sprinkle with additional dried basil, garlic salt and oregano.

Carefully pour the ¼ cup of water around the edge of the pan.

Bake for 45-50 minutes until the cheese is golden. Allow to sit outside the oven for 15 minutes before serving.
Notes
* You don't need to buy the special no boil noodles.
** You can add more or less cheese depending on how cheesy you want it!  If I'm making it for a party, I'll add more. 🙂
Nutrition
Calories:
522
kcal
Carbohydrates:
54
g
Protein:
40
g
Fat:
12
g
Saturated Fat:
7
g
Cholesterol:
111
mg
Sodium:
705
mg
Potassium:
116
mg
Fiber:
2
g
Sugar:
8
g
Vitamin A:
361
IU
Calcium:
840
mg
Iron:
2
mg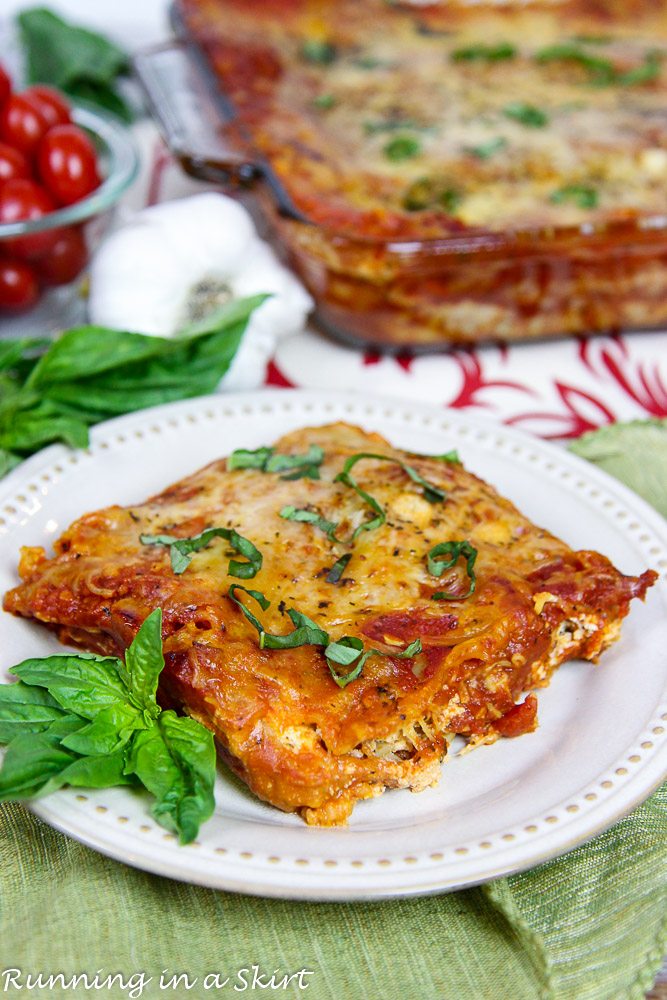 Also try...
Like my ? I'd love it if you could pin this to your favorite Pinterest board! Thank you so much for the support.


Thanks for stopping by today! Tomorrow I'm sharing my favorite Broccoli Slaw recipe.
Your turn!
What do you take to potlucks?