Making "pasta" out of zucchini or zoodles is simple and easy with a spiralizer! Use them to fix my Tomato Parmesan Zoodles, which are absolutely delicious.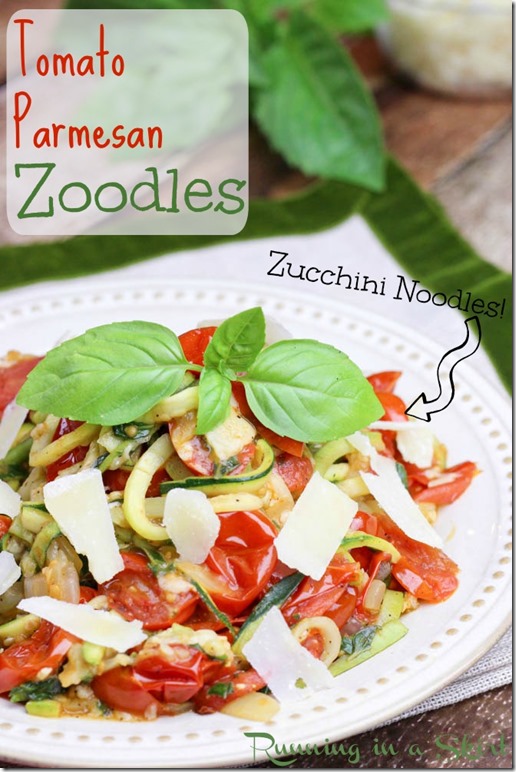 Happy Tuesday friends!
I did it. I jumped on the zoodle bandwagon. I bought myself an inexpensive Spiralizer

(amazon affiliate link) and started making my own zucchini noodles.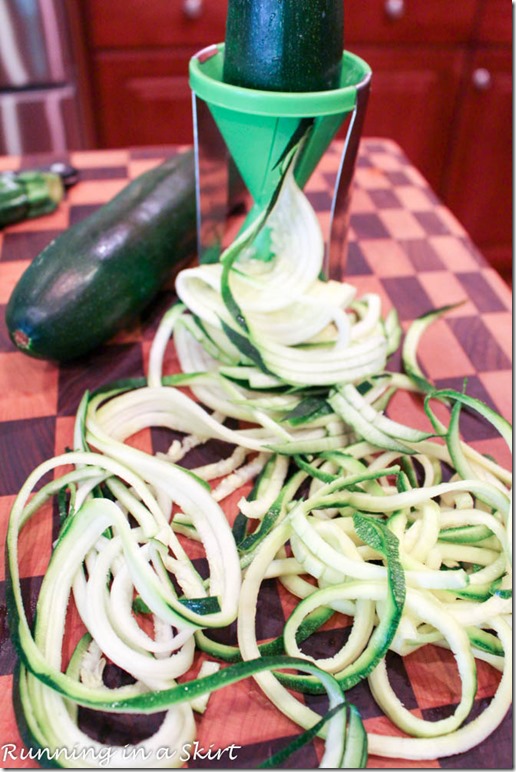 I was sure the hubs would scoff at the idea and I'd be eating my zoodles alone, but once again he surprised me! I didn't make a big deal about it and only told him what we were eating when I sat it down in front of him. After eating it for five minutes he asked me again what kind of pasta this was… and I told him it wasn't pasta at all. He said he liked it and happily ate away!
#victory #zoodlestakeonamerica
I think this is a win for my Tomato Parmesan Zoodles. And the victory comes from the homemade sauce.
And the parmesan. The cheese always wins in my world.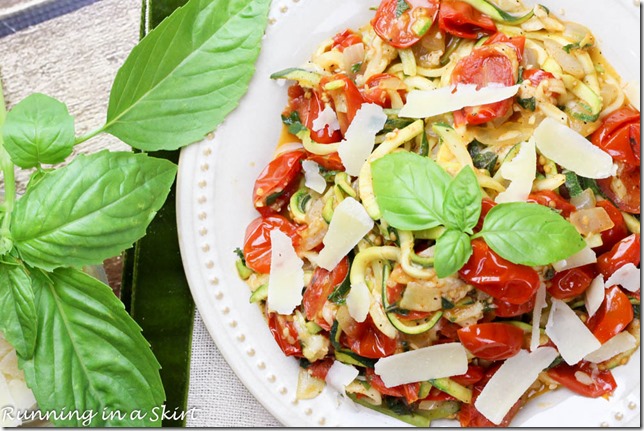 I'm also excited about this dish because in a few weeks I will have all the ingredients (except for the cheese) coming from my garden!
My cherry tomatoes are already taking off. Look how tiny they were a few weeks ago?
My zucchini is also growing like crazy. Last year I had more than I knew what to do with!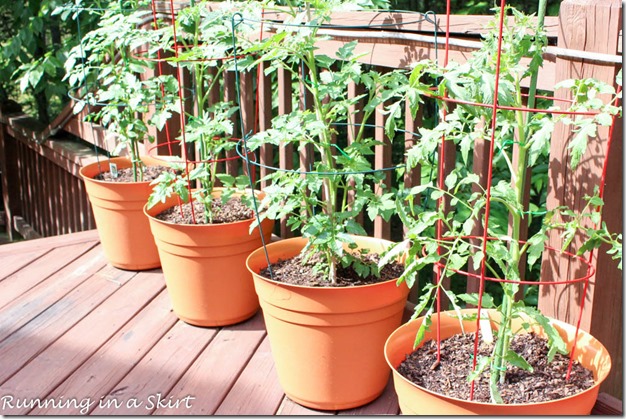 My herb tower is already going crazy and I'm not having to buy fresh herbs anymore. It's so fabulous and easy!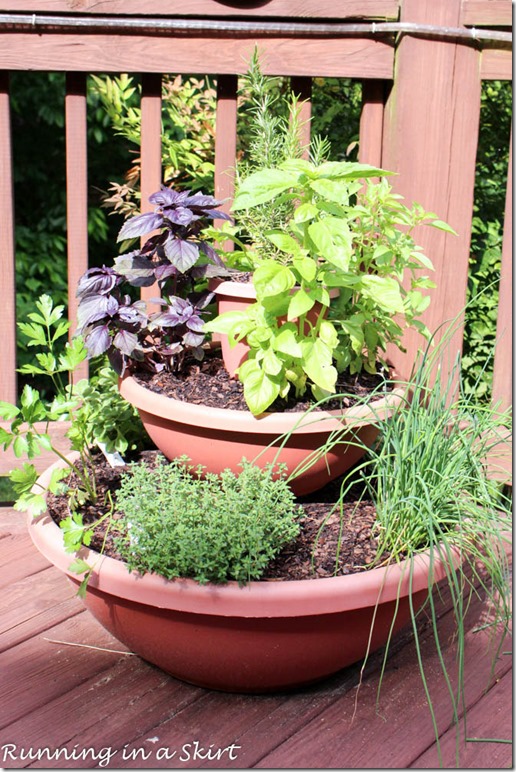 Happy basil = happy julie.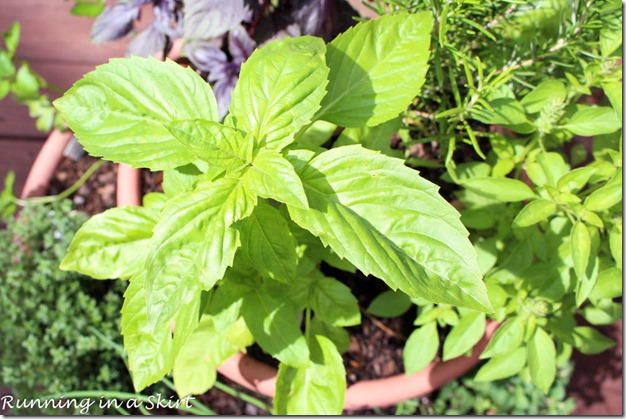 I got a little diverted gushing about gardening, but in conclusion, buy a spiralizer. I like this one for an inexpensive hand held and if you have a Kitchenaid Mixer, try this attachment. I adore mine.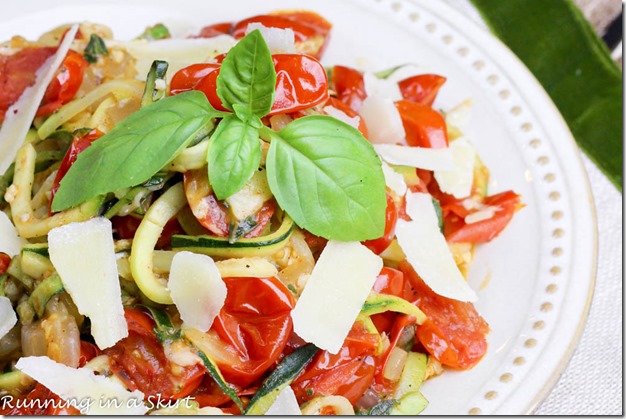 Go to the garden or your farmers market and get all the goodies to make this.
Jump on the bandwagon with me…. it's fun and really tasty up here!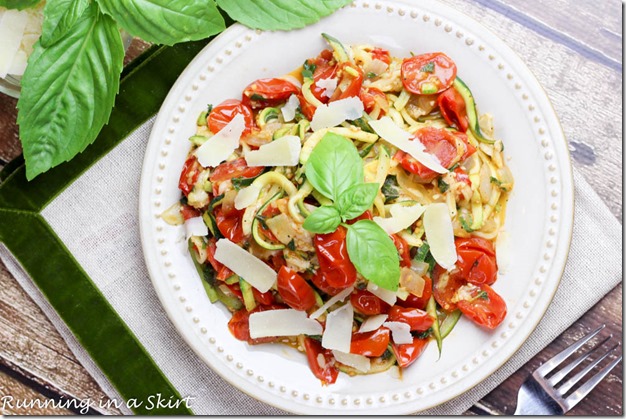 Happy cooking!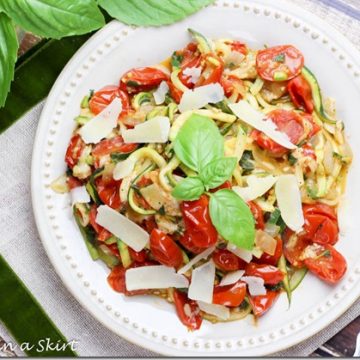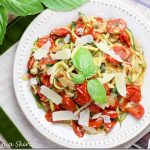 Tomato Parmesan Zoodles (Zucchini Noodles)
Making "pasta" out of zucchini or zoodles is simple and easy with a spiralizer! Use them to fix my Tomato Parmesan Zoodles, which are absolutely delicious.
Instructions
In a nonstick pan over medium heat sauté the onions in the olive oil for 3-5 minutes or until starting to turn translucent.

Turn the heat down to low and allow the pan to cool a touch.

Add the garlic and sauté for thirty seconds or until just starting to become fragrant.

Add the cherry tomatoes, red pepper and half of the salt and pepper to pan and combine well.

Cover with lid and allow to simmer for 10-15 minutes. Stir occasionally.

Turn heat back up to medium and add zucchini. Sautee for 2 minutes. Don't overcook. You still want the zucchini to have some bite.

Add the lemon and herbs in the last 30 seconds of cooking.

Remove from the heat and stir in half the parmesan. Garnish with the other half.
Notes
I put my dish in a serving dish and then add the parmesan so it doesn't get stuck to my hot pan.[fusion_builder_container hundred_percent="yes" overflow="visible"][fusion_builder_row][fusion_builder_column type="1_1" background_position="left top" background_color="" border_size="" border_color="" border_style="solid" spacing="yes" background_image="" background_repeat="no-repeat" padding="" margin_top="0px" margin_bottom="0px" class="" id="" animation_type="" animation_speed="0.3" animation_direction="left" hide_on_mobile="no" center_content="no" min_height="none"]
The servings are a bit smaller for my hungry hubby so I added a whole wheat roll and salad to round out the meal.
Nutrition
Calories:
130
kcal
Carbohydrates:
22
g
Protein:
5
g
Fat:
5
g
Saturated Fat:
1
g
Sodium:
625
mg
Potassium:
1105
mg
Fiber:
5
g
Sugar:
13
g
Vitamin A:
1549
IU
Vitamin C:
106
mg
Calcium:
71
mg
Iron:
2
mg
Want more zoodles? Try my Pistachio Pesto Zoodles!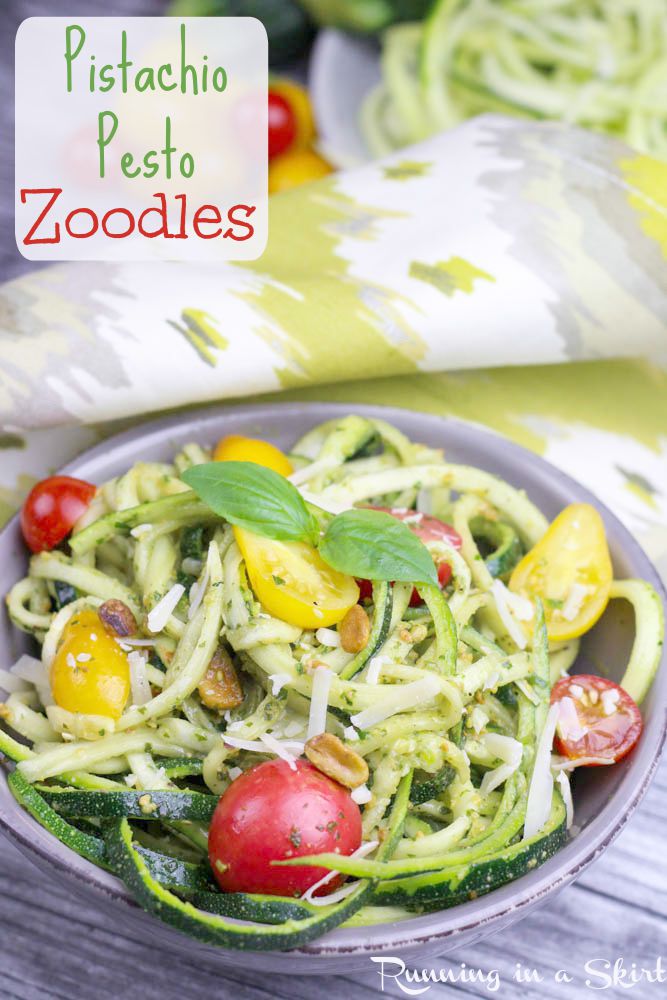 Make sure to come back tomorrow! It's giveaway time and it's big!!! A pair of hiking shoes perfect for Asheville or wherever you live! Yayyyy!
I'm sharing this recipe for Foodie Friday, Meatless Monday with Tina and Deborah, Meatless Monday with Annmarie and the Weekend Potluck. Also Full Plate Thursday with Miz Helen and FoodFriDIY and Tasty Tuesday. Thanks so much ladies for the link up parties!
Your turn?
Have you made zoodles yet?