Curious How to Build a Herb Tower Garden? This easy and impressive DIY gardening project is perfect for space-saving gardening and will be one you use and love for years to come.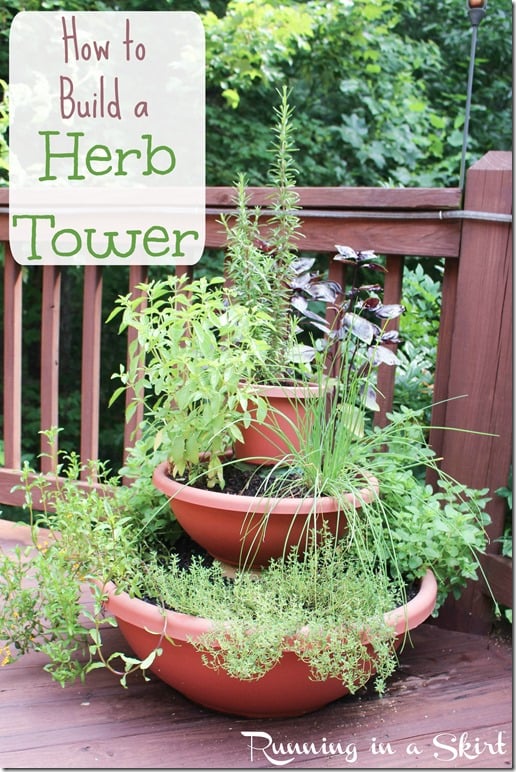 DIY Herb Tower Garden
I put together my Herb Tower garden nearly TEN years ago and have used it every year. It's something I use and love everything spring, summer, and even into fall. I adore it with a passion.
An herb tower is great if you are short on space, or just want to have something handy to keep your herbs outside near your kitchen. My actual raised bed is a good distance from my kitchen, so I like to keep my herb tower on my deck near my kitchen.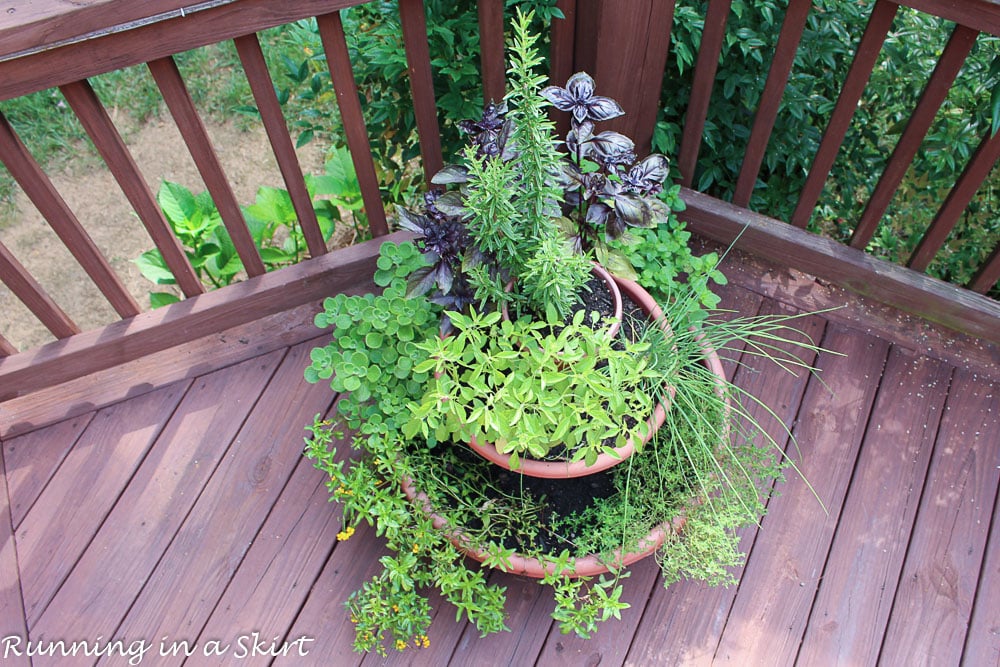 The herb tower is fabulous because it condenses the amount of space you need to grow a variety of herbs and it looks great on your deck. It's much easier than it looks to… especially since you now have step-by-step instructions!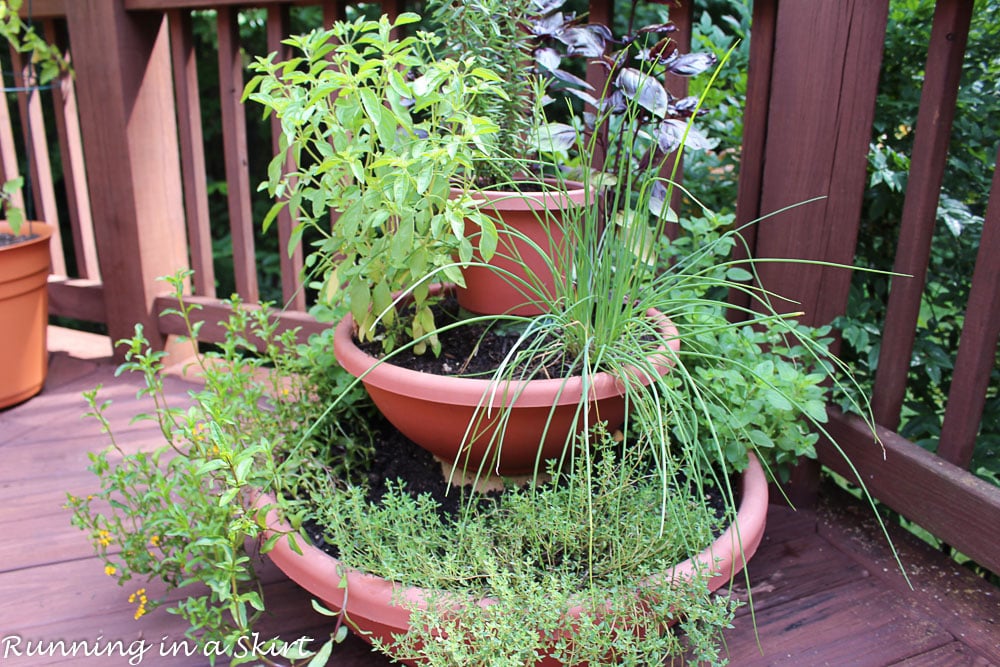 How to Make A Herb Tower Instructions:
What you need:
Two Interior Pots (to hold up the other pots)
1 bag potting soil - You can use organic or whatever type you think works best for small potted plants.
6-8 small herb plants - Pick your favorites but options include rosemary, thyme, chives, oregano, sage or basil.
DIY Directions:
Building a Herb Tower Garden is actually really simple. Here is my step-by-step photo tutorial to get it done!
You will need 3 nice round pots. Looks for ones that are wide but relatively flat. Make sure your pots have some small holes for proper drainage.
You can order these from Amazon too!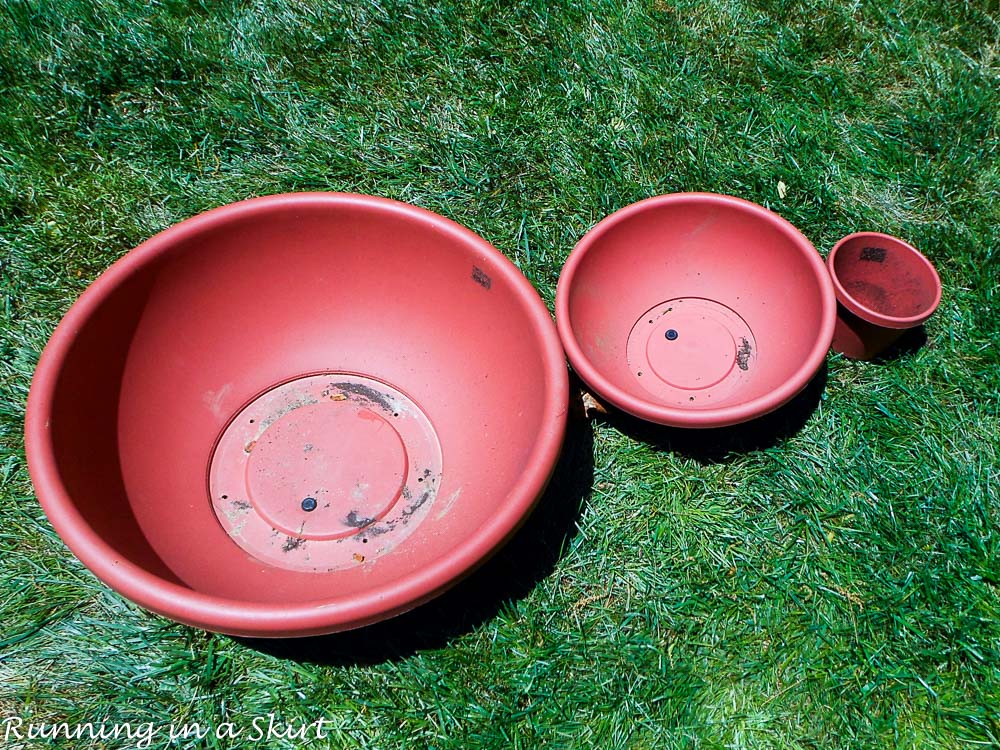 You will need two other pots that are narrow and close to the same height as the largest and middle pots. These pots don't have to look nice and can be old because you will cover them in dirt and not actually see them.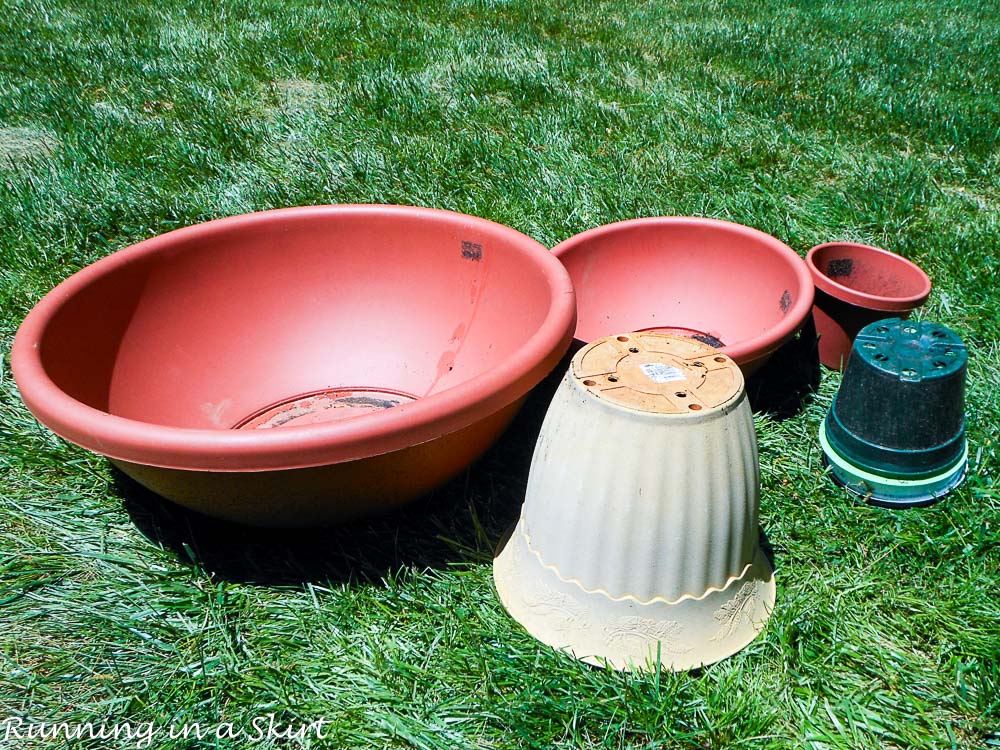 Those pots go upside down in the middle of the tower to prop up the tower.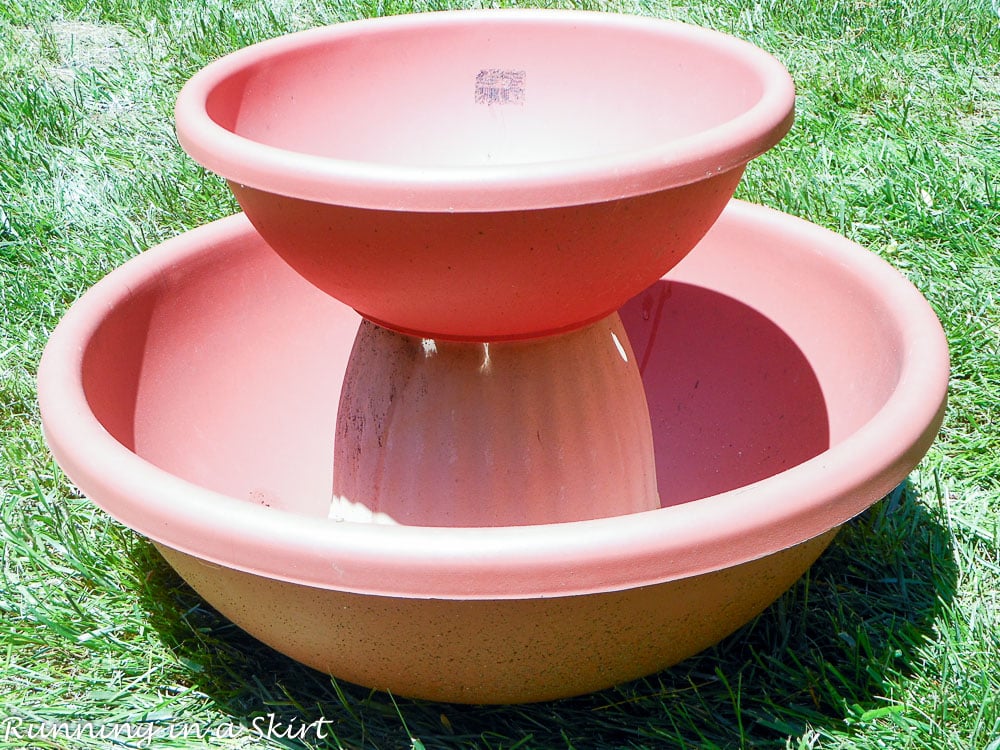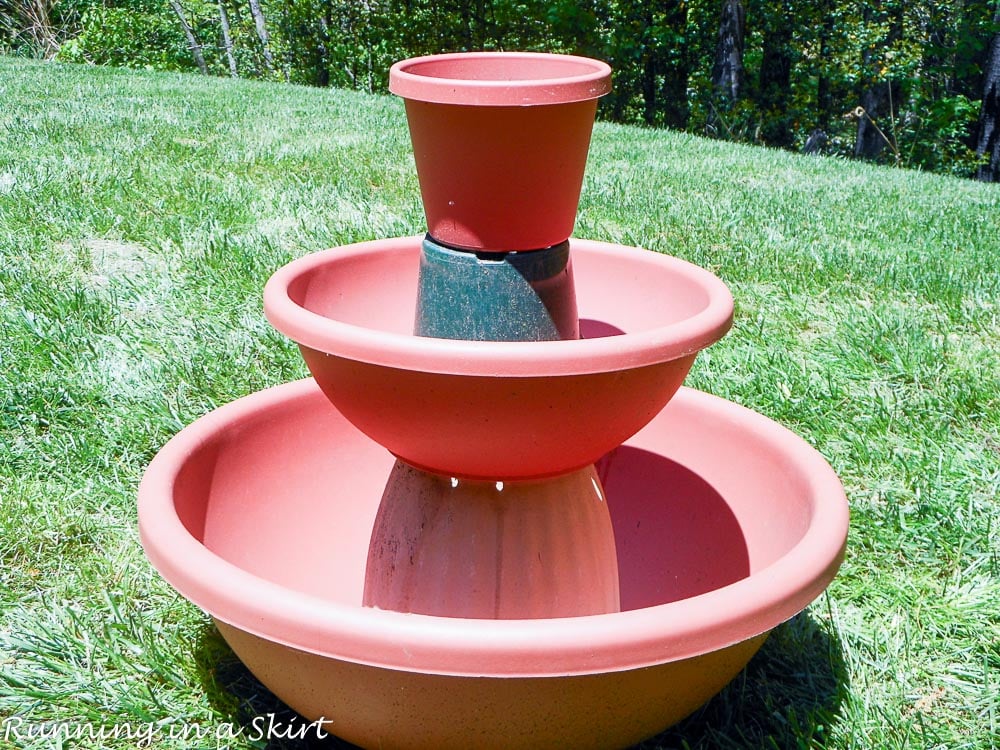 Figure out which herbs work best in each pot. At the bottom, I like low-crawling herbs like oregano or thyme.
In the middle, I like herbs with a little height like basil, dill, or chives.
I love Rosemary at the top because it is sturdy and almost "tree" like.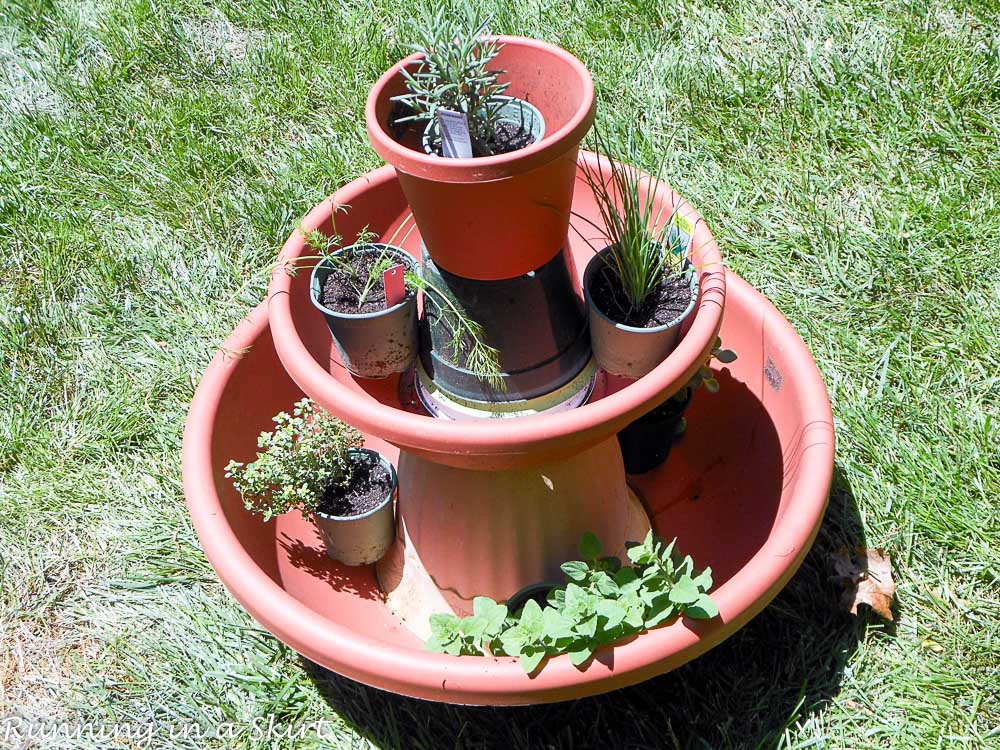 Here's what the rosemary looks like on top.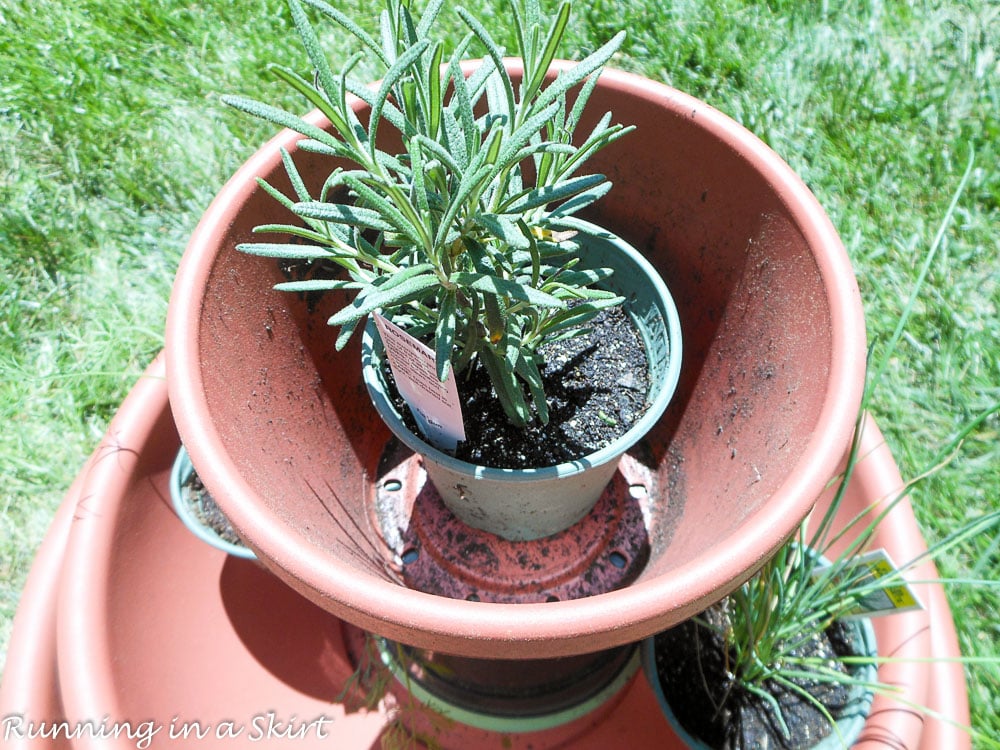 Here are the chives in the middle.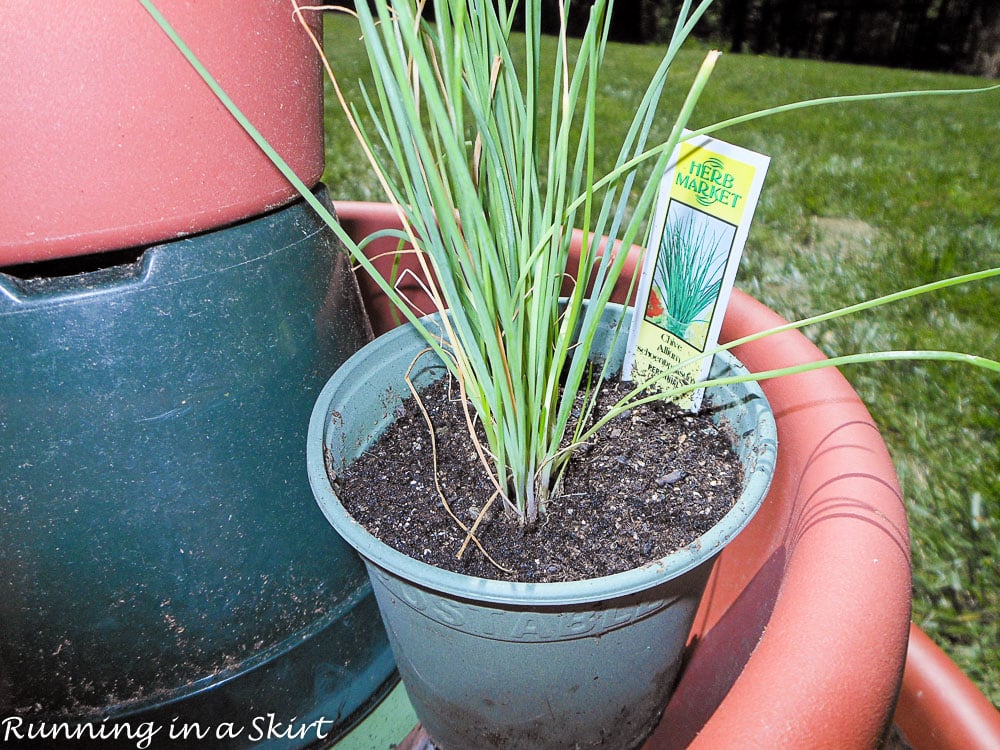 Here's the dill in the middle.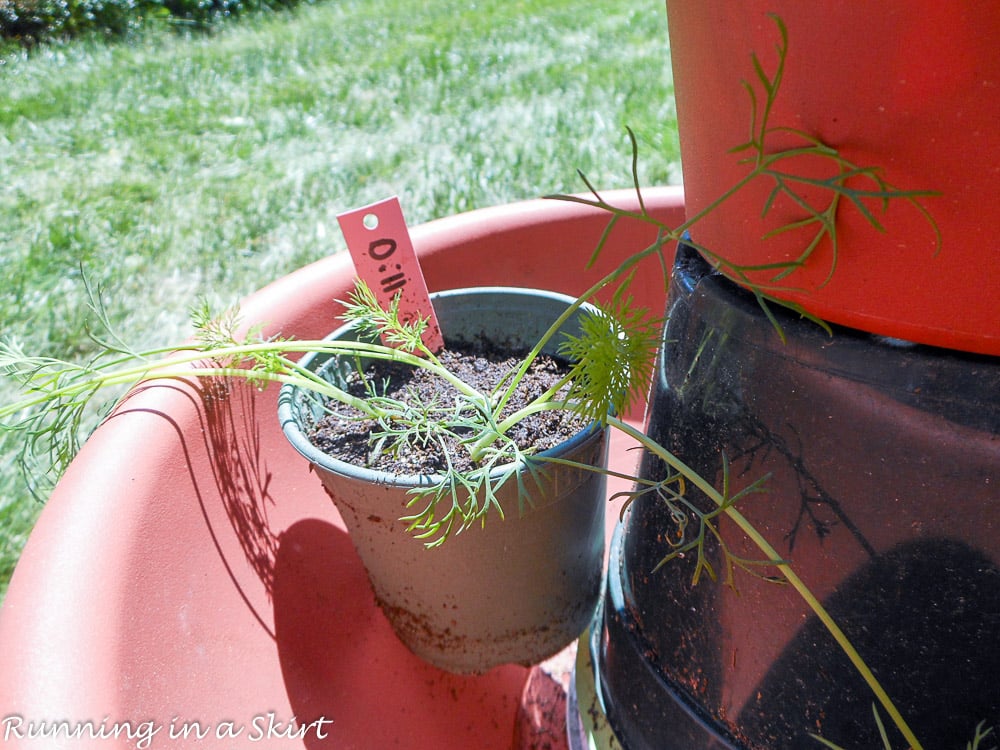 The Greek Oregano is also in the middle.
On the bottom, I used Lemon Oregano.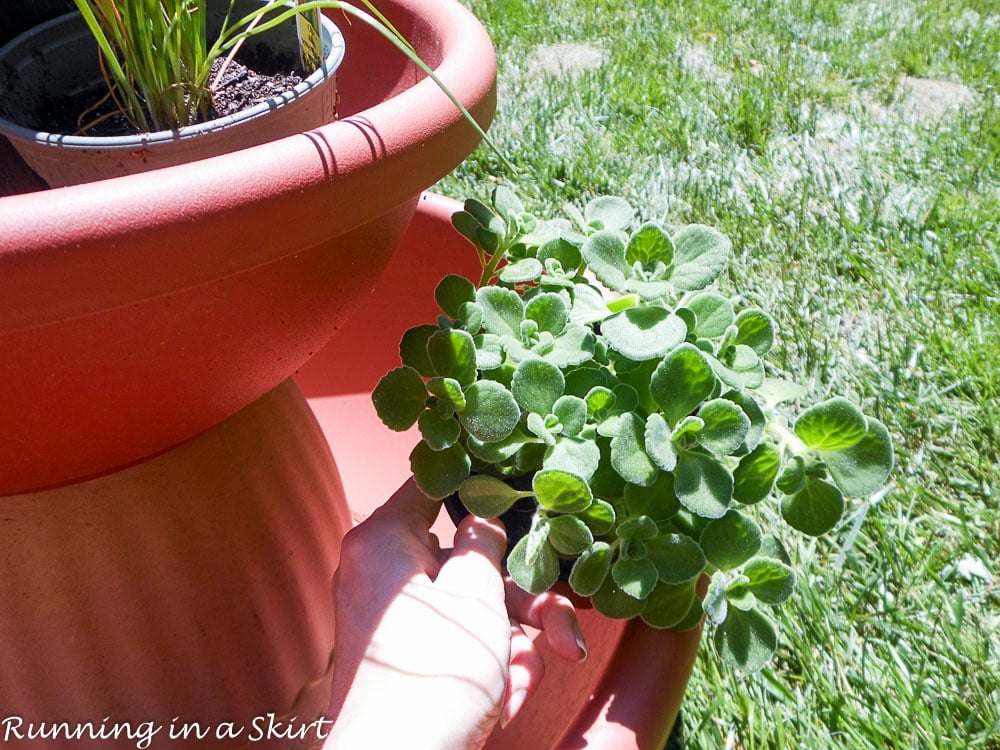 I also used Thyme. Thyme is great because it will often come back year after year.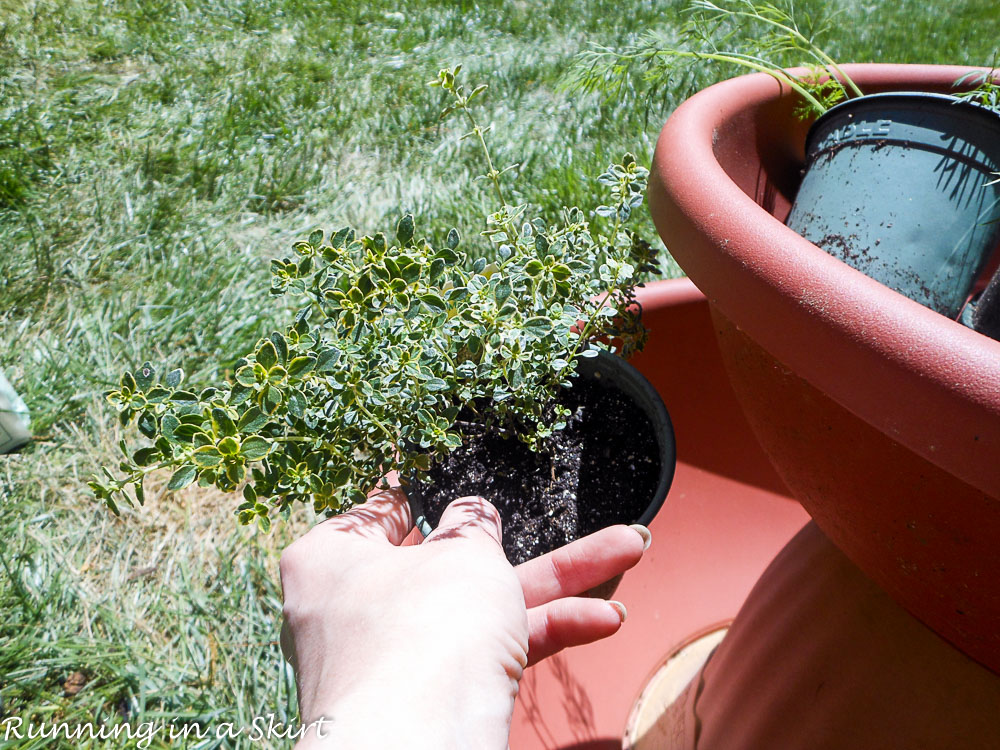 Put potting soil in the bottom pot around the middle "prop" pot.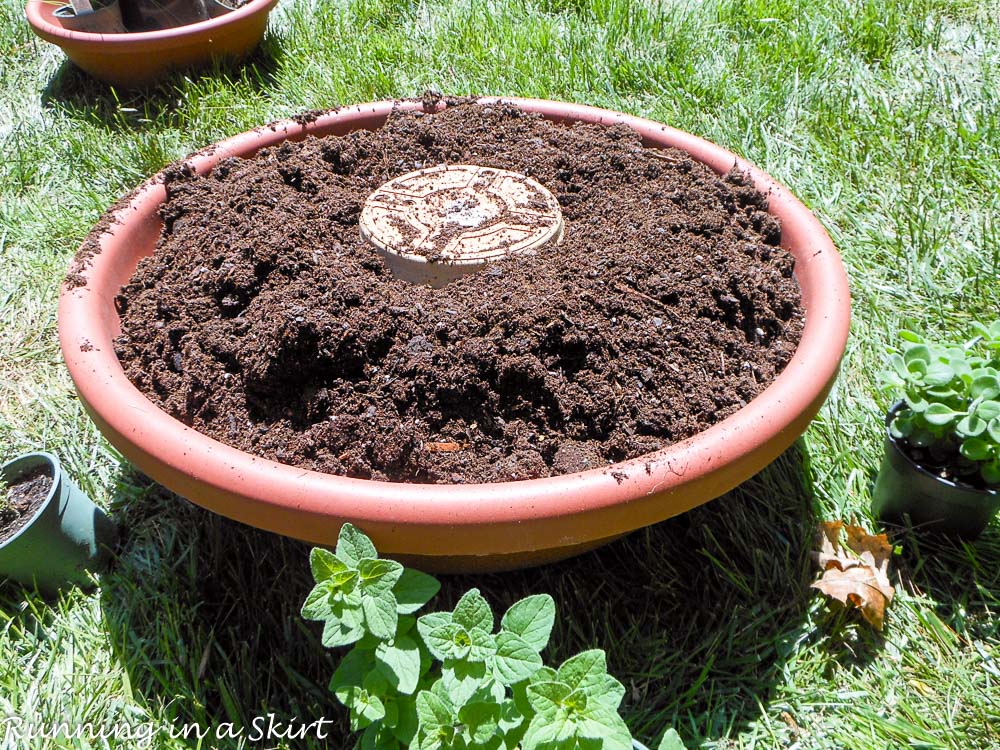 Arrange crawling herbs angled to the outside of the pot so they can spill over the sides when they start to grow.
Add the second level of the tower. Put the potting soil in the second pot, covering the prop pot again.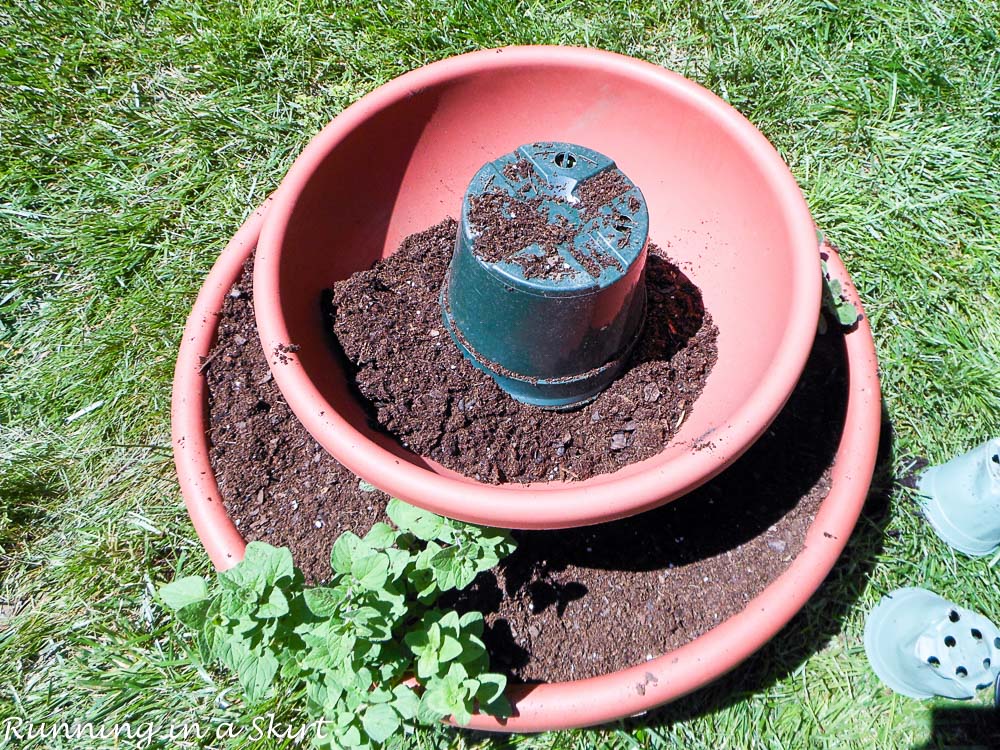 Add the top of the tower!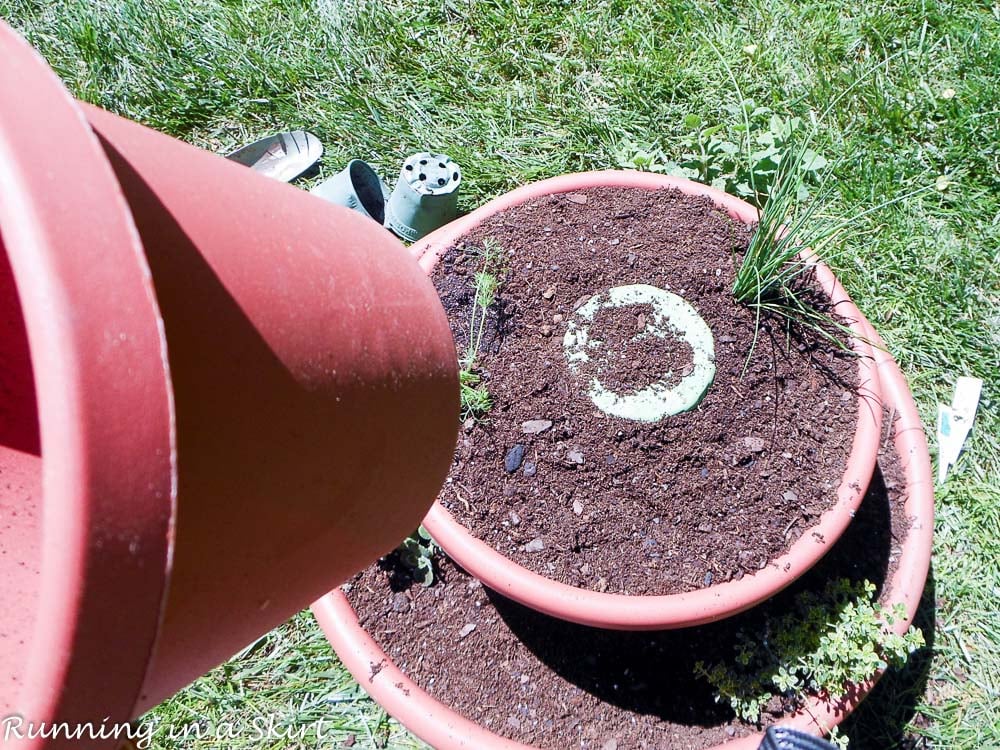 Use the potting soil to plant the Rosemary.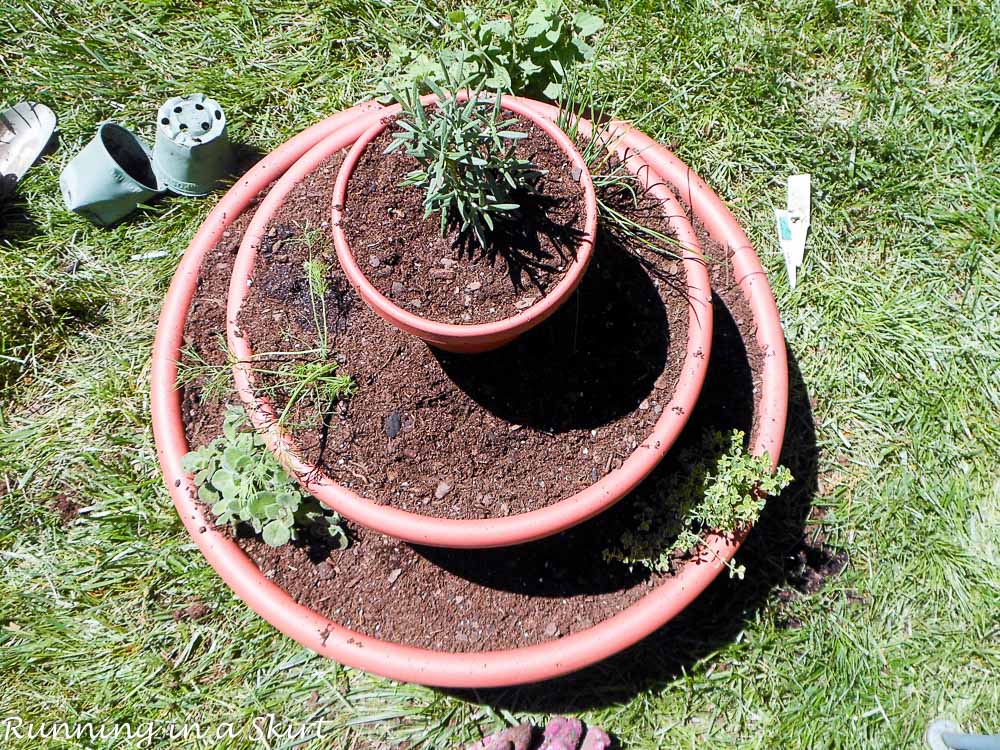 Put on your deck and enjoy! Don't forget to water

When it all grows in, it looks like this!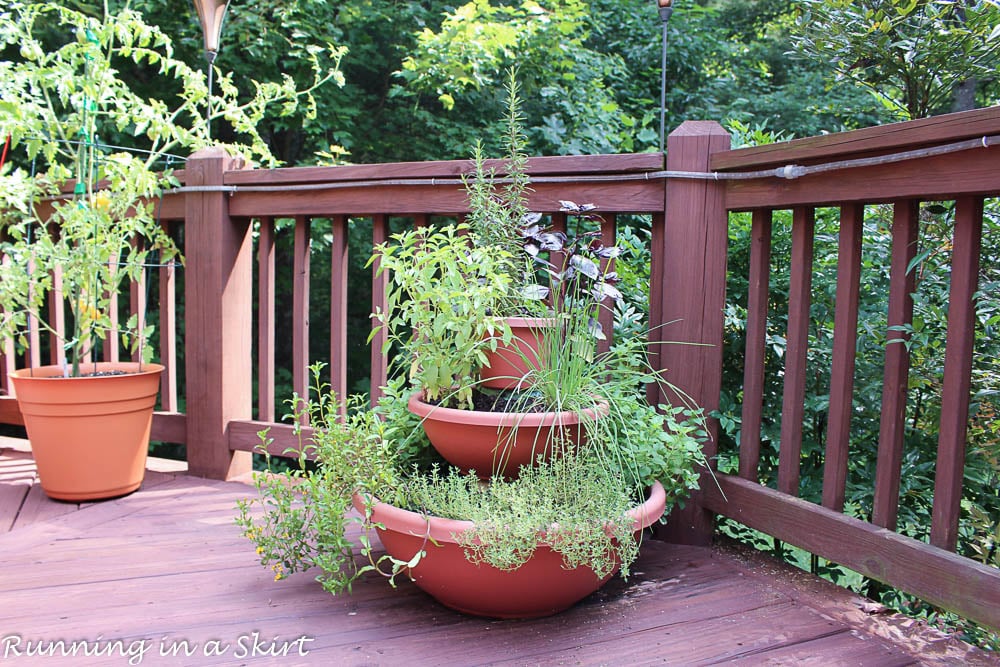 Herb Tower Garden Tips:
After the growing season is over I leave my herb tower out and several of my perineal herbs will come back the following year. I've had thyme, chives, and oregano that have been growing for years.
I would not put an invasive herb like mint in this tower unless you put it in its own pot at the top.
Once you plant the herb tower water it every day for the first week. Once it's more established you can back off to every other day or everything third day depending on how rainy or hot your climate is.
Look for soil that is good for potted plants or gardens. That soil often contains more moisture. Potted plants will dry out more quickly than ones in the ground.
Once your herbs start growing pinch them off before they flower so they don't change their taste.
I hope you enjoy your herb tower as much as I do!
Make sure to check out my healthy recipes to use these herbs also on Running in a Skirt!
Your turn!
What herbs are you growing this year?
Do you have any tips for container gardening in small spaces?