I've been surprised at the sheer number of people who have contacted me about their sinus surgery experience looking for sinus surgery reviews. I've been encouraged that so many people had a positive experience and actually felt better after it was over. This is my story...
Sinus Surgery Reviews
Right after the doctor told me I needed surgery, I immediately started googling sinus surgery to try to figure out what was involved and what I was facing. I was so grateful for anyone that posted information on the internet. So I thought I'd put my experience out in the universe with the hopes that someone will feel a little better if they knew what to expect from the surgery.
Nothing in this is intended to be professional medical advice or replace anything your doctor tells you. I am just a girl who wants to help someone know what to expect.
**I will give you fair warning this is a little long winded, but I wrote it with intentions of helping someone going through the surgery. I am not writing about the bad parts of the experience to get sympathy or make you feel bad, I just want to pass along how it went down for me. I tried to keep it as realistic, but positive as possible.**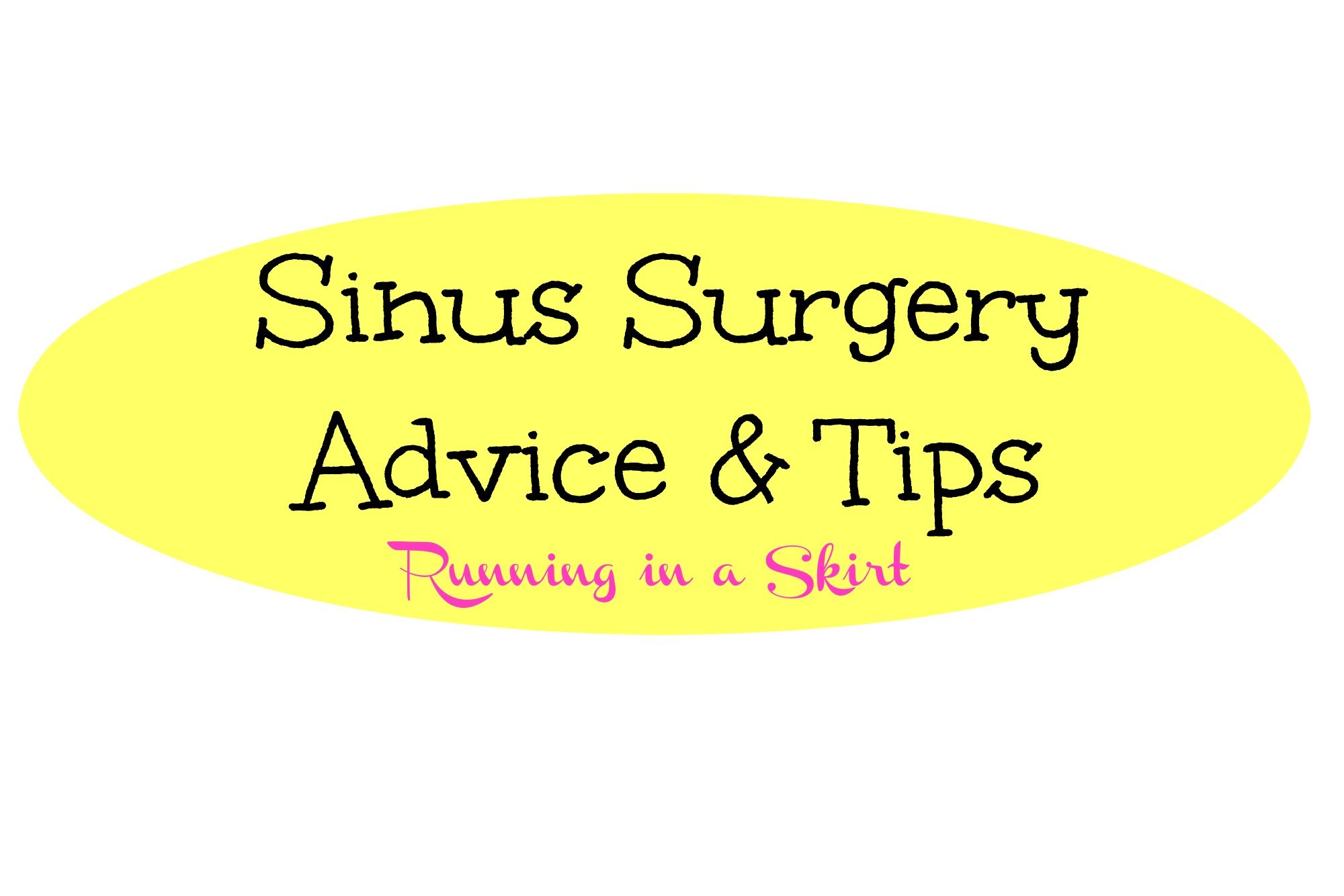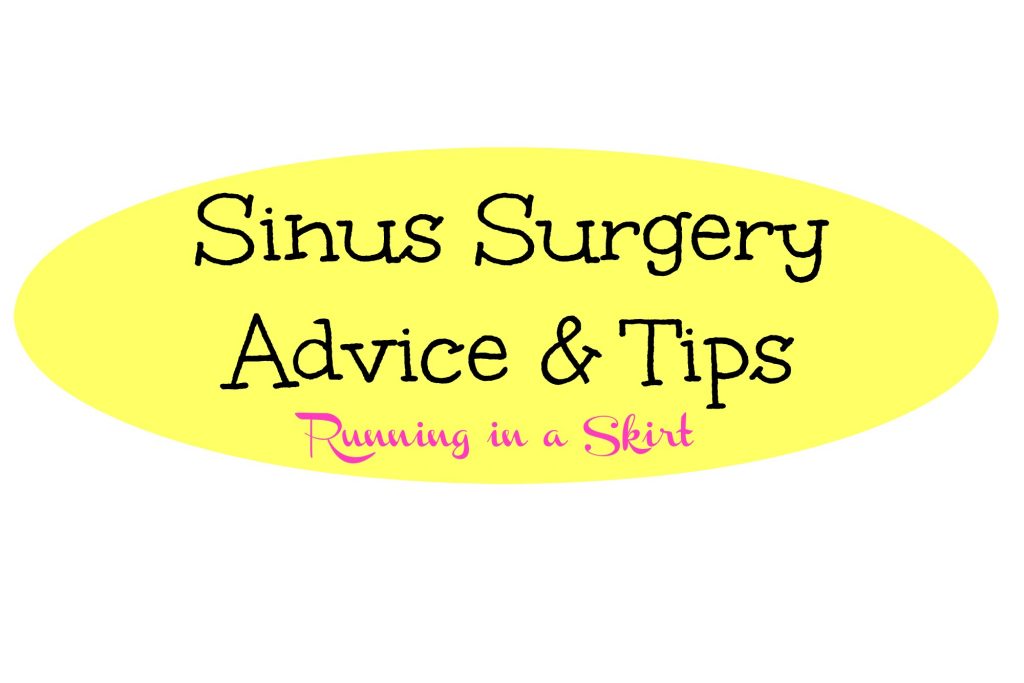 For practical purposes, I had endoscopic sinus surgery to clear the sinuses in my cheeks, in between my eyes, and the passage to my nose. I also had a septoplasty (completely internal procedure) to correct a deviated septum.
It's been 8 weeks since my sinus surgery and I am just starting to feel somewhat like my old self. I had been extremely tired and light headed for weeks. For the first four weeks back to work all I could do was get through the day and then rest or sleep. I had lots of fatigue after sinus surgery and feeling dizzy after sinus surgery. It has been an extremely slow process that I don't think I mentally prepared myself for. Sinus surgery is no joke and I would take it very seriously.
The good news is I am now feeling much less congested overall, I can actually breathe through my nose and I am slowly starting to bounce back. However, I don't think we will know if the surgery actually worked or helped me until more time passes. I had been getting chronic, back-to-back sinus infections for years that long courses of antibiotics would not help. I basically was getting wiped out with flu like conditions and losing my voice any time I got sick. The doctor said the frequency of getting infections should be much less and they should be far less severe when I do get them. One good thing I've already noticed is I've used less over the counter medicine to help with my congestion. Hopefully 6-12 months down the road I will be able to say the surgery worked because I haven't been sick as much. (Keep reading for an update to this!)
HERE, HERE & HERE are some posts I wrote during the sinus surgery process.
Sinus Surgery Recovery Tips
Some things I would recommend having on hand before the surgery…
Bendy straws (It hurt to move my head for days. We had straws to help, but not bendy ones.)
Sore throat drops (Your throat will hurt from the breathing tube they put down your throat during surgery. It will continue to hurt from not being able to breathe out of your nose.)
Saline Nose Spray (helps your nose feel better. Your doctor may ask you to use this to help keep your nose clear)
Soft food (My throat hurt so badly I wanted nothing to do with regular food)
Chapstick for the hospital (I woke up from anesthesia and my lips were really dry)
Chloraseptic Spray (sore throat after surgery)
Tissues (drippy nose)
Face Cleaner Wipes (I could not bend my head over or touch my face without pain. The wipes helped me clean my face for the first couple days)
My Sinus Surgery Experience
Day Of Surgery…. (Tuesday)
We had to be at the hospital before daybreak. My dad and husband went with me I was so grateful to have them there. You have to have at least one person with you to drive you home.
When we get to the hospital, the front desk took my name and asked us to sit and wait in the waiting room for a few minutes. 30 minutes later they called my name and officially checked me into the hospital. They put a band on my wrist and gave my husband and dad instructions on how to get updates on my condition.
We were directed to go upstairs to the surgery prep area. I had to leave my Dad behind because only one person was allowed to come with me at first.
When we got to the room the nurse gave me a hospital gown (UGH!). At least a half dozen medical personnel came in and out of the room asking questions. I ended talking at length with the anethestalogist about my past history of anesthesia making me nauseous. They took all precautions they had to keep my stomach as settled as possible including putting the equivalent of a "seasick" patch behind my ear. Something they did worked because while I felt very sick after the surgery, I did not actually get sick. I kept the patch behind my ear for several days.
I was incredibly nervous during this whole process and expected someone to offer me the medicine to calm my nerves. No such luck. They said they had to ask you all of the procedure questions with you completely aware.
At some point my Dad got the all-clear to come up and join us and we all tried to get a few laughs out of the situation.
Eventually, a nurse gave me an IV and this was actually the only "stick" I got during the process. All of the other medicines, including the anesthesia, came through this line.
After what seemed like forever my doctor arrived and checked on me. He made sure I didn't have any last questions.
Finally, they made me lay down and rolled me out of the prep area to the operating room. At that point, they finally gave me the medicine that makes you fade away.
I first woke up several hours later with a nurse nearby. I was still fading in and out and hardly remember them actually moving me into the recovery room. Somehow I ended up in a big leaning chair, instead of the hospital bed, which surprised me.
In the recovery area, I felt sick to my stomach and extremely lethargic. Luckily the medicine the anesthesiologist gave me to keep me from getting sick worked. Even though I felt bad, I didn't actually get sick from the drugs. There was a piece of gauze under my nose to catch any blood. Ew- sorry!
We waited in the recovery room for over an hour for me to get my bearings enough to be put in a wheelchair and taken home. The car ride was miserable. I had terrible motion sickness and just wanted to get out of the car. Every time my head was upright instead of laying down, including in the car, my nose started bleeding badly. We were back home by mid-afternoon.
Once we got home my hubs and dad helped me to bed. My Dad had to go to the pharmacy to pick up anti-nausea pills and pain pills. I would recommend asking your doctor if you can get these prescriptions ahead of time. If you only had one person with you, going to get these medicines could be a problem because then you would be alone. I needed someone with me. I was in bad shape.
I slept through most of the rest of the day and I only ate a few bites of yogurt. I felt like I had enough pain medicine still in me that I didn't feel that much pain…. just extreme discomfort. I could not breathe through my nose at all and it was blocked with gauze. I could not get out of bed even at all without assistance because I was so dizzy and unstable. When I moved my head my nose bled… (sorry again!)
I was given instructions to keep my head elevated slightly with pillows in the bed. I found it hard to sleep like that and was just not doing well at all.
The Next Few Days (Wednesday – Saturday)
I woke up feeling miserable Wednesday morning with an extreme headache and nausea. I had skipped a dose of pain and anti-nausea pills in the overnight hours and that caused me to really suffer. After the first night, I set an alarm to take the pills in the middle of the night because the medication wearing off was not fun. I did not let the pain pills lapse until the following Monday because I would get very bad headaches if I did.
The doctor called me early Wednesday to check on me and let me know the next few days would be the worst part of the recovery.
They were. Not being able to breathe out of my nose meant I was constantly breathing out of my mouth and my throat ended up being very sore. I recommend keeping water with a straw by your bed, clorespectic, and Ludens cough drops.
My nose was so sore you couldn't even touch it. The entire inside felt swollen shut and it was dry and painful. Saline spray provided some relief.
I didn't have any external bruising, but my whole face felt and looked a little swollen and yellow. It was nowhere near bad as I thought it would be though, considering what they did!
I needed help getting out of bed for several days. I stayed in bed constantly until Saturday. I found I couldn't do anything for too long… even watching TV or reading a book made my head hurt. One big challenge was it hurt to wear my glasses.
I was on complete vocal rest to make sure I didn't cause further damage to my vocal cords after the surgery. I seriously hope you don't have to do that. Not fun at all.
Sunday
I started feeling a little better and had breakfast out of bed! I was still very dizzy and needed some help going up and downstairs but I was able to watch some TV on the couch.
I stopped feeling nauseous and finally had some real food. Before Sunday, I had only had soft comfort food and very little of it. That probably didn't help how I was feeling… but I was so sick to my stomach that I didn't want to eat anything. I only ate enough to take the meds.
Monday
I tried to stop taking the pain meds. Bad idea- I was miserable. My head was still very tender. By the middle, to end of the week the pain had gone down and over-the-counter meds were enough. I was still very uncomfortable though and had trouble walking up and downstairs.
Wednesday
I had my follow up appointment with my doctor. I was still very dizzy, unstable, and taking a few pain pills so my husband drove me to the doctor. I still couldn't breathe through my nose and it was still very painful. I was incredibly tired and still felt very bad.
The doctor said I was doing as well as could be expected, and started me on 3 times a day nasal washes. He said you have to keep your sinuses clear until they start working on their own again. Around this point I started to notice a ton of drainage from my sinuses. If I held my head anyway but straight, gunk would literally fall out of my nose. Yeah, I know. TMI.
He said my fatigue, dizziness, and pain were still normal and I should start feeling much better at the 2-week mark after surgery.
For the rest of the week, I improved a tiny bit each day but still could not breathe through my nose, was dizzy and very tired.
2 Weeks post op
The doctor was right again. I noticed a big difference at 2 weeks out. I finally felt well enough to drive myself and started back to speech therapy for my voice problems. The swelling in my nose started to go down but it still felt like I constantly had a cold. My nose was still painful to the touch though and the drainage was significant and hard to handle.
I was still extremely fatigued and felt like my asthma was making it difficult to do much of anything.
3 Weeks Post Op
I went back to work one day shy of 3 weeks post op. I was extremely fatigued and had a lot of trouble with my asthma. I could hardly walk from my desk to my car. All I had the strength to do was work and come home and rest.
The drainage continued to trigger asthma problems that I had to cope with. My nose was less swollen but it was still tender to the touch and felt congested. It felt like I had a bad cold.
4 Weeks Post Op
I started to notice the swelling in my nose a little less. I felt a little better but I was still very fatigued.
I went back to the doctor for my second post op and he said I was doing very well again and my fatigue was normal. The drainage from the surgery was still causing me problems and asthma problems.
The doctor said it would be another 4 weeks before I started to really notice more recovery and kept me on 3 times a day nasal washes.
The doctor also told me to avoid pollen, but I could try to start walking on my treadmill to build endurance… as long as I didn't push myself.
5 Weeks Post Op
I was still struggling with work and fighting fatigue, but noticed improvements through the week.
My nose started to clear and I actually started to notice my sense of smell…. something that I hadn't noticed in years and years.
I walked on my treadmill a few times (1 mile) and did some yoga. The small amount of exercise improved my spirits and didn't make anything worse. Yay!
6 Weeks Post Op
I finally start feeling a little more like myself. I could breathe easier through my nose.
My allergist adjusted my asthma medications which provided some relief to the breathing problems. He said I was doing very well and he had seen many patients doing far worse following sinus surgery.
My nose was still a little tender but was remarkably clear considering it was the middle of pollen season.
The drainage was still causing me breathing problems, but I felt like I had more endurance.
I start adding some light jogging on my treadmill, but only in short increments.
7 – 8 Weeks Post Op
I started to feel like my old self. I still had to limit my activities out of work and found I got tired very easily. At the end of the 8th week I noticed a considerable improvement. It finally felt the drainage was starting to slow down and the head was less drippy.
At my third post op appointment, my Doctor told me my sinuses were healing and I could do the nasal washes less frequently. He suggested continuing to use a nasal mist spray. He also said the healing and recovering process would continue over the next 4-6 weeks. That means it will be over 3 months from the surgery to when I should be back to normal. He told me to be patient, but I was on my way to finally feel better.
Sinus Surgery Update February 2016
When I wrote this, I never could have imagined how many people would see this article. I'm so glad it has helped. Your responses below made me feel better than other people had a similar sinus surgery experience. I felt crazy when I was not better in two weeks. It was a hard thing to go through and for many, it takes much longer to heal than the doctors tell you!
I just wanted to post a long-overdue official update. It took about three months for me to start getting back into running and fitness. I was almost back to normal at that point, but it took about six months for me to feel completely normal again. I was working a very demanding job at the time though.
Despite the long recovery time, the surgery was worth it for me. I don't get sick as often and when I do, I have normal symptoms and recover quickly. My immune system has improved. Knock on wood, but I have not had a single sinus infection since the surgery. I also don't take hardly any over the counter medicines anymore. I can blow my nose like a normal person. I have kept up with occasional saline washes.
I did however end up leaving my job at the TV station in July of 2014. Despite the surgery working, I still struggled with health and voice issues stemming from getting up at 2AM for eight years. Learn more about my journey HERE and more about Running in a Skirt HERE. This blog is now my "job" and I'd love for you to spend some of your recovery time exploring it!
Check out my inspirational fitness ideas,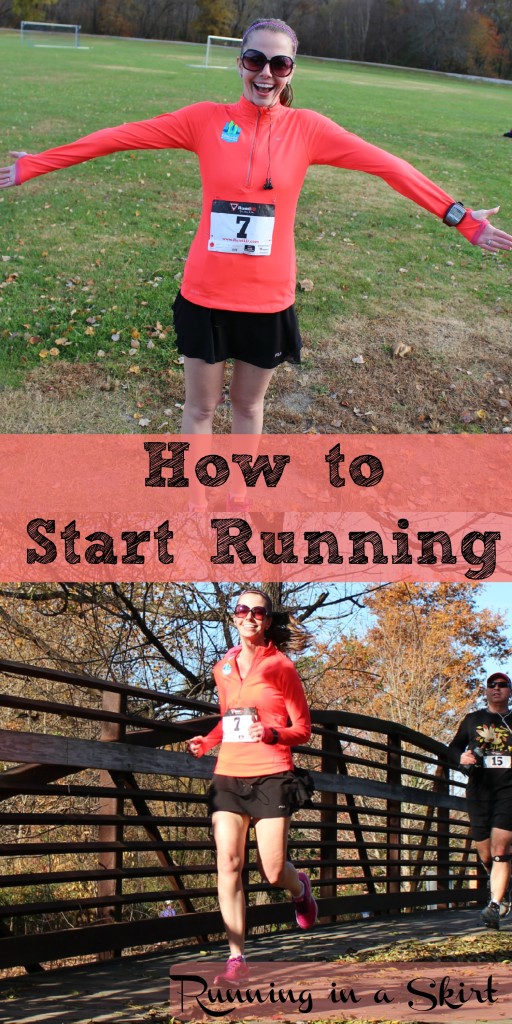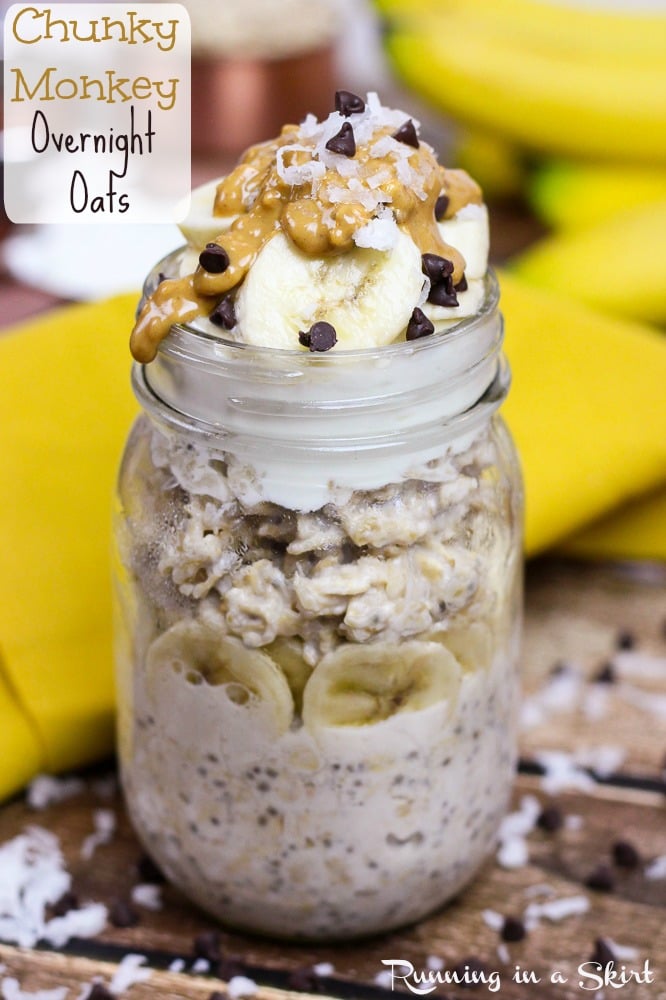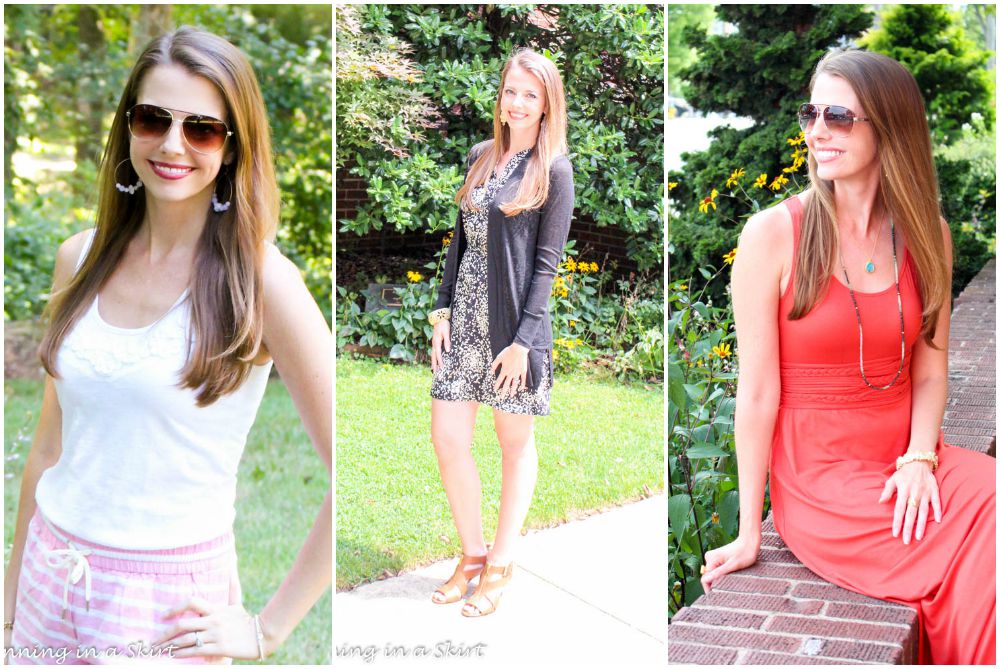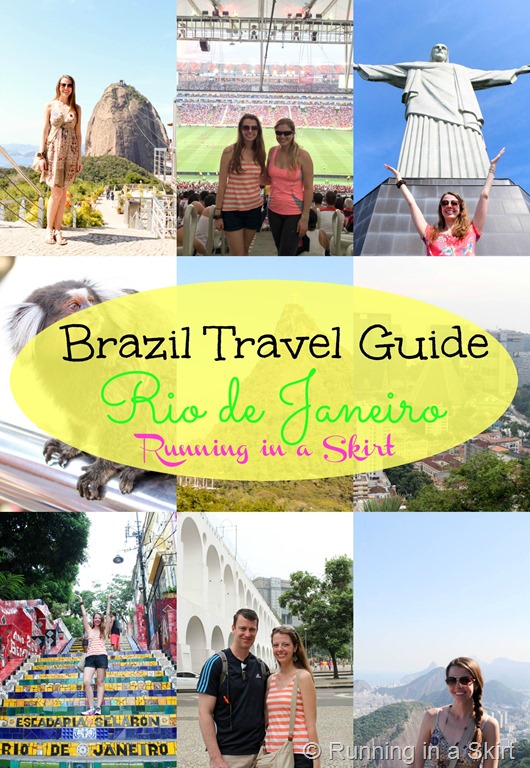 and random fun.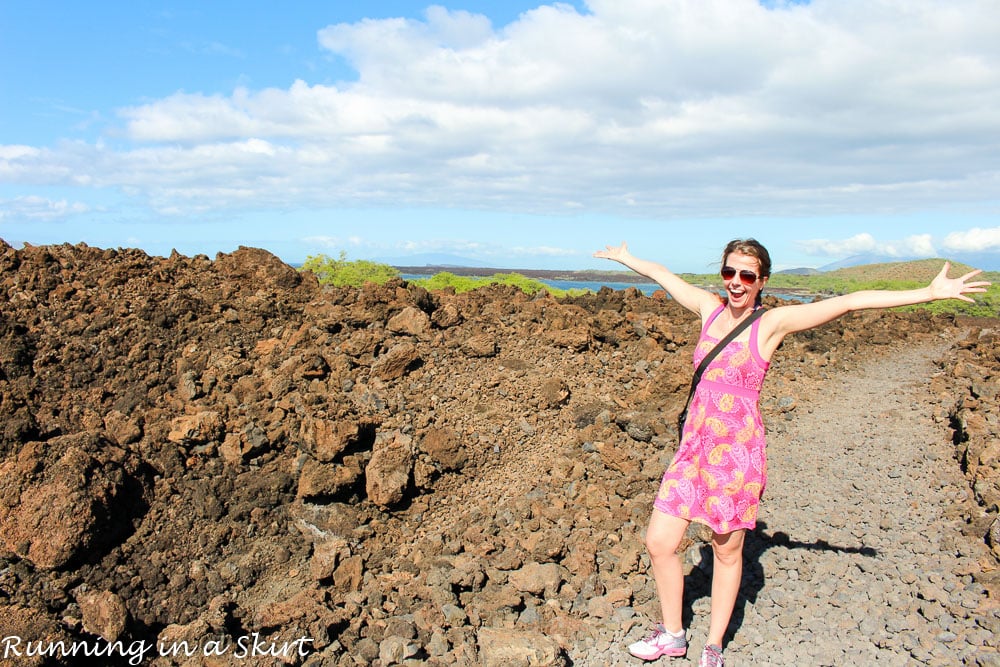 -------------------------------------------------------------------------
Good Luck if you have to have sinus surgery. It is a tough process. I hope this helped you in some way. Again, I am not a medical expert and this is just my personal experience. Yours may be very different.
---------------------------------------------------------------------------
QUESTIONS:
Do you know anyone who has had sinus surgery?
How long has it taken you to recover from surgery?