If you reached this post and are looking for sinus surgery advice and help, click HERE!
Hey guys! I'm not feeling up to much… but I just wanted to drop a quick note to let everyone know that I'm OK and the surgery was a success.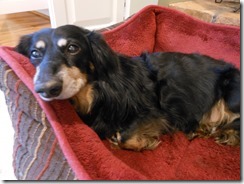 "This is how Mom feels… ugh!"
I have a couple pre-planned posts for this week and next to keep you entertained while I'm recovering. I assumed I would not even feel up to playing around on the computer for awhile. You can look forward to my Dad's "no fail" salmon recipe, a Q & A on those cool new minimalist running shoes from Foot RX, and a Q & A on making a running or fitness comeback after injury or illness from an awesome local trainer with Carolina Gold Fitness. It's good stuff, I promise!
As soon as I feel up to it I'll fill you in a little more on how things went with the surgery and recovery process.
In the meantime we all will be sleeping…
(Insert another shameless photo of my adorable dogs since I'm not posting a post surgery pic of myself-haha!)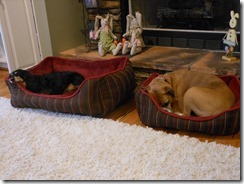 Does anyone see anything wrong with this? HA!
My dogs are nuts.
Thank you all for your thoughts, prayers and kind words. It has lifted my spirits so much to know so many care about me. I love you all. This is truly the best place in the world.