*HERE IS A LINK TO MY POST SURGERY POST*
Rhett and Reina are really upset that they haven't made a cameo on the blog lately! So to lighten the mood with the heavy news I have to share, I thought I'd let them spread a little cheer first!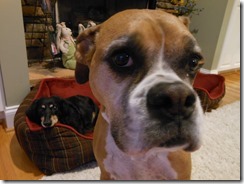 Those are some pretty ridiculous "serious" faces….
Doesn't that make you feel better?
They certainly make me feel better… or at least keep me busy and entertained!
But I digress, I have a problem with avoiding serious subjects.
Since I have been off work, I have been trying to get healthy and get my voice back.
CLICK HERE FOR A LINK TO THE POST ABOUT MY VOICE PROBLEMS
CLICK HERE FOR MY OTHER RECENT HEALTH UPDATE
The voice problem is the main reason keeping me off the air, but the doctors have also been trying to get to the bottom of what has been triggering the overall health problems in the first place. They want to know why I keep getting so sick for such long periods at a time, so we can try to keep it from happening again. I've been going to a ridiculous amount of appointments and had all sorts of tests run.
Most of my tests have been ruling out more serious problems (YAY!), but my sinus CAT scan came back with some issues that couldn't be ignored.
My Ear, Nose and Throat doctor showed me on my scans how my sinus cavities are more than three quarters blocked with infected and damaged tissue. He also showed me how the sinuses between my eyes and nose are blocked. On top of that, I have a severely deviated septum. He said I have bad, chronically infected sinuses that have probably just been getting worse over the course of many years. He thinks that in between these bouts of acute illness that have been knocking me down so badly, I have never actually been getting completely better. Basically, I've been sick constantly and fighting for years. He said "medication" options were not working and my best option to actually get completely better and stay better is sinus surgery.
Ugh.
My ENT doctor is awesome though and knows how badly I want to get back to my job, so he immediately went to work putting a rush on the surgery. I will have sinus surgery next Tuesday to clear out my gunky, messed up head.
I'm dreading it, but I am hopeful that this surgery is the answer we have been looking for. I have not felt like myself in a long time and this helps explain why. I know it will be a rough recovery in the short term, but in the long term I should feel so much better.
The doctor was quick to point out that I will still have allergies, asthma and voice problems… but without the major trigger that has been sending me downhill so often, so quickly, the doctor says I will have far fewer sick days. There is a light at the end of the tunnel.
So, you may have guessed, this means I will be off of the air for a little while longer. I'm not exactly sure how long because no one is confident how the surgery will temporarily impact my voice. I have a goal date in mind, but I'm going to do what the doctors say and remember that I can't 100% control this situation.
I am under strict orders from my Speech Pathologist to be on complete vocal rest (AGAIN!) immediately after the surgery until the initial swelling and pain goes down. As soon as the swelling goes down, I will start meeting with her again to continue to build the strength in my voice to get back to work as soon as medically possible. She has helped me so much and my voice is doing much better.
I have some challenges and rough days ahead, but I feel like there is finally a plan and some answers to my health problems. I can handle this. I'm tougher than I look and I will be strong to get through this.
Thank you all for the outpouring of love, support and prayers during this rough time in my life. I am so lucky to have so many people who care. You are all amazing