Hi guys! Wow. It's been an interesting two weeks. Sinus Surgery is no joke. I was completely out of it for almost a week and have been forced to really take it slow this past week. It wasn't what I expected and it has been hard to bounce back from. But you can't keep me down forever!
When I completely recover, I hope to write a post on advice and what to expect from sinus surgery to help anyone who has to go through it in the future. I know I appreciated anything I could find online to help prepare me for the surgery. I'm just not up to writing a long detailed post yet... I'm still getting some headaches. And since I'm still not completely better, I feel like my story isn't complete.
So, In the meantime here are a few things I've been thinking about while I've been forced to stay on the bed or couch.
1. It's easier to be sick and stuck inside when it's 40 degrees and raining than 70 degrees and sunny. I want to go play outside!
2.I find much more satisfaction in finishing a book than watching hours of TV. I end up feeling so invested in the story, like I know the characters. I just finished "Love Walked In" by Marisa De Los Santos. It's sweet story with surprising twists and turns. I've already downloaded the sequel on my Nook (Belong to Me) and I'm looking forward to reading it.
3.I can consume a lot of ice cream. A lot. It's bad.
4.Dogs are very hard to take care of when it's hard to get up.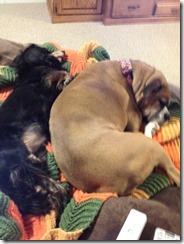 A fleeting moment of peace….
I can't believe they are "touching" much less "spooning…"
5. I adore my bird feeder. It must be the most popular bird feeder in the area. I have two Cardinal pairs and dozens of other colorful birds that practically live at it. My husband can't keep it full of birdseed. He says we are going to go poor on bird food, but I can't get enough of watching the sweet birds.
6. Reading the new Runners World really makes me miss running even more. At my checkup appointment my doctor said no running yet…. and I probably want to work on doing some laps walking around the house before I plan my next race. My doctor knows me too well… I might have my eyes on some May 5K's. I'm trying not to get my hopes up though.
7. Online shopping is way too easy and I had to cut myself off. I have some adorable summer dresses that I can't wait to wear though!
8. I can spend a lot of time daydreaming about all the fun I'm going to have when I'm not sick anymore! And it's a good thing I bought those new outfits that will be perfect for Asheville summer events.
9. The Netflix TV series option is a blessing and a curse. My husband downloaded it onto our Wii so I wouldn't get bored. I started watching this Australian TV series about a group of teenage ballerinas called "Dance Academy." I ended watching the entire collection of shows. I couldn't stop. I was glad to have something to do and I really enjoyed the show. It made me wish I was still able to dance. But I feel like it is HOURS of my life that I will never get back. Refer back to number 2.
10. BEST GET WELL GIFT EVER!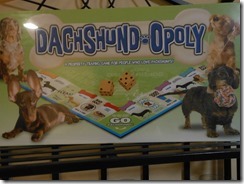 I can't believe this exists!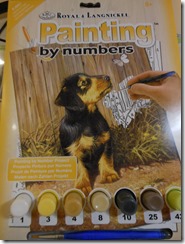 I've actually never done Paint by Number before!
From my co-workers Holly and Jay… Dachshundopoly and Dachshund Paint by numbers…. you guys know me too well.

Love you and can't wait to be back. I miss my real life![/fusion_builder_column][/fusion_builder_row][/fusion_builder_container]