It's easy to be happy when everything in your life is going right.
But when you hit a roadblock or perhaps some bumps along the road it can feel like a heavy cloud sits right over your head. I'm sure we have all been there. Can you feel the rain? It can happen on a perfectly sunny spring day. It's the worst kind of storm.
Since I've been sitting at home trying to find answers to my health problems I've had a lot of time to think. A lot. Maybe a little too much. I keep thinking about how to find a way for some greater good to come out of all of this. I keep thinking about Robin Robert's cancer battle and her saying "make your mess, your message." I have certainly been in the middle of one big mess.
I want to advocate for something that relates to the struggle I've gone through. It's certainly not an obvious choice because what I have been fighting is complicated and there is no test I can encourage you to take to help keep this from happening to you. It's not like this could have been prevented. I am so lucky that I don't have a life threatening disease. There are so many people that are fighting the battle of their life and putting it in that perspective makes my problems seem trivial.
But my mess is still a complicated series of problems that is hitting me where it hurts the worst. My voice. My livelihood and my way to make a living. Allergies, asthma, chronic sinus problems… not being able to talk hits me in the gut. It has shaken my spirit.
What I decided to do is continue to find ways to share some joy on my blog through a series of positive posts, inspirational ideas or joyful pictures.
I've had grey days. I've had my fair share of storm clouds. I pride myself in finding a bright spot in the darkest days. I try my hardest to find the ray of light in the cloudiest moments. But when you talk for a living and you've spent the past two years trying to get your voice to be reliable it hurts. I know sometimes I could use a pick me up.
I refuse to hide under a cloud. We only get one life. One chance. You never know how long you have or when you might get hit with something that will really bring you down. Something that will truly darken your day and your spirit.
Find Your Sunshine.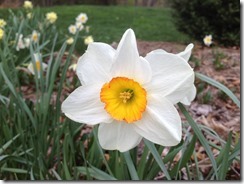 "Nothing says sunshine like the first daffodils of spring…"
Find your ray of sun on a grey day.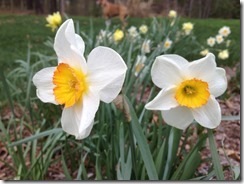 Find something that will clear the skies even for a short while.
When you get knocked down over and over... When you aren't getting solutions or the answers you need… Keep trying until the clouds clear.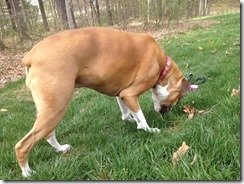 "Reina's "sunshine" is eating grass- it makes her so happy"
Refuse to take no solution as your solution. Refuse to live in the dark.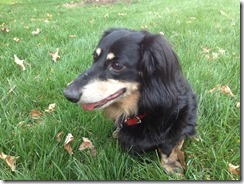 "Look at that smile!"
That's what I had to do. I had to fight to get healthy and come back.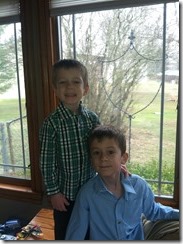 "My nephews on Easter. I'm getting better so I can hang out with them again. Aren't they the cutest ever?"
And I'm almost there. I can see the rainbow.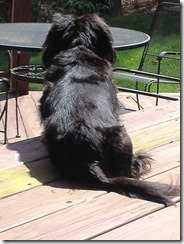 Find Your Sunshine.
It may not be a huge message. But it's mine.
My mess, my voice problems, have been a huge cloud over my life.
I know first hand how hard it can be to stay positive. But I will try to do some of the work for you. Keep checking back and I'll keep posting things I find positive, encouraging and "sunny." Even on those grey days.
My message. Find your Sunshine.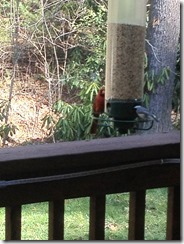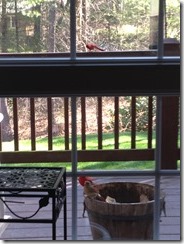 "My infamous cardinals… they bring me so much joy! Once I get back to work I'm saving money to get a better camera so you can see these things better!"
-----------------------------------------------------------------
What's your sunshine?
What things bring your joy when everything else seems to be going wrong?