*This is the third installment in series of posts called "Find Your Sunshine." My hope is you will find a little ray of light, joy or inspiration through the series.*
This post is from my first year of blogging! For more up to date inspiration from Running in a Skirt with better images, check out my Motivation and Inspiration page!
Optimism is not easy sometimes. I pride myself in finding the best in situations, putting on a smile and living my life focused on what is good in the world. I live for "finding my sunshine."
My post last week on missing running brought some comments and responses that really made me think. It's more than just running that's bothering me, in so many ways, life has been very hard recently. I wrote that optimism is failing me. After some time and perspective, I've decided that is not true.
Optimism is my light. My sunshine.
My good friend Eric (ever the philosopher on optimism, BBQ & beer) sent me a message that reminded me "optimism doesn't create great outcomes, it tempers the bad ones with perspective.…."
Perspective is a powerful thing.
Many of you left comments on my blog about struggles you faced in the past or are currently enduring. Thank you for reaching out to me and sharing your stories. They all made me think about the highs and lows of life and learning to live through them with grace.
Everyone, at some point, faces a valley. Sometimes that valley is very shady and it's hard to climb out. It's ok to be sad and angry. It's ok to cry.
But that doesn't mean you should stop trying to "Find Your Sunshine." Be optimistic even when it's the hardest. You will have bad days, but optimism gives you the ability to see the sunshine even when you are covered in clouds.
My Mom was an amazing High School Guidance Counselor. She always kept inspirational books and posters in her office. When I was in High School, at the same school she worked, I spent a ton of time with her in that little room. Below is one of the books she kept on her desk. I think it may help with some perspective on this whole optimism thing.
"14,000 things to be happy about- The Happy Book by Barbara Ann Kiper"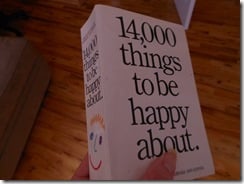 I loved the little book so much she gave it to me and I've kept it ever since. The book's concept is so simple… the author kept a running list of simple, happy things. Over the course of 20 years she ended up with 14,000 things to be happy about.
On her list….
*Learning to make the perfect cup of coffee
* Remembering when there were no McDonalds
*Dinner rolls
*stratocumulus, cumulus, and cumulonimbus clouds (actually on her list- I didn't make it up)
*lazy evenings
*planting corn
The list has everything from tangible things, feelings, tv shows, movies, places and even people on it.
I liked this concept so much that for many years I kept my own version of a "happy book" by my nightstand.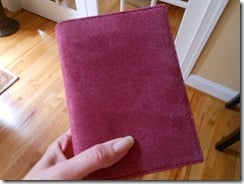 When I was feeling blue, I would write down at least 5 things in the book that were good in my life or made me happy. Before I knew it, I had my own running list of 1000's of things to cheer me up or improve my mood.
Some of my old favorites from many years ago…
*Warm winter days
*New friends becoming old friends
*Accepting your circumstances
*Dresses
*A visit from Mom
*Songs that remind you of a moment
I fell out of the habit of filling out this book a long time ago. But, I think it's time to start doing this again… I will add 5 things every night to my book that make me happy, are positive or optimistic. I will end my day with some light.
I challenge you to do the same. Start your own happy book.
It may be hard at first, but I'm positive you can find 5 things a day to write down. They can be large or small. You can repeat yourself sometimes. Don't try to follow rules. Before you know it, you may even start looking for those "happy" things throughout the day. It most likely will not solve your big problems, but maybe it will help with perspective. Maybe you'll even start thinking like an optimist.
Find Your Sunshine. #findyoursunshine
Your turn!
Are you an optimist or a pessimist?
What are 5 things that make you happy?
**If you are on twitter and want to share any of your 5 things for the day—use the hashtag #findyoursunshine Who knows? You may inspire someone else with an idea for their list!!**[/fusion_builder_column][/fusion_builder_row][/fusion_builder_container]