I don't want to complain, but I thought I'd be running by now. I miss it. It's my stress relief and something I really just enjoy to do.
My recovery from Sinus Surgery and my transition back to work has been harder than I thought it would be. I am bouncing back much slower than I expected and I am still very tired. I am just starting to feel up to about 75% at work and am in no position to be pushing the miles.
I keep thinking… "Next week I'll be better and I'll go to the park and run!" My parents taught me to always try to stay positive and dream big!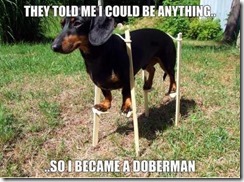 I think I even wrote that I thought I would be running a 5K in May. That's hilarious because there is no way that is happening. At the time I knew I was being an optimist, but I actually believed I could pull it off.
To be completely honest, I think for once in my life my optimism is failing me. Every week I want to run, but then my body wins out and I continue to rest. It's just not time yet to run. I know better.
Sometimes it's just best to take a step back and be realistic. By continuing to think I'm going to run tomorrow, I keep setting myself up for disapointment.
The doctors have told me it will take a full two months from my initial surgery to completely recover. The internal swelling in your head can take a long time to really go down. I'm just not well yet. I have to be patient.
I'm going to have to be ok with not running for a little bit longer.
There are so many positives to focus on…..
*I am back to work and each week is a little easier.
*My voice is overall getting stronger instead of worse.
*I am able to do some walking and yoga. Both of these are doctor approved activities and seem to be helping me with my energy levels.
*My head seems less congested- which means hopefully the surgery worked!
*My family is being so patient with my recovery.
Sometimes when things are out of your control, like your health, it's best to find a balance of optimism and realism.
And if that means I'm not running at the park for awhile, I just have to be ok with that. It will happen eventually.. and when it does… it will be awesome.
QUESTIONS:
Have you ever been forced to take a break from running or your hobby for health reasons?
Do you think it's best to be an optimist and realist sometimes?