The garden is in the ground. WOOP!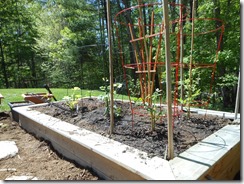 The weekend before last we went to the Herb Festival at the WNC Farmers Market to get our veggie and herb plants for the year. I'm waiting on doing our summer flowers until I feel a bit better, but the garden needed to get started! Those veggies can't wait.
Since it rained like crazy the weekend we got the plants, we nursed them in their little containers for a week and made some time to plant this weekend.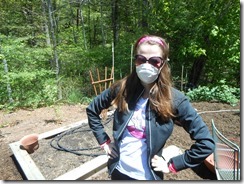 UGH! That's me trying to avoid the pollen. I know how stupid it looks.

Heh. We do what we have to do.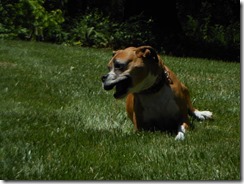 AND this is Reina not caring about pollen at all…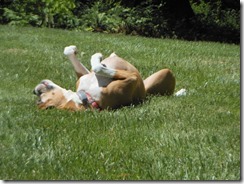 Oh, such a happy dog

Rhett was off somewhere eating dirt. Classy dogs.
My husband built me this fancy raised bed last year. It had always been a dream of mine to have one. I adore it.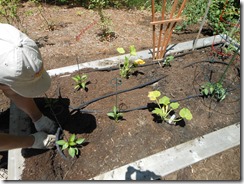 He added a drip hose around the base of the plants for me Sunday.
Last year we had a sprinkler go over the top of the plants and we think that helped spread disease near the end of the growing season… so we thought the drip hose would work better.
Has anyone had any luck doing this?
Reina loved the idea. She is an awesome gardener.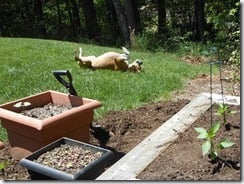 In the raised bed—Tomatoes, Cucumber, Squash, Zucchini & Peppers! I can't wait.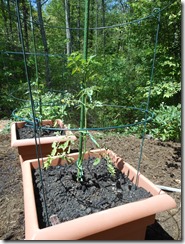 I put an extra couple tomatoes and peppers in pots just for good measure. I've had really good luck in the past with sweet 100 tomatoes and banana peppers in pots.
And the herbs also went in pots to go on top of our deck closer to the kitchen.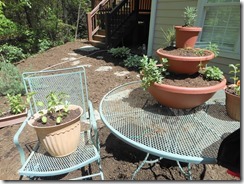 Watch out for my upcoming post on how to make that herb tower. I think you'll love it! It looks super cute by your kitchen door and is a wise use of space.
I can't wait until it all starts growing... Don't you love homegrown food?
Later Friends!
QUESTIONS:
HAVE YOU EVER HAD A GARDEN?
WHAT IS YOUR FAVORITE THING TO GROW?
DO YOU HAVE ANY GARDENING TIPS?