It's time for what we call "festival season" in Western North Carolina. The unofficial season kicks off this time of year and lasts through early fall. You can pretty much count on Asheville or one of the surrounding towns having some sort of festival every weekend until it gets cool again.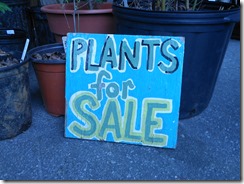 The Herb Festival is one of my favorites and I am usually giddy with excitement to go every year. I like to think I have a green thumb and I love growing my little garden. We use the fresh herbs and veggies all summer. I am very excited to use my plants in recipes I share with you this year. Ah- sweet basil, fragrant romemary, and savory thyme! I can't wait!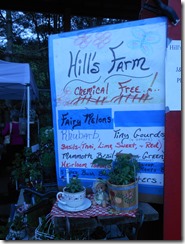 My hubby is such a good sport when we go and I know he loves eating the herbs and veggies each year. He patiently goes around to all the booths while I pick out plants for the season and he carries them. Every year he says he is going to buy a pull wagon of sorts exclusively for this event but we always seem to forget.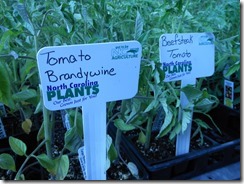 This year the odds were against us for a lengthy herb festival stay. I still am not feeling 100% and I needed to keep the visit as short as possible to avoid the pollen. boooo! But on top of that, it was pretty easy to want to get in and out of there because it was cold and rainy. ugh. Normally we walk around enjoying sunshine and some of the first warm days of spring. Mother nature missed that memo. But at least it made it easier not to overdue it.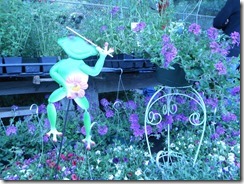 The highlights of the festival are visiting dozens of booths with homegrown and cared for plants that you just don't find in many places. Many of them are organic or chemical free and they are all grown by people who live around here.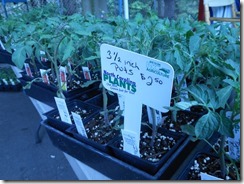 Forget just getting "cherry tomatoes" because you will have hundreds of choices that will literally make your mouth water.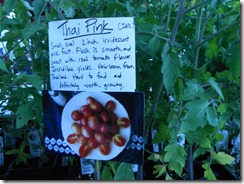 Thai Pink? Yellow Pear? Black Cherry? Cherokee Purple? Mr Stripey?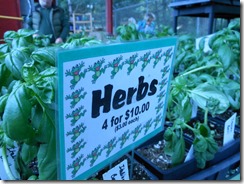 Confused on what to grow? Just ask the farmer who is sitting right there what you should do. You can tell they put their hearts into these little plants and they want you to succeed and love them as much as they do.
I truly believe this is WNC and Asheville at it's best. Have I told you lately how much I love where I live?
The festival also has products made from herbs like soaps.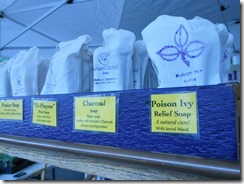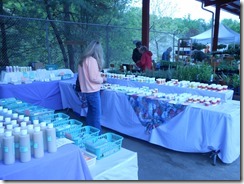 And a huge selections of medicinal herbs.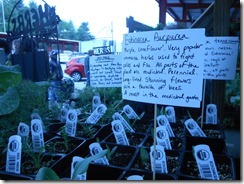 Of course it wouldn't be Asheville without a hops plant. Love this place.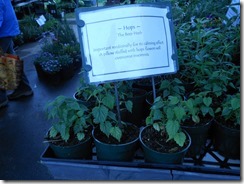 I don't know anywhere else where you can get a basil plant this large? There is a booth selling these every year. They are a crowd pleaser!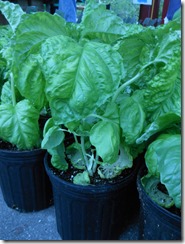 And even if you don't have a green thumb—You can always try these flowers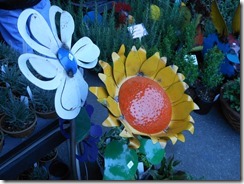 Here is this year's stash!! We decided to wait to plant until next weekend because I was exhausted and the forecast is for it to rain INCHES over the next few days.
Rain on new plants- AWESOME!
Flooding rain on new plants – BAD!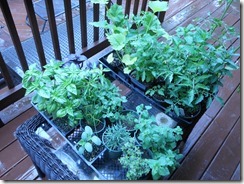 Herbs:
Basil- Genovese, Purple and Lime (We never seem to have enough basil in the summer so we stocked up!)
Oregano – Greek and Lemon
Dill
Rosemary
Mint – Spearmint, Chocolate & Pineapple (we went a little crazy on mint this year—we had mojitos on the mind)
Thyme
Chives
Veggies:
Tomatoes- 2 Sweet 100, Black Cherry (like tiny Cherokee Purple tomatoes,) Yellow Pear & Better Boy (wanted one big one that was easy to grow)
Peppers – Banana Peppers, Jalapenos, Orange Bell, Yellow Bell, Purple Bell & Red Bell
Squash
Zucchini
Slicing Cucumber
OH! I can't wait!!! We are going to be eating well this summer!
I'll update you when the plants are in the pots and ground! I can't wait to share my gardening with you.[/fusion_builder_column][/fusion_builder_row][/fusion_builder_container]