I am super proud of my best friend Sarah. She ran part of the Pittsburgh Marathon this past weekend as part of a marathon relay team.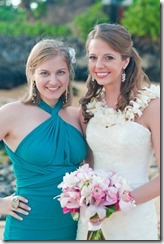 Hi Sarah! Isn't she the prettiest, nicest best friend ever!
Here we are in Hawaii for the wedding! I am so lucky to have her!
Sarah and I literally grew up together and have remained best friends since 3rd grade.
She ran cross country and track & field in high school and college and has tons of running experience. The funny part is that when she started running in high school I didn't understand it at all and wanted nothing to do with it.
My how times change! Now I'm the one texting her with weekly running plans. She was right all along-- running is awesome. I can't wait for my comeback.
I asked her to share with us what it's like to run a marathon as part of a team. It sounds like such a cool way to "experience" a marathon without having to run the whole 26.2 miles! Sarah even raised money for the World Affairs Council of Pittsburgh as part of the team event. I would LOVE to do this sometime with her.
Congrats to Sarah and her team!!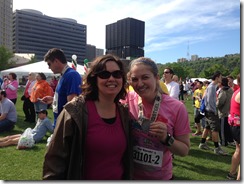 AND she got a medal… totally awesome.
-----------------------------------------------------------------------
The Dick's Sporting Goods Pittsburgh Marathon was held this past weekend on a great course that winded across the city's unique neighborhoods and beautiful bridges and rivers. Although I am not from here originally, over the years I have found that a surprising number of people across the U.S. have some connection to Pittsburgh—and they take a lot of pride in their community and its sports teams!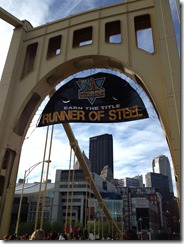 So it was no surprise that they had a big turnout of runners and spectators for the Pittsburgh Marathon, which featured a weekend full of running events and festivities. In addition to the 2-day health and fitness expo, there was a 5K, a race where people could walk with their pets, and a mini marathon for kids. The marathon itself was on Sunday, May 5th, so the theme was Cinco de Mayo! Before the race began, there was a festive atmosphere, and apparently they were trying to set a record for the most people dancing the Macarena!
The marathon, half marathon, and marathon relay all started at the same time. Fortunately, the weather was perfect—the sun was starting to appear and it was just a little chilly. The race corrals were weaved into the streets of the very center of downtown, and as each corral started, the next group moved up closer to the starting line.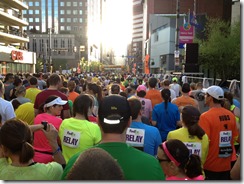 There was a great crowd of people gathered along the starting area, and as this was my first time on a relay team as a part of a marathon, I was excited to get to run this first leg!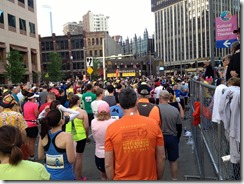 A few notes on running the Pittsburgh Marathon as a part of a marathon relay team:
Team size affects distance run. We were permitted teams of 2 to 5 people. I was a part of a 5 person team, organized by the World Affairs Council of Pittsburgh—an awesome non-profit organization that I helped raise money for with over 50 other runners supporting them. More details later on the benefits of running to support such a charity. Given that there were 5 of us on our relay team, we ran a leg of roughly 3 to 6 miles each given where the transition points were set up on the race course.
Race numbers are still really important even if you are on a relay team. The first part of our race number matched those of our relay teammates which made it possible to find each other at the transition points. They set up signs with number ranges as meeting points for your team and an announcer called out numbers as you entered the transition area. There are options for someone from your relay team to pick up race packets for others in your group (this may vary depending on the particular event). In any case, make sure to get to the race expo early. We had a problem with the race numbers for one of our relay participants and by the time we figured out what might have happened the race expo was over.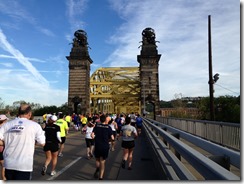 Give your relay team a heads up if you have any preferences for a particular relay leg. You might want to run alongside a friend from a different relay team, or care about how far you will need to run or how hilly a particular leg of the course will be, or you want to make sure you run through your favorite Pittsburgh neighborhood where you know lots of people will be cheering for you! Some advanced coordination can help with this. I was delighted to run the first 5.5 miles as I got to experience the race start, run a relatively flat part of the course, and go across 3 of Pittsburgh's bridges. I completed my relay leg in time to walk back to the finish line and see the top men and women finish the marathon.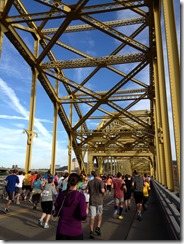 The experience offers similar but different features to running the full race distance. We had our own mini "finish lines" at the end of the other relay legs leading up to the main finish line. We had drinks, snacks, restrooms, and a first aid station at the end of the relay leg I finished. We even received medals and shirts customized with "Marathon Relay"!
Here are some additional benefits to running to support a charity:
Most importantly, you can support an organization that means something to you! The Pittsburgh Marathon referred to this as the "Run for a Reason" program, and several charities participated. Through the Pittsburgh Marathon, charities could set up individual webpages on the crowd-funding site Crowdrise—here is the World Affairs Council of Pittsburgh's Crowdrise page as an example. The World Affairs Council of Pittsburgh focuses on international affairs education and community discussions of global issues and U.S. foreign policy. Their mission is near and dear to my heart and they are a great organization that has been in Pittsburgh for over 80 years. I also worked for them for 4 years and met many close friends through my time there.
The amount you fundraise often covers registration fees and special events, which the charity will typically take care of. For example, once I reached a certain percentage of my fundraising goal by our group's fundraising deadline, the World Affairs Council of Pittsburgh finalized my registration for the race. They also organized a pasta party the night before the marathon in a local restaurant, and had a tent after the race with drinks and snacks especially for the runners in our group. The whole group of fundraisers was called the "World Runners"—the World Affairs Council of Pittsburgh even provided us with cool shirts to wear at the race and aluminum water bottles. They were very appreciative of everyone's support! As a relay participant with the World Affairs Council of Pittsburgh, I only needed to raise a minimum of $150 which I felt was very reasonable and achievable. I'm very grateful for the people who donated to the World Affairs Council of Pittsburgh to help me reach my fundraising goal!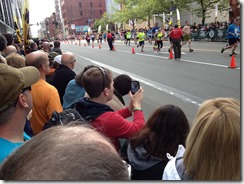 If you are interested in joining a relay team through a charity group, they will typically match you with other runners who are fundraising as well. The World Affairs Council of Pittsburgh matched me with 4 other teammates and helped us determine our running order and the exact hand-off locations. This was very helpful since I had not done a marathon relay before and could not convince 4 other friends to join me on this one. 🙂
Perhaps you have wanted to enjoy the spirit of a marathon without running the full distance, support a charity doing incredible work, or you are just looking for a good reason to return to the city of Pittsburgh. If so, I hope you will find this information useful and perhaps I will see you there next year!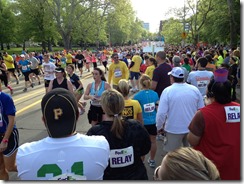 Although it was overall a wonderful event, this year's Pittsburgh Marathon is probably one of the largest city marathons to follow the recent tragic bombings in Boston, so it did seem more somber than most races. There was a moment of silence before the race. There was definitely also a higher security presence and new security procedures were communicated to runners in the weeks leading up to this race. I later learned that the race sponsors had brought over 30 runners who could not complete the Boston marathon to come to Pittsburgh and run it here to reach their goal. There were also a lot of medical staff and volunteers throughout the course.
The only negative news that I heard was very sad–during the race, a 23-year old man collapsed and later died due to an unexpected health issue. My heart goes out to his family. The media have reported that he was quite athletic and had run similar distances before.
Related articles:
http://www.post-gazette.com/stories/sports/more-sports/pittsburgh-marathon-live-scenes-from-the-course-686397/
http://www.pennlive.com/sports/index.ssf/2013/05/pittsburgh_marathon_gives_bost.html
http://www.post-gazette.com/stories/local/neighborhoods-city/2013-pittsburgh-marathon-success-declared-over-unique-challenges-686456/
http://www.post-gazette.com/stories/local/region/23-year-old-man-dies-running-pittsburghs-half-marathon-686404/
------------------------------------------------
Thanks for sharing your story Sarah! I am so proud of you.
QUESTIONS:
Have you ever run a race as part of a relay?
Would you ever consider sharing your marathon experience with a team?