When I started this blog, I wrote the subtitle to Running In a Skirt as… Julie Wunder's blog – Balancing Fitness, Food, Fashion & Fun!
Cheesy alliteration huh? Just call me cheesy. I'm ok with that. I love cheese.
Now we've had a fair amount of FITNESS talk (hello! I ran a Marathon), FOOD talk (remember the Crock Pot Challenge?), and lots of FUN (Charleston Trip!) but the blog has been lacking the FASHION content I intended to post.
We'll call it a growth process.
So without further delay here is my first FASHION post! I will now have a FASHION tab at the top of my blog that will feature outfits. I plan on posting when I have something new or put together in a new way. Or whenever I don't feel too ridiculous taking a picture of myself. I love clothes

Don't you?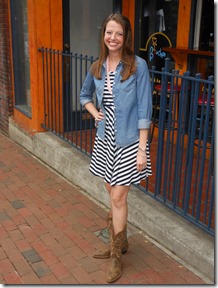 I felt super silly taking this picture!
Dress- Skater Dress in Navy & White Stripe (Charming Charlie's)
Shirt- Lightweight Denim Shirt (Target)
Necklace – Long Pink Seed Bead Braided Strand (Charming Charlie's)
Boots – Twisted X (My Nashville Find)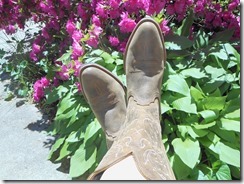 Is it wrong to want to wear my boots with everything?
QUESTIONS:
Do you any new Spring clothes that you are loving?
What's your go-to shoe?[/fusion_builder_column][/fusion_builder_row][/fusion_builder_container]