It's just a couple of days after the Chicago Marathon and it almost doesn't seem real. I've probably said a dozen times already… I can't believe it's over! My stiff legs, unpacked luggage, and super cool medal are good reminders of the amazing adventure though. It's a day I will never forget!
It all starts early Sunday morning. I have trouble sleeping anyway, so add something exciting, like running in a race with 37,000 other people, and it's almost impossible to sleep.
I finally give up about 30 minutes before the alarm clock goes off and pull out the map of the course again. Looking at that map is still intimidating. I'd trained for this race for over 4 months, but I still don't feel ready. The course is soooo long!
The alarm clock finally goes off at 6 AM, and it is time to put those fears aside and get pumped. I eat my traditional pre-long-run meal of a bagel with peanut butter and a banana and I put on my race outfit. I am finally wearing a Chicago Marathon race bib!
My husband and I go downstairs to meet up with the rest of my "cheer squad." Since I am running to raise money for Girls on the Run, we have pink shirts for my spectators to wear. The guys aren't thrilled about the color, but they know this will make them easier to spot in the sea of 1.7 million spectators.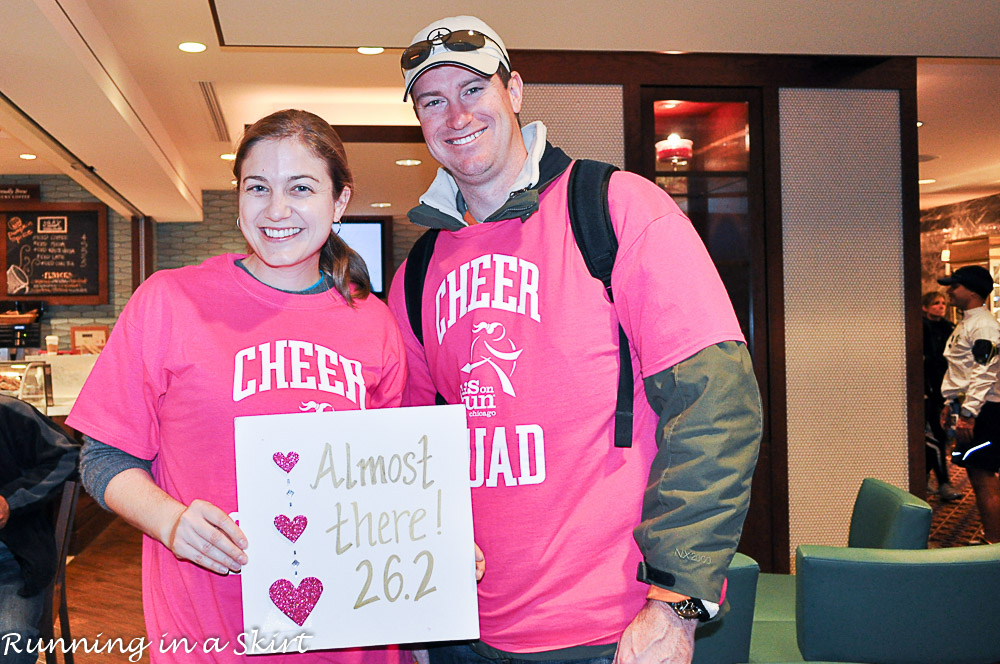 Andrey is behind the camera! Hi Andrey!
Now, for days everyone had been talking about the "perfect" race weather for this year's marathon. For the past several years many of the big city marathons have been really hot, which is a runners worst nightmare. It's nearly impossible to run fast in extreme heat and anything over 60 degrees takes more energy to run the same pace.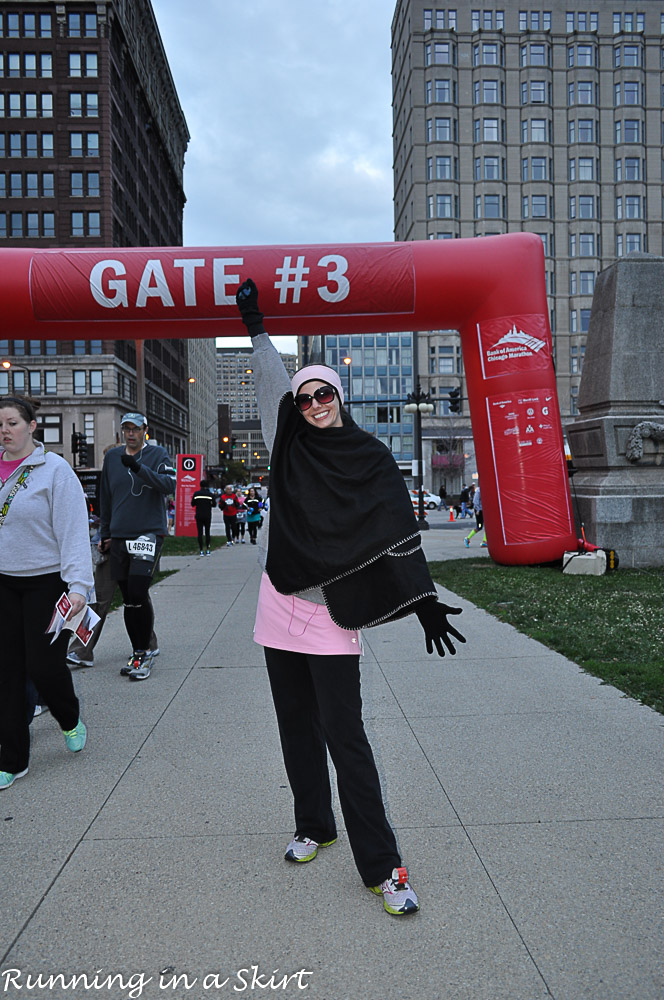 It was sooo cold!
But this girl, originally from Florida, is COLD, very cold. It is in the upper 30's with a wind chill in the lower 30's at the start of the race. I hadn't run in anything less than 58 degrees all summer. And in the winter, I normally run on my treadmill in anything less than 50 degrees. Yes, I'm a cold weather wimp. But I didn't train for a marathon to just be a baby about the the weather, so I put on some old pants and a sweatshirt over my running outfit that I would take off along the course once I warmed up. I head out among the mass of runners. My "cheer squad" has to leave me in front of the entrance to the race corrals, and before I know it I am on my own. It is up to me to make this happen.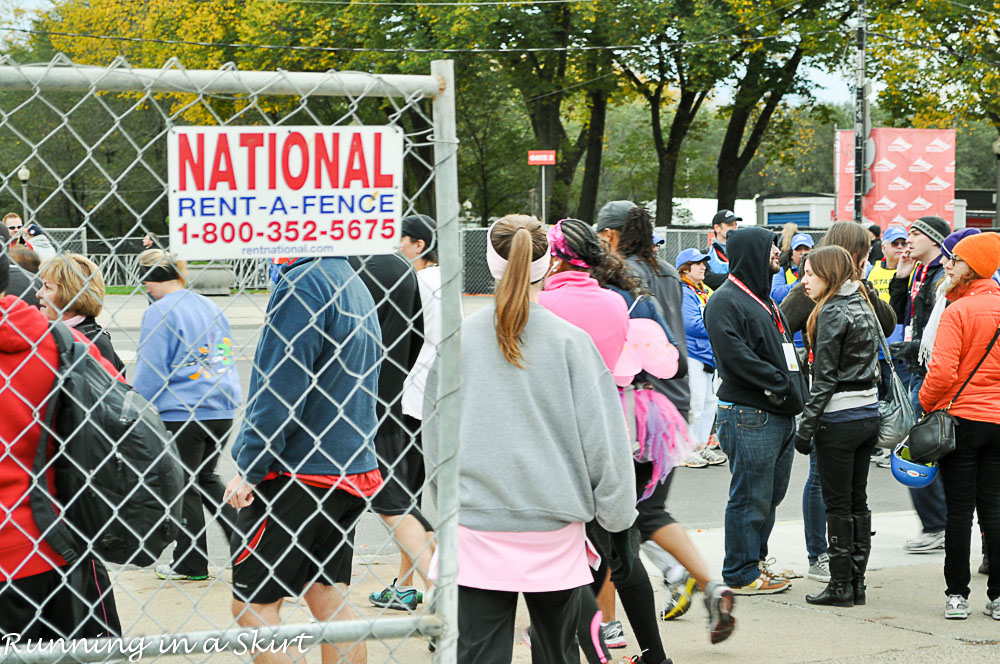 I'm thinking… What have I gotten myself into…
Just before 8 AM I work my way into the pack. Almost everyone has the same idea, wear "throw away" sweatshirts and pants. Some people even constructed funny warm-up outfits out of garbage bags. Everyone looks a little ridiculous, but no one cares. I hear the start gun and people start moving ahead. As we get closer to the start line the extra clothes come off. The sides of the streets are lined with old sweatshirts, gloves and pants. I hear that volunteers are collecting all the items after the race to give to the homeless.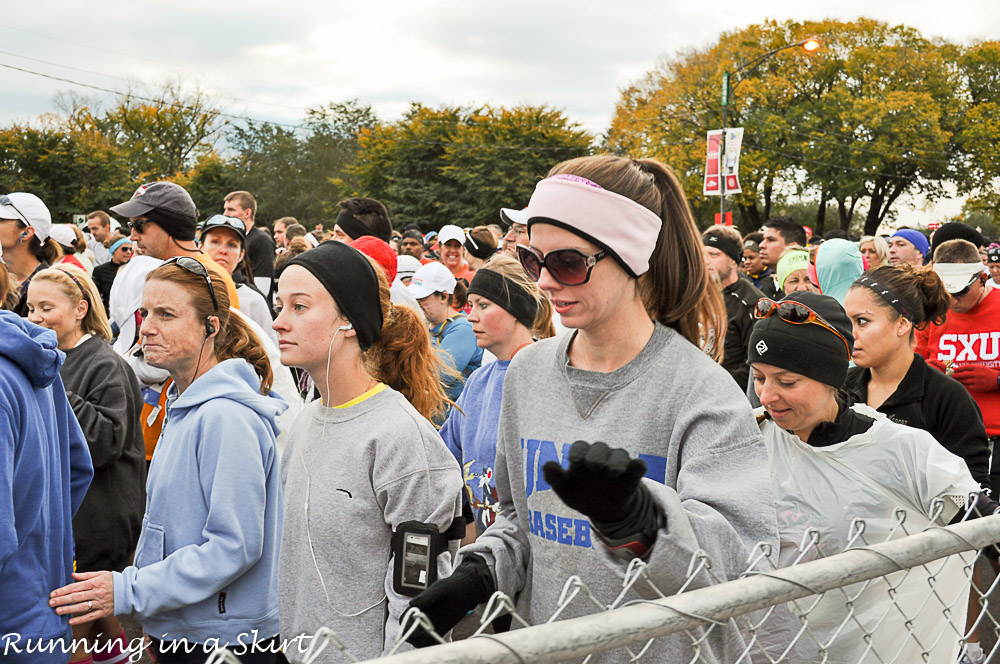 Oh yeah, I look so serious….
It takes nearly 15 minutes to get to the start line after the official start of the race. Talk about nerve racking! I try to stretch and keep moving a little without bumping into everyone. I thought people would be talkative and friendly before the race, but everyone I'm around is in the zone. They all seem focused and maybe even a little nervous about what is ahead. As I approach the start line I take off my throw away pants, but I decide to keep my sweatshirt and gloves because I am still cold.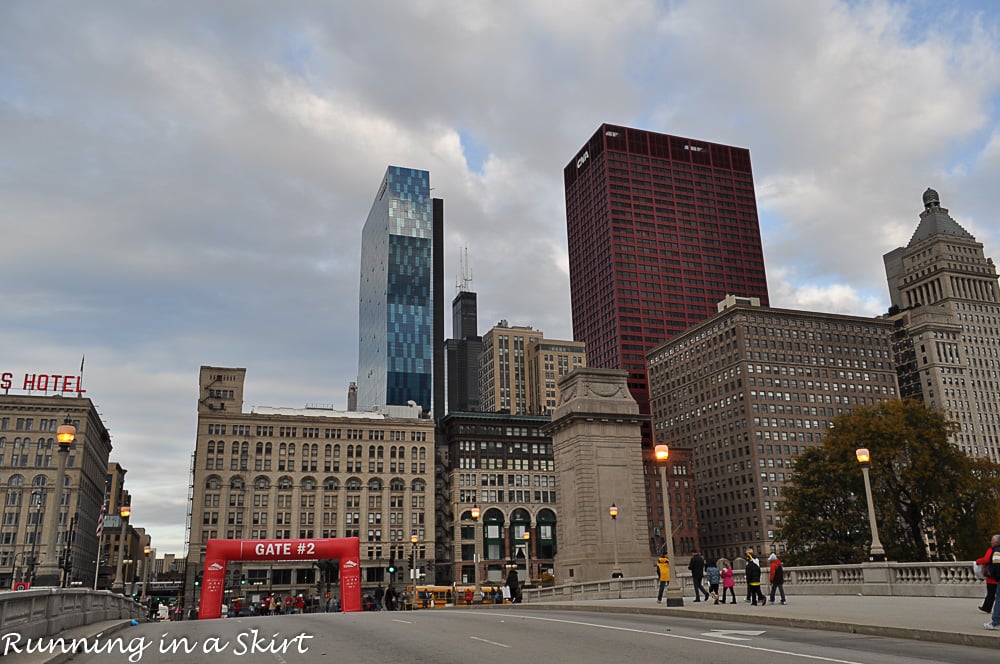 Before I know it, I cross the start line and start to run. The course immediately goes up a bridge and under a tunnel. I focus on trying not to run too fast to start off. I know if I want to finish the race, I can't run fast. Slow and steady is my only option.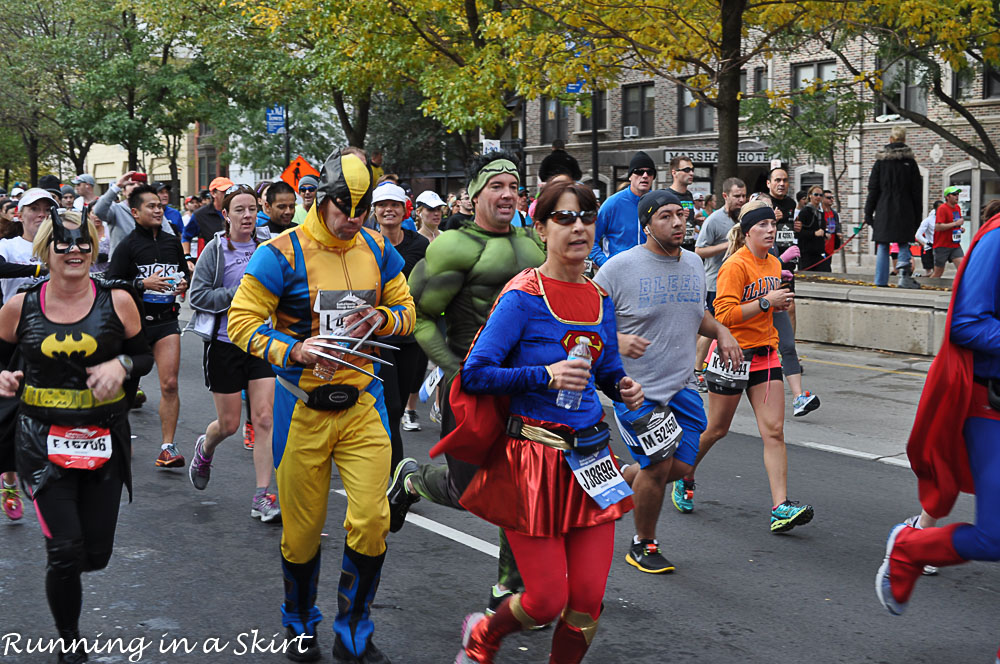 The first couple miles go right through downtown. The sights and buildings are amazing. The crowds line up four and five deep on each side. They seem to be cheering just as loudly for me as they did for the world class runners that had just passed over the same course. What a great feeling!
At mile 2 I spot my "cheer squad." I am so excited to see them, because none of us were sure how hard it would be for them to actually find me on the course.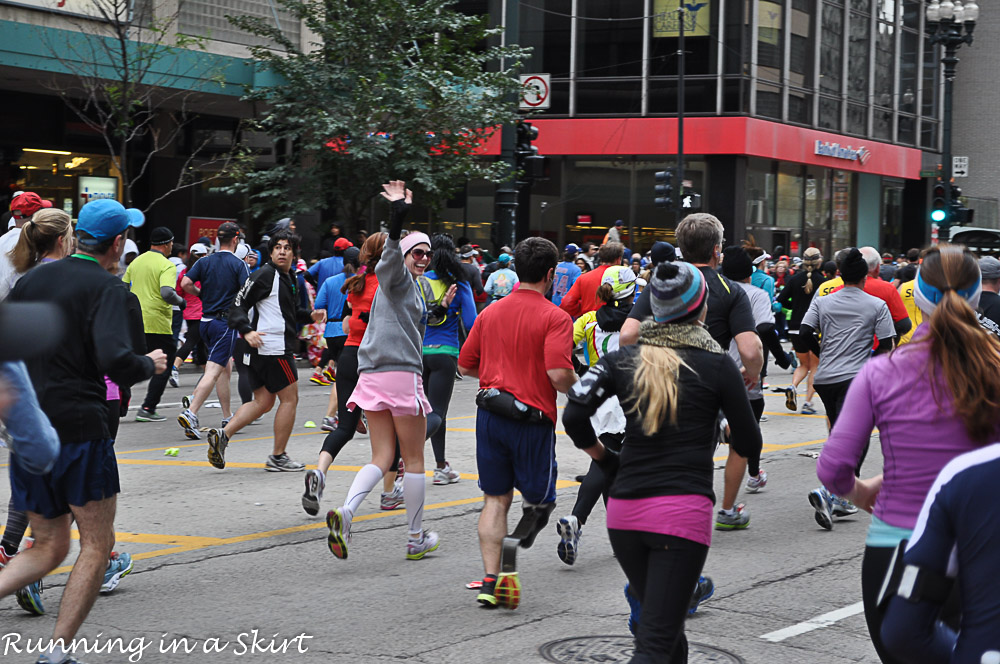 This is the first of SEVEN times I get to see them along the way.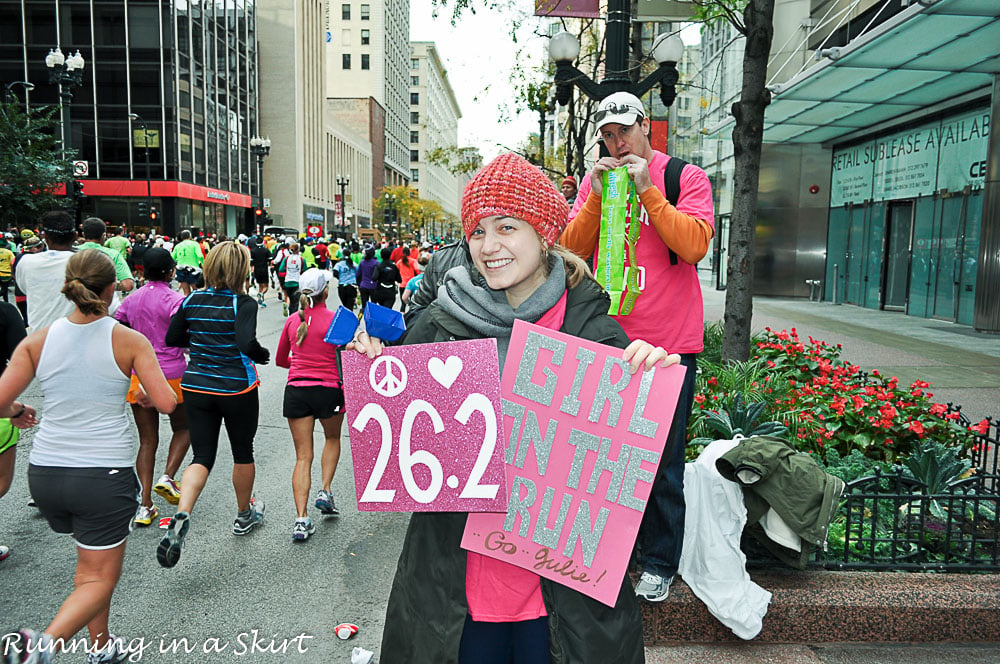 As I settle into an even pace, I am feeling great. I start to notice some of the funny signs spectators are holding along the course; "26.2 because 26.3 would be crazy," "Chuck Norris never ran a marathon," "There is going to be a day you can't do this, today is not that day" and "Worst Parade, Ever!" And of course my personal favorite...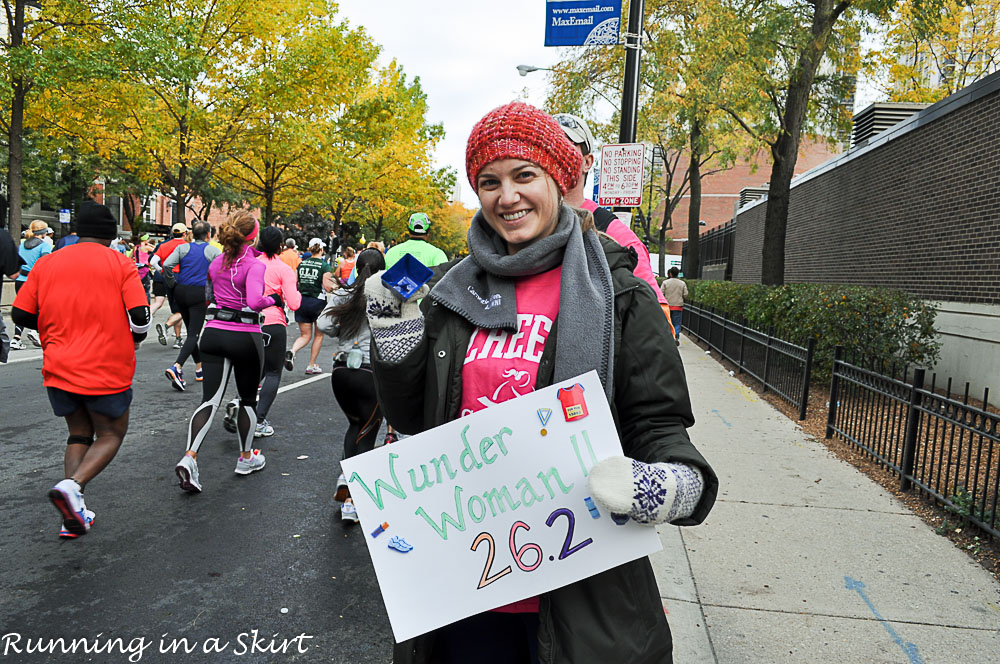 These signs keep me entertained for awhile... and make me feel tougher than Chuck Norris. Now that's inspiration.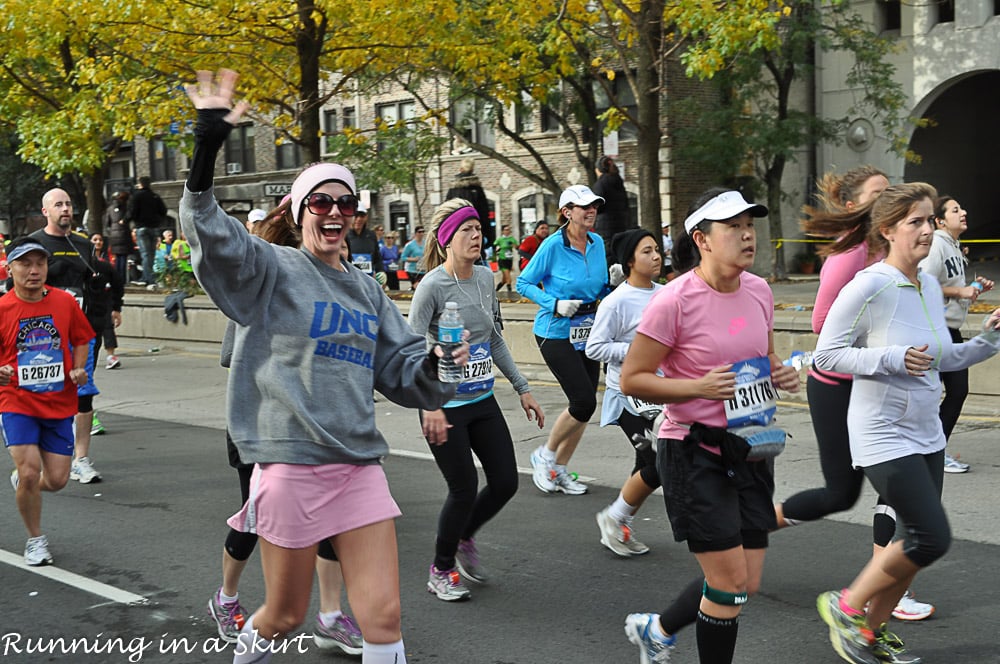 As tall downtown buildings turn into more residential areas, the crowds thin out some. I notice spectators handing out bottles of water, so I take one thinking it might be easier to hold onto that for a couple miles than navigating through the crazy aid stations. The aid stations consist of two blocks of people handing out Gatorade and water. But even with the hundreds of volunteers, I am still having trouble navigating the stops. People slow down and even completely stop once they get to the water and unintentionally everyone is bumping into everyone else. There is also a layer of Gatorade on the ground around the stops that is so sticky that as you run over it, it feels like you have gum stuck to the bottom of your shoes. Ewwww…. So I am grateful for the bottles of water. I stick to the middle of the course and just keep running.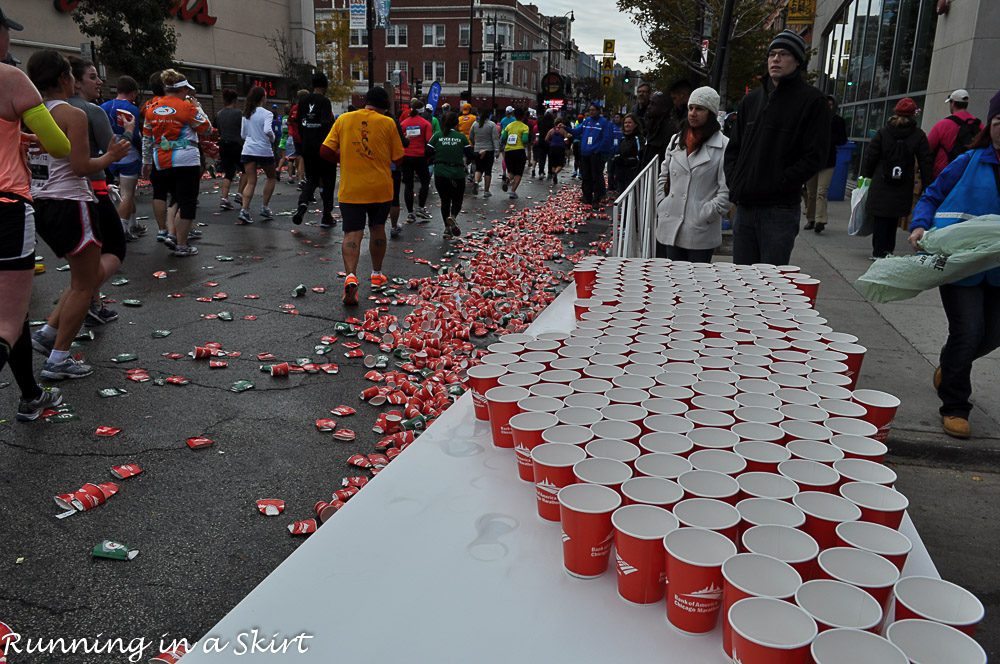 Around mile 6, I finally warm up enough to take off my sweatshirt. I am wearing some running sleeves to keep my arms warm with my tank top. They keep me warm for awhile, but later in the race I get cold again and I wish I had decided to wear a long sleeve running top.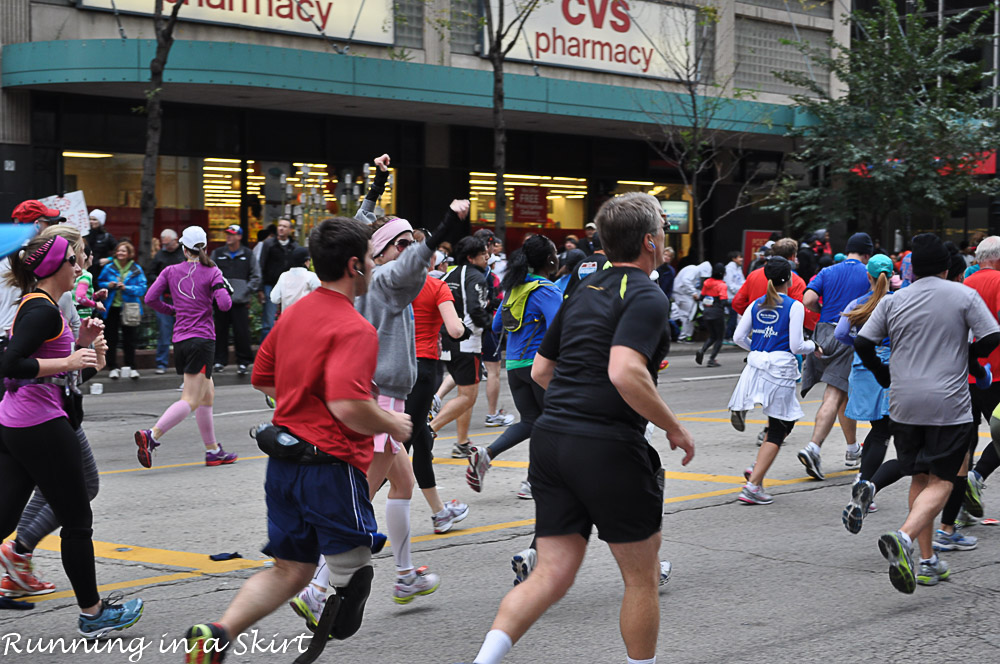 Hey guys! See my cool running sleeves!
The good part about taking my sweatshirt off though is now people can see my name on my shirt.. Strangers start cheering for me by name! I even hear one person yell-- "RUN Julie in a skirt!" That still makes me laugh.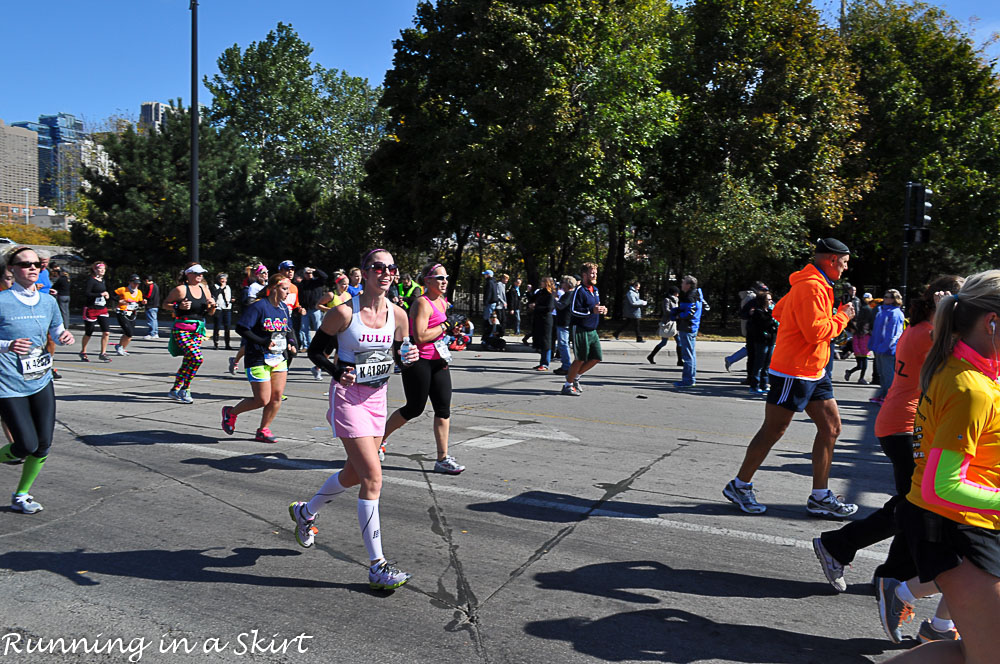 Around mile 9 I hear "Julie…. Julie from Asheville…." At first I think it's just another person reading my shirt, but I turn my head and see Megan, who I had met via e-mail through the blog a couple weeks back. She was planning to run the race, but got injured in her last training run, so she had to spectate. I am shocked she had found me! I wave and keep moving forward.
Through mile 12 we run in and out of some beautiful neighborhoods. There are church cheer stations, full bands, men putting on YMCA skits in skirts and even drum lines. All the entertainment along the course is from residents who had come out and set up along the street, nothing official from the marathon. It is truly a community event. This race really showcases the best of Chicago.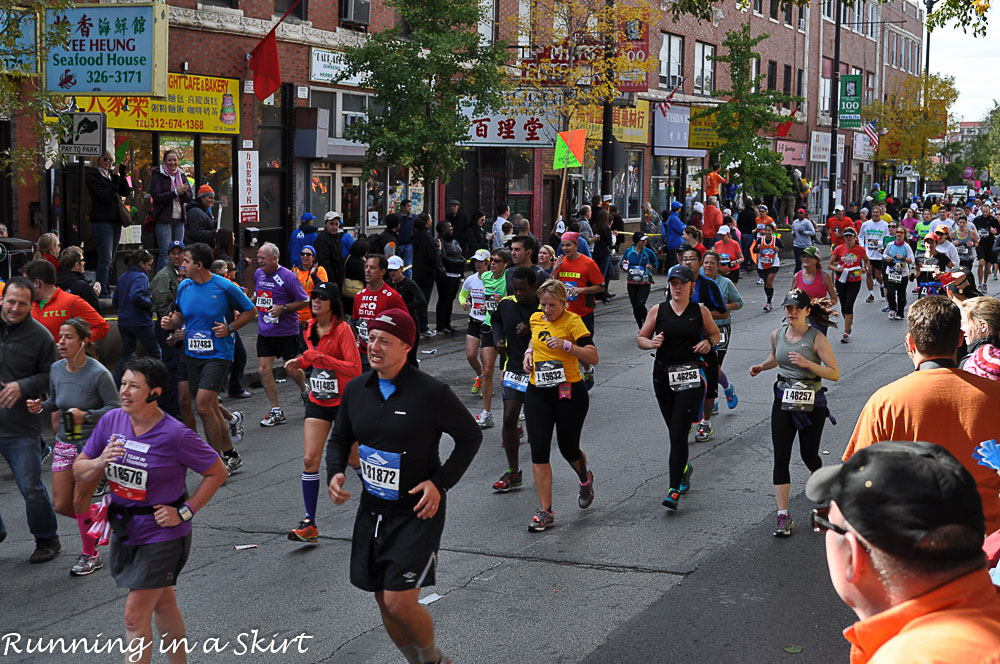 As we approach the half way mark, I see my "squad" again and I am thrilled! I am still feeling great and I am making perfect time. I run across the half way point at 2:29—right on schedule for the 5 hour finishing time I want to hit. I am literally on cloud nine in a complete runners high.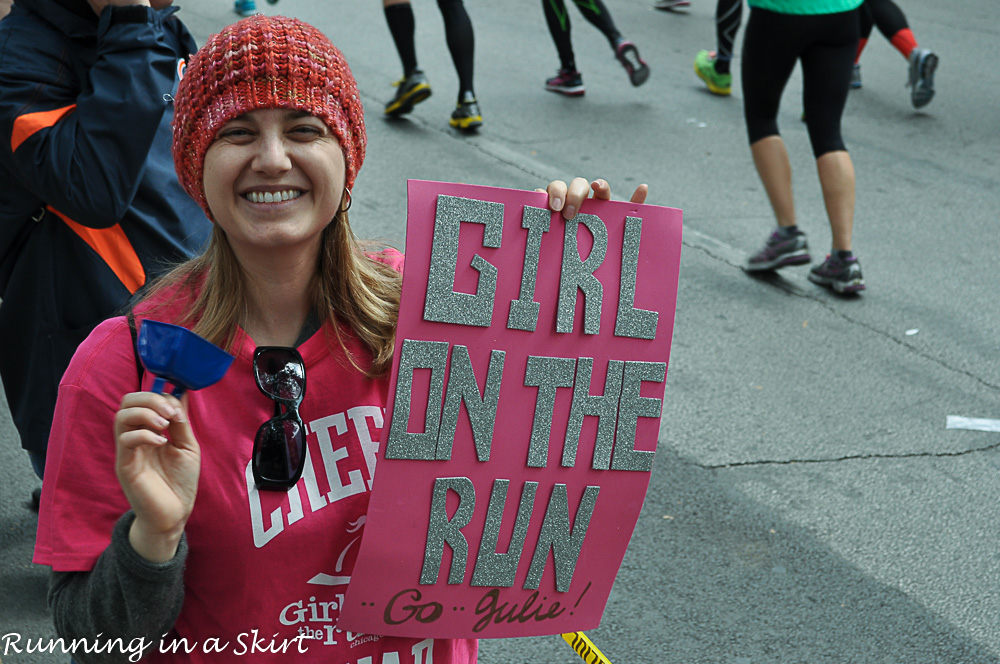 At this point we are back in the main downtown area, surrounded by tall buildings and the amazing city environment. But as I start heading back out of town, I realize this race is far from over. I didn't know it at the time, but this race was about to get hard. Very hard.
Around mile 14 things start to change for me. I literally see stars and get lightheaded somewhere between 14 and 16 miles. This really throws me for loop because I'm not expecting to hit the "wall" until later in the race around mile 20. Mentally I feel frustrated that I am showing signs of weakness so early in the race.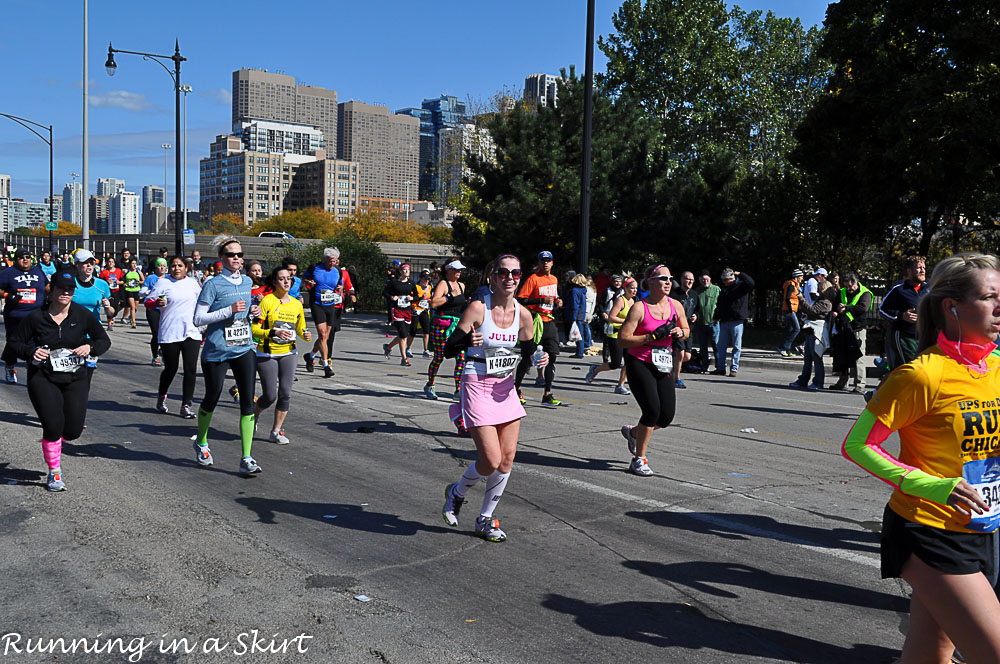 Hey guys! This is hard, but I'm still good!
So, I put both of my ear buds in my ears (before I had only been wearing one bud so I could take it all in) and decide to concentrate on moving forward at a steady pace. Around the same time my GPS watch starts beeping and puts up a box on the screen that covers both my stop watch and my pace calculator. It's telling me that my lap data is full and I need to hit enter. I keep hitting enter on my watch and nothing happens. Something is wrong with the watch and it will not clear that screen so I can see my time or stop the beeping! I am literally thinking… Are you kidding me?!
I don't want to turn off the watch because I knew it would be my only record of the run, but I can't seem to fix it while running. So I just keep running as it continues to beep. beep. beep. Yes, it was that annoying. I am so sorry to anyone running around me!
Around mile 17 I know I am slowing down, but since I don't have any time source from my watch, I don't realize until after the race how much I had slowed down. I'm not sure if it would have made a difference though. My legs are starting to feel so heavy.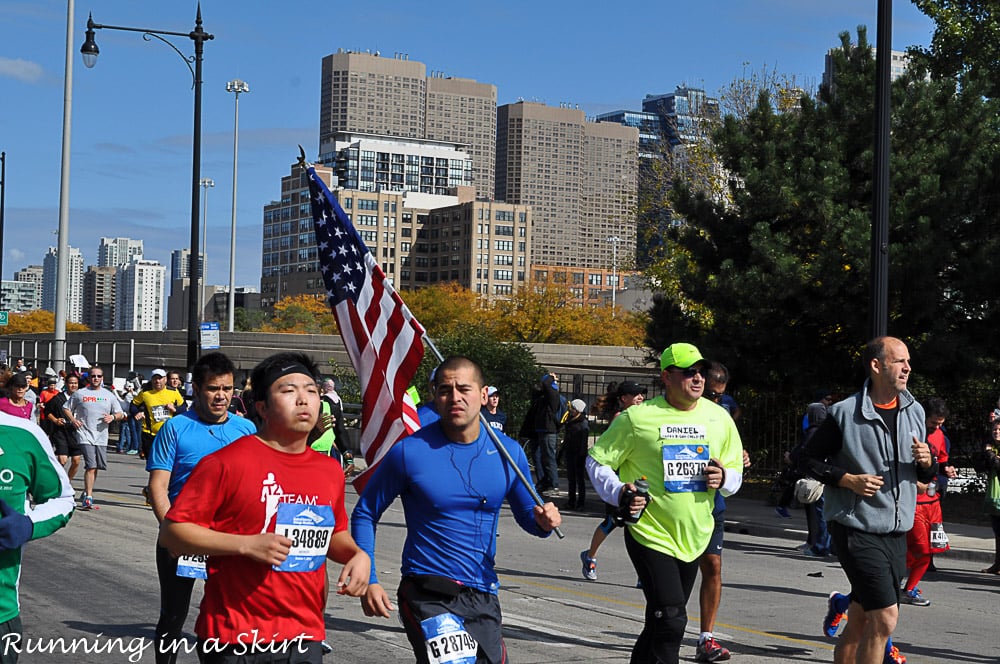 Mile 20-23 is a blur. I take a few extra walk breaks, but I'm not sure how many. I even get confused on what mile I am running. This is by far the hardest section of the race. Everyone around me seems to be in pain and not moving much at all. I witness and experience the marathon "wall" first hand. It literally hits you like a ton of bricks. I keep repeating over in my head "pain is temporary, pride is forever." Quitting is never an option, but it is so hard to keep running! Just sitting down sure seems tempting. I'm not sure how I keep moving forward, but I make progress. I do remember seeing the "squad" again.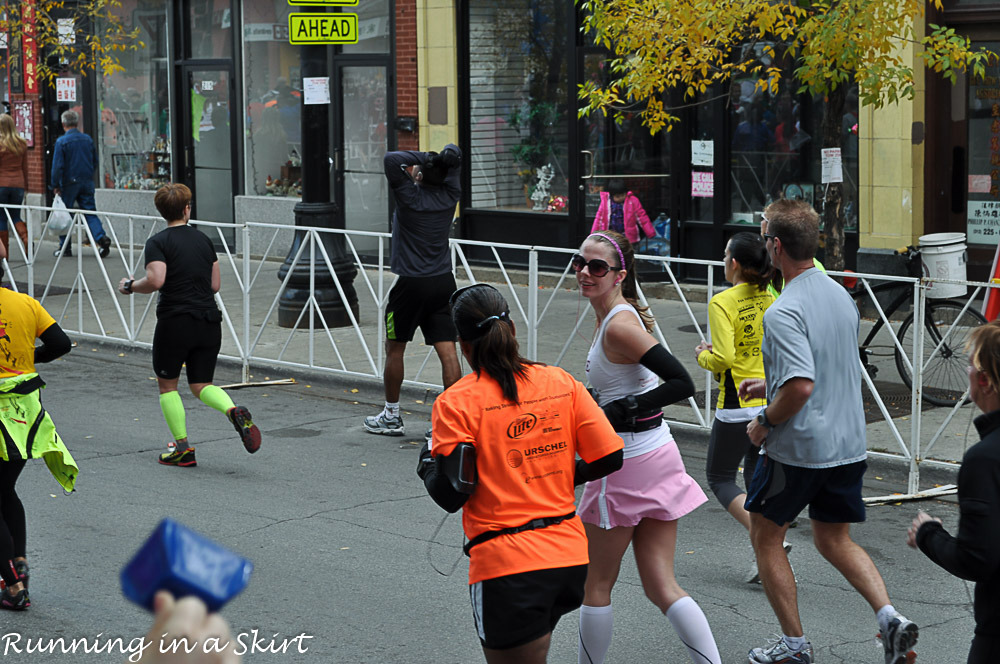 I think my face here says it all.
Once I hit mile 23 I seem to snap out of it. I only have a 5K left! I see the "squad" again and this time I give them a "high five" and a smile! I am going to finish this race with everything I have and with a smile on my face. I refuse to let the toughness of the marathon take away my joy!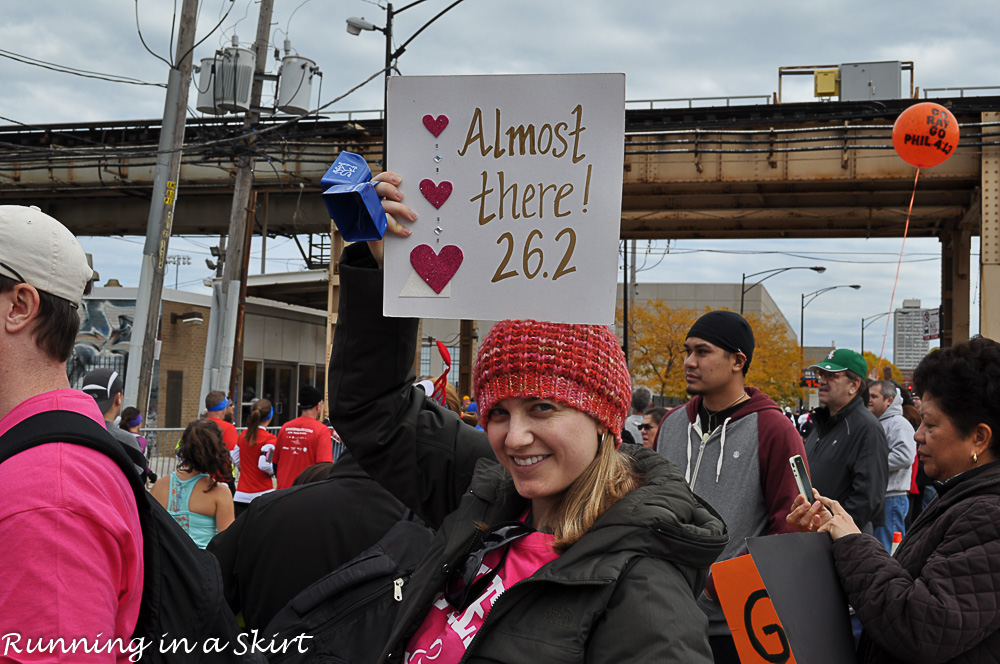 I've got this guys!
I start to slowly pass some people as I continue to run. Mile 24, Mile 25…. As I start to run back into town the crowd starts to get louder and the tall buildings get closer.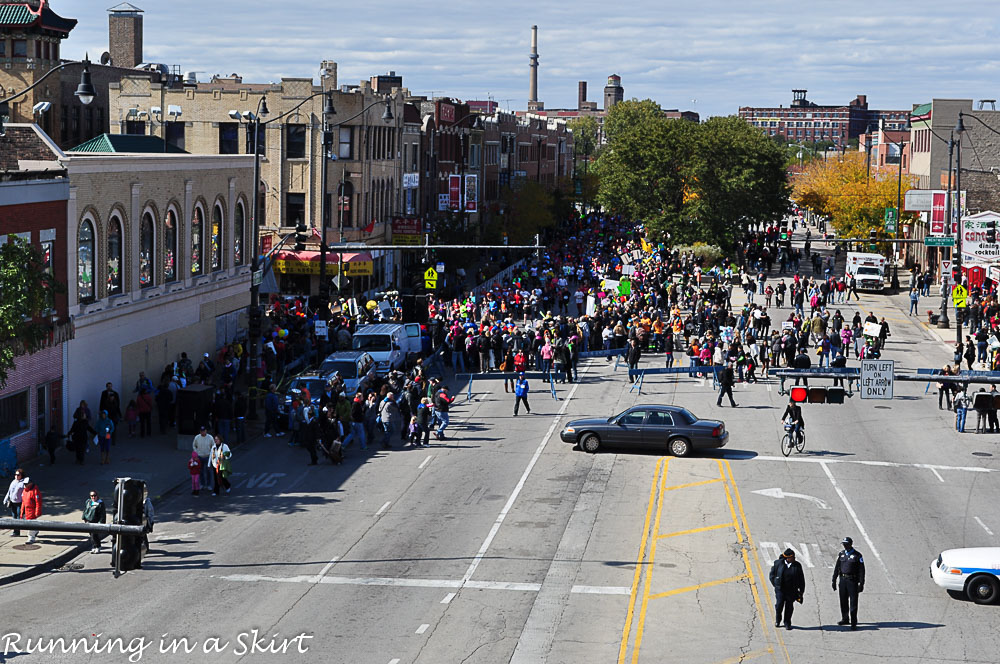 At mile 25 my new friend Megan hops out of the crowd in her jeans and runs (ok, slowly jogs) along my side. She tells me not to talk ( I don't think I could have!) and that I am doing great, that I look strong and that I am going to finish this strong. She stays with me for a couple tenths of a mile which is just enough to get my legs moving just a little faster.
By the 26 mile marker I'm all the way back in downtown and just have to make a hard right up a little hill to the finish line. I see my loving "cheer squad" one last time and they are screaming their hearts out.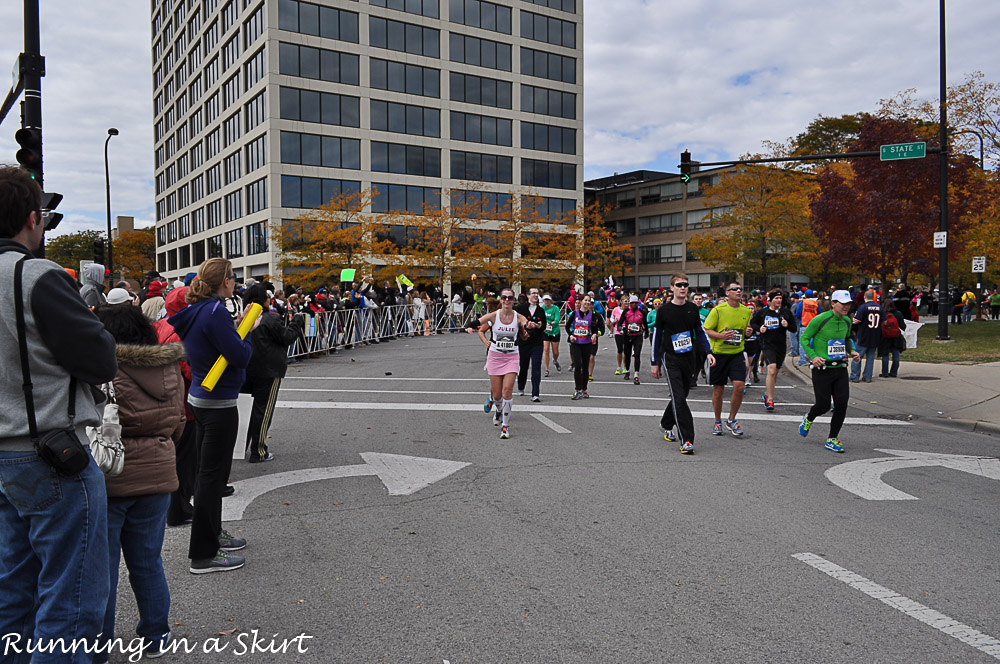 I feel so lucky and blessed to have had them with me the whole time. I give them a thumbs up and tackle that hill! If there is one thing us mountains girls know how to do—it's run up a silly little hill!!!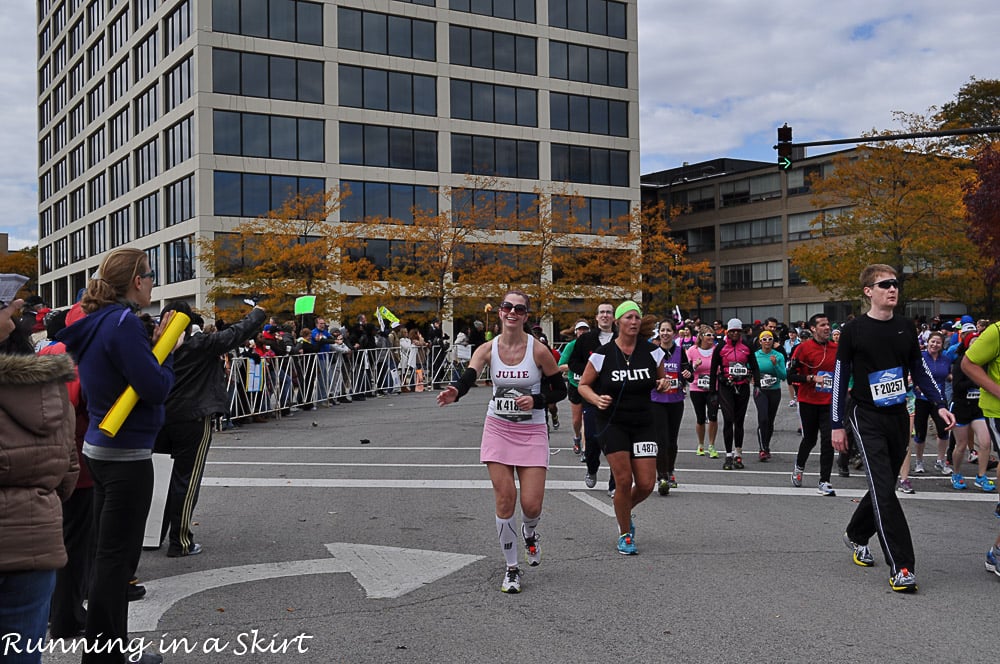 But it does seem like a mean trick to put at hill at the last .2 miles of a marathon.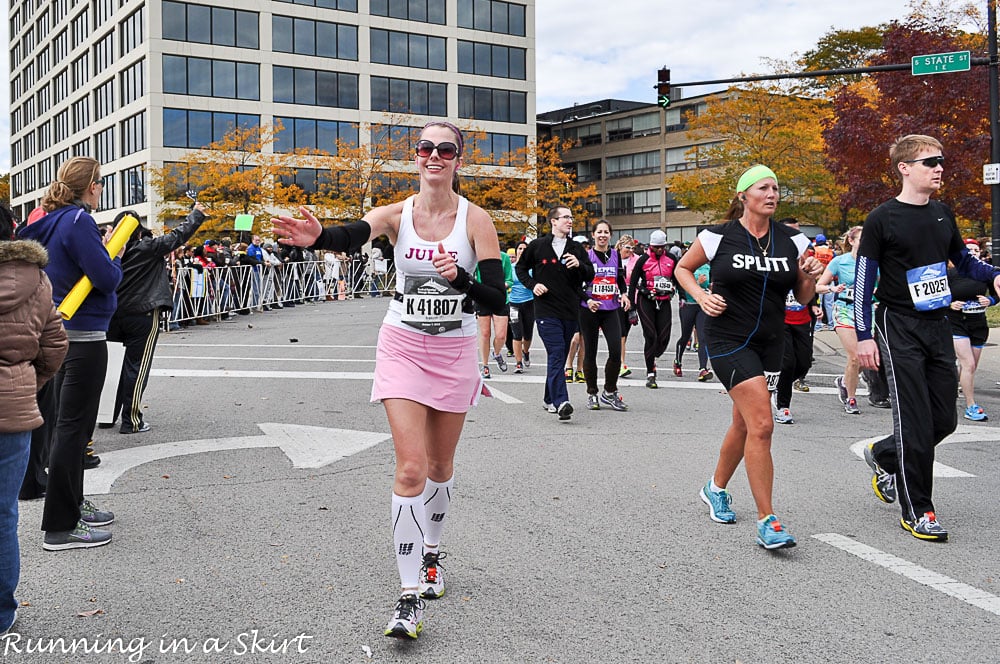 Thank goodness! It's almost over!
I push through the finish line as strong as I can and can't believe it's over. I did it. I'm a marathoner. Four months of long, hard training and I finished! It's a complete wave of emotions.
Since it's such a large race, I have to keep moving at the finish line. No collapsing or sitting down when you are done. I go through almost an assembly line process and get my medal, water, Gatorade, a bag of food and an awesome foil space looking blanket to stay warm. I am blissfully happy with my medal and space blanket.
Before the race, my husband and I picked a tree in the park to meet at after the race. We figured there would be a mad sea of people and a tree would be a less likely meet up location for others to pick. So I start to make my way towards that tree, which is still a good quarter mile from the finish line. As I am walking my foot cramps and I try to step on it. I shriek in pain and drop my water on a guy next to me. Oh no! I feel awful, but my foot will not stop cramping and it hurts! Luckily, they are nice and are not mad about the water. I still feel so bad about it. They help me to where I can stretch my foot back out. They ask me if they need to go get the medical team. I said "NO!" I had one specific instruction from my husband about the marathon day. No matter what happened he didn't want me to push so hard that he would have to come find me in a medical tent. After all the cheering and support he gave me, I wasn't going to let him down by letting a cramp send me to the medical tent! I tell the guys I am fine and luckily my foot stretches back out and un-cramps quickly.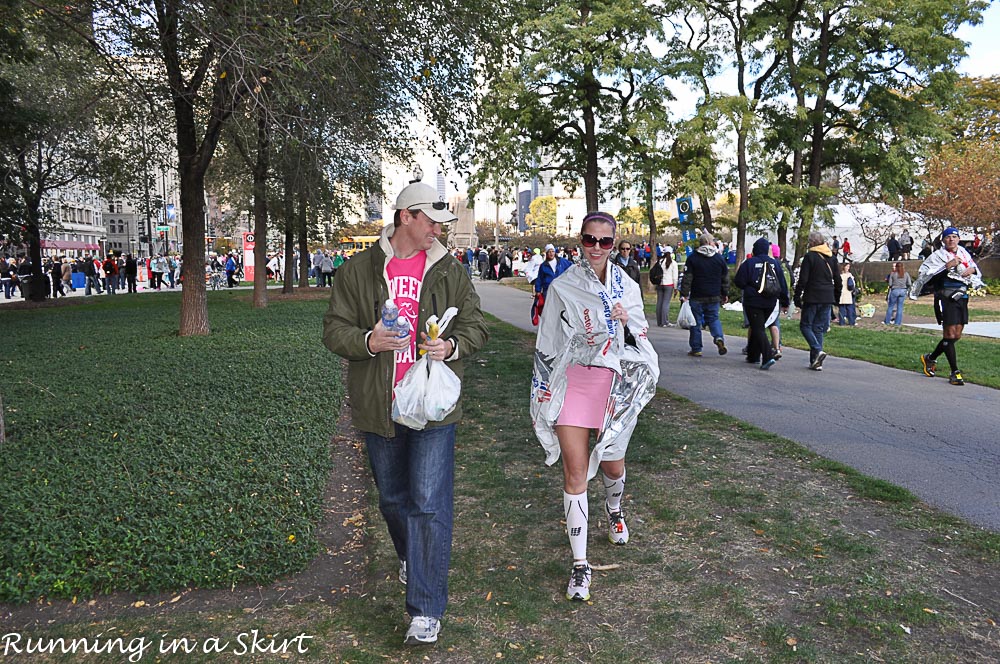 I keep walking and eventually spot our tree.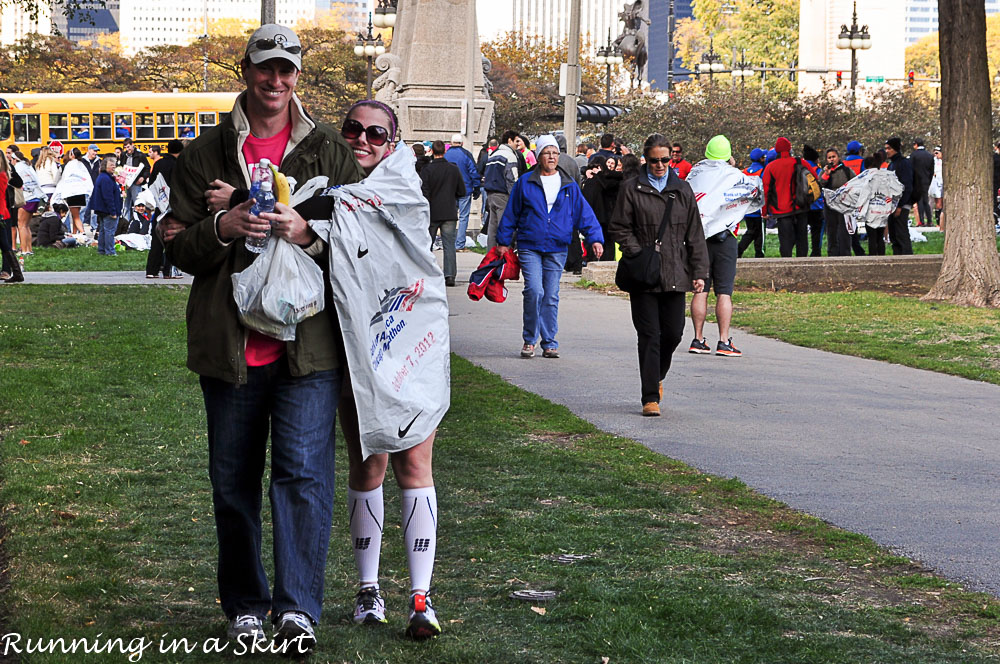 I come out of the official marathon area and my favorite people in the world are waiting. They have coats and blankets for me to warm up. I even get great big hugs, even though I'm sure I am disgusting. It feels so awesome to be done with the marathon.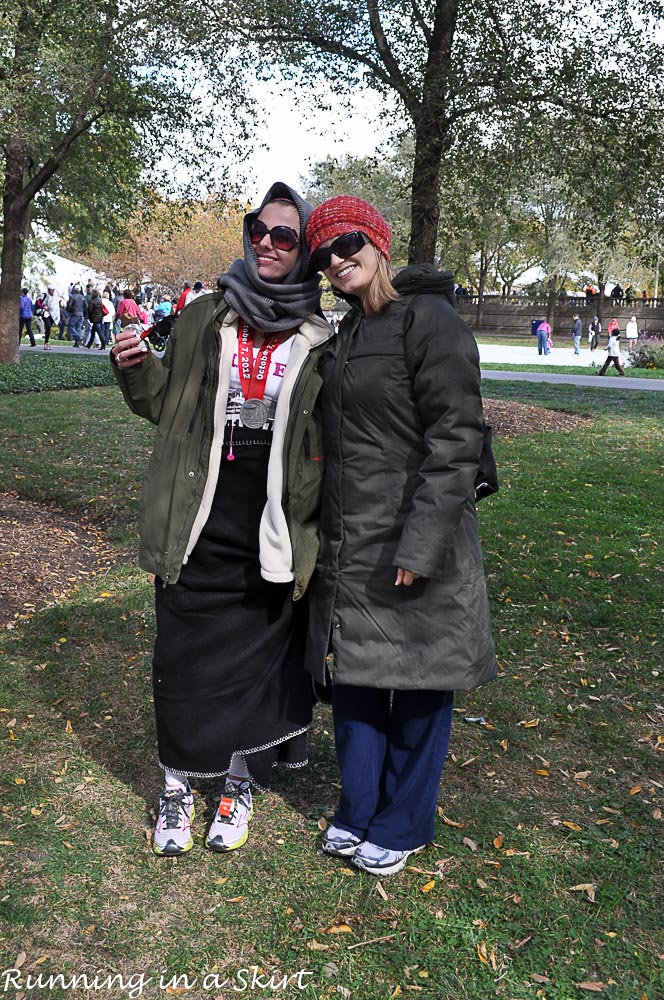 In the end, I finished my marathon in 5:23 minutes. My original goal when I signed up for the marathon was to go through the training and the race without getting hurt. Somewhere along the training process I made another goal for myself, which was to finish in 4:59. But in hindsight that was probably a little too ambitious. My long training runs were so much slower. I paced myself to hit that goal in the first half of the race, but totally lost my timing in the second half of the race.
I've been wondering, if I would have known how much I had slowed down, if my watch hadn't have stopped working, could I have pushed harder? I'm not sure, but I really don't think so. And if I would have pushed harder, would I have ended up hurt? If that would have happened, I wouldn't have accomplished the goal I set out for myself when I signed up.
So in the end I am a little disappointed in my time. But, I am just a girl who picked up running a few years ago. I never played sports and was always the last one picked in gym class. Before I started running, the only athletic thing I had done in my life was ballet. One year ago I couldn't even run three miles because I was still overcoming a serious illness.
The marathon and the whole training process taught me to fight and be strong even when faced with adversity. I've learned that you don't have to be fast or athletic to achieve an ambitious goal like a marathon. It does take a tremendous amount of work and dedication, but I have the ability to be an athlete and a marathoner. I even raised almost $700 dollars (as of 10/11/12) for Girls on the Run of WNC! It was worth all the sacrifices to be able cross that finish line after 26.2 miles.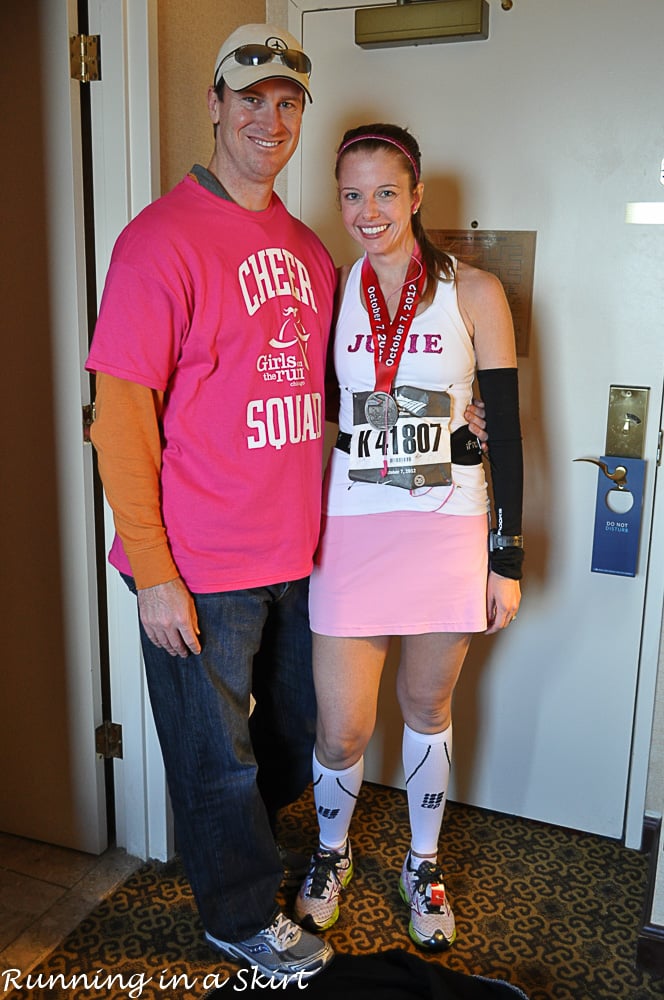 (Or 27… after I fixed my gps watch it said I actually ran 27 miles during the race! I must have taken the longest route along the course. DOH!)
And a BIG thank you to Andrey, Sarah's husband, who took all of these awesome pictures, while being a rockstar spectator!