Time is a funny thing. I never seem to have the perfect amount of it.
I either seem too busy. I want and need more minutes, more hours. I rush around, trying to find a way of doing an impossible amount of things in way too short of amount of time. It often leads to doing a bunch of stuff, but not doing anything well and not enjoying any of it.
Or I sit, wasting time. Almost wishing it away because I can't wait for something to happen. Sometimes I count down the days until vacation, a holiday, a celebration. I forget to live in the moment and enjoy the actual gift of having time.
There is something about the changing of the seasons, especially when the vivid colors of fall start showing outside my window that makes me think of the passing of time. The sunflower and apple hued leaves seem to be especially bright this weekend and for the first time in almost a year, I am taking a weekend off of running. Suddenly I am very aware of the gift of time.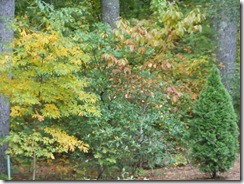 There is so much to be done. I have closets that are in desperate need of organization, dogs that could use a good bath and a garage that is overflowing with junk. There are dozens of things to do that I promised would get done after I finished the marathon. But for once, I am taking a break to enjoy the one thing you cannot put a price tag on; time.
I'll be back to the grind tomorrow. Clocking workouts, cooking dinners and calculating life by the hour-by-hour slots on my Franklin Planner. But today it's just me and the dogs enjoying some beautiful downtime. And for once, I'm finding that to be the best use of my time.
How was your weekend?
Do you ever feel like you can't seem to find a good balance of time?[/fusion_builder_column][/fusion_builder_row][/fusion_builder_container]