Spontaneous is not a word I think anyone would use to describe me. I like to plan everything I do. I organize my life by an old fashioned paper planner and want to know on Monday what my plans are for the weekend. I am stressed when my schedule is unorganized.
So I don't know what came over me when Friday morning I ask my husband if he wants to take a last minute, one night trip to Charleston. The weather in Asheville is supposed to be nice, but it is going to be even nicer in Charleston. 77 degrees and sunny both Saturday and Sunday. I find a super nice hotel in downtown for a steal of a deal and I am in desperate need of a getaway. My husband's work is about to get busy so we decide to take advantage of what may be our last chance for a trip for awhile. We love Charleston and usually visit at least once a year, in the summer. We have already done most of the touristy things so we decide our goal for this trip is to enjoy fresh seafood, relax and maybe even be a bit spontaneous.
Saturday morning I wake up to a balmy 55 degree January morning in Asheville. I throw on my running skirt and am determined to get in a solid 6 mile run before we head out the door. I feel a lightness in my feet and get the overwhelming feeling that today is going to be a good day.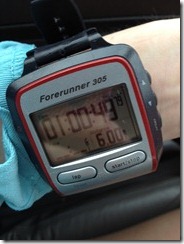 6 miles at a 10:08 pace?
oh yeah!
We head out the door in Asheville and arrive in Charleston for a late lunch. Within 15 minutes of being in town we are sitting on Market Street at one of our favorite tourists traps- A.W. Shucks. We order oysters, crab legs and big iced teas. The temperature is already climbing into the mid 70's and the sky is a brilliant shade of pale blue that only places close to the water have. Bliss.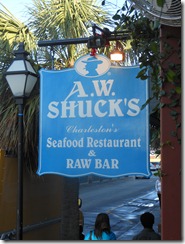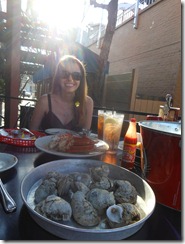 Do I have to share this food?
We go back to our hotel, The Market Pavilion, and take the elevator to the rooftop pool to take in the rest of the afternoon's sunshine and warmth. The great deal I found online had a $50 dollar food and beverage credit so we order a few ridiculously overpriced drinks and enjoy the view.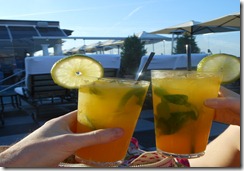 Mango Mojitos!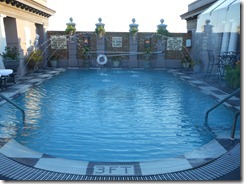 Pretty pool, but way to cold to actually get in….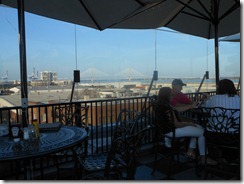 This place has the best views in Charleston!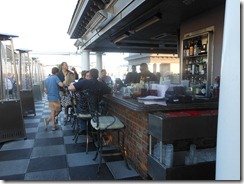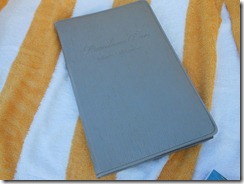 Once the sun sets, it starts getting chilly and we change to go to dinner.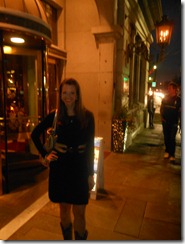 Yeah, I rocked my Nashville boots in Charleston!
We have trouble getting a dinner reservation because of our last minute plans. This week is "Restaurant Week" in Charleston and all the local food venues have awesome deals. Three courses of food for $20, $30 or $40… depending on how pricey the restaurant is on a normal occasion. It seems all the locals are taking advantage of the deal and eating at places that would normally be pretty quiet on a random January weekend. I have my heart set on taking advantage of this promotion and eating at a classic Charleston venue that we had never tried before; High Cotton.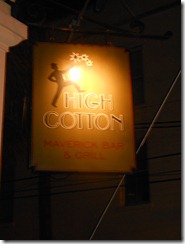 Mental Note—Must learn to take better pictures with my camera!
We take a gamble and walk in without reservations and ask if they have any room. Somehow we get really lucky and get a table in the corner, near the bar with a fantastic Jazz band playing in the background. It's not in their perfect dining room, but considering the circumstances, we are thrilled.
The food is off the charts!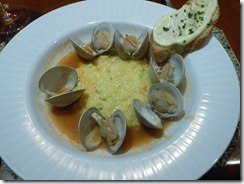 Clams & Risotto Appetizer – rich and decadent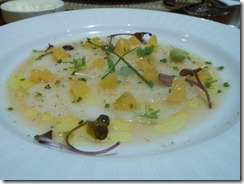 Scallop Ceviche – Light, unique & crazy good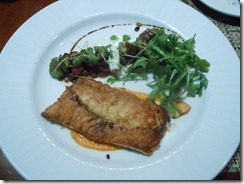 Flounder Dinner- Perfect balance of flavors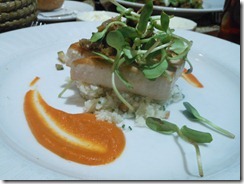 Swordfish Dinner- Just as good as it looks
For dessert we walk to the Peninsula Grill and get a slice of their famous Coconut Cake to go. We had heard through word of mouth that it is amazing. The box says it's "A little slice of heaven" and it lives up to expectations. We take the slice back to our room and enjoy angel light cake in between decadent layers of thick and creamy custard with just enough sweet, but toasty, coconut on the top.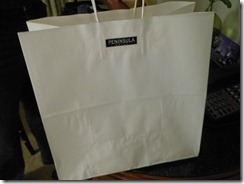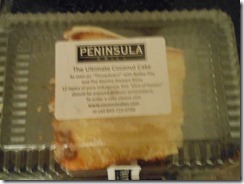 This says that Bobby Flay featured this cake on "Throwdown"
I didn't even realize that until we took it out of the bag- cool.
It's ridiculous.
***But I have a secret for you…. There is a coconut cake in Asheville that may even top this famous Charleston slice. I don't want to take anything away from the Peninsula Grill's cake because it was awesome, but in my opinion the Coconut Cake at the new Blackbird Restaurant in Asheville is equally as good and perhaps just a slight edge better. If you like Coconut Cake at all, you should try it. But I digress…. ***
On Sunday, we decide to stroll Charleston's streets and work up an appetite for another one of our ridiculously touristy, but favorite Charleston places to go.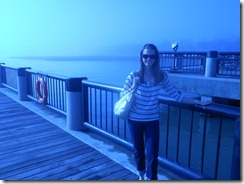 Seriously have to work on camera settings.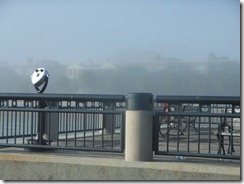 The fog was just lifting as we got to the Pier.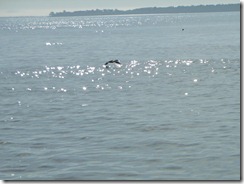 That's a Dolphin!!! There was a pod right off the Pier!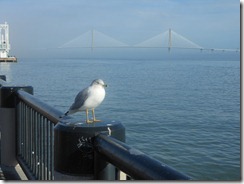 I ran over that bridge once— Cooper River Bridge Run - it was amazing!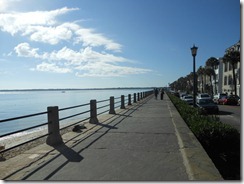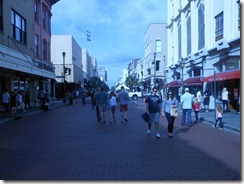 King Street was closed to traffic for "Second Sunday" event- so nice!
Yes, we are a sucker for Hymans and all of it's fried seafood glory. I don't normally eat or like fried food but Hymans always draws me in and makes me believe fried hushpuppies could solve all of the world's problems. They are just so tasty.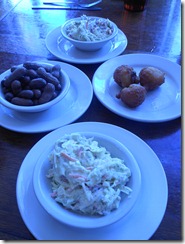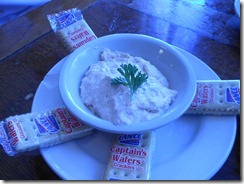 You should always get a free crap dip coupon from the tourist flyers.
It's a no brainer.
We share of "Pick 5" of fried everything and I'm pretty sure I'll be paying for this down the road. But I don't care. For some reason I love this place. From the celebrity pictures on the walls, to the little card mantras on the table, to the boiled peanuts put on the table upon arrival, it all makes me happy. Going to Hymans may be cliché but it's our little Charleston tradition.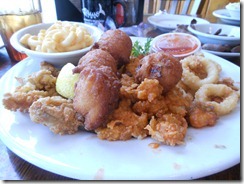 With a plate of southern fried food—YES—Macaroni and Cheese is considered a vegetable

After lunch, we walk around a little more and enjoy the sun and warmth, but eventually it's time to head home.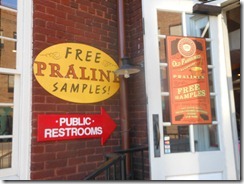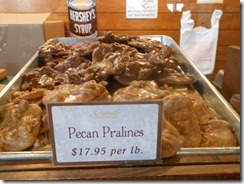 Not before getting Pralines samples- maybe multiple times….
It may have been a whirlwind adventure, but the sunshine and vitamin D, plus some ridiculously good food and change of scenery is exactly what I need to clear my mind a little.
Now I better go find some time for the treadmill! Officially Frostbite 10K training starts today and I'm pretty sure there will be some payback for that fried food. It was worth it though… all worth it. Sometimes it's good for even the most planned, practical person to do something at least a little spontaneous.
QUESTIONS:
Where is your favorite weekend trip?