Look who came to visit!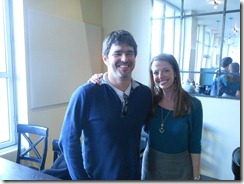 Hi Eric!
My good friend and former co-worker Eric came to Asheville to visit this week. Eric is responsible for me owning this…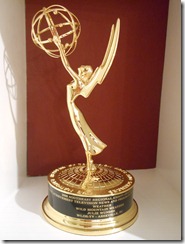 Yes! That's a real Emmy!!
He shot and edited the story that won the award
He recently moved to Seattle and is shooting news in the big city now. His wife had an amazing work/school opportunity that took them across the country. His trip back to his favorite southern city- Asheville- sent him search of some "southern comfort." For Eric that means old friends, Beer City USA (aka Asheville) beer, BBQ and grits. Especially grits with cheese and jalapenos-- because those are the best. He loves his new home in Seattle, but as a lifetime resident of the south, Eric sometimes misses some small southern city charm. He truly enjoyed being a tourist in his old hometown.
Eric has an infectious joy for life that makes you really want to appreciate the small things in life. His trip made me think about where I find my "southern comfort?'" What makes me feel at home? If I moved away from Asheville, what would I want to come back and enjoy on vacation? After some considering, I decided I'd find joy in going back to my favorite running trail at the park with the beautiful mountain views, a Mamacitas veggie stuffed quesadilla and a delicious mussels and cheese plate filled dinner at Bouchon. Not exactly "southern" things, but that is what would make me feel right at home.
It's a fun thing to think about—Where would you go if you were a tourist in your hometown? Whether you live in Asheville, Seattle, or some other fabulous city or town-- they all have beautiful and unique things to offer. So in honor of Eric's trip, take some time to find your "southern comfort" and joy in the small things.
QUESTIONS:
What would you do if you came back as a tourist in your hometown?
What sort of small daily things bring you comfort?[/fusion_builder_column][/fusion_builder_row][/fusion_builder_container]