Two weeks of training down and three weeks to go until the Frostbite 10K! I've been sticking to my plan pretty closely and I'm already feeling a little speedier. Woop! Woop!
Here is a link to the schedule I am trying to follow for the race. My goal is to finish in under an hour.
This is how last week's training went down...
Monday: 5 mile Tempo Run on schedule!
I switch around my runs because my commitments are hectic later in the week. I normally do my shorter run on Monday or Tuesday, but I know I need to get my harder run done earlier in the week. The weather is a little chilly (in the 40's), but fairly nice for an outdoor run so I put on my shoes and I am ready to follow my tempo run times. I need to run 1 mile at a warm up pace, 1 mile at 10:07 pace, 2 miles at a 9:52 pace, and 1 mile at a cool down pace.
I start running and find myself starting out too fast. I slow down and at the mile marker I hit what I think is the "lap" mark on my GPS watch so I will be able to read my pace time for the next few miles; the "tempo" miles. I keep a solid 9:50 pace for at least a half a mile and I'm feeling good. At some point after a half mile I look more carefully at my watch and realize instead of hitting "lap" I had hit "stop!" AHH- the watch isn't recording my run. I am frustrated and try to figure out paces, times and distance in my head without having the watch running for so long. I waste too much time and energy being frustrated and my paces fall all over the place. I run my tempo miles between 9:50 and 10:20 and the entire run including warm up and cool down averaged out to a 10:20 pace. I know I didn't run my best.
This isn't a bad run by my standards, but it wasn't exactly what it was supposed to be. So far tempo runs have been by far the most challenging. I'm hoping to get the hang of it this week.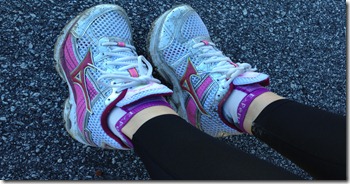 Lots of mud still at the park!
During the run I notice my legs feel heavy and tired and I have some light shin and hip pain. Nothing serious- I promise! I decide to focus time on yoga and stretches that have helped me in the past. I come home and do my Yoga for Runners- Beginners DVD and start feeling better. It's amazing how much yoga helps me. If you can catch those little pains early and stretch them out it makes so much difference!
Tuesday: I do 30 minutes on the elliptical and open my new yoga DVD... Yoga for Runners- Intermediate.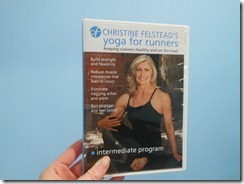 I do the DVD for about 30 minutes until I realize it is the longest DVD ever- 80 minutes long! I don't have time for it all, so I fast forward through parts, but do enough to really help my shins and hips. They feel much better. I'm looking forward to trying this whole DVD but I just don't have the time now.
Wednesday: Jillian and I have an argument about my workout. I reluctantly put in Jillian Micheals "Killer Buns and Thighs" DVD. I am so tired that I just can't get into it and only half do the moves. Jillian keeps telling me that the workout is only 30 minutes and I need to give it my all, but I'm pretty sure she doesn't understand that I have not had much sleep and it's just not my day for a killer program. I feel like Jillian is still mad at me that I just "phoned in" my workout. So sad. Hopefully she'll forgive me soon. I usually really enjoy our time together 🙂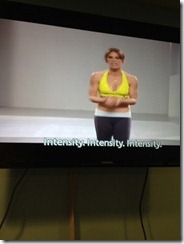 Jillian- I have no intensity today!
Please don't yell. I'm sorry.
Thursday: Rest day! My hubby and I traveled to Charlotte for a meeting he has to attend.
Friday: 4 mile Speed Work on schedule!
My legs are feeling rested and strong from several days of rest and some good yoga. I am determined to hit my speed work times better than my tempo run. I'm in Charlotte and we are getting hit with the same ice storm that Asheville is getting, so a treadmill is my only option. The hotel we are staying at does not have a gym, but they give me a pass to a nearby YMCA. The girls at the desk tell me about a great treadmill that they have that actually makes you feel more like you are running outside. It has a small vibration on the belt. It sounds weird, but the the treadmill is awesome. It feels a little more like I'm running on a trail.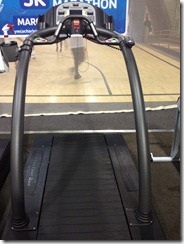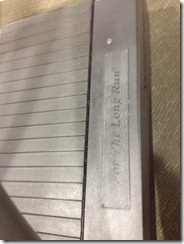 Have you tried one of these? They are pretty nice!
The girls at the Y called them the "Cadillac" of treadmills!
I start my run at 5.8 treadmill speed and do a half mile warm up. At a quarter mile, I crank the treadmill to 6.8 for my speedy quarter mile pickups. Somehow I thought that was a 9:07 pace, but the treadmill says I'm running an 8:50 pace!!! My treadmill doesn't have the conversions on it. I had been doing my speed work pickups at this pace so i just kept going. I brought the treadmill back down to 6.0 in between the speed work. I did six "quarter miles" at 6.8. My total time was 38 minutes for 4 miles!!! Just call me "speedy!" 🙂
Saturday: I am still in Charlotte so I go to a Zumba/ Cardio Dance class at the YMCA. It wasn't my favorite but I got in a good 45 minutes of exercise.
Sunday: 7 miles on schedule!
We are back from Charlotte and I need to run early in the morning because we are busy later in the day. I check the temperatures and it's still only 25 degrees and decide I'm just not up for the cold. I'm sorry, I just hate the cold... Hello Treadmill.
This is my longest run since the marathon and I can't seem to forget it. I'm a little nervous about it. Traditionally the 7 mile run has always been my threshold for really slowing my speed down. I want to break this trend and keep my pace strong for my entire run. I start the pace at 5.8 and decide I will go faster if I feel strong at the halfway point. At the half way point, I'm feeling great so I bump my speed up to 5.9 for 1 mile. At the 5 mile mark I bump the speed up to 6.0. At the 6 mile mark I bump the speed up to 6.1. I push the last quarter mile to a sprint and look what I get!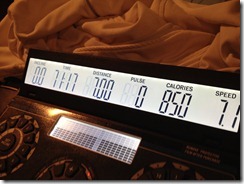 Easily my fastest 7 mile run ever and I feel great!
Overall, Week 2 was a successful week of training. I still need to get the hang of "tempo" runs and be able to keep my speed more consistent outside. I know my frequent treadmill runs are not helping my cause, but I'm hoping this week's weather will be better for some outdoor runs!
I'm glad I took some time to do more yoga this week my shin and hips are feeling good even after my hard 7 mile run.
I'm off to cook again! I have two more Crock Pot recipes for you this week.
QUESTIONS:
How is your training going?
Hot Chocolate 10K racers-- how did you do?
Have you ever tried yoga to help with random soreness or pain?[/fusion_builder_column][/fusion_builder_row][/fusion_builder_container]