*This is the 4th of 10 Crock Pot recipes I am making between now and the end of February as part of the Peanut Butter Fingers Blog Crock Pot Challenge! *
This week has been rough. Very, very busy at work… I'm a little numb.
You know what makes me feel better?
Sushi!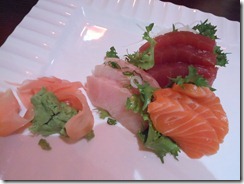 Sashimi Appetizer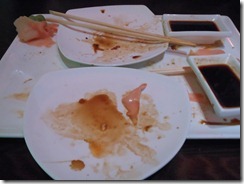 And 3 rolls that we were so excited to eat that I forgot
to take pictures of before we inhaled them!
Woops! Sorry, I'm still getting the hang of this blog picture thing!
And YaYa's!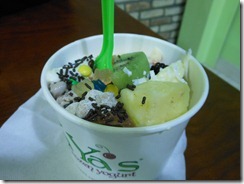 Fruit flavors on one side and chocolate flavors on the other side.
I have no self control at self serve yogurt places!
What a great Friday night out

! How is your weekend so far?
I'm actually very grateful I've been doing the Crock Pot Challenge this week because it forced me to actually plan out our dinners and shopping ahead of time. Without the challenge, and the fact that I planned out our meals last week, I'm pretty sure we would have been eating these this week.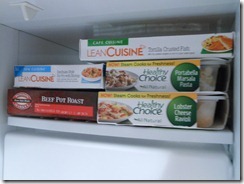 Oh, yes, I keep an emergency stash of TV dinners.
Don't you?
For your enjoyment today we have Crock Pot Spicy Asian Shrimp Soup!
Really, Julie? Asian? Shrimp? Soup? Yup guys! It's a quick play off of the Hot and Sour soup you get for takeout from your favorite Asian restaurant.
My Pinterest inspiration for this soup came from Diabetic Living Magazine. Here is the link to the original recipe, but I changed it up some.
If you want to follow my Pinterest boards click HERE.
I pumped the recipe up with more veggies and shrimp to turn it into complete meal. It's actually a great base soup that you can add your favorite veggies and meat. You can also easily make it entirety vegetarian. It's a completely different taste than your standard soup.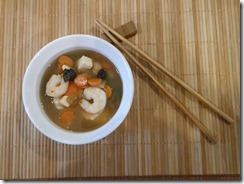 Crock Pot Spicy Asian Shrimp Soup
Here is what you need: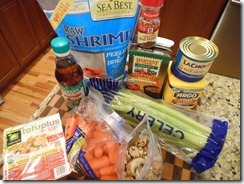 12 baby carrots – sliced
2 celery stalks – sliced
1 cup sliced mushrooms
1 8 oz can water chestnuts, drained
32 oz veggie broth
1 cup water
3 tbs rice vinegar
2 tbs reduced sodium soy sauced
½ teaspoon crushed red pepper (or ¼ if you don't like too much spice)
1 tsp sugar
----------------
4 oz cubed firm tofu
1 lbs thawed shrimp
------------
2 tbs cold water & 2 tablespoon cornstarch
Optional: Add other veggies to the soup! Just a few ideas… snap peas, sugar peas, onions, edamame, cabbage, bamboo shoots, bean sprouts or bok choy.
* For Vegetarian soup leave out the shrimp, add more veggies and double the tofu
Directions:
1. Add the veggies to the bottom of the pot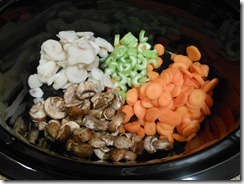 Are you guys sick of seeing the bottom of my Crock Pot yet?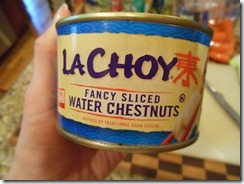 You can find stuff like this in the International food section of your grocery store!
2. Cover the veggies with broth and all the ingredients above the dotted line (everything except tofu and shrimp.)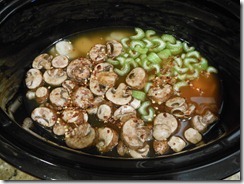 3. Cover and cook on low for 6-8 hours.
4. Prep your tofu and shrimp!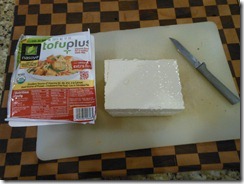 Tofu is easy… just take it out of the container and get over the fact that it's slimy tofu.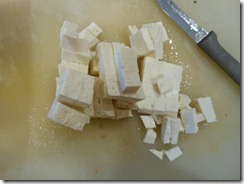 Then just cut it up in small cubes. Nothing to be afraid of!
My meat loving husband thought he was eating cheese cubes and loved them….
shhh… Don't tell…
If it freaks you out too much just leave it out and add another veggie.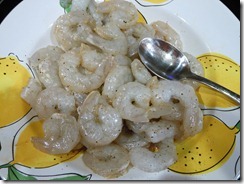 I thawed my frozen shrimp and marinated them in a little soy sauce and added pepper to them. They sat in the fridge like this covered while the soup was cooking.
You can marinate the tofu the same way!
5. 15 minutes before soup is done turn the pot up to high and add the corn starch mixture. This will thicken up the broth a little. If you don't have corn starch, don't worry about it.
6. Then add the shrimp and tofu.
** If you don't have time to thaw your shrimp ahead of time you can add them frozen to the soup about 30 minutes before you want to serve it. I just wanted to make sure the shrimp had plenty of flavor**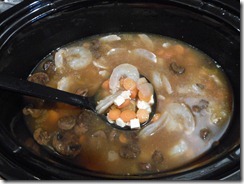 7. Let shrimp cook only long enough to let them turn a light pink color. After about 10 minutes turn the Crock Pot on the "keep warm" setting.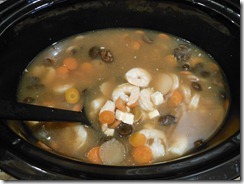 8. Serve and Enjoy!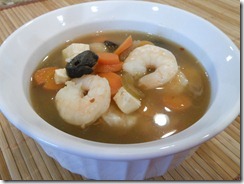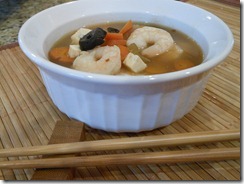 [/fusion_builder_column][/fusion_builder_row][/fusion_builder_container]