The Great Brazil Adventures continues today with Part 2 of my series! Come along for the journey as the hubs and I visit a small, nearly undeveloped island off the coast of Brazil called Ilha Grande.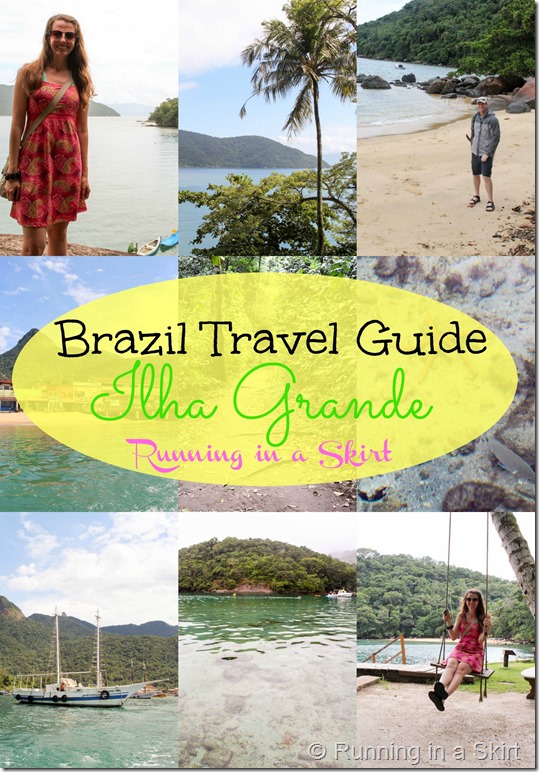 Hi friends and happy Monday!
I hope you had a beautiful weekend. I went on a hike, to a minor league baseball game and a birthday party. On top of that, I'm sharing pics from the hike on Wednesday AND giving away a pair of hiking shoes. There is so much fun going on in my world right now I can't stand it 🙂
For today though, I'm continuing my series on my recent trip to Brazil. Part 2 focuses on Ilha Grande. Ilha Grande is a nearly undeveloped island off the coast of the Rio State of Brazil. It was first used as an entry point for slaves, then a leper colony and eventually a political prison. In 1984 the prison left and tourism began. Since it was a place no one wanted to go before then, it is nearly undeveloped and is a nature lovers dream. There are no cars and the only way to get around is to hike or boat.
If you missed Part 1, start here with my recap of Rio de Janeiro. It includes all the big stuff like Christ the Redeemer, Sugarloaf Mountain and Copacabana Beach. I'm picking up the story from our last night in Rio.
Ilha Grande Blog Story & Pics
Day 1 in Ilha Grande
Early Tuesday morning the hubs and I wake up early in Rio to travel to Ilha Grande. Since it's a tropical island off the coast we have to first travel by road and then by boat. Before we left for the trip I arranged for a driver to meet us at our hotel and take us to the dock at Mangaratiba. Neither the hubs or I am interested in driving in Brazil! Our drive ends up being a bit frightening because a huge boulder fell off of a big truck in front of us and hit the windshield of our car. Our driver does not speak any English so we really try hard to figure out how we could help her. Luckily the car is still drivable, no one is hurt and after a stop at a truck stop (NOT where I want to be AT ALL!) we are on our way.
We arrive at Mangaratiba around noon. Our driver is kind enough to make sure we get on the right boat since the one I had booked left long ago due to the delay.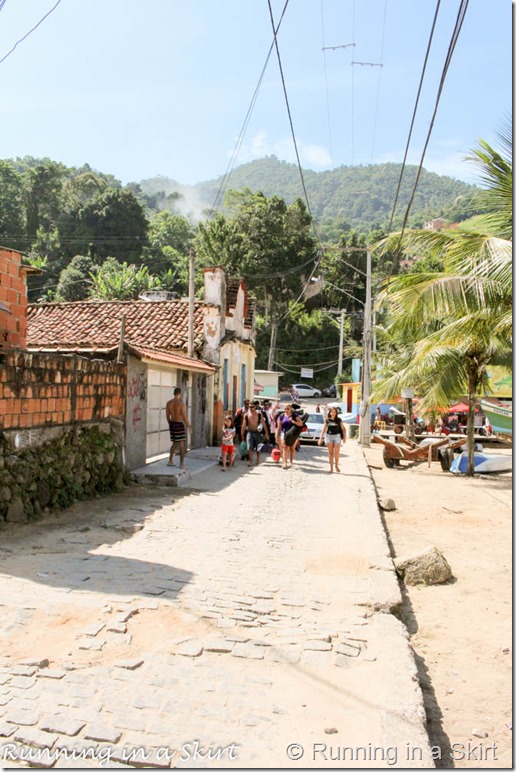 After the hustle and bustle of Rio, it is so amazing to be away from the city and spread out. I always feel more comfortable in natural surroundings, than big cities.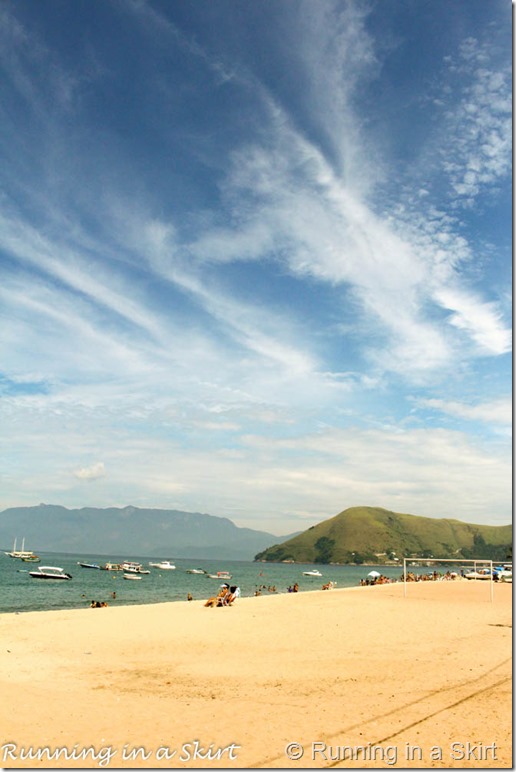 After a short wait, we get on a speed boat that takes us to Ilha Grande. The water and views are spectacular. This is one of the most photographic places I have ever been!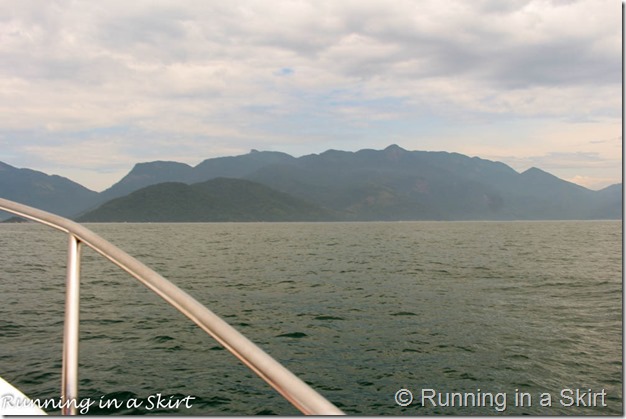 The hubs and I both are starting to unwind.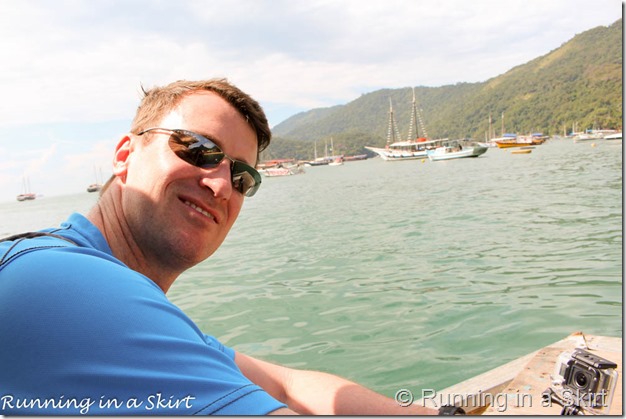 The speed boat takes us to Vila do Abraao, the main village on the island. It is small and charming.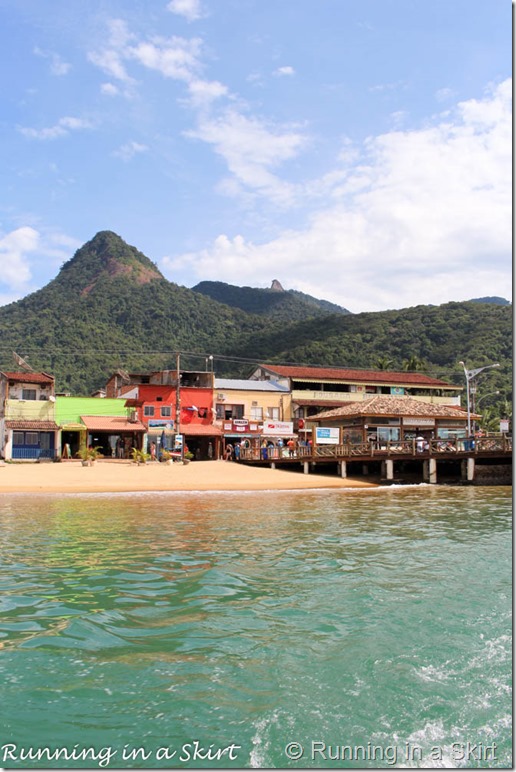 At the dock, we find a tourist office and have them call our hotel. Our hotel is about ten minutes away by boat from the main village and part of their rate includes the ride.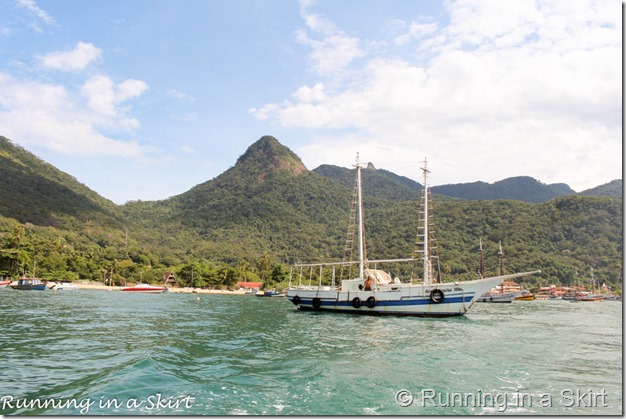 We arrive at our hotel, Asalem, which is carved into the side of a mountain. We get checked in and are a little disappointed because the inside of the rooms are very different than what it looks like online. If we spoke the language we might have done something about it, but we feel kind of trapped because we could not communicate very well.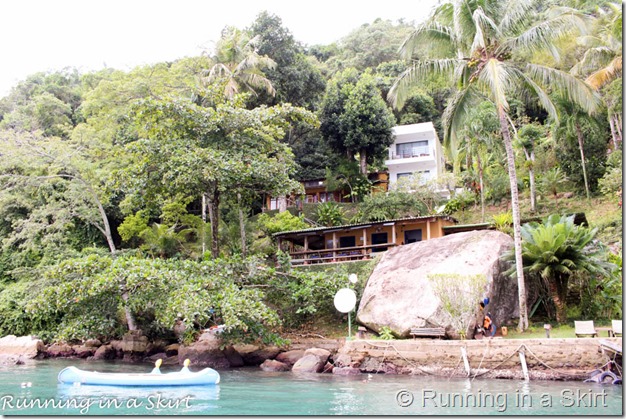 Luckily it was clean though, so we decided to make the best of it and enjoy the million dollar views.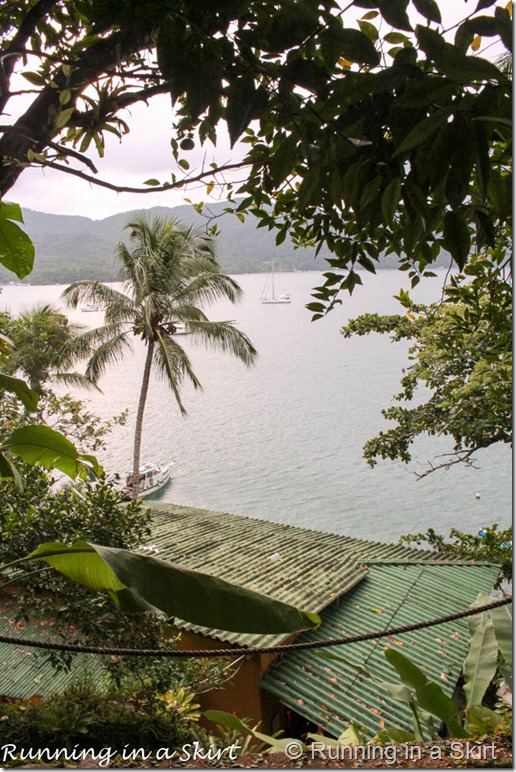 After check in, we are famished! We put on sturdy shoes and take a short hike to the closet restaurant.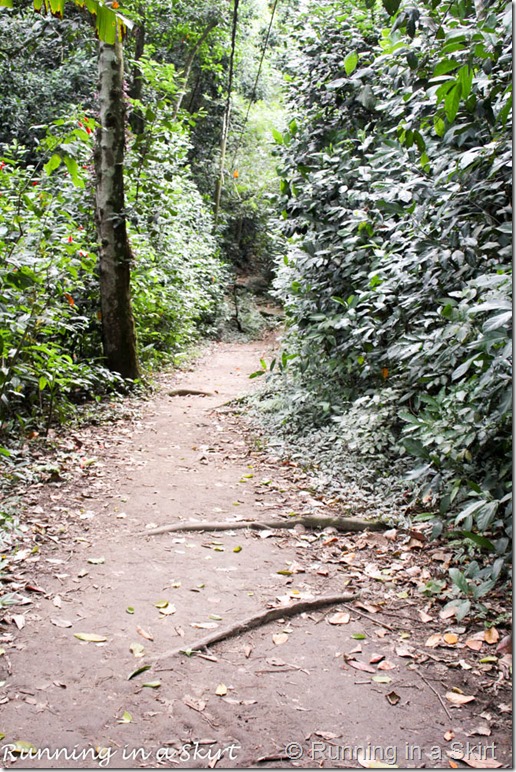 We walk through the tropical jungle for about 15 minutes and are finally greeted by this gorgeous little beach. A little dive restaurant is serving food and drinks. We sit down outside, but a waiter quickly moves us inside because it starts to rain!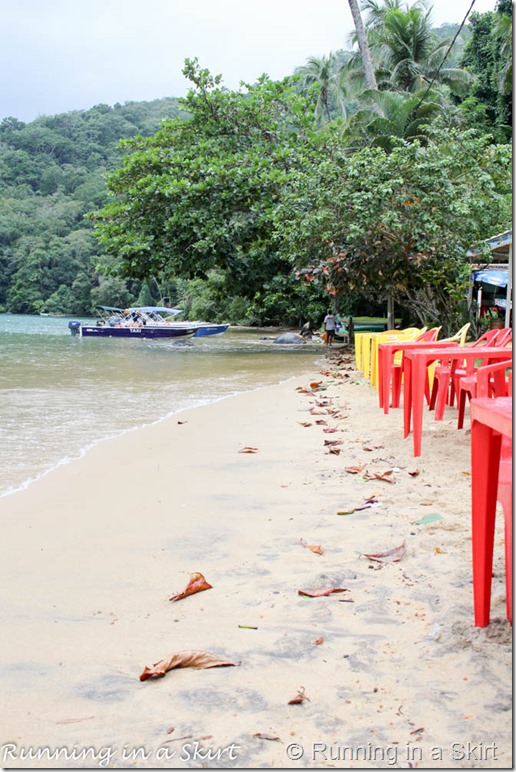 The menu is full of all kinds of fish prepared different ways. We do our best to decipher what is what from our Portuguese book and pick this. Almost all the food on Ilha Grande is a big fish meal prepared for two people to share. I'm not sure what we order, but it is amazing. The hubs and I think it is funny that the fish is not only served with rice, but also French fries 🙂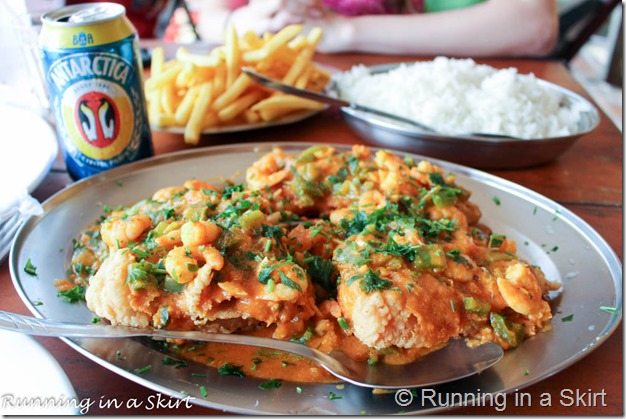 We decide to enjoy the view and wait out the tropical downpour. Eventually it clears enough and we take a walk on the short beach.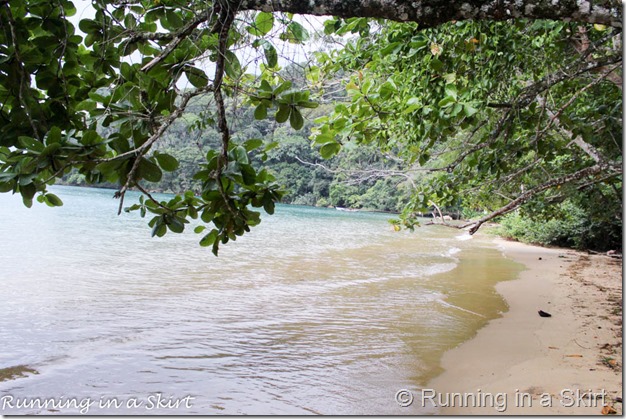 We finally hike back to the hotel, watch the sunset from our patio and get cleaned up for dinner. The shower ends up being a salt water shower (yuck!) but we do the best we can!
The hotel runs the same small (very very very old) boat that brought us to the hotel as a shuttle for the evening back to Vila do Abraao, so we take it back for dinner. The village is super charming and filled with pousada (small motels) hostels and restaurants.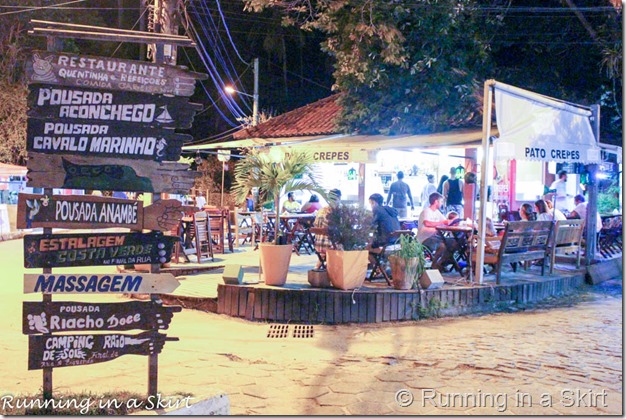 We do a lap around the entire area and finally decide on a small restaurant with tables in the sand. A man is playing Brazilian music on the guitar and it is wonderful.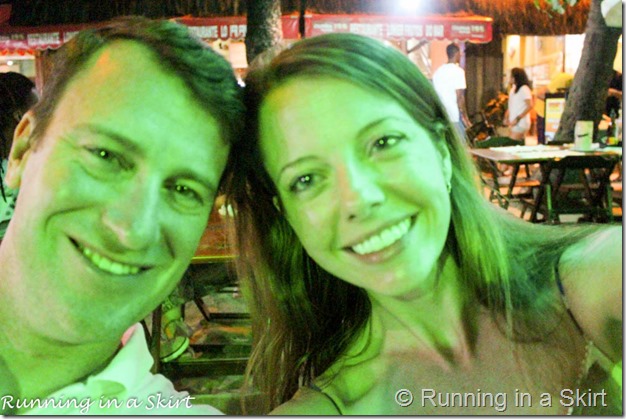 We order another fish dish for two. This one has octopus and fried bananas.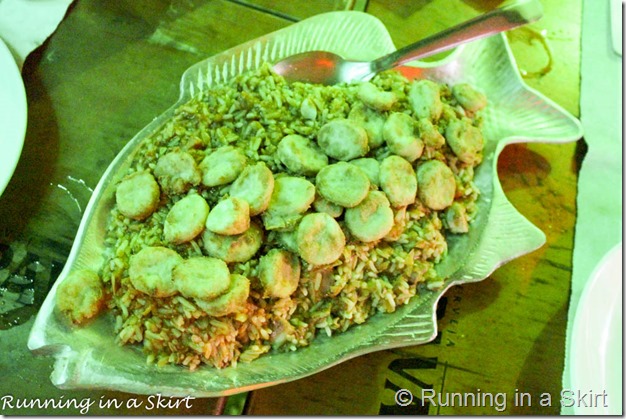 For dessert we walked back to a crepe place we stalked on our first lap. It is also delicious.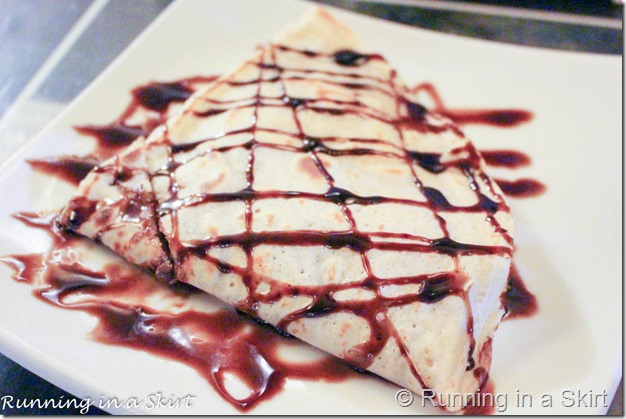 We have some challenges getting back to the hotel and it starts raining again, but finally, the boat arrives to pick us up and we go back to the hotel for the evening.
Ilha Grande Day 2
Day two starts off with a simple breakfast with this view. The water is so green it is breathtaking.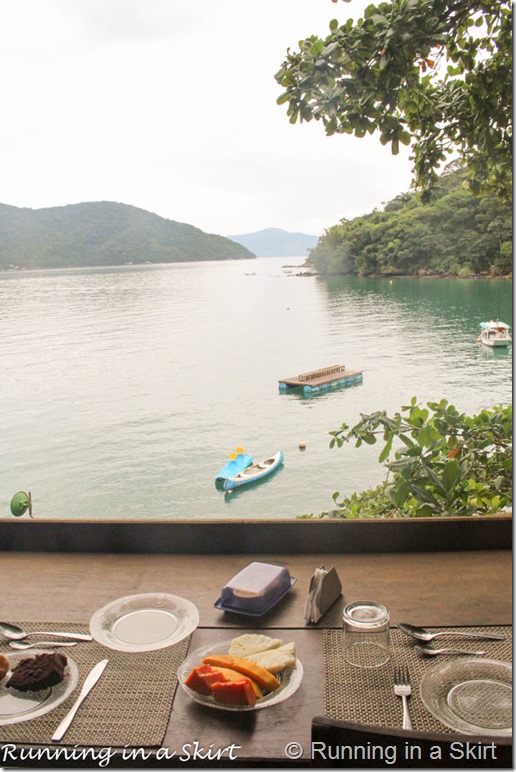 We had arranged for a boat tour of the island the day before, so we are up and back out on the water first thing.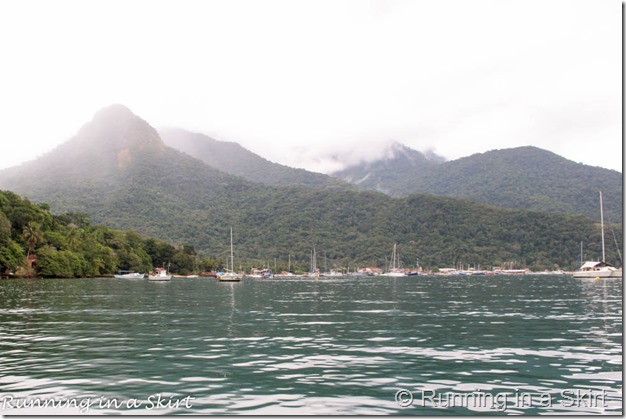 We are with two different couples on the boat, one from France and one from Sao Paulo. The girl from France speaks English, so she is kind enough to help us.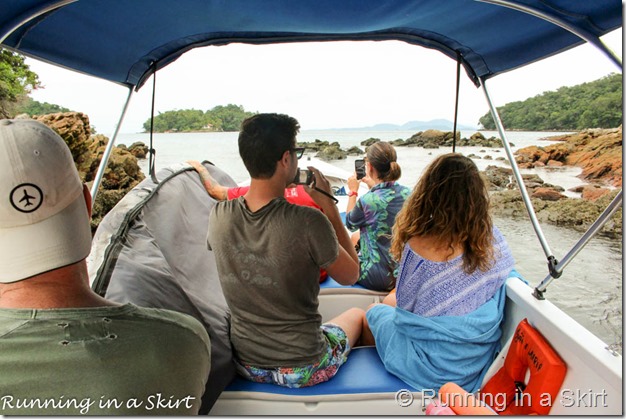 The scenery around the island is so beautiful.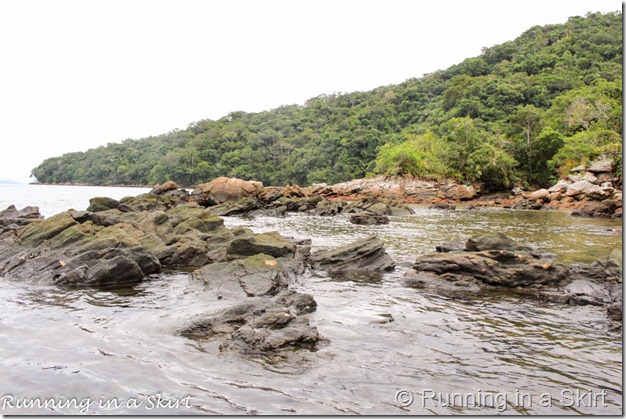 Even though the skies are super cloudy we can still see the beautiful green water.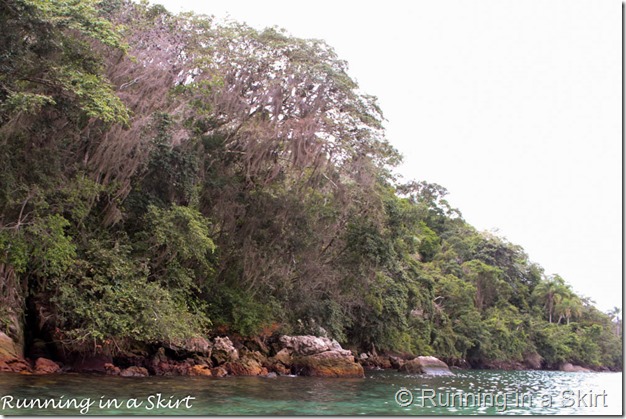 The first stop on our tour is the Blue Lagoon (Lagoa Azul.)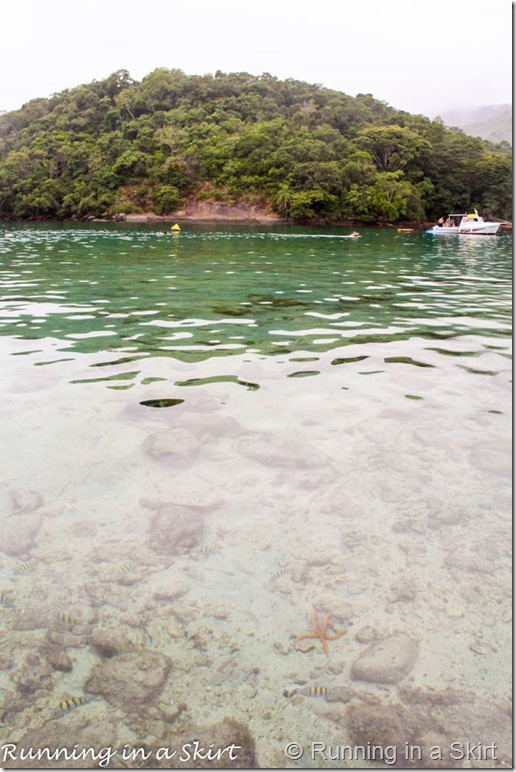 The water is so clear that I stand on the boat and see straight to the bottom.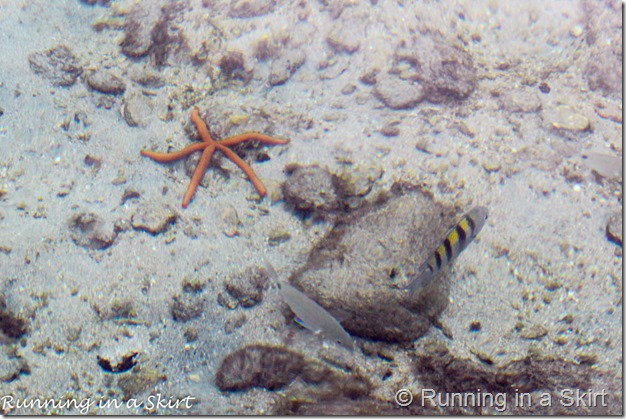 We jump in to snorkel, just as it starts pouring. Again. I keep going because I'm already drenched anyway.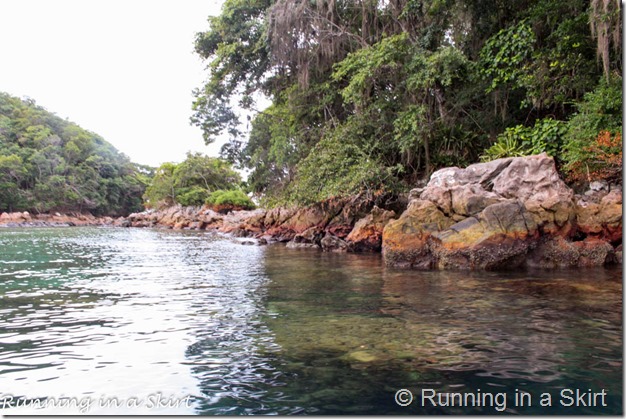 My mask and snorkel isn't working right, so I get out of the water early and try to warm up.
Eventually everyone else gets out of the water, and the driver takes us around the entire lagoon in the boat! Someone spots a giant starfish and jumps in to get it. (I'm pretty sure holding this would be illegal anywhere else but Brazil!!! 🙁 ) I was so worried they were killing it, but they assured me (as well as they could with our communication issues) that it would be fine.
Beautiful huh?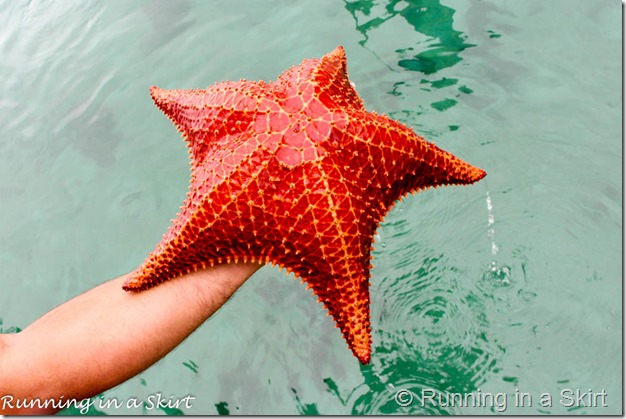 Our next stop is another beach where we jump off the boat and take a short hike.
It's still raining, but the hubs and I try to make the best of it.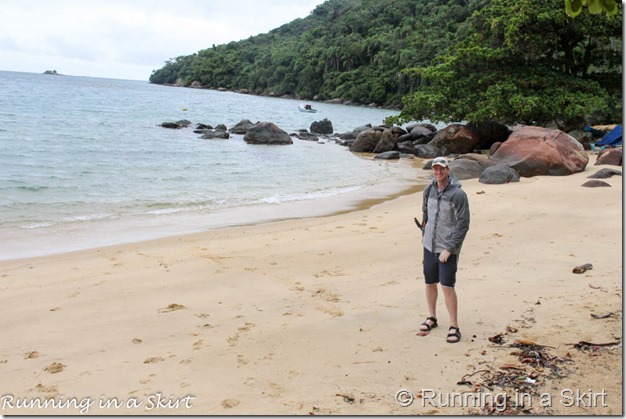 When we get back on the boat it is raining so hard that I can't pull out my nice camera without getting it wet, so I stop taking pictures. We see more beautiful beaches and views, but everyone in the boat opts to stay undercover. It is actually chilly and we are all cold!
The boat driver sees that we are all kind of miserable, so he decides to bring us to lunch early. He takes the boat up to a mangrove where we find another delightful dive restaurant.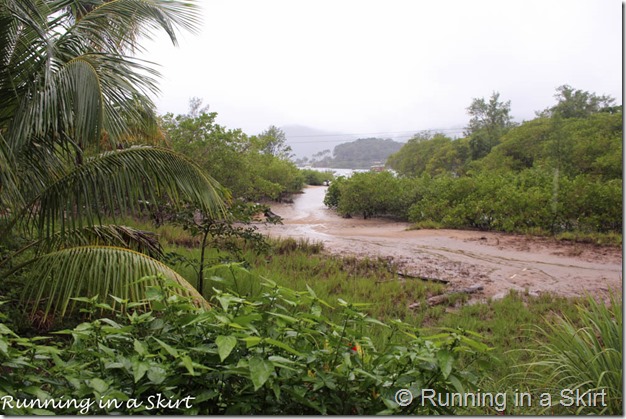 The hubs and I order another fish meal for two and this one is also delicious. I am kind of sick of fish at this point, but it is really the only option so I went with it. Despite not being exactly what I wanted (I would have killed for a green salad at this point!) it was amazing.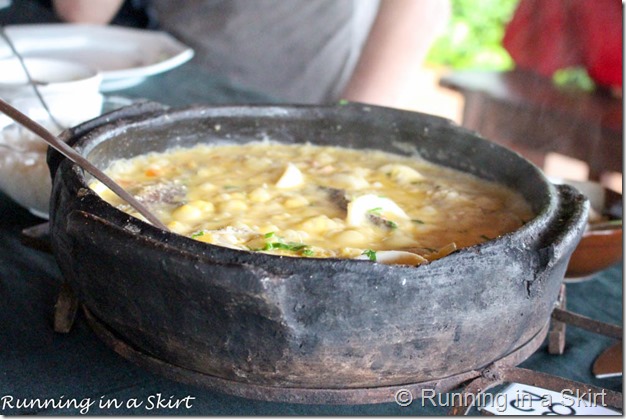 We take an extra-long lunch and all dry off under the canopy and warm up with good food and drinks. The rain picks up and we can't even see a few feet in front of us. Sightseeing is impossible so everyone on the boat votes that we want to go back to the hotel.
I'm bummed to be missing out on seeing so much of the island, but I am also very grateful not to be on the boat in the rain anymore.
Just as we are pulling back into the hotel we see dolphins!!! They play around with the boat and it is amazing. (Since it's still raining I can't pull out my nice camera, but the hubs did catch them on our GoPro. He's working on a video of this, so I hope to post it soon! )
It totally makes the day worth it.
We take another warm, albeit saltwater shower and watch the sunset from our patio.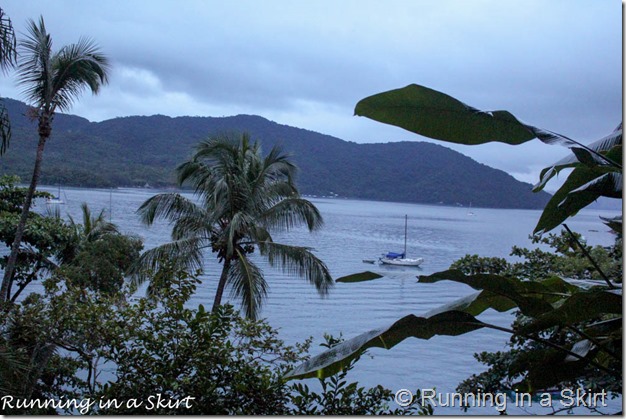 As dinner approaches, it is still raining so the hubs and I decide to order dinner at the hotel and just stay in.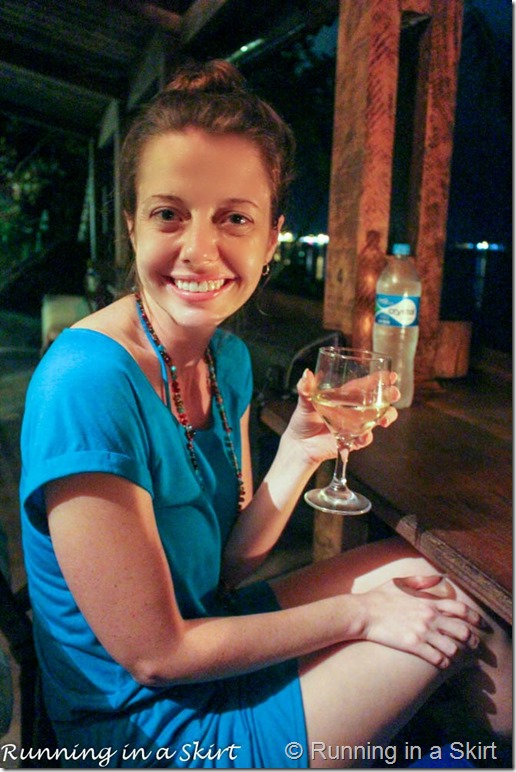 We enjoy another fish dish (this one had coconut milk and bananas!!!!) with the same view we had with breakfast. And I finally even get a few veggies! It wasn't what we planned, but it was so nice.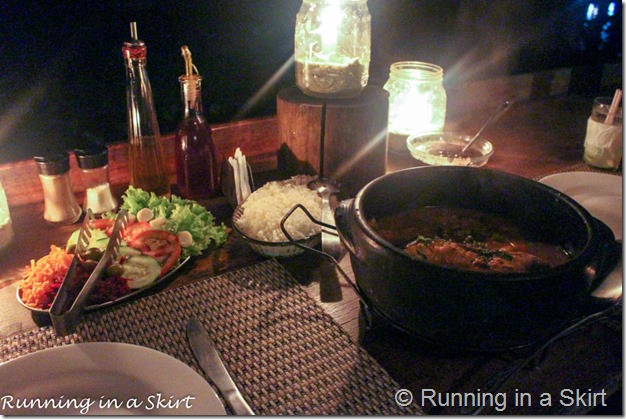 Ilha Grande Day 3
We wake up Thursday morning and step outside to finally see this!
Sunshine!!!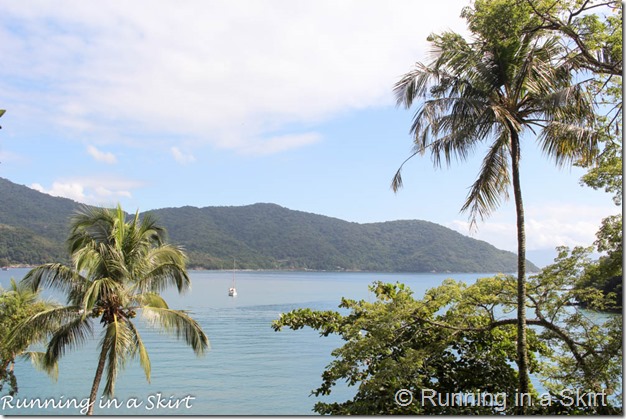 Sadly, it's our last day on the island and we have to pack up and go home.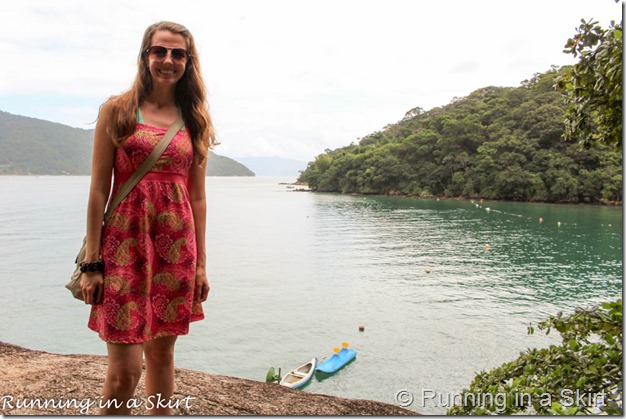 I want to stay so badly and play in those green/blue waters. They are so beautiful.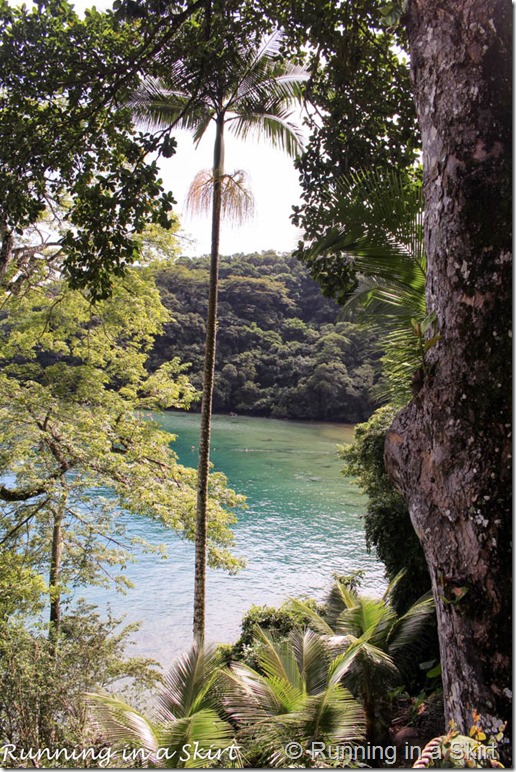 Our travel plans really cannot budge though, so we pack and wait for the boat to go back to the mainland.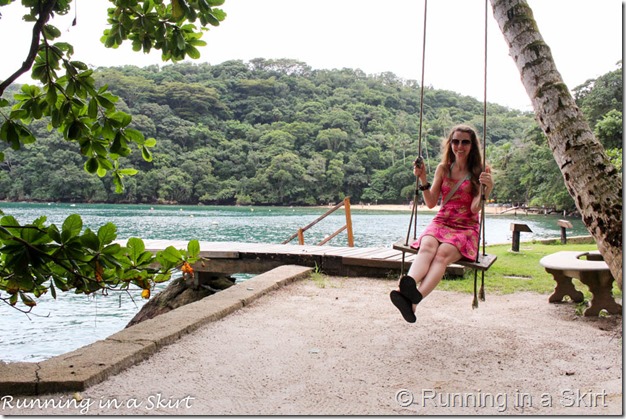 Next up the Great Brazil Adventure—Paraty! Paraty is a stunning colonial town with a grid of cobblestones streets like you have never seen before. Next to the Iguaçu Falls ....it was my favorite part of the trip. I'll pick up the story from here next time…
Reflections
I feel like we had some bad luck in Ilha Grande. Our hotel wasn't like it was advertised online and it rained buckets while we were there. I kind of feel like it had even been a little drier, this might have been one of my favorite places ever. Did you see the super clear blue-green water? The dolphins and starfish? Unfortunately, it's the climate is the kind where you just have to expect rain.
Ilha Grande felt like a tourist destination for Brazilians to us and it seemed like we were some of the only Americans on the island. It was our fault for not learning more Portuguese, but we really struggled to find anyone who spoke English on the island. Many people spoke Spanish though. I was a little disappointed because I hired our ride online from an English website, wrote to them in English but when they came to pick us up they didn't speak a single word of English. If you are taking a similar trip and don't speak Portuguese, I'd suggest you clarify that the driver speaks English.
The food was amazing, although if I didn't eat fish I would have really struggled to find a vegetarian meal.
Ilha Grande was quite an adventure for the hubs and me! This part of the trip wasn't exactly like I dreamed, but we tried to make the best of it!
Want more Brazil? Don't forget to check out Part 1 in Rio de Janeiro.
Tomorrow I'm busting into the zoodle craze with my very own zucchini noodle creation! It's so tasty that even the hubs loved it!
Your turn!
What would be your favorite part of Ilha Grande?
Have you ever had a vacation that did not go as planned?