The Great Brazil Adventure starts now! Come along for the journey as I share my trip to Brazil! I'm starting with Rio de Janeiro including a Rio Travel Guide and some great Rio travel tips!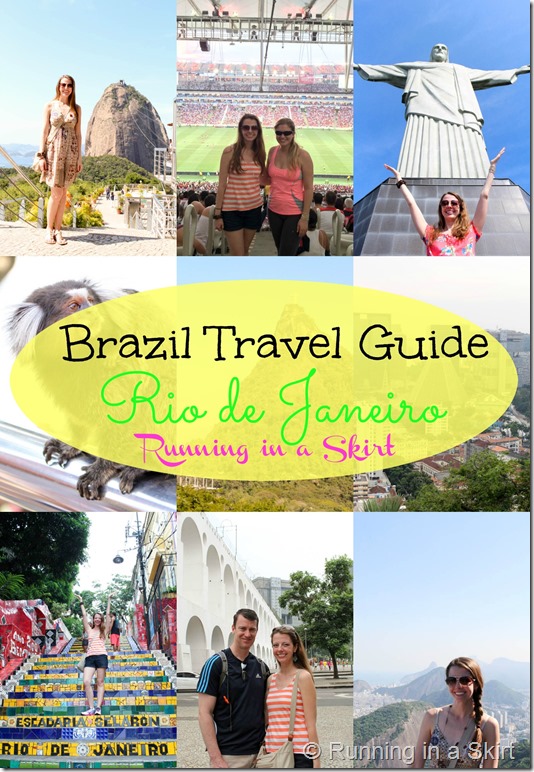 Hi friends! Happy Monday! I hope you have a great weekend. I'm looking forward to sharing more about how March for Babies went later in the week, but today I'm starting a series of posts on my trip to Brazil! It was quite an adventure and I love sharing my travel stories with you guys. I really hope you enjoy reading them as much as I enjoy putting them together.
Why Brazil?
We decided to visit Brazil for many reasons, but the biggest was my best friend Sarah and her husband Andrey had recently moved there. The hubs and I love a good adventure, so it didn't take much convincing for us to buy some plane tickets! Brazil is also a hot travel destination right now. The World Cup was just there last year and the Olympic games will be in Rio next summer.
We arrived in Brazil via the Rio airport late Friday night. It took us four LONG flights to reach South America, but we were stoked to be visiting another continent and an entirely different culture. Our trip to Rio was relatively uneventful and went well, so I'll start the story on the first full day of fun!
Rio Travel Guide Video
Before we dive in, I wanted to share the video the hubs put together of just the Rio part of the trip. He did this with his GoPro! He got some great shots. Don't forget to subscribe to my YouTube Channel for more videos.

Rio Travel Guide Story & Pics
Day 1 in Rio
Our first day in Rio starts off a bit slow (language challenges- at this point we only know a few words of Portuguese), but we eventually find our way via taxi to the bottom of Sugarloaf Mountain (Pao de Acucar,) one of the big attractions in Rio. Sugarloaf Mountain is reached by two cable cars and the journey to get there is as exciting as the views. The weather is clear (it rains quite a bit there and then you can't see anything at the top) and this is one of the top attractions we wanted to visit while in town so we are excited to check a must-see off our list the first day.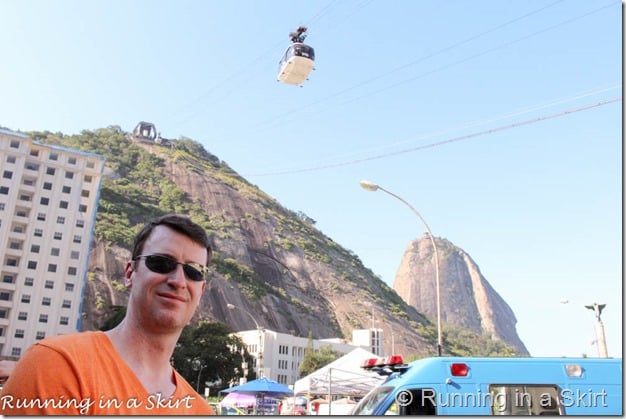 The line to get on the cable car is long, filled with mainly Brazilian tourists and hot. We follow the crowd and are able to navigate the area well. After about an hour we follow the crowd and get on the first cable car. It is a fun, although crowded journey to the top. The first stop is stunning and worth the wait! The air feels fresher up here and we get our first wide sweeping views of the city and the famous Christ the Redeemer statue!
*look just to the right of my head…*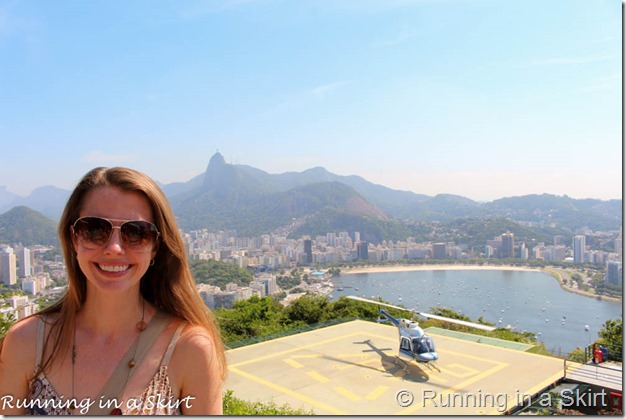 The other highlight at the first stop is seeing a TON of monkeys!
Get ready for cute-ness overload…
Not just one but two tiny monkeys…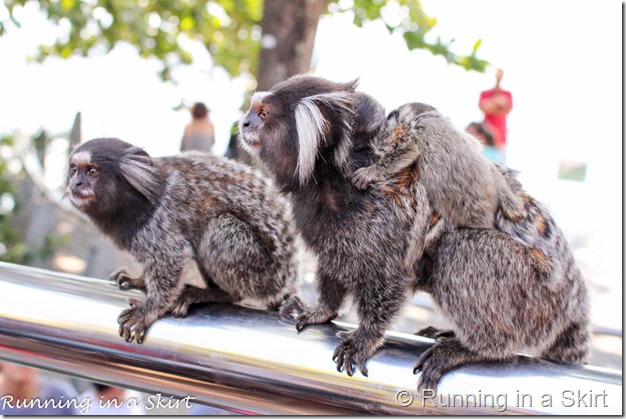 AND look closely… that's TWO baby monkeys on the top of the tiny monkeys back.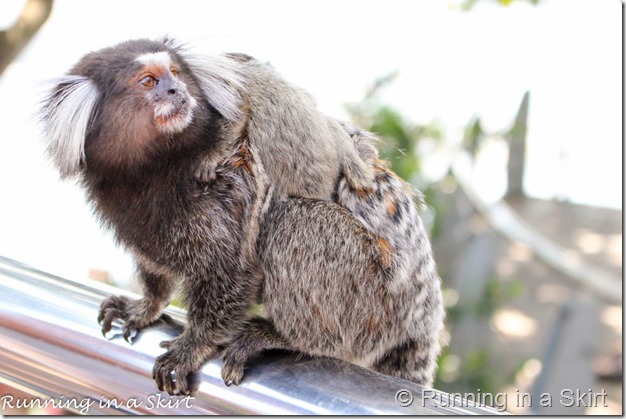 At this point I am in shear bliss and never wanted to leave!
After I take about a gazzilion pictures, the hubs finally drags me away from the monkeys. It is time to take the second cable car to the top of the iconic Sugarloaf. We buy sandwiches wrapped in paper at a small counter service restaurant and get in line. The line to get all the way to top is very long, but it moves rather quickly.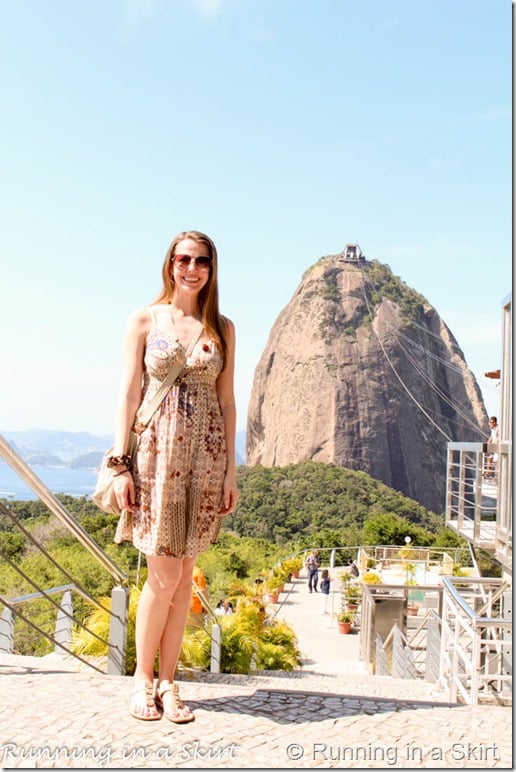 The views at the top of Sugarloaf are nothing short of breathtaking!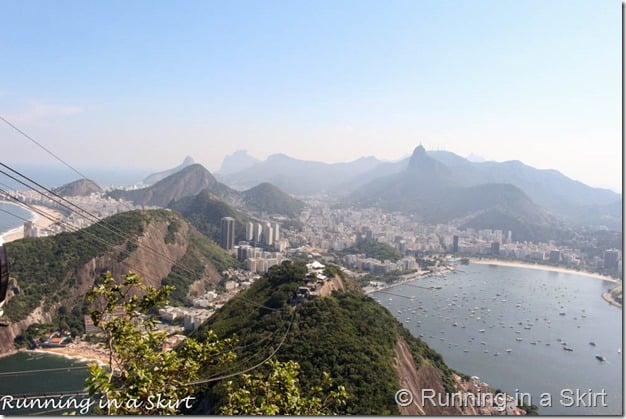 We see everything from the Christ the Redeemer statue to Copacabana Beach in one picture.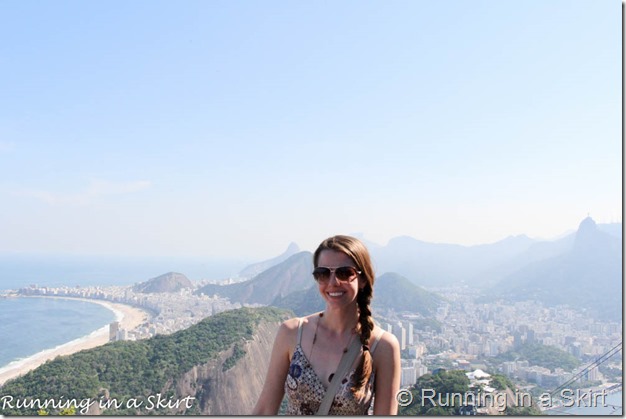 Our hotel is on the famous Copacabana Beach, so it is cool to get a bird's eye view of not just the city but our temporary home.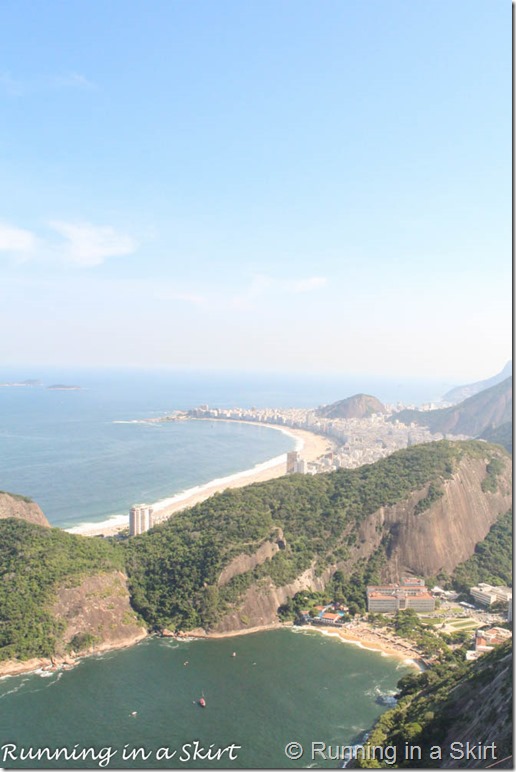 It is such a gorgeous day and we loved this attraction! After taking in all the views multiple times, we wait in more lines to take the cable cars back to the bottom. We easily get a taxi back to our hotel.
We end the day sitting on Copacabana beach and relaxing a bit. I don't have any pictures though because we are told it is not safe to bring anything valuable to the beach with you. By dinner my friend Sarah and her husband Andrey arrive from their home Sao Paulo. We are happy to have someone that spoke Portuguese with us! We have a casual dinner at a local restaurant and go to bed early because we knew Day 2 is going to be packed with sightseeing.
Day 2 in Rio
After some communication and transportation challenges on day one, we decide to hire an English speaking guide to show us the rest of the city for day two.
We meet up with him early in the morning to make sure we have enough time to check off the rest of the must-see sights in Rio.
Our plans are to start the day by going to the Christ the Redeemer Statue, but it is really cloudy and there is a good chance we would see nothing but clouds at the top. So we decide to push that back a day.
Instead we start with a vista overlook of one of the favelas. Some tours will actually take you through the favelas now. The four of us felt pretty strongly that visiting one was a bad idea, but I did snap this picture just to give you an idea of what much of Rio really looks like. There are many opulent areas with beautiful sights in the city, but there are also millions of people living in some of the most run down shacks I've ever seen.
Apparently these favelas are somewhat safer than they used to be, however I did not think it was right to make something touristy out of other people's misfortune.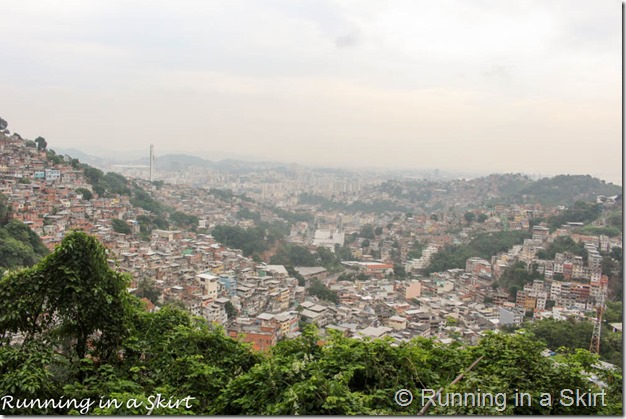 The second stop on our tour is Centro Cultural Parque das Ruins, former residence of Laurinda Santos Lobo. The ruins now host cultural events and are open for tours.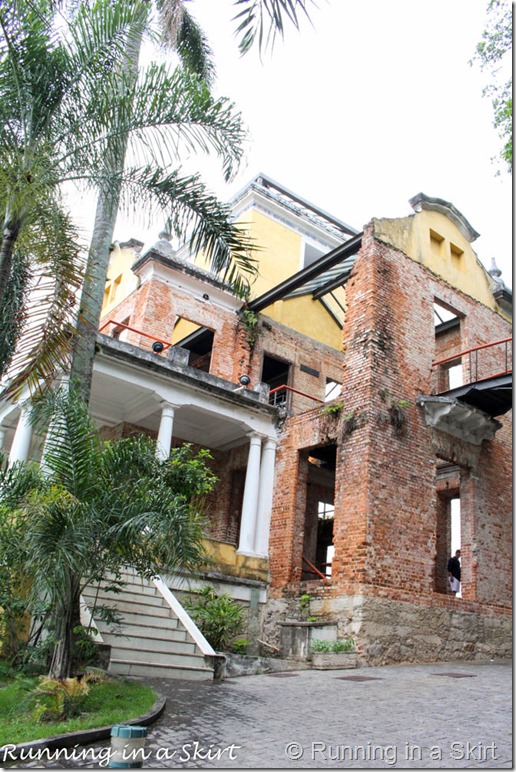 The views from the top are really spectacular.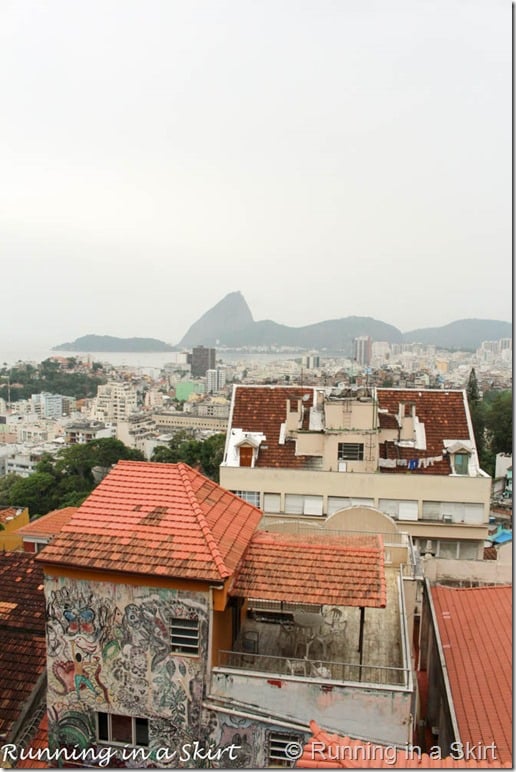 Visiting the ruins are a great way to see some of the center of town (Centro) from a birds eye view including the Catedral de Sao Sebastiao do Rio de Janeiro (which we actually got to later in the day.) Our guide tells us the architect was fascinated by the US Apollo missions.
Do you see a resemblance?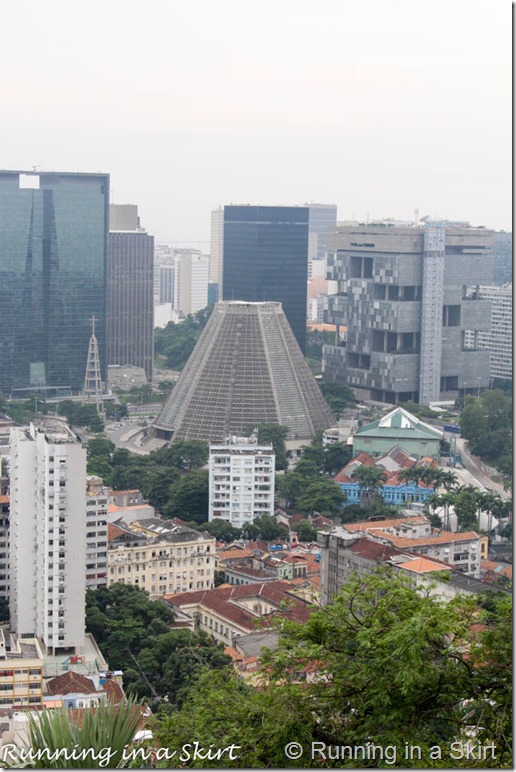 And of course, Christ the Reedemer is always looking down over us. Our day is still very cloudy, but he is constantly popping in and out of view.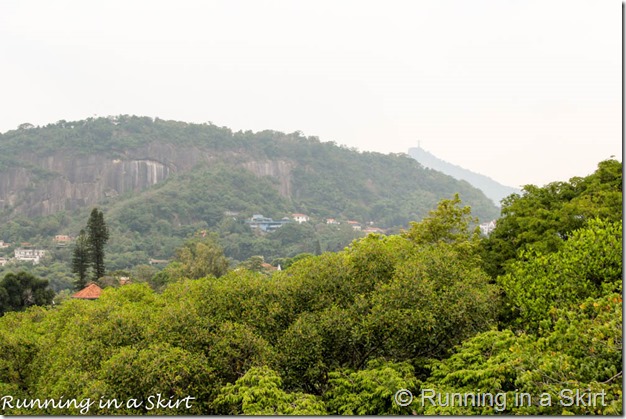 We also drive around the cobblestone streets of Santa Teresa, a hillside artsy community.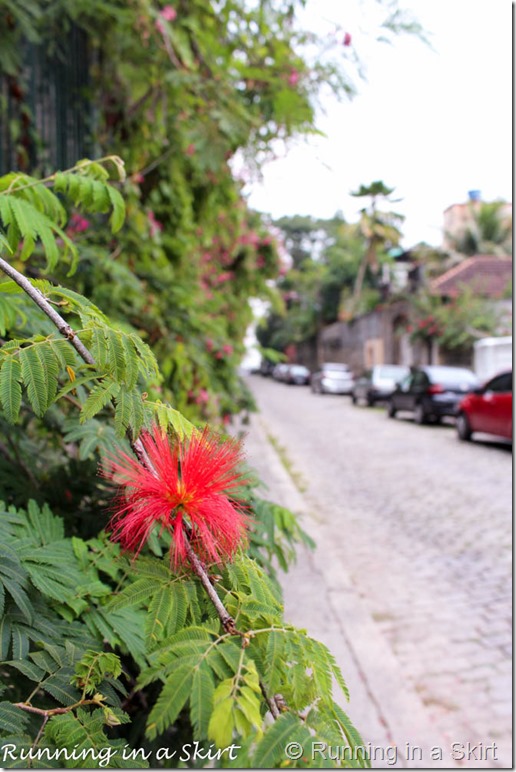 Next stop on the tour is the Arcos da Lapa wall and the Lapa district.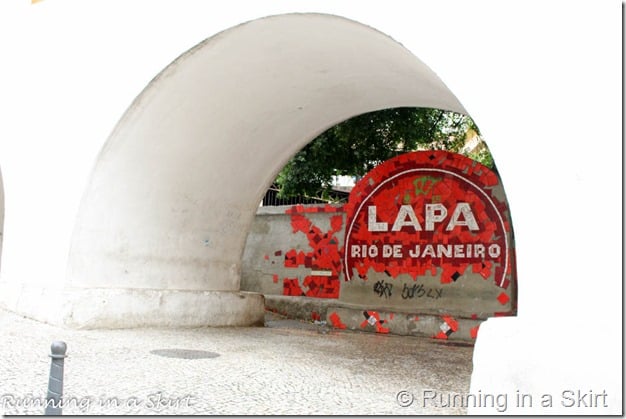 Lapa is part of the old Rio and has recently been brought back to life with nightlife. The stone structure used to carry water from the Carioca River back to Santa Teresa.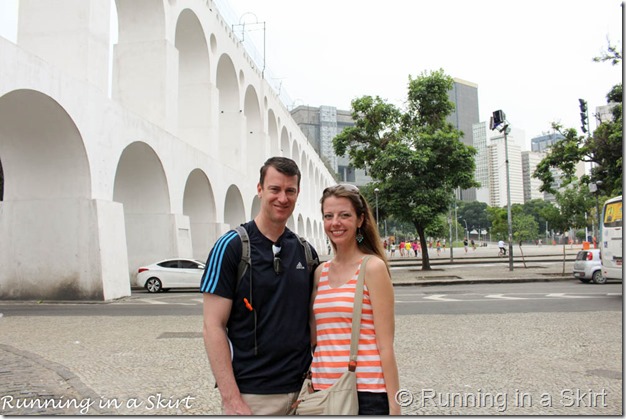 While we are there, we get a glimpse at a traditional Brazilian dance called the Capoeira. It blends elements of dance, acrobatics and music. This is a local club just getting together to practice! What an authentic experience!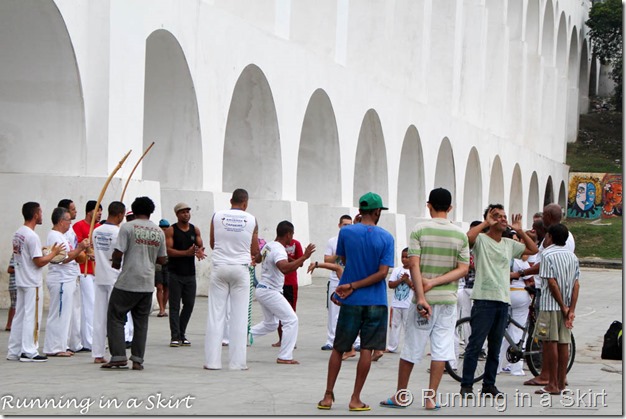 I am blown away by all the graffiti not only this area, but all across Rio. There are actually very few buildings without graffiti. Some of it looked bad, but this one had more of an artistic flare.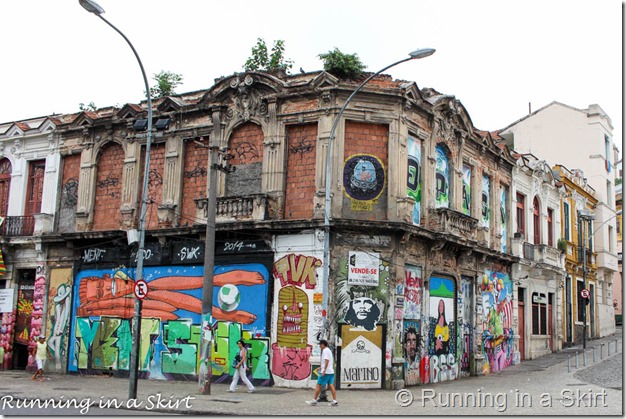 Next stop on the tour is the Escadaria Selaron. These stairs are the vision of Chilean painter Selaron. He started adding tiles to them in 1990.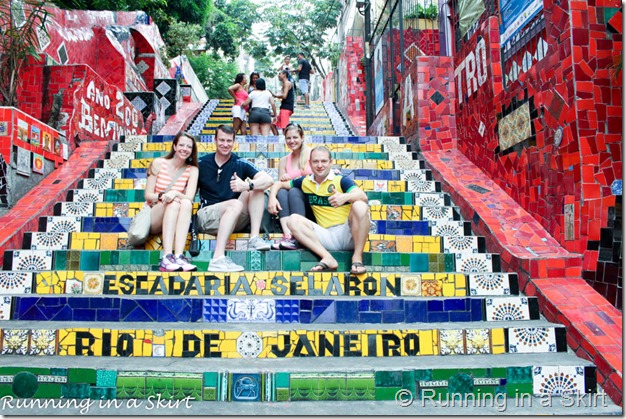 He collected tiles from across the world and carefully added them to create this beautiful and colorful view.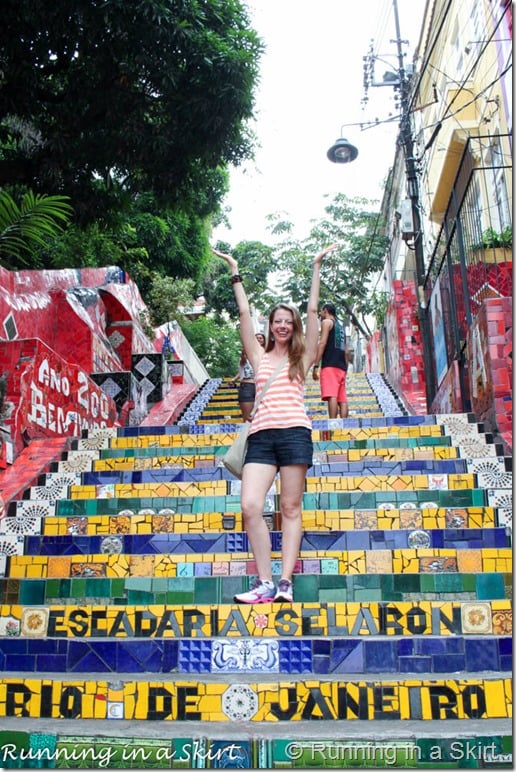 As we look close we can only imagine the amount of time that went into creating this piece of street art.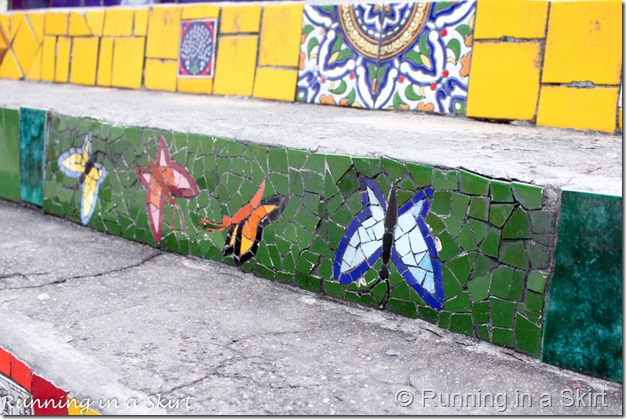 We even recognize the stairs from Snoop Dogg and Pharell Williams song "Beautiful!"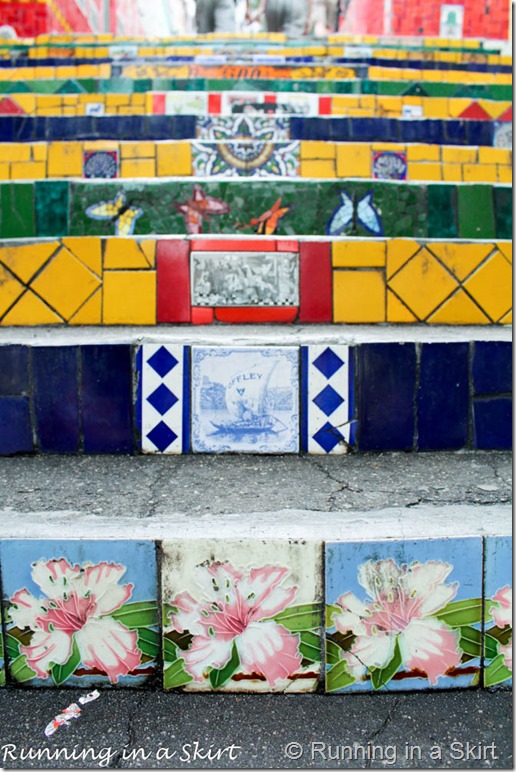 One of the things I find most interesting is that at the top of the stairs looking back down it looks like any normal staircase.
Cool huh?
Next stop in the full day of Rio tour is the Catedral de Sao Sebastiao do Rio de Janeiro. The circa-1960s cathedral still looks ultra modern and strange for a church.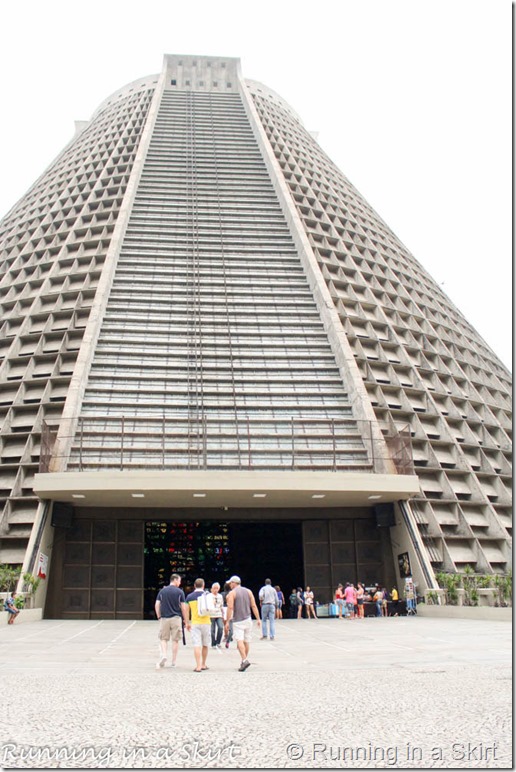 Inside though the sun spill though the stain glass and it is really beautiful! We take a few minutes to look around and jump back in the car.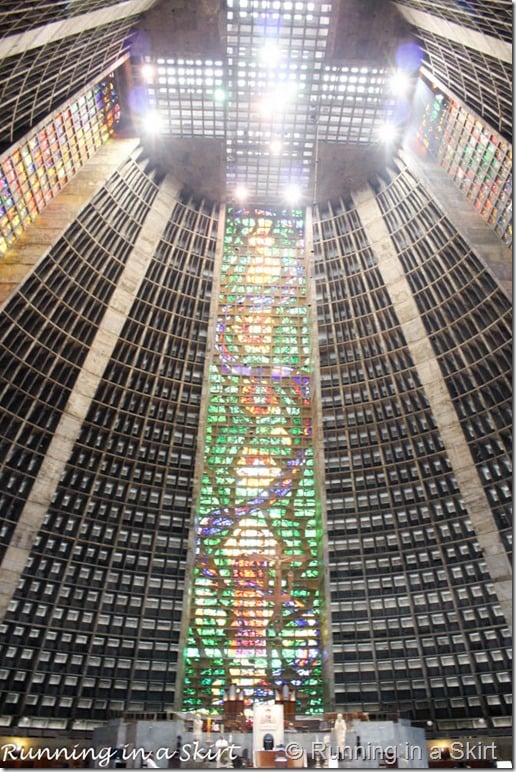 Our tour continues with a trip to the Sambadrome. This is where the big carnaval parade happens.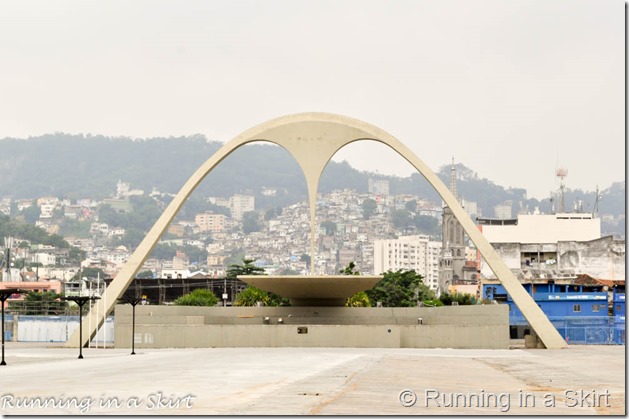 There are a few costumes out, and videos of what it looks like with Samba schools dancing and millions of people watching.. It's a cool and historical sight to see anytime.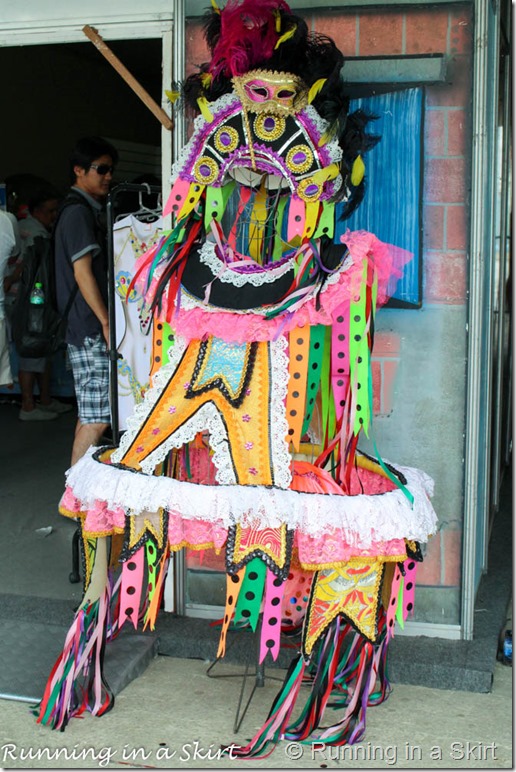 Next we head over to the famous Maracana Stadium, which is a big deal for Brazilians. The stadium was built in 1950 to host the FIFA World Cup and has been an iconic sports arena ever since. The 2014 World Cup was also played here and this is also where the opening and closing ceremony of the 2016 Summer Olympics will be held.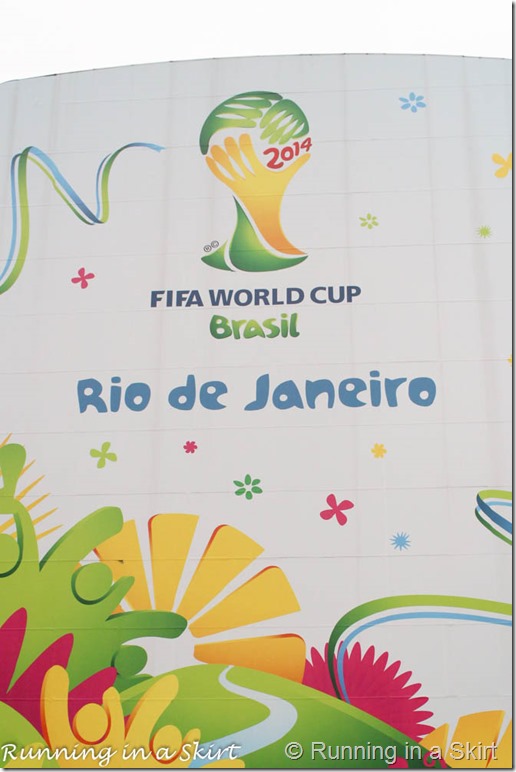 This is where our tour went a little off book!
Our guide tells us a big playoff level "football" game is happening late the afternoon and tickets are still available. With the exchange rate we can get in for around 20 US dollars! We decide this is the kind of experience we can't miss! Our guide kindly walks us though the process to buy tickets to make sure we picked a safe family section!
These guys are stoked!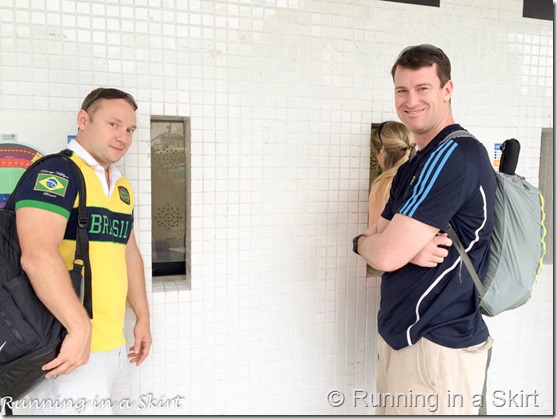 It's still several hours until the game, so we keep sightseeing, but everyone is really excited about seeing real Brazilian football.
Next stop is Broth Restaurant. It is super tasty!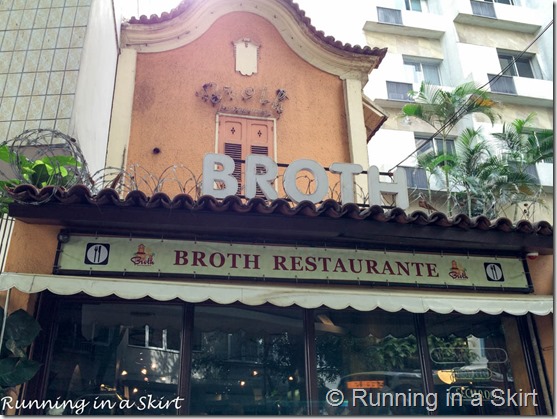 The final stop on our guided tour is the Tijuca Forest (Floresta da Tijuca) which is an amazing urban forest. We see a waterfall and get a few more high vista shots of Rio.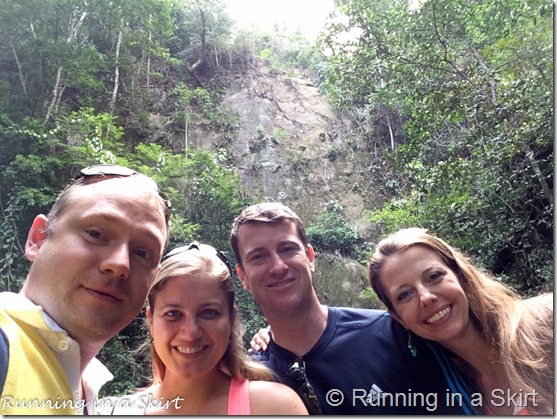 We drive back to Copacabana beach. Our tour guide has us drop off our bags and nice cameras at our hotel to go to the game. For safety reasons we take one go-pro and only one phone. You basically don't want to be pulling out all sorts of electronics.
Finally he takes us back and drops us off at the stadium and we follow the massive crowds into Maracana. We really loved our tour and there is no way would have seen as much in a day without such great local insight.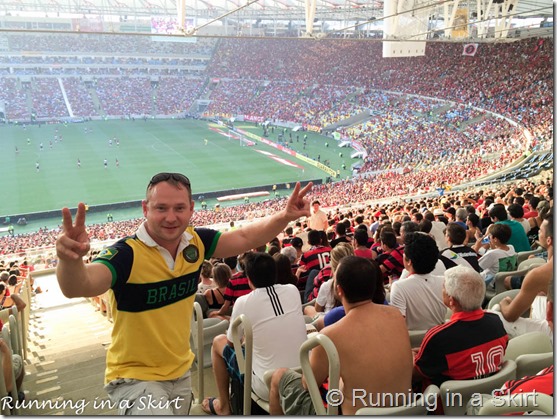 The size and crowd inside Maracana is amazing! They fit 199,854 people in the stadium in 1950. However they added official seats for the 2014 World Cup and now it seats 78,838.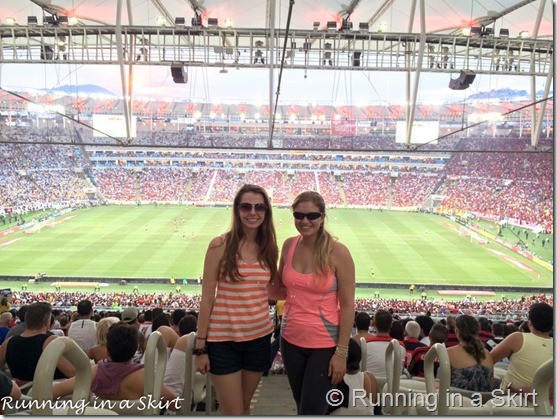 The game is loud and entertaining. It reminds me of an amped up college football game.
We follow our guides advice and set a timer and leave the game a few minutes early. Since we did that, it is easy to miss the crowds and safely get a cab back to Copacabana.
Our day ends with drinks on the beach.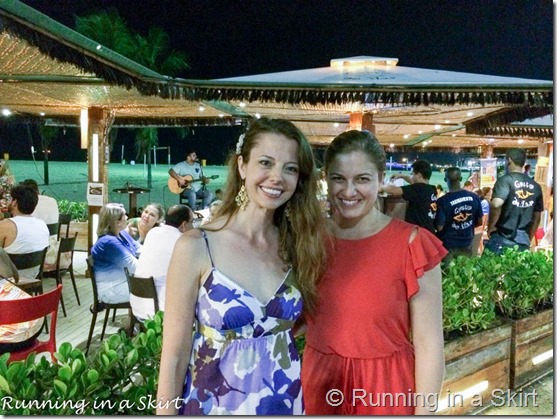 And dinner at this crazy restaurant called Marius Crustaceous. It is an all you can eat "Rodizio" style restaurant where they bring the plates of food around to your table. However this one has all sorts of seafood, so it is perfect for me. I'm not a huge fan of all you can eat food, but this is such an institution in Brazil that I was happy to have a chance to try it!
The restaurant is the craziest place I've ever been in. Everything is decorated to make it look like a sunken submarine.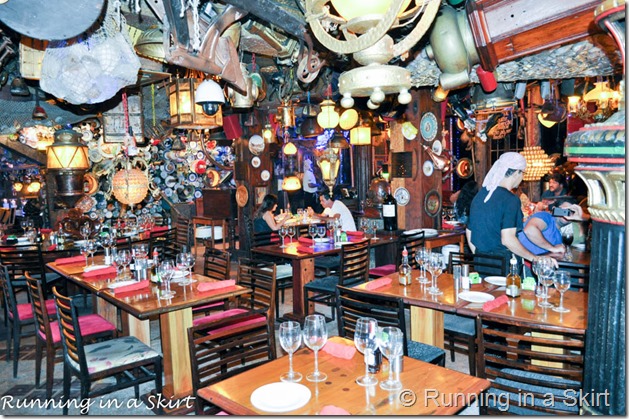 The day ends in pure exhaustion! What a crazy, action packed day and we all happily crawled into bed shortly after dinner!
Day 3 in Rio
Day 3 starts early with another plate of goodies at the hotel. The fruit is CRAZY good in Brazil and I can't get enough of it!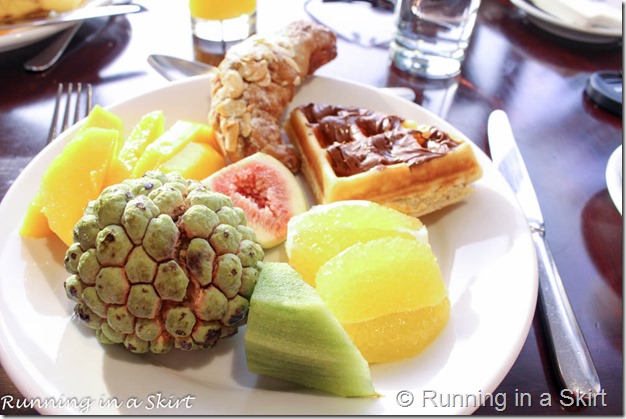 We start the day early again because we want to beat the crowds to finally see the Christ the Redeemer Statue.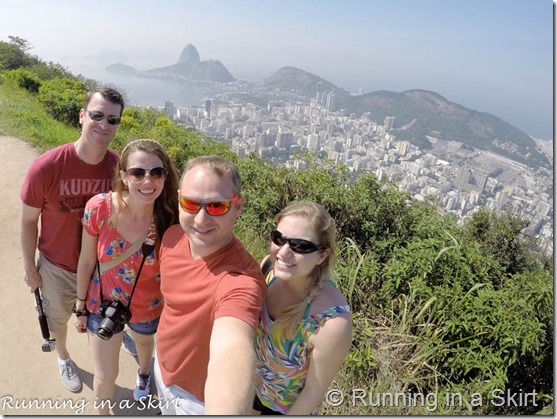 The weather is finally perfectly clear and we have a great view.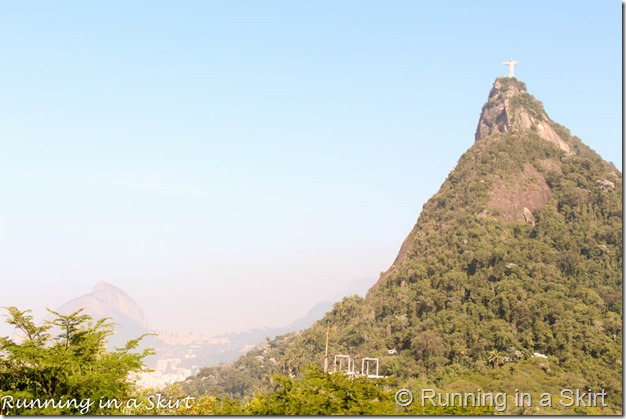 To get to the top we can either take a train or shuttle. We opted for the shuttle. The ride is curvy and cool because you kept getting glimpses of the man above the city.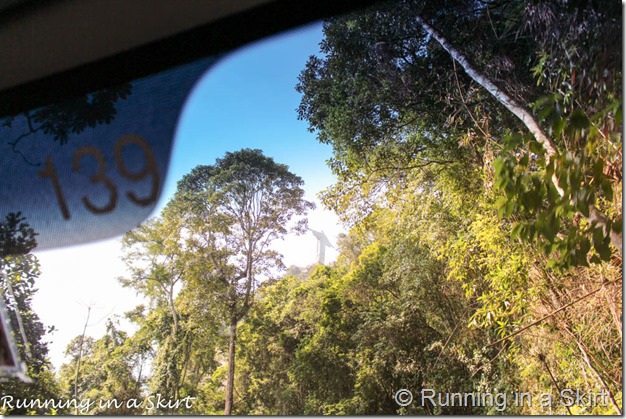 And finally we make it!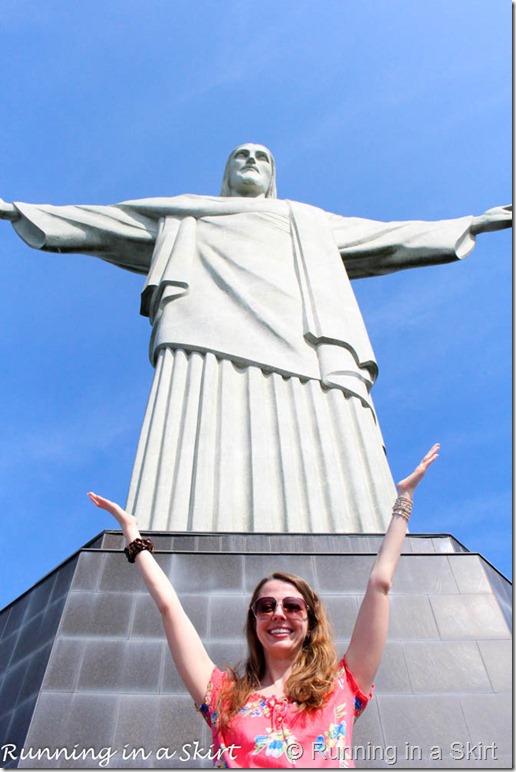 The views are a little hazy but still spectacular. Rio's landscape is amazing with the giant mountains jutting out everywhere. It is like nothing I've ever seen before.
The statue is actually smaller than you would think in person.! It is really crowded, but we somehow snap this picture which makes it look like we had the guy all to ourselves.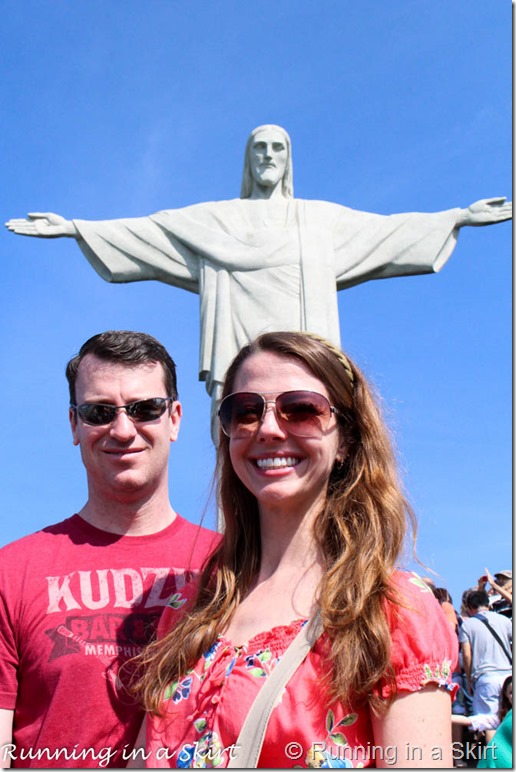 We finish the day touring some local beaches and finally spending a beautiful afternoon on Ipanema beach.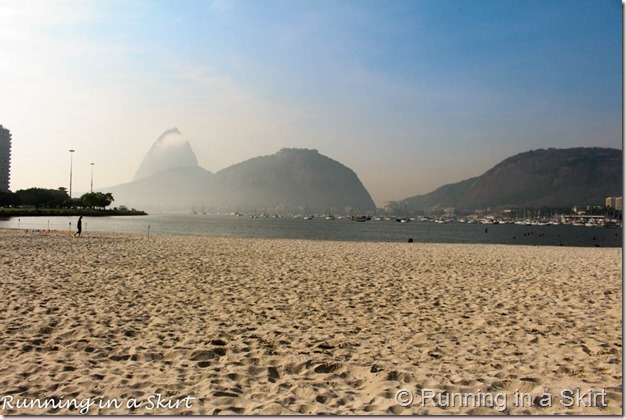 We wrap up the evening people watching sunset from the deck of our hotel.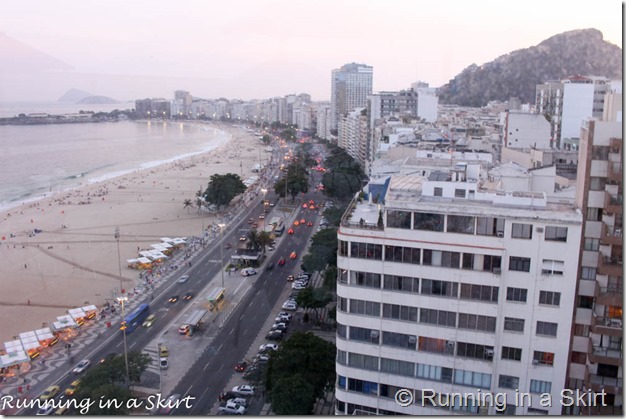 What a great couple of days in Rio!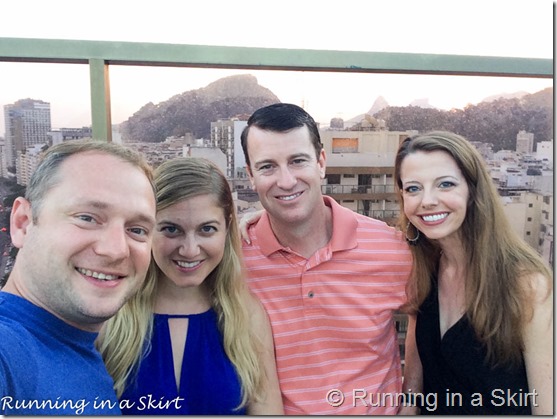 The next morning we wake up and leave for Ilha Grande without Sarah and Andrey (they have to go back to work!). I'll pick up the story from there in my next post…
Reflections
Rio was one of the most interesting places I have ever been. It had such amazing natural beauty and some absolutely stunning sights. The topography of Rio, with the jutting mountains and bays, is so stunning and unique. Seeing sights like Christ the Redeemer, Copacabana Beach, Sugarloaf Mountain and the Escadaria Selaron have been on my bucket list for along time and it was so cool to check them off the list. Going to a Brazilian football game at Maracana Stadium was such a surprise and one of the coolest vacation experiences ever.
Some simple unexpected vacation experiences like seeing a bunch of baby monkeys and a constant stream of the most amazing fruit I've ever eaten, was so much fun. The food was also very good.
We did have language challenges (when we weren't with Sarah and Andrey) and if you don't speak Portuguese I would recommend hiring an English speaking guide and staying at a hotel with an English speaking staff.. It made everything so much easier and I felt much safer. We thought our language book would help us, but Portuguese is very hard to pronounce from a book. We should have taken more time to learn it.
Our time in Rio was far from perfect though. I honestly felt the city was kind of smelly and very run down, even on Copacabana beach. I knew there were real poverty and safety problems but actually seeing the favelas was very humbling. For as beautiful Rio is in pictures, it is equally as dirty and graffiti covered. We tried to be as smart as possible with our safety, but I honestly did not always feel safe. For everything that was beautiful, there was something equally ugly. I'm writing this not to harp on the negative, but because I feel like anyone who goes should have a good understanding of what they can expect. It is still a remarkable place to visit.
Want more Brazil? Follow the vacation!