Happy Monday friends!
If you live in Asheville or nearby, please stay safe today with the approaching weather system. It looks like a nasty mix of snow and ice are heading our way.
How was your weekend? Mine was great, albeit I've had my fair share of cold for a long time. I didn't even leave the house yesterday and honestly I probably will not today either. Yay for a treadmill and working from home.
The hubs and I had a nice dinner at home for Valentines day. I had a great time and I hope you did too. I'm not a huge fan of Valentine's day so I never really make a big deal about it. Is that weird?
What I am making a big deal about today, is a BIG announcement on Running in a Skirt!
*cue the drums!*
I am thrilled to announce that am working with the March of Dimes as the Event Chair for the Asheville area March for Babies 2015.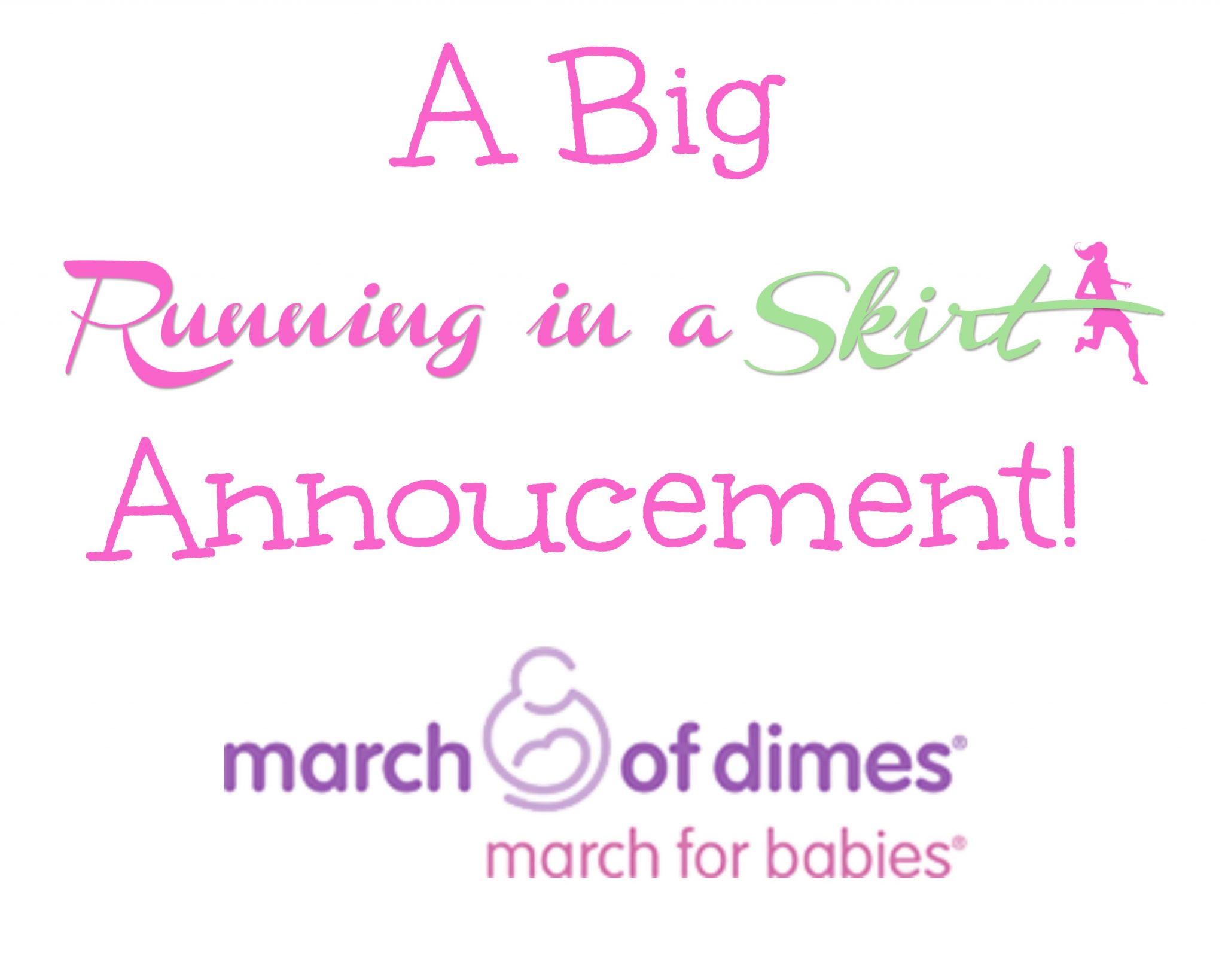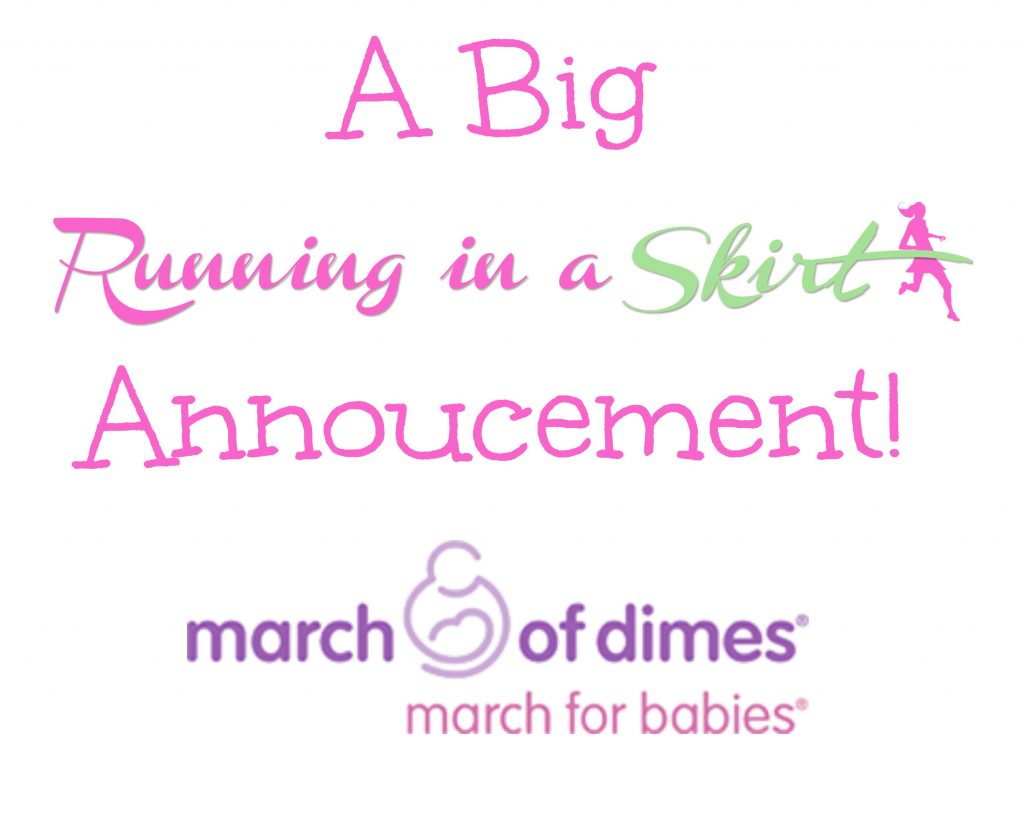 Watch my video below! Eeeeeee a video!!! Finally!
[fusion_builder_container hundred_percent="yes" overflow="visible"][fusion_builder_row][fusion_builder_column type="1_1" background_position="left top" background_color="" border_size="" border_color="" border_style="solid" spacing="yes" background_image="" background_repeat="no-repeat" padding="" margin_top="0px" margin_bottom="0px" class="" id="" animation_type="" animation_speed="0.3" animation_direction="left" hide_on_mobile="no" center_content="no" min_height="none"][tube]https://www.youtube.com/watch?v=I8XIq8H3P6I[/tube]
If the video does not pull up in this post, here is the link: https://www.youtube.com/watch?v=I8XIq8H3P6I
March for Dimes is a three mile walk through downtown Asheville on May 16th.
The walk supports the March of Dimes and its mission to help woman have healthier babies. Each year more than a half a million babies are born too soon. Some of these premature babies are so small they fit in the palm of your hand. Many fight just to survive and others struggle with life long health problems because of being born premature. The March of Dimes hopes one day every baby will have a chance to be born healthy.
With credentials like that, I am beyond honored to work this with amazing, long-standing charity. I really want to help them have a fabulous event this year.
Remember there are three ways you can help me with this years walk.
Sign up to walk with me or sponsor my walk:
http://www.marchforbabies.org/JulieWunder
Join my team:
Sign up to form your own team:
http://www.marchofdimes.org/northcarolina/events/10246_3136333030.html
Become a Sponsor:
email Julie@RunninginaSkirt.com
If you have any other ideas on ways you can help, want to volunteer or can make a product donation, feel free to e-mail me as well. I will get you in touch with the right people.
I also wanted to reach out the to the healthy living blog community. Many of us spend so much time writing about how we try to lead healthy lives and find ways to help others do the same. I feel that March for Dimes shares that mission with us. They help women learn about ways to lead healthy lives before and during pregnancy so babies have a better chance to be born full-term. We are all on the same team because healthier women generally will have healthier babies.
I'd love for the blogging community to support me with this endeavor as well! If you aren't local to Western North Carolina, you can always make a donation and have your own private walk/run the morning of the event. Helping BABIES is a cause we can ALL get behind.
I could not think of a better way to launch the video component of Running in a Skirt than this! I know the video is not perfect (I need a better microphone...,) but I don't think it is terrible for my first try. I am in serious need of a lesson on Adobe Premiere Pro. I'm hoping to make this the first of many videos for Running in a Skirt. And I promise not all of them will be as serious as this one.
Thank you guys for hearing me out today! I am so excited to be a part of this years March for Babies. I need your help to make this year's walk the best yet.
Have a marvelous Monday friends!
I'll be back tomorrow with a super yummy recipe that uses Quinoa, pesto AND shrimp. YUM.... See you then 🙂
Your Turn!
Do you know anyone who has had a premature baby?
[/fusion_builder_column][/fusion_builder_row][/fusion_builder_container]