Pesto Quinoa with Shrimp is an ideal weekday meal. It is healthy, full of nutrients, and can be on the table in less than thirty minutes.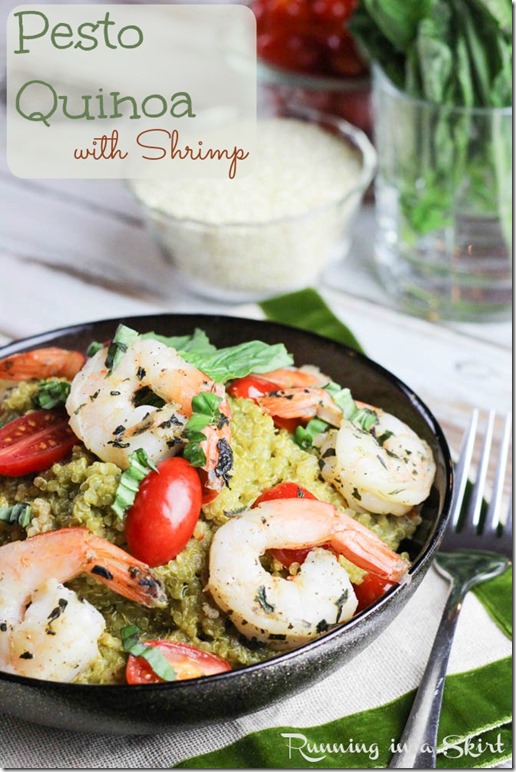 Hi friends! I hope you all are surviving the snow/ice/cold. I'm still hanging out at home with snowman mugs full of tea and praying the power stays on. I hope you are safe and warm as well.
So I have a little story about this delightful quinoa dish today...
The hubs decided a few months ago that he didn't like quinoa anymore.
Sigh.
I probably brought this on myself because I served it as a salad for a few too many meals. He is a really good sport about eating all the healthy food I put in front of him, but I think I really pushed it too far. He just wanted a little bit more for dinner.
Looking back I probably can't blame him. There might have even been a huge Sam's size bag involved in this situation. And I might have made the same recipe five times in a row.
Sadly, I still have a lifetime supply of quinoa, so I set out on a mission to make a hearty man's meal with the grain that would make him love it again.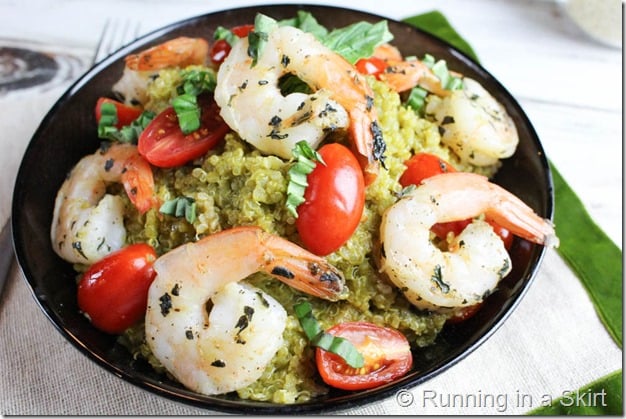 The result is this: My Pesto Quinoa with Shrimp.
I packed all the flavor I could in the little grain with rich pesto and topped the entire dish off with a pesto shrimp recipe for the ages.
I even put the shrimp on pretty green basil leaves. Don't they say we eat with our eyes anyway?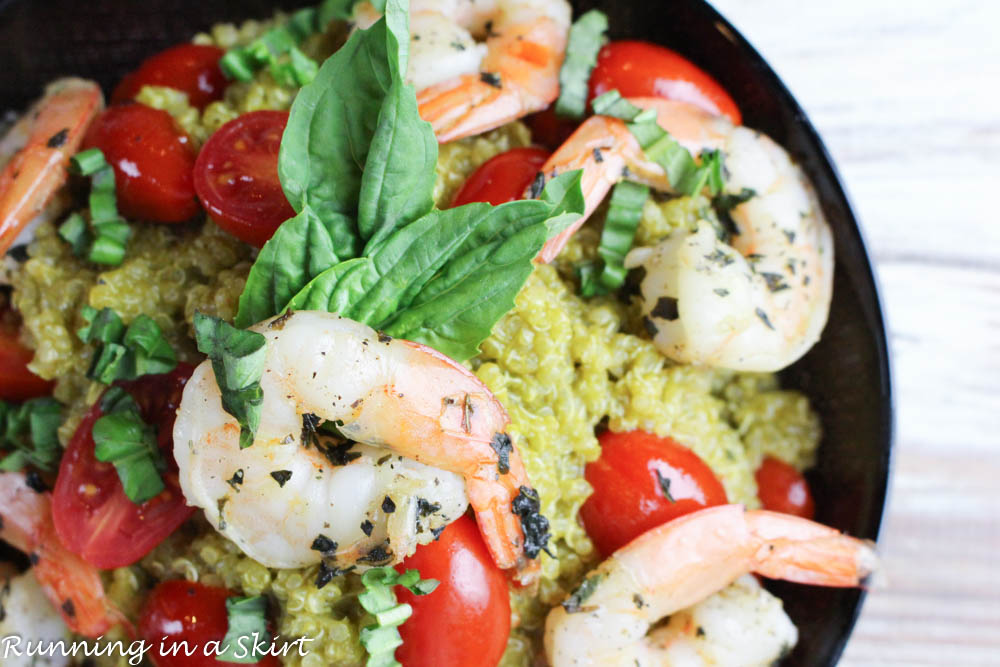 You see, I love this hearty grain and I knew it needed another shot.
To make my pesto quinoa I started with a trifecta of beautiful ingredients.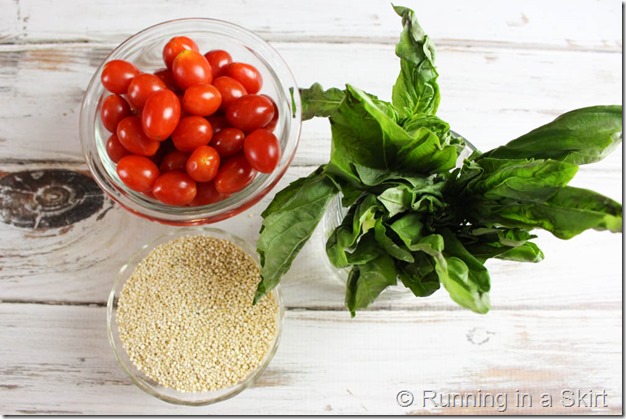 For the pesto shrimp recipe I seasoned the shrimp and added them to a hot pan.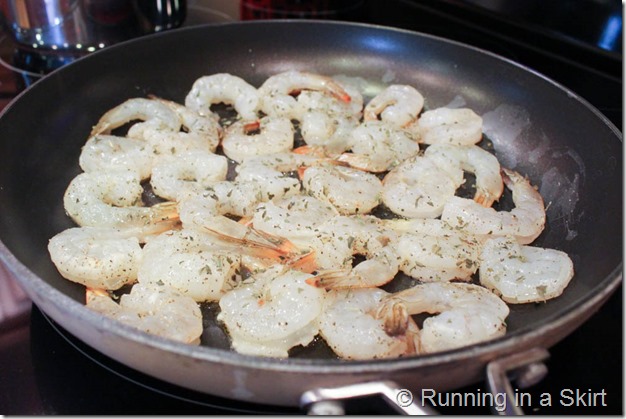 The shrimp are ready in less than ten minutes. I used the ones with the tails for a pretty presentation (remember I was making a CASE for quinoa,) but feel free to use the tails off version and stir the entire dish together.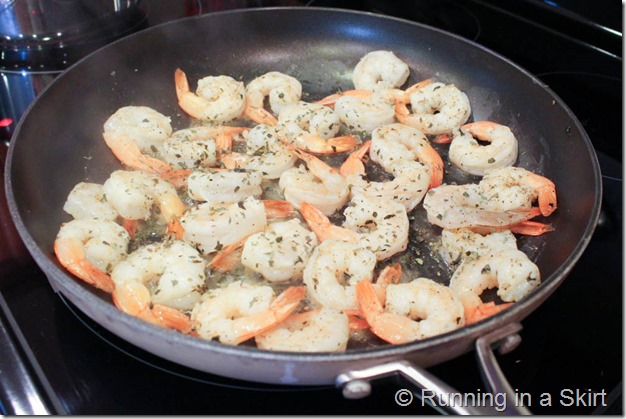 To make my quinoa super flavorful I cooked it in vegetable broth, squeezed lemon on it AND drenched it in fabulous pesto.
For color and more nutrients I added some beautiful cherry tomatoes.
This dish is pretty, hearty and a crowd pleaser.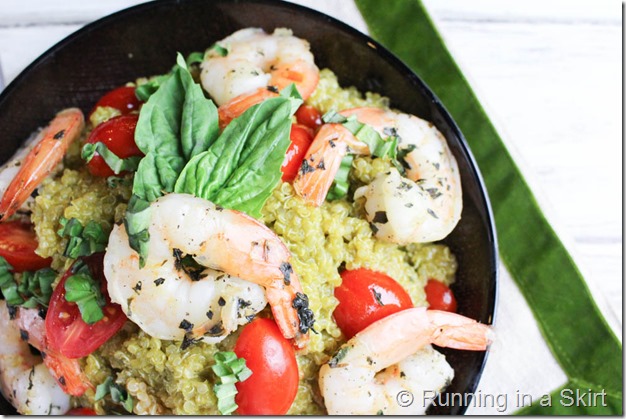 But did I turn the hubs in a quinoa lover again?
Yes! He loved it.
This is one dish that will remain on our dinner rotation for some time.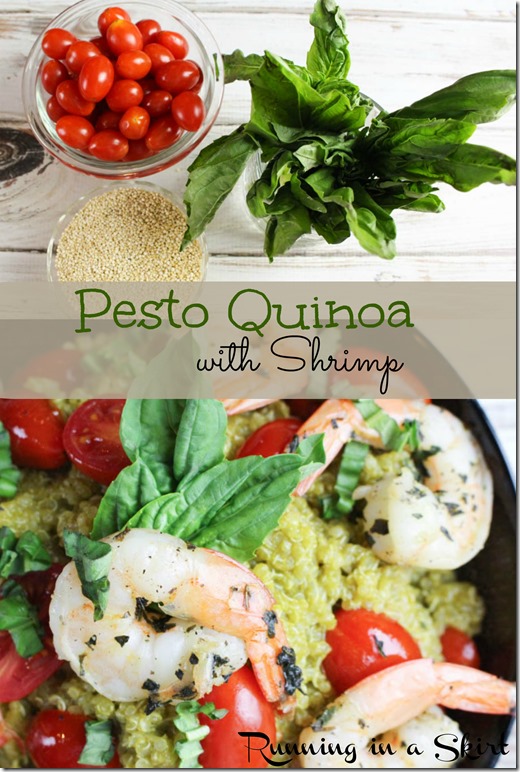 I personally liked it so much, I made you guys two pins 🙂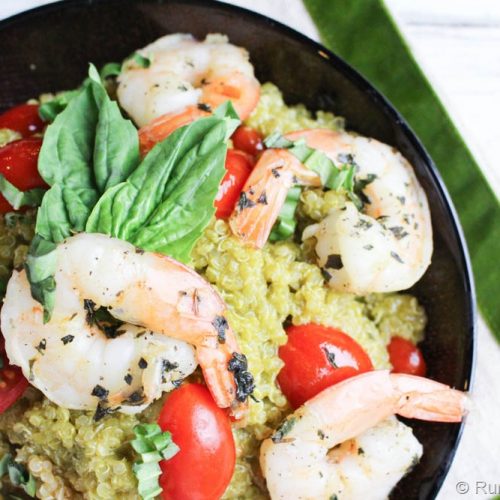 Pesto Quinoa with Shrimp
Pesto Quinoa with shrimp is an ideal weekday meal! It is healthy, full of nutrients and can be on the table in less than thirty minutes.
Ingredients
Instructions
Add the broth and quinoa to a medium pot and bring to a boil. Once the broth reaches a boil, stir, reduce heat to a simmer and cover. The quinoa will cook in about 15 minutes.

While the quinoa is cooking, squeeze the juice from half of the lemon over the shrimp. Season the shrimp with the ¼ teaspoon of the salt and the pepper.

Add the olive oil to a large sauté pan and heat to medium high heat. Add the shrimp and cook for 2-3 minutes on each side or until the shrimp turns pink and starts to curl.

Season the shrimp with the basil and remove from the heat. Do not overcook the shrimp or they will get tough.

When the quinoa is done cooking, squeeze the other half of the lemon on top. Stir in the pesto and taste. Depending on your pesto, add the last ¼ teaspoon of salt.

Stir in the tomatoes.

Serve with the shrimp mixed in or piled on top!

Garnish with fresh basil.
Notes
Rinse quinoa if it says to do so on the package. You can also sub water for the broth if you have any.
Nutrition
Calories:
187
kcal
Carbohydrates:
31
g
Protein:
6
g
Fat:
6
g
Saturated Fat:
1
g
Sodium:
597
mg
Potassium:
400
mg
Fiber:
6
g
Sugar:
5
g
Vitamin A:
382
IU
Vitamin C:
46
mg
Calcium:
39
mg
Iron:
2
mg
Have a wunderful day dear readers.
I'll see you tomorrow where you can find out how to get a MONTH of yoga online for FREE! Yes, free yoga.
Your turn!
Which pin do you like better? The one with just one picture at the top or the one with two pictures just above this text? I could not decide!
How do you feel about quinoa?