My great Brazil adventure continues today with the Argentina side of Iguazu Falls. It's a rougher and more up close look at the falls than the Brazil side.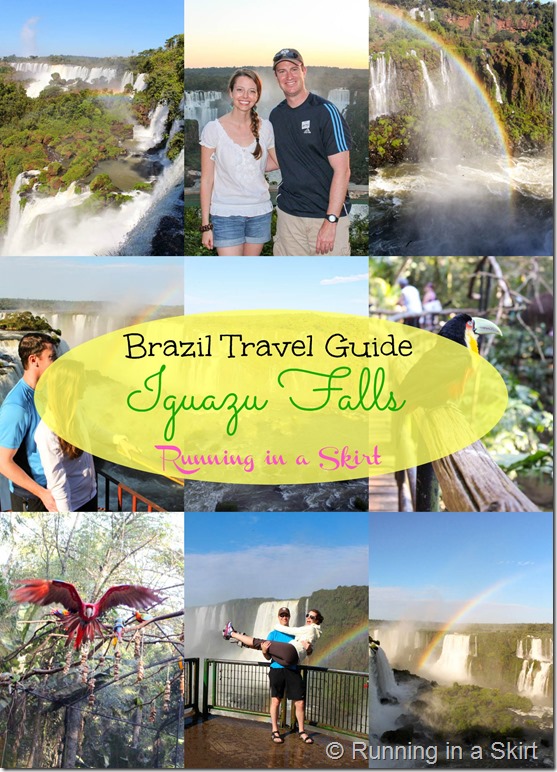 Hi friends!
I'm so happy to continue my series on Brazil. Today's post actually takes us out of Brazil and into Argentina! It was so cool to cross the border and get more passport stamps, even if it was just for a day.
Iguazu Falls sits on the border of Argentina and Brazil. The Brazil side of the falls gives you more of an overview of what they look like from a distance, while the Argentina side allows you to get really close to the action. The highlight on the Argentina side is seeing Devil's Throat, which is where the falls initiate. The power of the water is spectacular.
If you are just joining me for this series, make sure to catch up with Back from Brazil!, Rio, Ilha Grande, Paraty and Iguazu Falls- Brazil side.
Iguazu Falls, Argentina Side
We wake up early at our hotel and meet our guide. Since we are staying in the Brazil side of the park, we have a short drive to reach the border. We stop to take a picture because you can see Brazil, Argentina & Paraguay from this point! Pretty cool.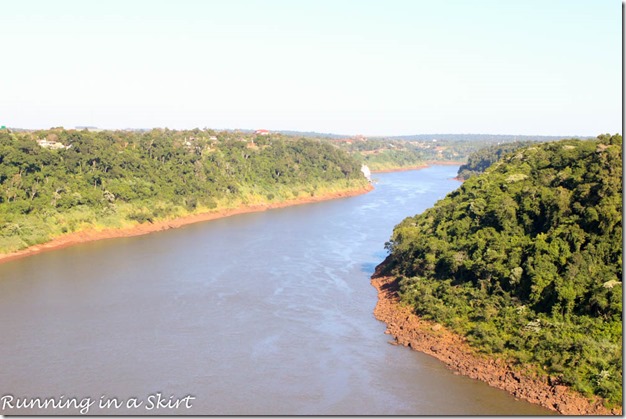 Our guide quickly helps us get over the border and takes us to the Argentina Iguazu National Park. The Argentina side is divided into three paths: high, middle and low. We decide to tackle all three!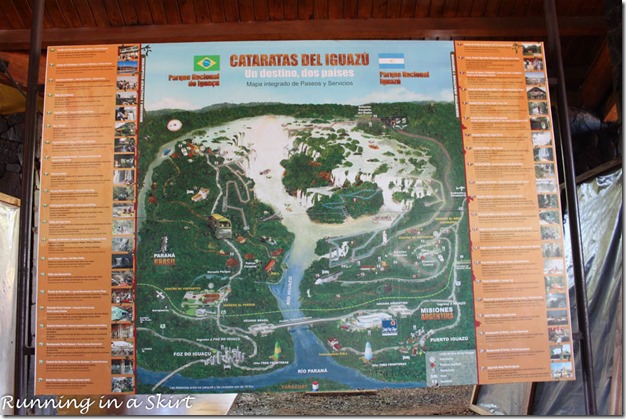 After entering the park, we reach a train station. We stop and have some Argentina coffee and wait for the next train.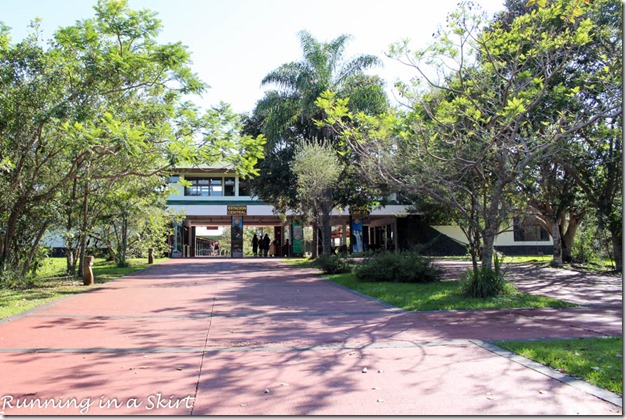 After a short wait we are on the train! A butterfly lands on the Hubs' hat. They are flying everywhere.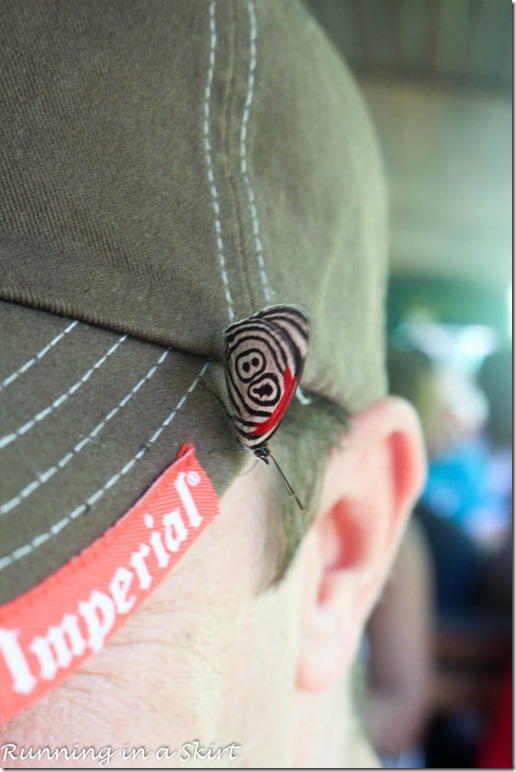 I'm a little jealous that he gets to wear a butterfly, so he let's me wear his hat and the butterfly ends up hanging out for almost thirty minutes. What a joy!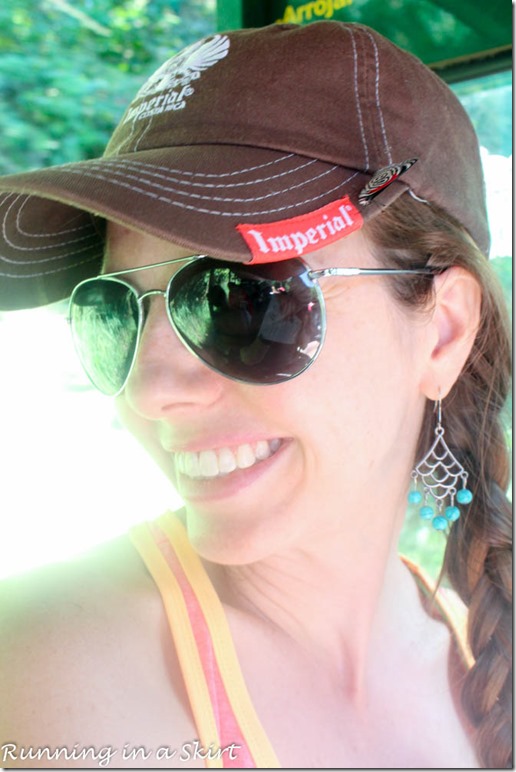 We get off the train and start the high path. The entire park is wheelchair assessable, which is pretty cool.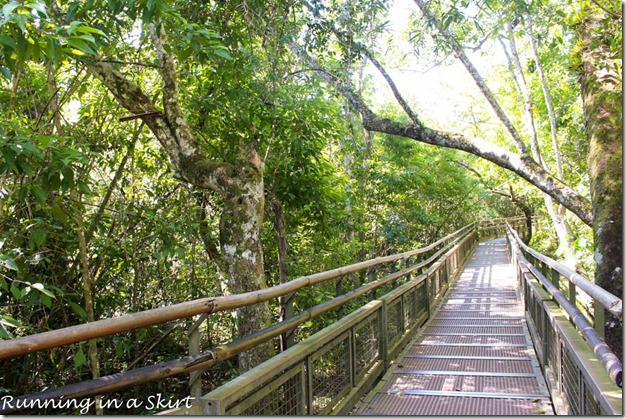 After a short walk, we approach Devil's Throat. We see the mist coming up on the left side.
(We also saw that mist from a distance on the Brazil side. It is pretty cool to get so many different views of the falls.)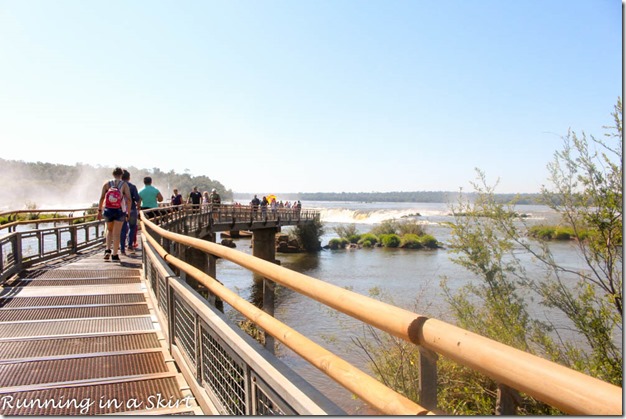 The closer we get the more powerful the water looks. It is like nothing I have ever seen before.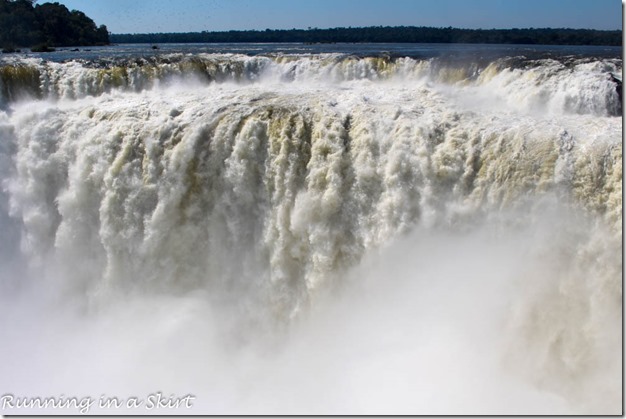 It's crazy how calm the river is above and how quickly it turns violent.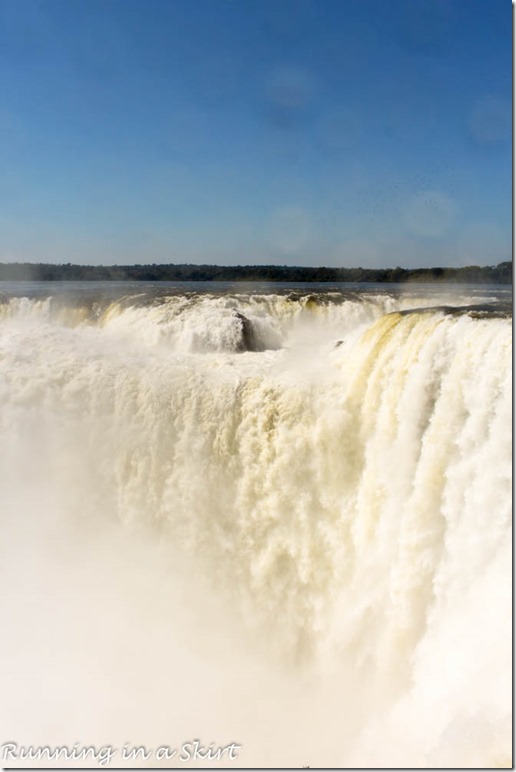 The water is so powerful that the platform almost vibrates and it actually feels like it is raining. We have to snap a quick picture so my camera doesn't get soaked.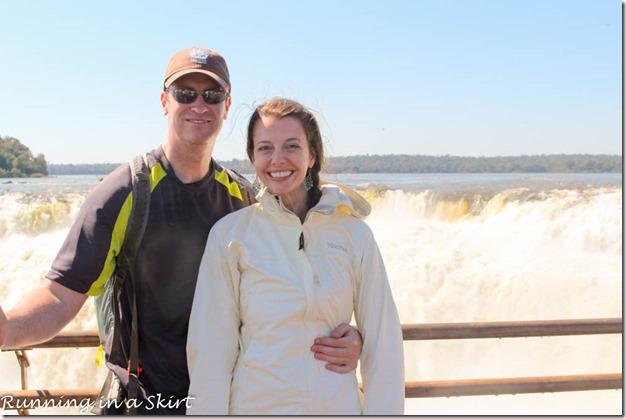 As we are leaving, the hubs gets another friend! This one hangs on for the entire hike back.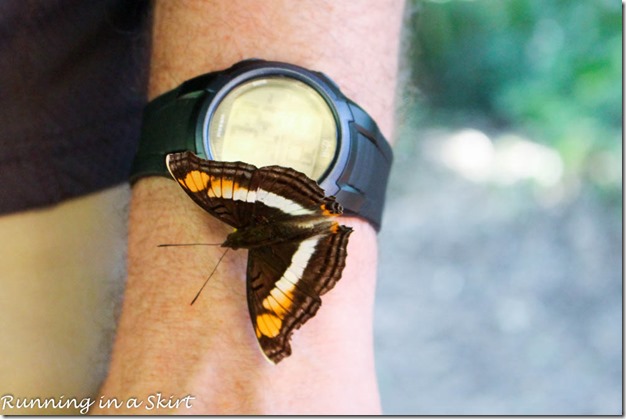 We quickly pick up the middle path and take in more views. I love this line of waterfalls.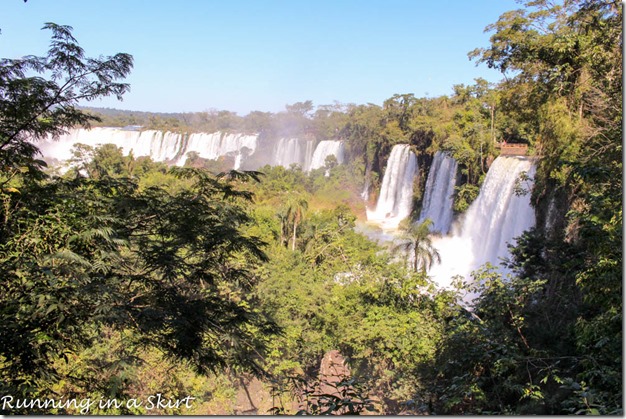 We feel so close to the falls during the entire hike.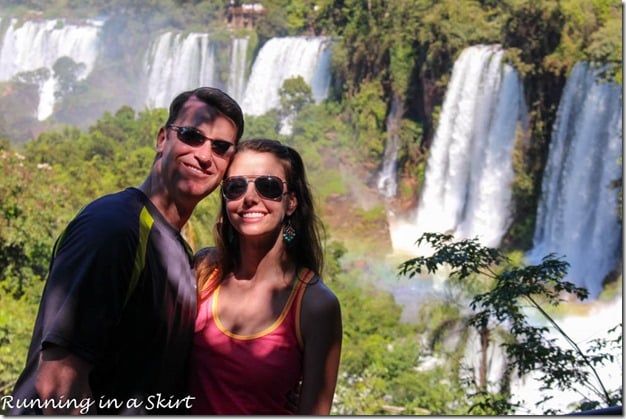 The middle falls is where we see our first rainbows on the Argentina side.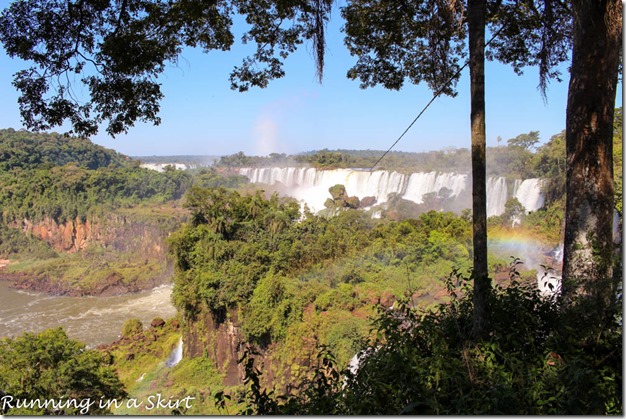 They aren't quite as vivid as the Brazil side, but WOW I can't complain with views like this.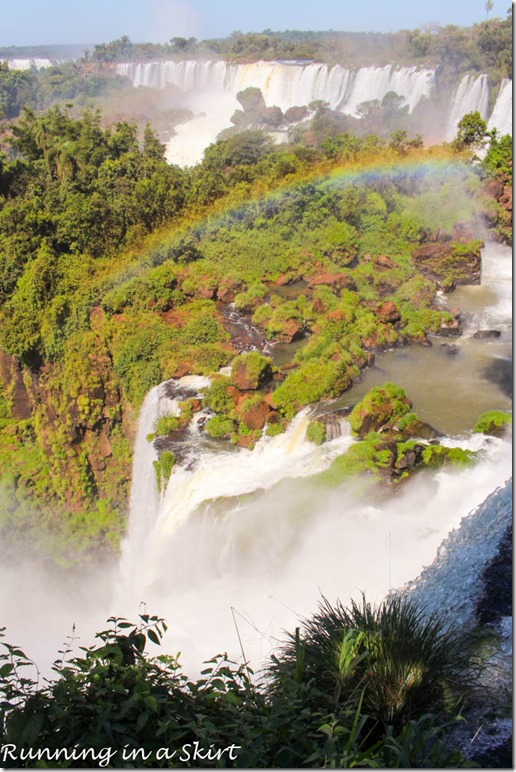 And this!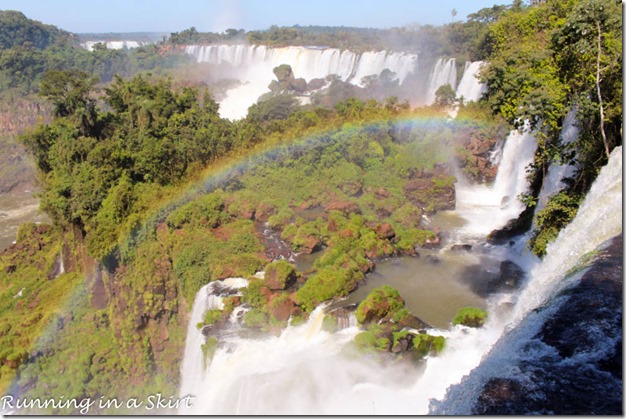 Our guide takes more pictures for us and we take time without the cameras to take it all in.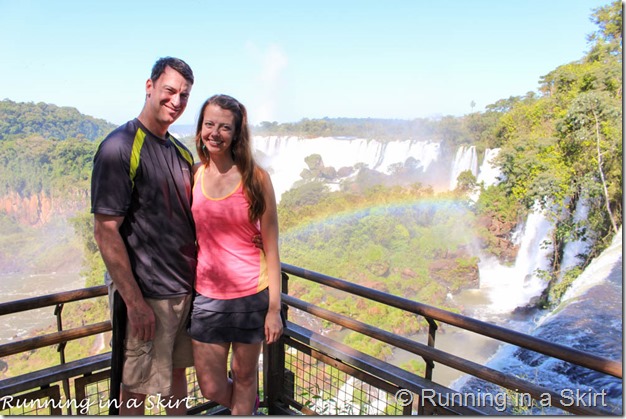 We even get another view of Devils Throat from a distance.
It's in the left corner of this view.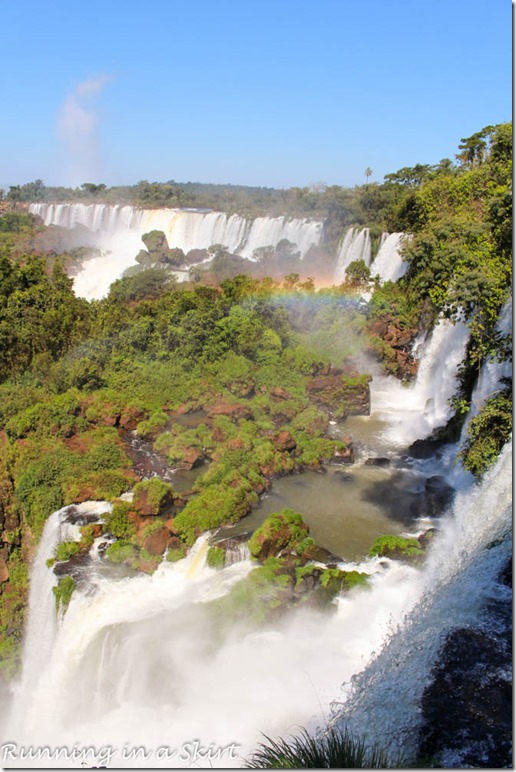 I'm once again taken aback by all the gorgeous butterfly's everywhere and spend way too much time photographing them.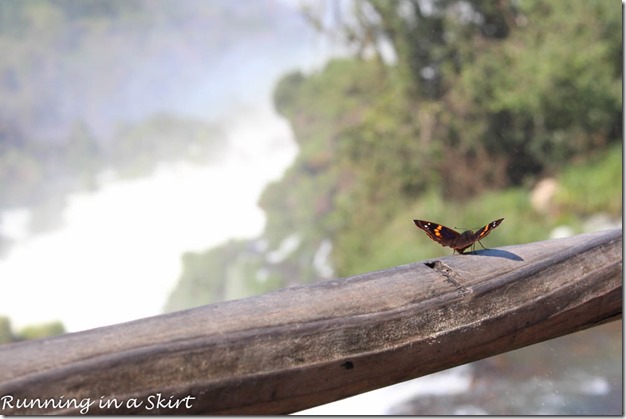 The middle trail is packed with vistas, one more gorgeous than the next.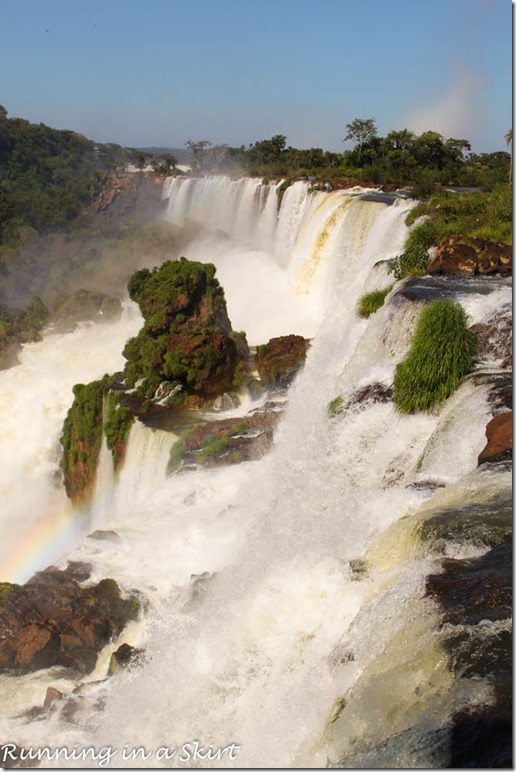 After tackling the middle hike, we stop for lunch! We get empanadas from a café in the park. It's so pretty that we want to eat outside, but these funny looking critters attack people with food. We opt to eat quickly inside. I wish I could recreate those empanadas at home, they were so yummy.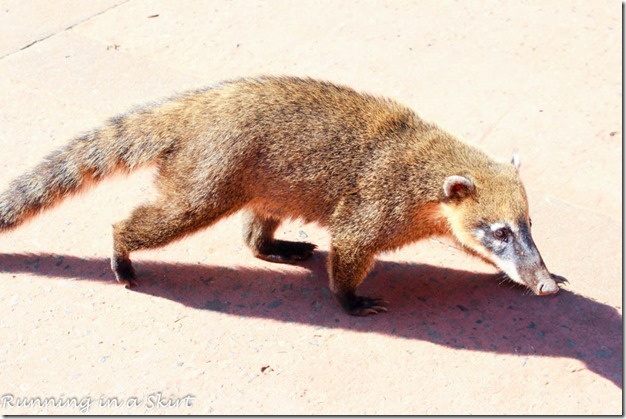 After lunch we run into more monkeys! We've seen so many monkeys in Brazil and it never gets old.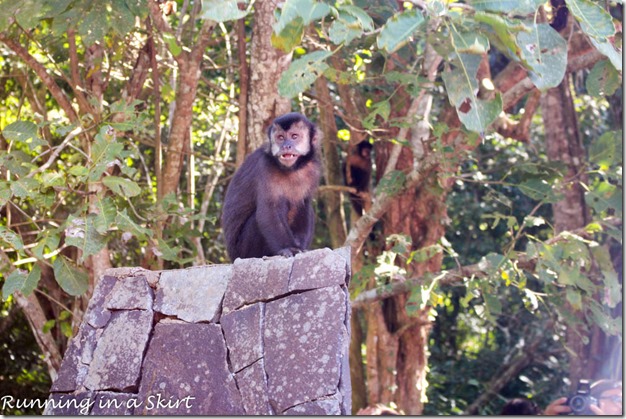 Our last stop is conquering the lower trail. It takes you up close and personal with the base of the falls. This pair is called the twin sisters.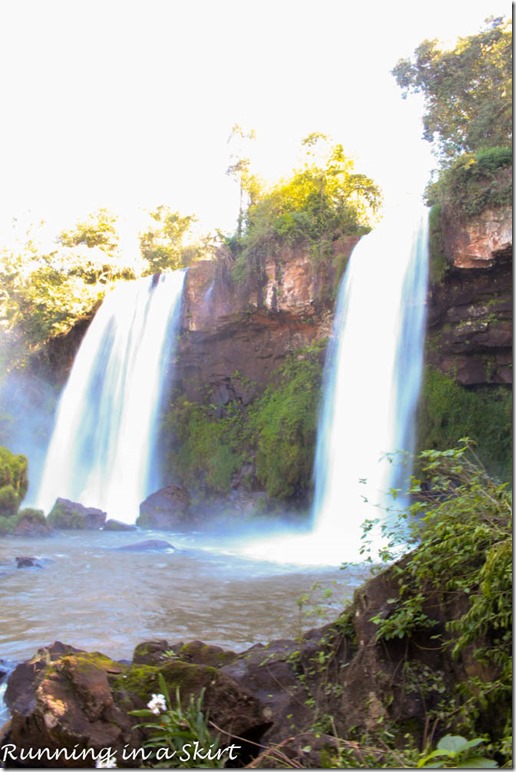 We also get a nice view of the bottom of the falls. That boat takes visitors right to the base of the falls. I have an injured foot that can't get wet, so we can't do it, but it looks like fun. Lots of people walk around the park soaked!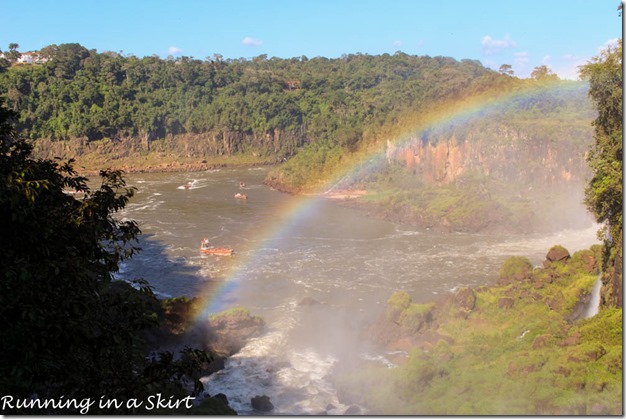 After taking in the lower falls, we are exhausted! Our guide takes us to an Argentina wine shop where we get a few bottles of Malbec to take back before heading back to Brazil. Once again it was super helpful to have the assistance crossing the border. With our language barrier, we really would have struggled to figure that out!
We finish our perfect day with a sunset view of the Brazil side of the falls from the driveway of our hotel.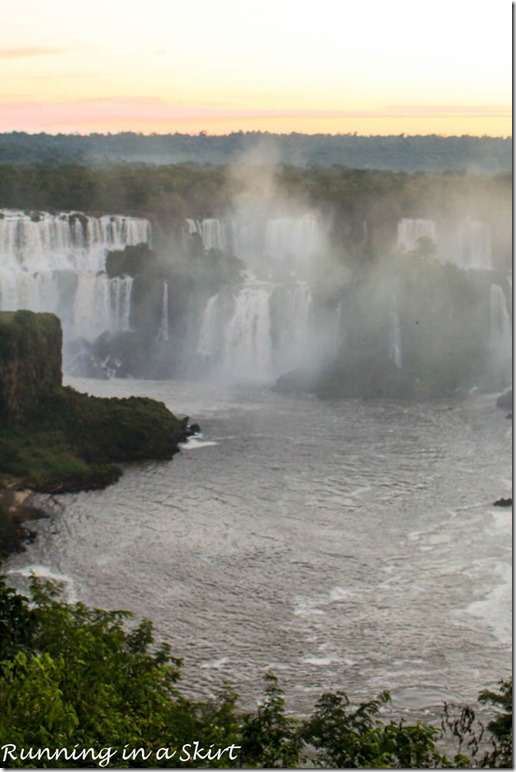 Reflections
Seeing Iguazu Falls totally lives up to the hype and I would recommend it to anyone! This was my favorite thing that I saw on my entire trip to Brazil. It's a bit out of the way to get there, but if you are traveling anywhere near it, just GO. My favorite side was the Brazil side because it was so peaceful, but they were both spectacular. Give yourself a couple full days to be able to enjoy both parks without rushing and be sure to do the boat ride. Bonus points if you have the time and budget for the helicopter ride.
Our tour guide was awesome and if you don't speak Portuguese I highly recommend hiring one! With the current exchange rate it wasn't as crazy expensive as you might think.
I still have one last post to share from Brazil, Sao Paulo!
Tomorrow I'm sharing a super yummy and healthy blueberry crisp featuring chia seeds.
And of course, have a Marvelous Monday! Thanks for the linkup Katie.
Your turn!
Would you like to go here?
What is on your travel bucket list?