Part 3 of my The Great Brazil Adventure continues today! Come along and see a historic colonial town in the Rio State called Paraty!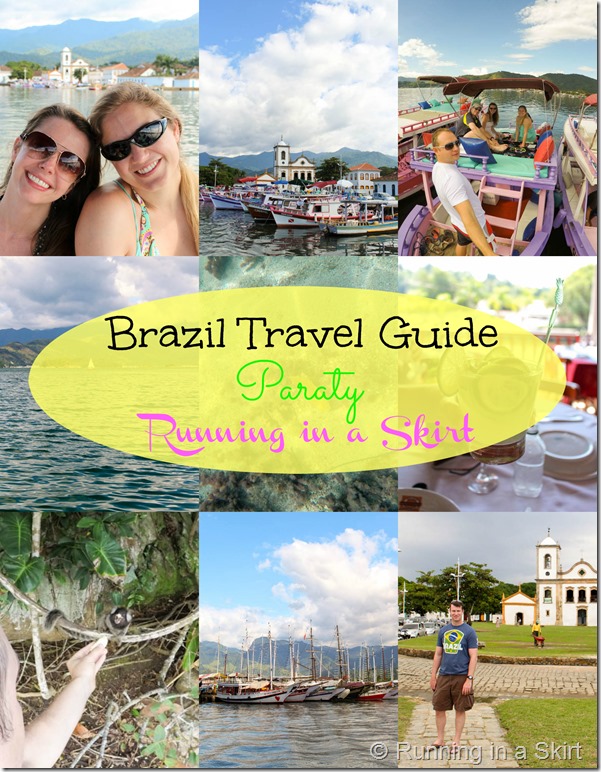 Hi friends and happy Monday!
Today I'm picking up my series on my recent trip to Brazil. Part 3 focuses on my time in Paraty, which is a small colonial town in the Rio State of Brazil. It is a true gem of a city with enchanting grid-like cobblestone streets. The main historic part of the town is closed to all but foot traffic, horses and bikes, so it is a quiet and calm place to visit. It is also a UNESCO World Heritage Site.
If you are just joining me for this series make sure the catch up with Part 1 in Rio de Janeiro (includes Christ the Redeemer, Sugarloaf Mountain and Copacabana Beach) and Part 2 in Ilha Grande, a nearly undeveloped nature preserve island off the coast of Rio. I'm picking the story up from our last morning in Ilha Grande after we caught our morning boat back to the main land.
Paraty Blog
Day 1 in Paraty
After a short boat ride and a long car ride, we arrive at our hotel in Paraty. After spending several rain-soaked days on Ilha Grande with only a salt water shower, the hubs and I are thrilled to arrive at a hotel that exceeded our expectations! Pousada Literaria is clean, chic, DRY and has non-salty showers. We immediately unpack our bags so everything can dry off and both take long hot showers! It feels like a dream.
Getting to Paraty, even with our driver takes a lot longer than we expect and is more stressful than we imagined, so the next order of business is a relaxing coconut drink by the pool!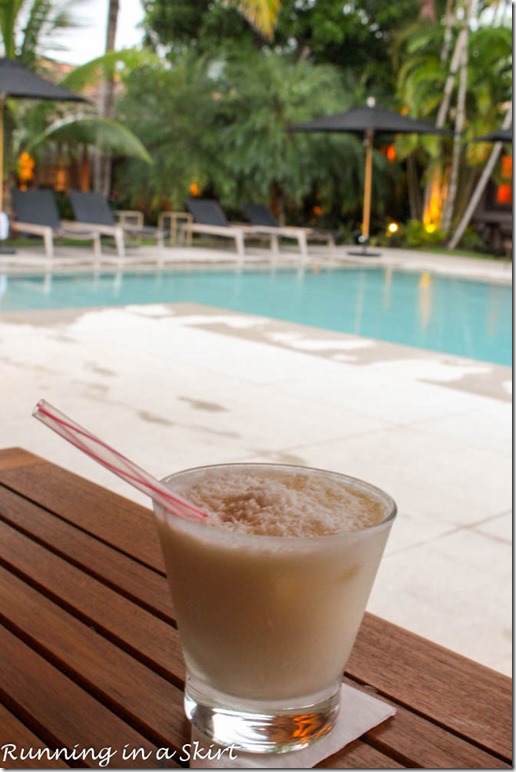 And some much-needed snacks! It is mid-afternoon by the time we finally sit down and we had not had a proper lunch!
This passion fruit spread and coconut shrimp are amazing.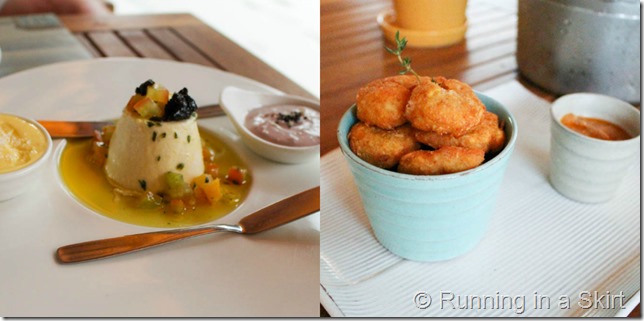 We have been go-go-go for days, so we spend a little time relaxing near the pool and making plans for the next day.
By early evening we are rejuvenated and ready to explore! We walk out the front of our hotel and are greeted by the enchanting streets of Paraty. The old colonial cobblestone roads are still intact. The rocks are high and challenging to walk in, but it is fun to jump from stone to stone. The buildings are all whitewashed, nondescript and similar looking, but collectively provide beautiful scenery.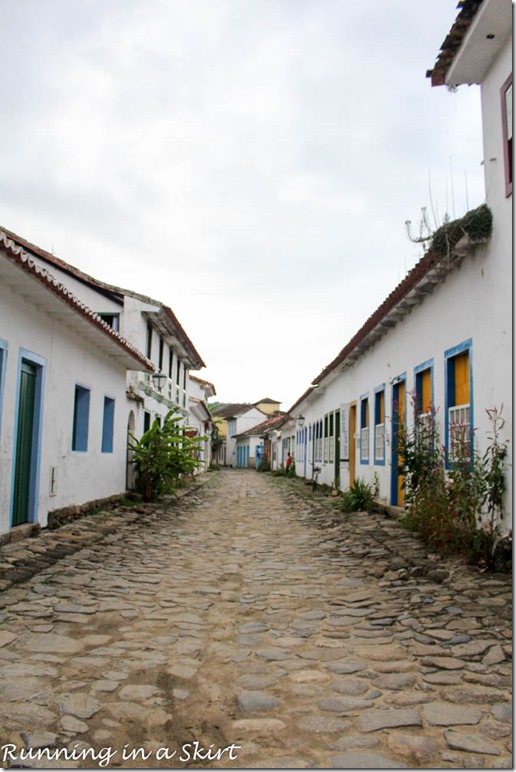 The historical downtown is almost a maze of streets, all packed with delightful little shops. We explore until it is time for dinner.
Dinner is at Punto Divino, a restaurant highly recommended by our tour books and our hotel. It is an Italian restaurant, so we are a little apprehensive (Italian food in small-town Brazil?,) but after eating similar seafood dishes for many days in a row, it is perfect!
We order a mushroom bruschetta, green salad (hooray for green food!!!,) an AMAZING brick oven fired pizza and the most delightful passion fruit moose ever.
This meal is actually one of our favorites on the trip so far and some of the best pizza we've had outside of Italy!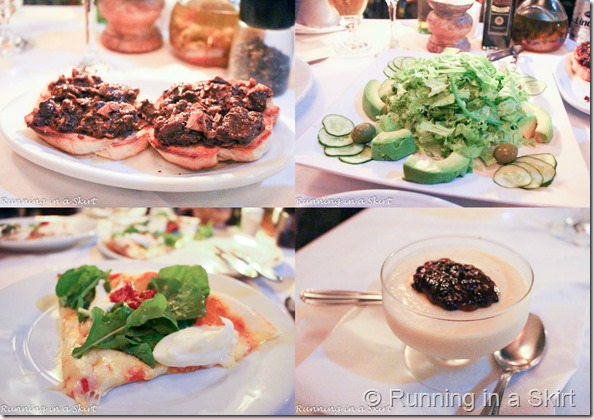 To make the evening even more special, we sit outside in a thatched covered patio with a man playing Brazilian music! Kind of ironic with the Italian food, but it totally works!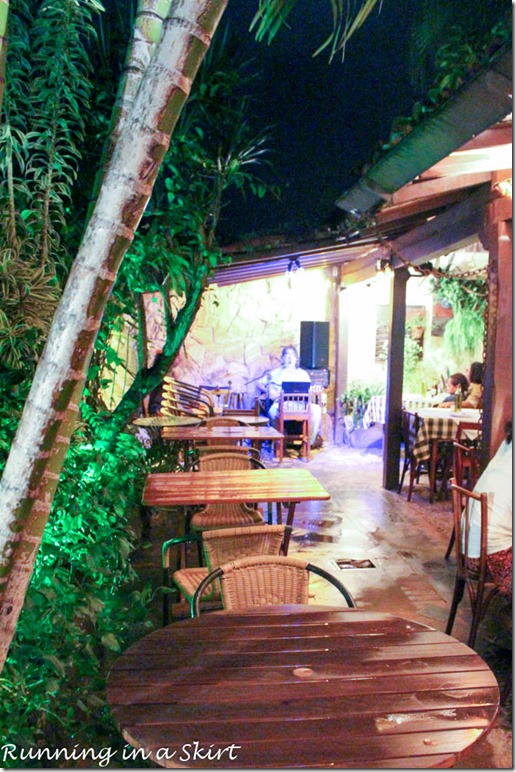 We go to bed early and sleep like babies in our dry room!
Day 2 Paraty
Day two in Paraty starts off like many other days in Brazil, with an amazing tropical fruit packed breakfast. The papaya and mango are the stuff dreams are made of.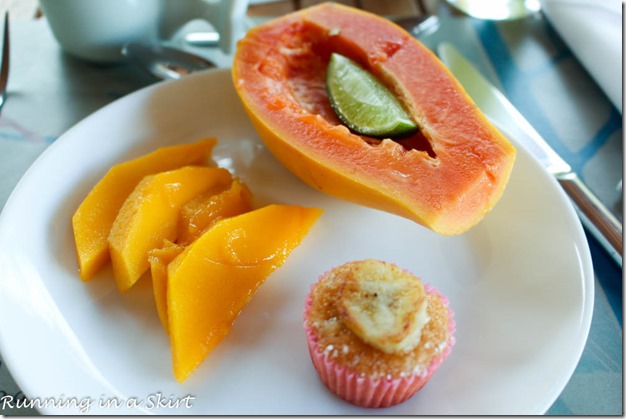 Most hotels in Brazil seem to have a nice area with an included breakfast and this one is no exception.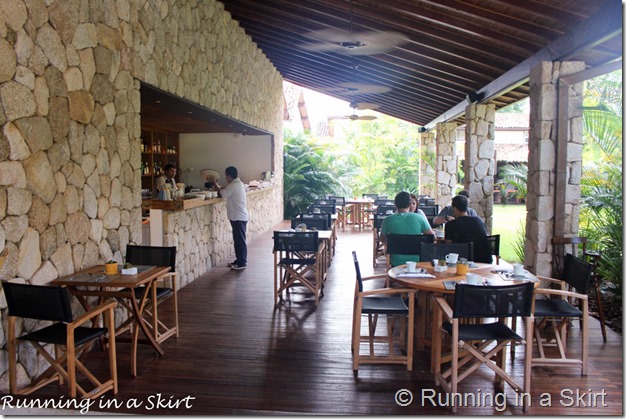 Another part of Brazilian culture and food that I love, is the juice. Every morning they put out fresh and unique fruit juices. My favorite is Pineapple and Mint. (This is actually where I got the idea for my Pineapple Mint Smoothie!)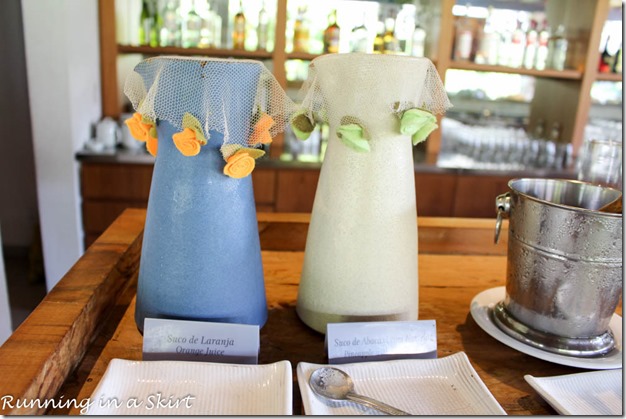 After breakfast, we decide to sit by the pool again. We know we should go out and explore but we are a week into the vacation and need a little downtime. This pool seems as inviting as a place as any! Plus our friends Sarah and Andrey are scheduled to arrive by late morning and they speak Portuguese! By this point, we have also realized how challenging Portuguese is to learn AND how difficult it is to get around in Brazil without it! So the hubs and I decide to take a break and just wait for them to arrive. Our morning turns out to be fabulous!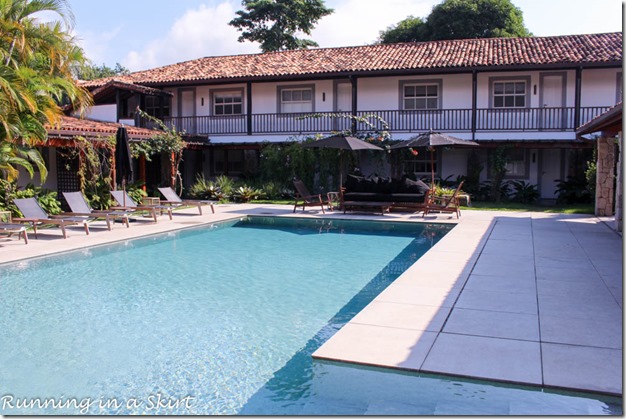 After our morning at the pool, we reconnect with our friends and head back out to explore the streets of Paraty. All the doors lead to tiny restaurants, art galleries and cute stores.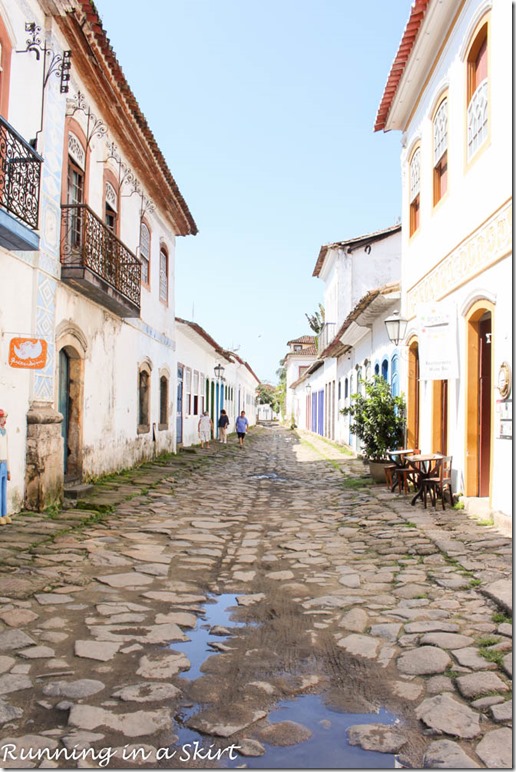 Next stop is lunch!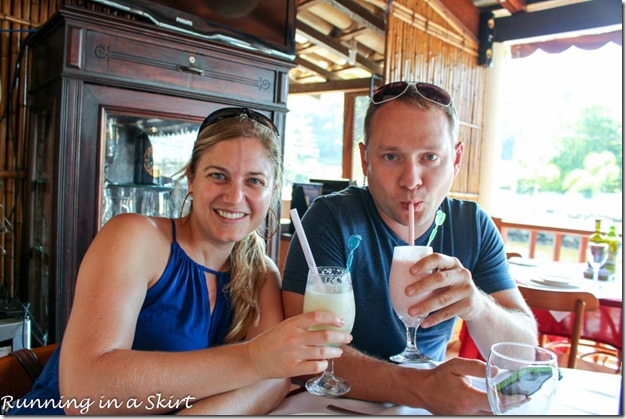 Nothing like a caipirinha (Brazilian sugar cane rum and lots of limes!) to start off a day in paradise!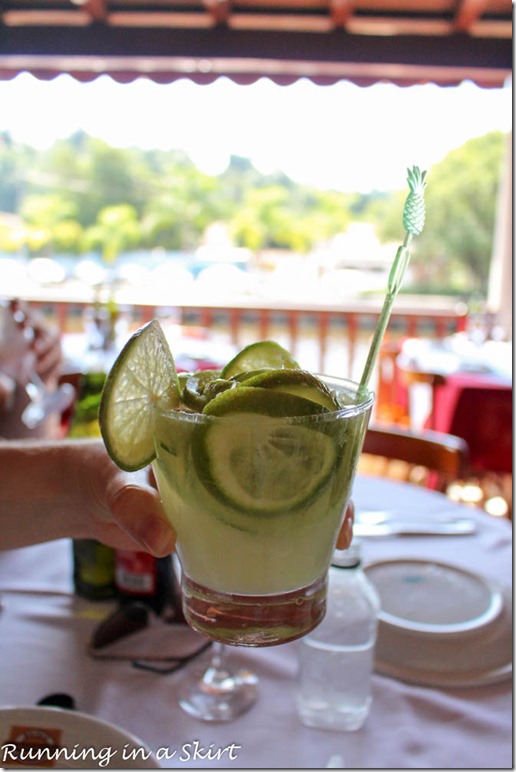 Lunch is a lighter fish dish with shrimp and kiwi on top. Amazing!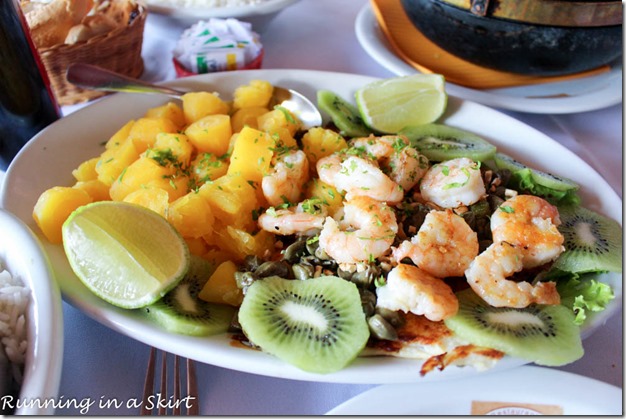 After lunch we sightsee around town. This is the river that runs along the edge of the historical district.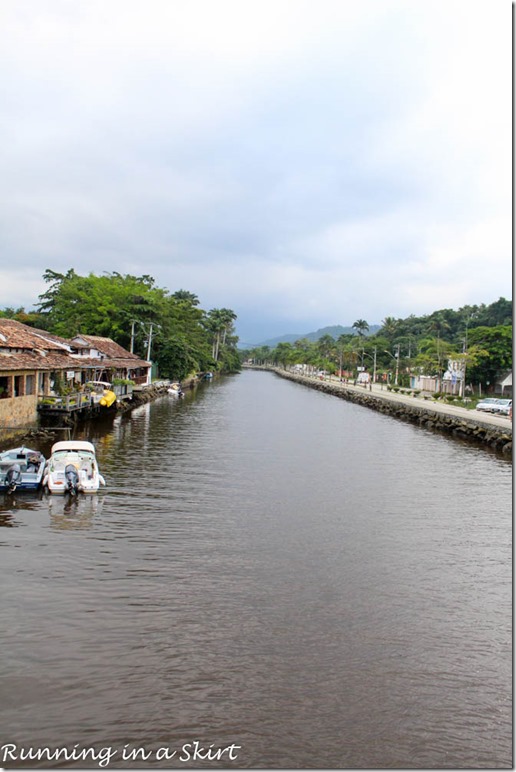 We stop and see Igreja de Santa Rita, which is the oldest church in Paraty.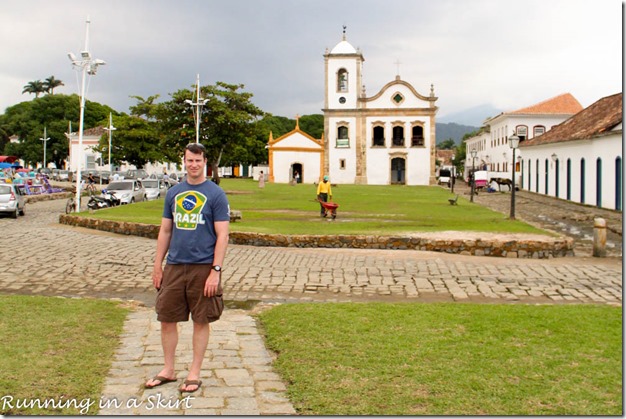 One of my favorite parts of the tour is the Havanias store! The simple plastic flip flops are a Brazilian wardrobe staple and I had been eying them since Rio. It felt like fate when they had an entire display of Wonder Woman flip flops! I had to get some of these. I also got a cute Brazilian print pink pair with butterfly embellishments.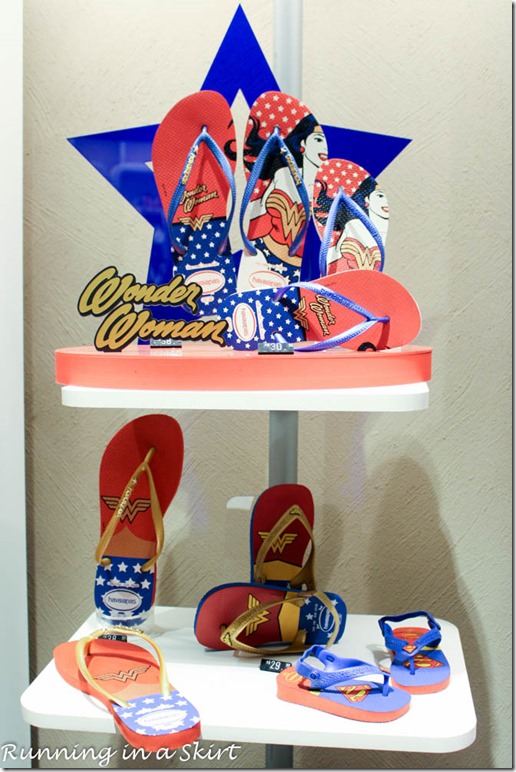 After shopping, we stop by a gourmet popsicle stand and get passion fruit popsicles.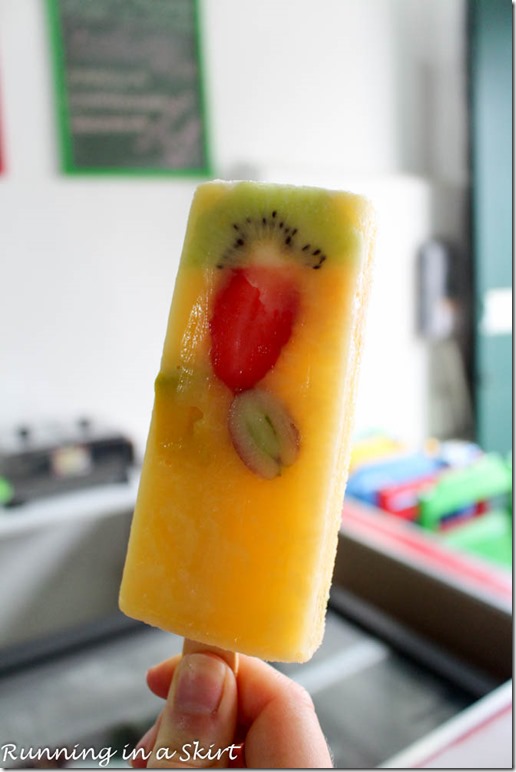 For dinner we choose a cool restaurant with outdoor sitting near where the fisherman park their boats.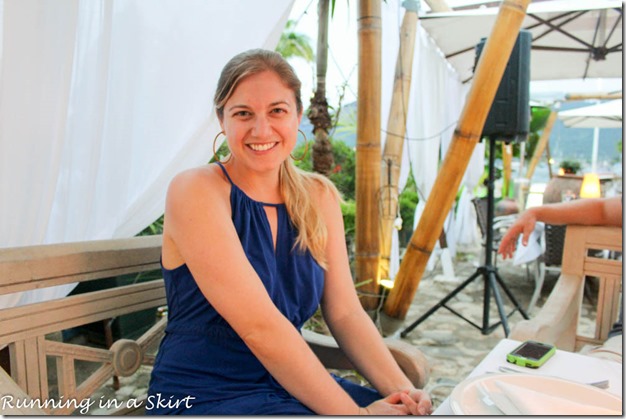 The patio is set up with gorgeous, ornate furniture and potted plants! Very cool.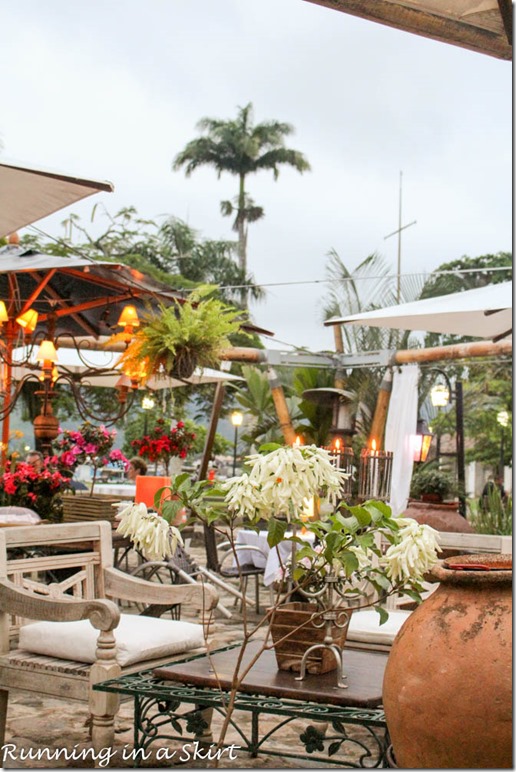 We indulge in a fresh feast including these delicious oysters.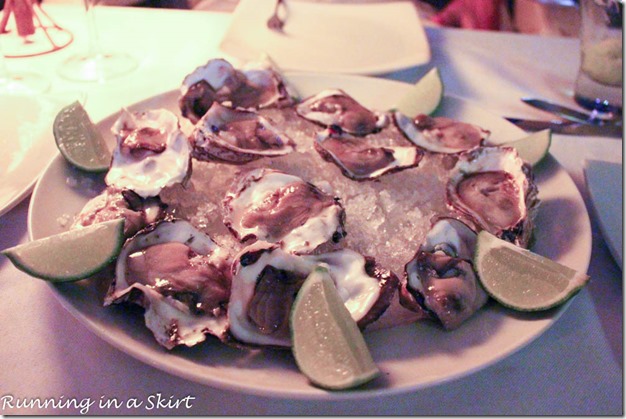 After a fun night talking at dinner, we head to sleep early because we know we have a big day ahead of us!
Day 3 Paraty
We wake up super excited for day 3 in Paraty! After our boat tour plans in Ilha Grande didn't go as planned, we are stoked to get another shot!
Sarah booked one of these cute little boats for a day tour.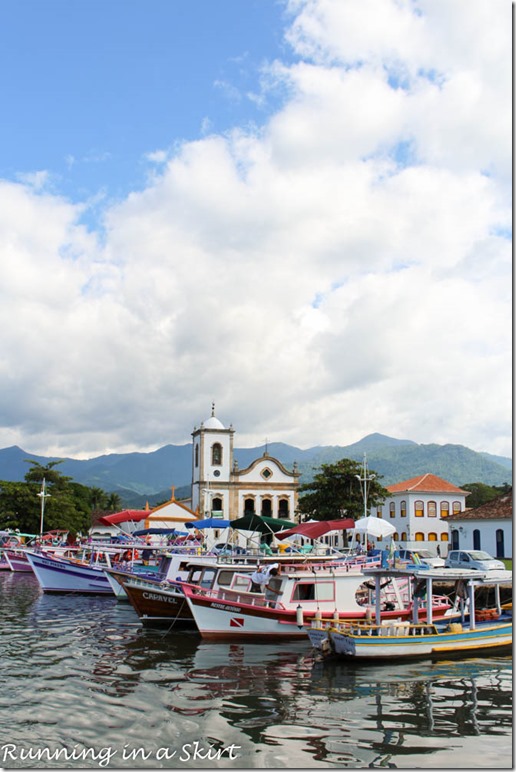 Our boat is absolutely adorable! It's pink, purple and seafoam green! We wake up early to beat the crowds to the best boating locations in the nearby waters.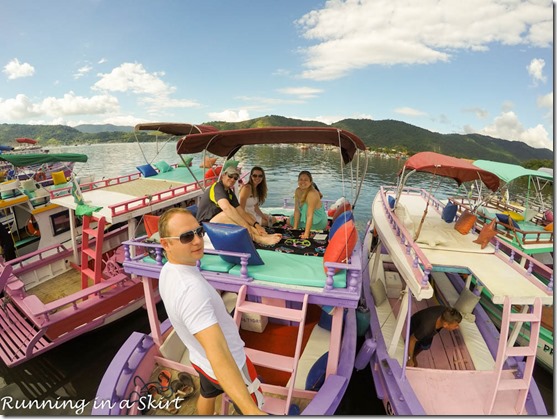 I am so excited to spend a day on the water with my best friend of nearly 30 years!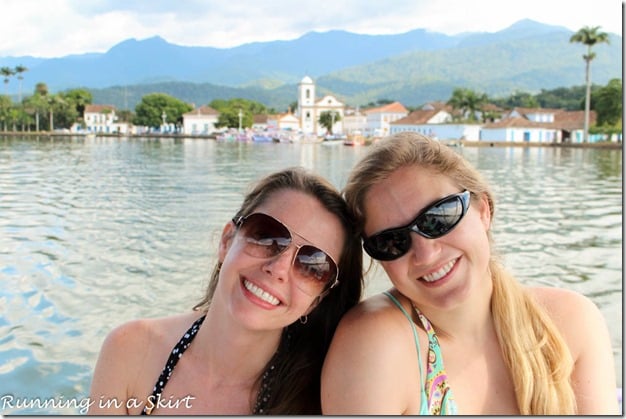 As we pull out to see we get a gorgeous view of what Paraty looks like from a distance. It is such a unique little place!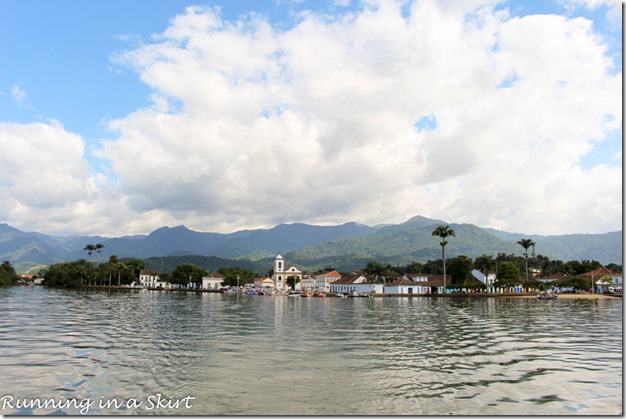 It is nice to be one of the first boats out on the water.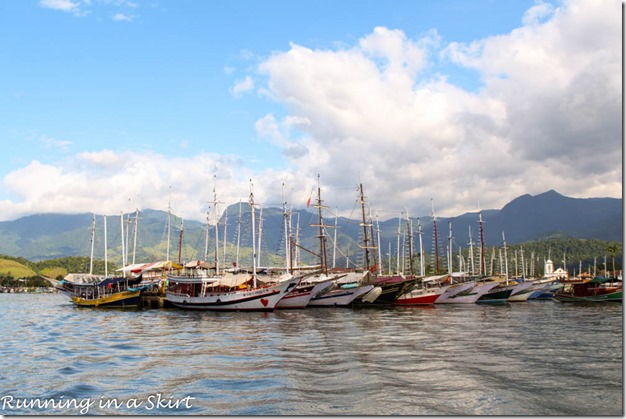 I take hundreds of pictures because everywhere you look is breathtaking! The views of the mountains around the city are stunning. Brazil is such a photographic place.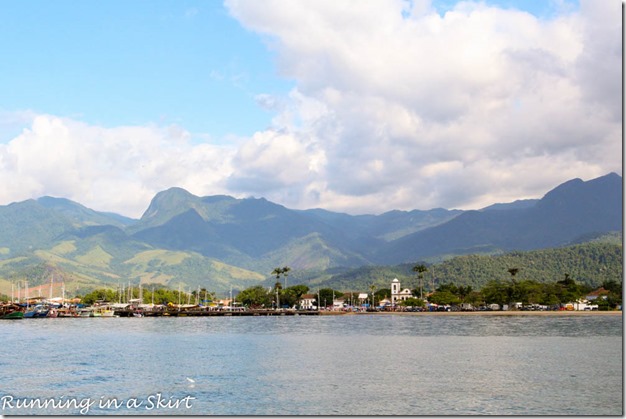 Once we head out a little more to sea, the coast starts resembling the land surrounding Ilha Grande more. It is very undisturbed and beautiful.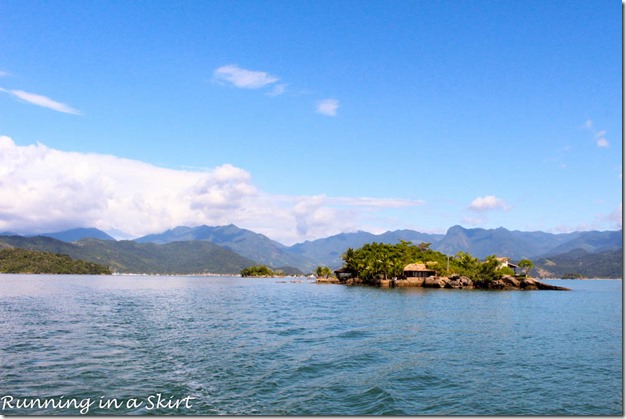 I just can't get enough of the clear blue green water and the gorgeous views.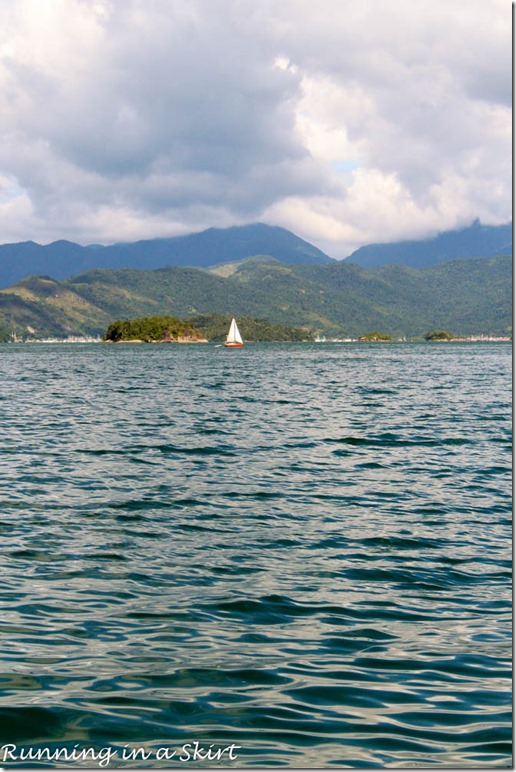 After a thirty-minute boat ride, we reach our first stop, an island with tons of monkeys!!! We jump off the boat and climb rocks to reach it. We have small bananas to feed them. This is a picture of Andrey feeding them. I am a huge fan of monkeys, so this is one of the highlights of the trip!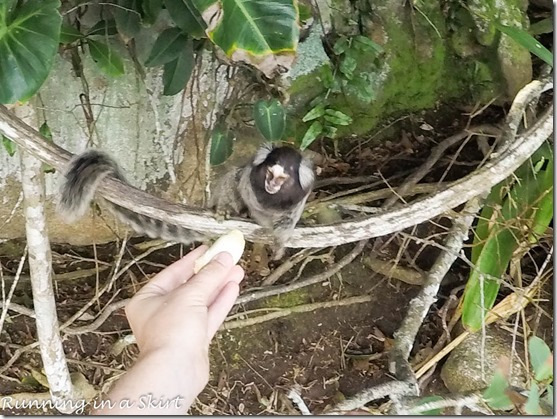 After feeding the monkeys we swim back to the boat. Our captain then takes us another thirty minutes away to a good snorkeling spot.
All four of us jump in the water to take a look! You can see so well here with the GoPro pictures.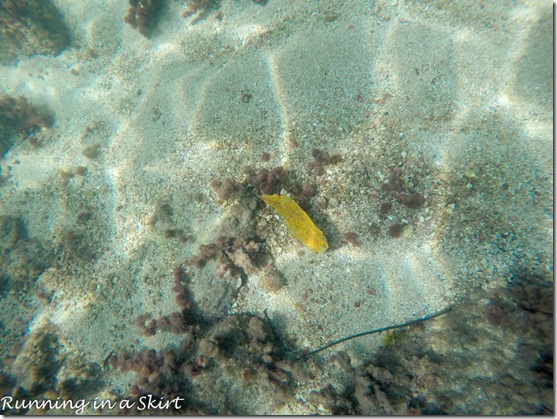 Unfortunately, this is where our vacation took a turn for the worse. My snorkeling equipment doesn't work and I keep getting big chugs of gross ocean water in my mouth. I try to fix it a few times, but I finally decide to go back to the boat. I swim carefully past the rocky area. Without the mask, it is hard for me to see where everything is. The short story is there is a piece of coral jutting up in an unusual location and without my snorkel gear I don't see it and I accidentally kick it. I end up with a big gash in my foot. It looks terrible, so we decide to call our boating day short and have the driver take us back to Paraty.
When we get to Paraty, we take a taxi to a medical clinic, but we decide that the care available there will not work for us. It is essentially a very small third world country hospital. After some discussion, our group decides to cut our time in Paraty short, pack up to go back to Sarah's city, Sao Paulo. They have a large modern hospital and will be able to give my foot the care it needs.
After a 6 hour drive, we eventually arrive at Sao Paulo's hospital and they are able to care for my cut. It is pretty scary to be in a hospital that doesn't speak your language, but I'm glad we decided to make the drive. By far the worst part about the entire thing is the cut is right where I bend my foot and I can't put weight on it without it breaking open again and bleeding badly, even with the sutures. I find out that I will have to use crutches or a wheelchair for the rest of the trip! I'm heartbroken. I also love Paraty and I am super bummed that our time there is cut short.
We end up hanging out in Sarah's apartment for two days in Sao Paulo, just giving my foot time to heal. Luckily it starts doing better and we are able to take our flight to Iguacu Falls a few days later. I'll pick up the story from there...
Reflections
Paraty is a cool place. I would include it on any trip to Brazil! I love the historical cobblestone streets, cute shops, and yummy food. It is super charming. I feel like it would be the kind of place I would visit often if I lived there. I also love anyplace that is so walkable and car free. We felt very safe there, which was also nice. I was having the best day ever on the boat ride and I hated to cut it short. My advice is to bring snorkeling equipment with you because it's just not safe to have stuff that doesn't work. In my experience, it was very common to have things that didn't work in Brazil.
Getting hurt on vacation was such a bummer. It is almost getting to be a good funny story, but at the time I was so upset. Out of all the trips I've taken nothing like that has ever happened to me, so I guess I was due for something to go wrong. I just can't believe it involved a 6 hour drive to a Brazilian hospital! The entire experience did make me realize the danger in going to places like this that have NO modern health care available. If you were to get hurt in a life and death situation, I don't know how you would get the help you needed. I'm not saying I will never travel to places like that again, but I am going to keep it in mind. I am also considering buying the insurance where you can get a medical flight home from another country if you have a huge problem. Just something to think about.
Next up in The Great Brazil Adventure – Iguaçu Falls! The Iguacu Falls are one of the most spectacular things I have ever seen. All other waterfalls, including Niagara, pale in comparison to the natural beauty at Iguaçu. It was by far my favorite part of the trip and I can't wait to pick up the story next time…
Tomorrow I'm trying out a new and healthy grain in the kitchen, adding it to one of my favorite summer meals for a delightful dish! I hope to see you then 🙂
Pin for later!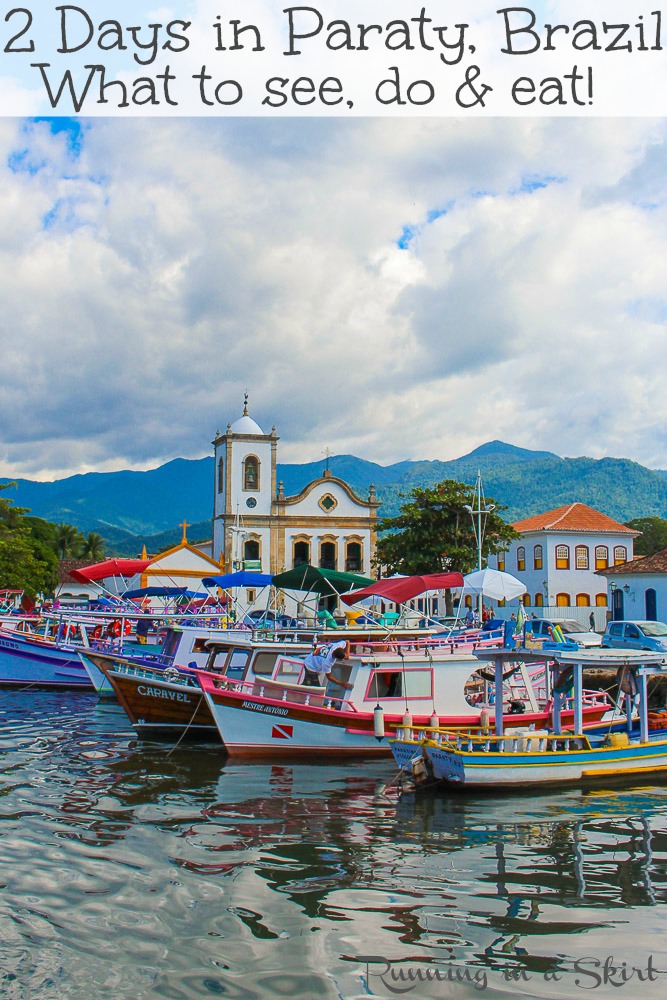 Your turn!
Have you ever gotten hurt on vacation?
What's your best vacation story where something goes wrong?