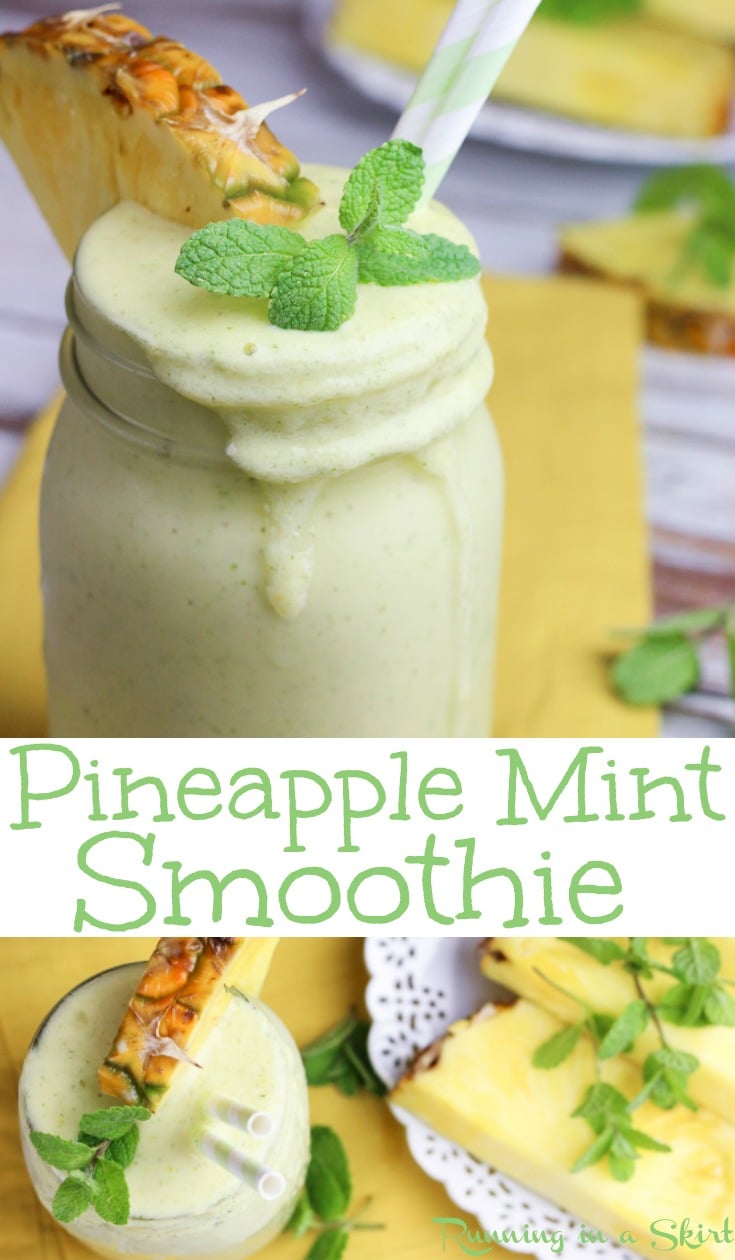 Pineapple Mint Smoothie recipe: this Healthy Mint Smoothie combines some of my favorite tropical flavors like pineapple and mango to create a simple and tasty fruit smoothie with only 6 ingredients. There is nothing more refreshing than a fresh mint this time of year and this smoothie is the perfect way to enjoy it!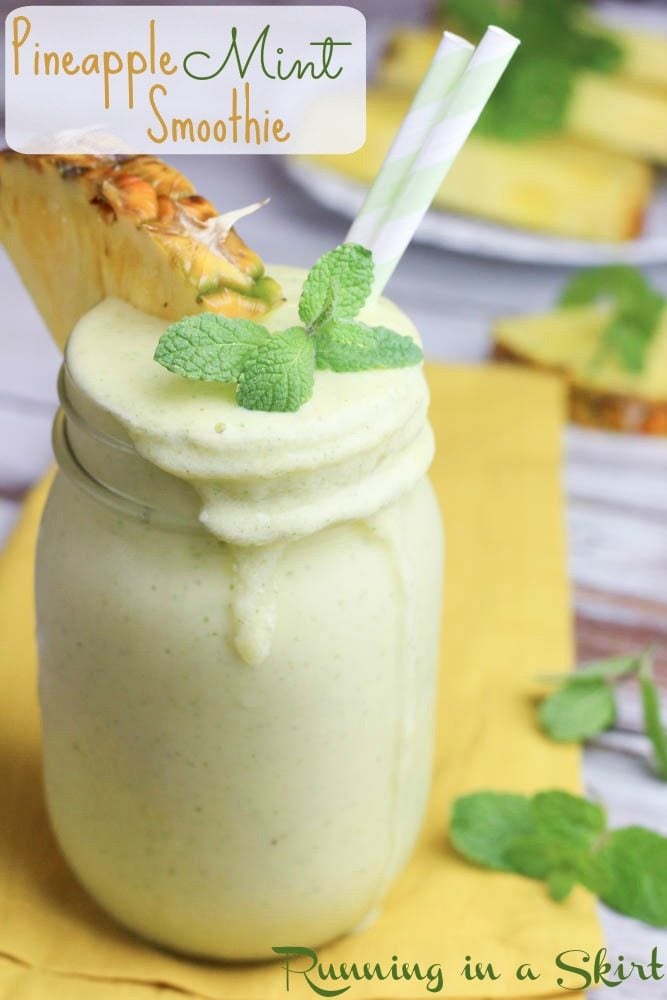 Pineapple Mint Smoothie Recipe
As summer is in full swing, I thought I'd bring you a perfect icy treat that just screams this new season. My Pineapple Mint Smoothie is perfectly refreshing, yet creamy AND downright tropical. The mint is unexpected but so delicious.
This easy smoothie comes together in less than 10 minutes with just 6 ingredients making a recipe you will want to make again and again.
It is simply THE BEST Mint Fruit Smoothie.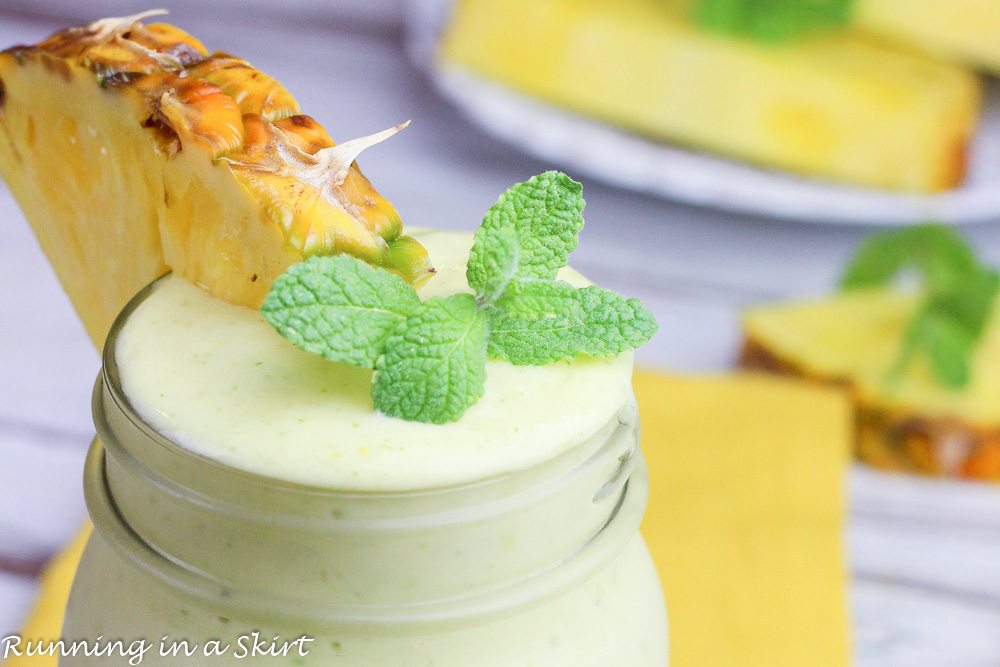 Here's why you'll love my Pineapple Mint Smoothie recipe...
I've been on a unique smoothie kick lately and my Pineapple Mint Smoothie is the latest addition to my creations. My favorite way to amp up an old favorite is to add something unexpected to the mix like fresh herbs, turmeric even fresh ginger! Check out all my 20+ Unique Smoothies to Love here.
Mint is a great place to start with a unique smoothie because it pairs well with so many fruits. It's also pretty easy to love. Luckily my mint plant is already taking off this year! So I can go to my deck and get lots of fresh mint without a lot of fuss.
I grow mint for two reasons… mint smoothies like this and mojitos. My mint plant is actually a pineapple mint plant which makes it even more fun for this combination of smoothie flavors. You can find them at your garden center or even online.
Well… at least one of those reasons is healthy! I'll have to save my favorite mojito recipes for another day.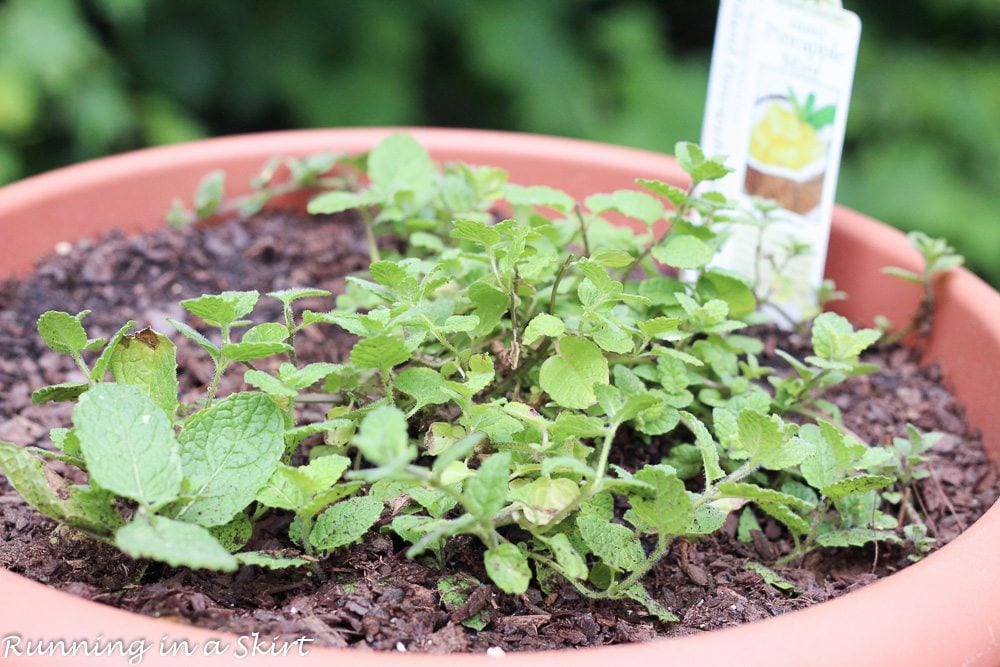 Mint Fruit Smoothie
If you haven't tried fresh mint in a smoothie yet, you are missing out! The combination of fruit with fresh mint really makes a light and unexpected fruit smoothie everyone will love. It brings the flavors to life.
The mint is the perfect compliment to more tropical fruits like this pineapple! Mango, papaya, or even strawberries will also work.
My secret to making this treat really yummy is also adding a small handful of frozen mangos. It brings even more tropical hints to the smoothie without overwhelming the pineapple. I also had a frozen banana and some greek yogurt to make it creamy and up the nutrient content and to make the smoothie super creamy.
There is no substitute for just off the plant fresh mint. It's divine. But if you don't have a garden and grow your own, you easily find it in the herb section of your local grocery store. My store sells it with the other hearty fresh herbs in flat plastic containers.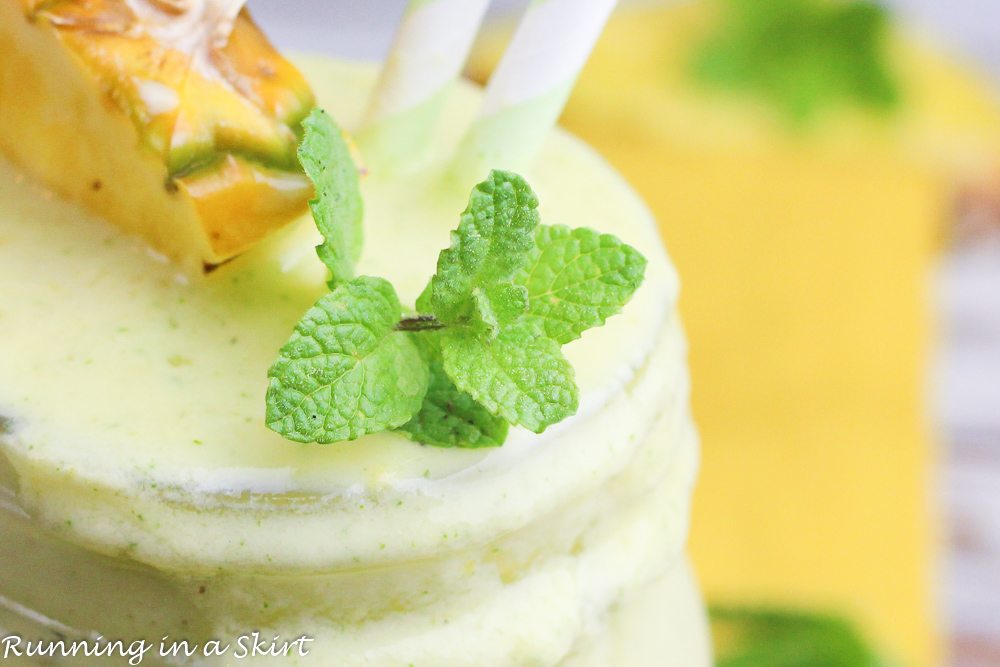 Ingredients in the Smoothie:
Frozen Pineapple: You'll want frozen pineapple chunks. They are widely available in the freezer section of your grocery store or buy fresh pineapple, cut and freeze it. I like using frozen fruit in my smoothies because it makes them light and chilled without having to add extra ice.
Frozen Mango: You could easily substitute just pineapple for the mango in this recipe BUT I love the tropical flavor combination of these two special fruits. Frozen mango is also sold in the freezer section of the grocery store.
Frozen Banana: I like to take any bananas that don't get eaten at my house and cut them in half and freeze them. That way I reduce my food waste and always have frozen bananas for smoothies. They also sell frozen banana chunks at the grocery store. If you don't like bananas in smoothies you can easily make this banana free by adding extra pineapple and mango in place of the banana. I use banana in my smoothie recipes because it makes it creamier and naturally sweet.
Milk: I wrote the recipe to use light almond milk but you can use any dairy or non-dairy milk you have. Coconut milk would also be lovely with this.
Greek Yogurt: I added plain Greek yogurt to this Pineapple Mint Smoothie to make it nice and creamy. If you want to make this recipe non-dairy or vegan you can substitute non-dairy yogurt.
Mint: Fresh mint leaves work perfectly for this healthy smoothie!
Health Benefits of Mint
If you aren't familiar with the health benefits of mint, it's actually really good for you! It's full of antioxidants, can help with stomach troubles, and can even improve brain function.
This Mint Smoothie is a great way to add some to your diet.
What herbs are good for smoothies?
Mint is great in smoothies! Other good ones are basil, parsley, ginger, turmeric and cinnamon.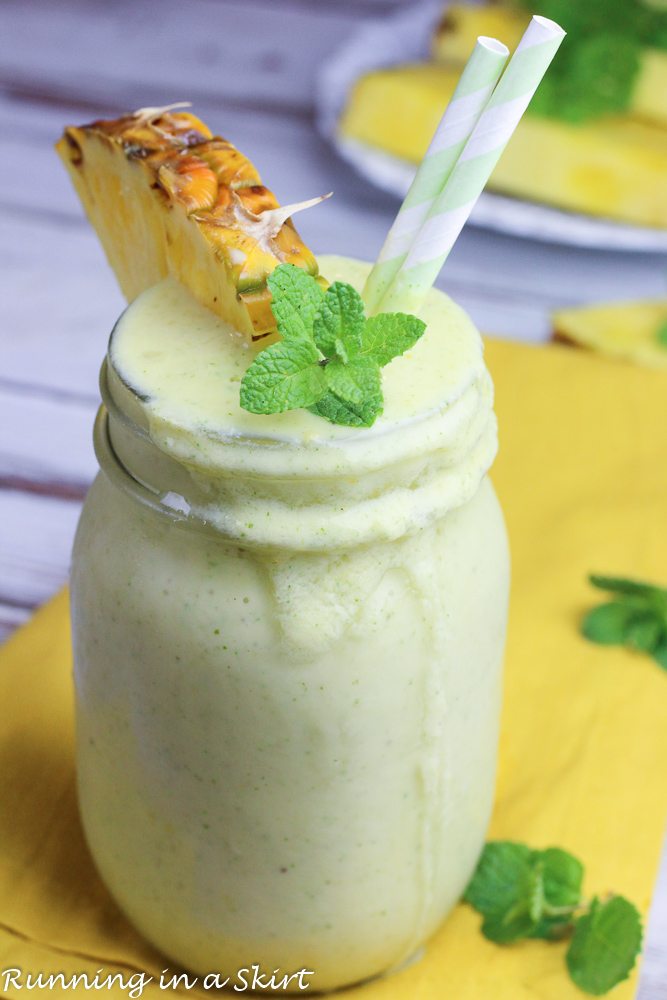 How to Make a Pineapple and Mint Smoothie:
Gather all your frozen fruit, milk, mint, and greek yogurt.
Get out your blender.
Put all the ingredients in the blender and mix until smooth. Adjust the amount of milk needed to get the consistency you desire. I love a good high speed blender for making smoothies.
Pour in a glass and serve immediately.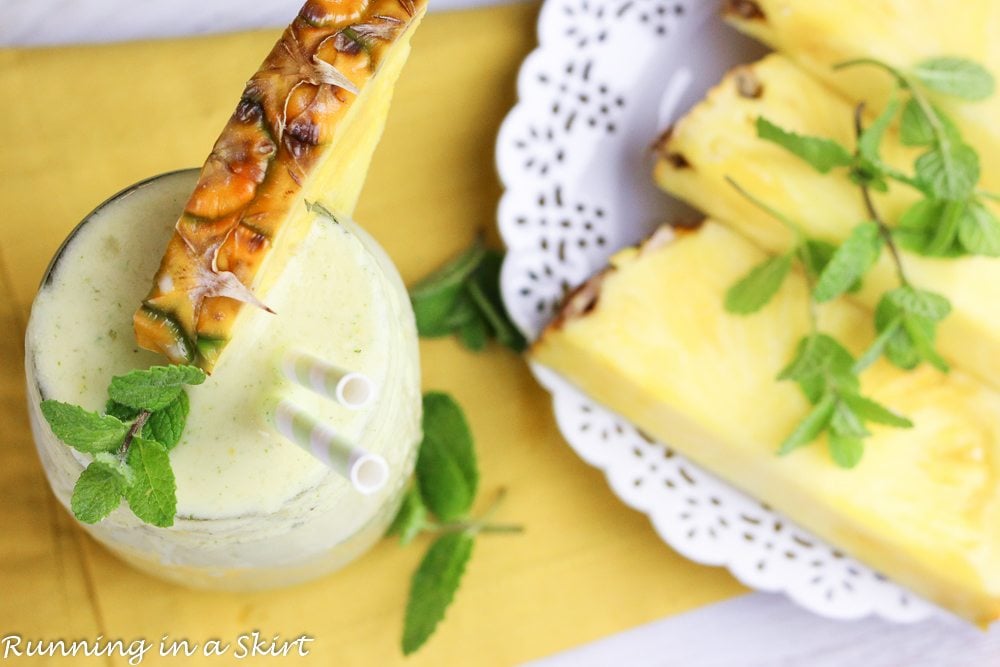 Variations
Make this a high-protein smoothie by adding protein powder. Feel free to add your favorite plain or vanilla protein powder to the mix, if you need that for your nutrition goals! If you do add it this smoothie could be more of a small meal than a snack.
Make this vegan or dairy-free by using non-dairy milk and non-dairy yogurt. You can also take the yogurt out and add a touch more fruit.
Many fruits would work well in this Mint Smoothie including strawberry, papaya, or kiwi! You could also use the tropical blend of frozen fruit at the grocery store.
You can easily up the nutritional value of this smoothie by adding a handful of your favorite greens like spinach or kale. It will turn it green though.
This smoothie can be cut in half for one or doubled for the family.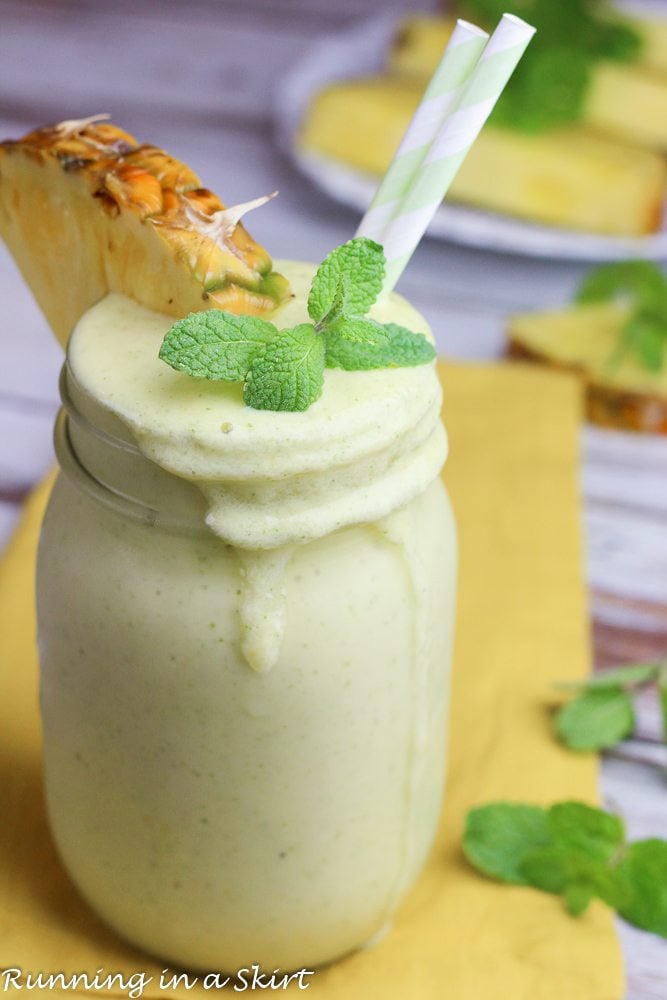 This Pineapple Mint Smoothie is Irresistible!
This Pineapple Mint Smoothie recipe is simple, healthy, and perfect for this gorgeous season called summer. Give this smoothie combination a try and let me know what you think! As always I'd love to hear your opinions on mint in smoothies in the comments below.
More Unique Healthy Smoothies...
If you make this recipe, I'd love to hear what you think! Leave a comment and a star rating ★ below. Make sure to follow me on Instagram, Pinterest, and Facebook too!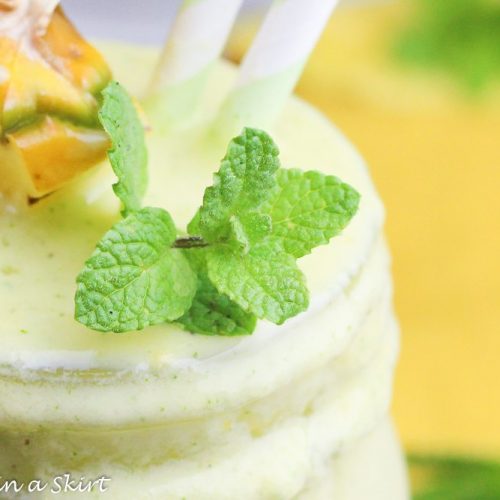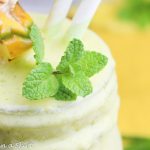 Pineapple Mint Smoothie
There is nothing more refreshing than fresh mint this time of year! This Pineapple Mint Smoothie combination combines some of my favorite tropical flavors and is the perfect healthy way to enjoy mint!
Ingredients
1

frozen banana

½

cup

0% greek yogurt

½

cup

almond milk

1

cup

frozen pineapple

½

cup

frozen mango

2

tablespoons

fresh mint

optional garnish: fresh mint sprig & fresh pineapple slice
Instructions
Throw all ingredients into the blender and mix well.

Serve with a fresh mint garnish and fresh pineapple
Notes
You can half or easily double this recipe.
To make this a vegan smoothie use a non-dairy yogurt or substitute more fruit for the yogurt.
Nutrition
Calories:
160
kcal
Carbohydrates:
33
g
Protein:
7
g
Fat:
1
g
Saturated Fat:
1
g
Cholesterol:
3
mg
Sodium:
103
mg
Potassium:
469
mg
Fiber:
4
g
Sugar:
23
g
Vitamin A:
744
IU
Vitamin C:
61
mg
Calcium:
153
mg
Iron:
1
mg
Pin for later...