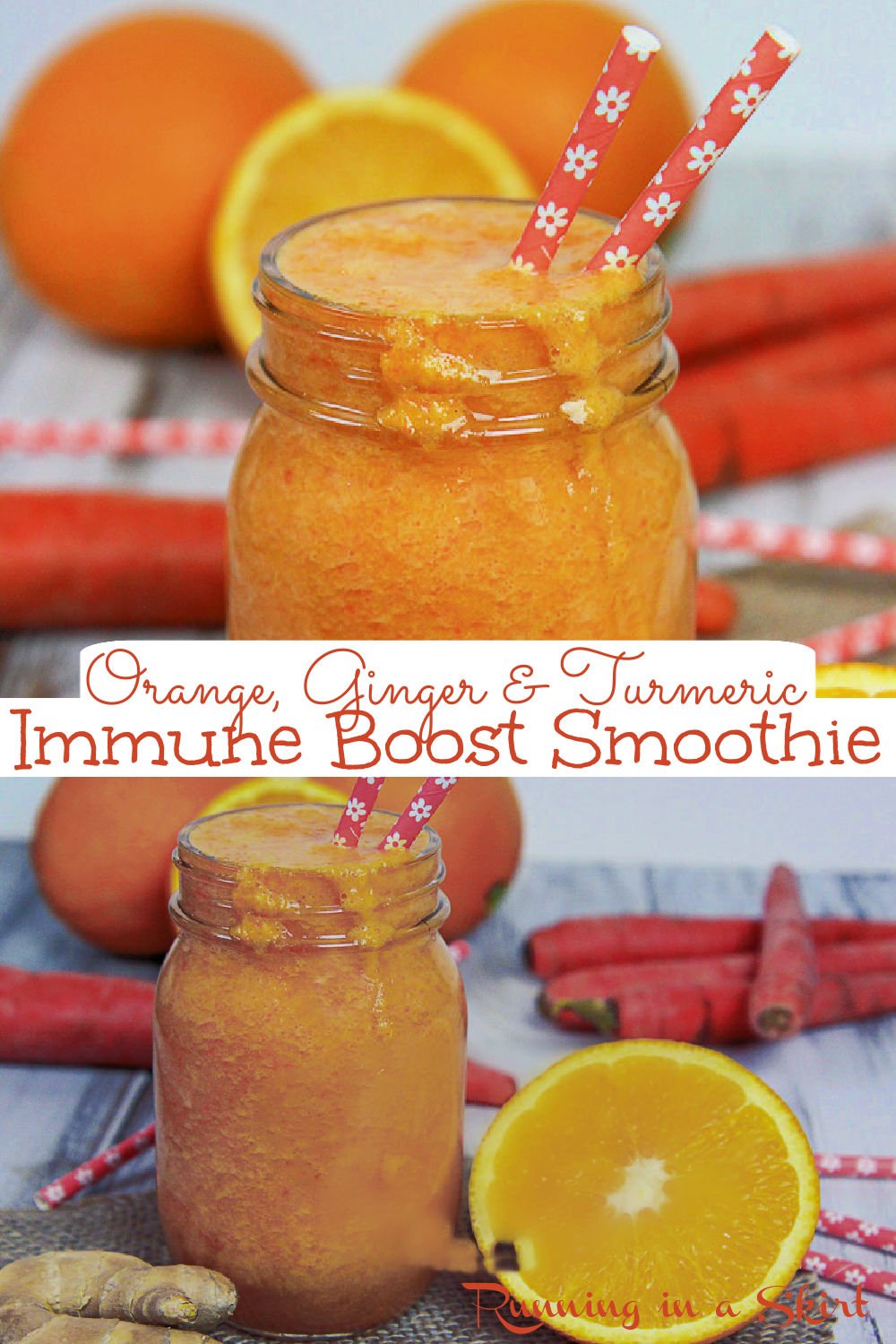 My Orange, Ginger & Turmeric Smoothie recipe is immune-boosting, anti-inflammatory, and practically has superpowers!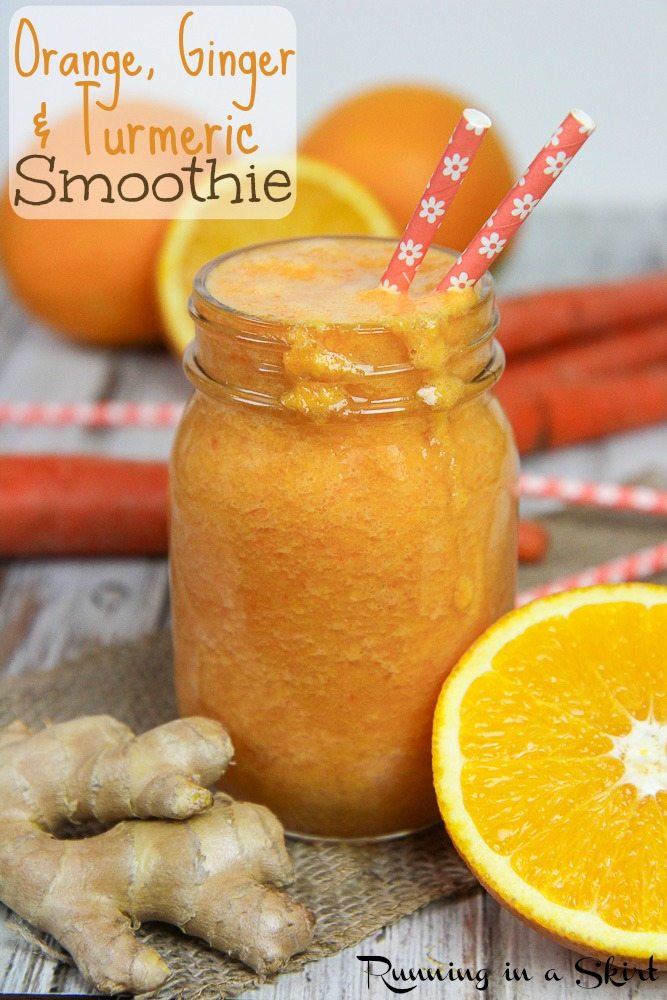 Hi guys,
Every time I turn on the news I get a little more panicky about the flu. As someone who has had a lifelong history of always catching whatever is going around (I even caught the swine flu... which I affectionately called the pig flu)... I'm on a mission to stay healthy this season. I've been washing my hands like crazy and telling the Hubs to do the same since he works at a regular office. I have a tendency to get a little paranoid about this kind of thing, but I figure as bad as it sounds you can never be too careful.
Another thing I'm doing is trying to make sure I'm eating and drinking as many vitamins and superfoods as I can. That's where this Orange, Ginger & Turmeric Smoothie recipe comes into play... it's basically my attempt to ward off the crud! This connection not only has a crazy amount of vitamins, but it's also pretty darn tasty!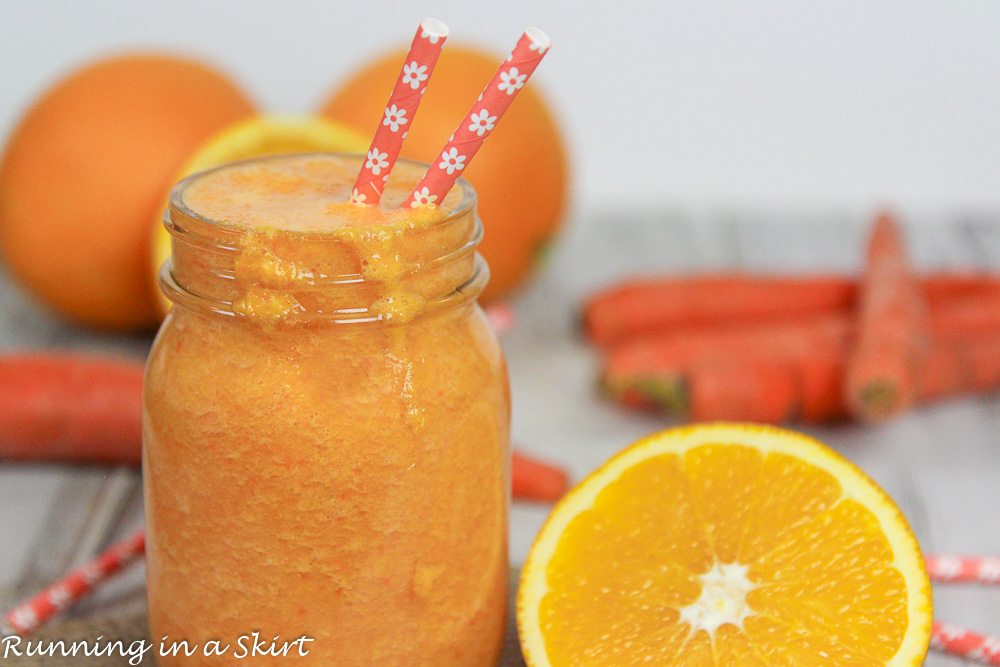 My smoothie is packed with immune-boosting vitamin C from an entire orange. I also packed in some carrots, which can also improve your immunity, fight cancer, and of course help your eyes! To give the smoothie more sweetness I added some pineapple, which also is a great fruit to boost your immune system. So basically right off the bat, you've got a triple WHAMMY of vitamin C fun.
Basically, my Orange, Ginger & Turmeric Smoothie recipe gives your immune system superpowers.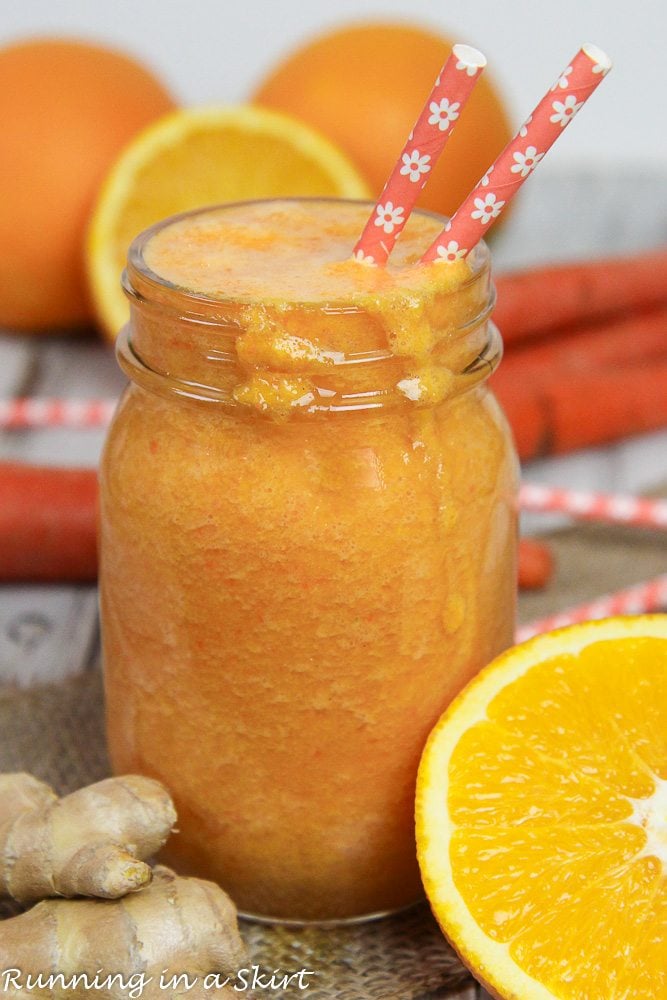 I also added two more unique ingredients to this smoothie which help with all kinds of things including reducing inflammation... ginger and turmeric! Both of these foods are filled with antioxidants which help your body stay healthy. If your body has inflammation (most of us do!) you are more likely to have chronic health problems so finding ways to reduce it can improve your overall health so much.
Plus the ginger adds a subtle spice to the smoothie, which I love!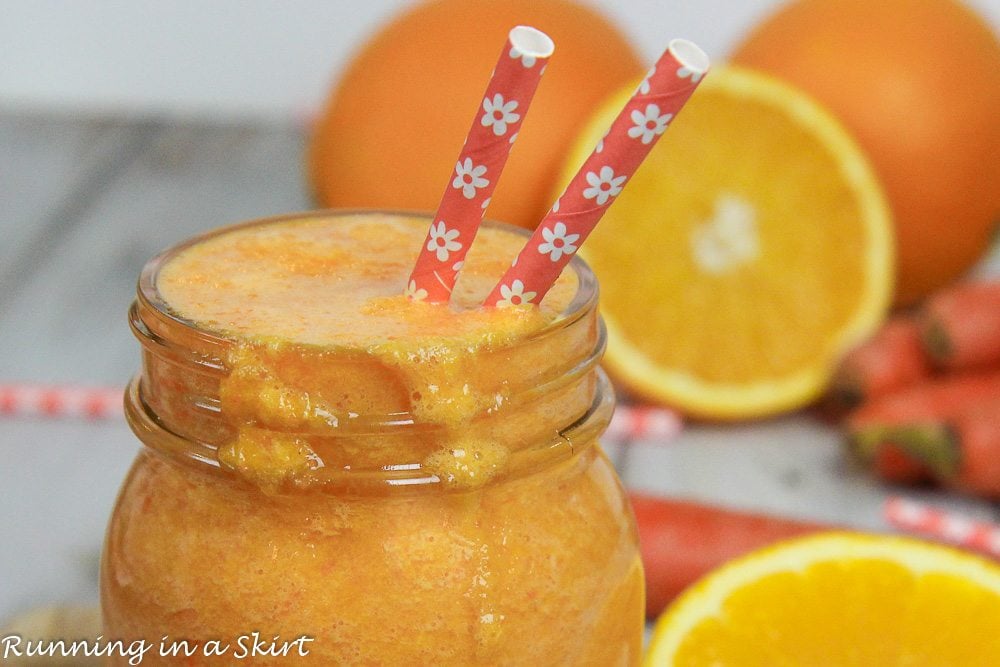 This smoothie is an all-around winner... it looks like an orange dream... it takes amazing AND it's filled with all sorts of goodness to fight off the flu, a cold, or whatever another crud you come in contact with.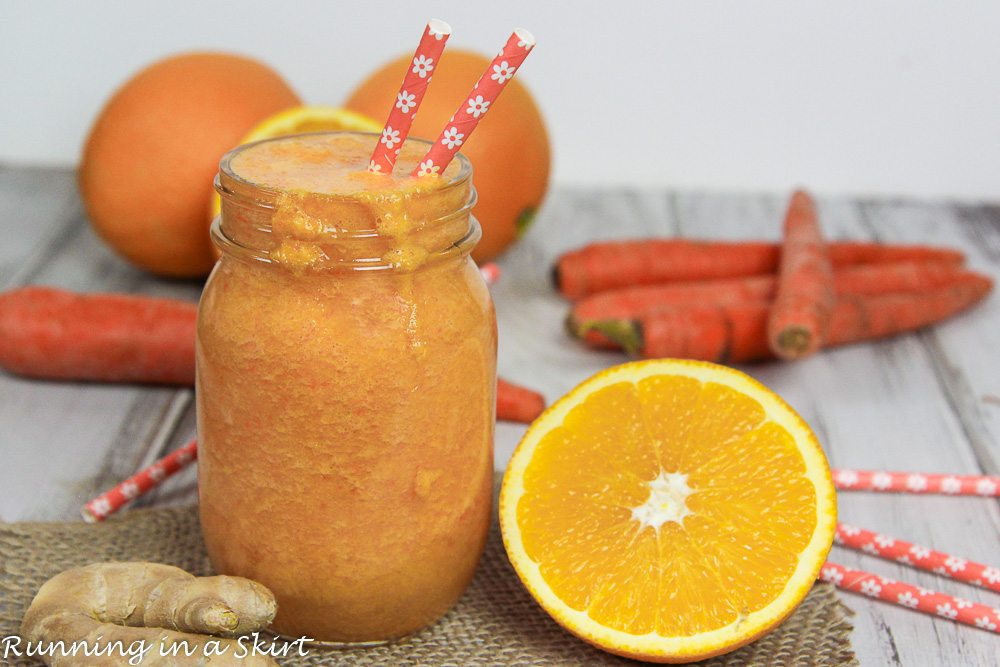 I hope you'll get a chance to try my tasty Orange, Ginger & Turmeric Smoothie recipe. It's a vitamin-packed, immune-boosting, anti-inflammatory gem of a drink. Give it a try and let me know what you think! And sending healthy vibes your way... I hope none of you catch what's going around!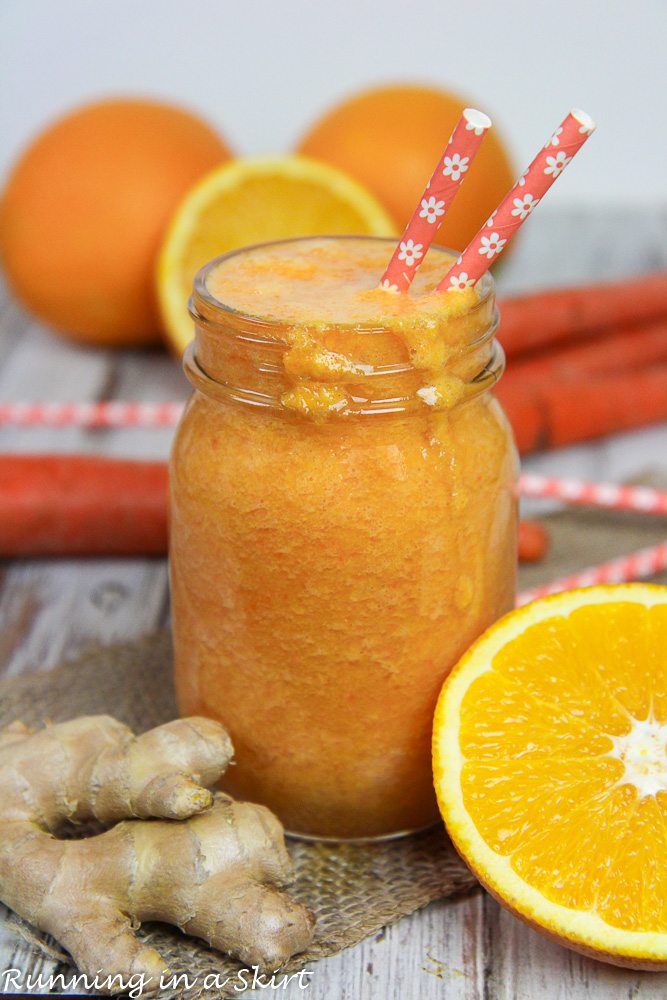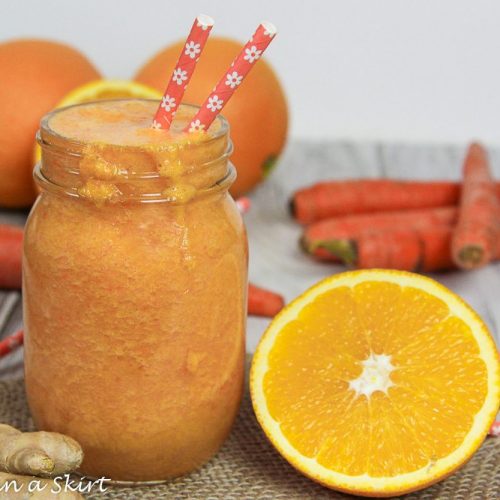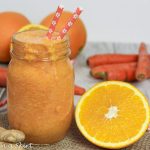 Orange, Ginger & Turmeric Smoothie
An immune boosting, anti inflammatory smoothie you'll love!
Ingredients
2

small

oranges

,

peeled and sectioned

1

small

carrot,

roughly chopped

½

cup

frozen pineapple

½

teaspoon

fresh minced ginger

,

roughly chopped

½

teaspoon

turmeric

¼-1/2

cup

coconut milk
Instructions
Add all ingredients to a high speed blender and mix until smooth. Start with the small amount of coconut milk and add enough to get the blender moving.
Nutrition
Calories:
174
kcal
Carbohydrates:
41
g
Protein:
3
g
Fat:
2
g
Saturated Fat:
1
g
Sodium:
36
mg
Potassium:
627
mg
Fiber:
8
g
Sugar:
30
g
Vitamin A:
8833
IU
Vitamin C:
145
mg
Calcium:
131
mg
Iron:
1
mg
Pin for later!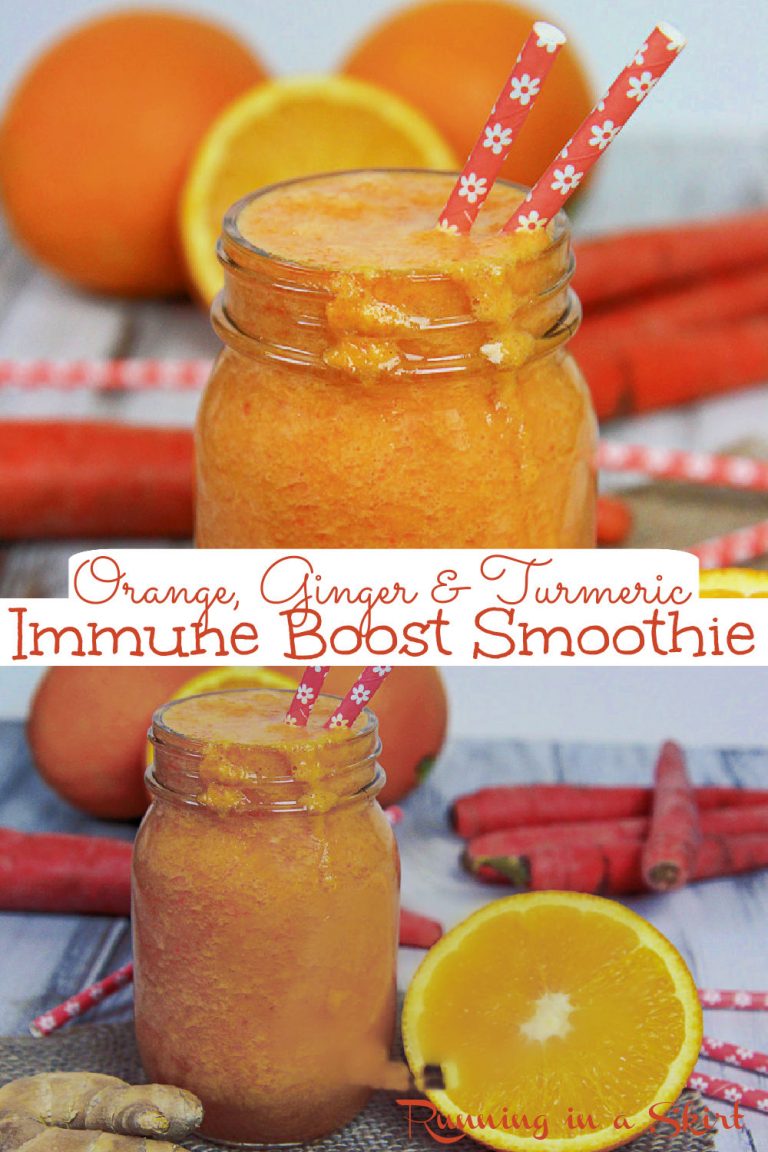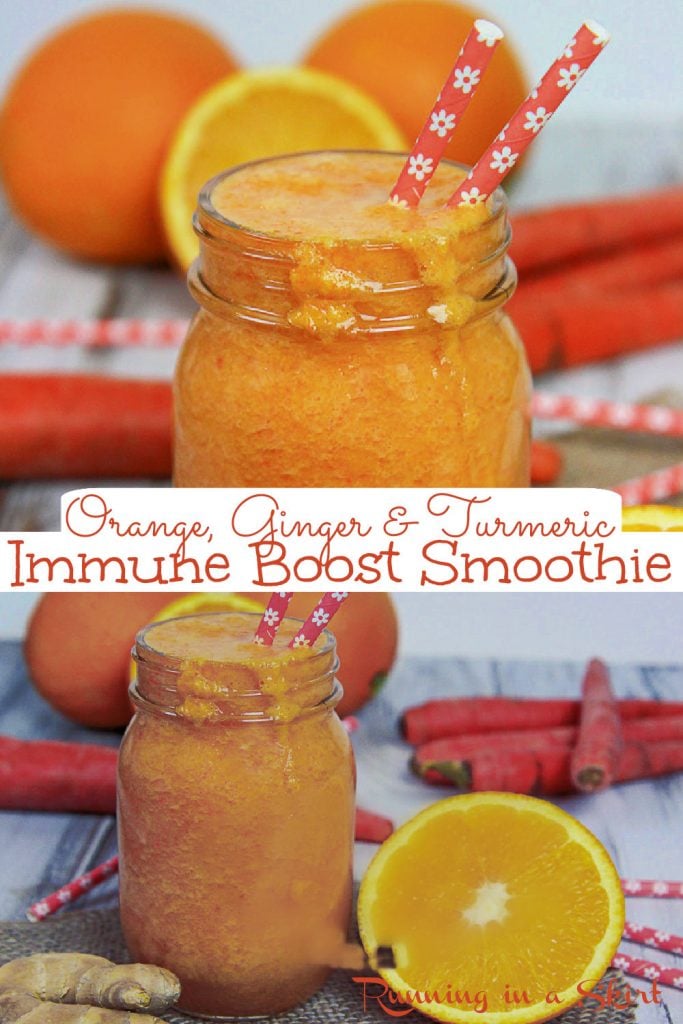 Thanks for stopping by today! Tomorrow I'm sharing another one of my favorite salmon recipes.
Your turn!
Have you gotten sick this year?