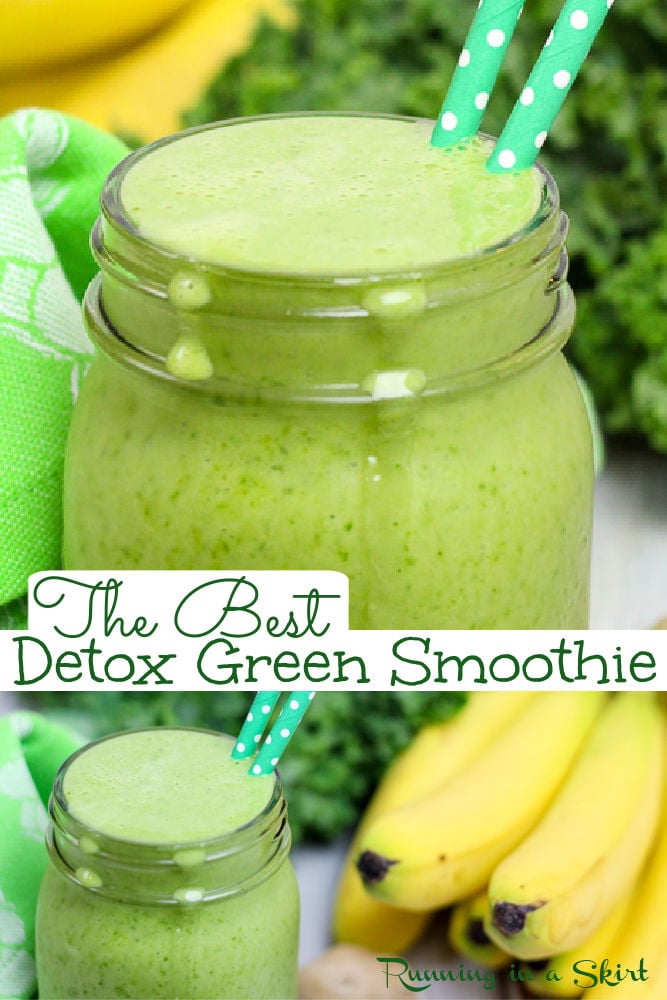 This is the Best Green Detox Smoothie recipe! It's filled with vitamin-packed tropical fruit like pineapple and banana plus kale for loads of nutrients. Plus it has some added anti-inflammatory secret ingredients like ginger and cinnamon. This vegan smoothie is great for breakfast, lunch, or a snack and tastes amazing too.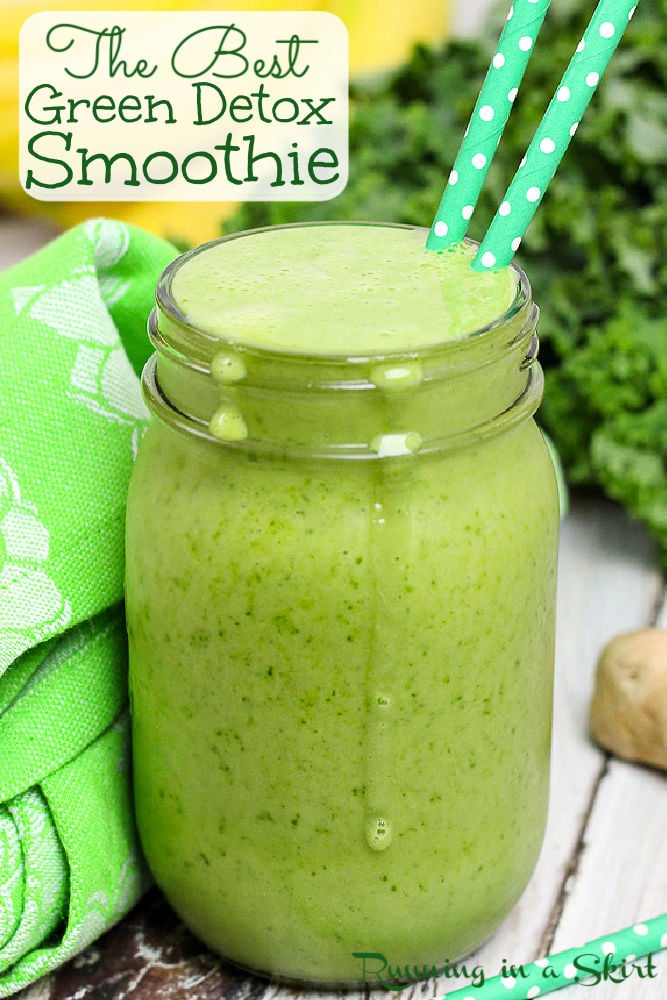 Green Detox Smoothie Recipe
You don't have to raid the supplement cabinet to find the best Green Detox Smoothie recipe. Making healthy smoothies at home can be easy and you can find everything you need for a nutrient-dense detox... without a lot of fuss with this smoothie! Most of these ingredients you might already have in your pantry or fridge. No need for a fancy juice or cleanse.
I've been all about re-setting my eating habits this January and incorporating even more whole food that is nutrient-dense into my diet. It's easy to fall into a rut over the holidays, but comforting to bring back to basics in the New Year. Green smoothies like my Kale Pineapple Detox Smoothie are the perfect place to start.
This smoothie starts with notes of tropical flavors from pineapple and banana and then gets a huge dose of nutrients from kale. I finish it off with two surprise ingredients that make it more of a detox smoothie... ginger and kale!
Plus it's naturally vegan, dairy free and gluten free.
What makes this a Detox smoothie?
Using the word detox can be a bit controversial and I honestly don't believe in those detox diets you see all over the internet with expensive supplements. I also feel like an entire smoothie cleanses or detox can be a bit harsh. I think the best way to detox or clean up your diet is going back to the whole, nutrient-rich foods like the ones in this smoothie plus keeping the rest of your diet clean. If you are looking to resetting your diet with less processed food for a bit of a detox... this is a way to do it.
I also love that this smoothie includes ginger and cinnamon... making it even more nutrient-rich. Even though I don't believe in the traditional juice detox this green smoothie can help you slim down, feel less bloated, and give you a flatter belly. Make sure to drink it along with lots of water for the best results.
Does this green smoothie actually taste good?
This smoothie will knock your socks off with the gorgeous green color and ingredient list that is super healthy! You'll be shocked that this smoothie actually tastes DELISH. Whether you are looking for the ultimate healthy smoothie to add vitamins to your routine or something for detox or weight loss this delightful smoothie is perfect.
Plus you can enjoy a hearty portion for less than 200 calories making it a great option for those looking for weight loss or lightening up their diet. Enjoy this smoothie as breakfast, lunch or a snack.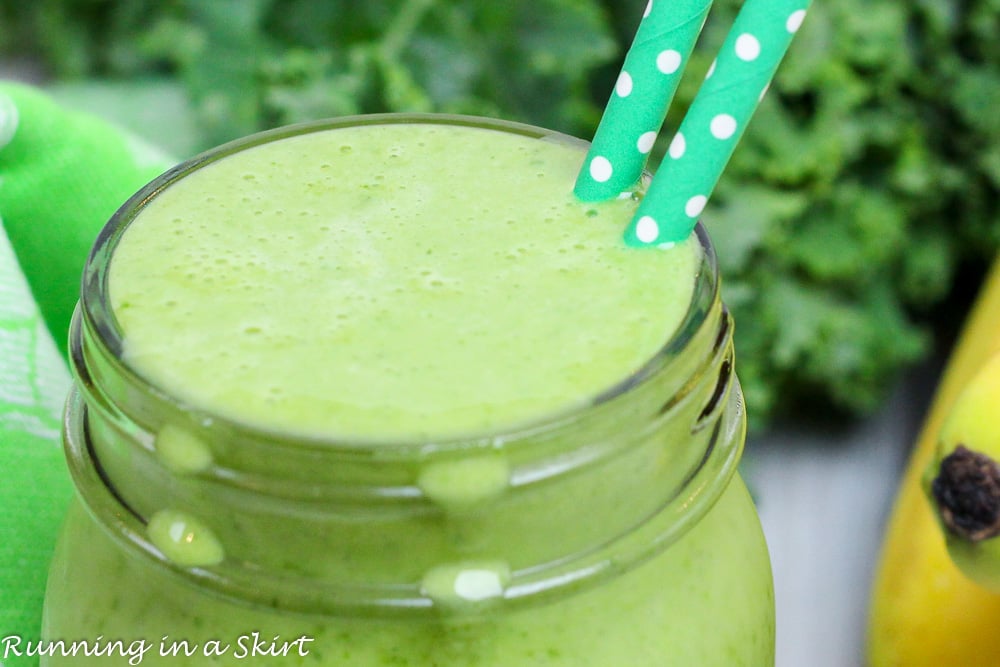 Ingredients:
The ingredients in this Green Detox Smoothie are simple, but all there for a purpose. The ingredient list is perfect for wanting to look and feel your best!
The ginger and cinnamon may sound unusual, but they both add great flavor and nutrients. Here's your simple ingredient list.
Kale: If you need a vitamin boost after an indulging weekend or week, kale is the ideal place to start. Kale is a leafy green vegetable from the same family as broccoli, cabbage, and brussels sprouts. A handful of kale gives you a mega-boost of vitamins that you can't beat. It's the ultimate superfood. Kale is high in vitamins K, B6, A, AND C. It also has antioxidants. Just one cup of kale has 134% of your daily recommended serving of vitamin C.
Frozen Pineapple: Pineapple is low in calories but also full of vitamin C to boost your immune system during a rough time. It is also known to reduce inflammation, which is great for detox. It also contains an enzyme known as bromelain which can aid in digestion. Use frozen fruit so you will not have to water down your smoothie with ice. You can either buy the pineapple frozen or cut your own fresh pineapple and freeze it. Pineapple is a great addition to the smoothie because it tastes so good!
Frozen Banana: Banana has potassium which is great for sore muscles. It also has vitamins A and vitamin B-6 making it a great addition! Using a frozen banana gives the smoothie a smooth and creamy texture without adding ice. It also is very filling since it's high in fiber!
Almond Milk: Use any non-dairy milk you like but low-calorie almond milk is always a great choice. I like to use unsweetened almond milk in my smoothies.
Ginger: Fresh ginger gives this smoothie a bit of spice, but it adds lots of detox qualities! It both soothes the stomach and is anti-inflammatory.
Cinnamon: A bit of cinnamon adds some anti-inflammatory qualities to the smoothie.
This combination of flavors is not only good for you but tastes amazing too! It's remarkable how the sweet frozen fruit completely hides the flavor of the kale. This dreamy combination of ingredients is great for immunity and helps prevent cold and flu because it's filled with vitamins. You'd never know this was good for you!
Health Benefits of Ginger
Ginger root is the perfect detox food because it is full of health benefits including improving digestion, reducing inflammation, helping blood sugar levels, and can help cholesterol levels. It also can help with nausea, stomach aches, and even heartburn. It's the perfect natural detox food.
Health Benefits of Cinnamon
You might be surprised that cinnamon isn't just a yummy holiday spice! It has a surprising health punch including having anti-inflammatory properties, can reduce blood sugar levels, and can help reduce cholesterol. It's great for the liver and therefore detox.
Directions:
This is a really easy recipe to throw together any time of day.
Pull out all your ingredients including kale, pineapple, banana, milk, ginger, and cinnamon.
Put them in your blender and mix until smooth. You'll want a nice and creamy consistency without any chunks.
Serve in a mason jar!
Drink immediately as this smoothie doesn't store or save well.
I love this package of mason jars with adorable straws.
What's a good blender for making smoothies?
You'll need a good blender to make this smoothie! I have Ninja blender and have used it for years with a lot of success. This one HERE is my personal favorite and it's NOT crazy expensive (less than $100.) It blends well and gives you a creamy smoothie with ease. <--- Amazon Affiliate Link
Here are some other options: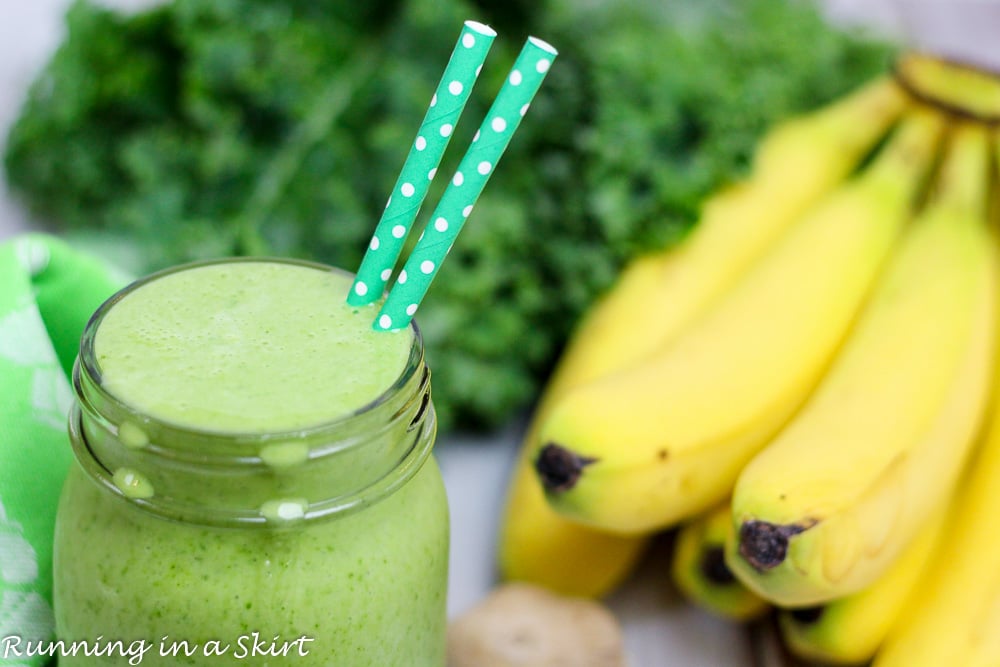 Variations & FAQ
I love this Green Detox Smoothie recipe as written, but here are some fun ways to mix it up.
You can substitute other tropical frozen fruits for a similar flavor. Mango is another great choice.
Mango can also be substituted for the banana if you are looking for a banana-free detox smoothie.
Spinach can be subbed for the kale.
Brighten it up with lemon juice or lime juice.
Make it more veggie-forward by adding celery or cucumber.
You can use any dairy-free milk to keep this smoothie light in calories. Coconut milk is also delicious if you want to stick with the tropical flavors. To make the smoothie even lighter you can use coconut water.
Make it a protein smoothie by adding your favorite protein powder or vegan protein powder.
Add more protein naturally by adding greek yogurt or chia seeds.
Is this smoothie healthy?
YES! It's loaded with natural vitamins and comes in under 200 calories a serving. It has vitamin C, potassium, fiber, vitamin A and calcium. Some smoothies are made with non-natural ingredients and aren't the healthiest choice, but this one is. It's the perfect way to naturally feel better and "detox" your body in the right way. The full nutrition details are on the recipe.
Do green smoothies help you lose weight?
They can but you have to be careful with adding extra calories to your diet. You might need to do then as a meal replacement if you are counting calories as part of your program. The leafy greens in green smoothies can help your digestion system and help you feel full because they have fiber. This Green Detox Smoothie is a great choice because it's full of vitamins from natural ingredients and can help you meet weight-loss goals.
Is it ok to drink a green smoothie every day?
YES! This green smoothie is a great way to get your daily recommended fruits and vegetables. If you are eating it daily I would mix up the fruits and leafy greens to vary the vitamins you get. More variety is always better in your diet.
Can I make this smoothie ahead of time?
I wouldn't make the entire smoothie ahead of time but you can prepare the ingredients before you want to make it. For meal prepping measure out all the ingredients in your smoothie except the milk and put it in a ziplock bag. Store it in your freezer and when you are ready to make it just add it to your blender with the milk. Serve it fresh from the blender because it does not store well.
This smoothie is simple and delicious! You'll be surprised at how delicious and refreshing it tastes even with all of the detox health benefits. It's hard to find a green smoothie that actually tastes good and this is it. My Green Smoothie Detox recipe will have you coming back for more. I hope you love this smoothie as much as my family does.
More Detox Smoothies to Enjoy:
If you make this recipe, I'd love to hear what you think! Leave a comment and a star rating ★ below. Make sure to follow me on Instagram, Pinterest, and Facebook too!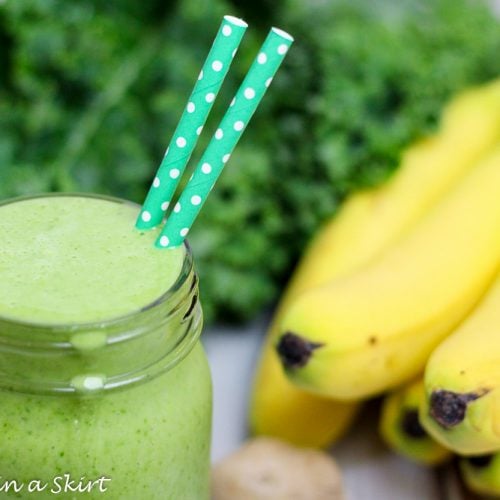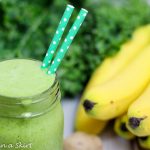 The Best Green Detox Smoothie
This is the Best Green Detox Smoothie recipe! It's filled with vitamin-packed tropical fruit like pineapple and banana plus kale for loads of nutrients.  Plus it has some added anti-inflammatory secret ingredients like ginger and cinnamon.  This vegan smoothie is great for breakfast, lunch, or a snack and tastes amazing too.
Ingredients
1

cup

unsweetened almond milk

1

banana,

frozen

½

cup

pineapple

,

frozen

1

teaspoon

fresh ginger,

grated

1

handful chopped kale

⅛

teaspoon

cinnamon
Instructions
Put all the ingredients in a blender and mix well.
Notes
This green smoothie is so tasty!  Double or triple the recipe to serve your family.
Nutrition
Calories:
198
kcal
Carbohydrates:
45
g
Protein:
6
g
Fat:
4
g
Saturated Fat:
1
g
Sodium:
353
mg
Potassium:
841
mg
Fiber:
5
g
Sugar:
23
g
Vitamin A:
6769
IU
Vitamin C:
130
mg
Calcium:
411
mg
Iron:
2
mg
Pin for later!