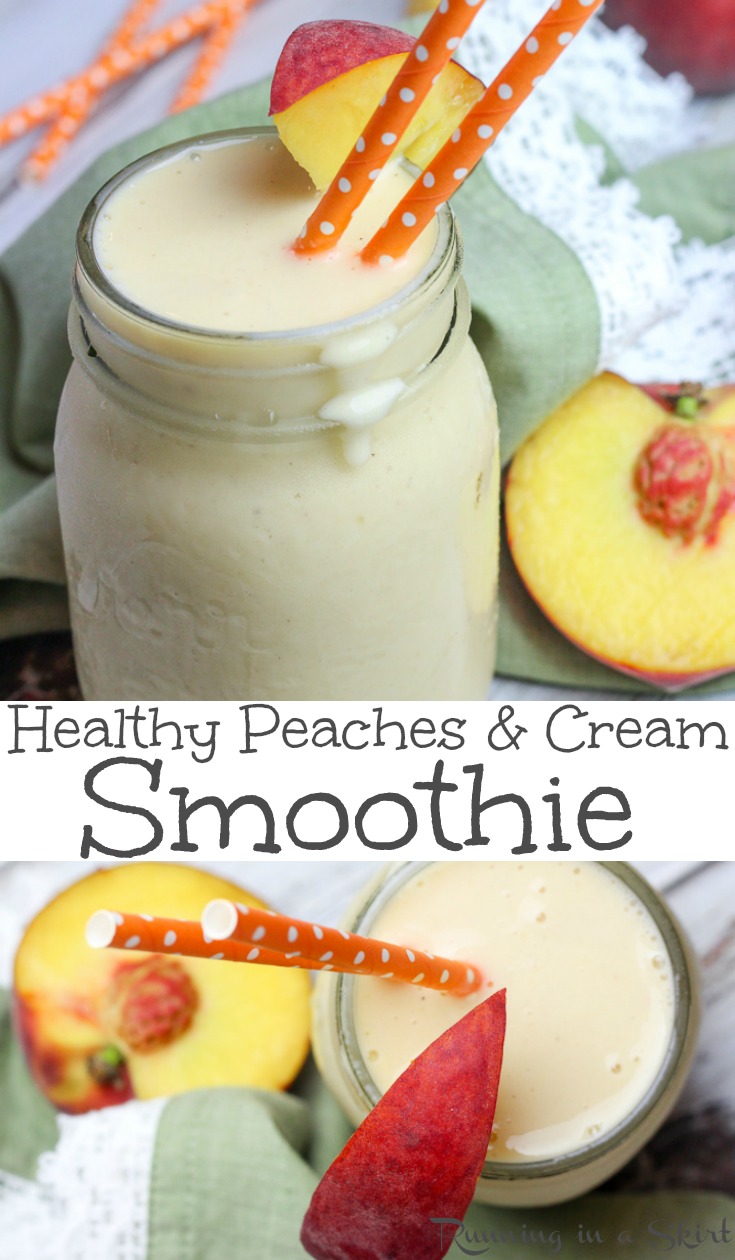 This Peaches and Cream Smoothie recipe features sweet peaches and creamy Greek yogurt to make the perfect healthy summer smoothie. This creamy treat is the perfect summertime snack!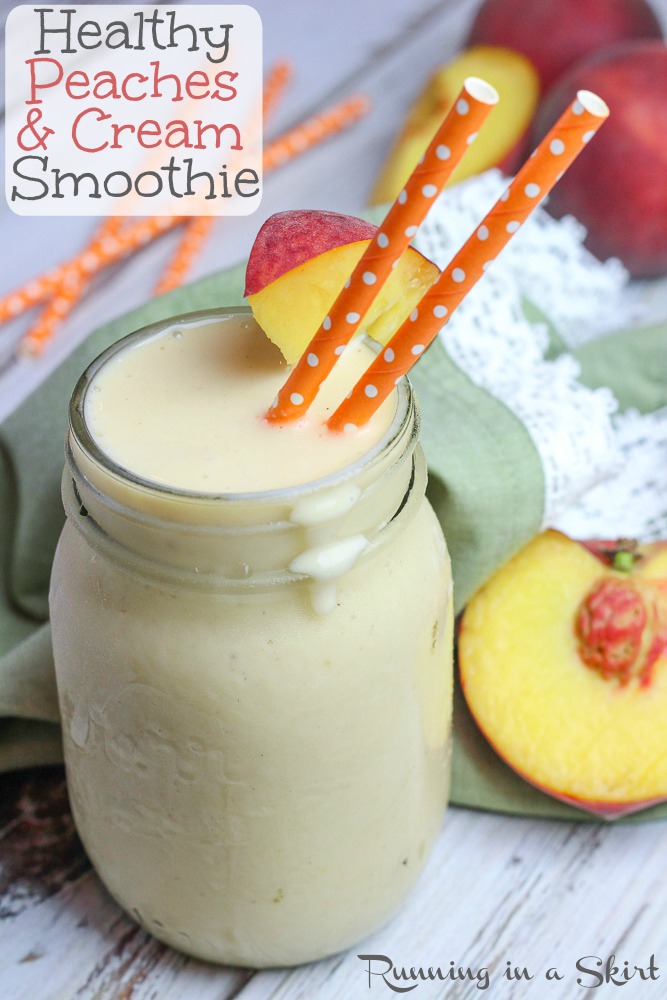 Peaches and Cream Smoothie
I've had a long-standing love affair with peaches... long before I created this healthy Peaches and Cream Smoothie recipe. My Grandmother Bea used to buy them by the wicker baskets from the Farmer's Market just before we came up for our summer trip to Tennessee from Florida as kids. As soon as my family arrived at her house I remember her slicing them perfectly in little glass bowls for us to eat. After eating some fresh she'd keep slicing and add sugar to another batch and put them in the fridge. After sitting for a few hours they were even sweeter and she'd serve them after dinner with vanilla ice cream for a perfectly Southern peaches and cream treat. I could never get enough.
After college, I moved to Peach Country. I grew up in Florida, but my first job after I graduated was at a small TV station in Macon, Georgia. I spent the entire two years I lived there absorbing TV knowledge like a sponge and trying to get my next job in the business. One of my favorite parts of my time there was actually living in a place that was so well known for having such sweet peaches.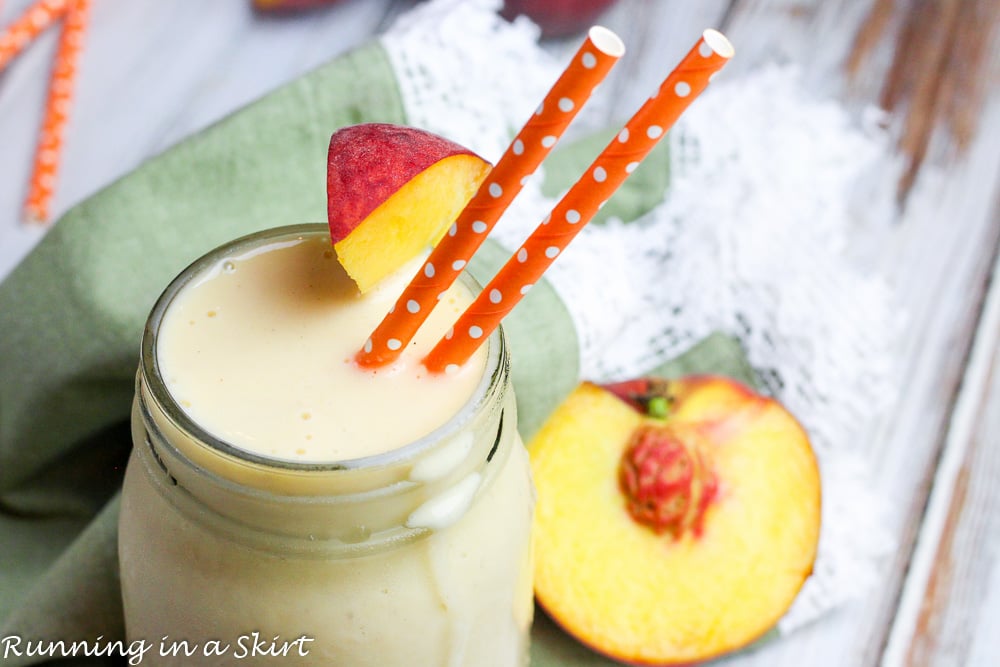 I had many assignments that consisted of covering peach festivals or going out to peach farms for stories. One of the farms I would visit had peach ice cream, peach milkshakes, peach jelly, peach EVERYTHING! It was basically a peachy good time. <--- sorry, I can't help the stupid puns sometimes…
I would make any excuse I could think of to cover a story there. It was such a pretty drive out to the country lined with fragrant peach trees and then you finally got there you got all that yummy peachy food. It gave me a whole new appreciation of my favorite furry stone fruit.
So anytime I make something with peaches, I'm reminded of my time in Macon or my Grandmother's sweet fruit. Don't you love how food can transport you back in time?
Why You'll Love this Healthy Peaches and Cream Smoothie recipe...
This Healthy Peaches and Cream Smoothie recipe is a little more modern than my Grandmother's recipe but it takes me right back. It's packed with sweet plump peaches, greek yogurt for the cream, and a dash of cinnamon for flavor. It's creamy, delish, and super easy to make because it's only 5 ingredients.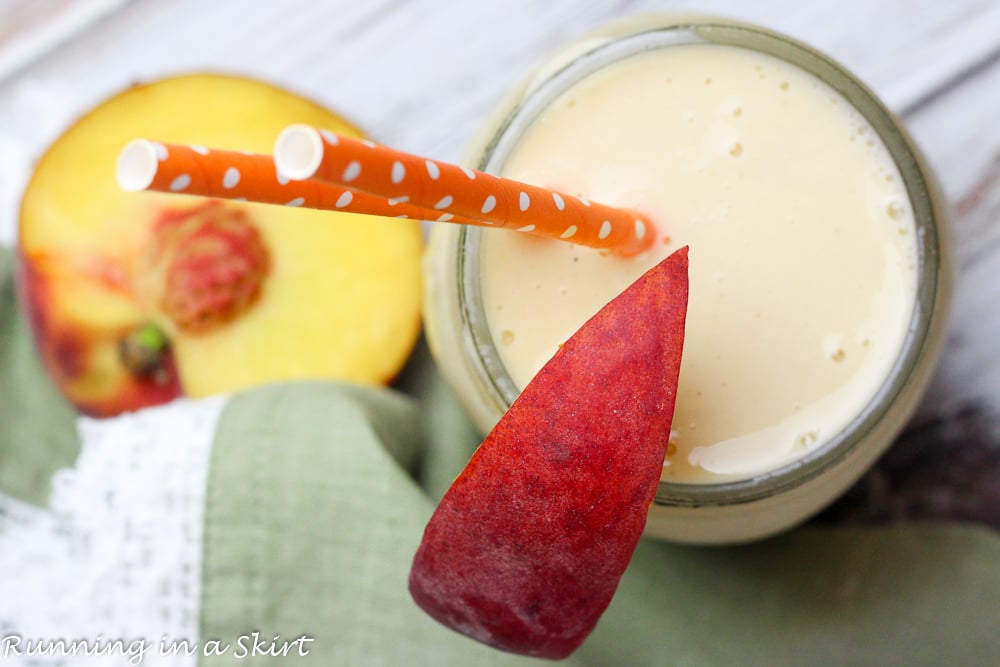 Freeze summer ripe peaches or buy the ones already frozen in the grocery store... either way, it's a winner. Then you just have to blend the other four ingredients until smooth.
I find the best summer recipes are really the easiest ones. Don't you?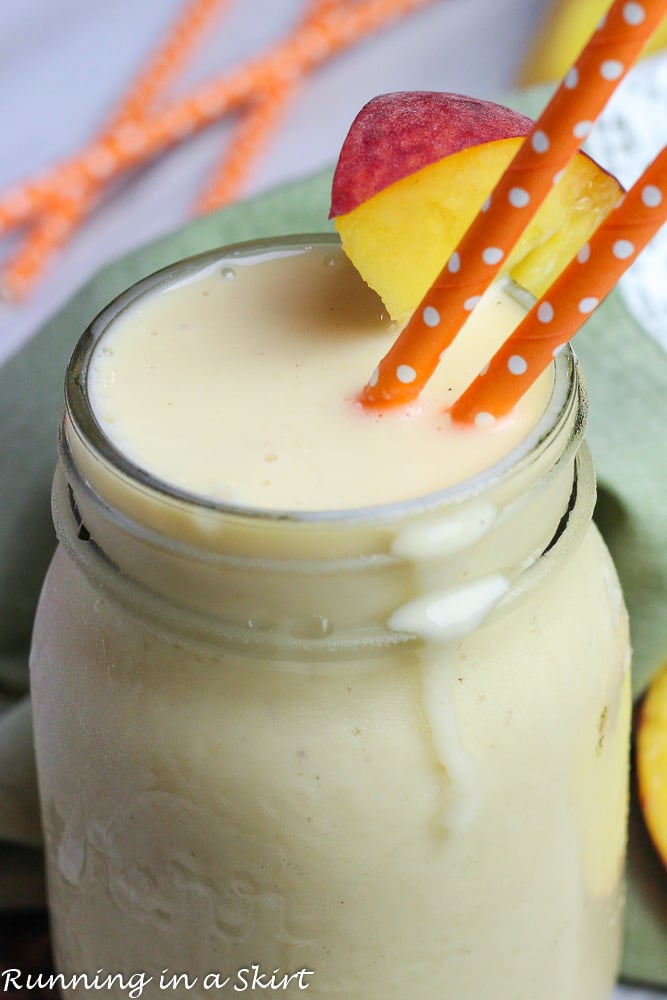 So I'm totally channeling my inner former Georgia girl with this one! Just call me a regular ole' Georgia Peach.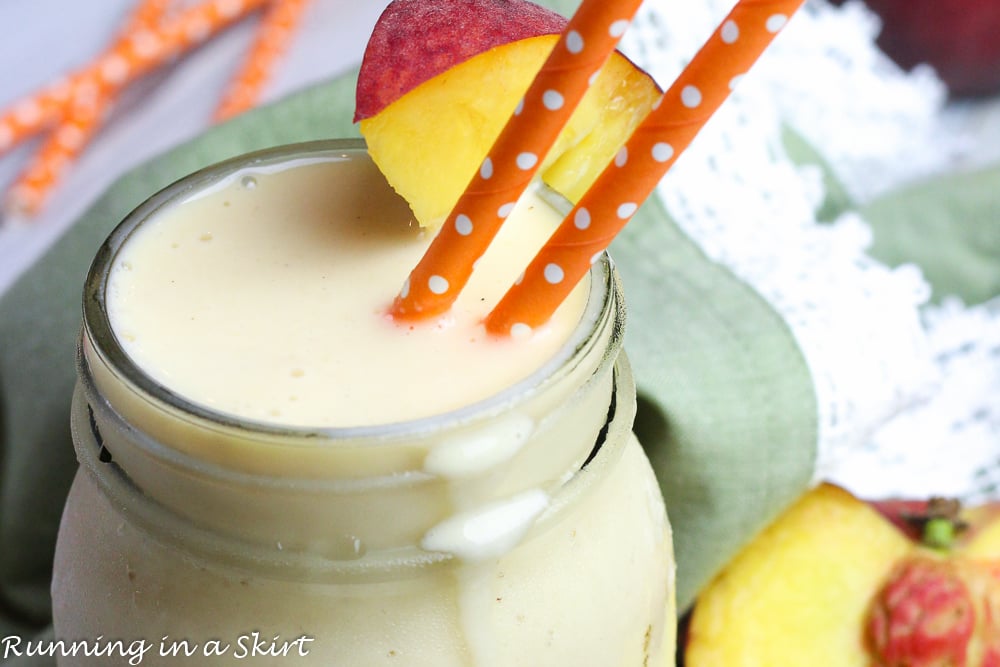 I really crave that flavor this time of the year, and this Healthy Peaches and Cream Smoothie recipe really hits the spot! I hope you enjoy it as much as I do.
Pin for later!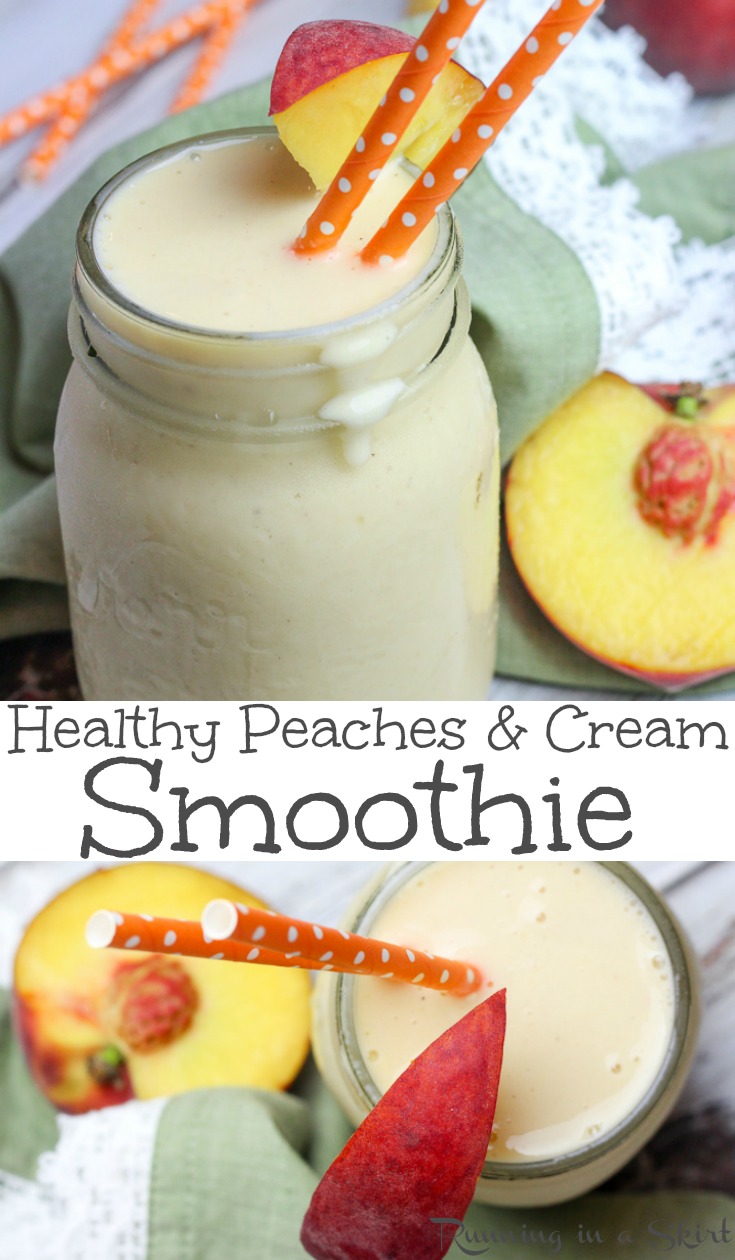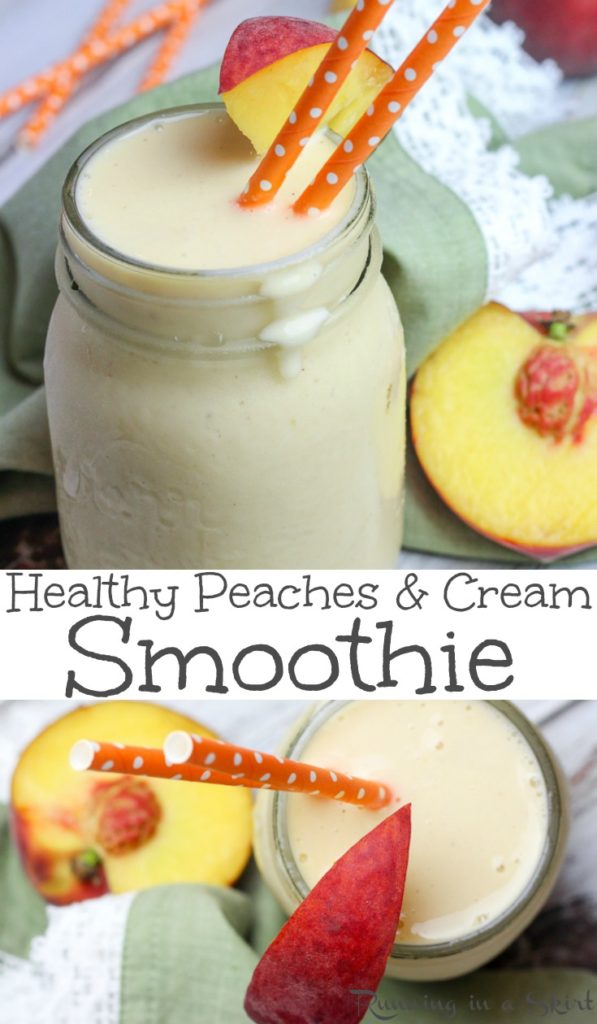 Love peaches? Also try...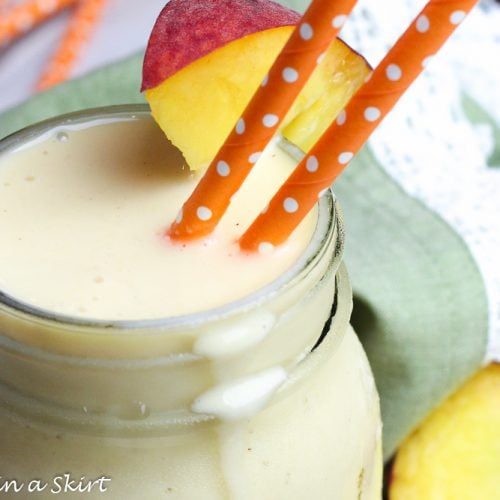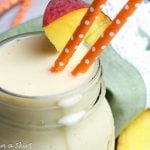 Healthy Peaches and Cream Smoothie recipe
This Healthy Peaches and Cream Smoothie recipe is perfect for summer!
Ingredients
3

cups

frozen peaches

½

cup

vanilla greek yogurt

¾

cup

unsweetened vanilla almond milk

dash vanilla extract

dash cinnamon
Instructions
Put all ingredients in a blender and mix well.
Notes
You can substitute your favorite type of milk!  To make vegan substitute your favorite non-dairy yogurt.
Nutrition
Calories:
216
kcal
Carbohydrates:
45
g
Protein:
13
g
Fat:
3
g
Saturated Fat:
1
g
Cholesterol:
4
mg
Sodium:
278
mg
Potassium:
687
mg
Fiber:
5
g
Sugar:
40
g
Vitamin A:
1004
IU
Vitamin C:
20
mg
Calcium:
243
mg
Iron:
1
mg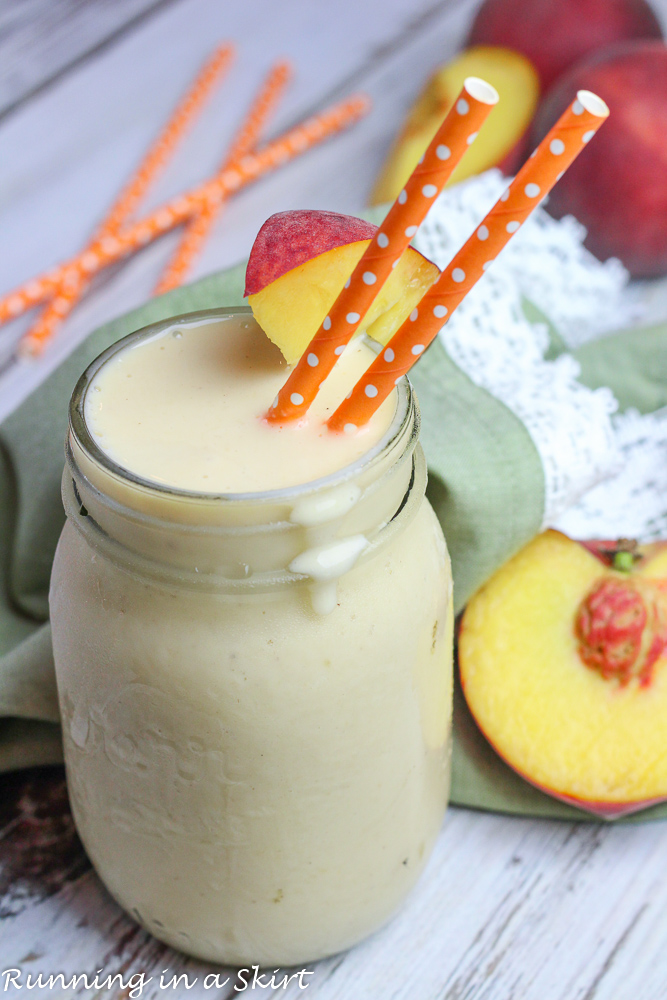 Your turn!
Where else have you lived?