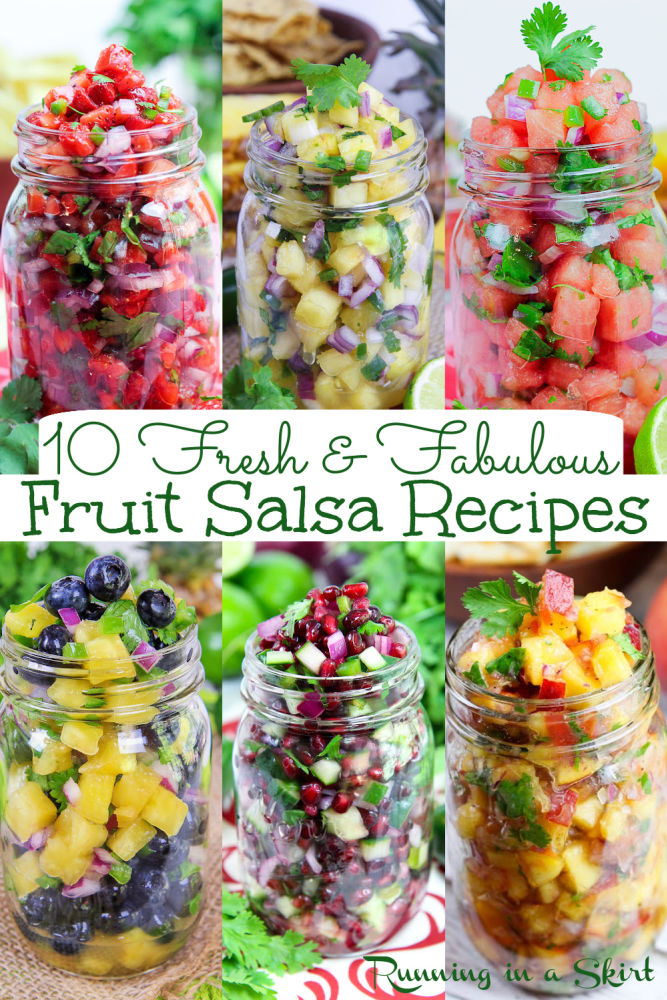 Looking for fruit salsa recipes? Here are 10 Fresh and Fabulous Fruit Salsa recipe ideas that will have you enjoying this sweet twist on chips and salsa all summer long. You'll find Pineapple Salsa, Mango Salsa, Strawberry Salsa, and more! Plus a template recipe to make fruit salsa from any type of fruit. Serve these at your next bbq, cookout, or weekend dinner.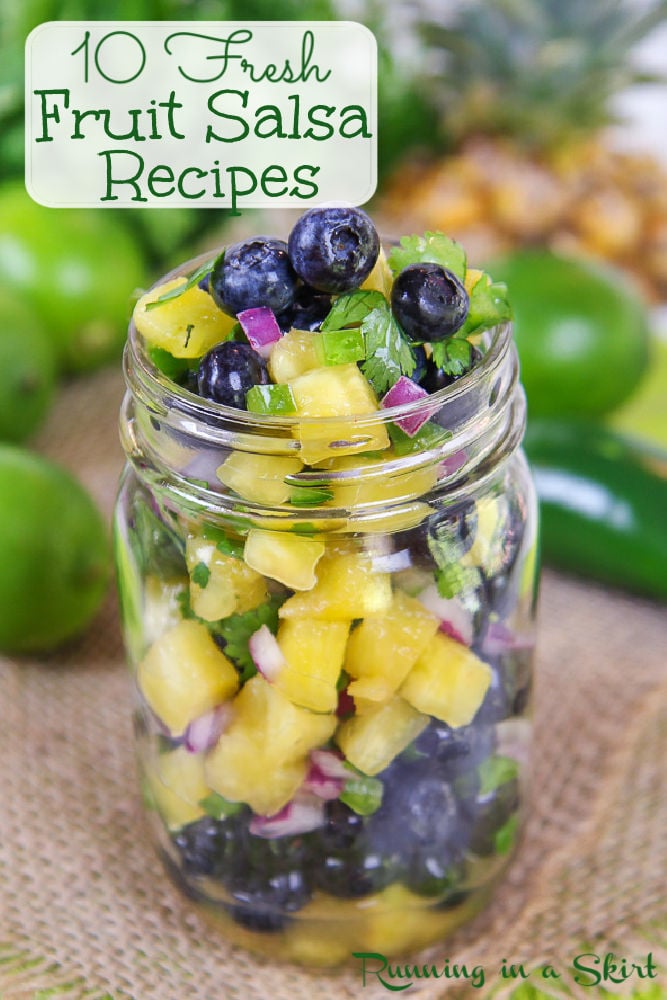 Fruit Salsa Recipes
I love these fruit salsa recipes. Making fruit salsa is one of my favorite parts of summer because of the combination of fresh fruit and classic Mexican salsa flavors like cilantro and lime speak to my salsa-loving heart. If you've just been making Classic Tomato Salsa, you are missing out. The sweetness of fruit paired with all the salsa ingredients you know and love, make these fruit salsa recipe ideas simply irresistible.
Fruit Salsas are fabulous to eat on their own with chips or pair perfectly as a topping for tacos, burritos bowls, shrimp, fish, and more. The possibilities to use it are endless!
Plus these recipes fit into so many diets. They are vegetarian, vegan, dairy-free, low-carb, clean eating, and gluten-free!
I've been making fruit salsa for over a decade on Running in a Skirt and over the years have collected the absolute BEST collection of fruit salsa recipes. We're talking classics like Pineapple Salsa and Mango Salsa, but also some unexpected finds like Strawberry Salsa, Peach Salsa, and Watermelon Salsa. This collection hits all the shining stars in the fruit salsa world. But if you want to make a fruit salsa that's not listed here, I'm including a bonus recipe template to use almost any fruit in a fruit salsa. How about a kiwi salsa, summer melon salsa, or even an orange salsa? Just follow my basic recipe below to bring those ideas to life.
What is fruit salsa made of?
Fruit Salsa is made with the same ingredients as basic salsa or pico de Gallo recipe but substitutes the fruit for tomatoes. Here's what else you will need. It's only 5 basic ingredients. You'll need a sharp knife to chop the ingredients.
Fresh Fruit: You'll need sweet fruits that are soft, but not mushy to make the salsa. Some great options are strawberries, pineapple, watermelon, mango, peach, cantaloupe, or orange. Fruit that is too hard like apples or pears, will not work great. The same goes for super soft fruits like bananas or raspberries. Those will not work well either.
Cilantro: To get the classic salsa flavor, you need fresh cilantro. There is no great substitute. You can't use dried.
Red Onion: Red or purple onion gives you that savory bite that a salsa needs. You can also use scallions or green onions.
Lime: Freshly squeezed lime juice is the best! You can use lemon juice, but the flavor just isn't the same.
Jalapeno: You'll need some sort of pepper to give the salsa some depth. I like to use a seeded jalapeno. You can include the seeds for more heat. If you like mild salsa, you can substitute a mild green bell pepper.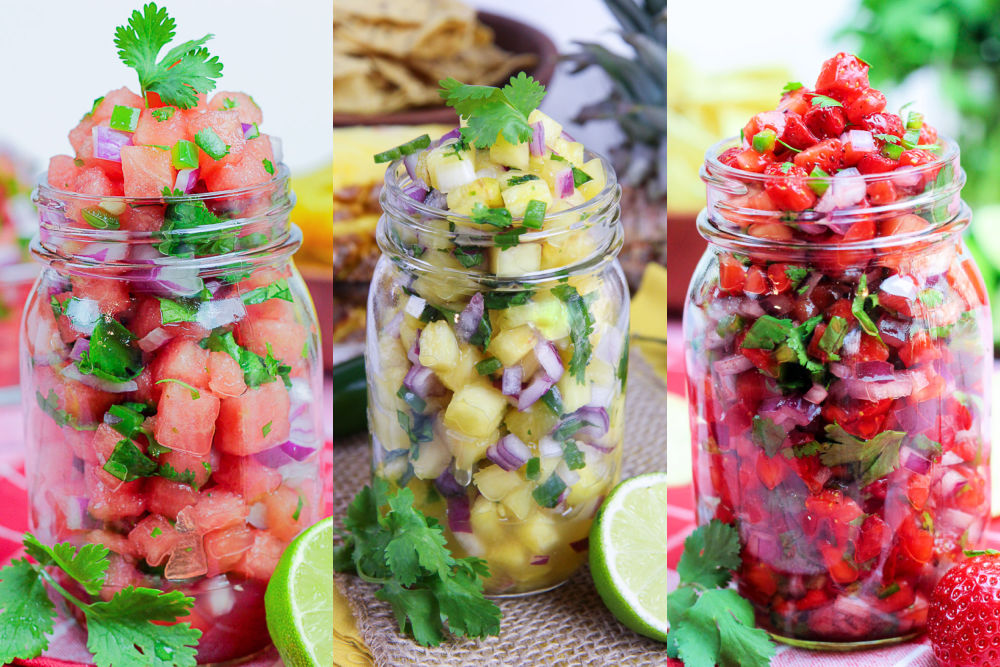 Why You'll Love This Fruit Salsa Recipe Ideas...
These fruit salsa recipe ideas use your favorite types of summer fruit! It's a great and unique way to use those plentiful summer fruits.
These recipes are simple and come together in less than 10 minutes with only 5-7 ingredients.
They are healthy and good for you.
You can use them in so many ways! They are great as an appetizer, snack or as a topping or garnish for a main dish.
Fresh fruit salsa is SO good.
What do you eat sweet salsa with?
I like to eat sweet salsa with the same tortilla chips as regular salsa. The salty and sweet combination is one of my favorites. You can also make special sweet cinnamon chips for the salsa. To make them, use a pizza cutter to cut flour tortillas into wedges. Brush them with olive oil and coat and sprinkle them with cinnamon sugar. Put them on a baking sheet in a single layer and then roast or bake the chips for 10-15 minutes in a 350-degree oven until crispy.
Sweet salsa is also a great topping or garnish for seafood, fish, chicken, pork, and more.
8 Fresh and Fabulous Fruit Salsa Recipes from Running in a Skirt
Click To Tweet
8 Fresh & Fabulous Fruit Salsa Recipes
Now that we know more about fruit salsa, let's dive into my 10 fruit salsa recipes, including a template recipe that will let you make your own fruit salsa flavor combinations.
Start with one of my favorite and first fruit salsa recipes. My fresh Peach Salsa is made with those gorgeous fresh peaches you can only get in mid-summer. The sweet fruit is reminiscent of mango salsa, but with a southern twist. This is an irresistible fruit salsa that celebrates the best of summer.
Serve it with chips, pita crackers, or my Cedar Plank Salmon with Peach Salsa or Mexican Quinoa.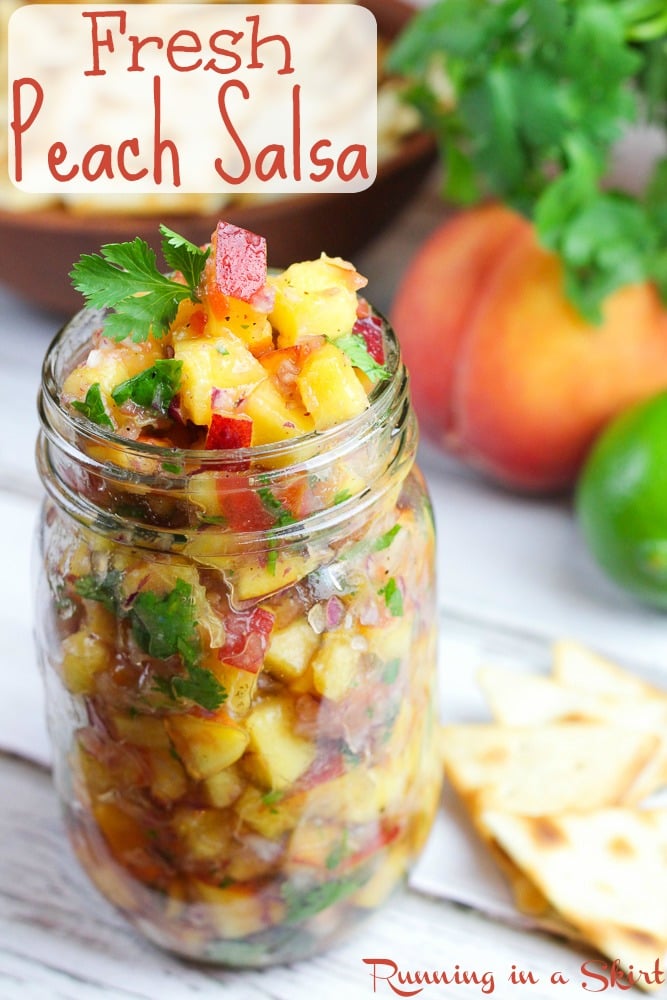 Watermelon Salsa is the perfect use for that giant watermelon you bought! This recipe is so tasty and unexpected. Serve it at your 4th of July party for a fun treat.
Serve it with chips, Blackened Mahi Mahi, or Blackened Swordfish.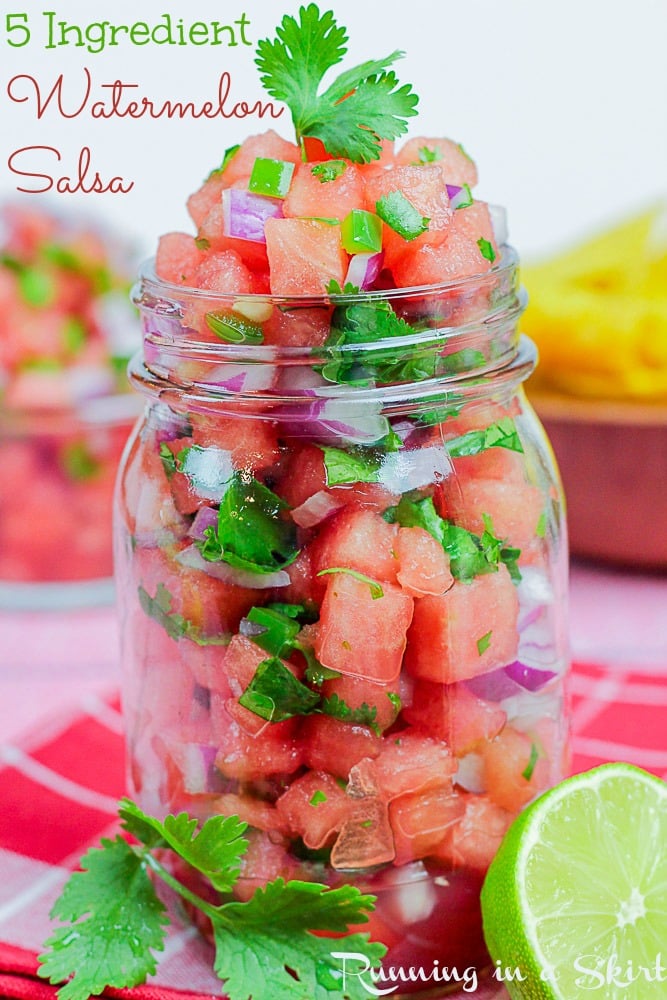 Pineapple Salsa is a classic fruit salsa recipe. This simple salsa uses fresh pineapple, cilantro, lime, red onion, and jalapeno pepper to bring the flavors to life. If you are just starting out with fruit salsa, this is a great one to make that's a crowdpleaser.
Serve it with Honey Lime Shrimp Skewers, Vegetarian Enchiladas, Vegetarian Nachos, or Sheet Pan Shrimp Fajitas.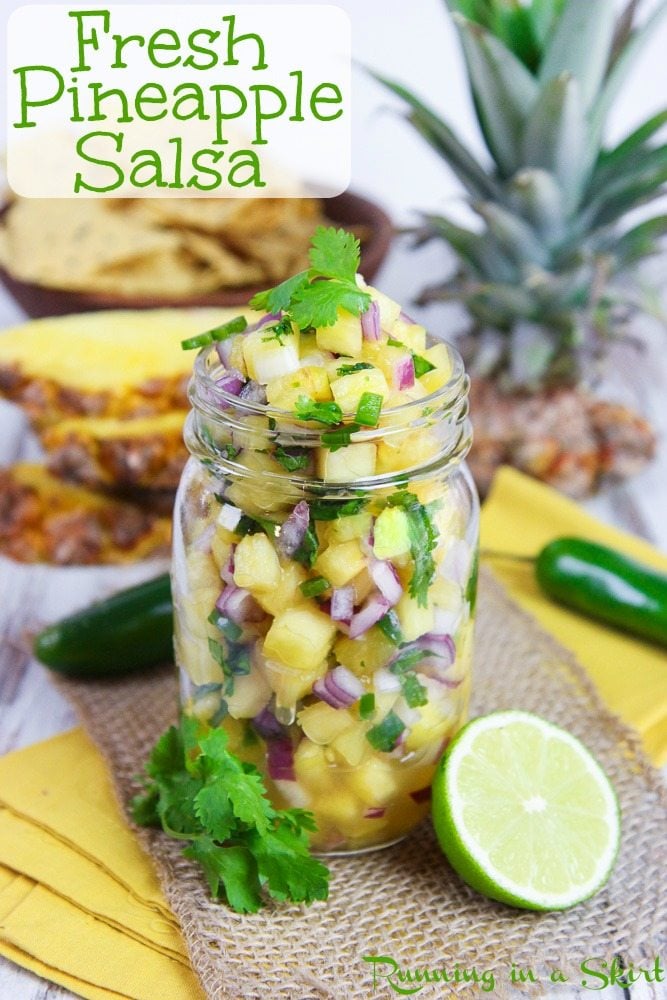 Strawberry Salsa is another fresh and vibrant fruit salsa. This less common fruit salsa still pairs perfectly with so many Mexican dishes. Make it when the strawberries are plentiful, ripe, and fresh. Serve this at Easter brunch or a baby shower or a bridal shower!
Serve it with Black Bean Quesadilla, Blackened Shrimp Lettuce Wraps, or Shrimp Burgers.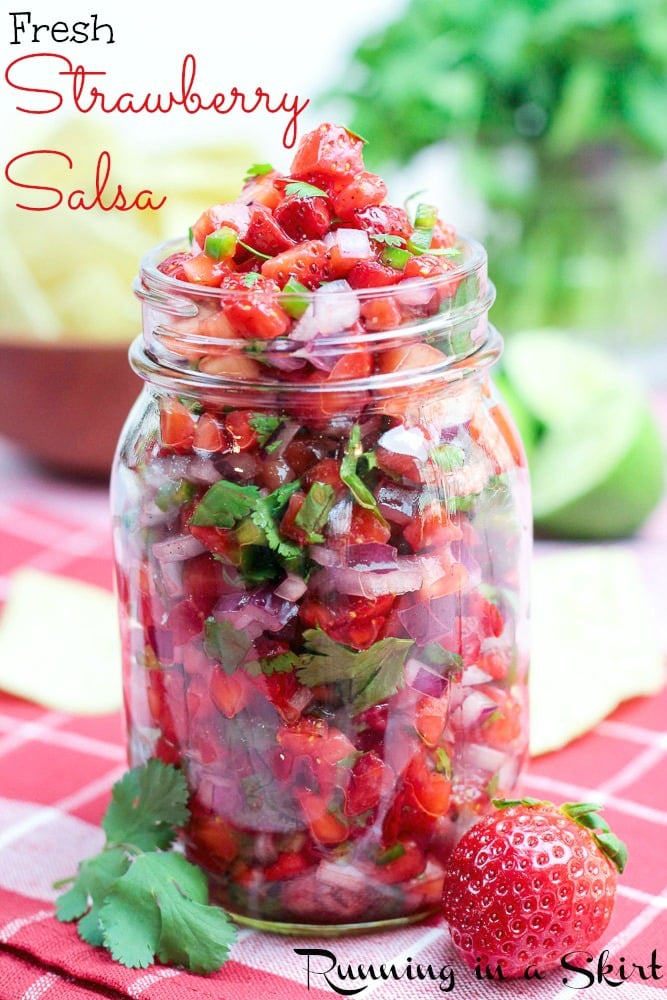 Looking for a unique fruit salsa recipe? Try my Pineapple Blueberry Salsa that features whole blueberries. The flavors in this are so good and the unexpected berries are so delicious. I love this salsa as a topper for fish.
Serve it with chips, crackers, Blackened Salmon, Seared Scallops with Coconut Rice, or Oven Roasted Salmon.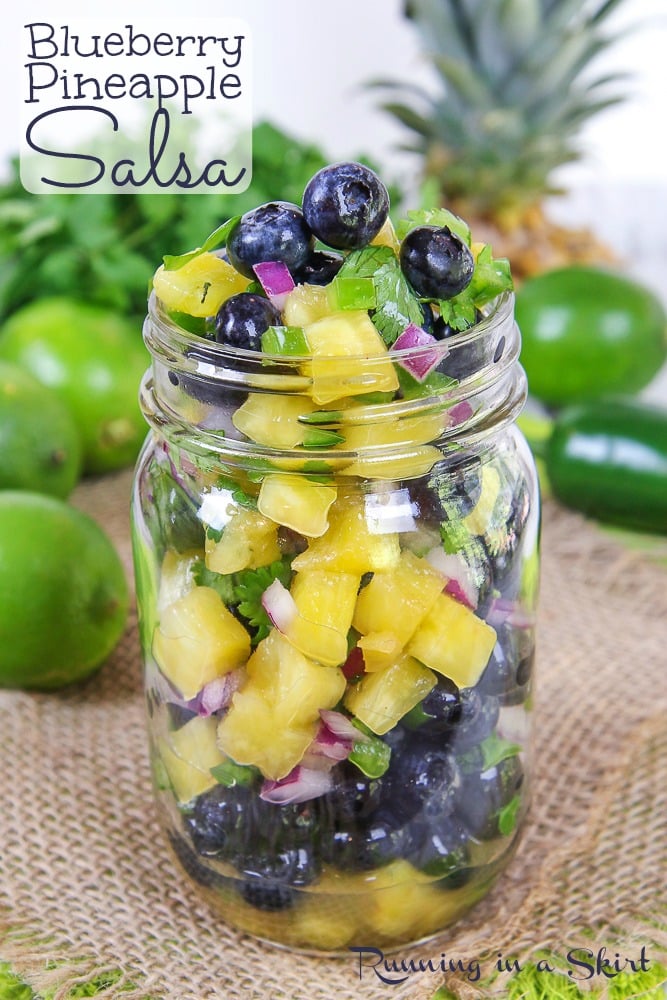 Mango Avocado Salsa is another classic fruit salsa that everyone will love. The combination of sweet mango and ripe avocado is simply dreamy. This extremely versatile fruit salsa goes with so many dishes and flavors, you can't go wrong with making this one.
Serve with chips, crackers, Shrimp Taco Bowls, Taco Stuffed Bell Peppers, or Taco Stuffed Mushrooms.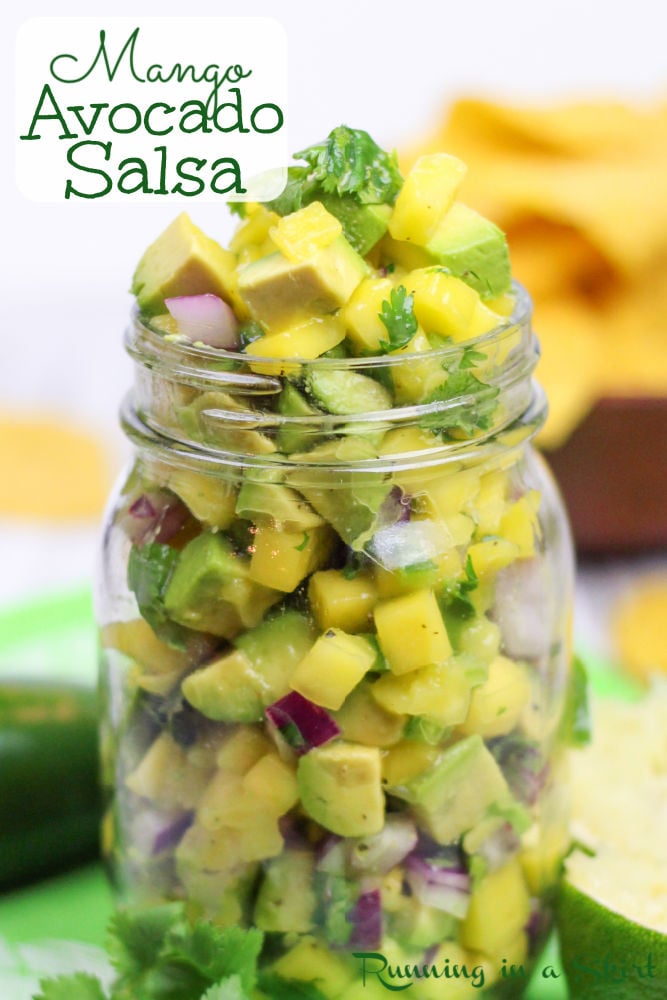 Here's another one at the top of the list of unique fruit salsa recipes. This unexpected Pomegranate Cucumber Salsa is a combination of pomegranate arils, cucumber, lime, cilantro, and jalapeno. Pomegranates are in season in the winter, so this is a great winter fruit salsa recipe.
Serve it with chips, pita crackers, over cream cheese, or on Pomegranate Crostini.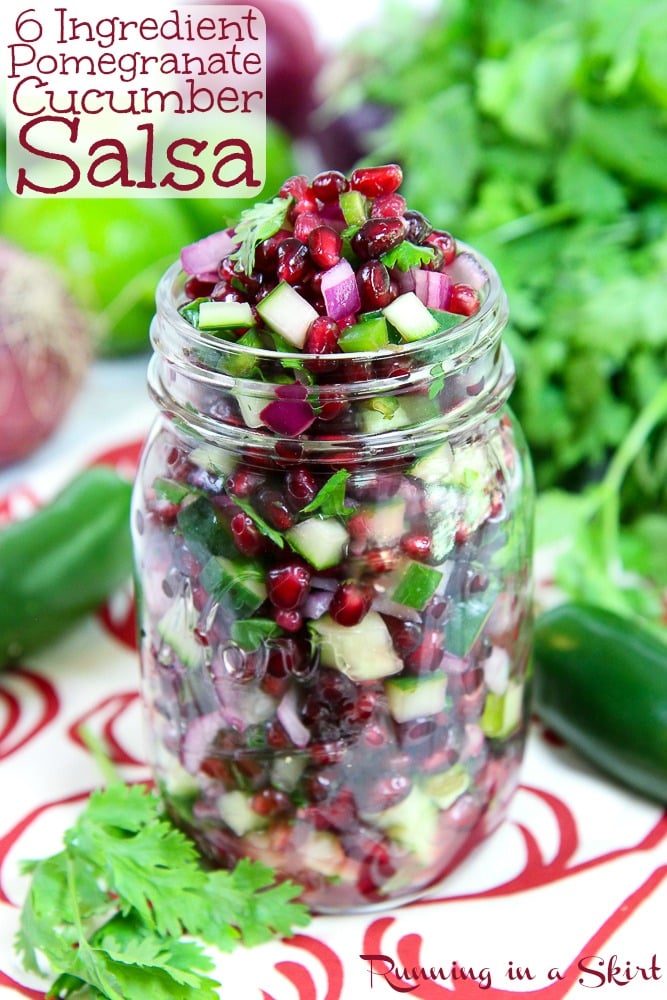 This Cranberry Salsa is so fresh and unique! Using fresh cranberries, which you usually can only get in the fall and winter, this sweet and tart salsa is so fun. This recipe adds a touch of white sugar to balance the tartness of the cranberries. This is another fabulous winter fruit salsa recipe.
Serve it with pita, chips, or Thanksgiving recipes like Stuffed Acorn Squash or Roasted Stuffed Butternut Squash.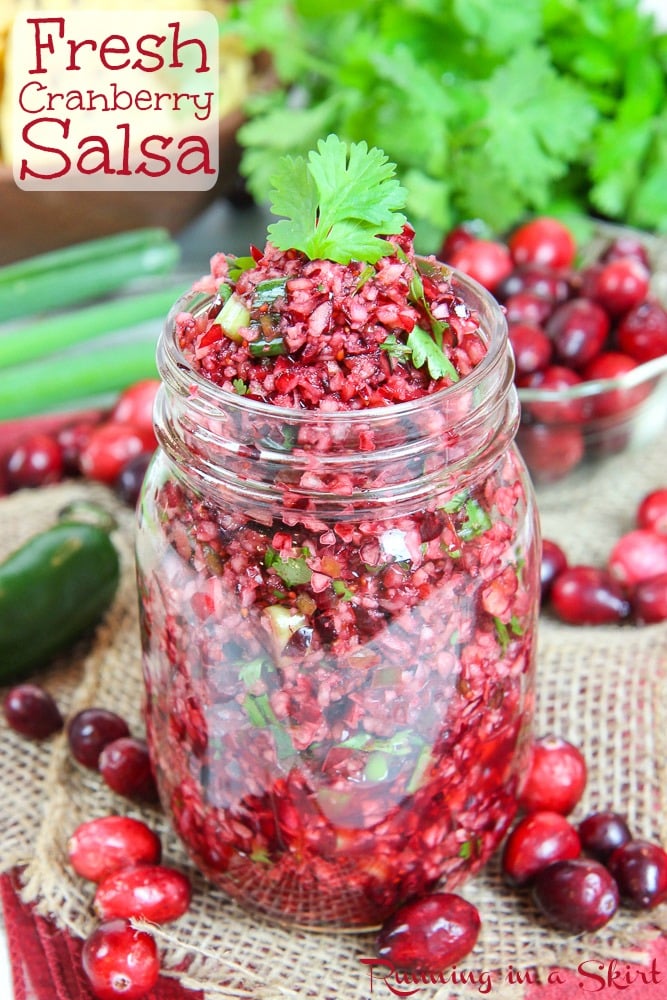 This Mango Salsa is the most classic fruit salsa recipe. This combination of fresh mangos and all your salsa favorites is well-loved for a good reason. They are simply delicious. This salsa is one of the more versatile salsas on the list and goes with any Mexican fish but pairs wonderfully with any sort of taco.
Serve it with Shrimp Quesadilla, and Vegetarian Fajitas, or spoon it on Shrimp Tacos or Mahi Mahi Fish Tacos.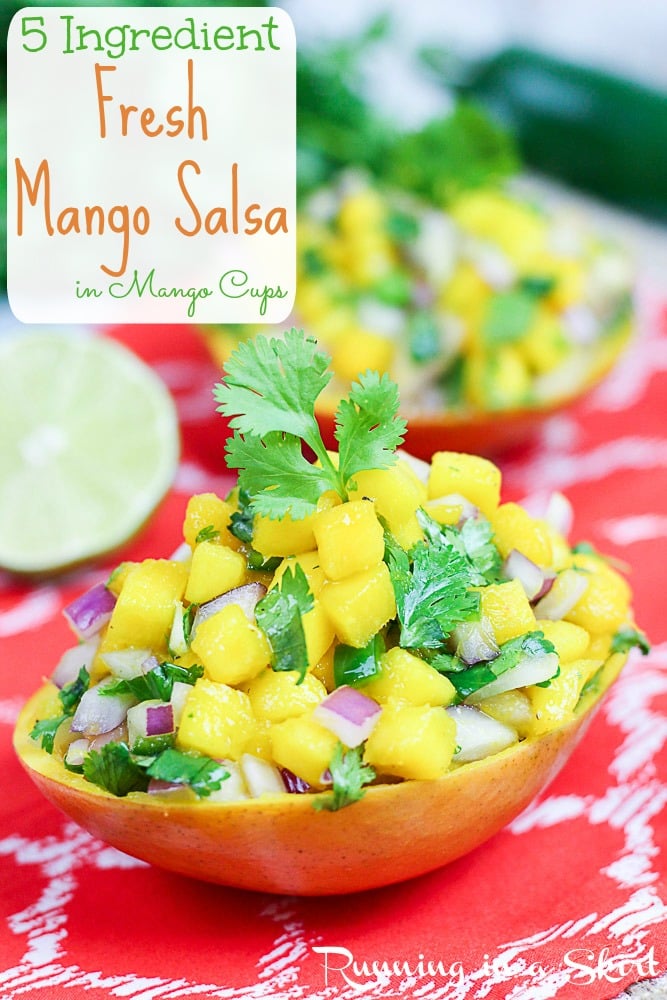 Fruit Salsa Recipe
And finally, the recipe below features a template or master recipe for fruit salsa. Just add in your favorite fruit! Here are some of my favorite options not listed above. You can also mix in cucumber or avocado for some unique flavor combinations.
Summer Melon Salsa - cantaloupe and honeydew
Cantelope Salsa
Honeydew Salsa
Tangerine Salsa
Clementine Salsa
Kiwi Salsa
Mixed Berry Salsa- strawberries and blueberries
Tropical Fruit Salsa - pineapple, mango, and kiwi
FAQ
Storage and Leftovers
This fruit salsa recipe is best enjoyed within 24 hours of making it, but you can keep leftovers. You can store any leftovers in the refrigerator for up to three days.
Can fruit salsa be frozen?
I would not recommend freezing the fruit salad. The texture of the fruit would change and be mushy. This recipe is best enjoyed fresh.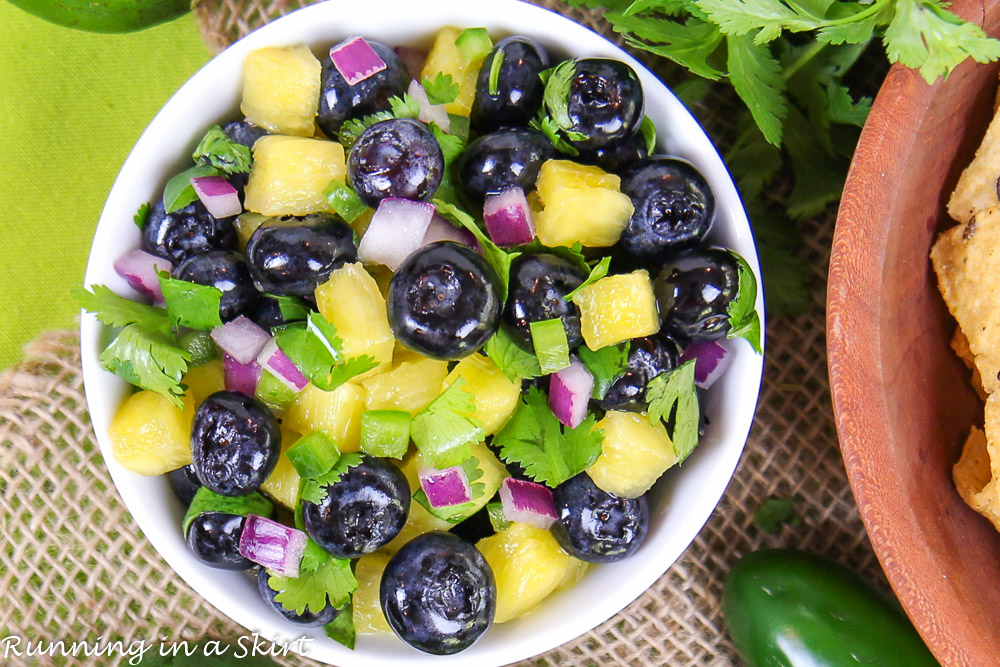 Fruit Salsa Recipes
I hope you enjoy these fresh and flavorful fruit salsa recipes as much as I do! I've enjoyed creating all of these delicious combinations over the years and can't wait to see the fun flavor combinations you come up with too.
As always, I'd love to hear what you think in the comments.
8 Fresh and Fabulous Fruit Salsa Recipes from Running in a Skirt
Click To Tweet
More Fresh Salsa Recipes to Try:
If you make this Fruit Salsa Recipe, I'd love to hear what you think! Leave a comment and a star rating ★ below. Make sure to follow me on Instagram, Pinterest, and Facebook too!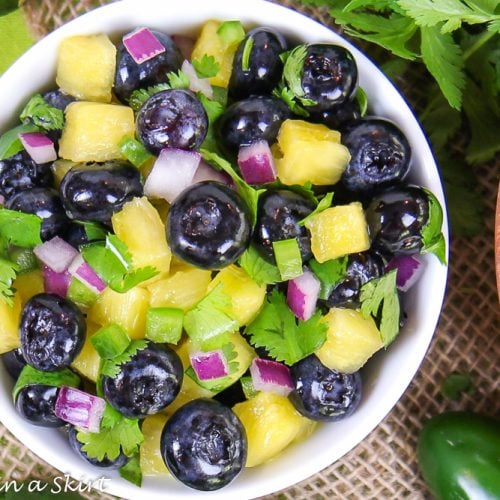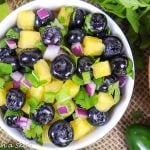 Fruit Salsa Recipe
Looking for a fruit salsa recipe? Here's a template recipe to make fruit salsa from any type of fruit including pineapple, mango, strawberry and more. 
Instructions
In a large bowl, carefully fold together the fruit, red onion, jalapeno, fresh cilantro and lime.

Serve immediately or chill.

Serve with chips for as a topping for fish, chicken, shrimp, or tacos.
Notes
Leftovers and Storage
This fruit salsa recipe is best enjoyed within 24 hours of making it, but you can keep leftovers.  You can store any leftovers in the refrigerator for up to three days.
Freezing
I would not recommend freezing the fruit salad.  The texture of the fruit would change and be mushy.  This recipe is best enjoyed fresh.
Nutrition
Calories:
157
kcal
Carbohydrates:
40
g
Protein:
2
g
Fat:
0.3
g
Saturated Fat:
0.04
g
Polyunsaturated Fat:
0.02
g
Monounsaturated Fat:
0.02
g
Sodium:
16
mg
Potassium:
310
mg
Fiber:
5
g
Sugar:
29
g
Vitamin A:
1008
IU
Vitamin C:
16
mg
Calcium:
29
mg
Iron:
1
mg
Pin for later: