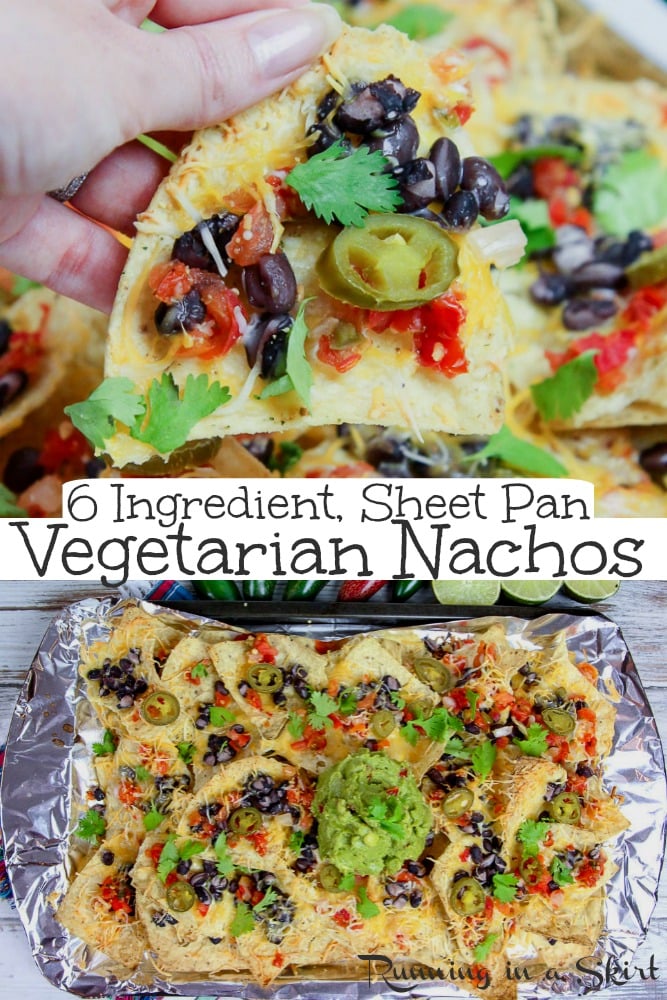 Curious about how to make nachos with no meat? My 6 Ingredient Sheet Pan Vegetarian Nachos recipe uses a few healthy swaps and a sheet pan for an irresistible meal or appetizer. This meatless easy nachos recipe is topped with black beans, pico de gallo, jalapenos, and lots of cheese.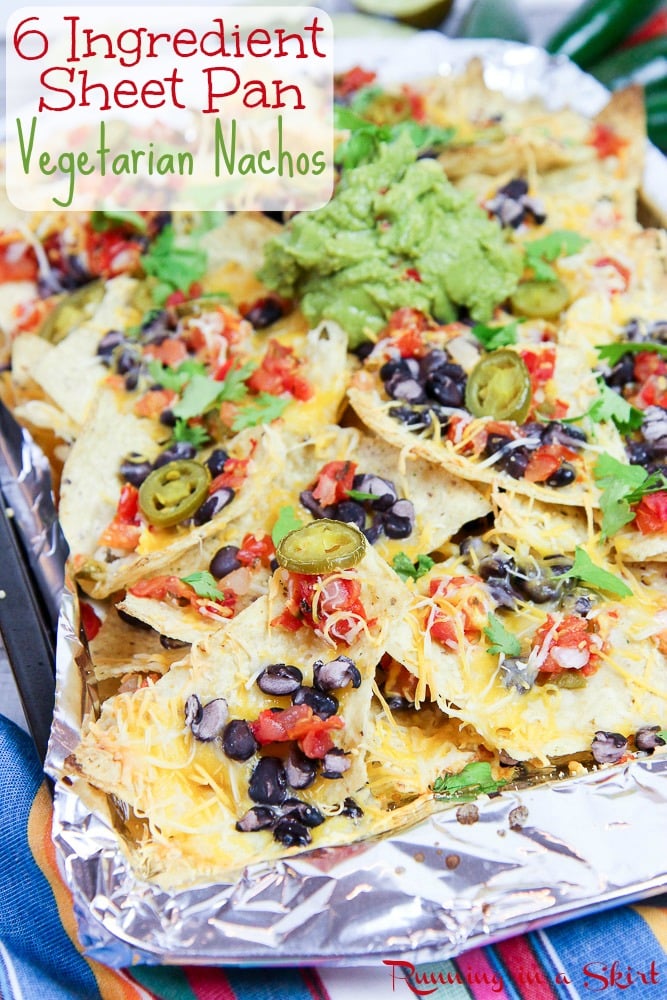 Easy Vegetarian Nachos Recipe
This Easy Vegetarian Nachos Recipe is in my blood. It's a family favorite I go to again and again for a big game night. Whether it's the first game of the season or the Super Bowl, this recipe is one I know and make by heart. This makes a wonderful meal or great appetizer for any party.
If you've been around Running in a Skirt for any time you know I'm a football fan. I went to the University of Florida and Gator Nation is in my blood. Our house also follows the Steelers for pro-ball because the Hubs grew up in Pittsburgh. So it's safe to assume that at some point on most weekends in the fall I'm watching some sort of football game. For my little family watching football means also munching a big try of my easy Sheet Pan Vegetarian Nachos recipe.
This Easy Nachos recipe is stacked high with chips, cheese, pico de Gallo, black beans instead of meat, and jalapenos. It's baked to perfection and dunked in favorite toppings like guacamole, salsa, or greek yogurt.
Perfect for Game Day! 6 Ingredient Easy Vegetarian Nachos #vegetarian #gameday
Click To Tweet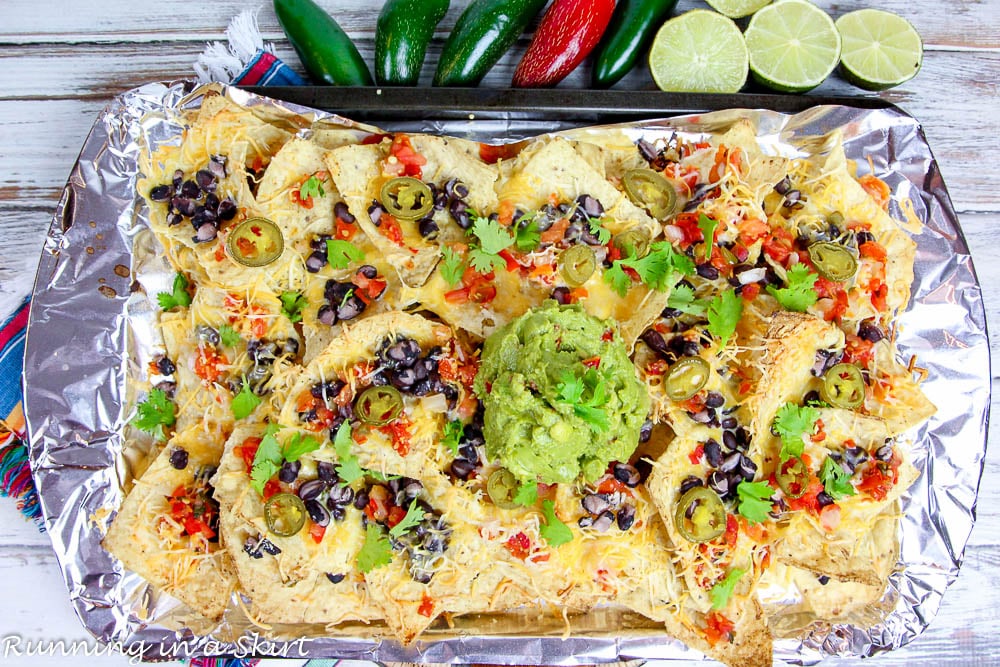 6 Ingredient Sheet Pan Vegetarian Nachos Recipe
We're not crazy about it or anything, but the Hubs and I do enjoy a good football evening... which of course has to come with game-day snacks. My favorite recipe to make during a game is my famous Sheet Pan Vegetarian Nachos recipe... which is the best easy nachos recipe! They are a go-to because they are so easy and only involve 6 ingredients! It's like a foodie touchdown. 🙂
These really are the best meatless nachos!
No... this isn't a "healthy" recipe... but it sure is good! While there are still plenty of indulgences on this pan, I do make my nachos a bit better for you by trading meat for black beans, using lower fat cheese, and plain greek yogurt instead of sour cream.
Beyond that though... I'm a firm believer in moderation in life and these nachos just make the game day better. Don't ya just want to take a bite!?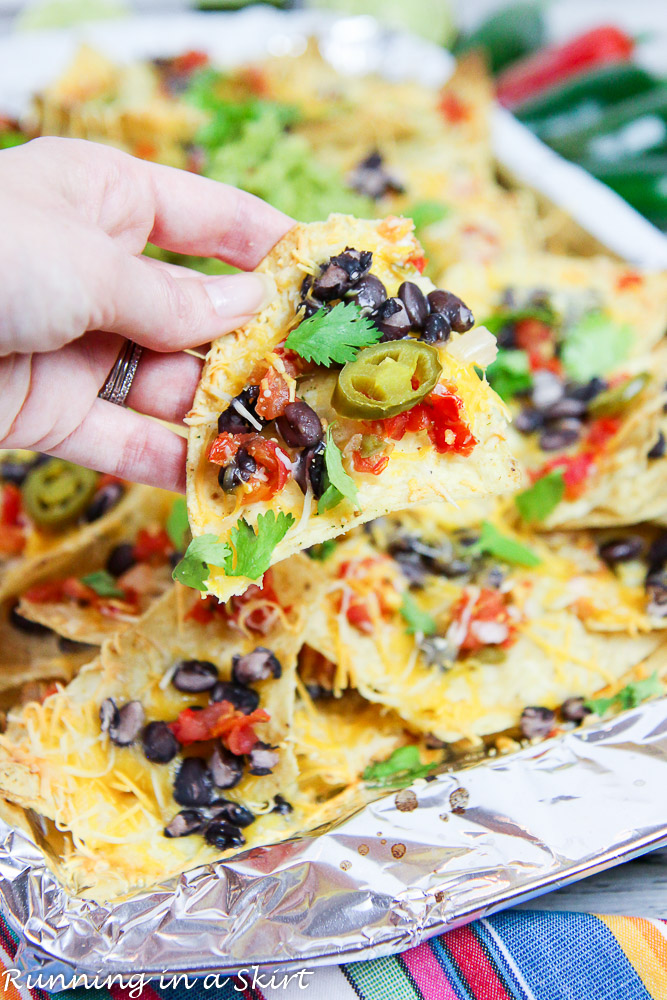 Easy Nachos Recipe - NO Meat!
To make this easy vegetarian nachos recipe with no meat I swap canned black beans for traditional meat.
I also keep these fast and simple by using a few ready-made ingredients. The biggest trick is buying store-bought fresh pico de gallo in the produce department... the one with the tomatoes and onions already chopped up. That gives these meatless nachos tons of flavor and veggies without a lot of work.
Sometimes I'll make my own guacamole but if I'm really busy, which is often the case this time of year, I don't feel guilty about picking up store-bought guac either. There is no shame in taking a kitchen shortcut sometimes. I'll also sometimes make my own salsa.
All of this comes together for the BEST Veggie nachos.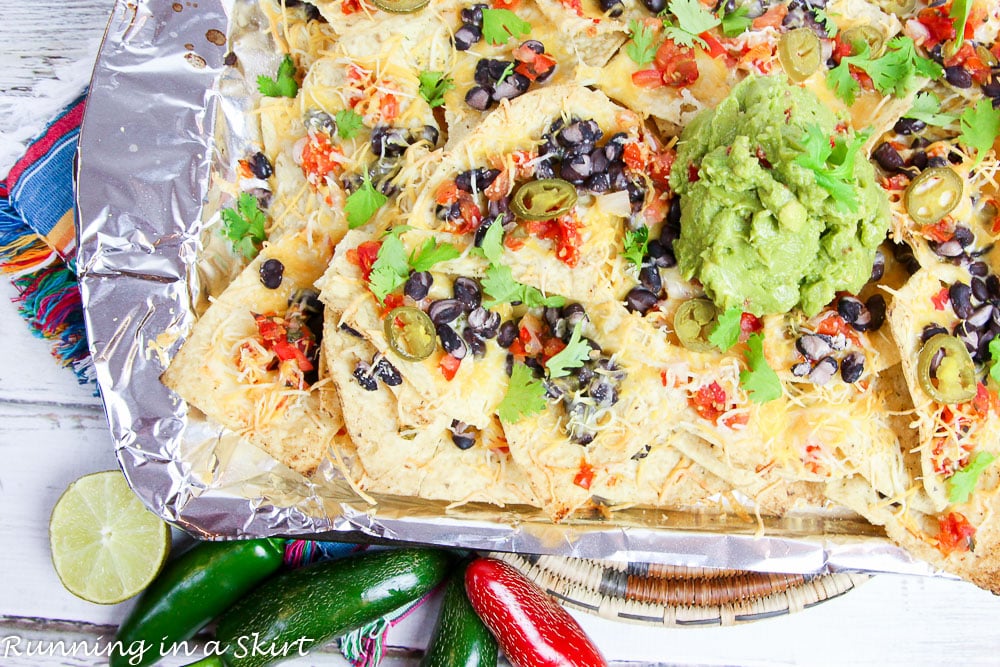 Ingredients:
The best part about this Easy Vegetarian Nachos recipe is it is only 6 Ingredients!
Chips: You can use a bag of your favorite chips but I am partial to traditional Hint of Lime Chips. They are basically my kryptonite. You can use any corn tortilla chips though.
Cheese: I pick a Mexican Blend cheese or Monterey Jack Cheese for these! I like the 2% but feel free to use full fat if that's your jam. Sharp cheddar cheese is also a great choice. I buy pre-shredded cheese for this BUT if you shred your own it melts better.
Black Beans: Rinse and drain canned black beans to make this recipe super simple. Canned pinto or refried beans are also delicious.
Pico de Gallo: Store-bought pico de gallo gives you chopped tomato and red onion without having to do the work yourself. You'll usually find it in the produce section of your grocery store.
Pickled Jalapenos: These are my favorite part! You can either use fresh if you want more heat or leave them off if you want no heat.
Cilantro: Fresh cilantro gives the nachos a nice touch at the end.
You'll notice there is NO MEAT in this nachos recipe. The black beans give the dish more substance and take the place of the meat like ground beef, chicken, pork, or ground turkey.
You can also use store-bought guacamole, salsa, sour cream, or plain greek yogurt as toppings. I love to serve with three small bowls of each for dipping.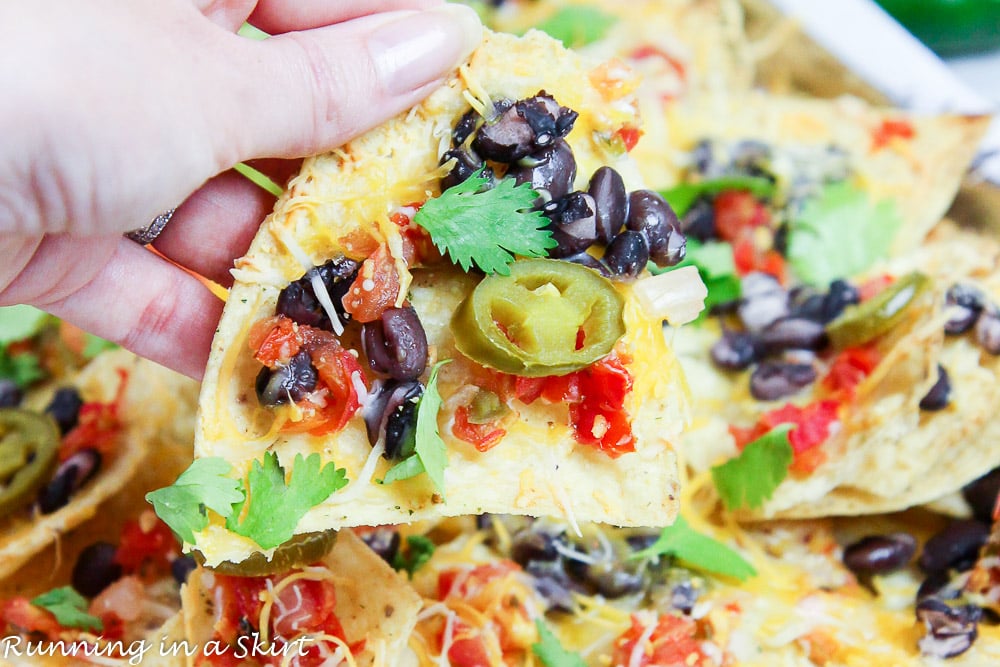 Instructions:
Here's how to make my easy vegetarian nachos recipe.
Line a sheet pan or rimmed baking sheet with foil and preheat the oven.
Put one layer of chips down using about half of the bag. Top the chips with a sprinkle of black beans, cheese, pico de gallo, jalapenos, and cheese.
Repeat with the second layer of chips and toppings.
Bake on high until the cheese melts and is bubbly.
Top with fresh cilantro or green onions.
Serve with your favorite tips like guacamole, salsa, and plain greek yogurt.
Variations and Pro Tips
You could easily make a smaller batch by using only one layer of chips.
Make it a bit healthier by using whole-grain chips. I love ALDI whole-grain tortilla brand chips.
If you don't like black beans you could also use pinto beans.
Serve with lime wedges for some fresh zest.
If you don't want guacamole you could do cubes of fresh avocado.
Top it with fresh cotija cheese for an authentic Mexico taste.
Make it spicier by using chopped Jalapeños or hot sauce.
For an extra burst of flavor sprinkle the top of the nachos with my Homemade Taco Seasoning Mix.
FAQ
Can I assemble this ahead of time?
You can, but it could get soggy. I like to do all the prep work like draining the beans, getting the sauces in bowls, and assembling this right before I'm ready to make it.
What about leftovers?
Leftovers would most likely get soggy! These are best enjoyed right when they come out of the oven.
What temperature should nachos be cooked at?
I like to cook mine at high heat - 425 degrees- so they get nice and crispy. Just be sure to stay close and keep an eye on them because they can burn quickly and oven cooking times do vary.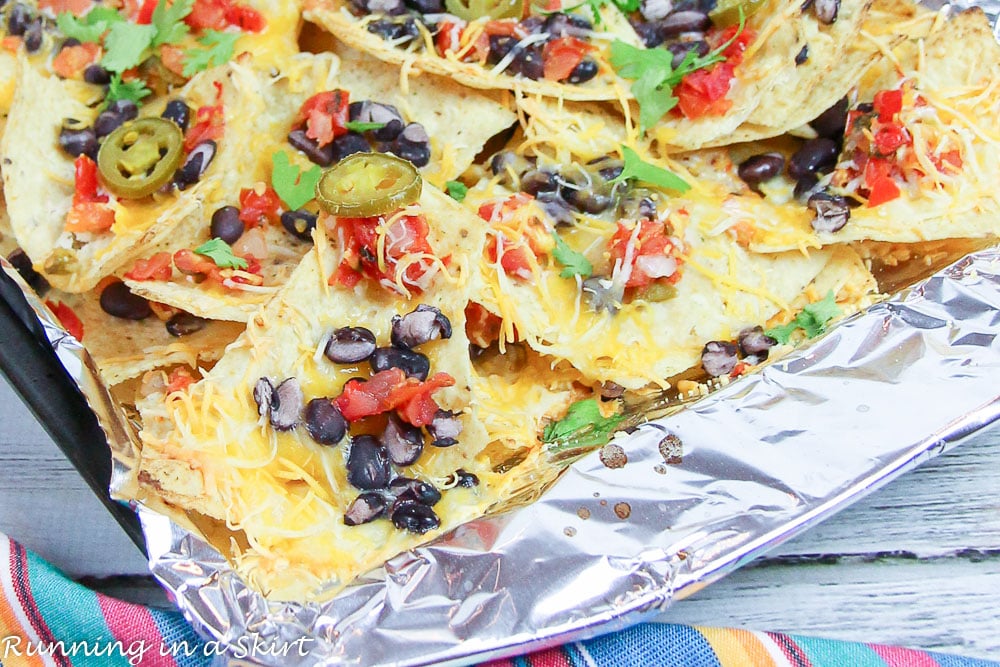 You'll Love This Easy Vegetarian Nachos recipe!
Either way, this sweet football treat - Easy Vegetarian Nachos recipe - is bound to become a favorite of yours as well! This is a wonderful option for vegetarian football food.
I've been making this Vegetarian Nachos recipe for years and this was actually one of the first recipes I published on Running in a Skirt in early 2013. The recipe photos may look a little better these days (I hope!) but the food still tastes the same. This tried and true family favorite is something I enjoy and is really the BEST Veggie Nachos you'll find.
Enjoy!
Perfect for Game Day! 6 Ingredient Easy Vegetarian Nachos #vegetarian #gameday
Click To Tweet
More Vegetarian Game Day Favorites
Want Healthier Nachos?
If you make this Easy Vegetarian Nachos recipe, I'd love to hear what you think! Leave a comment and a star rating ★ below. Make sure to follow me on Instagram, Pinterest, and Facebook too!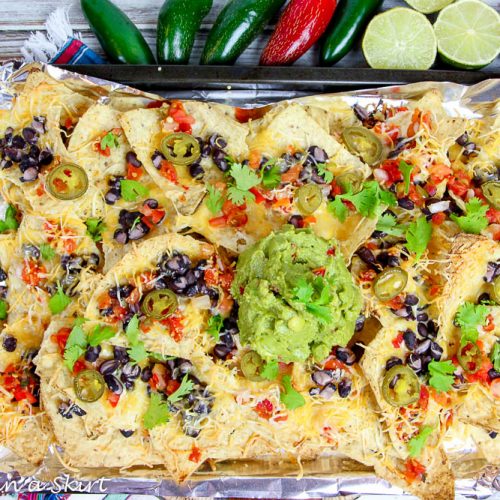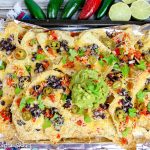 6 Ingredient Easy Vegetarian Nachos recipe
An easy vegetarian nachos recipe using only 6 ingredients!  These meatless nachos are delicious and great for a party or game day.
Ingredients
1

bag

Hint of Lime Tortilla Chips

7

ounces

Mexican Cheese, 2%

1

can

Black Beans, rinsed and drained

,

15.5 ounce

16

ounces

Pico de Gallo, store bought and drained

¼

cup

pickled jalapenos

1

handful

cilantro

,

optional

Toppings: Guacamole, Salsa, Plain Greek Yogurt
Instructions
Preheat the oven to 425 degrees. Line a sheet pan with foil and spray with cooking spray.

Lay half the chips on the cookie sheet.  Cover with half the black beans, half the pico, half the jalapenos, and half of the cheese.  Be careful to get the toppings actually on the chips and not the pan. Repeat with a second layer.

Bake on high 8-12 minutes or until the cheese is bubbly.

Top with guacamole and fresh cilantro!  Serve with additional salsa and sour cream or plain greek yogurt if desired.
Notes
Serve these meatless easy nachos recipe immediately so the chips don't get soggy.  Leftovers will not keep well.
Nutrition
Calories:
436
kcal
Carbohydrates:
54
g
Protein:
17
g
Fat:
19
g
Saturated Fat:
5
g
Cholesterol:
21
mg
Sodium:
1196
mg
Potassium:
371
mg
Fiber:
8
g
Sugar:
6
g
Vitamin A:
572
IU
Vitamin C:
6
mg
Calcium:
494
mg
Iron:
3
mg
Pin for later!