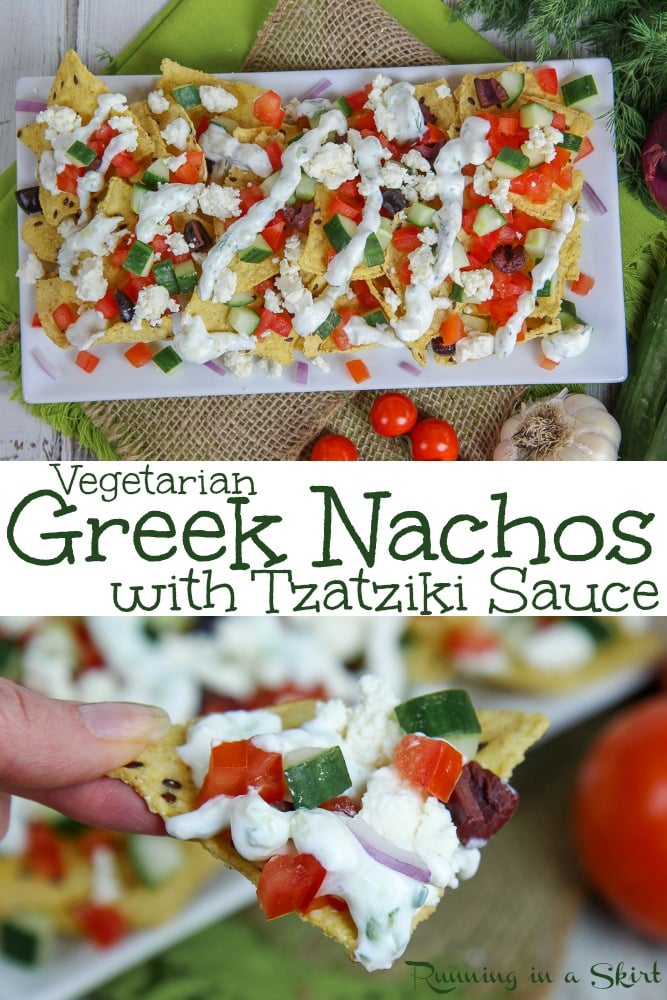 Mix up nacho night with my Vegetarian Greek Nachos with Tzatziki Sauce!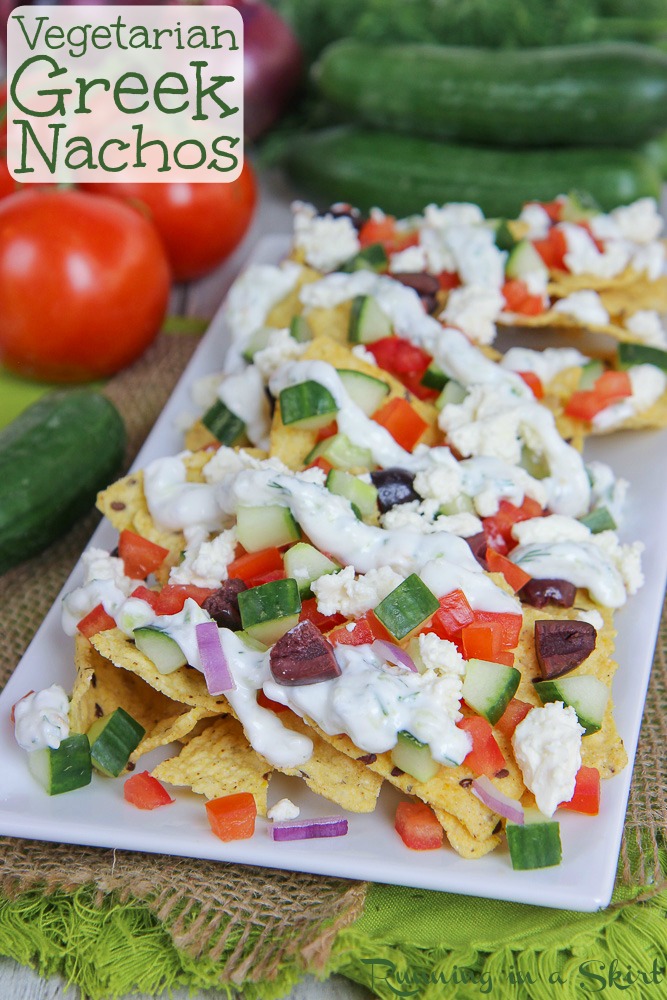 Hey guys!
This might sound strange, but I always associate the start of fall as the start of nacho season in our house. The Hubs and I are football fans. I went to the University of Florida, so we route for the Florida Gators on Saturday and he grew up in Pittsburgh so we also route for Pittsburgh Steelers on Sunday. When we met he didn't have a college team... so he adopted mine and I didn't have a pro team... so I adopted his. Ever since we first started dating we'd use the football games as an excuse to make a big sheet pan tray of nachos. We'd watch the game on the big basement couches, bring out tv trays to hold the sheet pan and salsa and munch of on one of my all-time favorite foods. It's always been such a relaxing way to spend an evening.
We don't make nachos every game anymore (we're lucky to find time to watch every game these days!) BUT we do make them a couple of times each football season and I really look forward to those evenings of family time of the couch. I get all nostalgic of our early days of dating which were more than 10 years ago now.
Since we both love nachos so much (WHO DOESN'T?!?!) I wanted to come up with a creative twist on one of our favorite foods! After a bit of brainstorming my Vegetarian Greek Nachos with Tzatziki Sauce was born.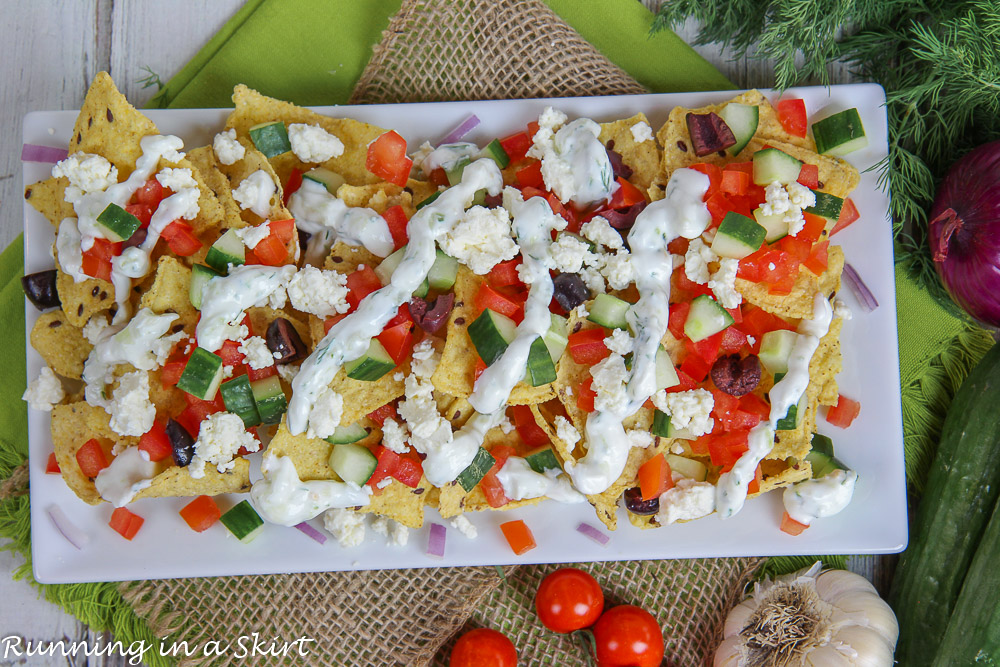 Why you'll love these Vegetarian Greek Nachos with Tzatziki Sauce...
These nachos are just as tasty as the original but with an entirely different flavor profile. Instead of Mexican inspired ingredients like black beans, pico de gallo, cilantro and jalapenos these are topped with fresh veggies like chopped crisp cucumber, sweet tomato, purple onion, and tangy olives. All perfect tastes of the Mediterranean.
Instead of a pile of Mexican style shredded melted cheese, I used my Homemade Tzatizi Sauce and extra crumbled salty feta.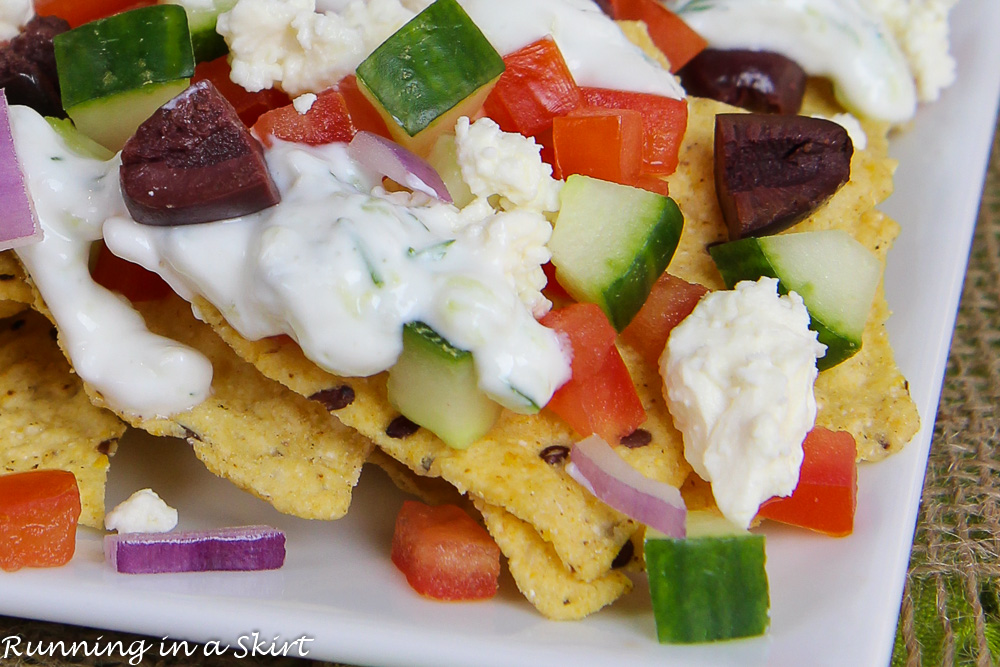 The end result is a flavor BOMB of deliciousness in your mouth! There is something out the cool vegetables and creamy tzatziki together that are a match made in chip heaven.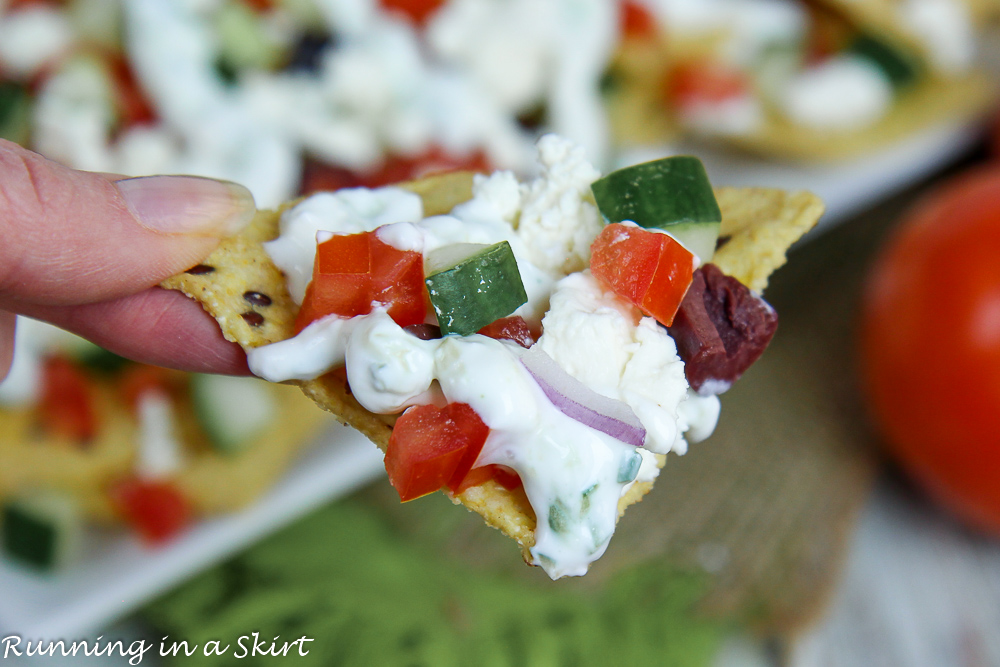 Plus this version is even quicker to make because it doesn't even need to go in the oven. The sauce is already nice and melty.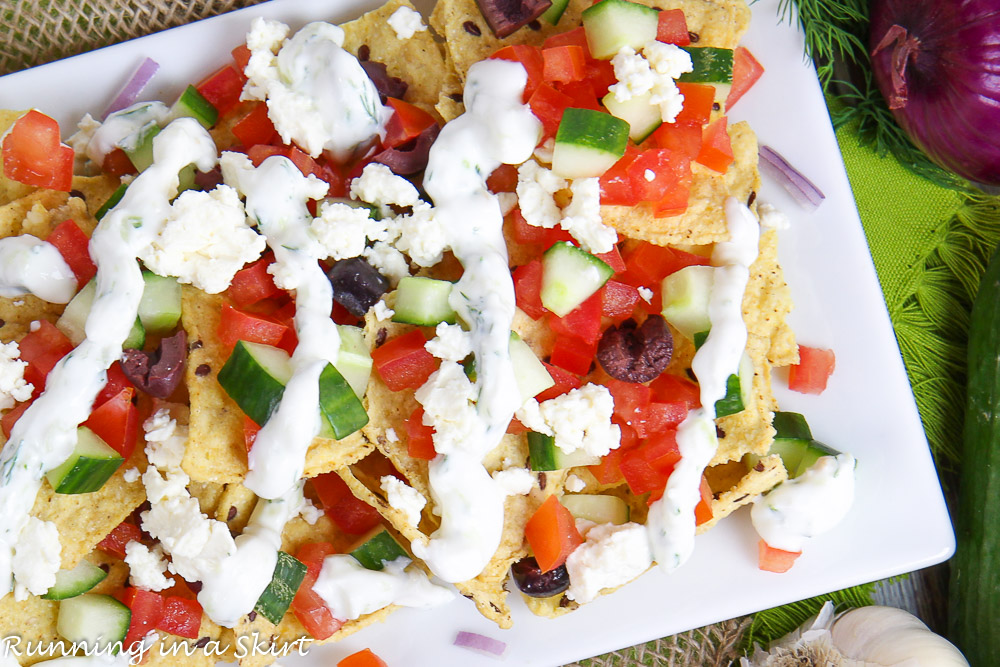 Ingredients in Vegetarian Greek Nachos with Tzatziki Sauce
It all comes together with just a handful of ingredients!
Chips
Cucumber
Tomato
Red Onion
Olives
Feta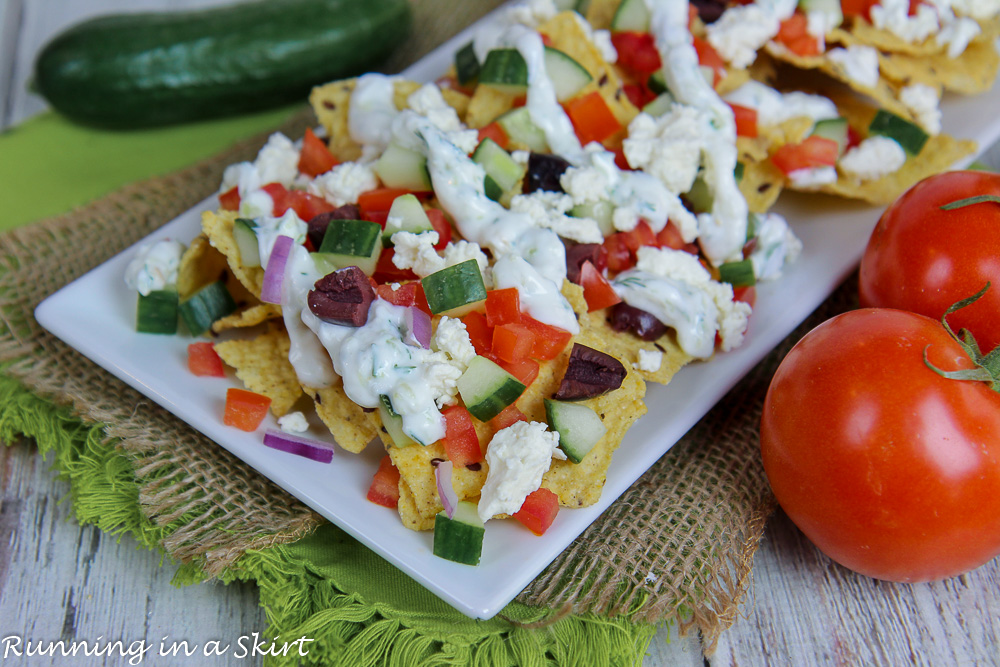 How to make Vegetarian Greek Nachos with Tzatziki Sauce...
Cut the veggies.
Lay half the chips on the plate.
Put half the toppings on the chips.
Repeat!
This Vegetarian Greek Nachos with Tzatziki Sauce recipe could not be easier to make and enjoy.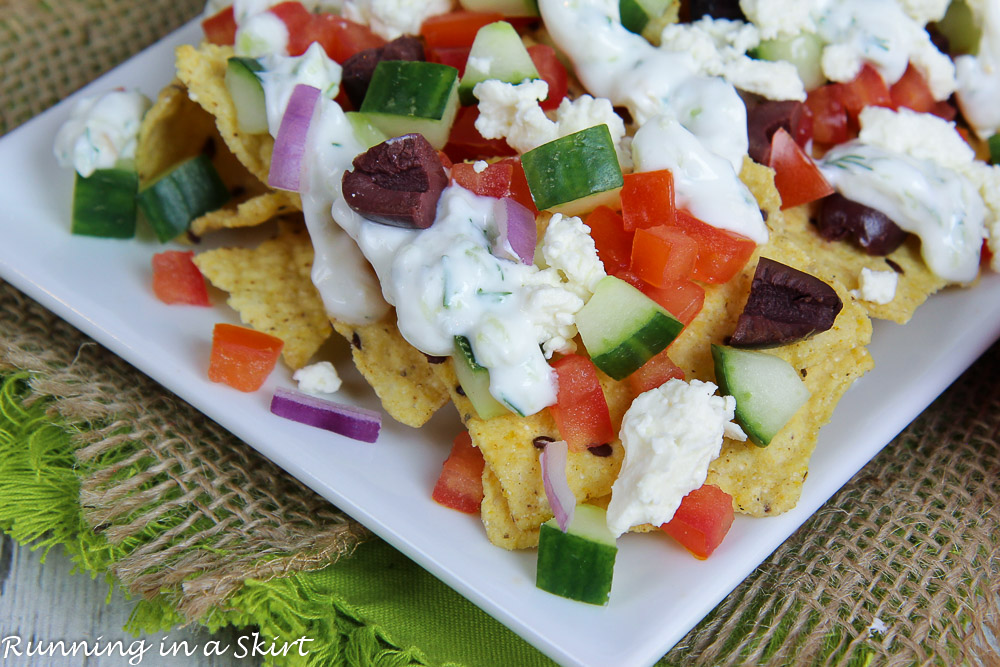 I still love our traditional nachos night, but this fun twist on nachos is now one of our favorites too. Here's to more great family memories over good food!
Also try...
Pin for later...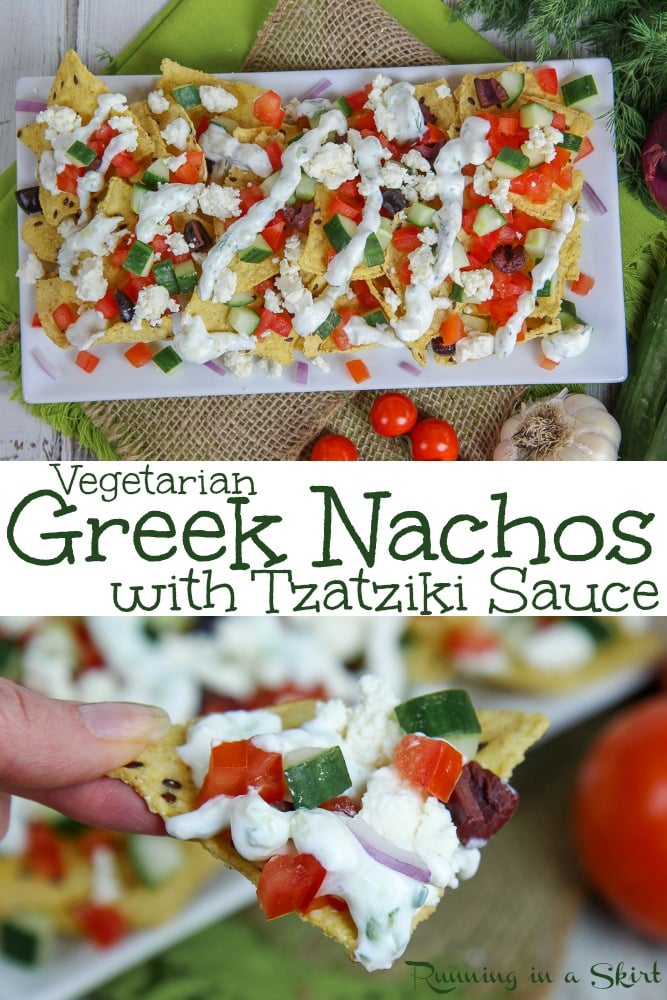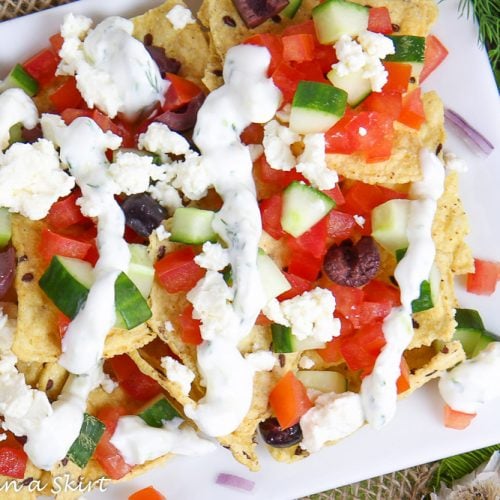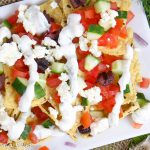 Vegetarian Greek Nachos with Tzatziki Sauce
This fun, veggie-packed twist on nachos, Vegetarian Greek Nachos with Tzatziki Sauce, is totally addictive.
Instructions
Lay the chips flat on a plate or dish.

Sprinkle the chips with the tomato, cucumber, purple onion and olives. Sprinkle the feta on top of that.

Drizzle with a generous portion of homemade tzatziki sauce. Serve with more for dipping!
Notes
Make a batch of my Homemade Tzatziki Sauce.  Serve with a generous drizzle and you can even have more on the side to dip!
Nutrition
Calories:
356
kcal
Carbohydrates:
191
g
Protein:
31
g
Fat:
20
g
Saturated Fat:
4
g
Cholesterol:
15
mg
Sodium:
1344
mg
Potassium:
770
mg
Fiber:
13
g
Sugar:
5
g
Vitamin A:
638
IU
Vitamin C:
7
mg
Calcium:
417
mg
Iron:
4
mg