Get ready for game day with my Healthy Potato Skins!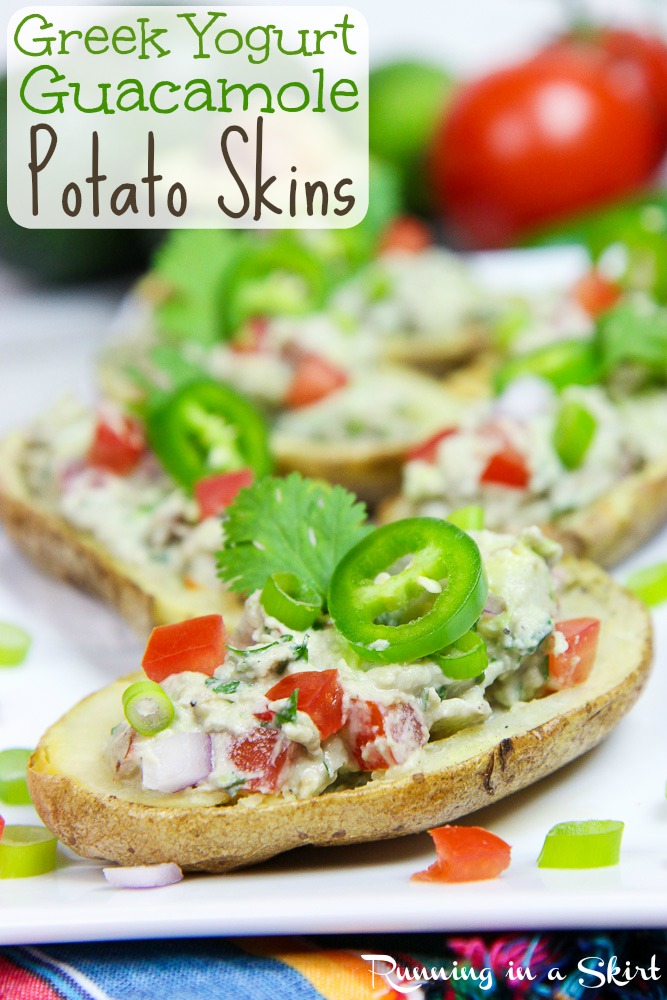 Hello lovlies!
I've been having a lot of fun coming up with some healthier snack ideas for you to make for Super Bowl. I'm in general not a snacker, but once a year on Super Bowl Sunday I like to sit down with a nice spread of football foodie classics. The star of the table is often guacamole, but this year I'm totally making my healthier Greek Yogurt Guacamole I shared with you Monday.
I'll also be serving these Healthy Potato Skins!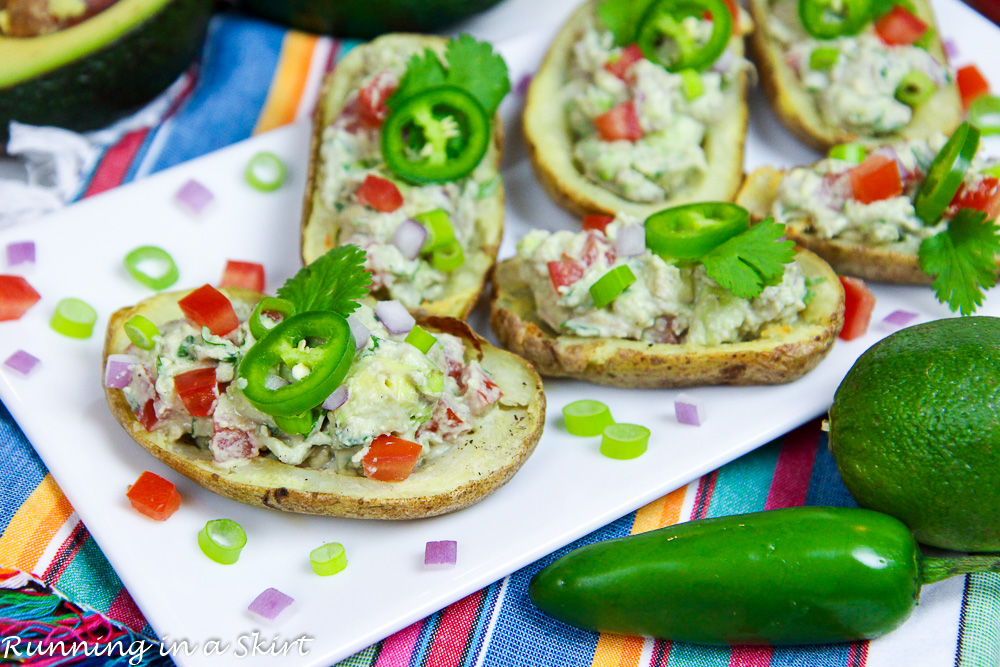 Packed with my Greek Yogurt Guacamole and fresh veggie toppings, these are truly a guilt-free snack.
To make them you bake several small potato. I just pierce mine and put them in the microwave. No need to have this simple recipe take all day!
Next you cut them in half and scoop out the middle. Save the filling to use as a side dish later in the week. To get them crispy you lightly brush them with olive oil and pop them in a hot oven.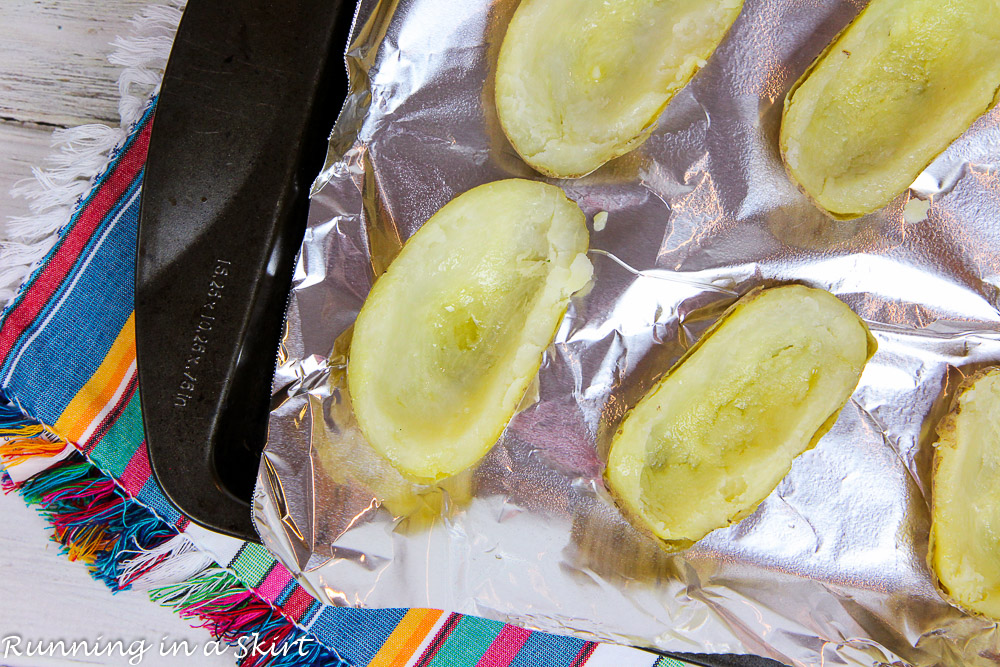 Once you get that nice crisp skin, you fill them with my protein packed Greek Yogurt Guacamole.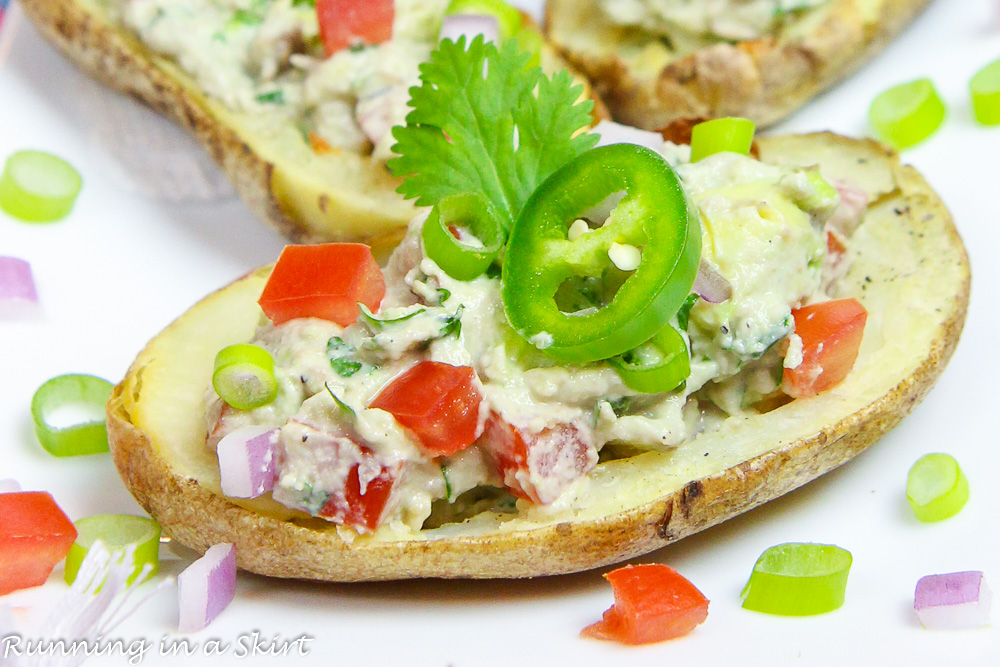 Now instead of adding cheese and sour cream, you mix it up with fresh veggie toppings meant for a queen!
Anything from tomatoes, red onion, green onion, cilantro and jalapenos will do. If you are sensitive to heat, pull out the seeds and membrane of the jalapeno or leave it out all together.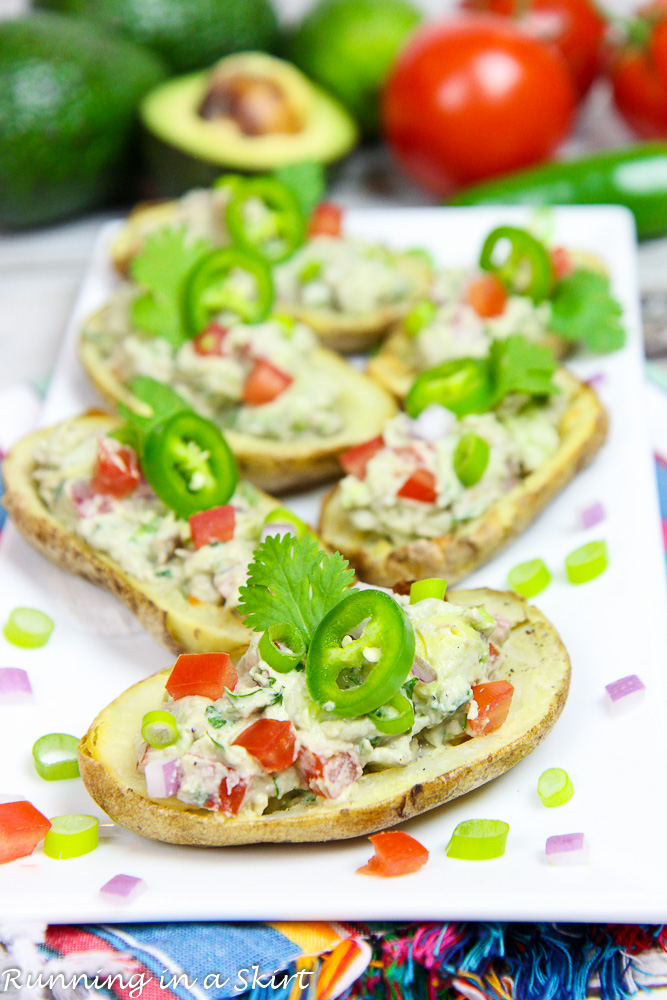 To make my Healthy Potato Skins recipe vegan just use my regular guacamole recipe that does not use the greek yogurt. It will be just as tasty!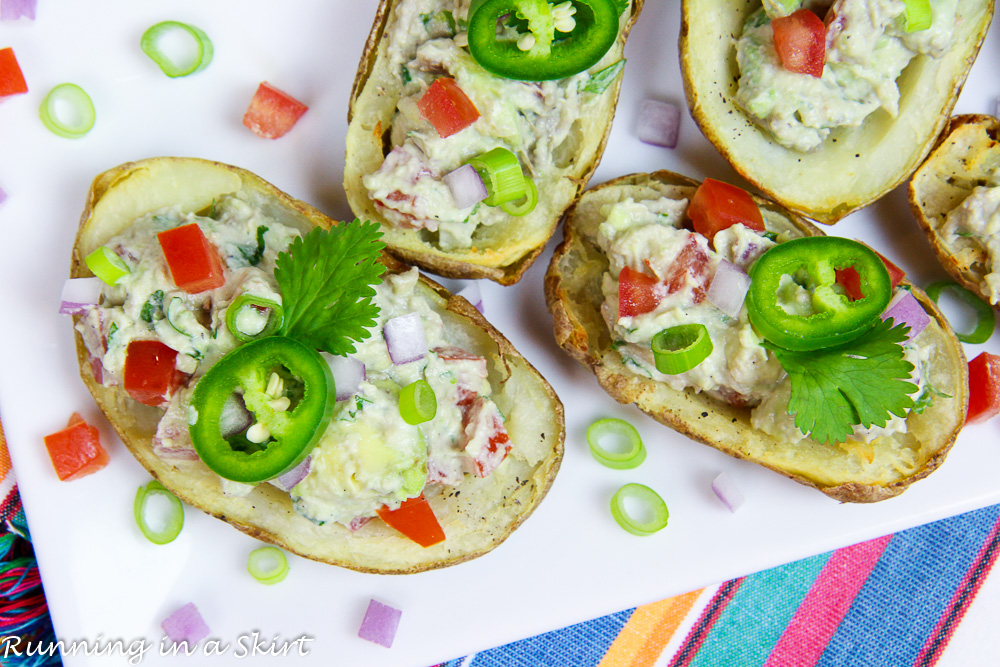 The star of the Healthy Potato Skins is really the crisp potato and creamy, unique guacamole. It's rich enough on it's own to not need too much embellishment. And since all the ingredients are pretty darn healthy, you can feel good popping a few of these and totally counting it as a nice well rounded meal on Super Bowl night or any night really!
I hope you enjoy this fun, healthy twist on potato skins. Give it a try and let me know what you think.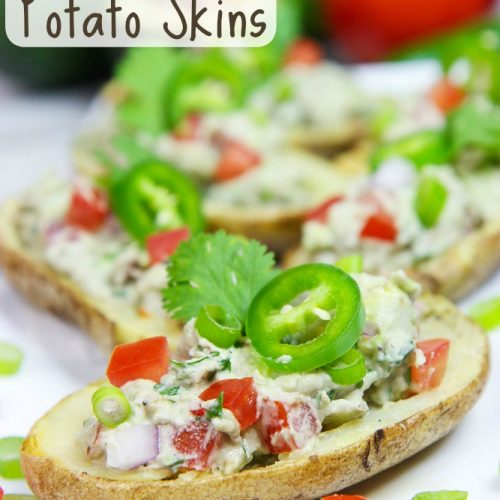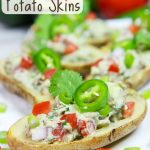 Greek Yogurt Guacamole Vegan Potato Skins
These vegan potato skins are the game day snack to please plant and meat based eaters alike!
Ingredients
6

small baking potatoes

1

teaspoon

olive oil

1

recipe greek yogurt guacamole

garnish: diced red onion

,

diced tomato, sliced green onion, chopped cilantro, sliced jalapeno
Instructions
Wash and scrub the potatoes. Pierce them several times with a fork.

Microwave for 5-8 minutes, flipping once until they are tender.

Allow the potatoes to cool enough to touch.

Preheat the oven to 425.

Slice the potatoes in half and carefully scoop out the insides leaving a small barrier ¼ inch barrier of potato behind and the skin.

Coat the potatoes with the olive oil and sprinkle with salt and pepper.

Bake the potatoes for 3-5 minutes on each side or until they turn crispy.

Remove from the oven and fill with the Greek Yogurt Guacamole. Top with the red onion, tomato, green onion and jalapeno.
Like it? I'd love it if you could pin this to your favorite Pinterest board! Thank you so much for the support.


Thanks for stopping by today! Tomorrow I'm sharing a new dress I wore out to dinner in Key West for Fashion Friday.
Your turn!
What are your favorite potato skins toppings?
What do you put on your Super Bowl spread?