Hi everyone!
It's been a busy week in Asheville, but I got a big break yesterday. I had jury duty, but when I called they excused the jurors! I was stoked because I felt like I got a day of my life back. Has that ever happened to anyone else before? After a not so pleasant trip to Chattanooga earlier this week, that good news was just what I needed. I'm hoping to carry the positive momentum into what is shaping up to be a packed weekend. I have a March of Dimes event later today, a dinner party Saturday night and a going away neighborhood drop in Sunday. Plus someone has to take down our Christmas tree this weekend. Yes... it's still up... don't judge :-).
Food wise I've been eating and enjoying Blue Apron again this week. It's such a nice option when you just don't have time to meal plan or grocery shop. It all comes right to your door. Interested in trying it out yourself? Try my special link, which will give you $30 off your first box. It makes trying them out a total no brainer. I'm hoping to write a post about them soon if you are looking for more information before pulling the trigger... but that deal is hard to beat!
Today's Fashion Friday features a fabulous dress I wore in Key West. I know this isn't an outfit many of us can wear right now with it being winter and all, but if you are heading to the topics on vacation anytime soon this is a wonderful option! It's also always fun to dream of warmer weather in winter.
And yes, that's my beach hair!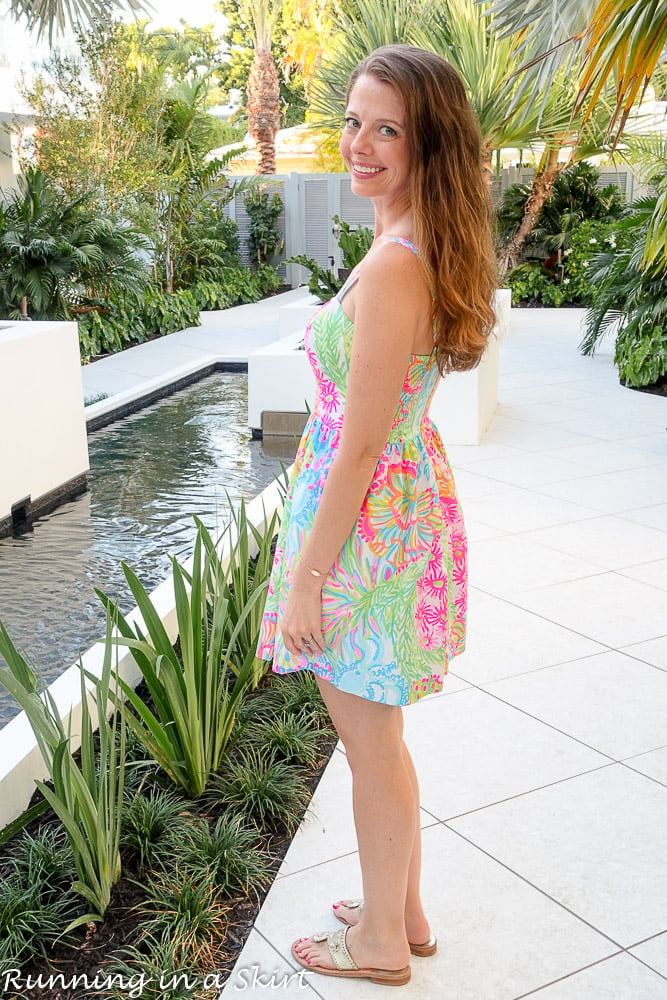 This fit and flare Lilly Pulitzer dress could not be more comfortable! It's easy to wear and not fussy like a lot of summer dresses can be. I'm obsessed with the bright pattern and POCKETS!
It also has a really sweet gold seashell zipper in the back, which is darling.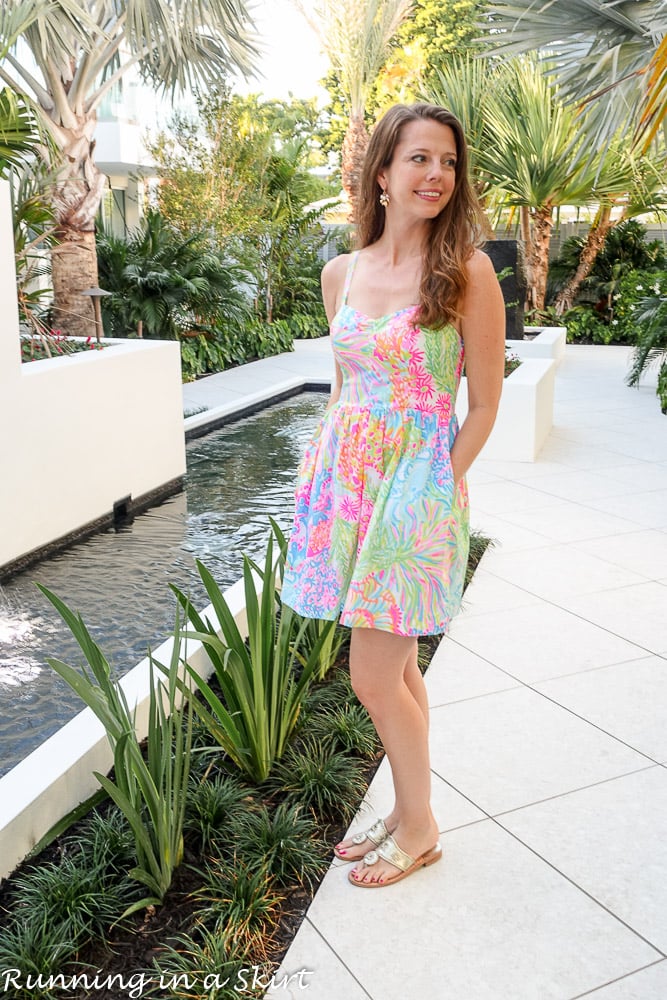 I paired it with gold and pearl earrings with a matching necklace and my goes with everything Jack Rodgers sandals.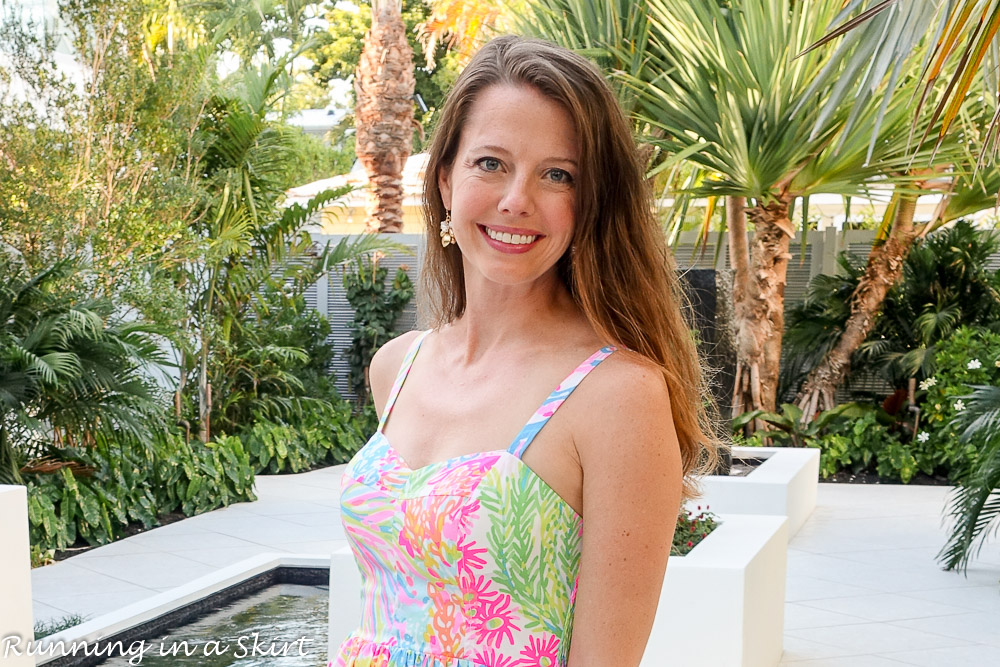 I picked up this dress at the After Party sale, but it is still available online if you are planning a trip anytime before real summer clothes come back into stores. It's a classic cut and design that I feel will stand the test of time!
I've had this stashed in my closet for a few months now and it was so nice to finally get to wear it.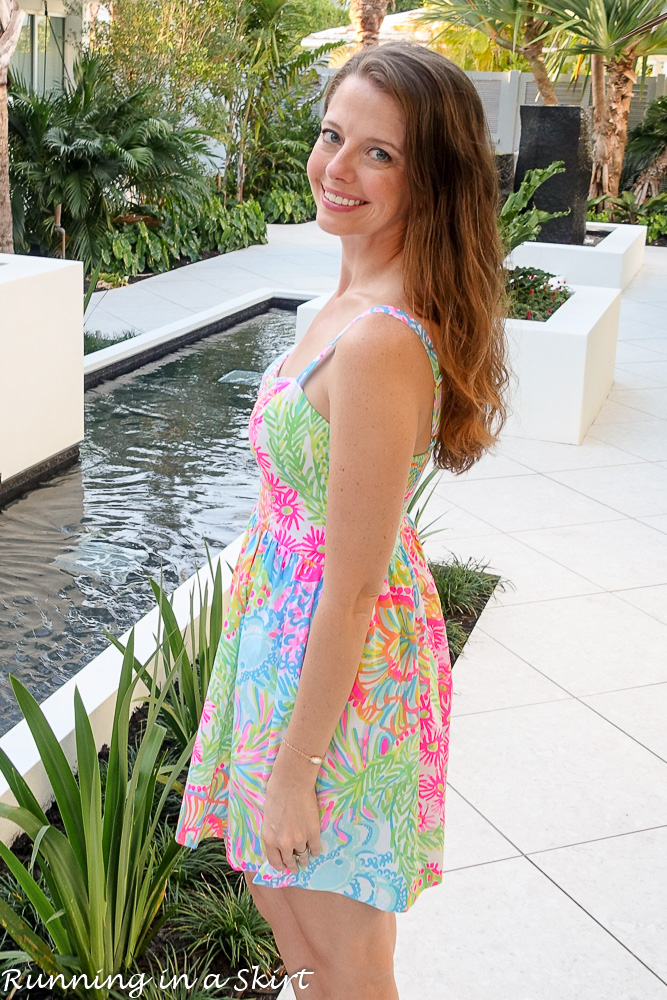 Anyone else dreaming of vacation now? I just adore summer clothes! I'm totally counting down until spring... I figure really only have a month to go until March at this point. HAPPPPYYYY DDDDAAANCCCCEEE!
I'll be back to regular scheduled winter outfits next week... I promise. Thanks for indulging me today. And of course, I hope you have an amazing weekend. As always let me know what you are up to this weekend in the comments.
Shop the Look:
Lilly Pulitzer Ardleigh Sundress
Lilly Pulitzer Bracelet, similar
Lilly Pulitzer Earrings, similar
So nice to see you today. Have a great weekend and come back Monday for a fun way to celebrate Valentine's day with your favorite girlfriends!
This post is not sponsored in any way, but contains affiliate links. I do make a small commission for clicks and purchases. It cost you nothing. Thank you for supporting Running in a Skirt.
I'm linking up with: Nicole for the Fit and Fashionable, Jolynne Shane for Fashion Friday, Turning Heads Tuesday. Thank you so much for the lovely linkup ladies
Your turn!
What are you doing this weekend?