Valentine's Day is fun... but celebrating and cherishing our girlfriends can be even more delightful! Today I'm sharing some perfect Galentine's Day gifts for your bestie and an easy DIY basket to put them in.
My Galentine's Day gifts are sponsored by iHerb, but all opinions are my own. As always I only write about companies I enjoy and feel like you will too! Thanks for supporting posts like this that allow me to keep publishing Running in a Skirt.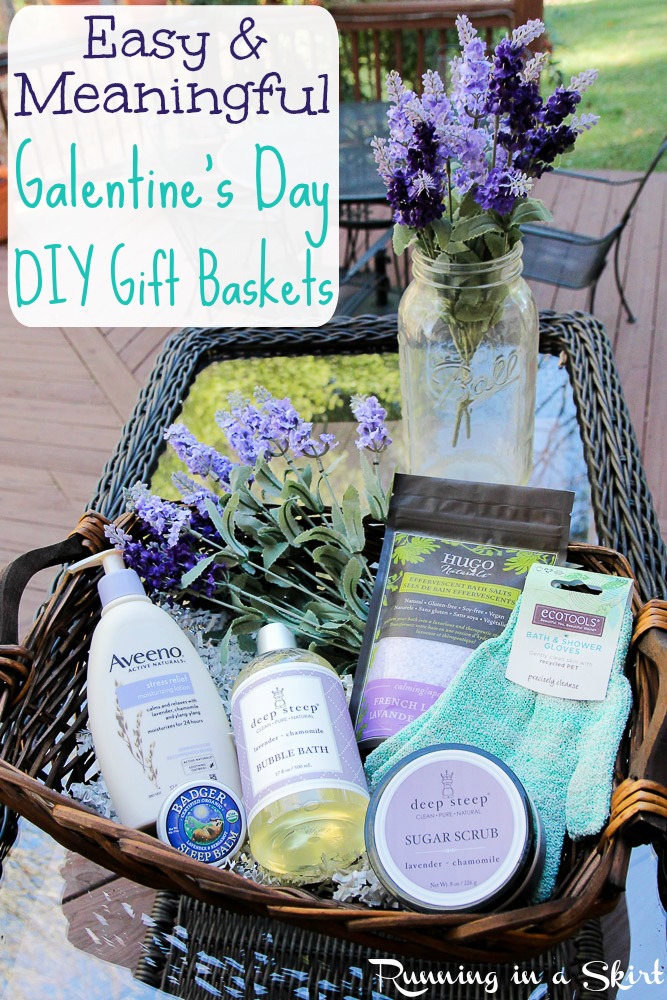 Hi everyone!
How was your weekend? Mine was good, although a bit busy. I ended up with planned events Friday, Saturday and Sunday... so there was a lot of running around. I got to see a lot of people I haven't seen in awhile, so that is always nice though. I hope your weekend was just as good.
Last week, I met my dear friend Marilyn for another walk at Biltmore. If you've been a long time reader of the blog you might remember how much the two of us like to get together to walk and hike during the week. If the weather is too cold, we'll meet for brunch at one of our favorite local restaurants. She is my kindred spirit and I can't even begin to tell you how much I cherish our friendship. Working from home can get lonely and it's so nice to meet up with her when I can.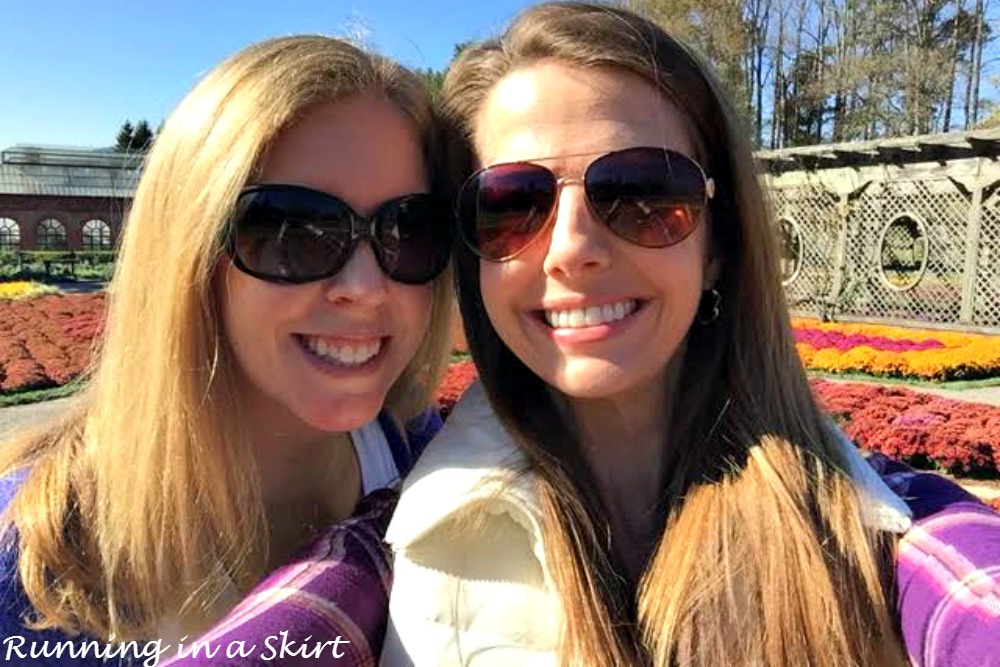 I'm bringing up Marilyn because I recently learned about a new twist on Valentine's Day called Galentine's Day. It's all about showing a little love for an important woman in your life on Valentine's Day in addition to your sweetie. Valentine's Day is nice, but I've never been a huge fan. Galentine's Day is something I can wholeheartedly get on board with!
As soon as I learned about the holiday, I knew what I wanted to do! I wanted to surprise Marilyn with a Galentine's Day gift. She is always doing such wonderful things for me, and I was so excited about the excuse to spoil her back.
I've been short on time lately (ok... always... ) and I did all my shopping for Galentine's Day gifts on iHerb. iHerb is a wonderful website packed full of healthy and natural products. They feature supplements, herbs, bath and beauty finds, grocery products and sports related buys like protein powders and bars. They even have goods for babies and pets! I love that iHerb focuses on stocking healthy, natural products at wonderful prices.
For Marilyn's gift I picked up Deep Steep Lavender Chamomile Bubble Bath and Sugar Scrub... <---I adore this stuff!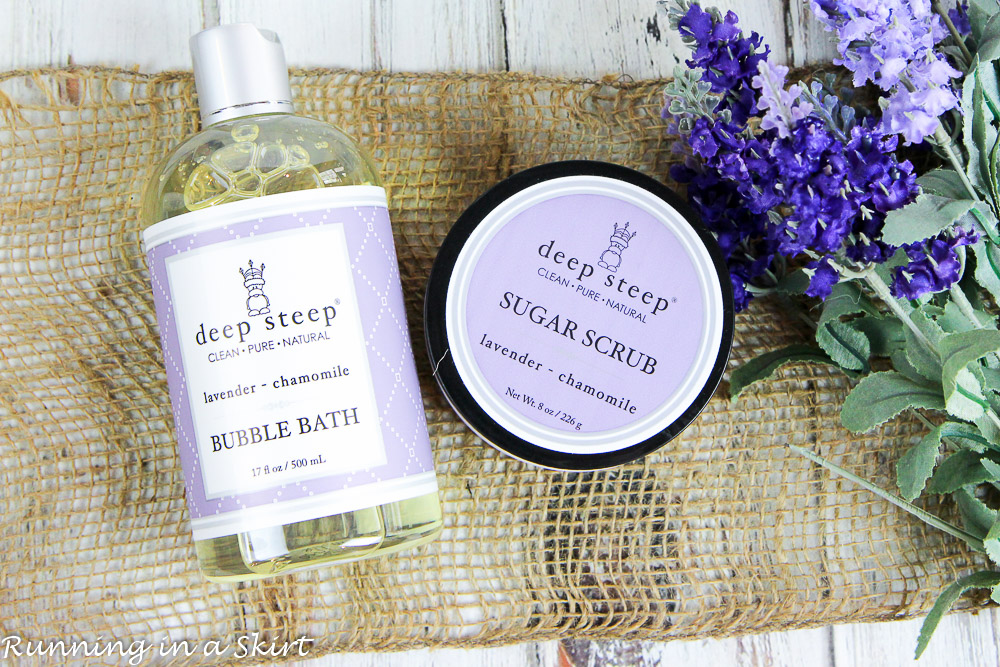 ...Aveeno Stress Relief Moisturizing Lotion and Badger Organic Sleep Balm...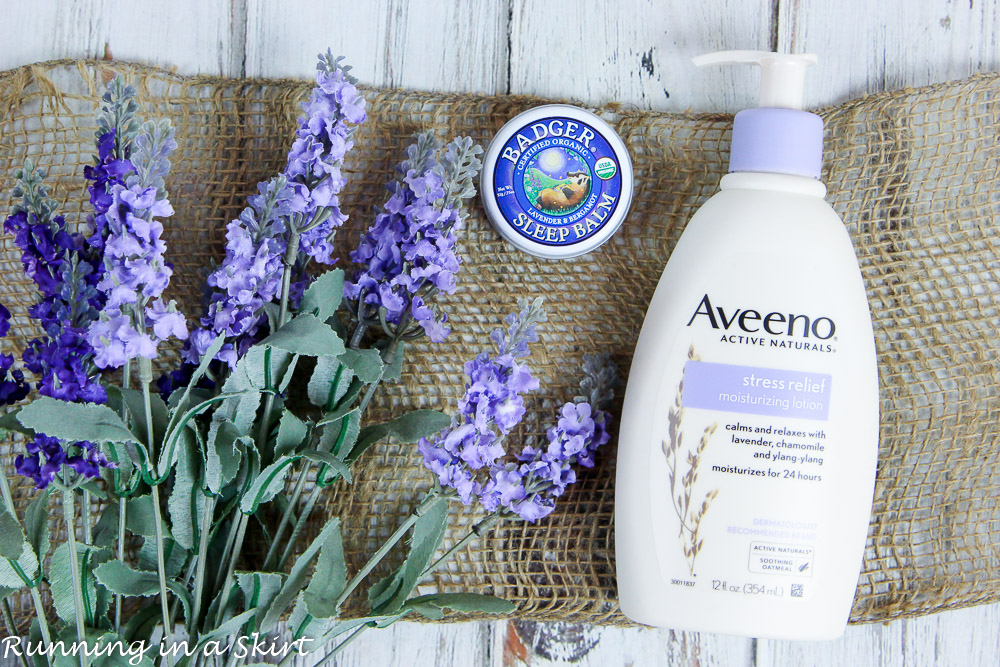 ... plus Hugo Naturals French Lavender Bath Salts and Eco Tools Bath and Shower Gloves.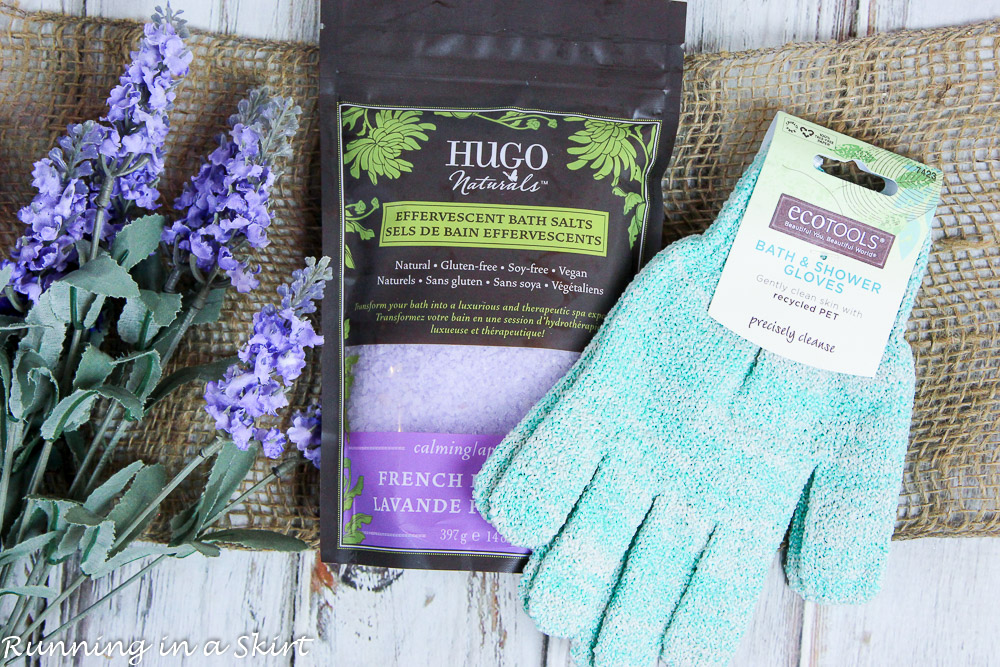 You might have picked up a theme here, but I was going for a stress relief and sleep basket! Marilyn's sweet baby Evelyn is celebrating her first birthday this week and needless to say my dear friend hasn't been getting much sleep this past year.
Btw can you believe she's almost a year old? Remember her winter themed baby sprinkle?!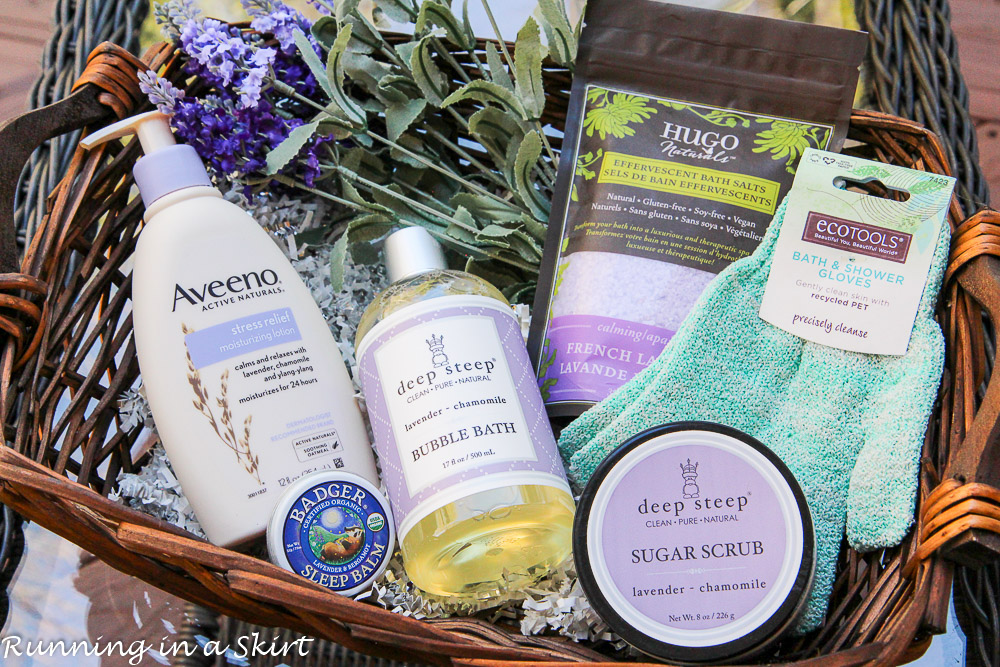 It was SOOOO simple to get together all the items for my Galentine's Day gifts with iHerb. I even searched for ideas right on the site! I often struggle with presents and honestly coming up with gift ideas with this site made the process a breeze.
[fusion_builder_container hundred_percent="yes" overflow="visible"][fusion_builder_row][fusion_builder_column type="1_1" background_position="left top" background_color="" border_size="" border_color="" border_style="solid" spacing="yes" background_image="" background_repeat="no-repeat" padding="" margin_top="0px" margin_bottom="0px" class="" id="" animation_type="" animation_speed="0.3" animation_direction="left" hide_on_mobile="no" center_content="no" min_height="none"]Let's celebrate Galentine's Day this year with these great gift ideas! #iherb @iherb Click To Tweet
The prices for these products were really amazing. I got everything in this basket for less than $50! You really can't beat the price and convenience.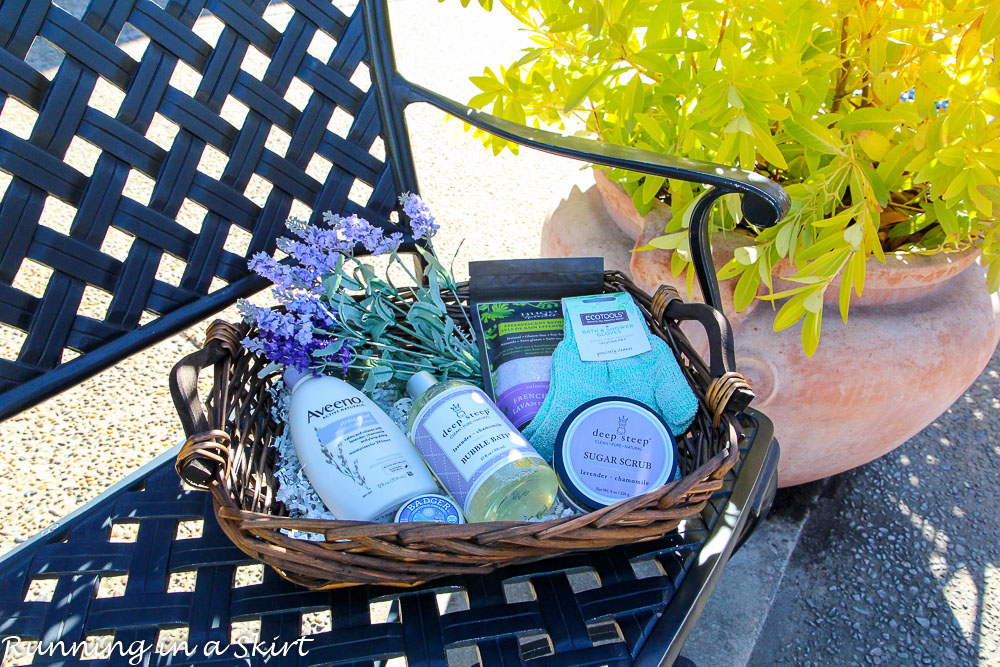 After ordering all the goodies from iHerb for my Galentine's Day gift I put it together in a basket. My favorite way of dressing up a gift is a pretty flat basket, fluffy packing paper and flowers to go with the theme.
I picked lavender for this basket of course!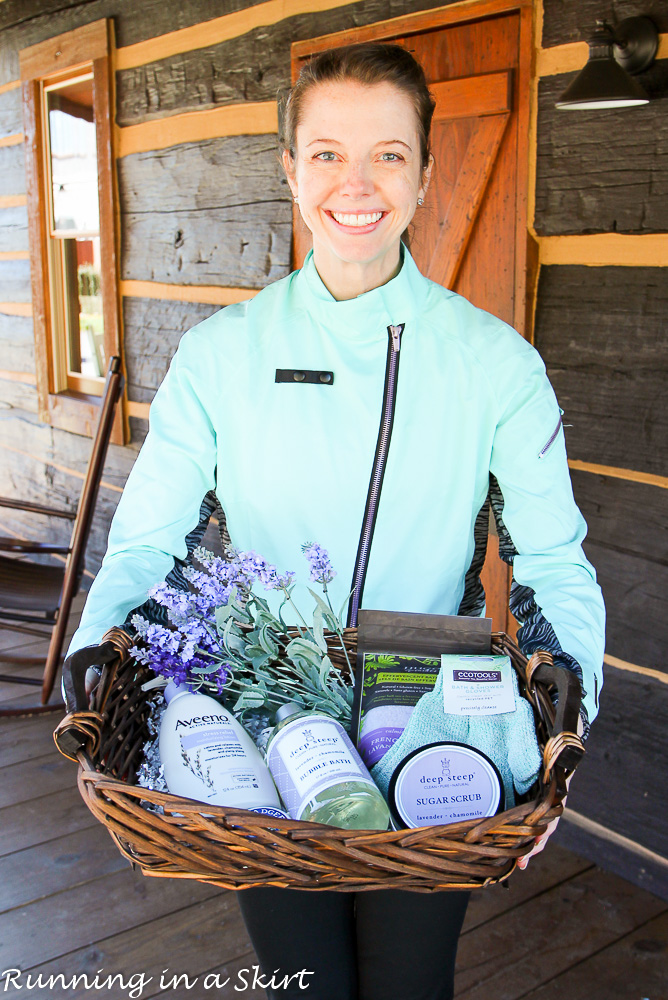 I wanted to surprise Marilyn, so I just told her I needed some help with the blog after our walk and then I gave her a gift! It is so important to let the people who are important to you know how you feel and Galentine's Day is such a good excuse to spread the love.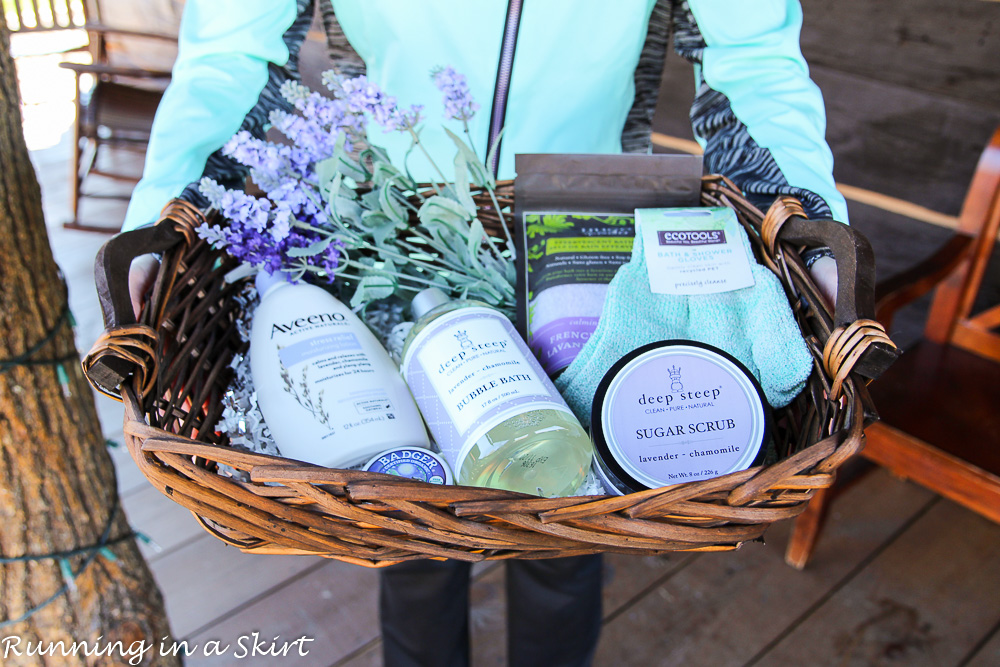 Luckily the basket was a big hit!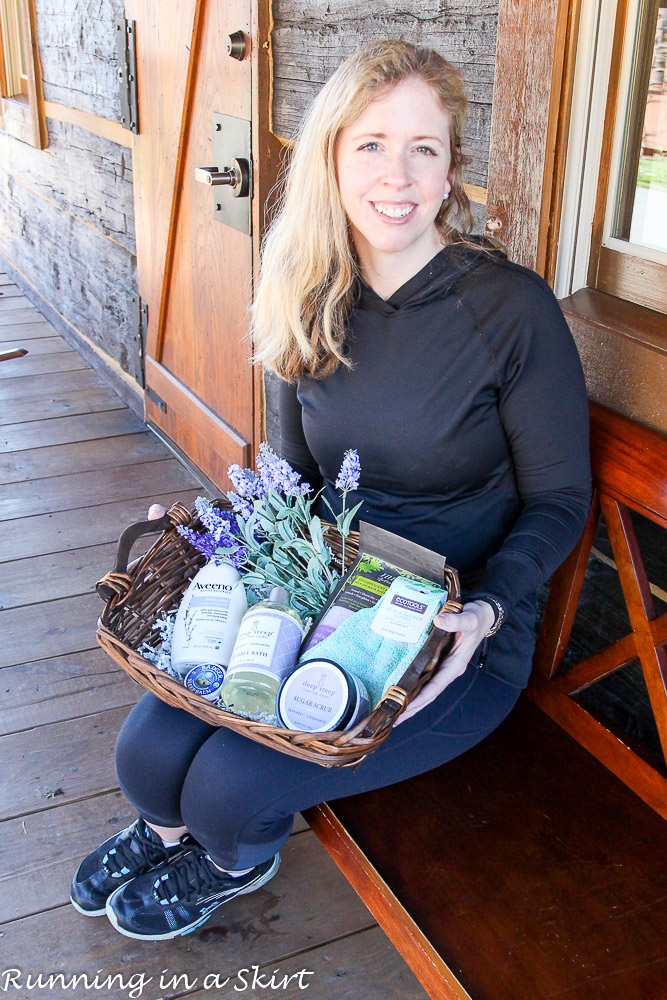 Marilyn says she can't wait to try all these goodies out!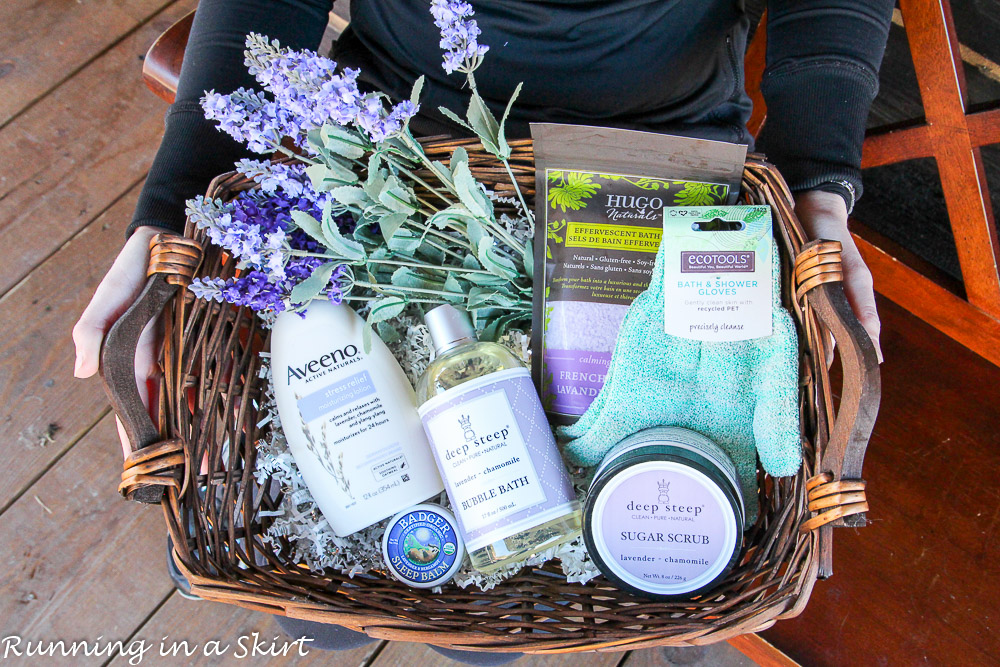 I'd say my first experience with Galentine's Day was a big success, thanks to iHerb. I will be using them for fast gift giving again in the future and buying some of my favorite health products at better prices.
I encourage you to let the ladies in your life know how much you care for them with Galentine's Day gifts too. Celebrating Valentine's Day can be so much more fun this way!
If a stress relief/ sleep themed basket isn't right for your friend, try these other themed basket ideas you can get from iHerb:
The ideas are really endless! iHerb sells over 35,000 products and ships to 160 countries, so there is something for everyone. Stop by and try them out... tell them I sent ya!
Happy early Galentine's Day, lovelies! Each of you also mean the world to me.
Want to find this later? Pin this to your favorite DIY or Healthy Living Board!

Easy & Meaningful DIY Galentine's Day Gift Ideas- celebrate your friends this year!
Click To Tweet
I'm linking up with Marvelous Monday, Thinking Out Loud Thursday, Wild Workout Wednesday, Fit and Fashionable Friday and Fashion Friday.
Thanks for stopping by today! Come back tomorrow for a healthy (no butter) crock pot version of Chex Mix!
Your turn!
Head over to iHerb and let me know which products you would order for your bestie![/fusion_builder_column][/fusion_builder_row][/fusion_builder_container]