Hi everyone!
I'm continuing my Key West blog today with more highlights from my recent trip, including ideas for if you ever go yourself! Did you miss round one? Make sure to read this one first. I'll be here when you come back!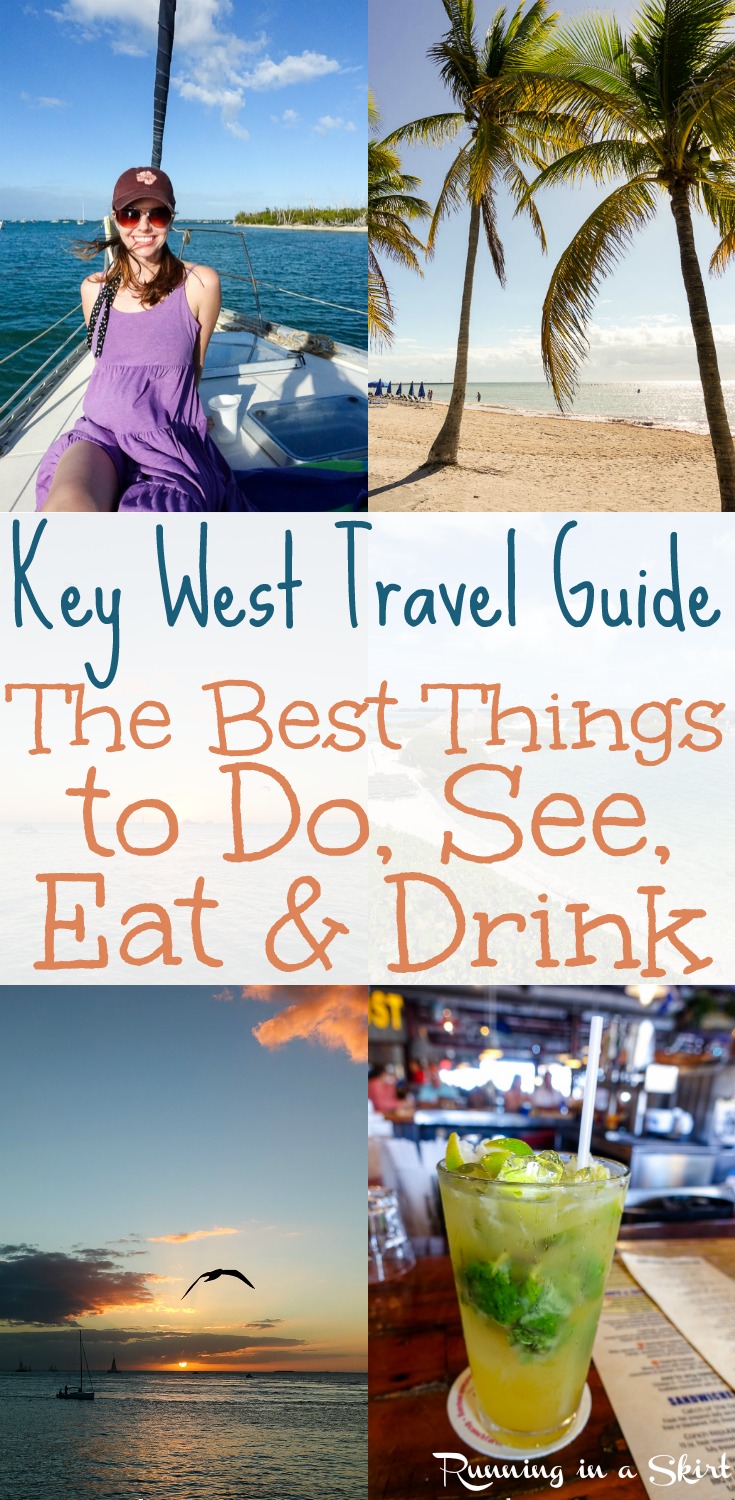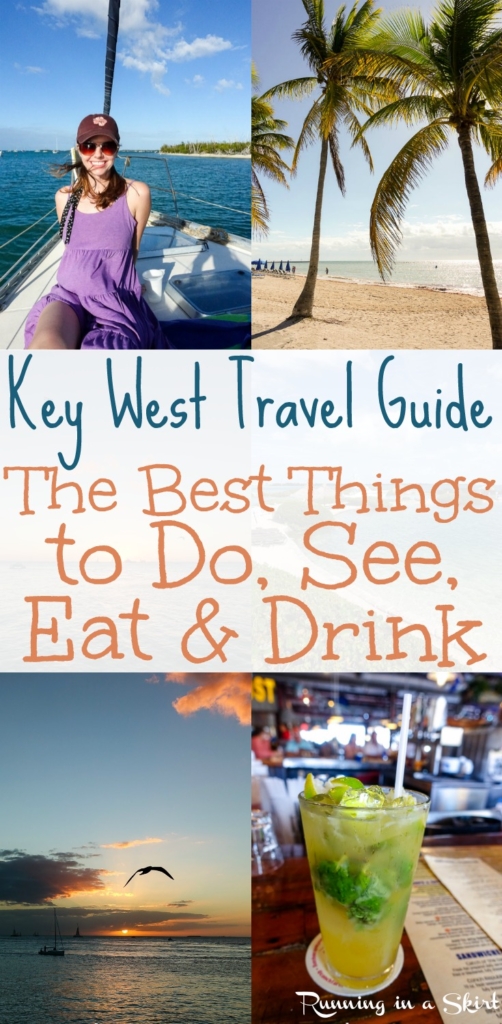 When we left off the Hubs and I just ended a wonderful island day complete with our own sailboat ride and seafood dinner... I'll pick up day 3 from there.
[fusion_builder_container hundred_percent="yes" overflow="visible"][fusion_builder_row][fusion_builder_column type="1_1" background_position="left top" background_color="" border_size="" border_color="" border_style="solid" spacing="yes" background_image="" background_repeat="no-repeat" padding="" margin_top="0px" margin_bottom="0px" class="" id="" animation_type="" animation_speed="0.3" animation_direction="left" hide_on_mobile="no" center_content="no" min_height="none"]Take me to Key West! Love this travel post! Click To Tweet
Key West Blog (Part 2!)
Key West Blog Day 3
My Key West blog day three starts off with an early morning wakeup call. We got up early because we wanted to spend the day seeing and exploring other parts of the Florida Keys. This was our third trip to the area in recent years and we had never even made it our of the historical area of Key West.
Since we flew in we started by picking up a car at the airport. After a few signatures we were off on the open road!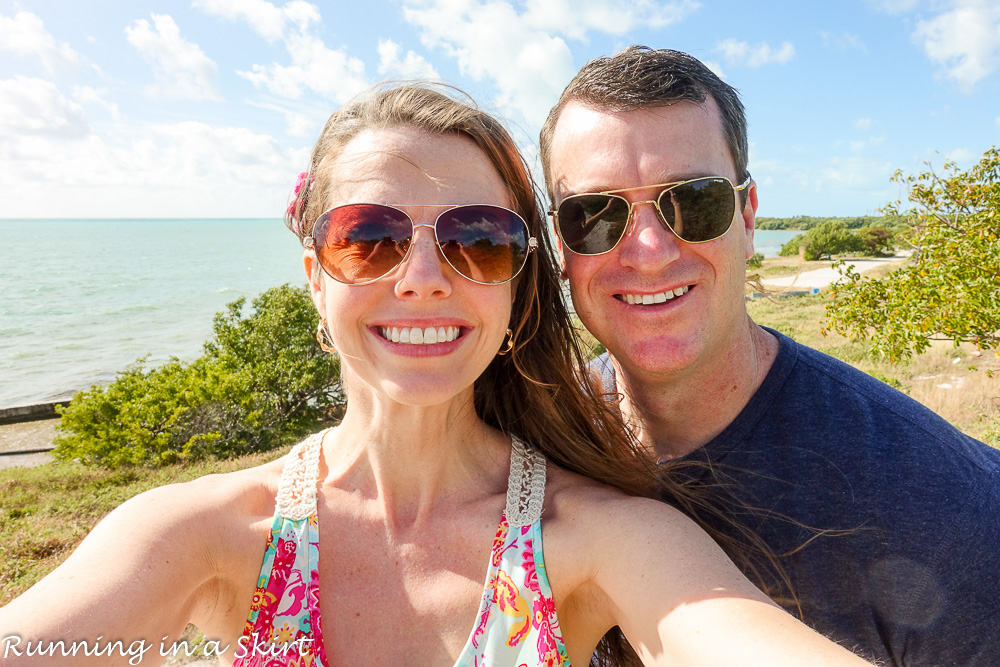 We made a few stops along the way north to see some of the sights. The old railroad bridge was really beautiful in a strange way. It hasn't worked since the 1935 Hurricane that devastated the area.
I thought this shot of the old and new bridges really brought life to how much the areas have grown in the past 100 years.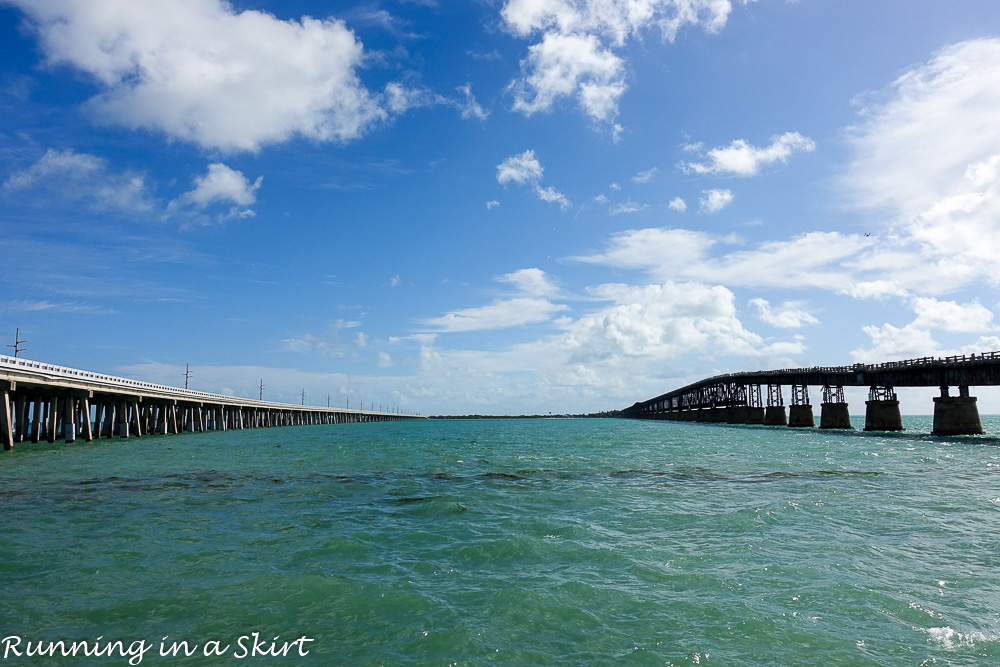 We decided to make the longest part of our drive first, going past Marathon to our northernmost stop Hawks Cay for lunch. Hawks Cay is home to a resort we had heard about, so we decided to check it out!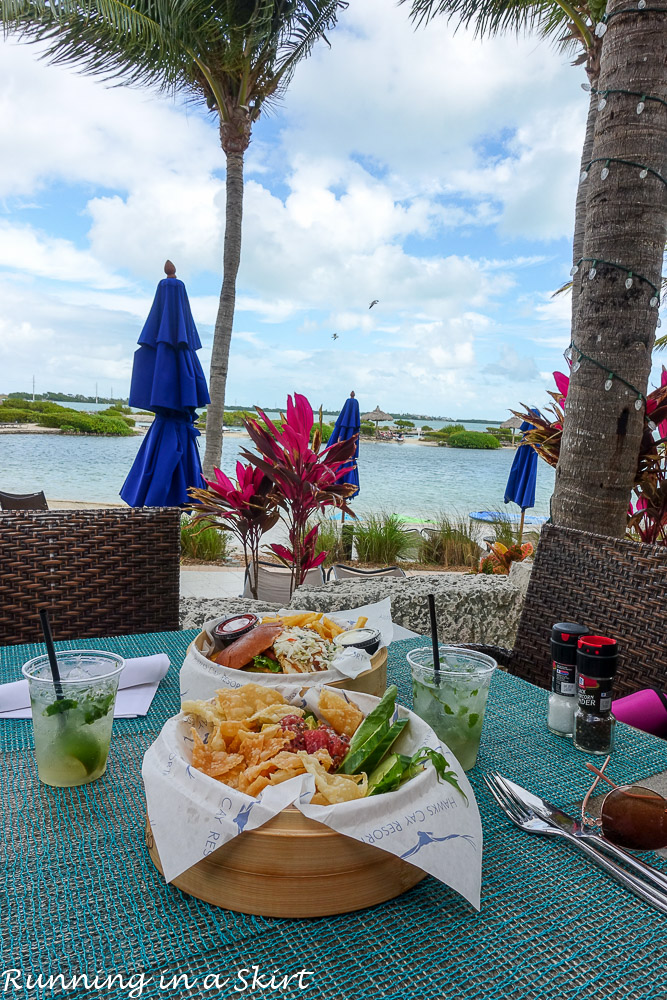 We shared some poke and a fish sandwich for lunch with really pretty views.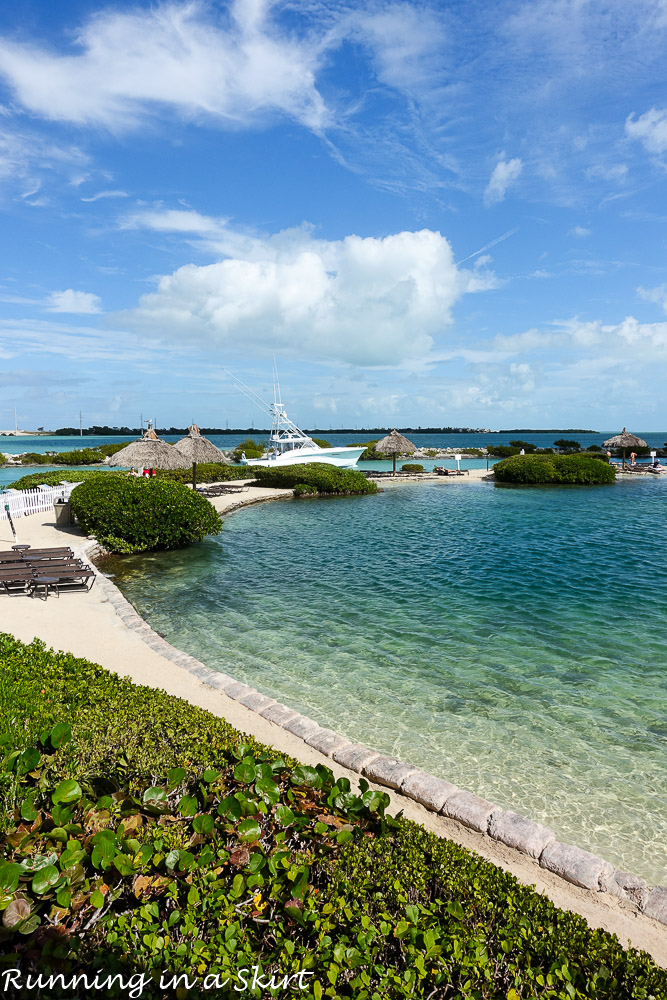 The resort even has a dolphin area... which you know I watched for a long time!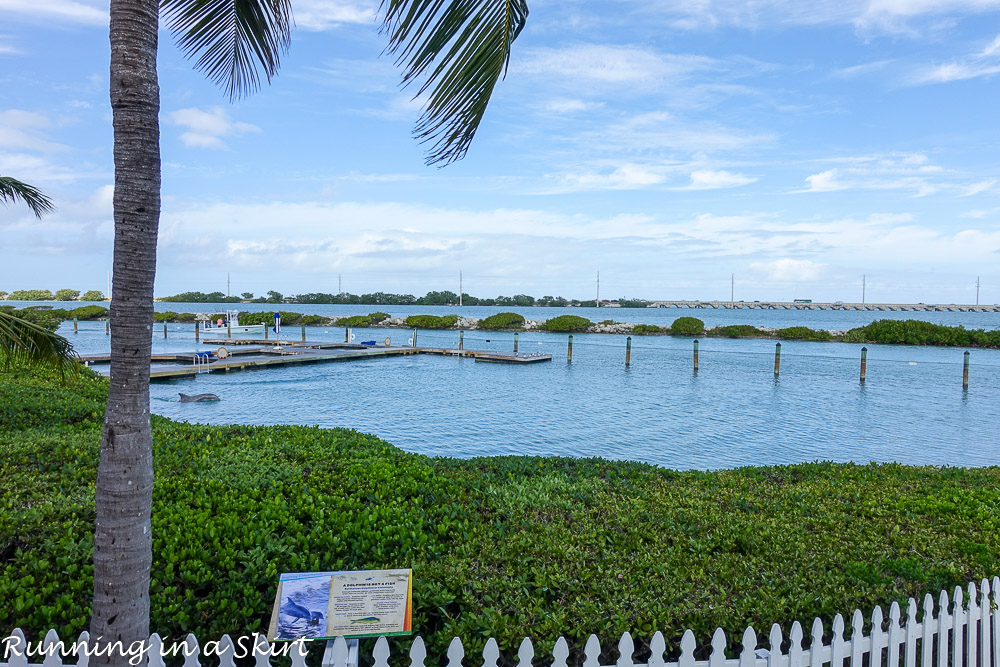 After lunch we made our way back to Marathon where we explored Sombero Beach. It's a really pretty public beach! The Keys aren't really knowns for their spectacular beaches, but I thought this one was of the best we saw on our entire trip.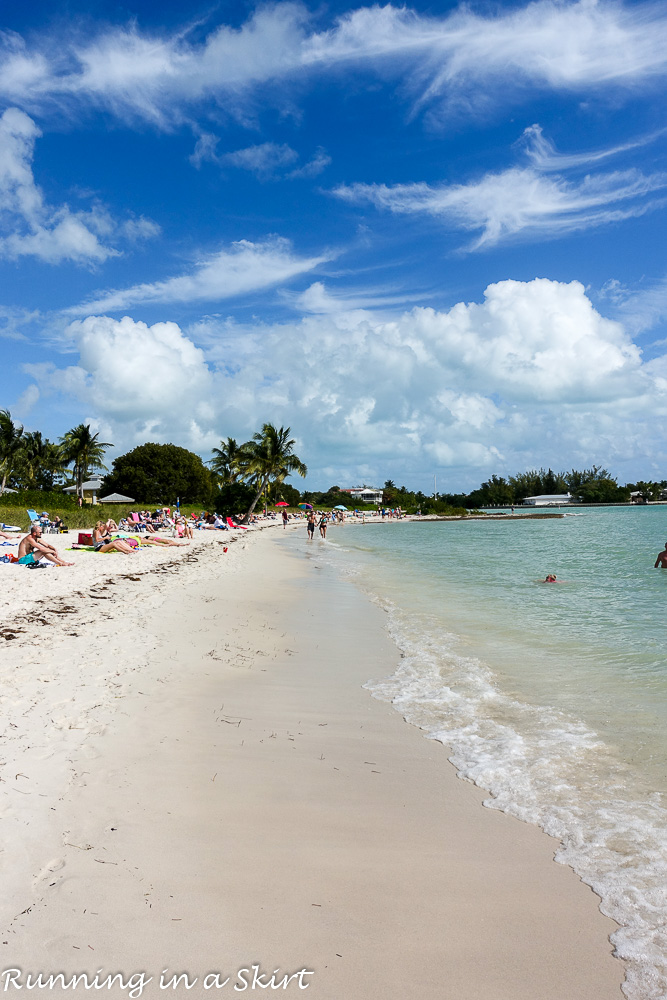 Next up was the TURTLE HOSPITAL!!! Now in the sake of full disclosure, one of the main reasons I wanted to explore the rest of the Keys was to see the turtle hospital. I have always adored sea turtles, so I was beyond stoked to check out their conservation efforts.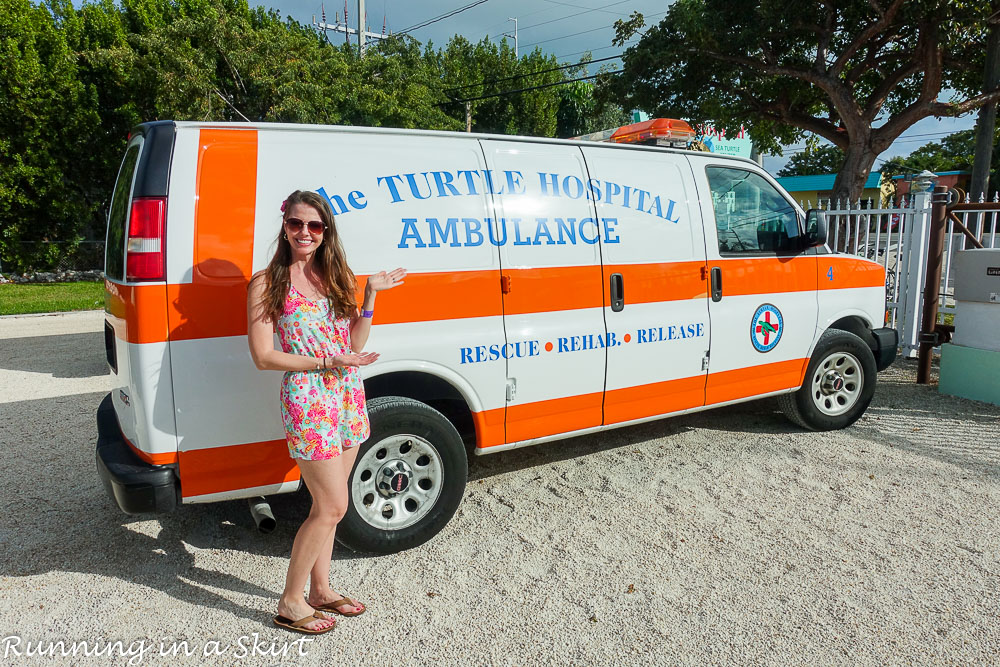 The Turtle Hospital is a real, working non-profit that rescues turtles in the wild, provides care and releases most of them back out to sea.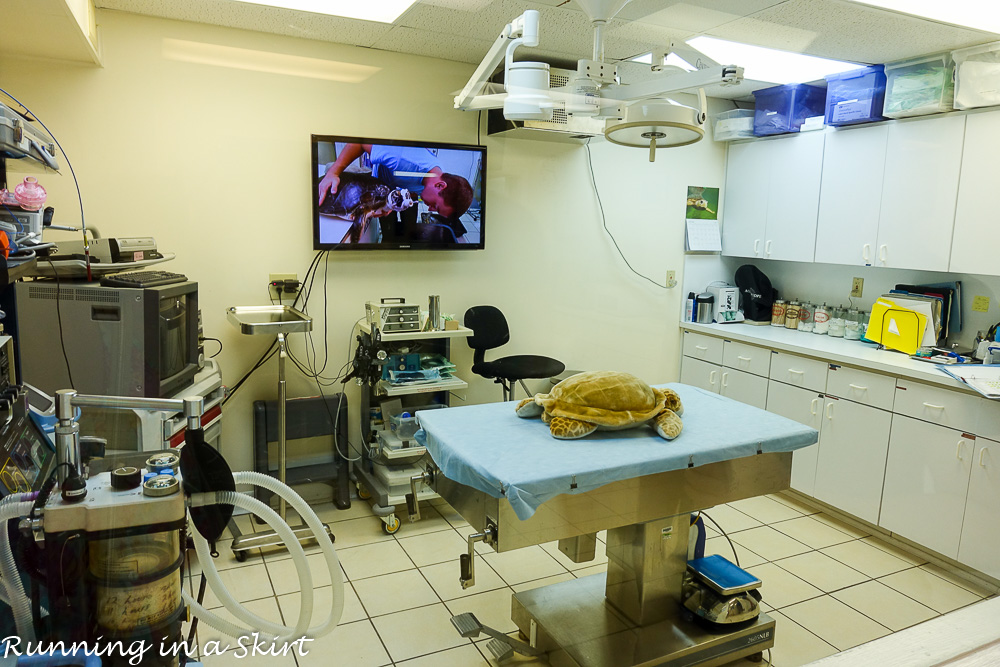 Our tour guide told us all about the different kinds of sea turtles and showed us the many pools where they keep and rehab the turtles.
I could have watched them all day long! If you are in the area and love animals, I highly recommend taking the tour. By the end of it I wanted to drop everything and move to Marathon just to volunteer there. Lol!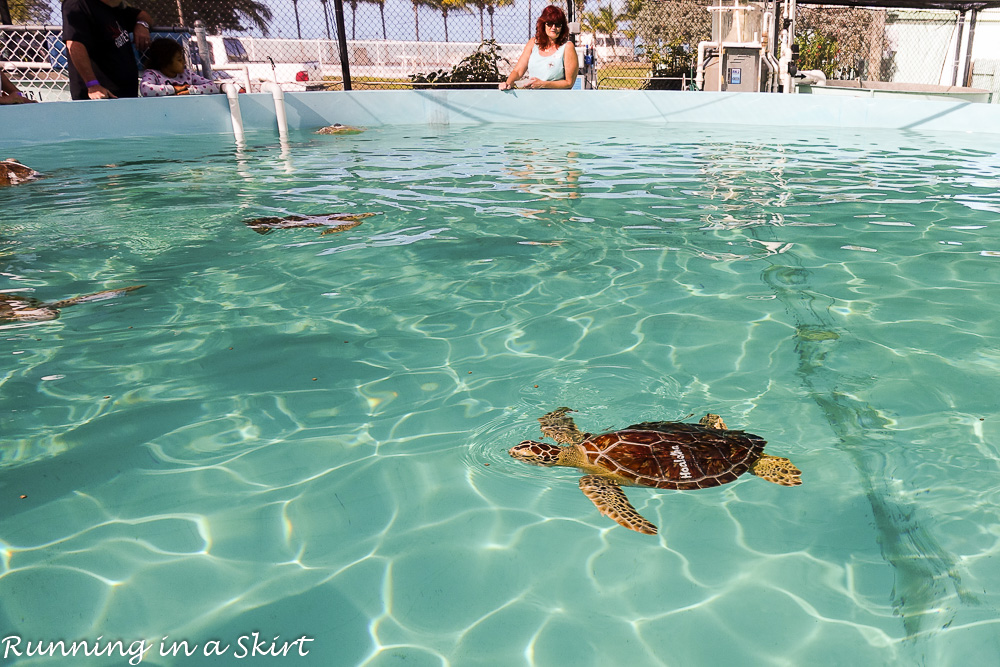 After the Turtle Hospital we continued our drive south to Bahia Honda State Park. By then it was getting late in the day, so we walked a few trails and along the beach. It was a little to cool to even think about getting the water, but it was still nice.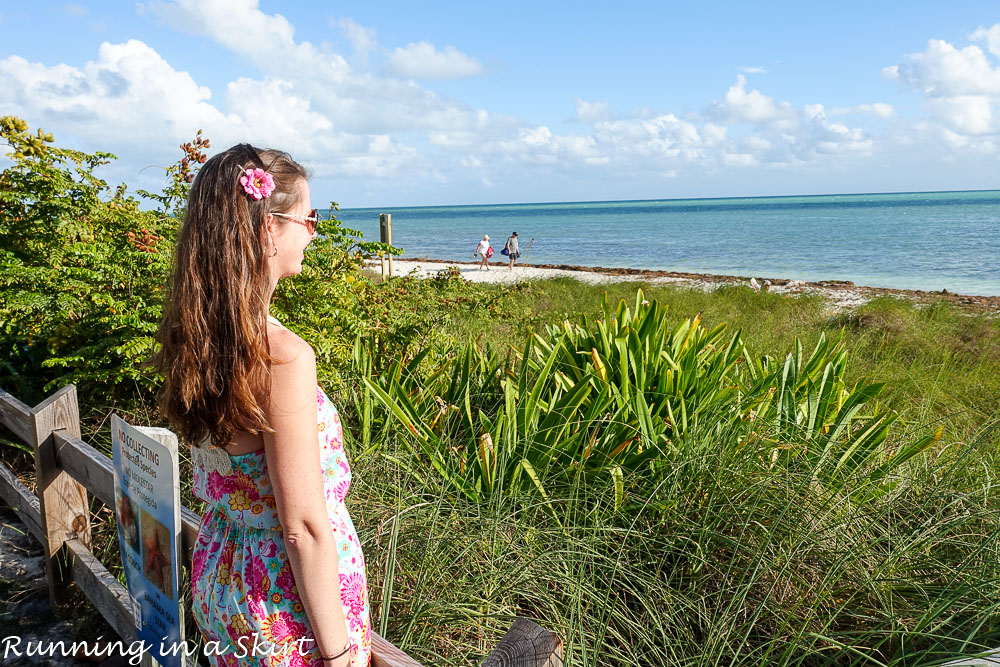 It was a pretty area and I could see why so many people loved it, although I felt the beach area at Sombero was better and free! Bahia Honda did have an entry fee.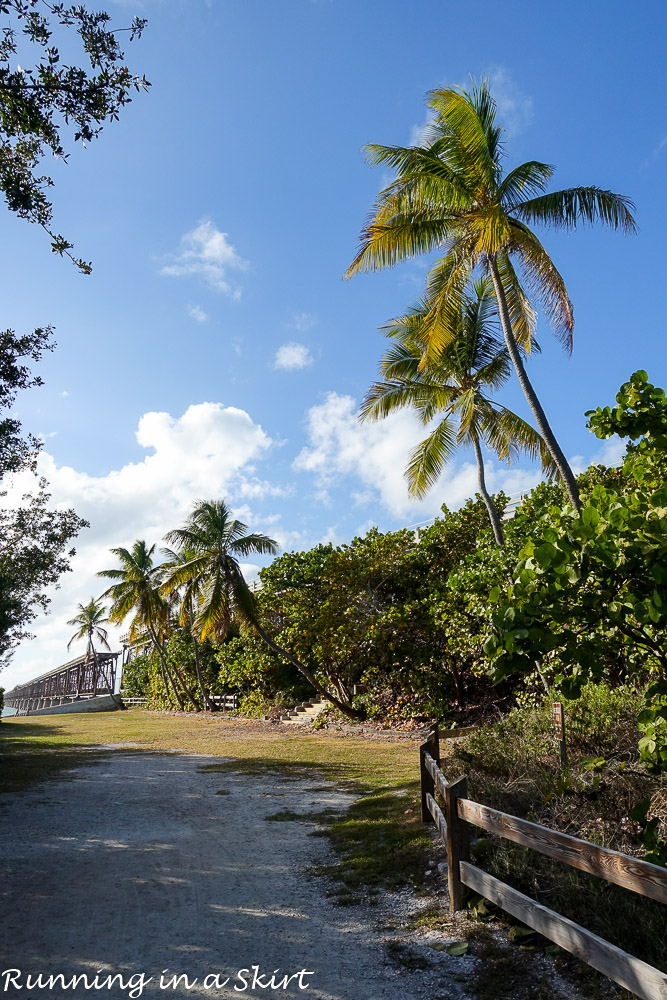 Next on the agenda was exploring Big Pine Key. They are known for having wild Key Deer, which are actually endangered. We didn't have to look hard for them at all as they were walking just about everywhere.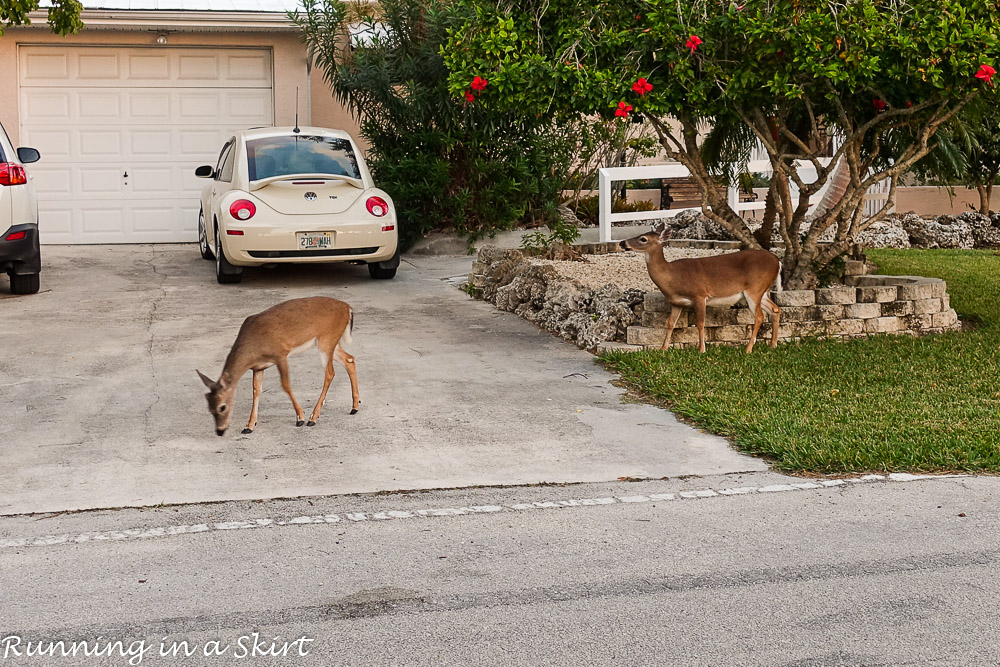 Our other stop on the way to Big Pine Key was the No Name Pub. It's a dive bar with a crazy amount of dollar bills hanging from the walls. Rumor has it there is close to 75,000 dollars! It was a fun place to stop, but not my favorite bar because of the cigarette smell and lack of a water view. I felt a little claustrophobic in it.
The Hubs and I could not resist adding our signed bill to the collection though!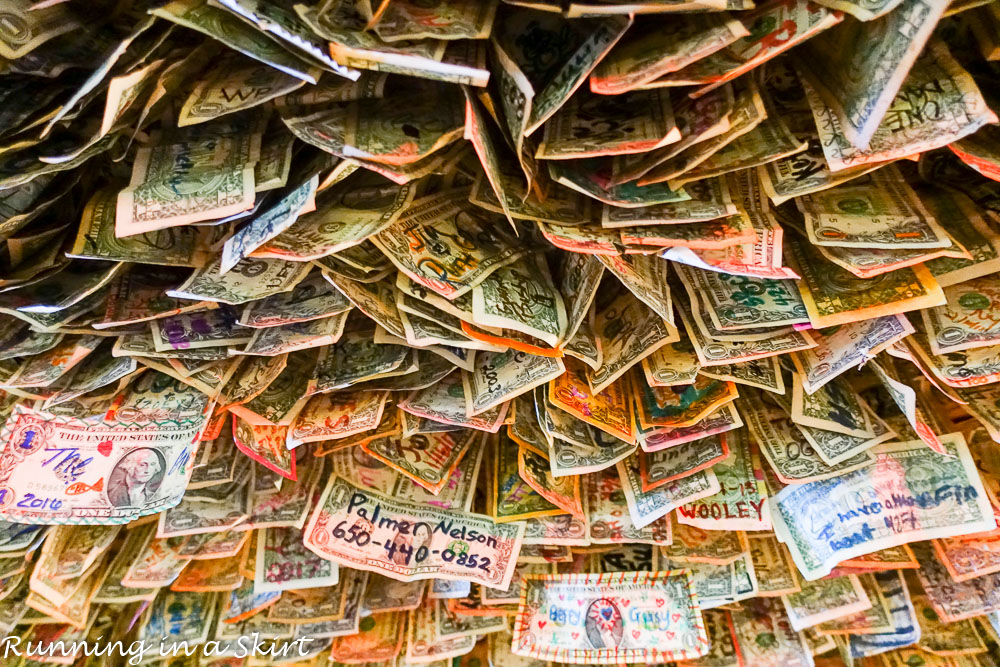 For dinner we stopped at Stock Island to try the famous Hogfish Bar and Grill. We shared Hogfish Tacos and Grilled Hogfish with tropical fruit salsa. Hogfish is a mild white flaky fish that tastes a little like snapper, but sweeter. It was a really tasty, fun and authentic stop!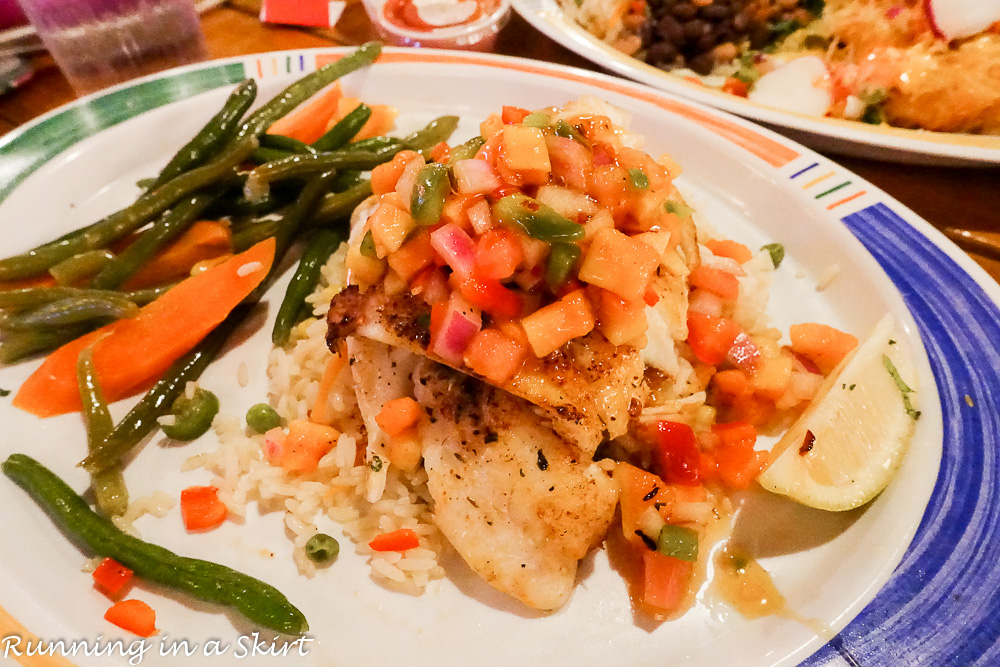 We finally made it back to Key West, returned our rental car and crashed in bed! We sure know how to jam pack a vacation day with fun, but we wore ourselves out.
Key West Blog Day 4
Our last day in Key West involved a lot more relaxing than day 3! We woke up late and went for a bike ride around the island for a little exercise.
For brunch we went to a Key West classic, Blue Heaven. It's a charming restaurant where the tables are in a garden, roosters walk around and there is often live music! We did have to wait, but since it was a Tuesday not too long.
I got banana pancakes and loved every bite! So fluffy.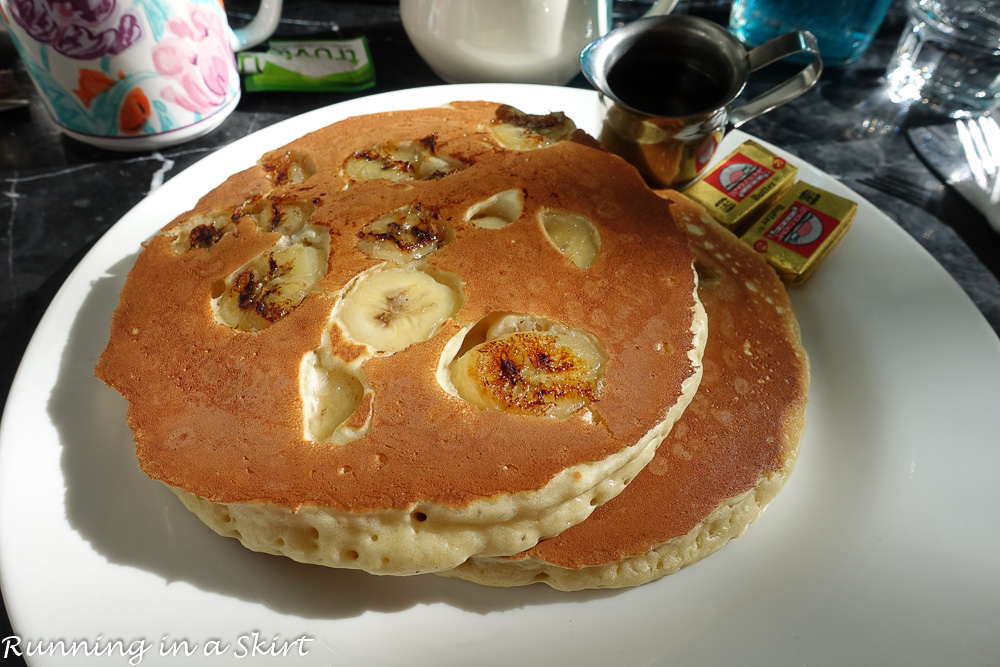 Here's our rooster friends...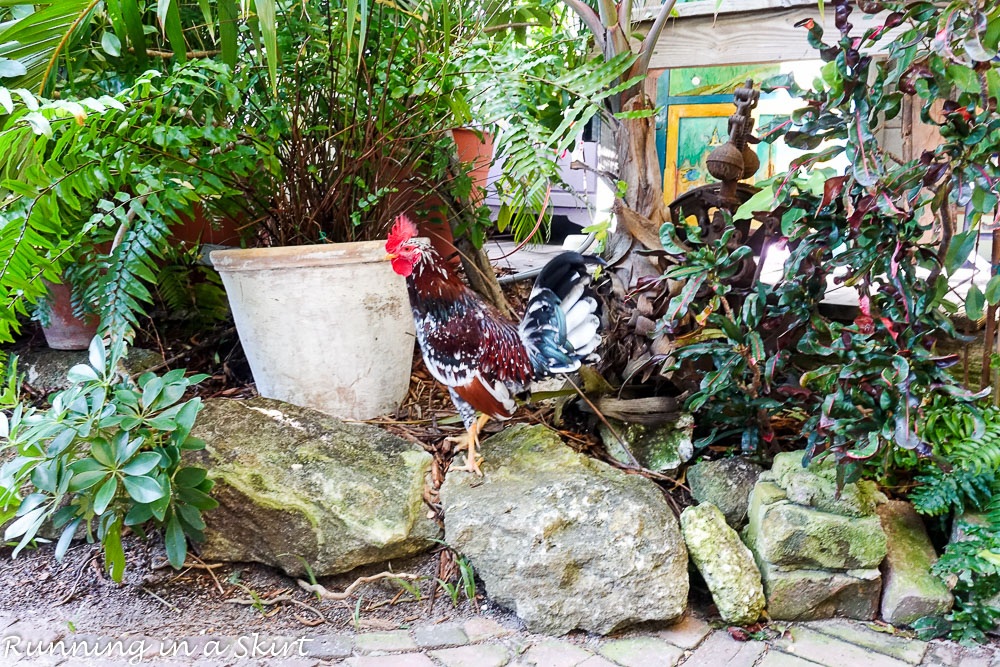 After brunch we got our beach stuff and went to Fort Zachary Taylor State Park. The beach area in the park has chair and umbrella rentals, which are a requirement for our fair skin.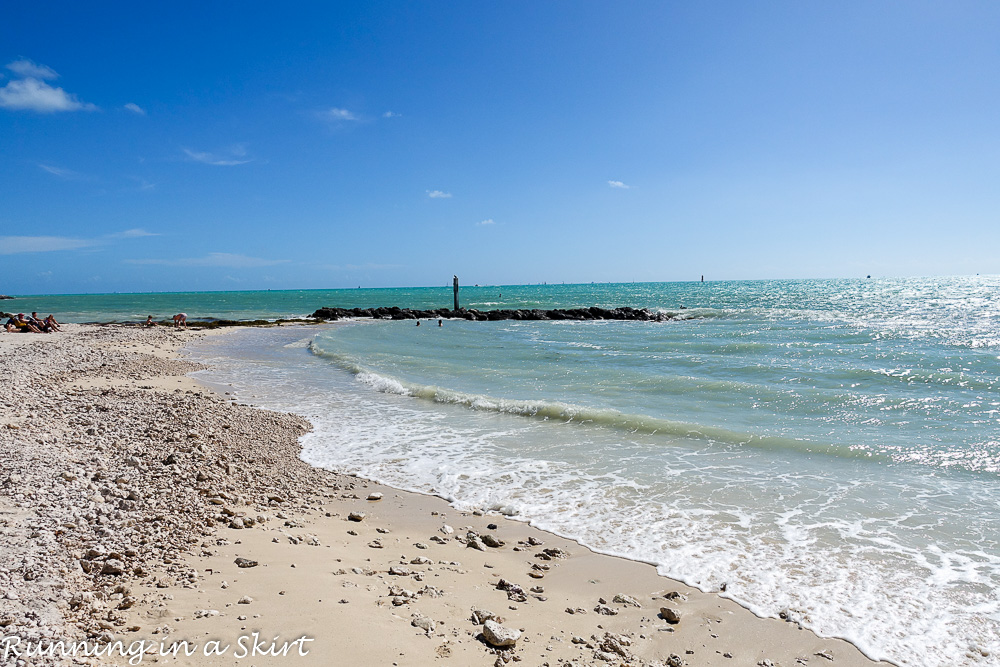 The beach is a bit rocky, but nice for Key West standards. We enjoyed catching up on reading and just relaxing after a couple of days of running around.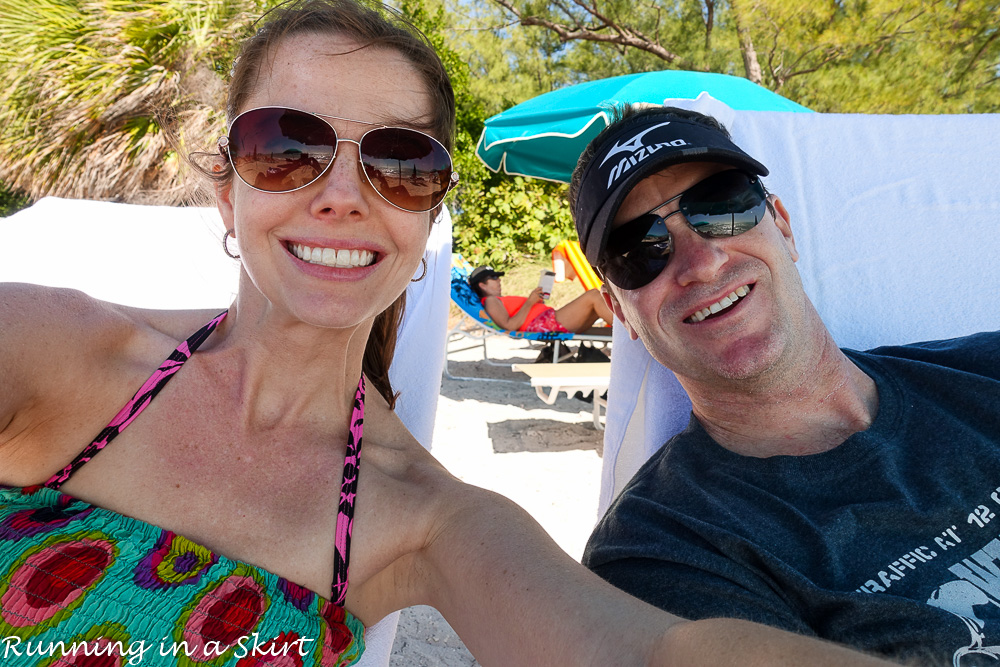 After wasting most of the day we rode our bikes back to the hotel. I stopped this gem on our way home and made a little pit stop!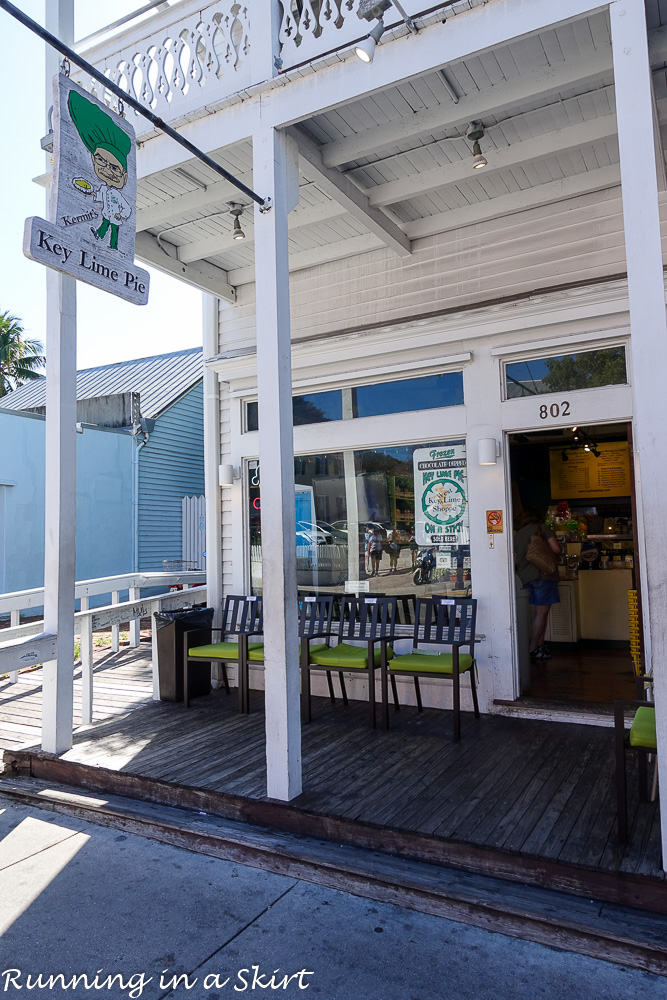 No trip to Key West is complete without chocolate dipped Key Lime Pie on a stick! Now I know you are thinking... "cheesy Julie..." But don't knock it until you try it! This treat is beyond delish and so much fun.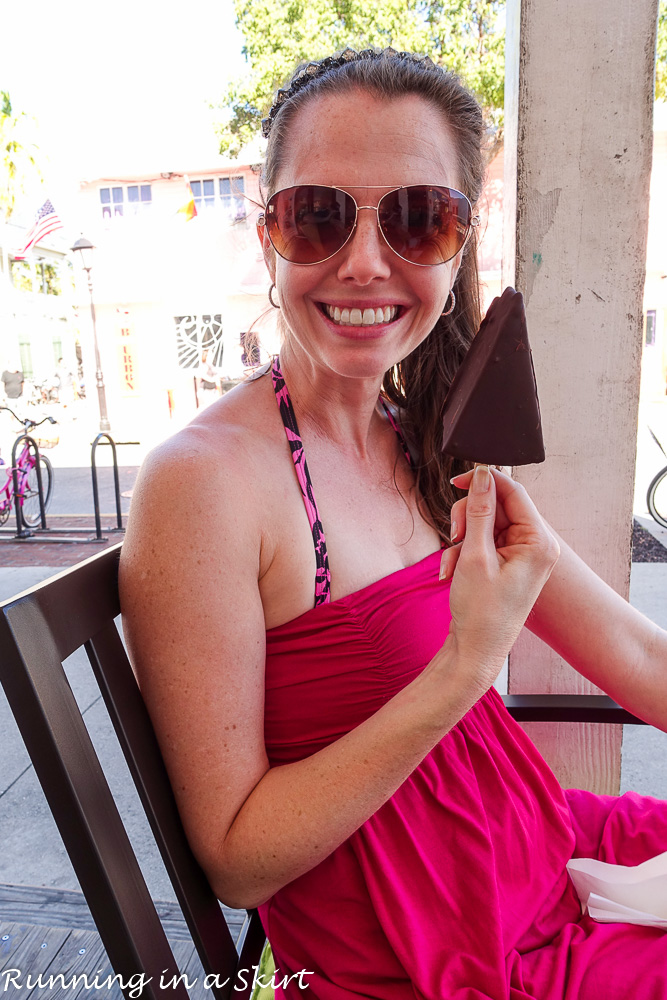 Our last day in Key West ended with another Mallory Square sunset party. It was actually the clearest day we'd had on our trip and the sunset was so different.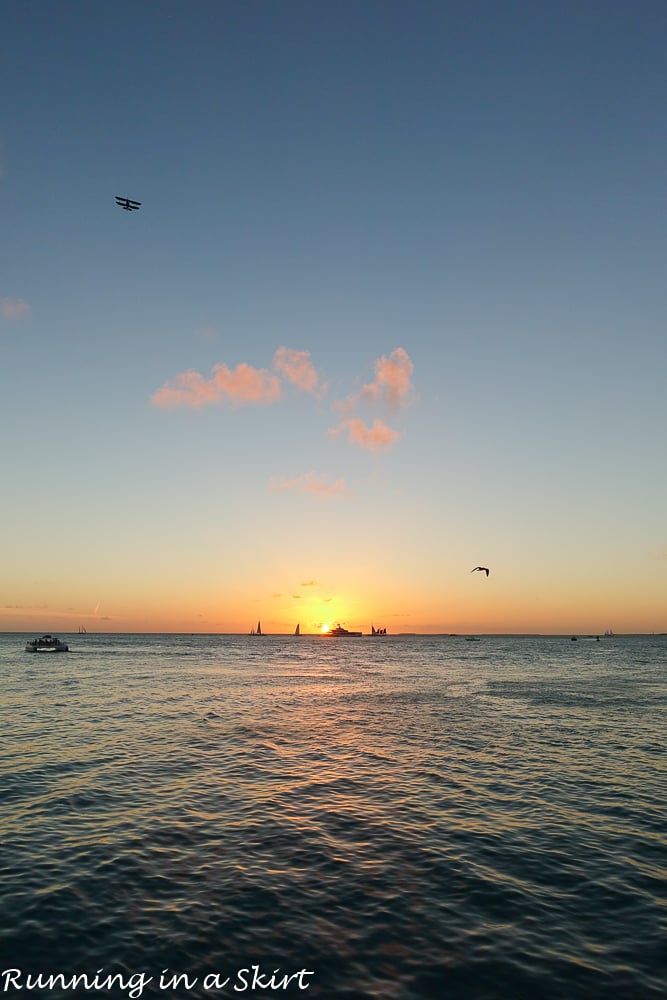 What a perfect ending to our trip!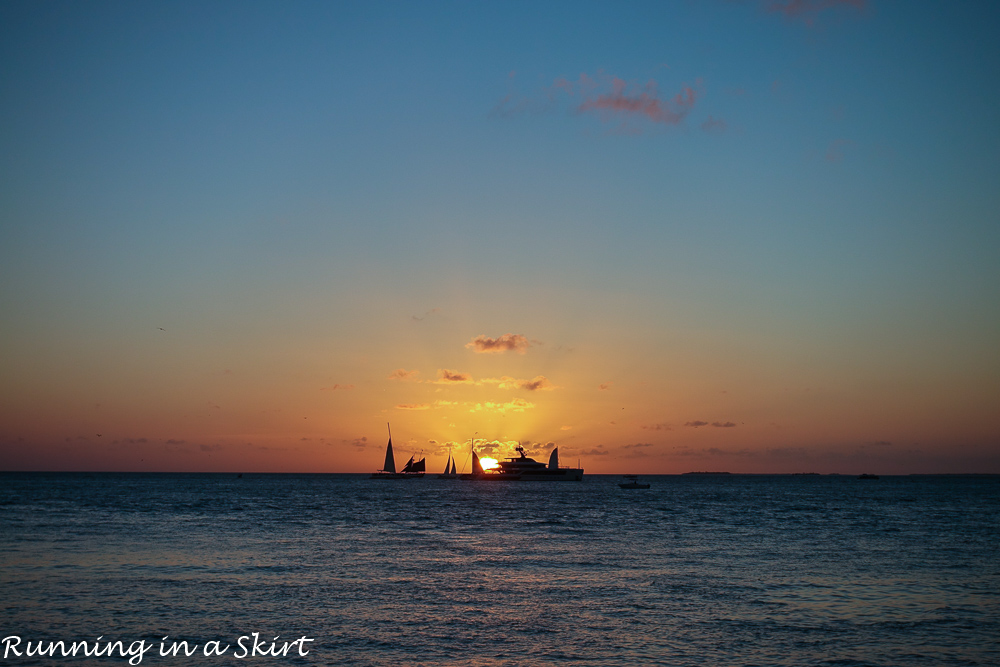 Key West is such a fun place to spend a few days. It gets the rep for being a "party" place, but the Hubs and I enjoy it because of it's quirky nature, good food and never ending fun things to do. It has a fun vibe that grows on you.
If you are looking for a warm vacation that involves more than just lazy days on the beach... this place is for you even if you are over your going out days. My only small complaint for visiting in January is it's still a little cool (especially the water temp) in my opinion to actually get in the water and enjoy it. But that still didn't keep us from having a great time and loving this wonderful corner of our country!
Want more Key West blogs? Check out my other trips...
Key West Highlights Part 1 - Sunsets, sailing and seafood
As always, you can find this Key West blog post later and help me by pinning this your your favorite pinterest board! Thanks bunches!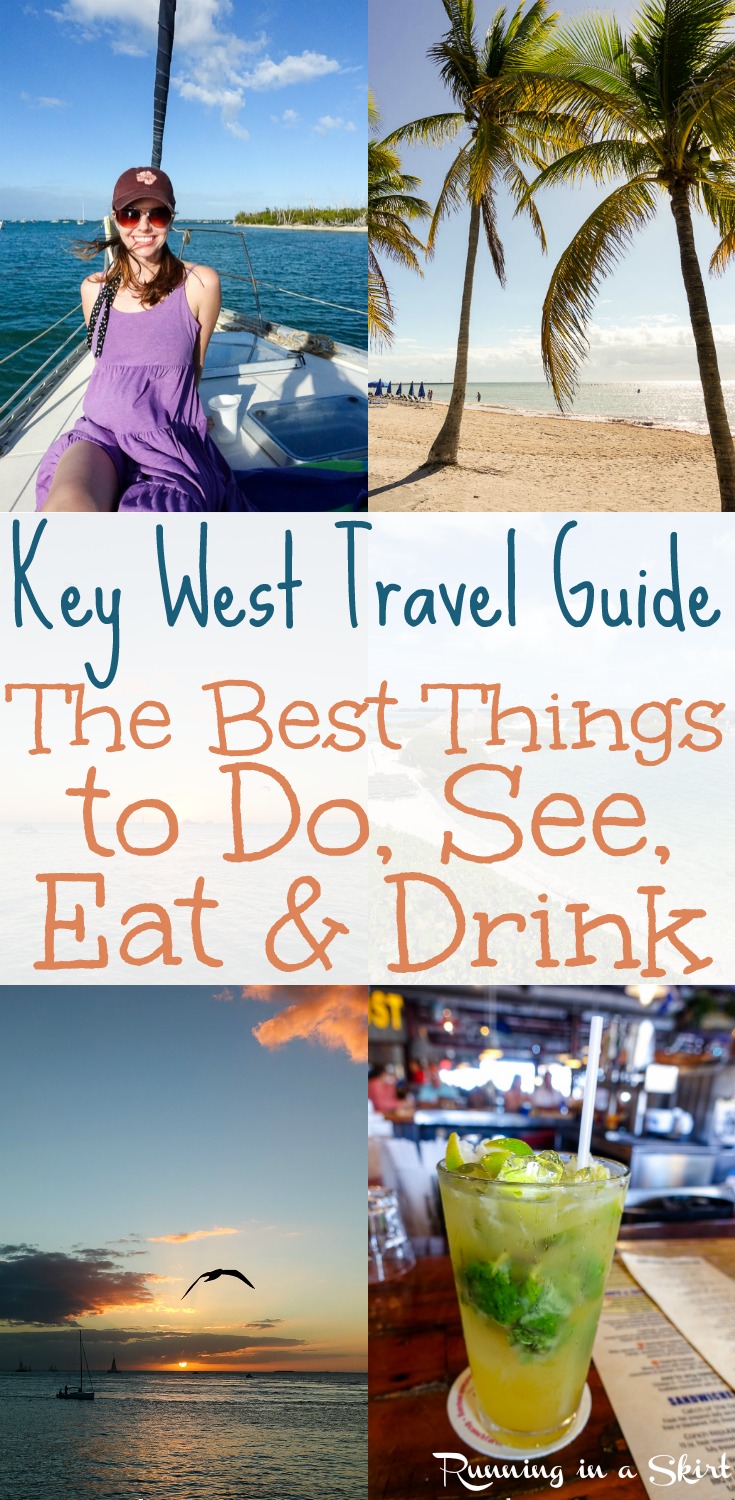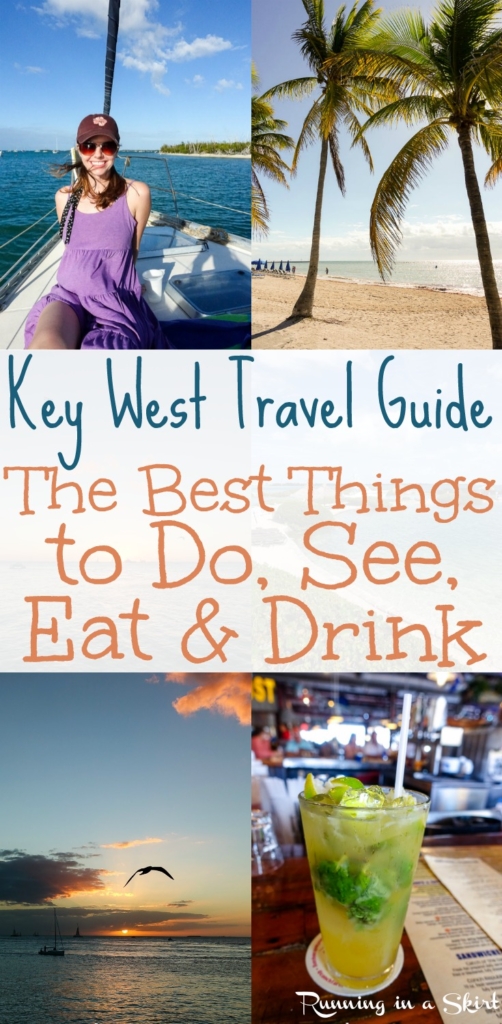 Key West Travel Guide- The best things to do, see, eat & drink
Click To Tweet
Thanks for stopping by today! Tomorrow I'm sharing my favorite healthy Super Bowl recipes all in one convenient place!
I'm linking up to City Trippin, Thinking Out Loud Thursday and Marvelous Monday.
Your turn!
Any Key West favorites to add to the ones I went to?
Want to move to Marathon with me and rescue sea turtles?[/fusion_builder_column][/fusion_builder_row][/fusion_builder_container]