I'm pretty sure the statue of limitations is about up for posting these pictures, but I'm going with it anyway. It's also more exciting than a blog about my weekend of reorganizing the hall closet and doing laundry!
We took a little Key West getaway at the tail end of our trip to Florida in January. We had such a good time, and I had so many great pictures that I just have to share.
Better late than never, right?
Day 1
We arrive to Key West just before lunch and our hotel is kind enough to let us check in early. Since we are only in town for two nights, we decide to stay as close to the historic district as possible. Hotels in Key West are pricey, but we fall in love with this old "motel" that has been recently completely redone. The owners and staff are so nice and guided us through our trip!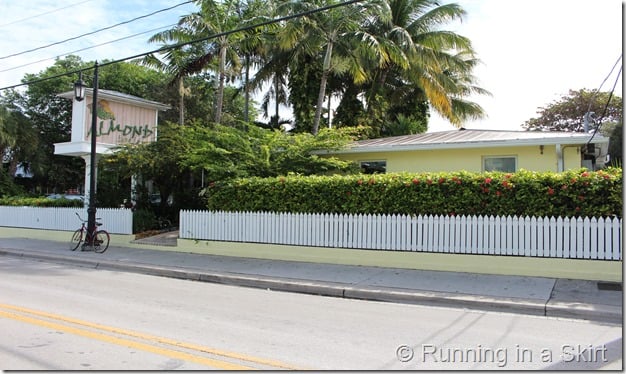 The lady at the front desk first sends us across the street to get bikes. She tells us it is the best way for us to see the island on our short time frame.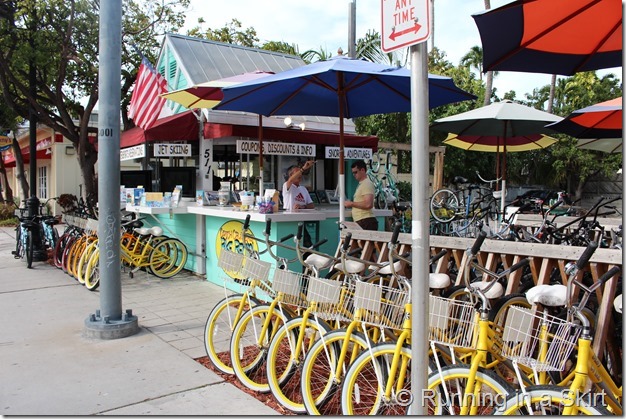 We quickly gain our balance on the bikes and we are off to see some sites.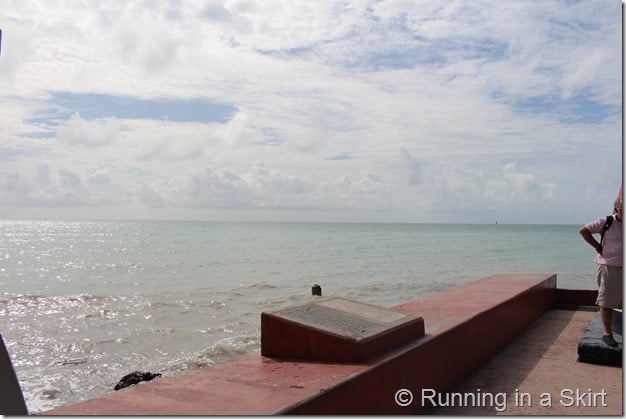 The Southernmost point is a little cheesy, but it is on the top of our list of things we want to see. From this point, Cuba is only 90 miles away! Cool, huh? We wait for our turn to take a pictures and talk about how much we are loving riding our rental bikes. I feel like a kid again!
Key West's nickname is the Conch Republic and the Island's government actually tried to secede from the country at one time. This place really seems like a different world!
We also get a glimpse of the "Conch Tour Train."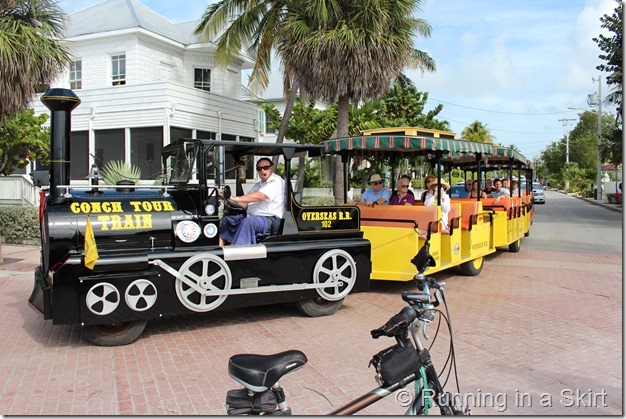 Even though Key West is an island, the topography of the land means there are actually very few beaches. We ride our bikes to this one, near the Southernmost point.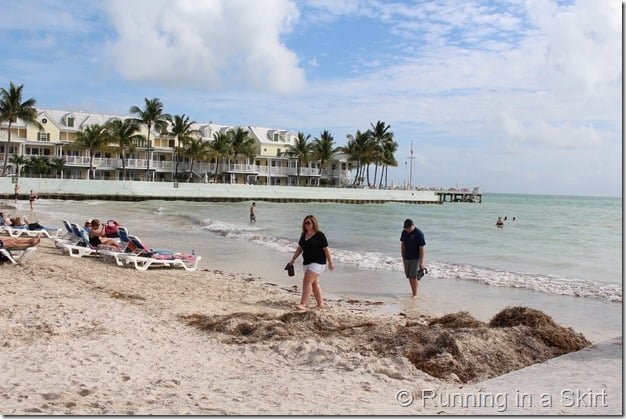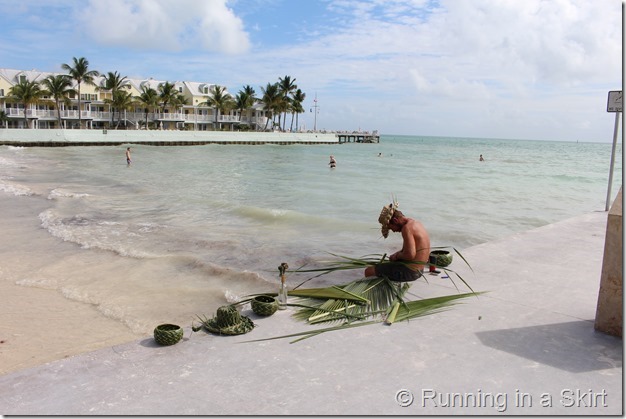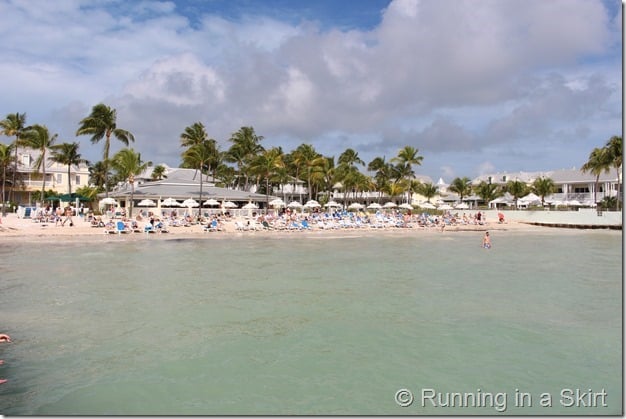 After riding around for a few hours, we are famished and want to eat as close to the water as possible.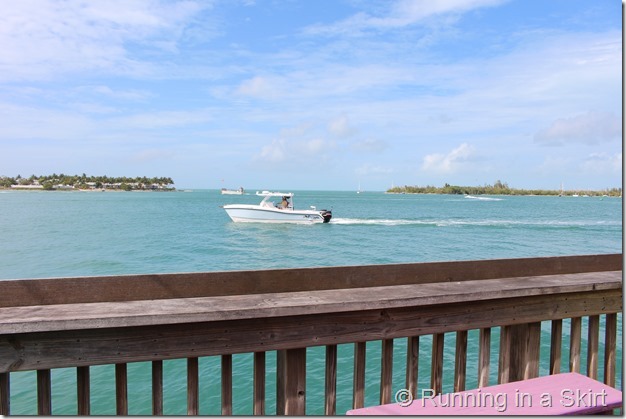 Mission accomplished! AND Mojito, please!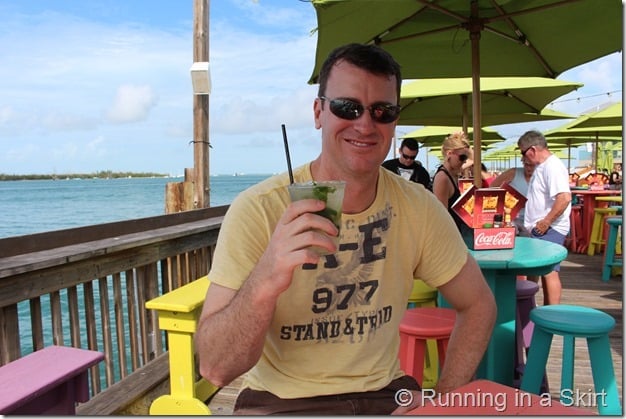 And since we were in the Conch Republic, we must try the conch fritters.
They are ah-mazing…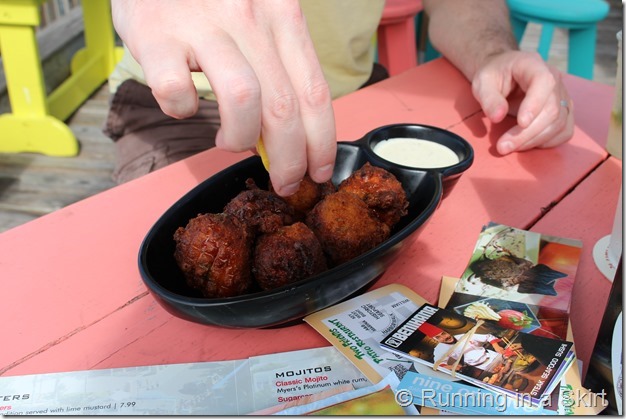 We also try a lobster lettuce wrap…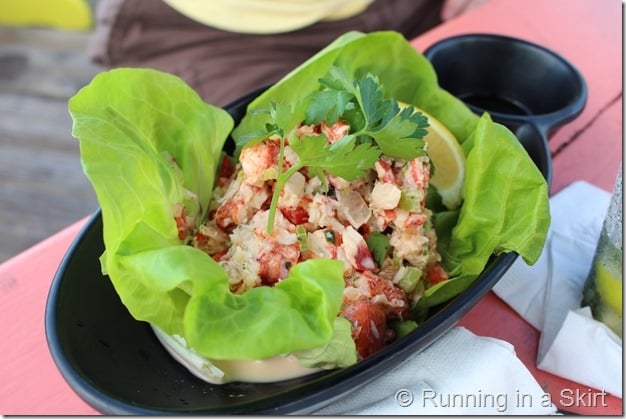 … and a fresh Mahi sandwich to share.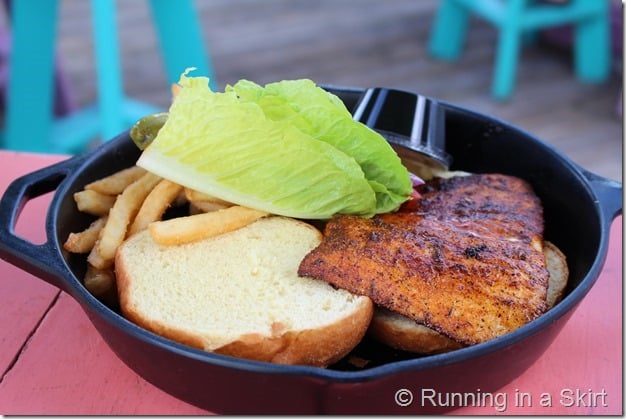 Live music makes for a perfect afternoon and in no time, we are on Island time!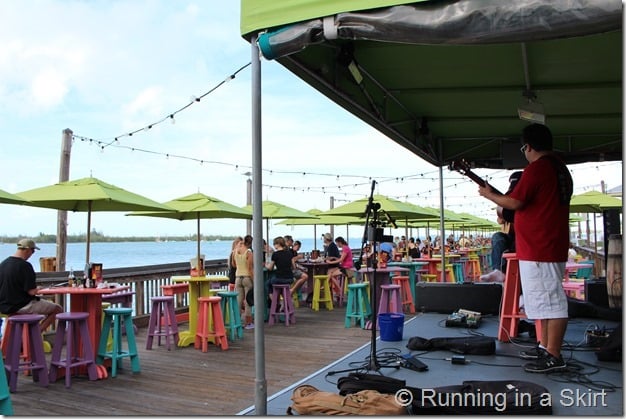 After a late lunch explore Mallory Square.
Eventually we find our way back for the sunset celebration.
Every night before sunset, street performers and artists gather and put on shows in Mallory Square.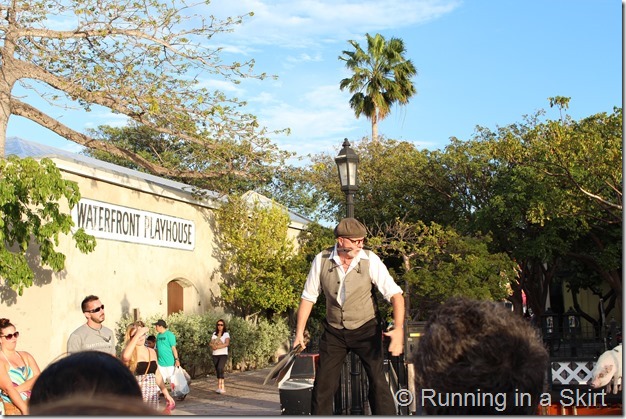 Dozens of dancers and acrobats show off their best skills.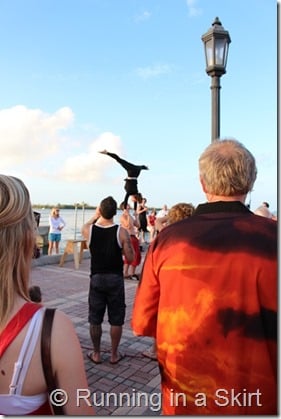 My favorite is this dog that knows how to take tips from guests and put them in this bucket. Yes, I'm a sucker. There goes my dollar!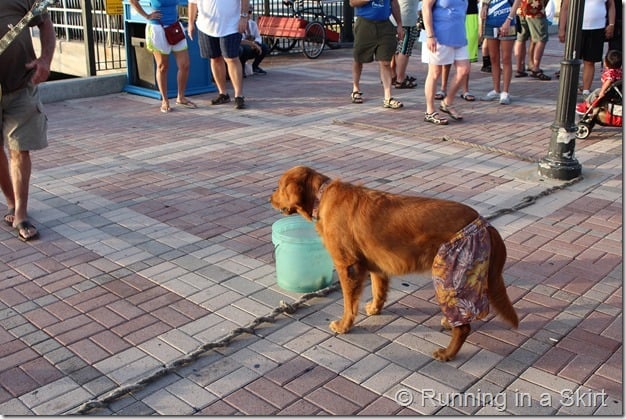 We stay through sunset and enjoy the amazing views.
*You can see more of the sunset pictures on my Key West Sunset post.*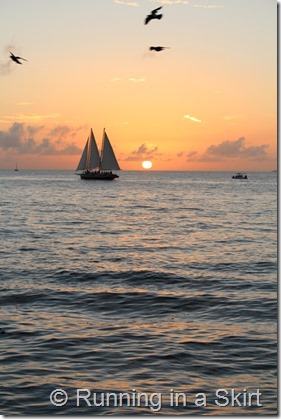 After watching the sunset, we go back to the room to get ready for dinner. We eat at an amazing Italian place called Antonia's. They incorporate tons of fresh seafood in their dishes and it is probably one of my favorite Italian meals outside of Italy itself.
Day 2
The second day I am really excited to ride my bike more and continue to explore. The city is the perfect place to bike and even on the main roads, I feel safe.
We first bike to see Hemingway's house.
The lady at the hotel tells us we can find a great beach at Fort Zachary Taylor Historic State Park.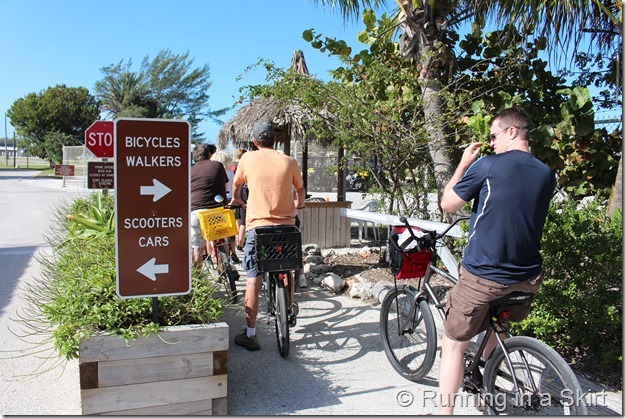 There is a small admission, but totally worth every penny.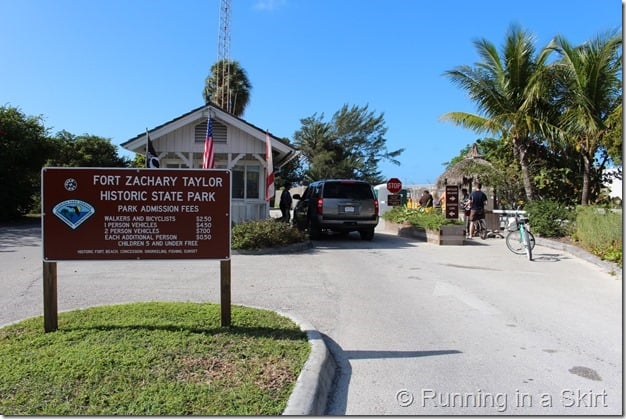 Look at these views!
We rent chairs and umbrellas (YES, we BURN badly!) and enjoy a relaxing couple of hours on the beach.
There is even a nice place to get snacks just off the beach.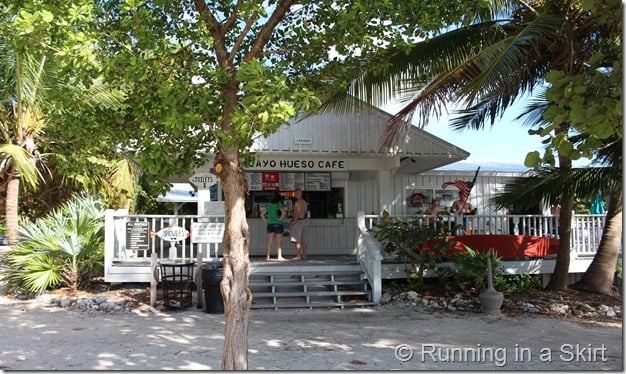 After several hours of relaxing, we decide we need more fresh seafood for lunch!
We stumble across DJ's Clam Shack and park our bikes.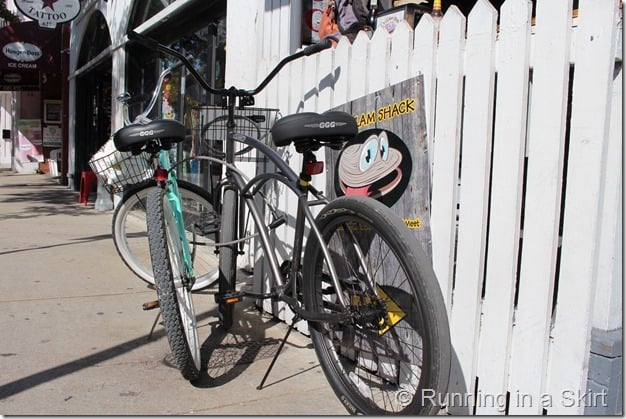 DJ's Clam Shack is literally a shack on the main drag, but it is so good. It has even been featured on the Food Network show Diners, Drive Ins & Dives.
We try the fried conch. Delish!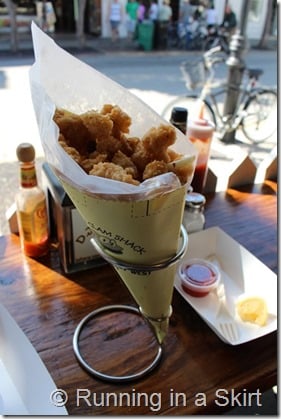 And his signature steamed clams. They have buttery jalapenos in them. Yes. BUTTER & JALAPENOS. Yum....
It is such a different and delicious take on one of my favorite meals. I love them.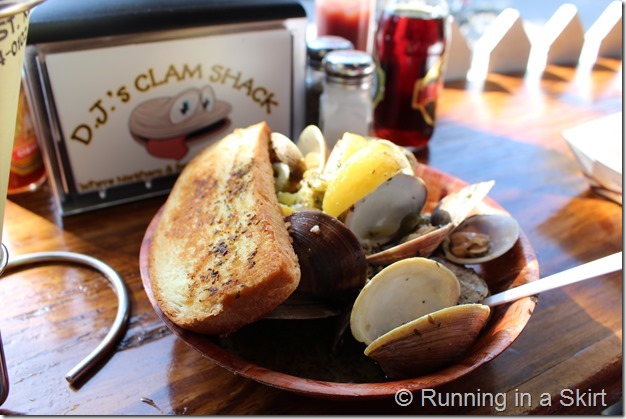 On our way back to the hotel, we stop by the Butterfly Conservatory.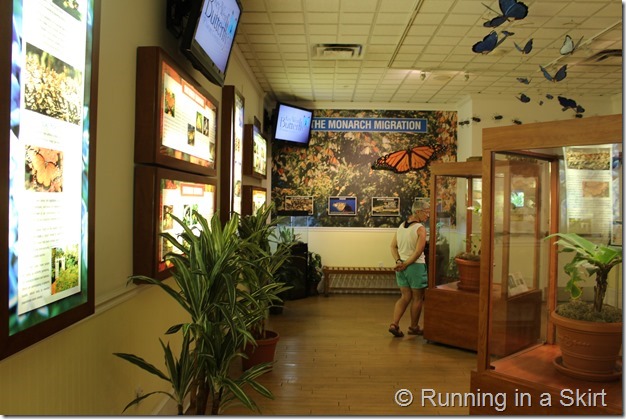 I completely fall in love with this place and take approximately 316 pictures, before the hubs drags me out!
I need to edit some of these and share them for a future post, but here are just a few I snapped without alteration…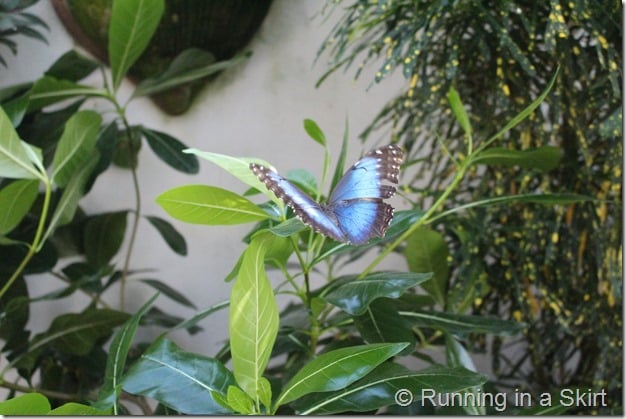 We eventually go back to the hotel for a few hours of relaxation before our sunset sail!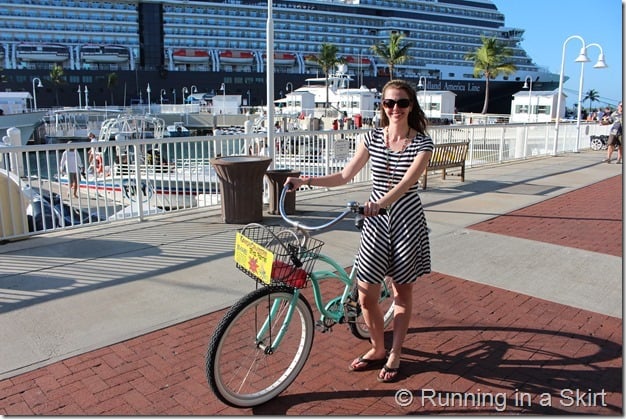 Our hotel highly recommends this wine and dine sail on a smaller sailboat.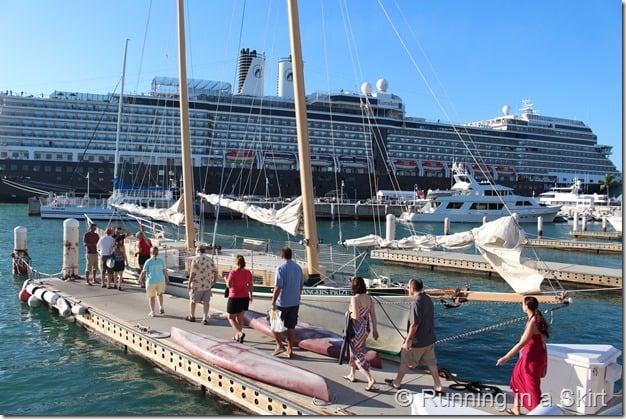 There are wine and appetizer pairings, which makes for a perfect evening on the water.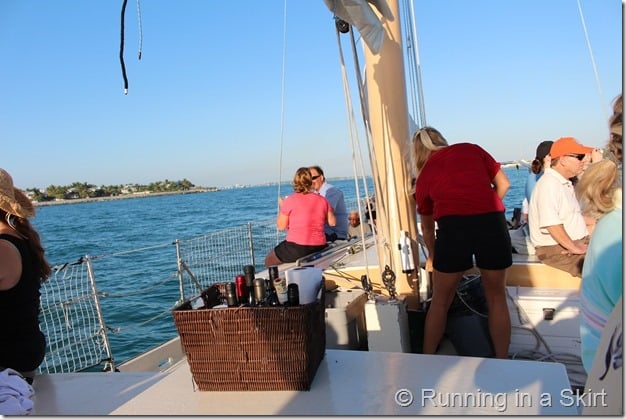 Here is one of my sunset pictures, but you can also see more in my Key West Sunset post.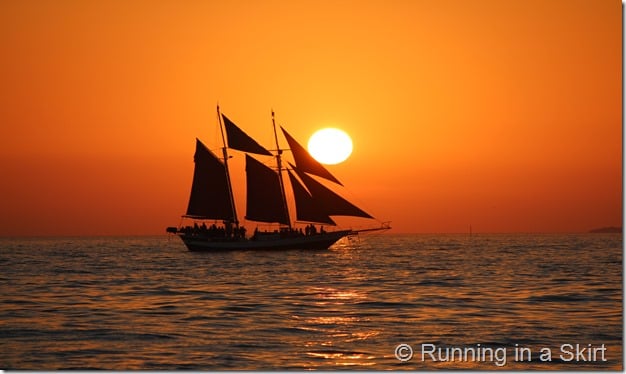 We have the best time and love being on the water.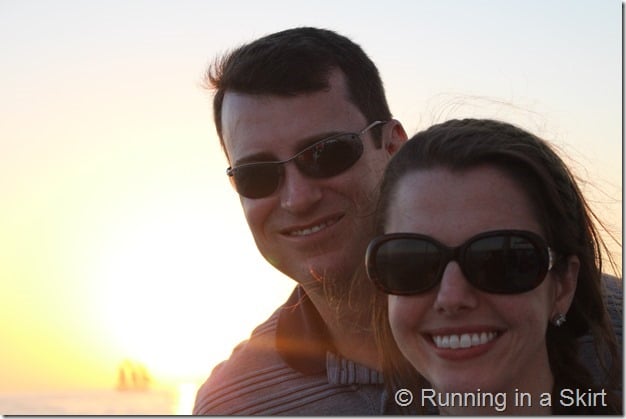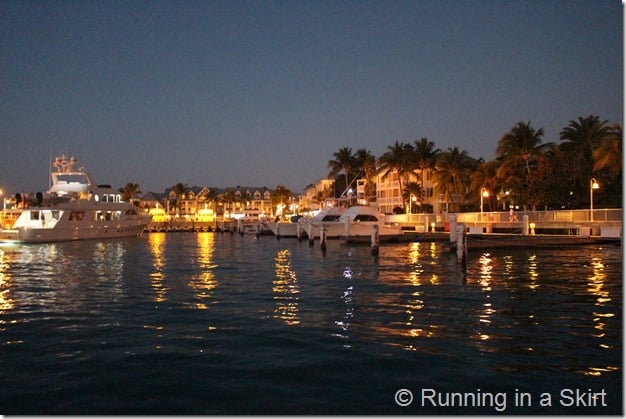 On our way back to our hotel, we stop in a few classic Key West hotspots and hear some great music.
And just before we crash for the night, we stop and get one last treat!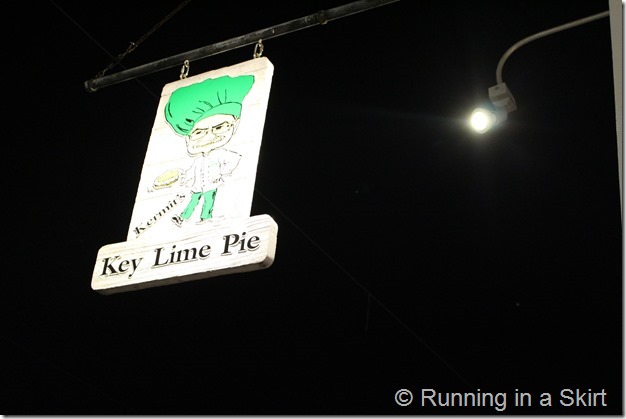 Authentic Key Lime Pie. So good.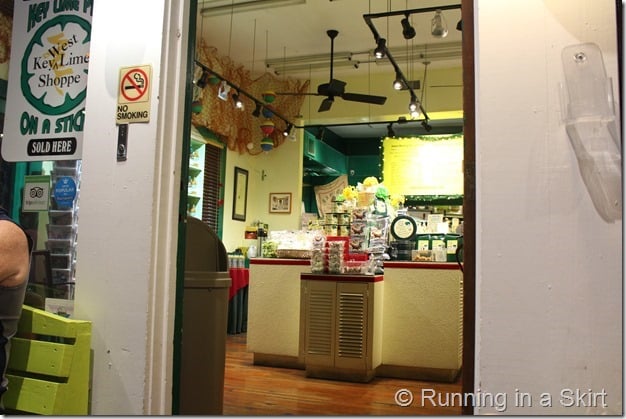 We had such a nice time in Key West and really hope to go back sometime soon!
Questions:
Have you been to Key West?
Have you ever used a bike to tour a city?