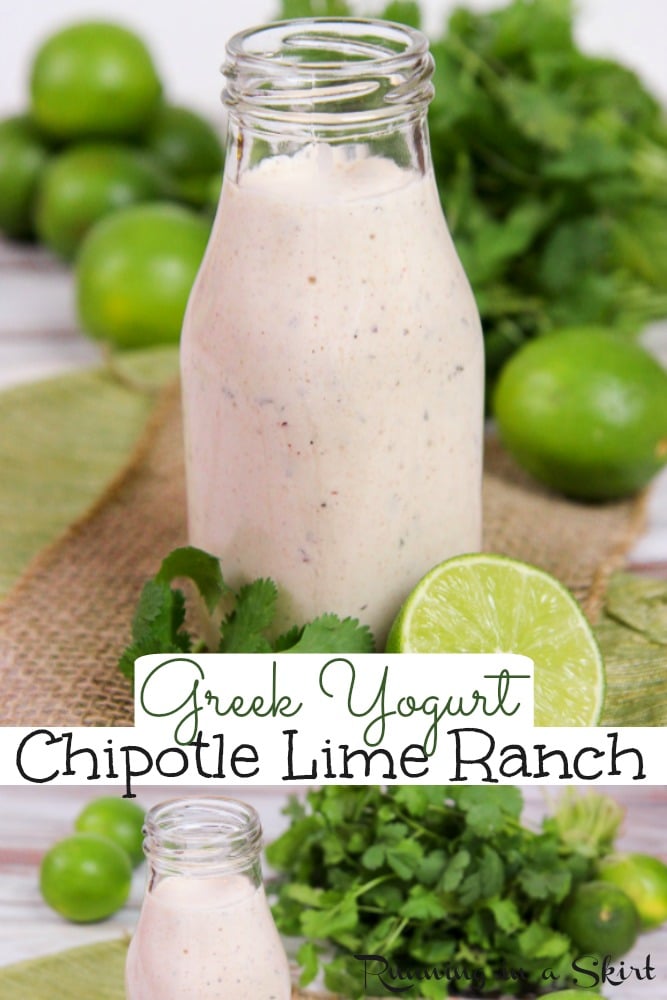 Healthy Chipotle Lime Ranch Dressing recipe is perfect on just about everything Mexican inspired! The chili lime flavors shine through in this perfect Greek Yogurt Chipotle Dressing.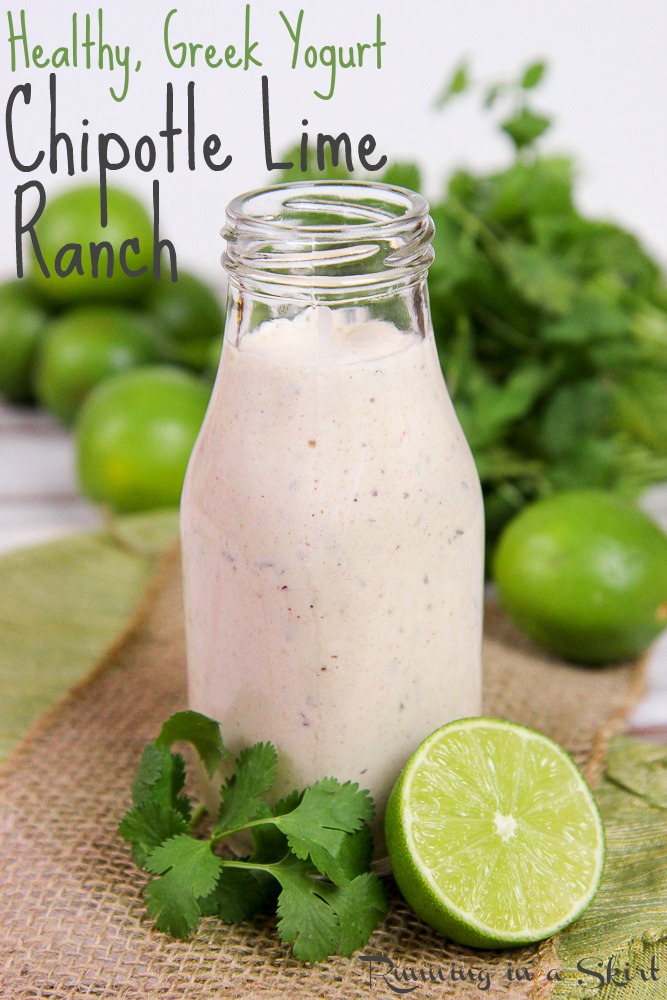 Hi guys!
If you've been a long time blog reader you've heard me gush before about my love of Mexican food. I could seriously eat a breakfast burrito, tacos for lunch, and get enchiladas for dinner and then repeat it over again the next day without batting an eye. Don't even get me started on a good Healthy Chipollte Salad Dressing. The Hubs knows to really cheer me up on a bad day to offer to pick up burritos on the way home from work. He's a good man! 🙂
I know that eating that kind of food at a restaurant all the time probably wouldn't be the best for me though! That's the main reason you'll find so many healthified Mexican recipes on my site. Because my love for Mexican food runs so deep that I have to find healthier ways to cook it. With that in mind, I decided to create a second Mexican themed salad dressing (also try my Creamy Avocado Lime Dressing) to use on salads. My Healthy Chipotle Lime Ranch Dressing recipe turned out so good that it's already gone on lots of salads... plus burrito bowls, tacos, AND even pasta! This is simply the BEST Greek Yogurt Chipolte Dressing you will find.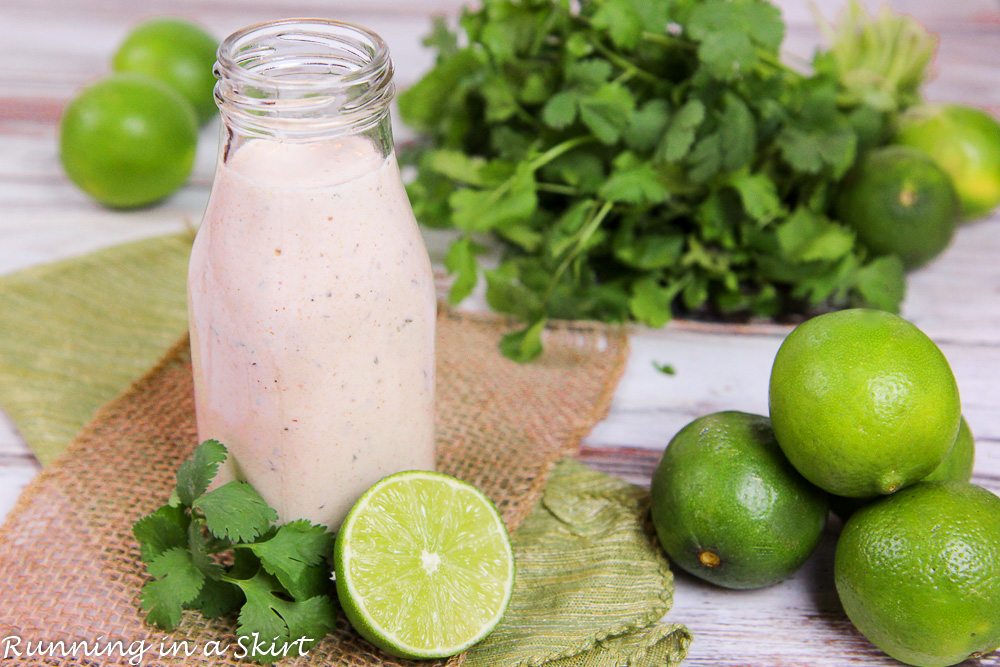 How to make my Healthy Chipotle Lime Ranch Dressing recipe...
The ingredients for this Healthy Chipotle Lime Ranch Dressing are pretty simple... greek yogurt, lime, spices, and milk to thin it down. The real flavor comes in with using some of the sauce from the Chipotle in Adobo Sauce. You can find the little can in the Mexican section of your grocery store or HERE.
If you haven't used them yet, they are just little peppers in this bright red sauce. It has this incredibly smokey and delicious flavor that's hard to find anywhere else. They look like they will be super spicy, but I don't think they are!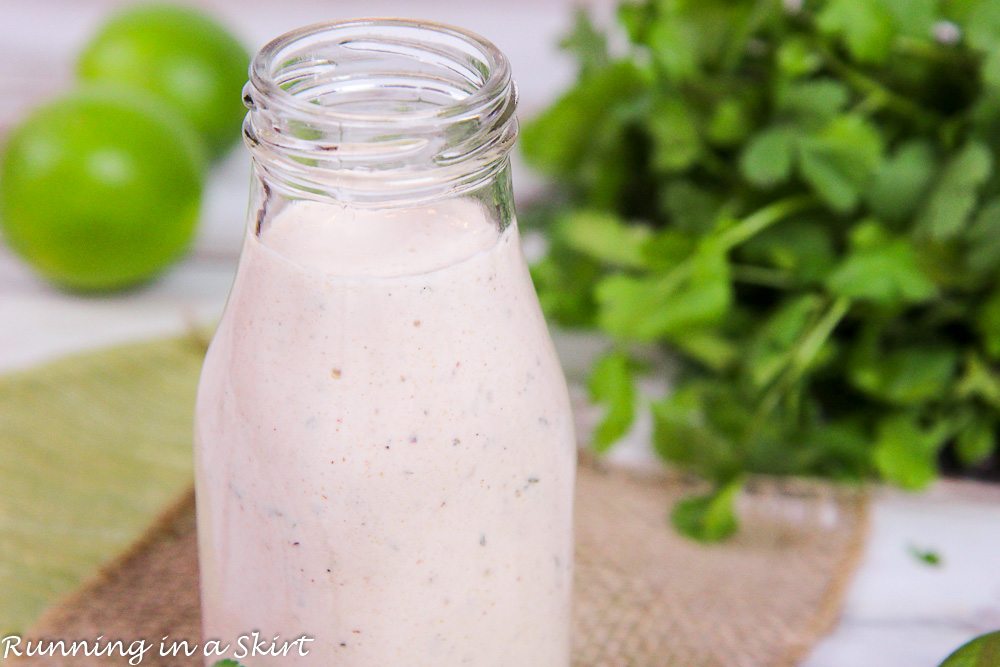 Ingredients in Greek Yogurt Chipotle Dressing
So what's in this perfect Greek Yogurt Chipotle Dressing? Just a few ingredients you probably already have!
Greek Yogurt
Lime
Spices
Garlic
I like using a lower fat yogurt for a better calorie count but a higher fat one will make a creamier end product. The choice is yours!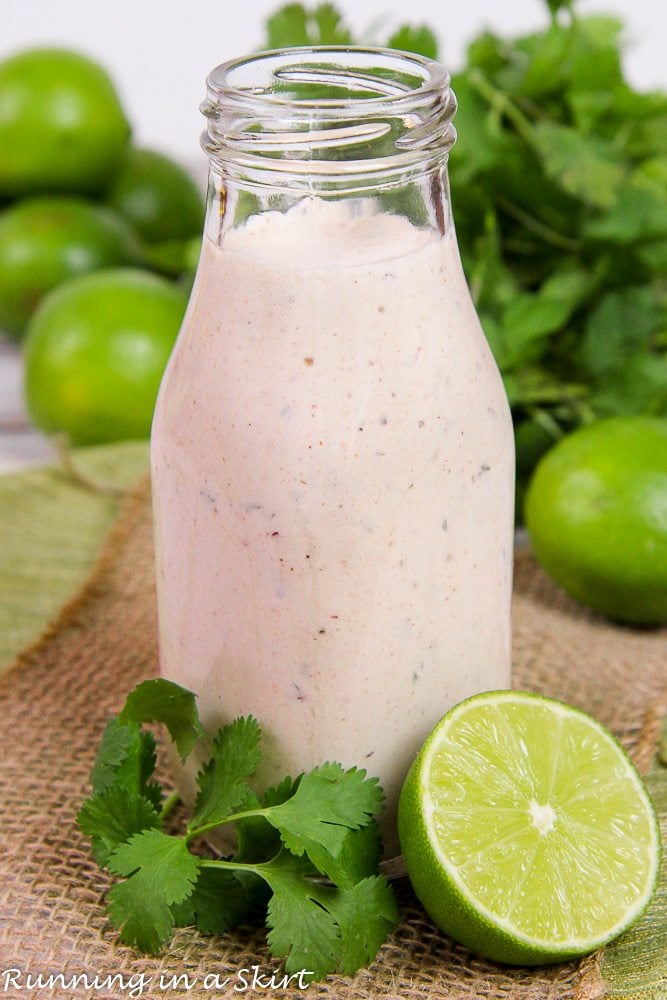 How to Make Healthy Chipotle Salad Dressing
This Healthy Chipotle Salad Dressing is SO easy to make!
All the ingredients into a blender or food processor.
Add more milk until you hit your perfect consistency.
Serve with your favorite salad.
Pro Tips for Healthy Chipotle Lime Dressing
For this recipe, I used a few tablespoons of just the sauce in the jar.... not the actual peppers. If you want a more intense pepper flavor to add a whole pepper to the mix and give it a whirl in your blender or food processor. On the same note, if you like less spice use a little less of the sauce... but don't be too stingy... the flavor is WORTH IT!
You can keep the rest of the chipotle can in the fridge or freezer for your next batch... they keep a long time. Here's what else is in it!
You can also adjust this recipe to make either a thick sauce or dip or a thinner salad dressing! Just add as much milk as you need until you hit the sweet spot for your recipe.
Any way you make it this Healthy Chipotle Lime Ranch Dressing recipe is super delicious. It's like my Healthy Greek Yogurt Ranch... only better!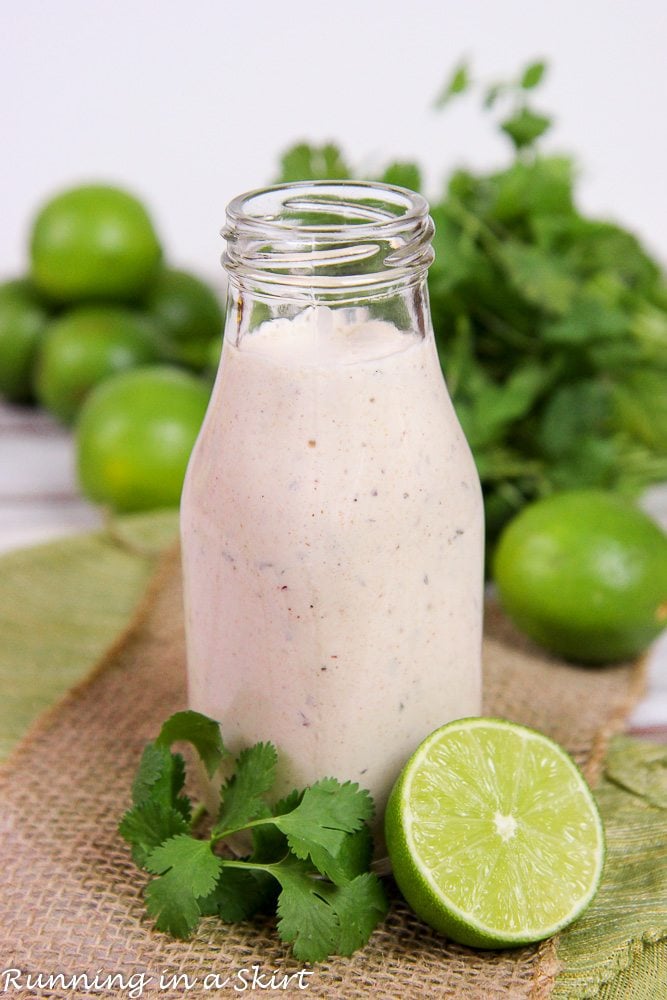 I hope you will give it a try and as always I'd love to hear what you think in the comments!
More Homemade Salad Dressings to Try...
Pin for later...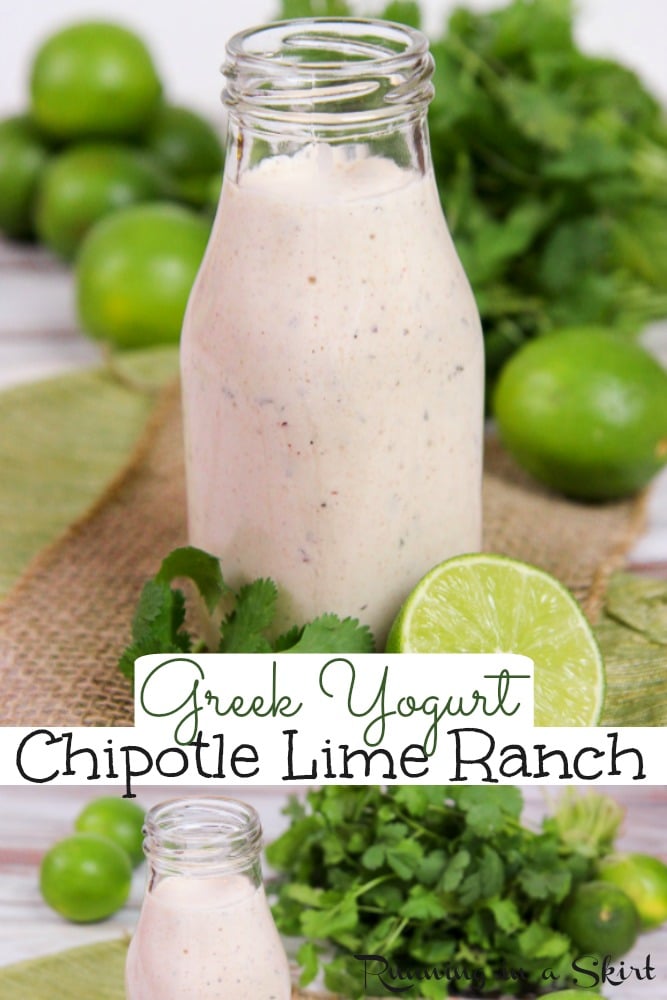 If you make this recipe, I'd love to hear what you think! Leave a comment and a star rating ★ below. Make sure to follow me on Instagram, Pinterest, and Facebook too!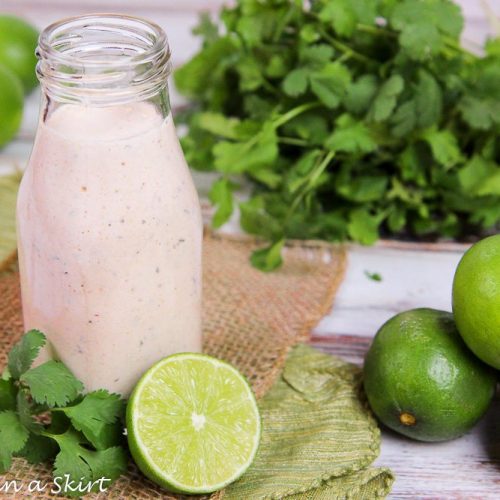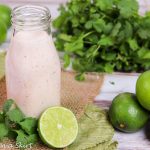 Healthy Chipotle Lime Ranch Dressing recipe
The creamy, healthy Chipotle Lime Ranch Dressing recipe is the perfect addition to your salad, tacos or pasta!
Instructions
Mix everything but the milk together in a large bowl.  Slowly add the milk until you get the consistency you want.
Notes
** You can use more chipotle sauce and even food process whole peppers into the sauce, depending on how spicy you want it!
*** Add the milk slowly until you reach the desired consistency.  Greek yogurts vary in thickness... so you will need to eyeball this!
I calculated the nutrition for this recipe by using 1 tablespoon of the dressing.  If you use more than that adjust the calories as needed.  This recipe makes about a cup of dressing.
Nutrition
Calories:
12
kcal
Carbohydrates:
1
g
Protein:
2
g
Fat:
1
g
Saturated Fat:
1
g
Cholesterol:
1
mg
Sodium:
20
mg
Potassium:
32
mg
Fiber:
1
g
Sugar:
1
g
Vitamin A:
62
IU
Vitamin C:
1
mg
Calcium:
24
mg
Iron:
1
mg
Your turn!
What's your favorite salad dressing?