Just when you thought guac couldn't get any better, my Greek Yogurt Guacamole recipe will sweep in and steal your heart!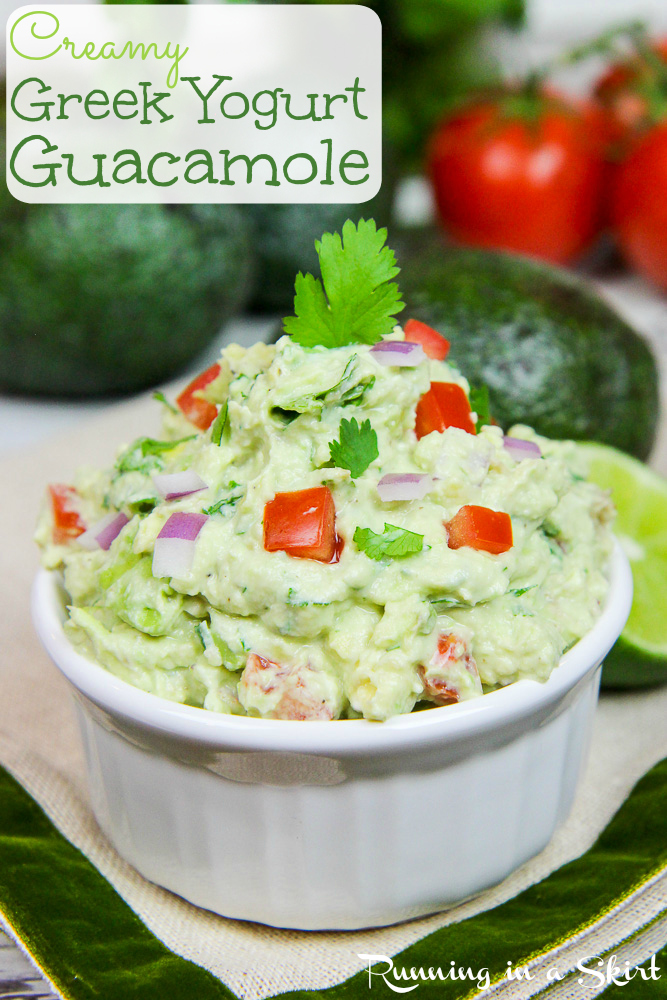 Hello, avocado loving friends!
So first... about the avocado emoji. I don't have it on my phone yet! I keep seeing you guys post it and I feel like I'm seriously missing out on something. I need to get to the bottom on that!
Second... about guacamole. I could basically eat it daily, on the repeat and not get sick of it. It's just one of those foods that makes me happy. Raise your hand if you feel the same way!
NOW... what if I told you I found a way to improve guacamole's creamy taste AND make it even more nutritious? I KNOW! It's ok if you want to be my BFF forever now 🙂
My Greek Yogurt Guacamole recipe magically makes everyone favorite table side dip even creamier more protein packed.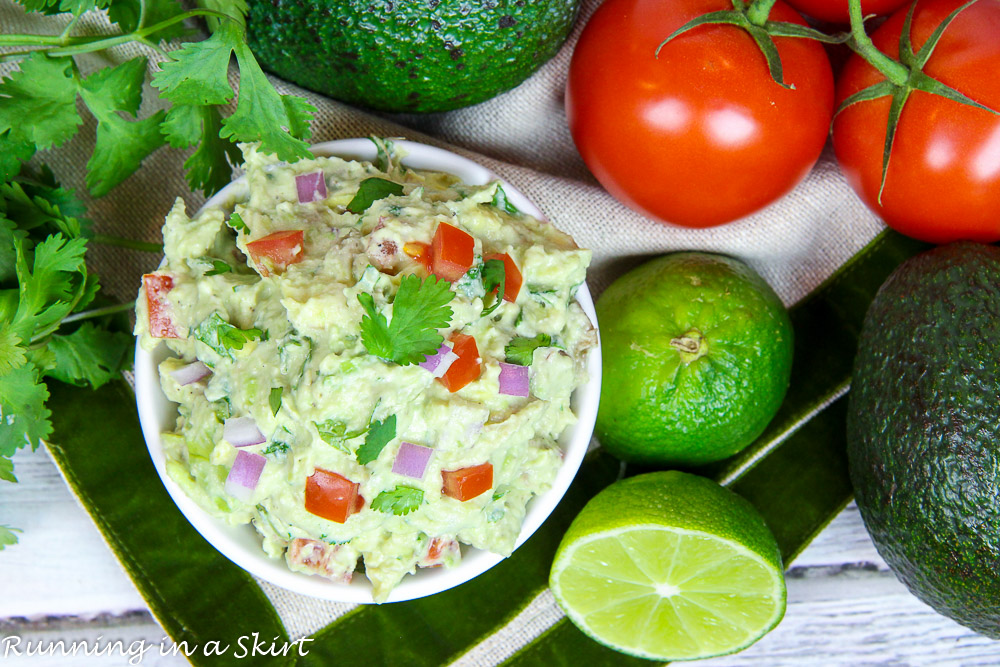 The secret is (no surprise here!) in the greek yogurt. Plain greek yogurt is such a powerhouse food that packs a lot of protein. As someone who doesn't eat meat (only seafood) I am always looking for sneaky ways to get more protein in my diet and this is it.
The greek yogurt cuts back on just a little of the calorie heavy avocado and replaces it with probiotics and protein, making the entire dish a little more well rounded.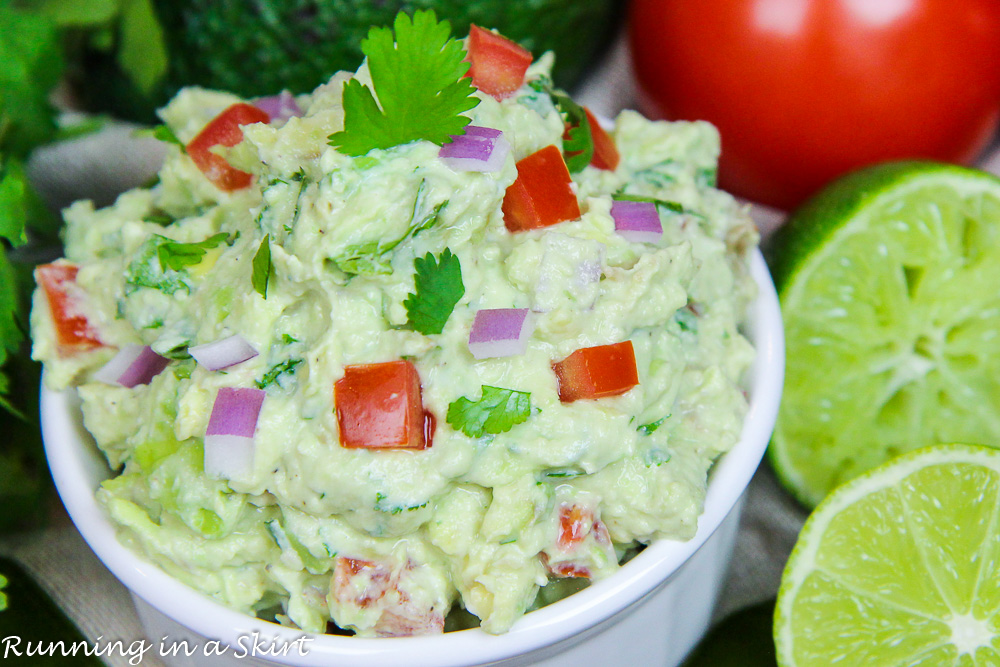 You still get all the avocado-yyyy goodness... but with an added lush creaminess. My Greek Yogurt Avocado Guacamole recipe is a surprising and welcome twist to your old favorite.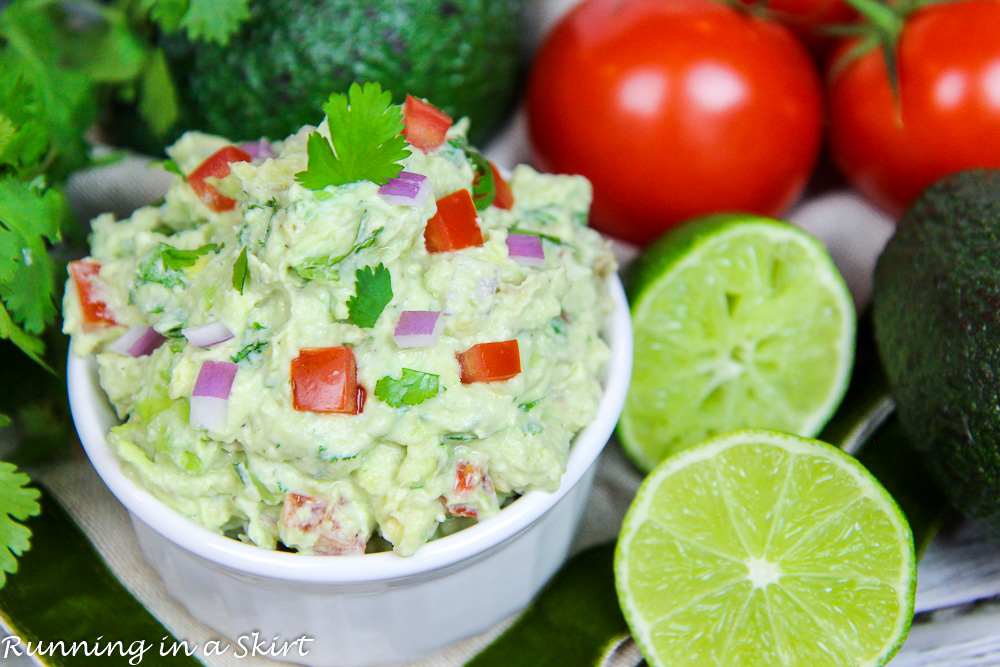 This is one perfectly scoopable dip or spread to add to your weekend get-together or that big ole' Super Bowl game just around the corner.
Speaking of superbowl and avocado... here's a fun fact--->
139 MILLION pounds of avocado are eaten Super Bowl Sunday.
So basically you are just doing your duty by trying this. 🙂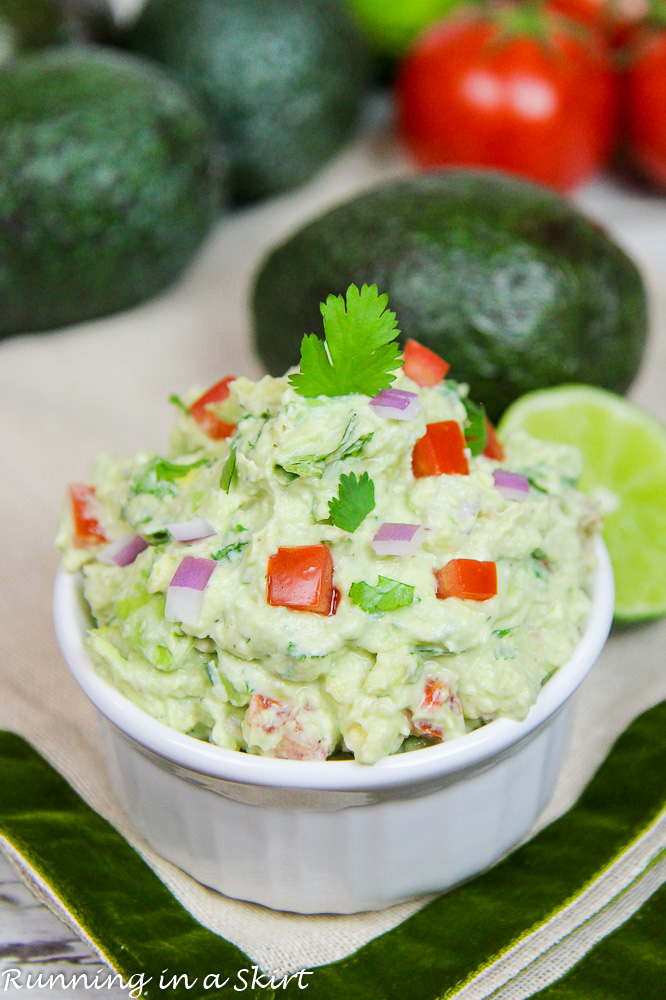 I'll be using this recipe to create Thursday's recipe... Healthy Potato Skins... so make sure to stop back by this week for more great Super Bowl food ideas.
This Greek Yogurt Guacamole recipe is one that will totally win you over! Give it a try and let me know what you think.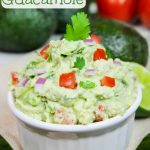 Healthy Greek Yogurt Guacamole
Add a creamy protein punch to your guacamole!
Ingredients
2

ripe avocados

½

cup

plain greek yogurt

1

lime

,

juiced

¼

cup

cilantro

,

chopped

¼

cup

red onion

,

diced

¼

cup

tomato

,

diced

salt and pepper to taste

,

I did ⅛th teaspoon
Instructions
Mash the avocado in a bowl. Carefully fold in the greek yogurt and lime juice. Once it's well combined fold in the other ingredients. Salt and pepper to taste.
Like it? I'd love it if you could pin this to your favorite Pinterest board! Thank you so much for the support.


Thanks for stopping by today! Tomorrow I'm sharing more about a wellness idea called Hygge and sharing how it could help you live a happier life in 2017.
I'm linking up with: Meatless Monday with Sarah and Deborah, Meatless Monday with Annmarie and Rachel, Delicious Dish Tuesday, What's Cookin' Wednesday, Full Plate Thursday with Miz Helen, FoodFriDIY, Foodie Friday, and the Weekend Potluck. Thanks so much ladies for the link up parties!
Your turn!
How much avocado do you eat?
Do you watch the Super Bowl?