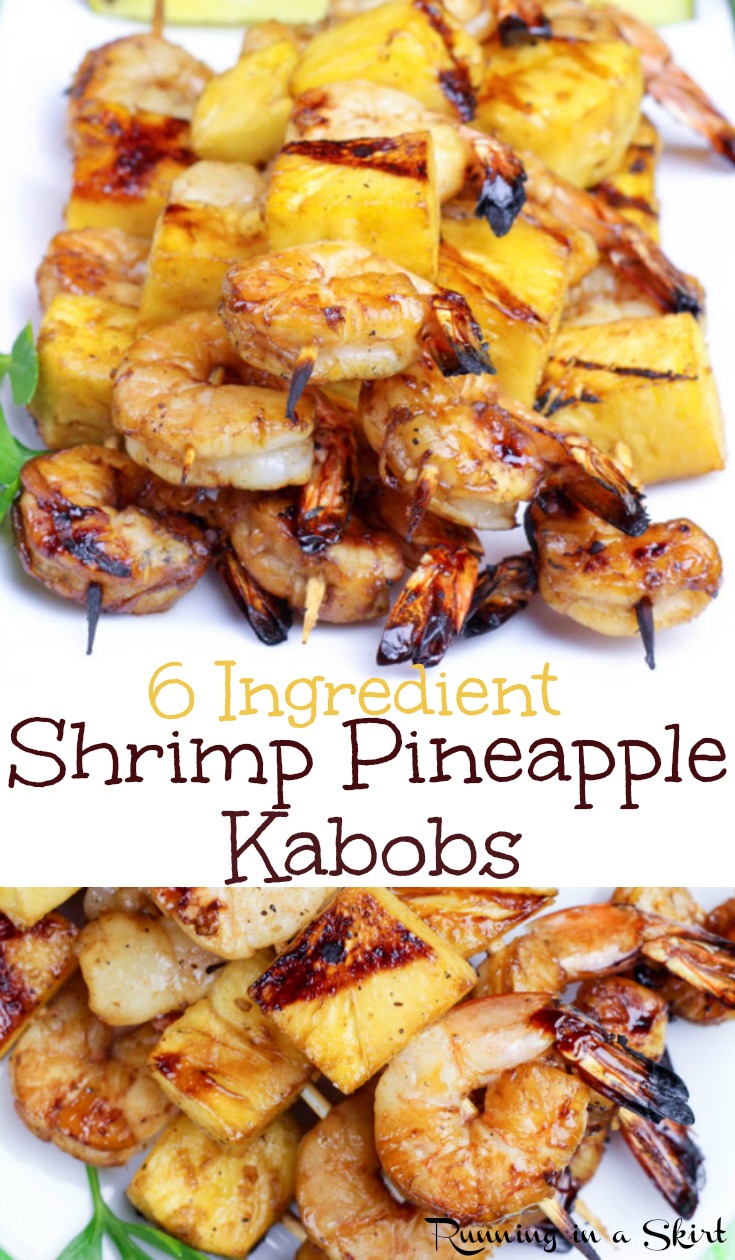 Shrimp and Pineapple Kabobs: Sweet grilled shrimp and pineapple are put in a marinade and tossed on the grill to create these amazing pineapple shrimp skewers! This SIX Ingredient dinner is healthy, easy, perfect for summer, and is inspired by Hawaii. Plus it's gluten-free friendly, low carb, and low fat.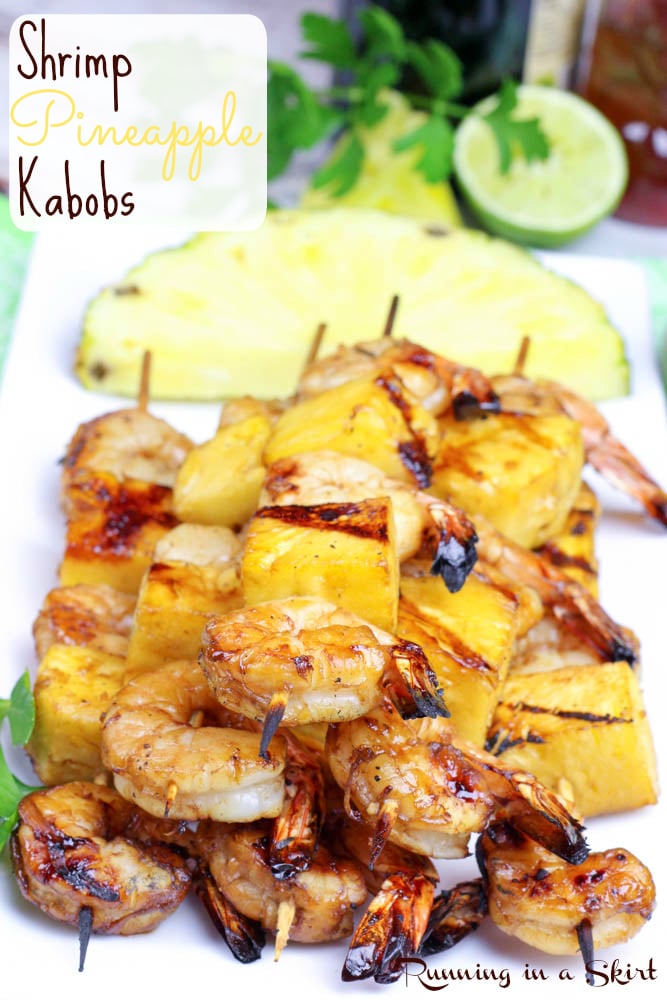 Shrimp and Pineapple Kabobs
When I started Running in a Skirt, I never could have imagined how big a role food and recipes would end up becoming on my site like this Shrimp and Pineapple Kabobs recipe, which happens to be one of the most popular recipes every summer. I've always loved to eat, but my cooking skills came a little later in life. In fact, once in my twenties, I burned water. Yes, it can be done and this girl did it.
Sometimes I can't believe how far I've come. But with food like these Pineapple Shrimp Skewers in front of me, the picture becomes clear. I've really loved creating recipes like this and especially love taking pretty pictures of the food. There is something so organic in thinking about a recipe, creating it from scratch, and serving it to my family. There are a joy and satisfaction in it that's hard to explain.
I feel lucky to be able to share these tasty recipes with you.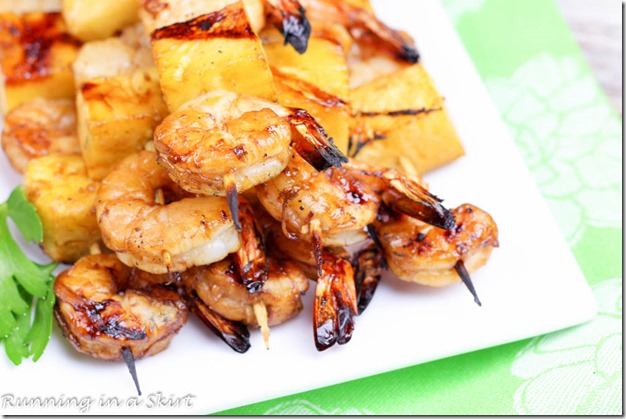 Why you'll love this Pineapple Shrimp Skewers Recipe...
This Pineapple Shrimp Skewers recipe is summer cooking at its finest. The entire dish is made with only SIX ingredients which include an easy-to-make marinade.
The flavors of the sweet, salty shrimp combine perfectly with the tropical pineapple. If you are needing a virtual trip to the islands of Hawaii through food... this is it.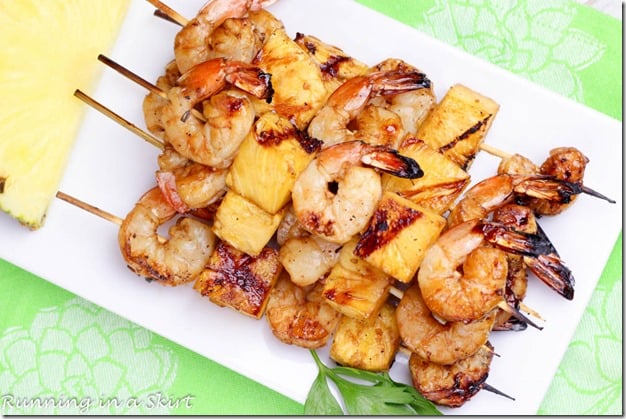 Ingredients in these Shimp and Pineapple Kabobs
These Shrimp and Pineapple Kabobs could not be easier. They are made with simple ingredients that are easy to find. This includes the marinade for shrimp kabob recipes.
Shrimp: Large shrimp works best for shrimp skewers.
Pineapple: Use fresh pineapple! To save time you could buy the pre-cut kind in the produce section.
Soy Sauce: I always pick a low sodium kind. If you are trying to make this gluten-free make sure to pick a gluten-free soy sauce.
Honey: Honey adds a lovely touch of sweetness.
Balsamic Vinegar: Balsamic Vinegar ads richness and balances out the sweetness of the honey.
Garlic: Because all shrimp needs garlic. 🙂
Unless you live to close the ocean and have great access to fresh seafood, I recommend buying frozen seafood and thawing it when you are ready to cook it. I always have a bag of quality frozen shrimp in my freezer for dinners like this one.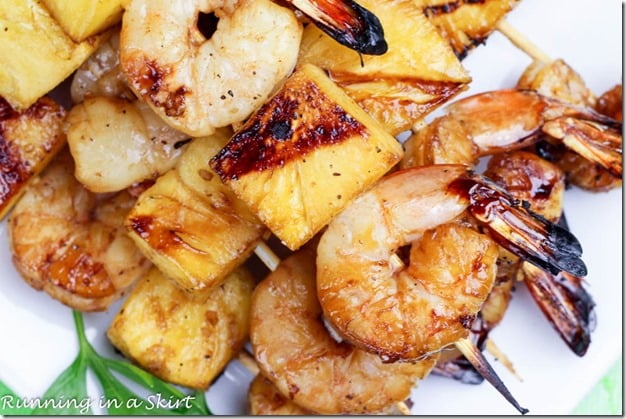 How to make shrimp kabobs with pineapple?
You can't find a simpler shisha kabobs recipe to try. Fire up the BBQ and let's get ready to make these shrimp!
Thaw your shrimp and pat them dry.
Use a cutting board to layout your shrimp and pineapple in the order you are going to put them on the kabobs.
Skewer the shrimp and pineapple.
Carefully put the skewers in a zip lock bag with all the ingredients for the marinade. Allow marinating in the fridge for 10-15 minutes.
Grill on medium and cook for 5-8 minutes, flipping once.
What's the Grill Temperature for Shrimp Kabobs?
If you are wondering what's the grill temperature for shrimp kabobs... I suggest medium to medium-high heat. That's about 400 degrees.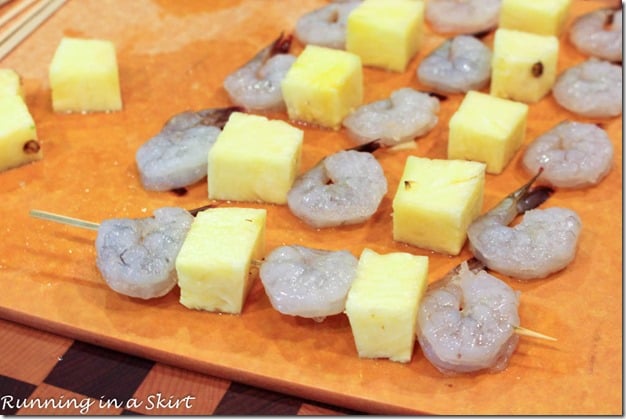 Pro Tips for Making Shrimp & Pineapple Kabobs
If you are using wooden skewers or kabobs soak them in water for at least 30 minutes to keep them from burning on the grill.
Cook your shrimp for just a few minutes on each side. They are done with they start to turn pink and curl. Don't overcook the shrimp.
Cold Shrimp Skewers with Pineapple? YES... these can be served hot or cold!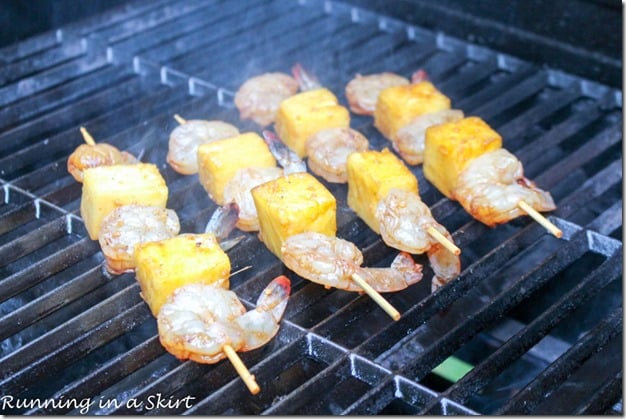 How To Cook Shrimp Kabobs in the Oven
If an outdoor grill is not an option for you or you don't want to mess with it, these can also be cooked in the oven. Here's how to do it.
Preheat the oven to 400 degrees.
Line a baking sheet with foil and spray with cooking spray.
Bake for 3-4 minutes on each side just until the shrimp turn pink and start to curl.
What to Serve with Shrimp and Pineapple Kabobs?
This Shrimp and Pineapple Kabobs recipe can be a simple appetizer or an entire meal. If you are eating them as a meal try this: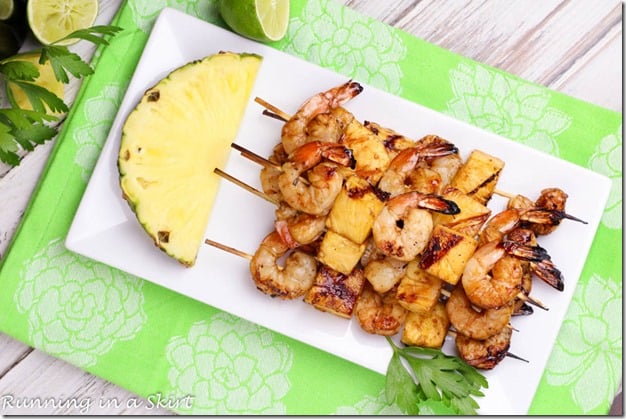 This delicious Shrimp and Pineapple kabobs recipe has me reflecting on how far I've come and how much I love this blog. I may not ever have envisioned this life or planned for it. But it is pretty darn awesome.
Thanks for coming along for the ride.
And oh yeah, please try these Shrimp Pineapple Kabobs. They are absolutely totally amazing. The hubs already requested I make them again 🙂
More Easy Shrimp Recipes
Pin for later!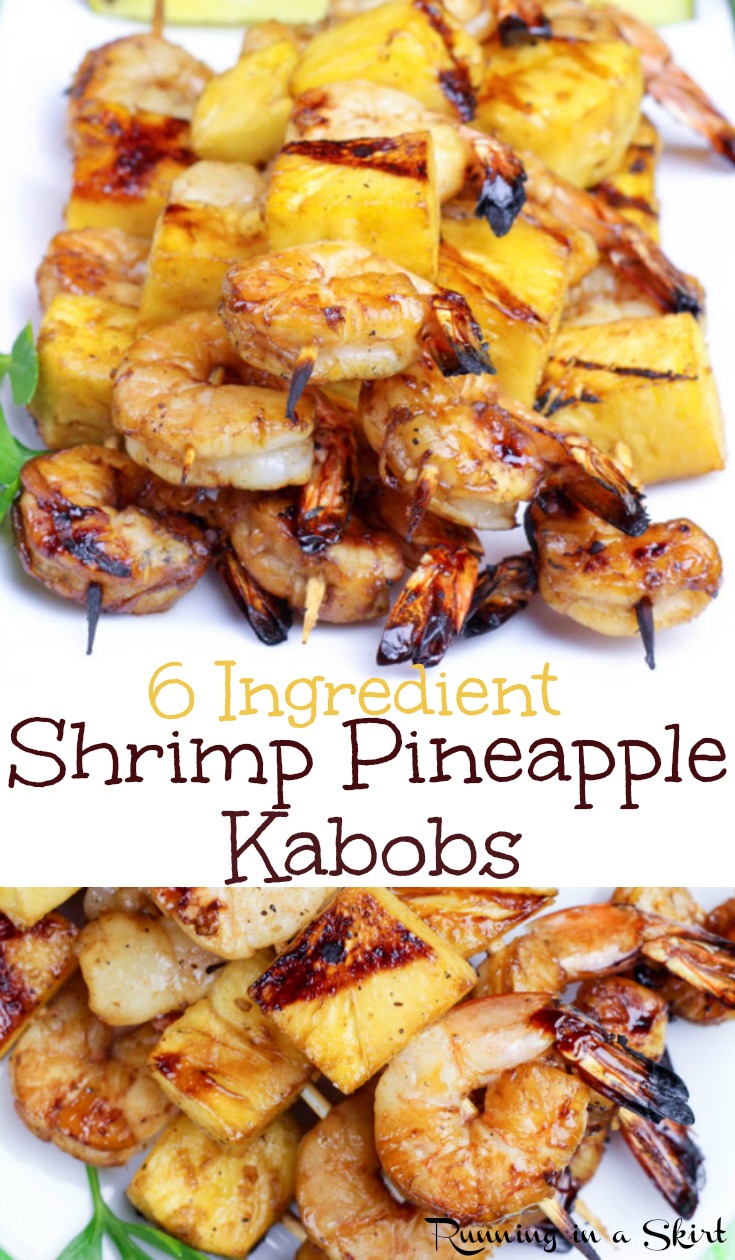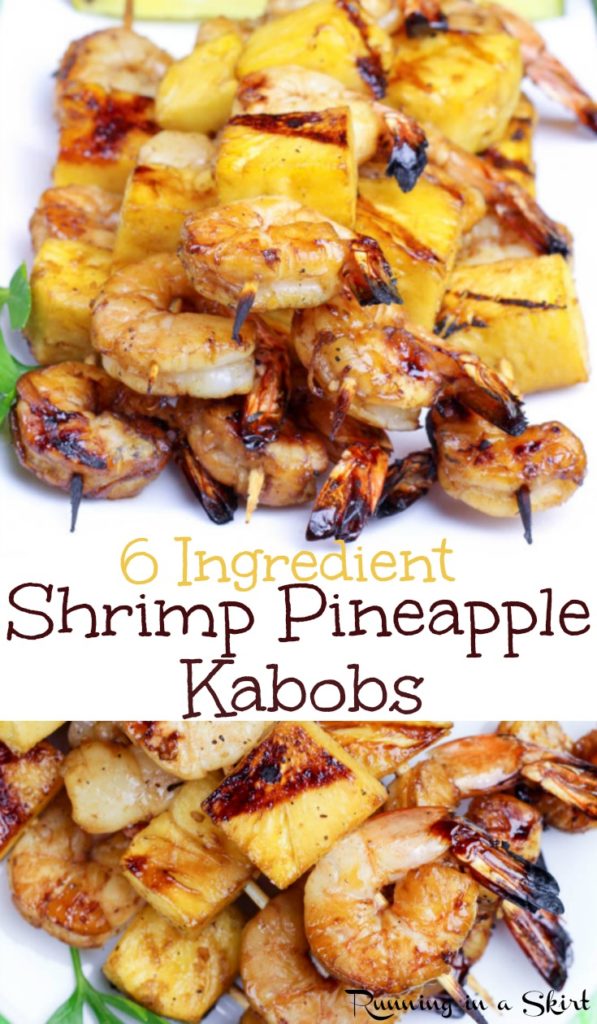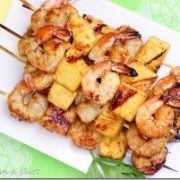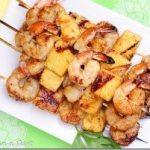 Shrimp Pineapple Kabobs
Sweet shrimp and pineapple are marinated to create these amazing Shrimp and Pineapple Kabobs!
Instructions
Lay out the shrimp and pineapple on a cutting board.

Thread the pineapple and shrimp on the skewers.

In a large and strong zipper plastic bag, mix the soy sauce, balsamic vinegar, honey and pepper.

Add the skewers into the bag, careful not to puncture the bag. Mix the marinade around the pineapple and shrimp.

Allow the bag to marinate in the fridge 10 minutes. Don't leave it longer because it can break down the shrimp.

When ready to cook, heat the grill to medium heat.

Remove the kabobs from the bag and grill for 5-8 minutes or until shrimp start to curl and turn pink. Flip once. Do not overcook!
Notes
I used tail-on shrimp for pretty pictures, but feel free to remove your tails for easy eating.
You may need to double bag the kabobs to prevent the skewers from poking through the bag.
This served two hungry adults with additional sides.  It's 183 calories for three skewers and 61 calories a skewer.
This recipe also works great as an appetizer and even served cold.
To make this gluten-free use a gluten-free soy sauce.
Nutrition
Serving:
6
g
Calories:
61
kcal
Carbohydrates:
11
g
Protein:
4
g
Fat:
1
g
Saturated Fat:
1
g
Cholesterol:
45
mg
Sodium:
309
mg
Potassium:
81
mg
Fiber:
1
g
Sugar:
9
g
Vitamin A:
32
IU
Vitamin C:
27
mg
Calcium:
33
mg
Iron:
1
mg
Your turn!
Is there something in your life that you love but never planned for?