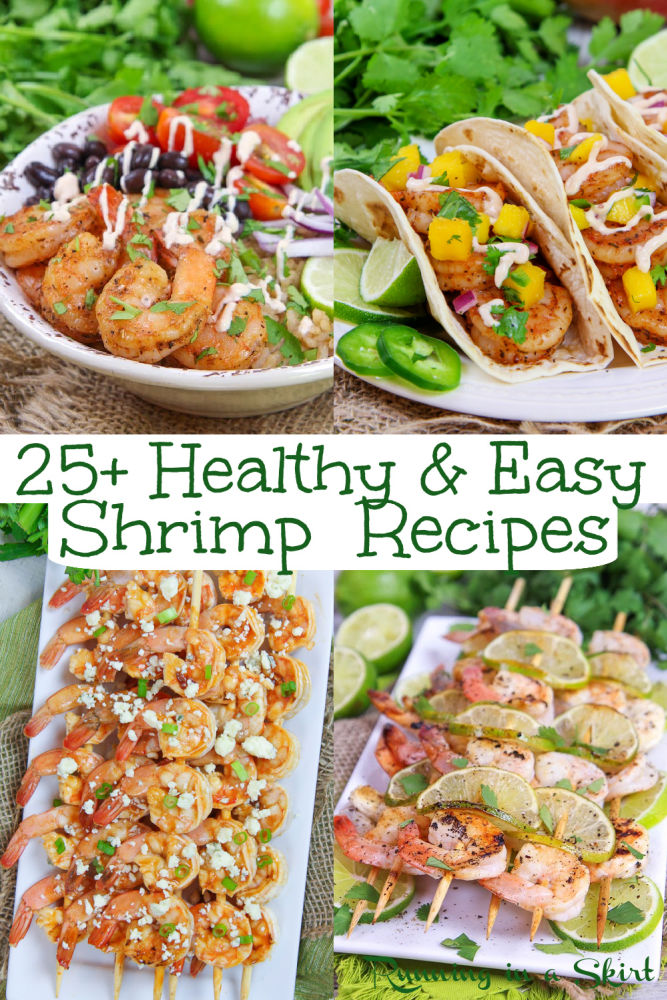 Are you looking for the tastiest Healthy Shrimp Recipes? Here you'll find 25+ of the most vibrant, fresh, and flavorful shrimp recipes including low-calorie, low-carb, gluten-free, keto, clean-eating, paleo, and more. These recipes are all simple, easy, and fast... most coming together in 20 minutes or less!
From shrimp skewers, shrimp tacos, shrimp pasta, shrimp rolls, shrimp burgers, and even shrimp salsa, this collection of the absolute tastiest shrimp recipes has you covered for any occasion.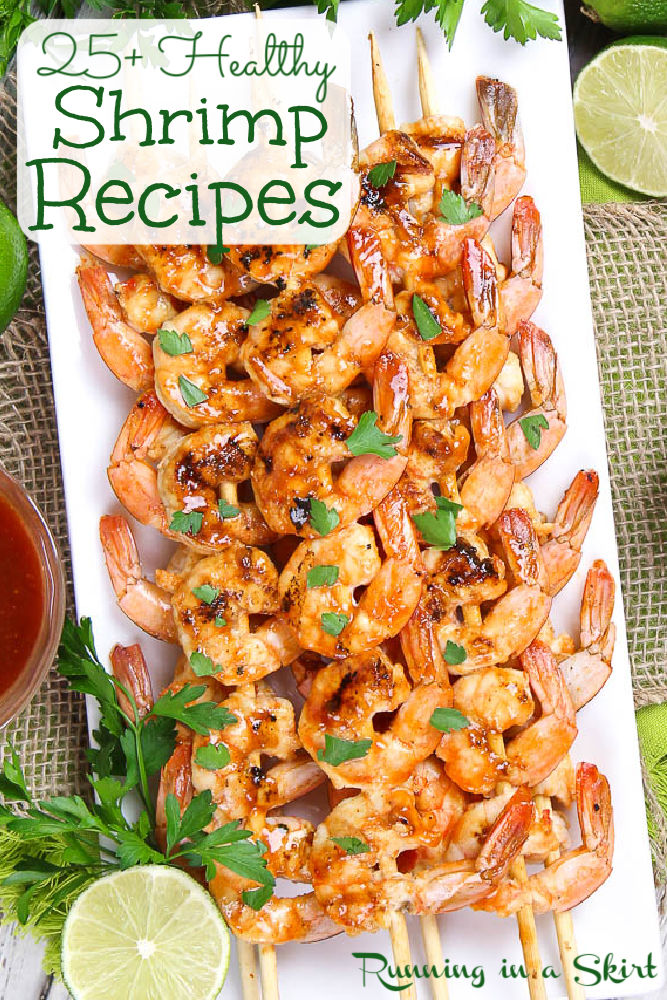 Healthy Shrimp Recipes
Here are the best Healthy Shrimp Recipes you'll find. Shrimp can be cooked in many different ways, and this collection of shrimp recipes have you covered! You can pick from Mexican favorites like Shrimp Tacos with Mango Salsa, shrimp skewers like my BBQ Shrimp Skewers, or even the tastiest shrimp pasta, my Cajun Shrimp Pasta.
All of these recipes are bright, flavorful, tasty, and most importantly super easy to make. They are perfect for weeknights, but nice enough for your weekend cookouts or dinner parties. Shrimp are quick to cook and most of them can be made from start to finish in less than 20 minutes. Shrimp can take on so many different flavors that they make the perfect base for many meals. Plus did you know that the shrimp themselves only takes 3-6 minutes to cook?
Are Shrimp Healthy?
Eating shrimp is actually really good for you. They are a fabulous addition to your weekday meal planning because they are super healthy, low-carb, and low-calorie. Did you know that one shrimp is only 7 calories, and has 1 gram of protein? That translates to every serving of shrimp being 99 calories and 24 grams of protein.
Shrimp cooked without frying or a really heavy cream sauce is very healthy!
Shrimp are also a great source of omega-3 fatty acids, iodine, selenium, and vitamins A, D, E, B1, B2, and B3.
25+ Healthy Shrimp Recipes from Running in a Skirt
Click To Tweet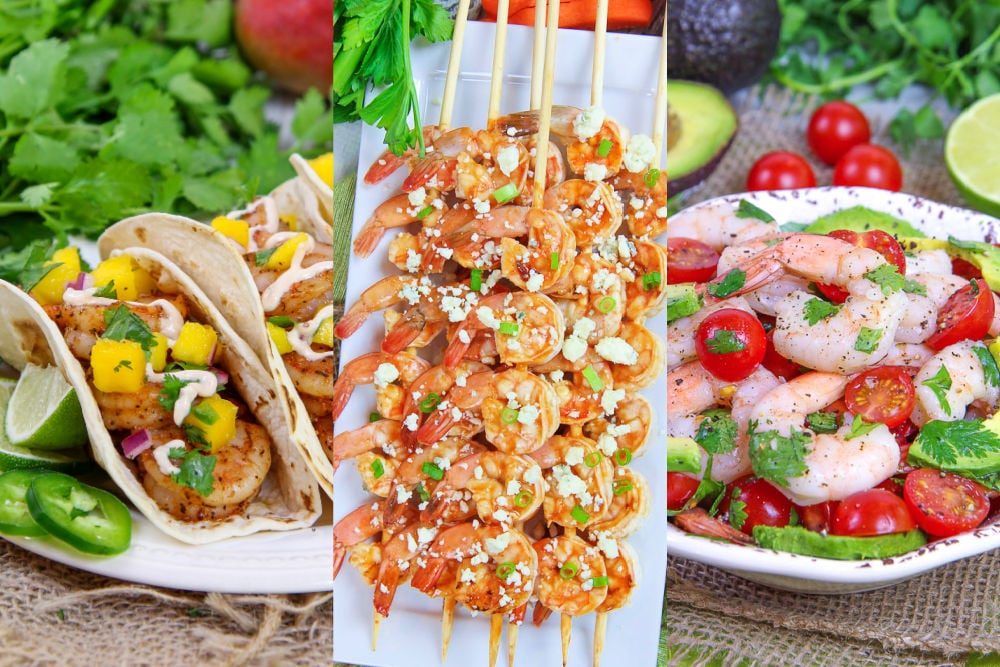 Why You'll Love These Healthy Shrimp Recipes...
These healthy shrimp recipes take less than 20 minutes to make. Shrimp by itself cooks in about 5 minutes!
Shrimp are high in protein and low in fat making them perfect for healthy eating.
You can keep frozen shrimp in your freezer to enjoy anytime and for easy meal planning. They are readily available in most grocery stores.
It's easy to thaw out shrimp overnight in the fridge or under a colander of cold water.
Shrimp is super versatile and work well with many types of food including Mexican, American, Italian, Asian, and more.
What is the healthiest way to eat shrimp?
The healthiest way to eat shrimp is to steam, grill, or saute them in a small amount of olive oil. Any addition of butter, a creamy sauce, or frying them will take away some of the health benefits. These recipes all feature healthy cooking methods for shrimp!
Is shrimp good for a diet food?
Shrimp are a great diet food because it's low-calorie and high-protein! It's a great addition to any healthy diet, whether you are trying to lose weight or just maintain it.
Where do you buy shrimp?
Shrimp are widely available in most grocery stores. You can find them in frozen bags with the frozen fish or often at a fish counter. Unless you live near the coast, often the shrimp at the shrimp counter is the same frozen shrimp you'll find in the bags, the seafood counter has just thawed them out. That's why unless I can guarantee the shrimp I'm buying is fresh, never frozen, and how long it's been sitting there, I'll often just buy the frozen shrimp. That gives you the freedom to keep them in your freezer and just thaw them when you need them.
Are frozen shrimp healthy?
Frozen shrimp are just as healthy as other shrimp. They are usually put on ice right at the shrimp boats and immediately flash-frozen, so they are still pretty fresh. For the healthiest option, do look for shrimp that is frozen without all added chemicals.
Healthy Shrimp Recipes - Mexican
Now that we know more about shrimp, let's dive into those healthy shrimp recipes. Shrimp pairs perfectly with Mexican flavors and make tasty tacos, fajitas, quesadillas, and more! Here are some of my favorite Mexican shrimp recipes.
Shrimp Taco Bowls are one of my favorite healthy shrimp recipes because of how flavorful they are and how easy they are to make! This complete meal features rice, black beans, tomatoes, avocado, and greek yogurt chipotle drizzle.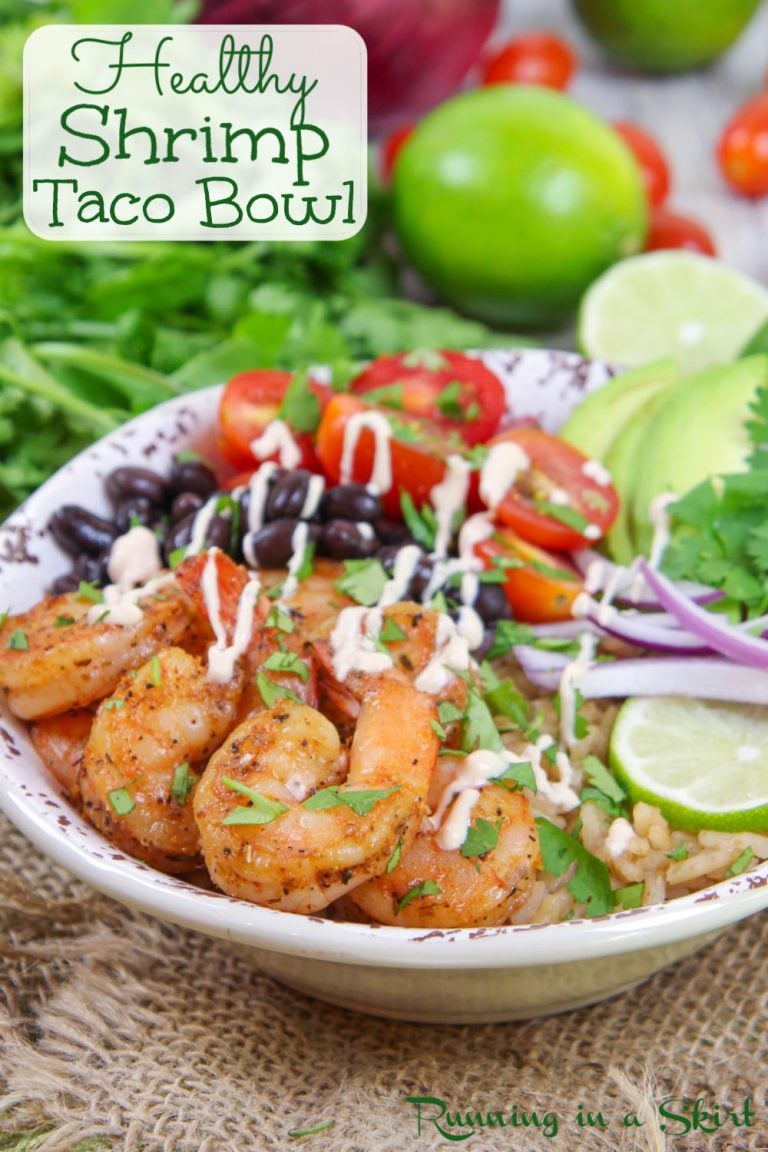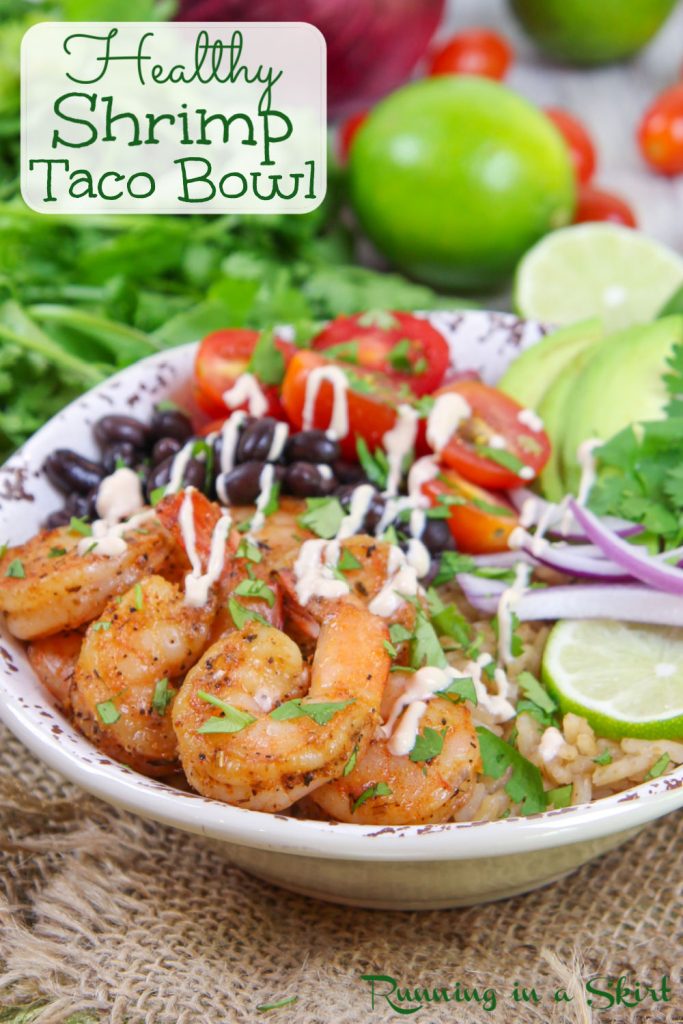 Blackened Shrimp Tacos with Mango Salsa is another one of my favorite healthy ways to cook shrimp. This recipe features easy-baked shrimp that are stuffed into a tortilla and topped with mango salsa. This dinner looks fancy but takes less than 15 minutes to make.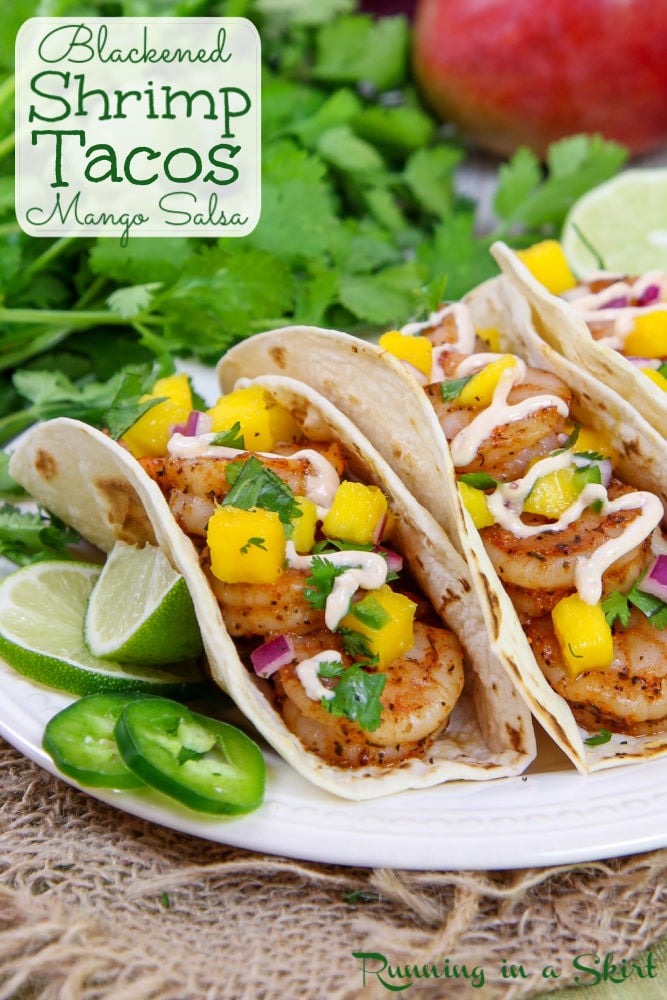 This Goat Cheese and Shrimp Quesadilla is another great fabulous one on the list of healthy shrimp recipes. This unexpected combo features sauteed shrimp with peppers and onions, goat cheese, and Mexican cheese. It's tasty and delicious.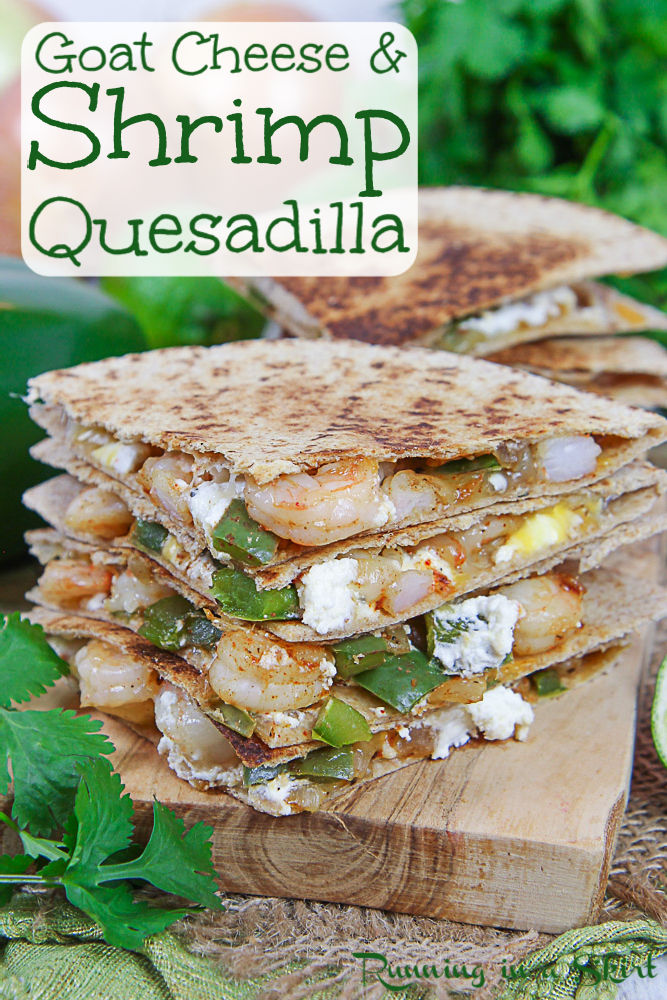 You can't beat this Shrimp Tostada with oven-roasted shrimp on a crispy tostada shell with pico de Gallo, smashed avocado, and chipotle lime sauce. This tasty dinner is easy to make and delicious.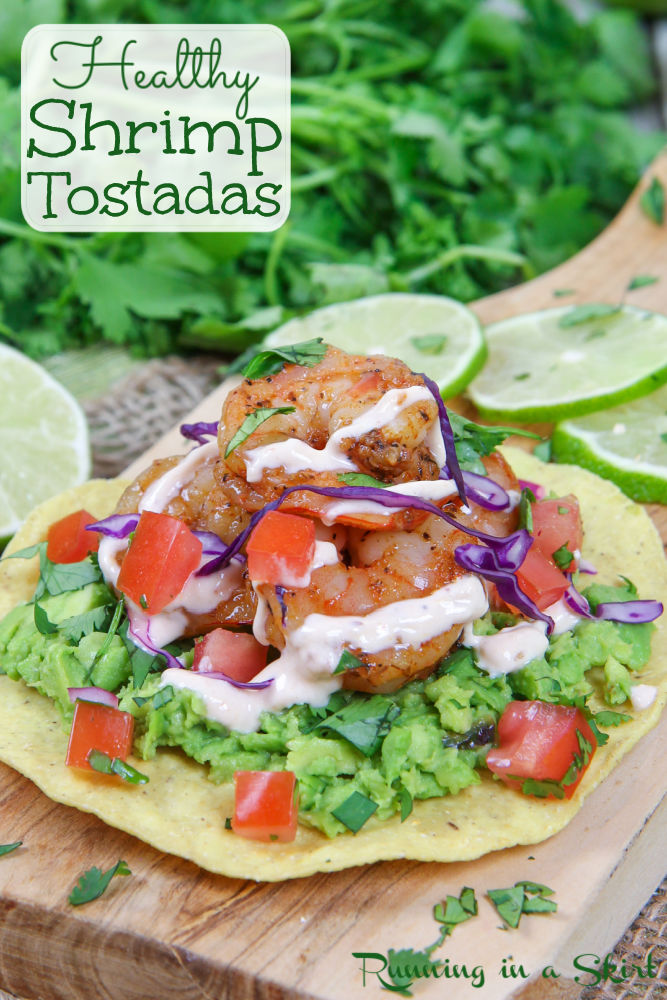 This Healthy Shrimp Salsa is another great healthy shrimp recipe. This unique recipe features cooked shrimp, red onion, tomatoes, cilantro, and lime. Serve it with chips for a fabulous summer light dinner or appetizer.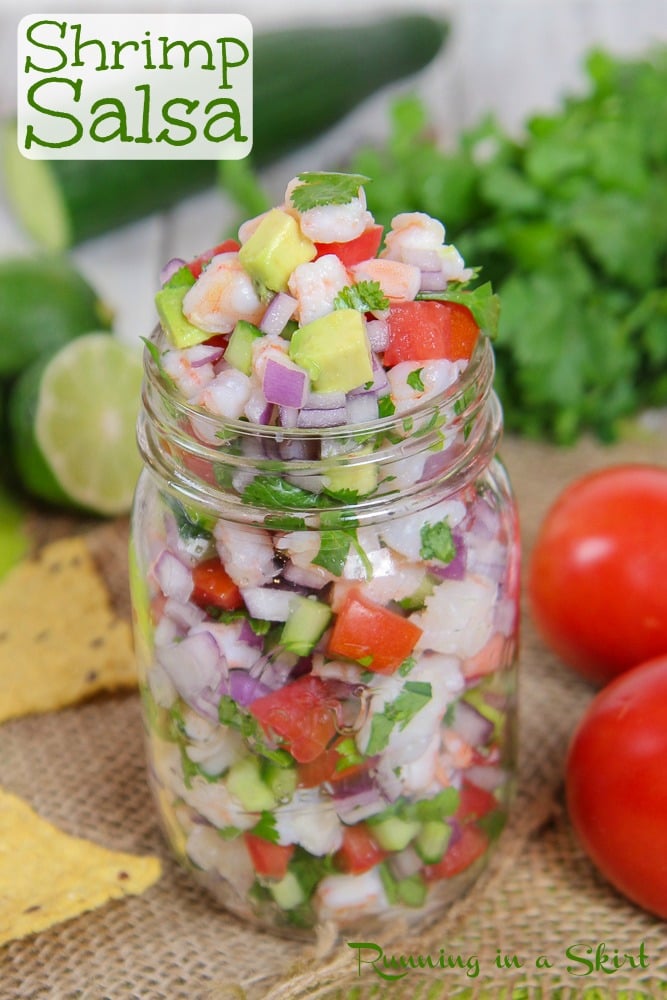 This bright Shrimp Avocado Lime Salad is tasty and filled with Mexican flavors like cilantro and lime. Serve it for a healthy seafood dinner any time of year.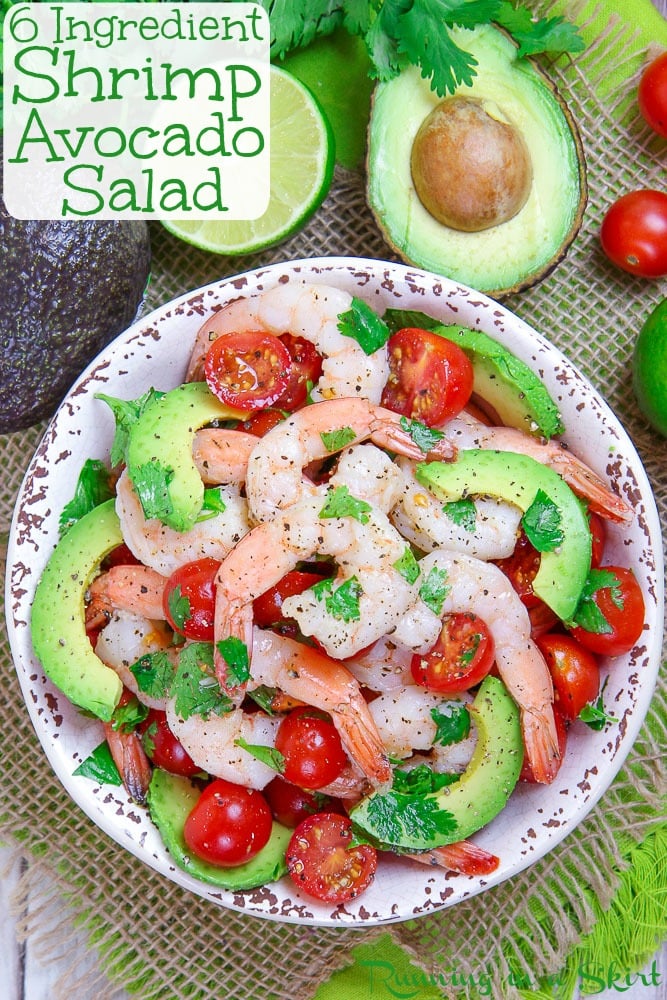 Healthy Shrimp Recipes - Sheet Pan
Healthy Shrimp recipes are even better when you can make your entire meal on one sheet pan in the oven! These recipes are all super fast, healthy, filled with veggies, and crazy simple to make.
Sheet Pan Teriyaki Shrimp
Sheet Pan Teriyaki Shrimp features shrimp and vegetables seasoned with teriyaki sauce, ginger, and soy sauce and roasted in the oven. Serve it by itself or with white or fried rice. For a fast healthy dinner, this is one of my favorite healthy shrimp recipes. This is my easy-to-make twist on a shrimp stir fry.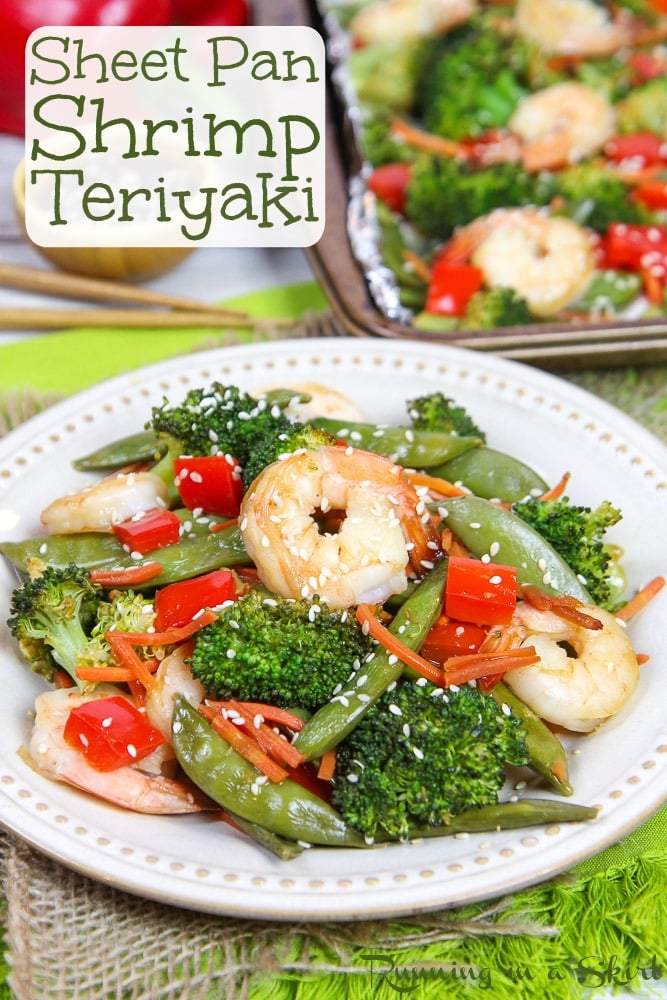 This is the healthiest and easiest fajitas recipe! My Sheet Pan Shrimp Fajitas have shrimp, peppers, and onions all cooked on one easy sheet pan. Serve this healthy dinner with fajitas shells, salsa, cheese, and all your favorite toppings.
Sheet Pan Shrimp and Zoodles are another ones on the list of healthy shrimp recipes. This healthy twist on shrimp pasta cooks zucchini noodles, or zoodles, with shrimp. They cook quickly and this healthy dinner is a fabulous weekday meal.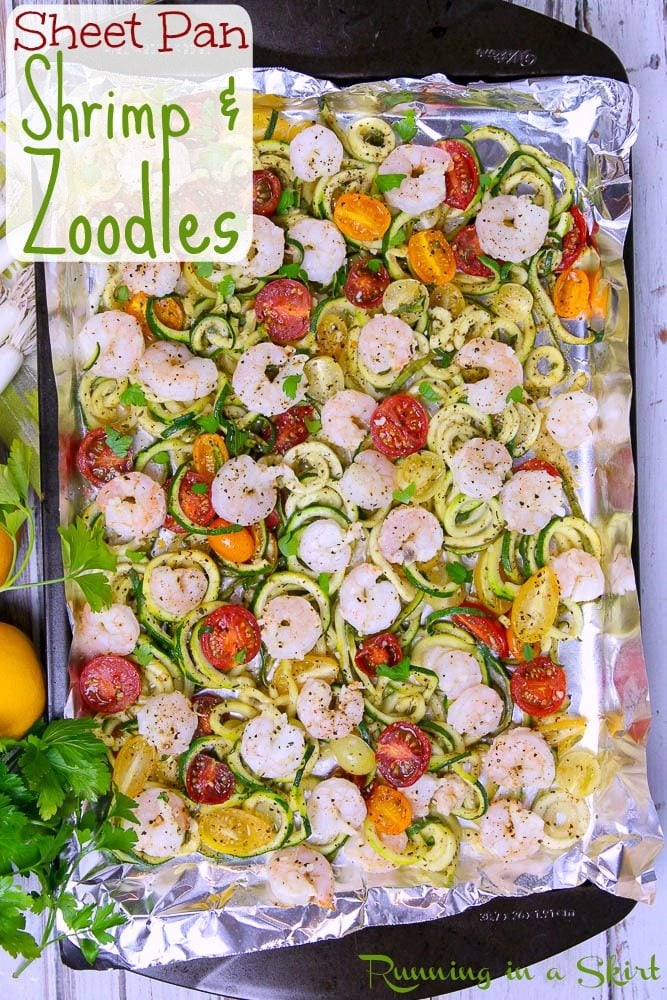 This Sheet Pan Shrimp and Rainbow Vegetables is a fabulous weekday dinner with a sheet full of seasoned shrimp and roasted vegetables and lemon juice. This vitamin-packed dish is easy to make and the perfect healthy dinner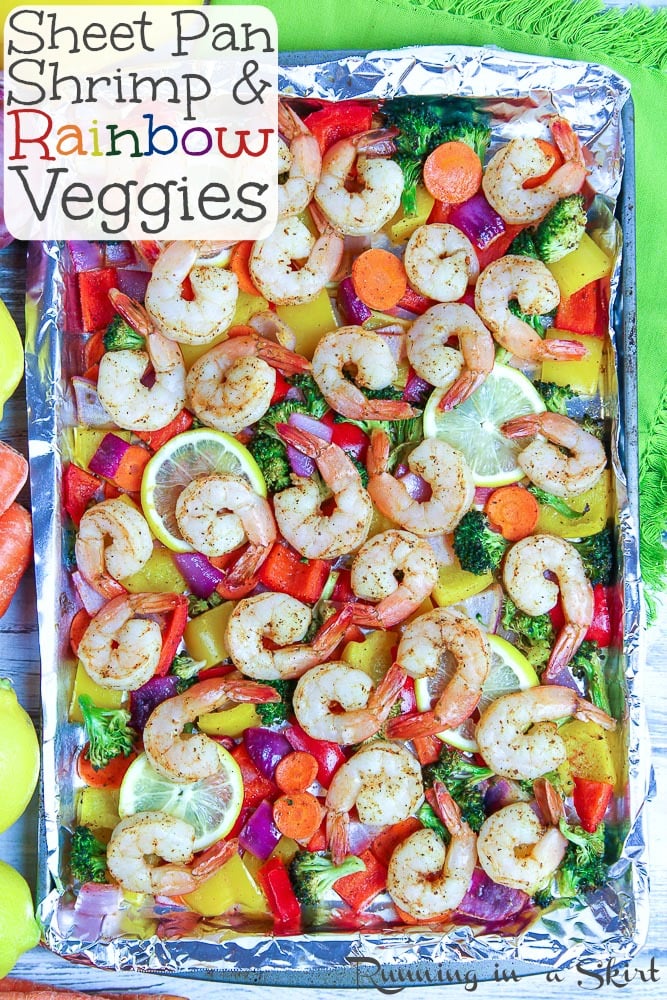 Healthy Shrimp Recipes - Skewers and Kabobs
Shrimp Skewers and Shrimp Kabobs are such a fun addition to my list of healthy shrimp recipes. These kabobs feature all sorts of flavors and marinades for the shrimp that are speared and grilled to perfection. Look no further for a fun way to cook shrimp not only in the summer but year-round.
Honey Lime Shrimp Skewers have fresh shrimp marinated in a simple honey lime marinade. They are skewered with lime and grilled or cooked in the oven. This is one of my favorite healthy shrimp recipes!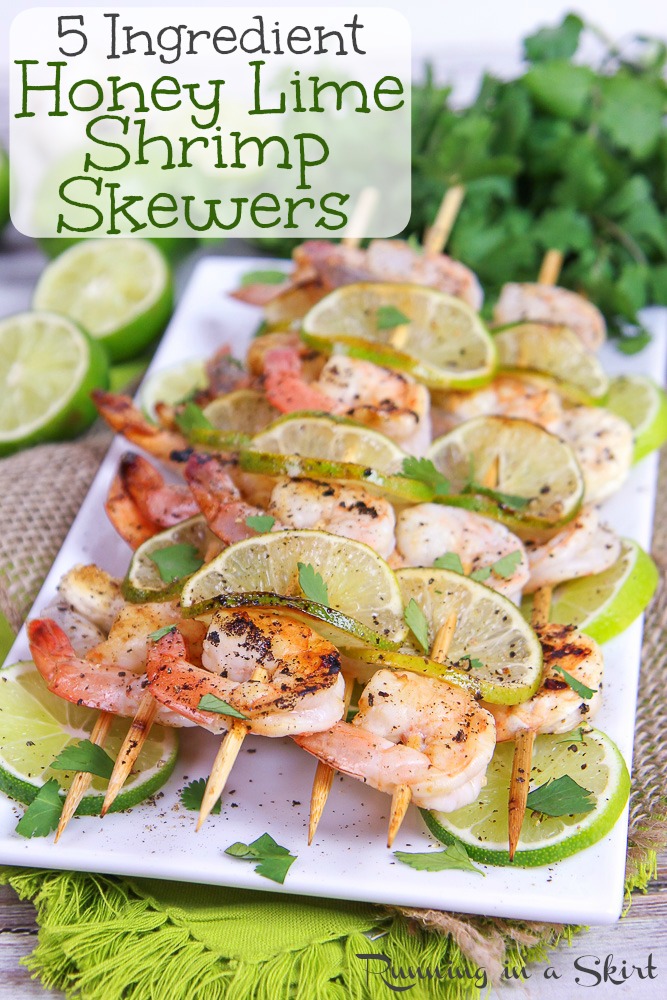 Easy BBQ Shrimp Skewers are made with simple bbq sauce with a kick and grilled to perfection. You'll love this healthy shrimp recipe for summer cookouts.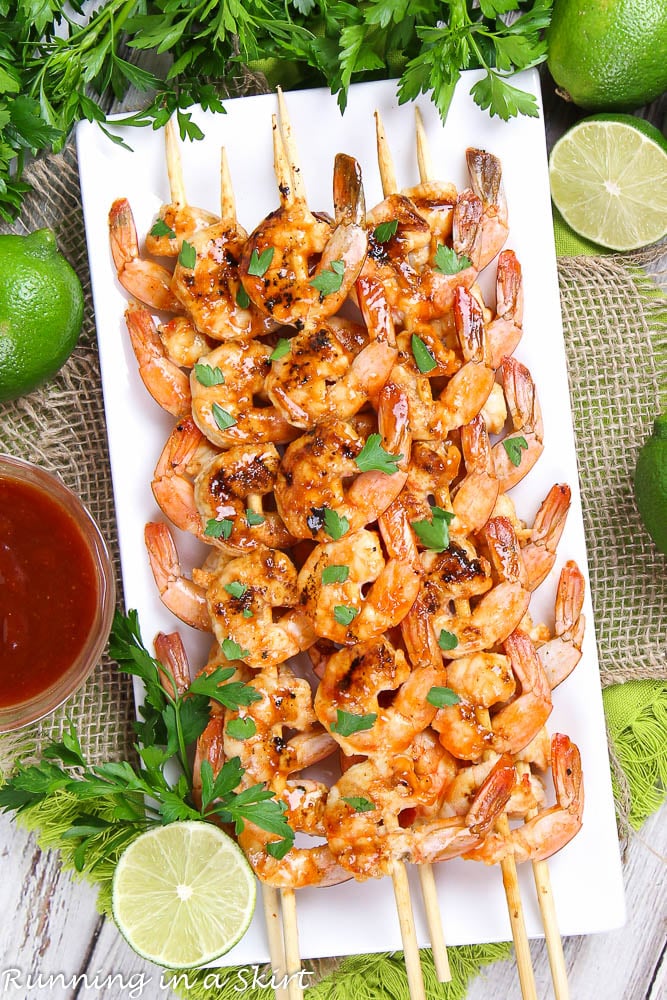 Made with buffalo sauce and topped with blue cheese, Buffalo Shrimp Skewers are simple to make, super tasty, and flavorful. Serve them year-round if you love buffalo-flavored dishes.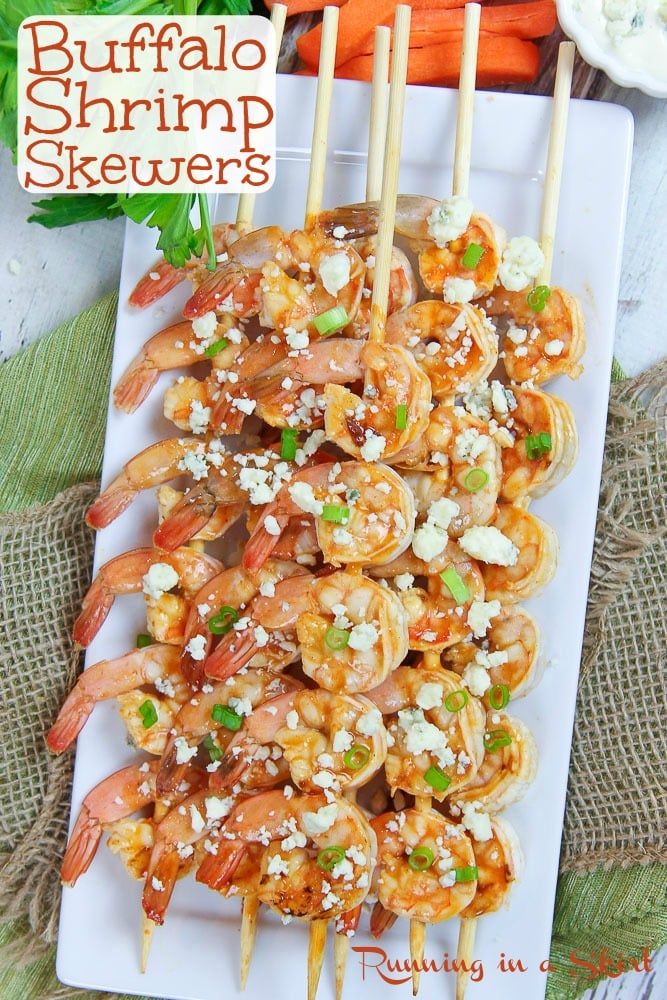 Shrimp Pineapple Kabobs are one of my favorite healthy shrimp recipes. This Hawaiian-inspired shrimp dish has shrimp, pineapple, and a sweet soy sauce marinade.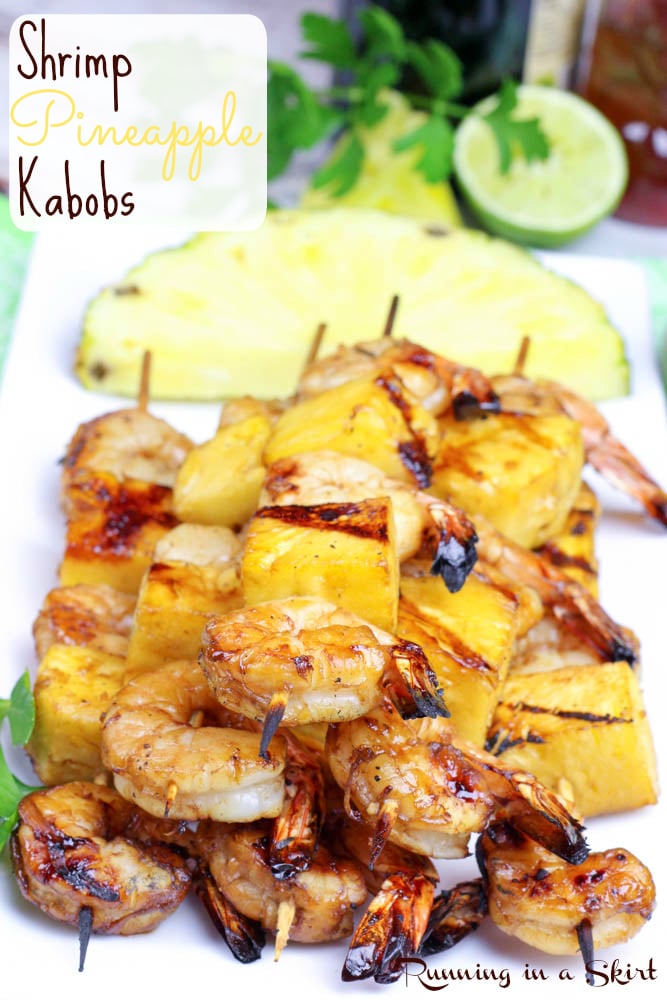 Here's a fabulous way to eat healthy grilled shrimp skewers! This Mediterranean Grilled Shrimp Skewers Bowl starts with a base of quinoa that's topped with tomato cucumber salad, feta cheese, and lemons. Swap out the quinoa for cauliflower rice for a low carb option.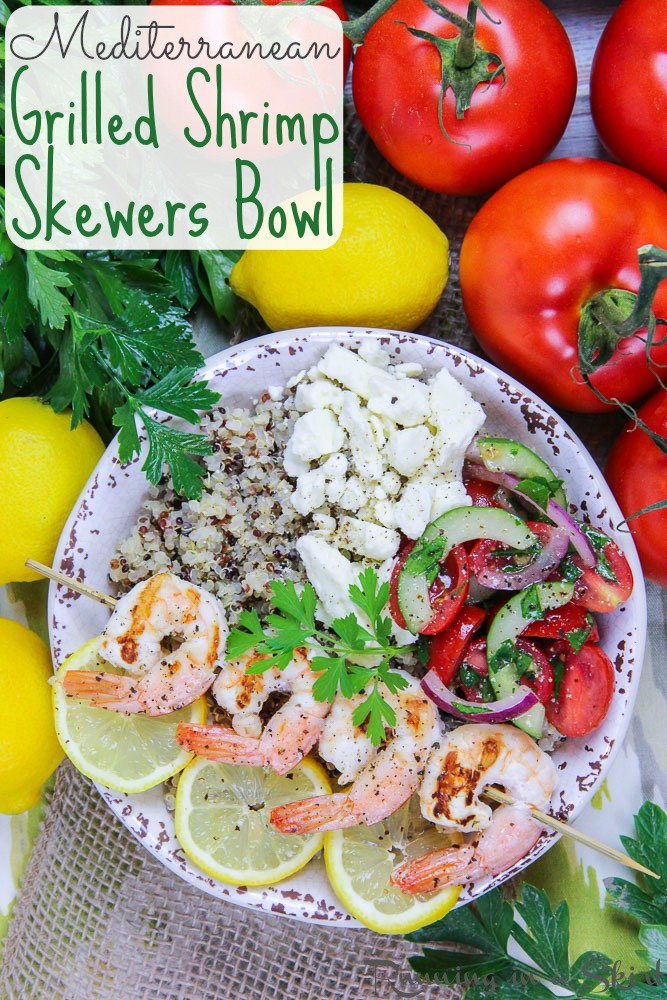 Looking for classic healthy shrimp recipes? These Grilled Lemon Shrimp Kabobs are gorgeous and delicious. Serve them with your favorite summer side dishes.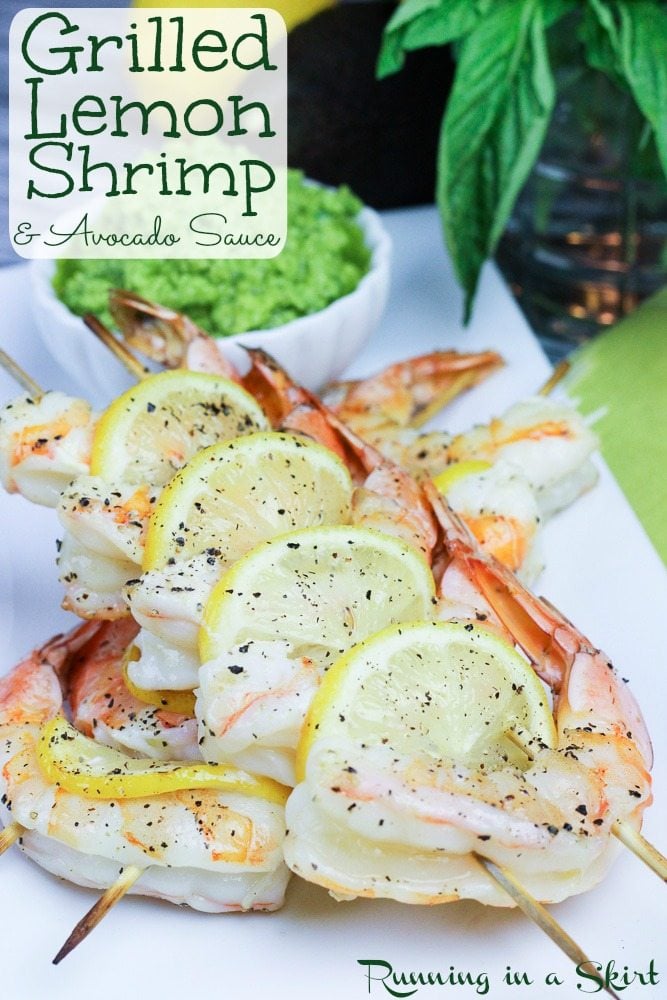 Healthy Shrimp Recipes - Burgers and Rolls
These Shrimp Burgers and Shrimp Rolls are at the very top of my list of best healthy shrimp recipes because they are tasty, unique, and fun! You are going to love these fun twist shrimp dinner nights.
If you haven't had shrimp burgers yet, you are missing out! This is one of my favorite healthy shrimp recipes and takes ground shrimp, vegetables, panko bread crumbs, and egg as a binder to make a legit burger patty. This Cajun Shrimp Burger is cajun flavored and the one below features old bay. They are so unexpected and delicious. If you love shrimp, you have to try these.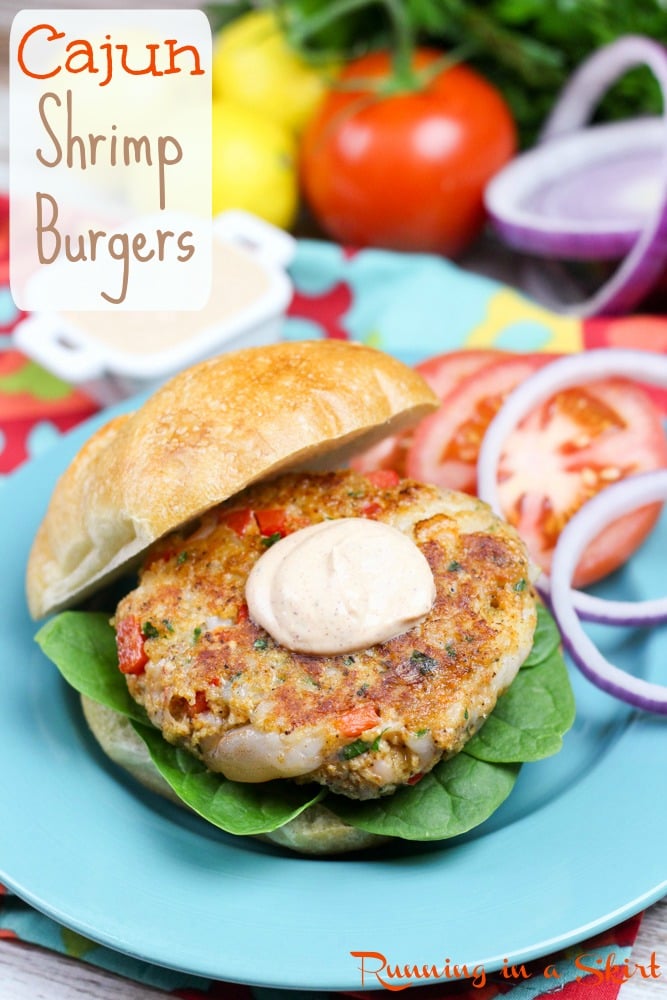 Shrimp Burger with Mango Avocado Salad is another tasty shrimp burger recipe. This version is more basic with a yummy fruit salsa topping.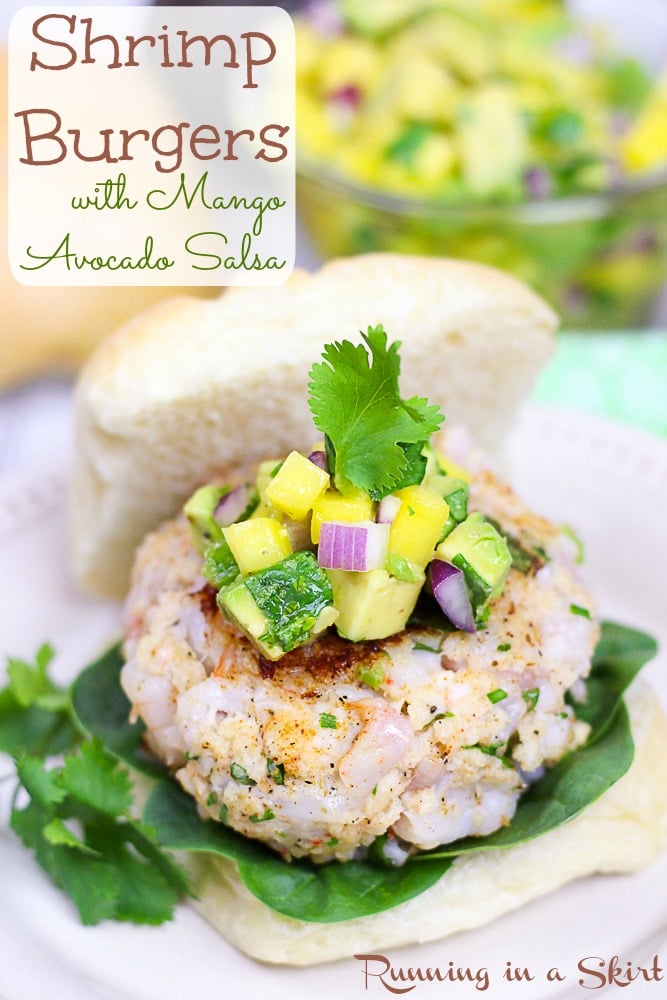 Healthy Shrimp Rolls are another one of my favorite healthy shrimp recipes. This recipe takes all the flavors in a classic lobster roll but makes it with shrimp. My version uses greek yogurt instead of mayo.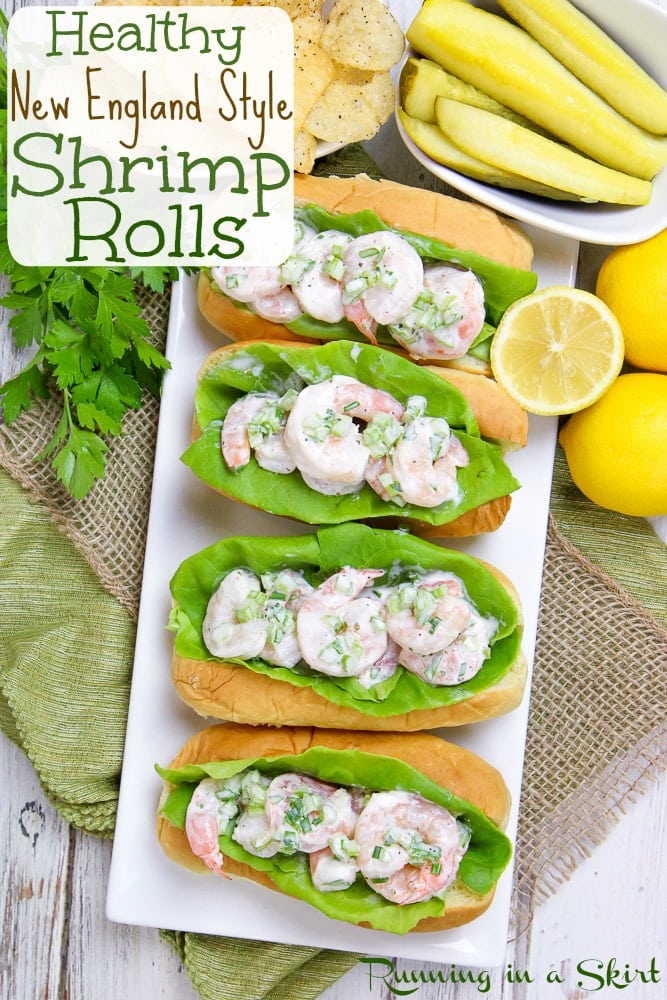 Healthy Shrimp Recipes - Restaurant Inspired
There are so many healthy shrimp recipes that are inspired by your favorite restaurant. Whether it's a low country boil from the beach dive, buffalo shrimp dip from the sports bar, a cozy shrimp chowder from the steak house, or Coconut Shrimp from Red Lobster, these shrimp recipes are inspired by restaurant shrimp recipes. My versions are of course, healthier than eating out.
Love a low country boil at the beach? My Healthy Low Country Boil is made in easy-to-cook foil and filled with old bay shrimp, potatoes, zucchini, and more. This tasty meal is easy to make and is another one of my top healthy shrimp recipes.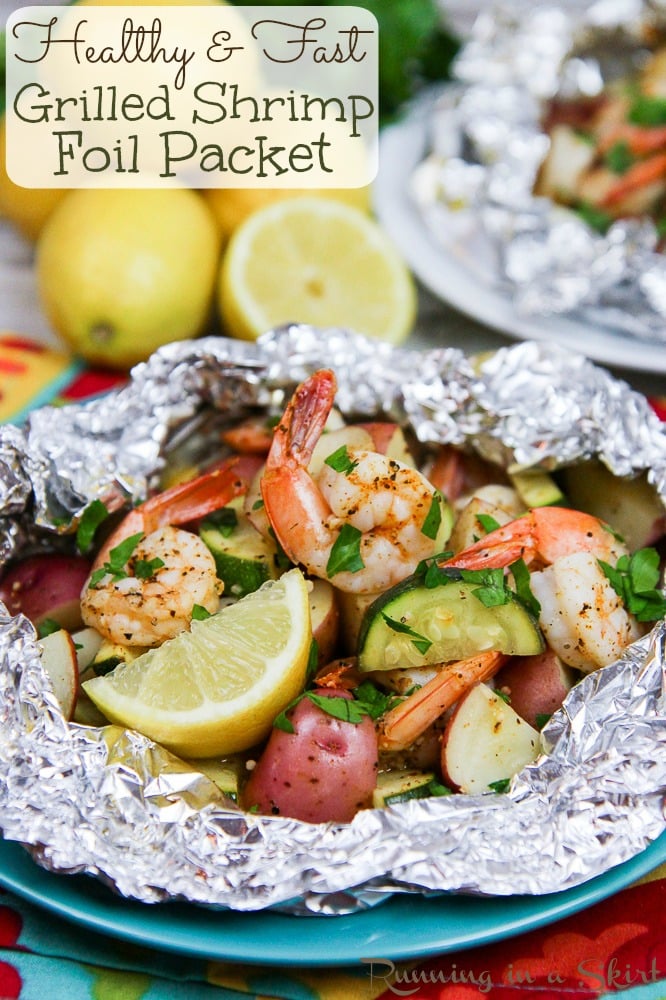 Love Buffalo Chicken Dip? This Buffalo Shrimp Dip swaps out the chicken for shrimp for a fun twist on your favorite healthy shrimp recipes. Buffalo Shrimp Dip features yummy shrimp, cream cheese, greek yogurt blue cheese, and buffalo sauce. This is a great way to enjoy spicy shrimp dip.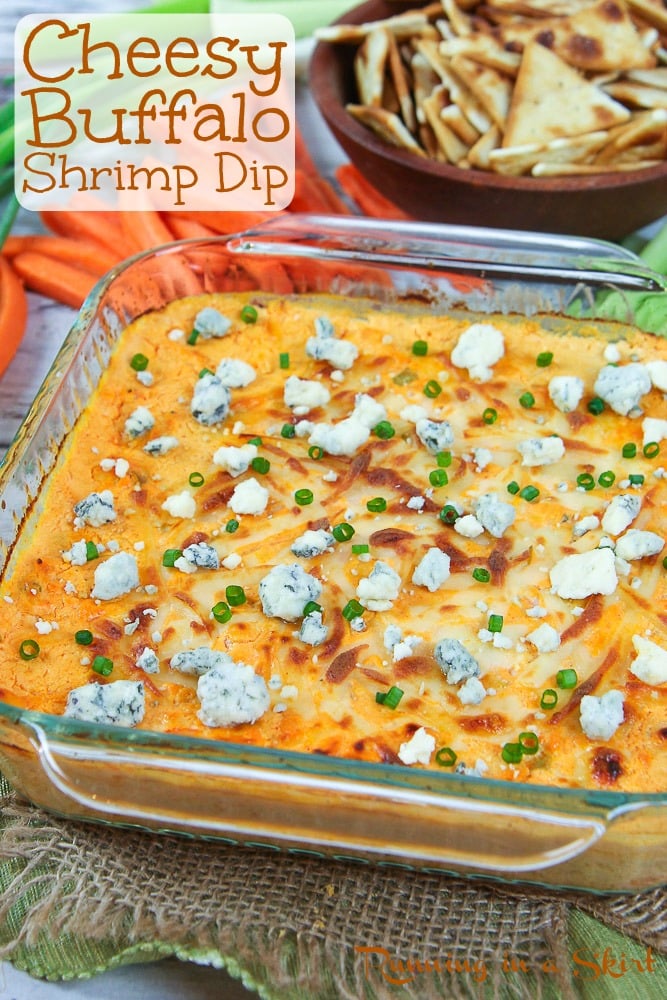 Healthy Shrimp Chowder is a cozy bowl of seafood goodness that tastes kind of like creamy clam chowder with shrimp. This soup will remind you of your favorite seafood restaurant or steakhouse soup.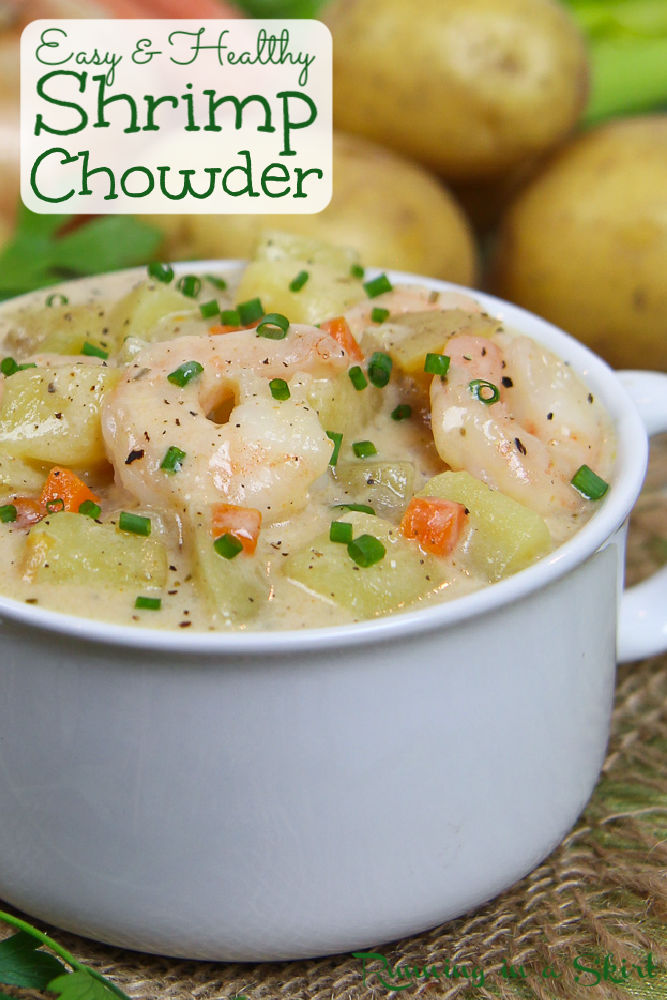 Here's my version of those classic Coconut Shrimp at Red Lobster. Since this Baked Coconut Shrimp recipe is baked and not fried it's another of my favorite healthy shrimp recipes. The sauce is even made with coconut and greek yogurt.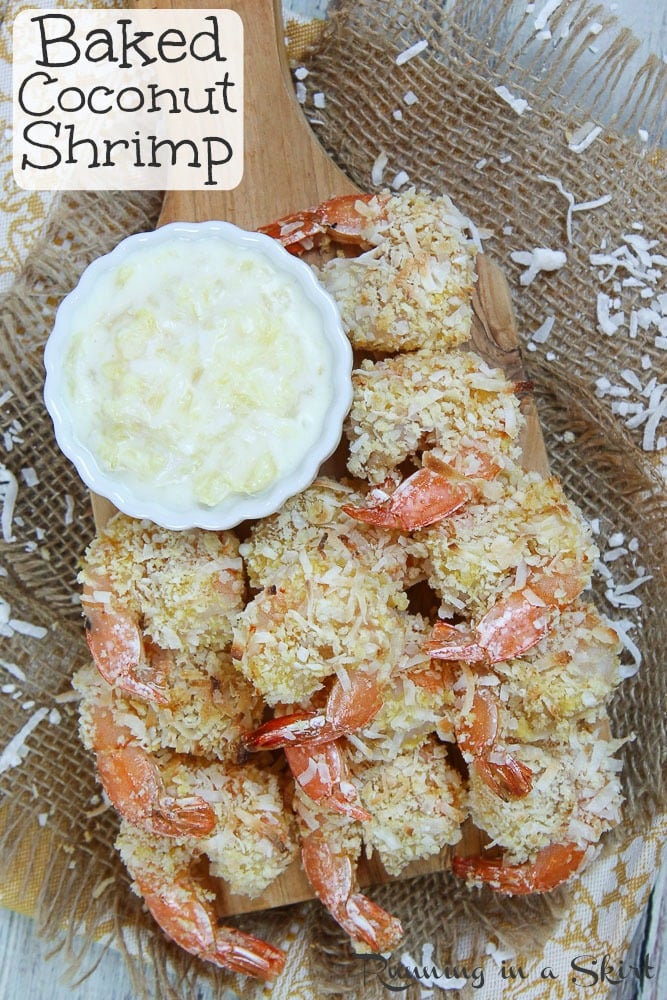 Love ordering lettuce wraps? Try my Blackened Shrimp Lettuce Wraps with mango salsa. This tasty recipe is perfect for an appetizer or a low-carb and low-calorie shrimp meal.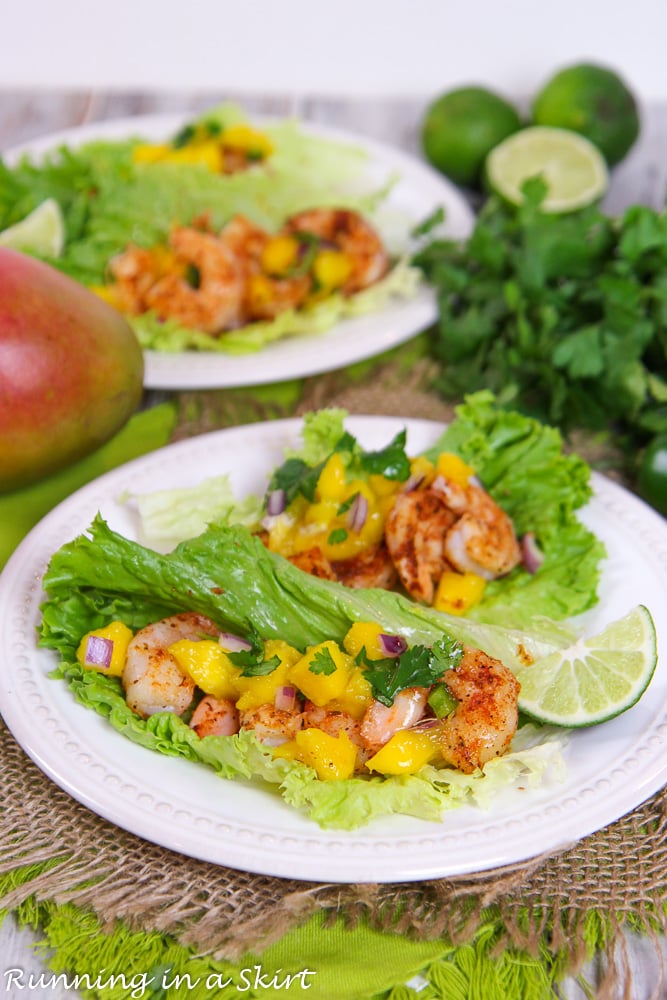 Looking for unique healthy shrimp recipes? These Shrimp Deviled Eggs are a fun twist on classic deviled eggs using shrimp. They also swap out the mayo for greek yogurt making for a healthier snack. Enjoy these fun snacks at home instead of out!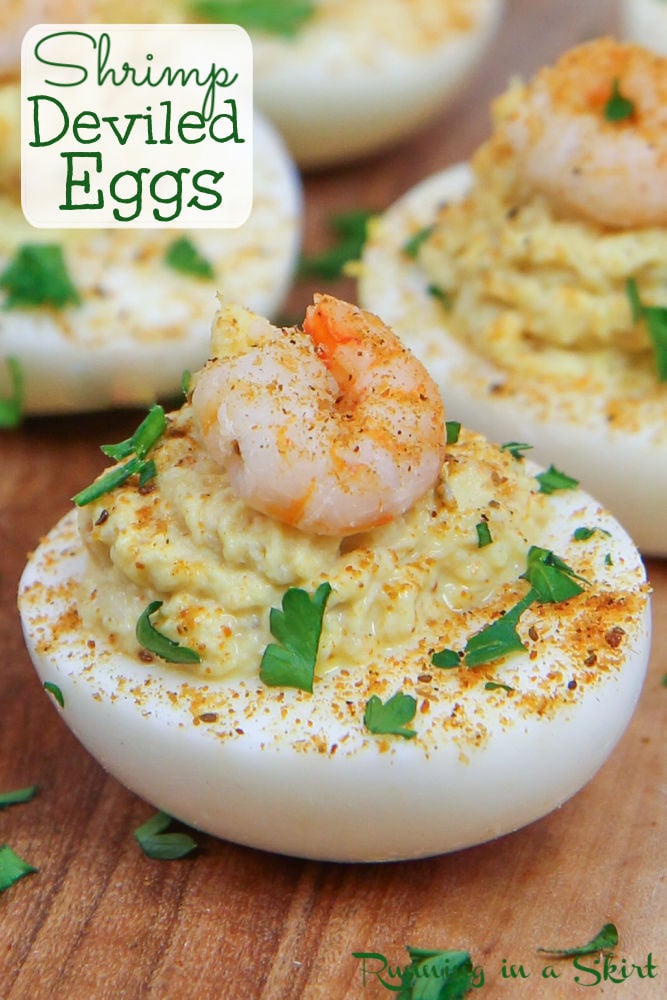 Healthy Shrimp Recipes - Pasta and Grains
Looking for Healthy Shrimp Recipes? You can't go wrong with a classic shrimp pasta or grain like shrimp and quinoa. Here are a few of my favorites.
This Cajun Shrimp Pasta is everything you are looking for in healthy shrimp recipes. It's a cozy comfort food dinner but made with healthy swaps. The creamy sauce and pasta are cooked in as skillet and this is easy to make and just spicy enough.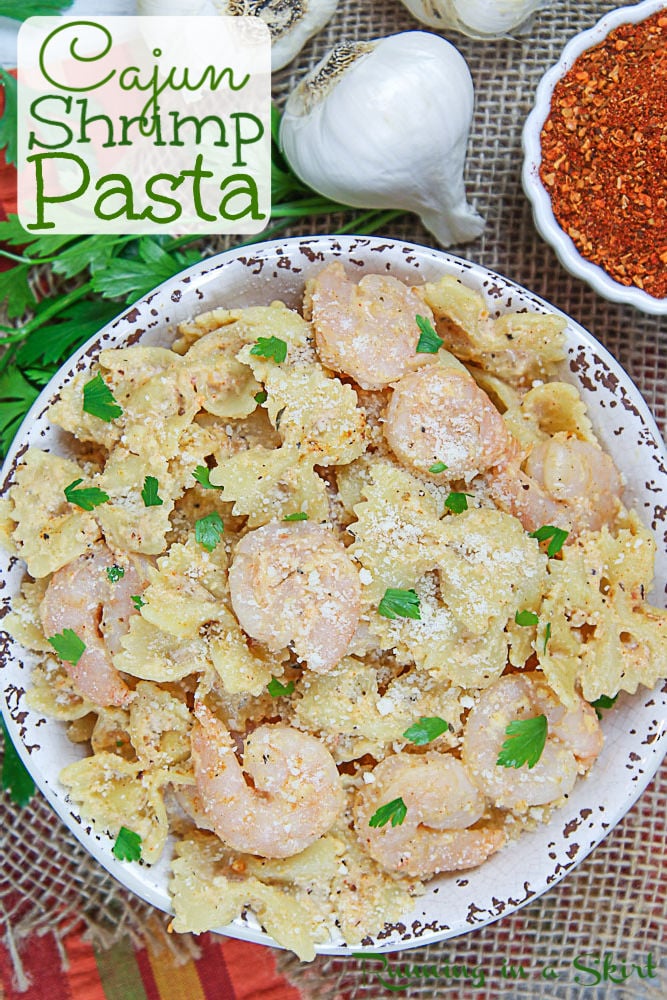 This Pesto Quinoa with Shrimp is a perfect way to enjoy shrimp. This dinner is made with quinoa, prepared pesto, tomatoes, and shrimp.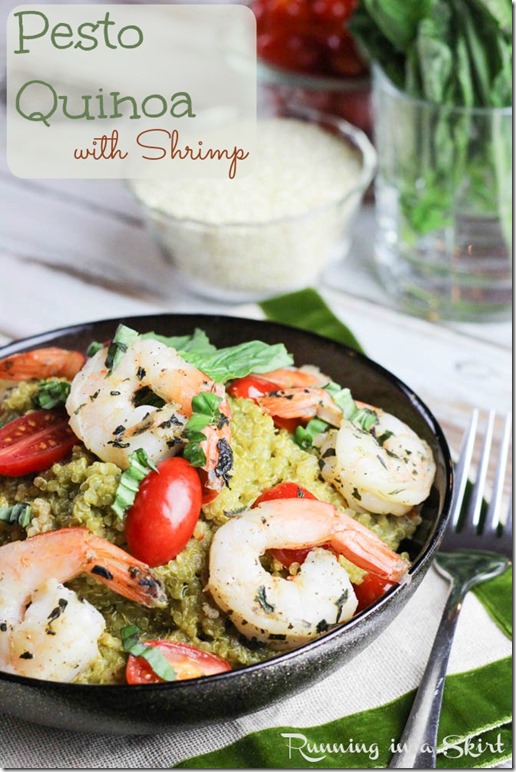 Bright and vibrant, Lemon Ricotta Pasta with Shrimp is another fabulous healthy shrimp pasta recipe that comes together in a flash. Made with creamy ricotta and shrimp this one-pan dinner is another one of my favorite healthy shrimp recipes.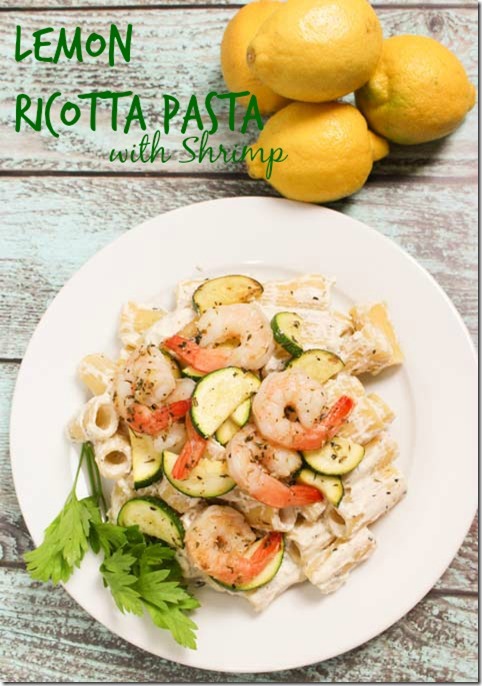 Healthy Shrimp Scampi
Healthy Shrimp Scampi is my final and bonus recipe on this list of healthy shrimp recipes. This brand-new recipe is listed below and is a slightly healthier take on Shrimp Scampi that's easy and delicious. It makes a fabulous weekday dinner.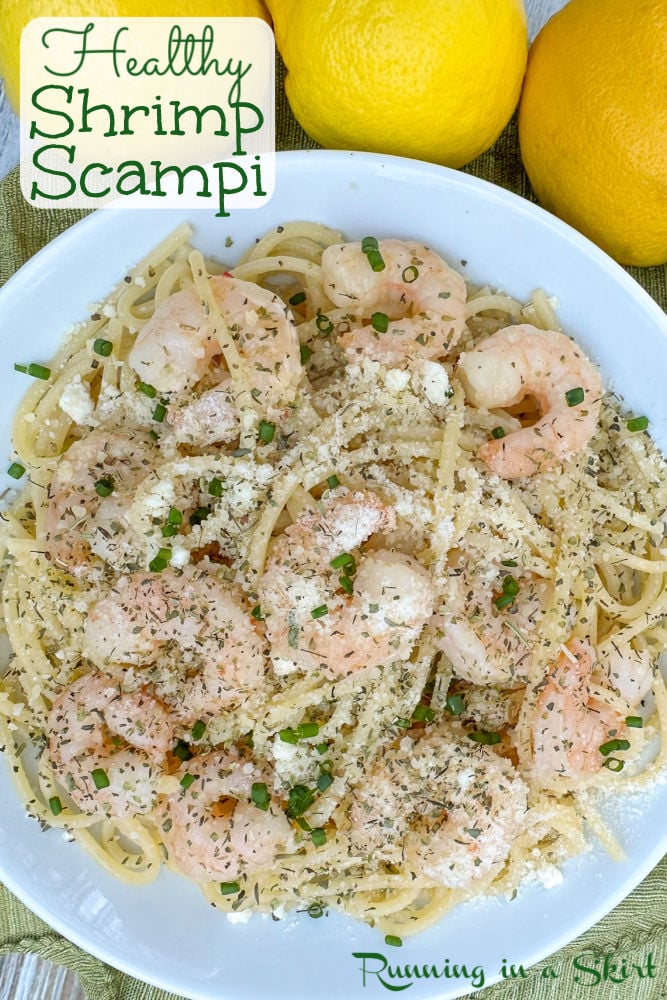 These Healthy Shrimp Recipes are So Tasty!
These healthy shrimp recipes give you so many options for healthy, fast, and delicious dinners. Serving shrimp for a weekday meal is one of my favorite things to do because of how versatile they are, how quickly they cook, and how good they are for you.
As the movie Forest Gump said, shrimp really is the fruit of the sea! There are endless ways to prepare these delightful crustaceans.
You really can't go wrong making any of these for the family. And don't forget to keep scrolling for my brand new Healthy Shrimp Scampi.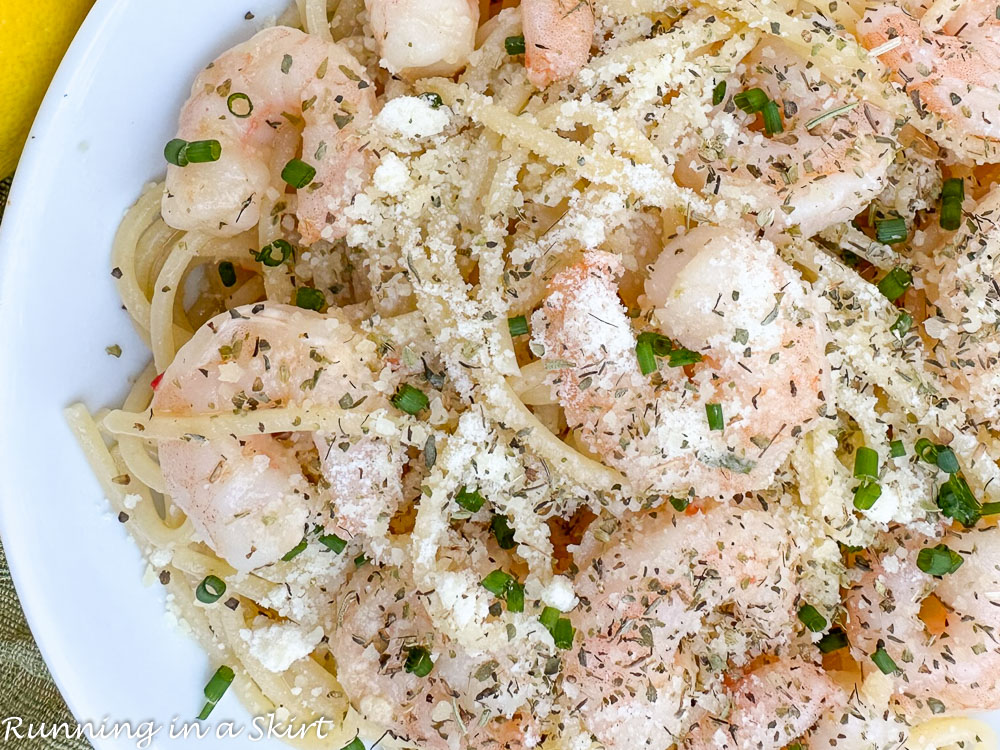 What can you have with shrimp?
Looking for a side dish to go with shrimp? Here are some of my favorite options. Also, check out my side dish page for all of the side dishes in my archives.
25+ Healthy Shrimp Recipes from Running in a Skirt
Click To Tweet
If you make these Healthy Shrimp Recipes, I'd love to hear what you think! Leave a comment and a star rating ★ below. Make sure to follow me on Instagram, Pinterest, and Facebook too!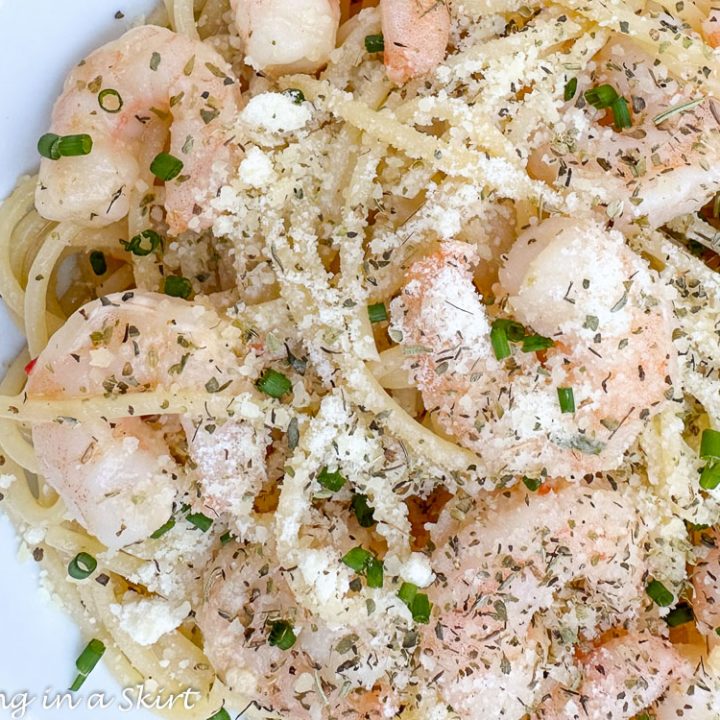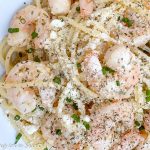 Healthy Shrimp Recipes - Shrimp Scampi
Are you looking for the tastiest Healthy Shrimp Recipes? Here you'll find 25+ of the most vibrant, fresh, and flavorful shrimp recipes including this Healthy Shrimp Scampi.
Instructions
Cook your pasta according to the package instructions. Before you drain the pasta, measure out ½ cup of pasta water. Set the pasta aside while you cook the shrimp.

In a large skilled over medium heat add the olive oil. Cook the shrimp for 2-3 minutes on each side. Salt and pepper to taste. Remove the shrimp from the heat.

In the same skillet, still over medium heat, place the butter in the pan. Saute the garlic for 30 seconds and then add the white wine and pasta water. Simmer the sauce until it reduces by half which should take about 5 minutes. Add salt and pepper.

Toss the pasta and shrimp back into the skillet and toss until well combined.

Remove the skillet from the heat and add the lemon juice and toss in the parmescan cheese.

Divide on two plates and garnish with fresh parsley.
Notes
Storage & Leftovers
Store any leftovers in an airtight container in the fridge for up to 3 days.
Nutrition
Calories:
562
kcal
Carbohydrates:
72
g
Protein:
32
g
Fat:
14
g
Saturated Fat:
7
g
Polyunsaturated Fat:
1
g
Monounsaturated Fat:
4
g
Trans Fat:
0.01
g
Cholesterol:
166
mg
Sodium:
858
mg
Potassium:
447
mg
Fiber:
4
g
Sugar:
4
g
Vitamin A:
552
IU
Vitamin C:
30
mg
Calcium:
258
mg
Iron:
2
mg
Pin for later: