Get grilling with my Honey Lime Shrimp Skewers recipe!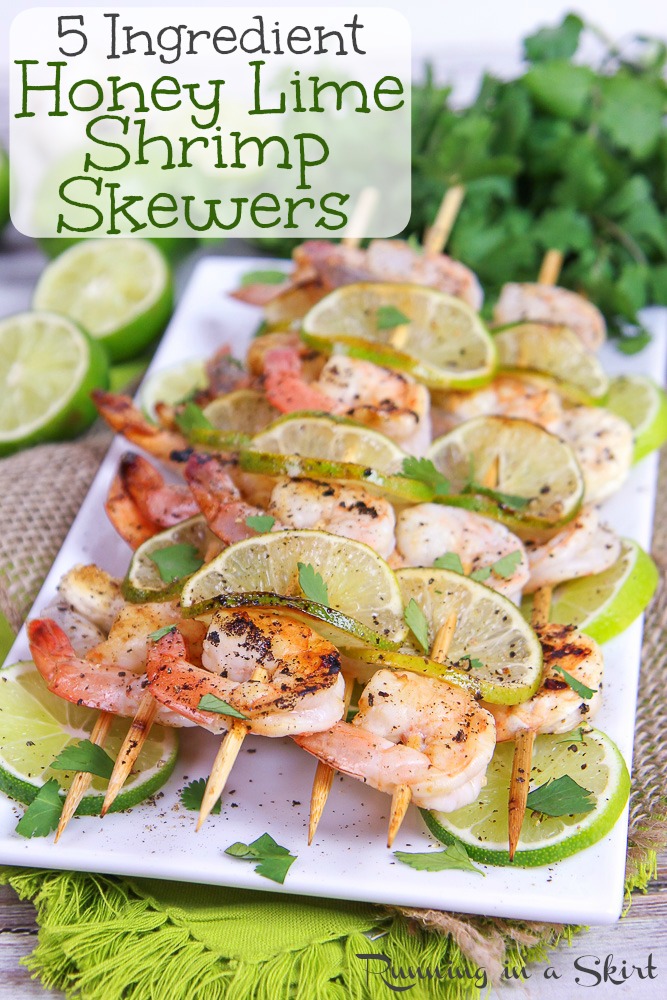 Hi everyone!
We had a HOT and fun Memorial Day weekend. I'm putting together some highlights for my Friday post but today I have a delish new shrimp recipe for you!
It seems like we went from spring to full on sweaty summer overnight. We've already had temperatures at or near 90 degrees for several days in the mountains, which is strange because some summers we never get this warm and May is generally pretty mild. I love summer, so I'm not complaining but finding myself embracing the warm long days with simple food... lots of grilling including grilled veggies and grilled seafood. Let's be honest though... I feel like you can never have enough shrimp in SUMMER.
I tend to be drawn to putting lemon with fish and shellfish, but I recently started playing around with limes too and the flavors are also pretty darn tasty! My experiments led to this delightful Honey Lime Shrimp Skewers recipe, which y'all have to try.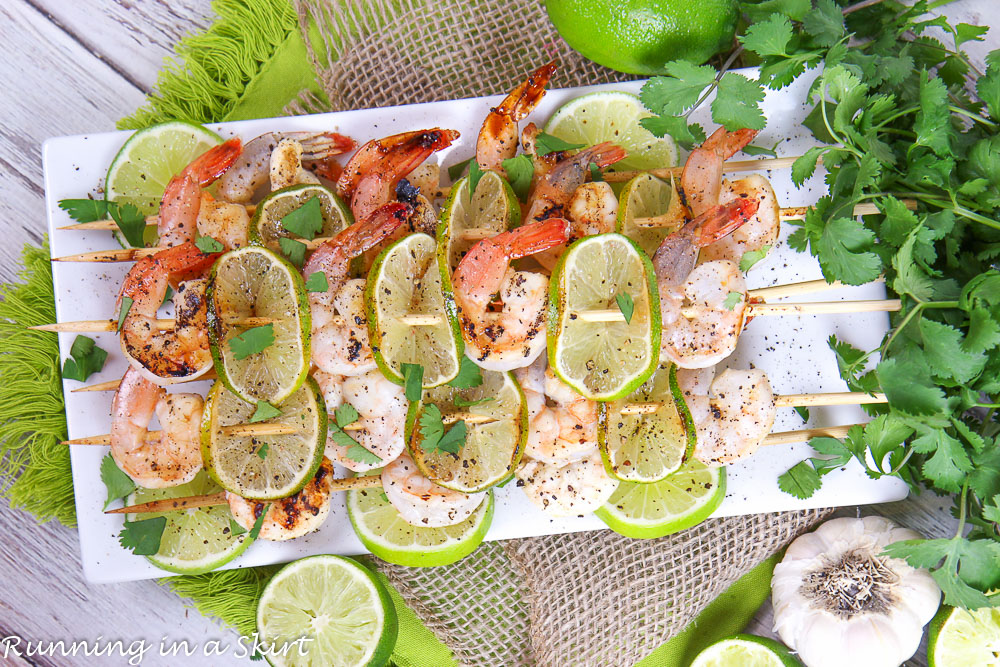 Why you'll love this Honey Lime Shrimp Skewers recipe...
This recipe is fast, healthy and truly delicious. I believe simple summer food tastes the best and this Honey Lime Shrimp Skewers recipe is only 5 tasty ingredients. Since shrimp cook so fast it also can be on your table in less than 15 minutes.
The hardest part is simply threading the shrimp and limes on the skewers. With a little practice though, yours can look like this!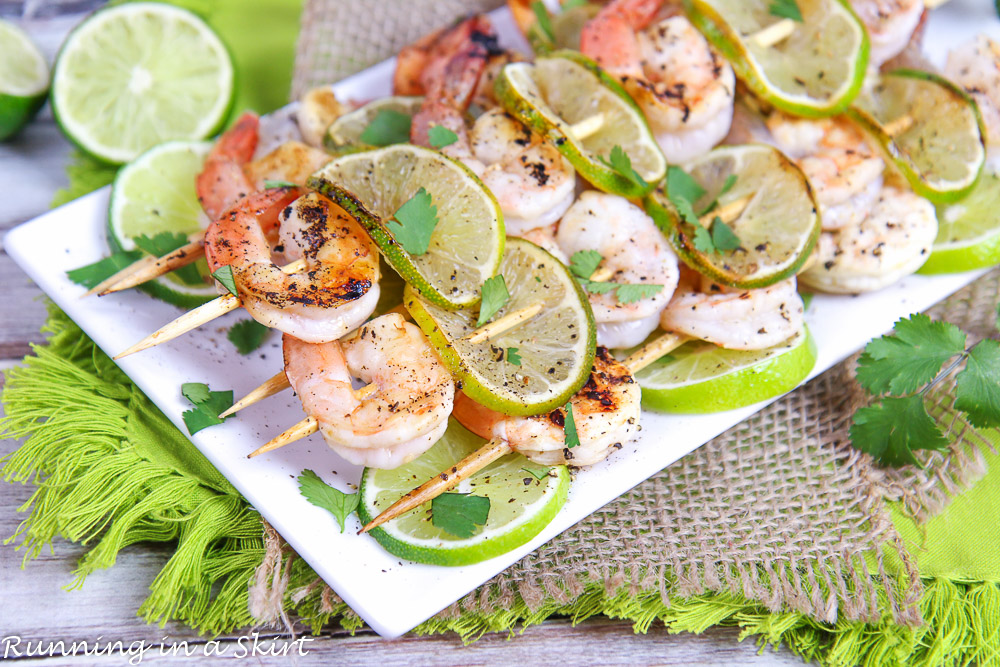 The sweet honey and tangy lime in this pair together like the perfect foodie duet. Some minced garlic takes it over the top! I love how it brings out the flavor of the tender shrimp with ease.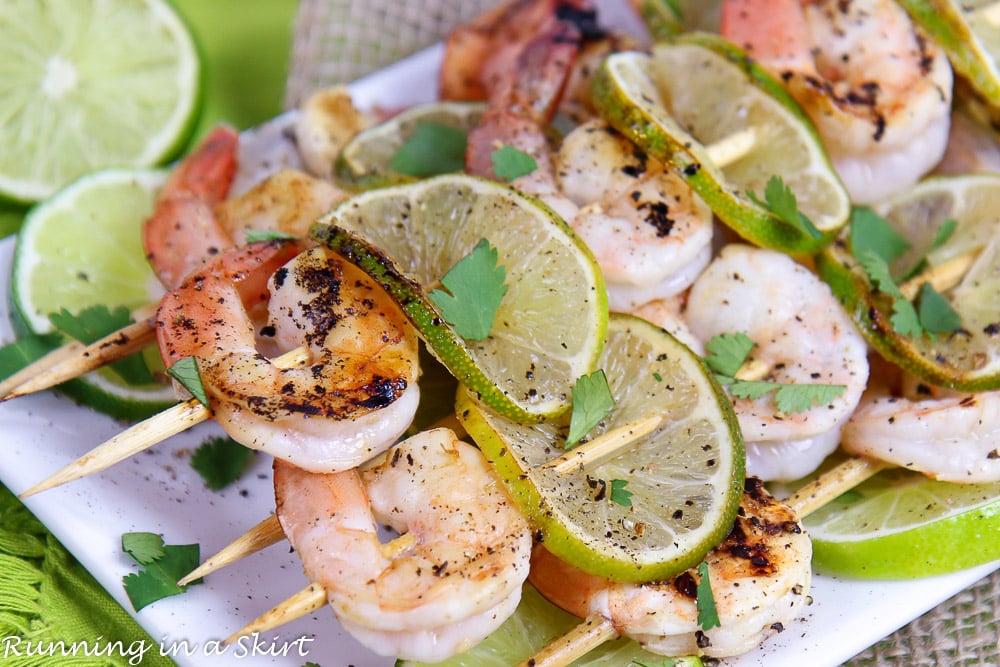 One of the best parts about this recipe is the simple, whole food based marinade using ingredients you probably already have. It's simple and so good!
What's in this Honey Lime Shrimp Skewers recipe...
Shrimp
Honey
Lime (I find affordable and juicy limes at ALDI)
Garlic
You'll also need some shrimp skewers. Go ahead and order these wooden ones OR these reusable metal ones. I always have trouble finding them in the store.
Just be sure to remember to soak the wood ones ahead of time if you go that route.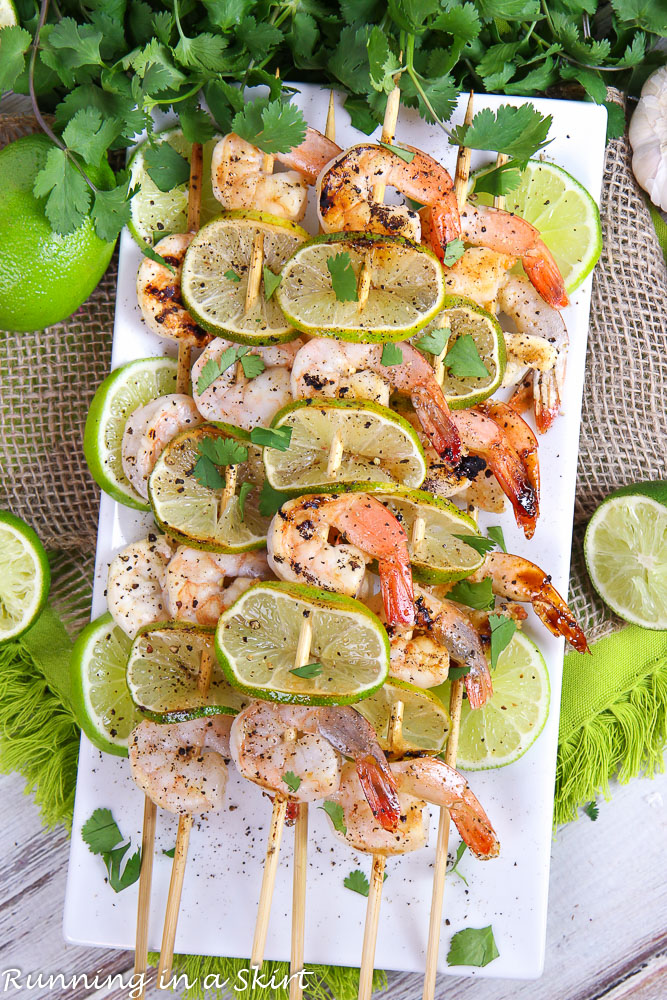 How to make this Honey Lime Shrimp Skewers recipe
Mix the lime, olive oil, honey, and garlic together in a ziplock bag.
Put the shrimp and the bag and allow to marinate for 30 minutes.
If using wooden skewers, soak them in water.
Thread the shrimp and lime on the skewers.
Grill for 2-3 minutes on each side!
Life hack: If you are in a hurry, skip the skewers and just cook the shrimp in a grilling pan.
So SIMPLE!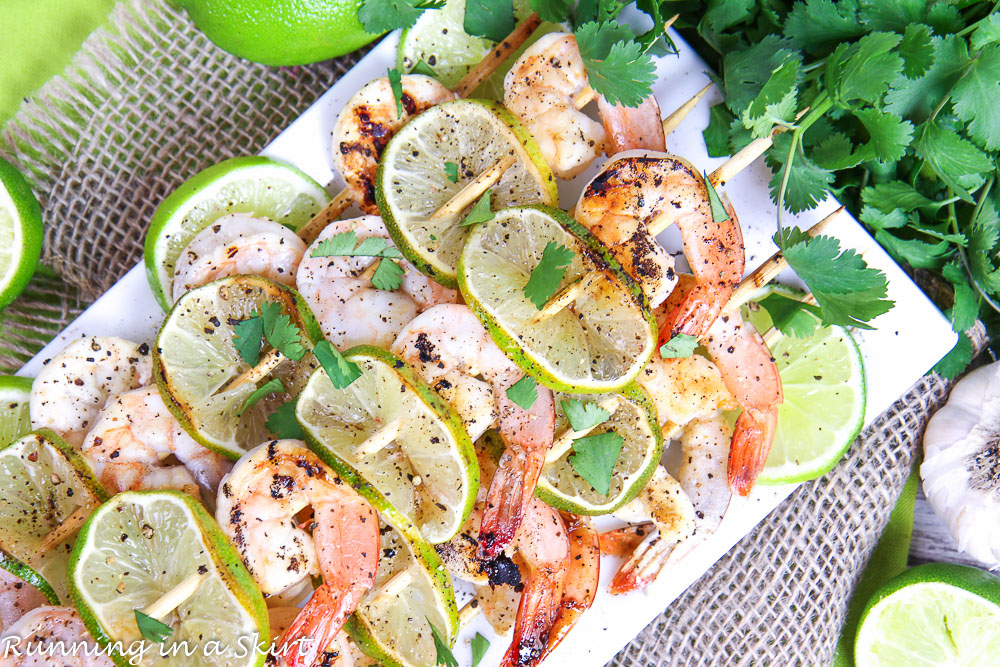 Serving Suggestions...
Serve the shrimp with two easy summer sides, over a salad or even as part of shrimp tacos.
This Honey Lime Shrimp Skewers recipe is a new one to my recipe box, but I know it's going to be a favorite all summer long. I hope you will give it a try and let me know what you think!
More Healthy Shrimp Skewers/ Kabobs Recipes
Pin for later!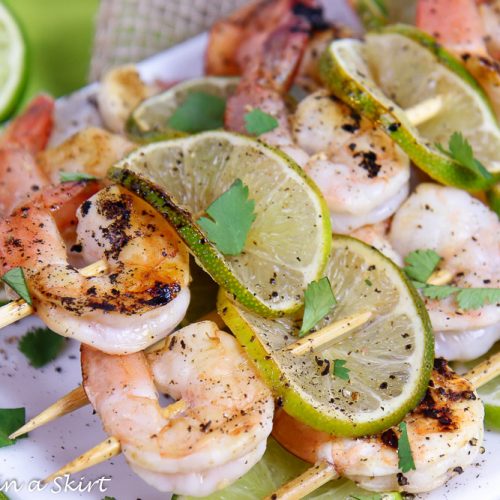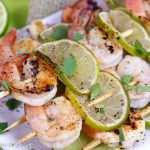 Honey Lime Shrimp Skewers recipe
This healthy Honey Lime Shrimp Skewers recipe is only 5 ingredients!
Instructions
In a ziplock bag mix together the juice from one of the limes, olive oil, honey, and garlic.  Add the shrimp to the bag and put in the fridge for 15 minutes.

Slice the other lime in very thin slices. Save the larger pieces at the end for the end of the recipe.

Preheat the grill to high.

Take the shrimp out of the bag and skewer them... alternating between shrimp and lime. Sprinkle the shrimp with salt and pepper.

Grill the shrimp 2-3 minutes on each side until they just turn opaque and start to curl. Do not overcook!

Squeeze any extra lime on the shrimp and serve!
Notes
Serve these with rice or a side salad for a perfect meal.
Nutrition
Calories:
252
kcal
Carbohydrates:
21
g
Protein:
24
g
Fat:
9
g
Saturated Fat:
1
g
Cholesterol:
286
mg
Sodium:
883
mg
Potassium:
136
mg
Fiber:
1
g
Sugar:
18
g
Vitamin A:
17
IU
Vitamin C:
15
mg
Calcium:
178
mg
Iron:
3
mg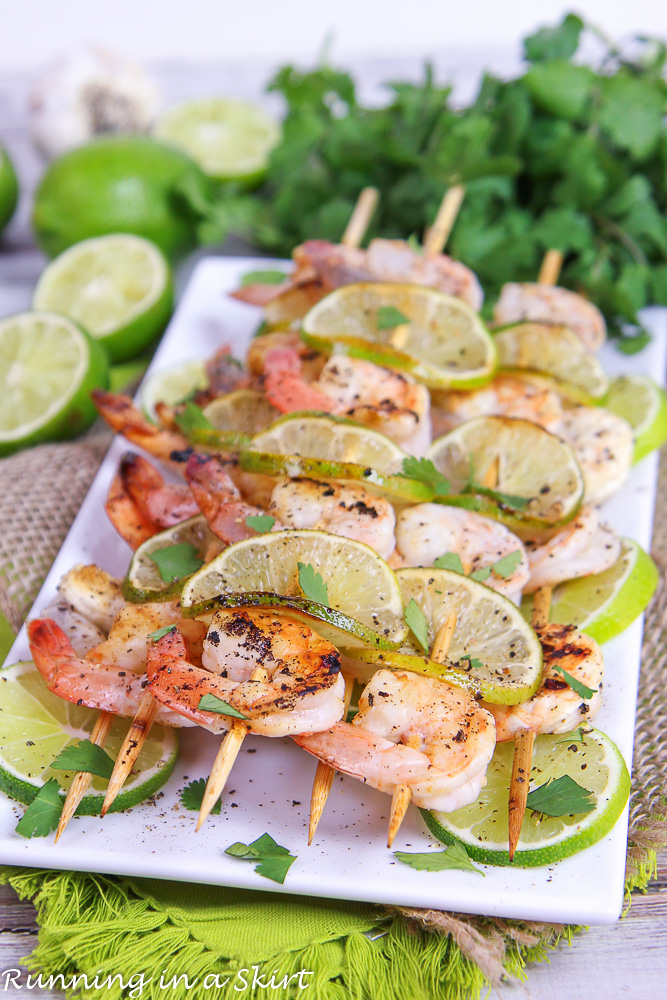 Your turn!
How do you like to cook your shrimp?
This post contains Amazon Affiliate links. I earn a small commission off of purchases, but it costs you nothing.
I'm linking up my Honey Lime Shrimp Skewers recipe with: Meatless Monday, Full Plate Thursday, and the Weekend Potluck. Thanks so much ladies for the link up parties!