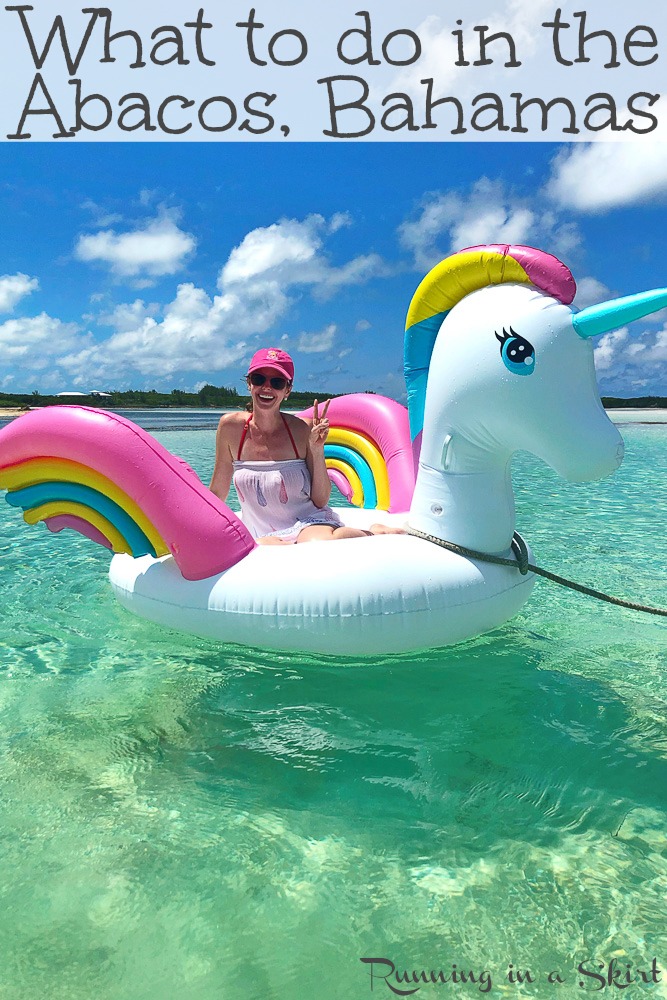 Here's what to do in Hope Town, Bahamas including Elbow Cay, Hope Town, and the rest of the Abacos.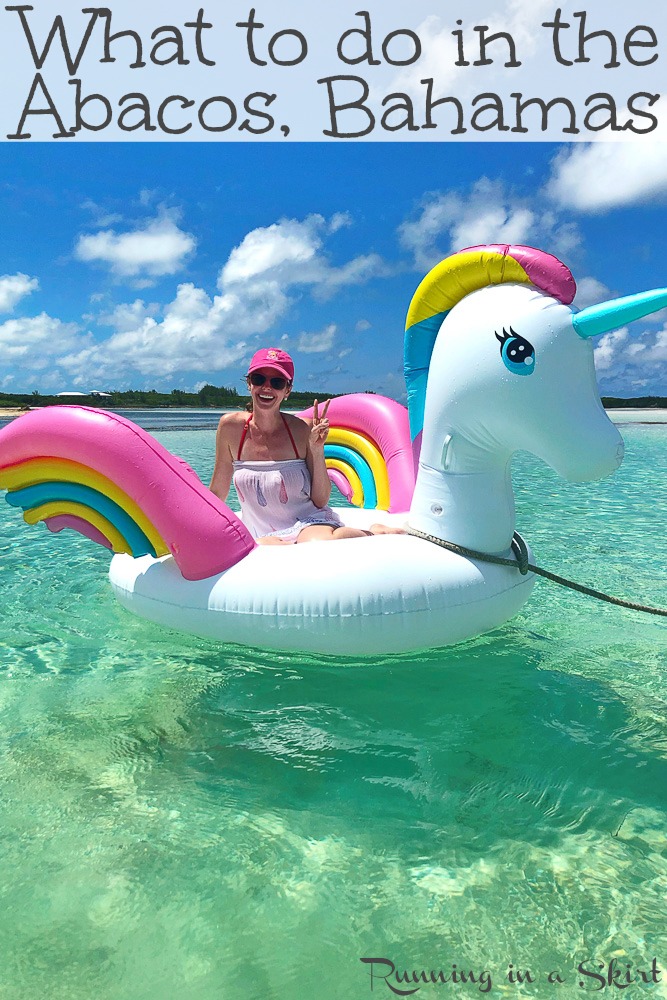 Hope Town Bahamas
Hope Town Bahamas is a small city on Elbow Cay which is part of the Abacos, a chain of islands in the Bahamas. It was devasted by Hurricane Dorian in 2019. In the years since the storm, the Elbow Cay and Hope Town are slowly coming back to life and many favorite places are open for business. While the island isn't exactly the same, there has been so much work to bring this little corner of the world back and it's still a lovely place to visit. This post was written before the storm, but I've gone back and added information about what is open now to the best of my knowledge. I'm hoping to make it back to the island in the next couple of years.
The Abacos - even after the storm- is such a beautiful, mostly unspoiled part of the world that I've fallen in love with. This post on What to Do in Hope Town Bahamas is full of tropical turquoise waters, gorgeous swaying palm trees, and epic sunsets. I hope you enjoy this little taste of the tropics.
Once you see how fabulous this place is, you will want to visit too.
This post starts with a a chronological recap of our trip, but keep reading for my checklist of What to Do in Hope Town Bahamas plus my list of where to eat and where to stay.
Planning an Abacos or Hope Town Bahamas Trip? Start with these guides! Best Abacos Restaurants, Guide to Touring the Abacos by Boat & Top 10 Things to do in the Abacos.
What to Do in Hope Town Bahamas
Getting to the Abacos
Getting to Hope Town Bahamas is part of the adventure itself. I woke up with the sun Thursday to start our flight down to the Bahamas from the United States. By mid-morning, we were saying goodbye to Florida and the Atlantic Ocean out of the window of our small plane.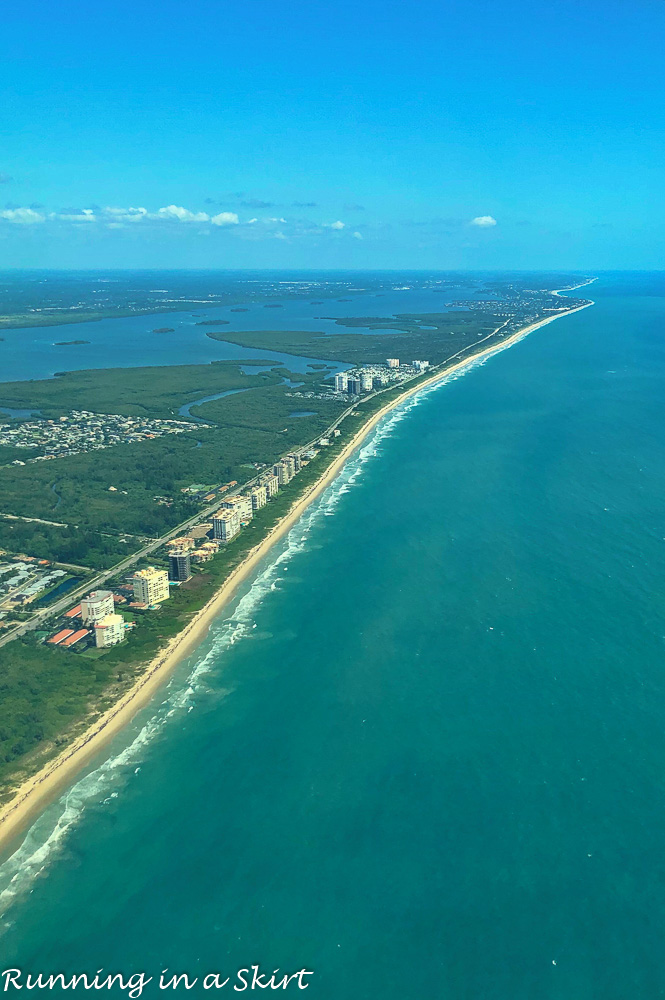 We fly over open water for about a half-hour and then very dramatically see the colors of the water change to vivid blue and start flying over the first Bahamian islands. To get to Hope Town Bahamas, you don't fly directly into the island of Elbow Cay, you land at Marsh Harbor and the Marsh Harbour Airport which is an international airport that has some jets and many smaller planes like ours. It's Abaco's mainland.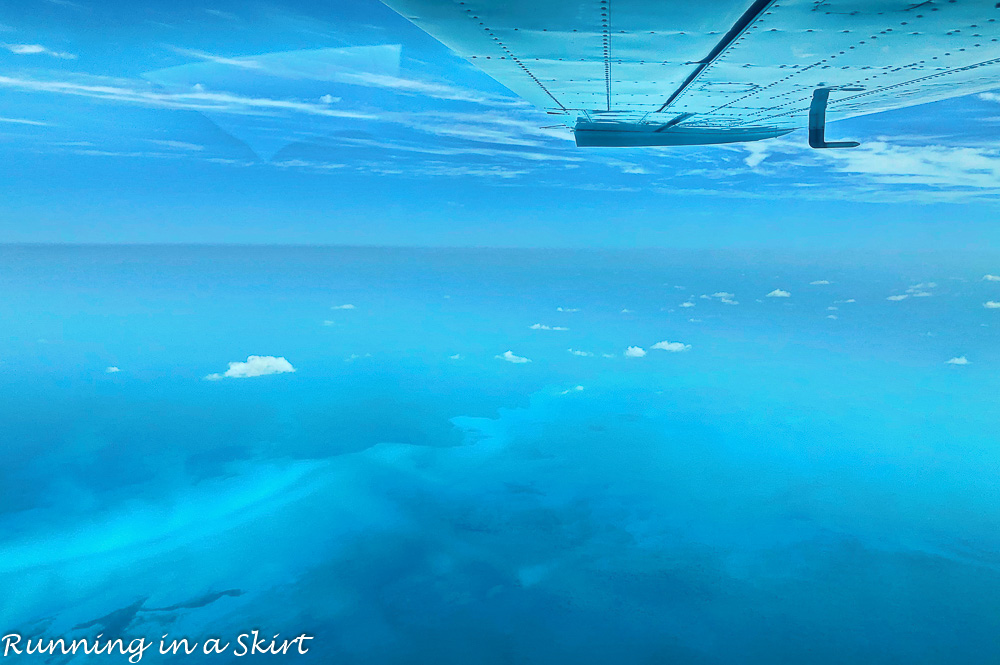 We land in Marsh Harbor and take our rental boat across the Sea of Abaco to our home for the weekend on Elbow Cay. For this trip, we stay at Firefly Resort, which has been rebuilt and reopened since the hurricane. The resort is made up of a small cluster of cottages, which are super charming.
Firefly Sunset Resort is owned by the same folks that own Firefly Sweet Tea Vodka, which is out of South Carolina. It's really fun that Hope Town Bahamas and the Carolinas have tied together.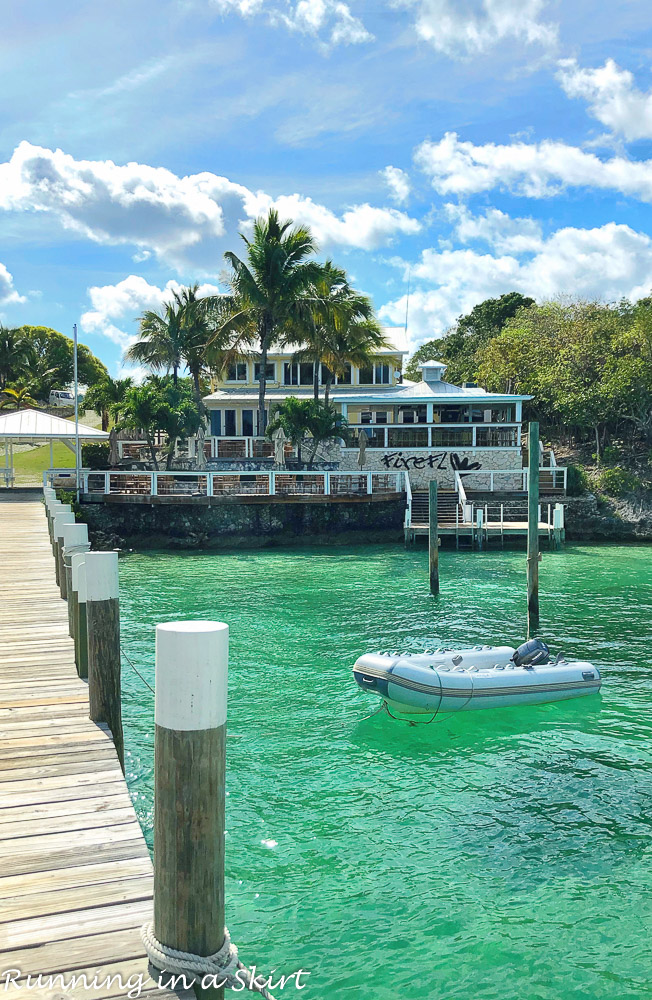 Elbow Cay is a small island that only has a few restaurants and most people get around by bike, golf cart, or foot. I'd highly recommend renting a golf cart and boat when you go.
First up is a Mo-tea-to which is their twist on a Mojito, my favorite summer drink.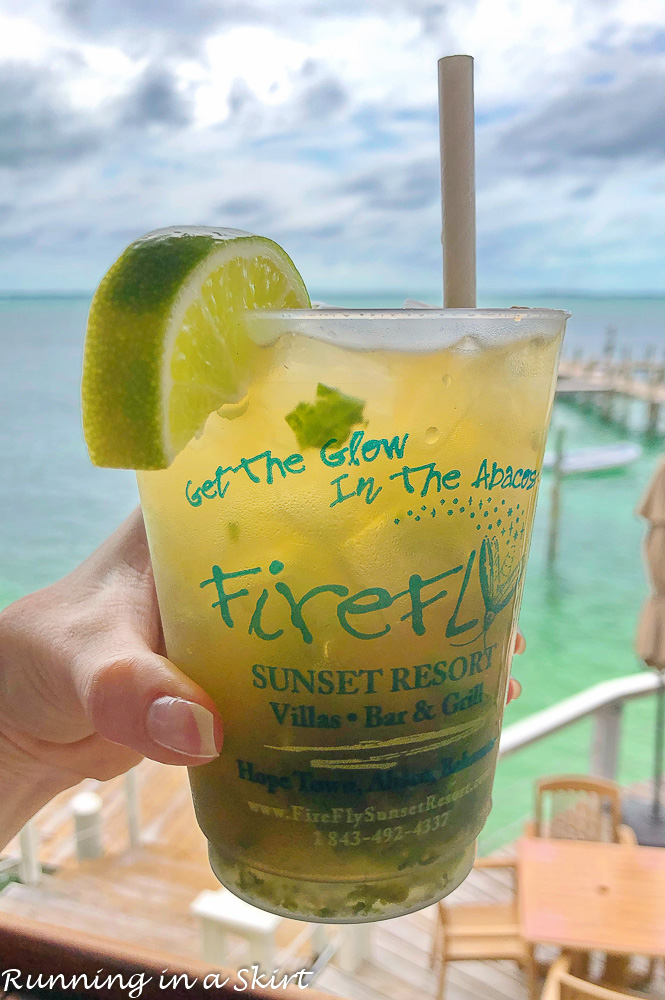 We have a few hours to explore, so we head down to the beach to enjoy the views. Elbow Cay and the beaches in Hope Town Bahama are lined with the most gorgeous pink sand beaches you've ever seen.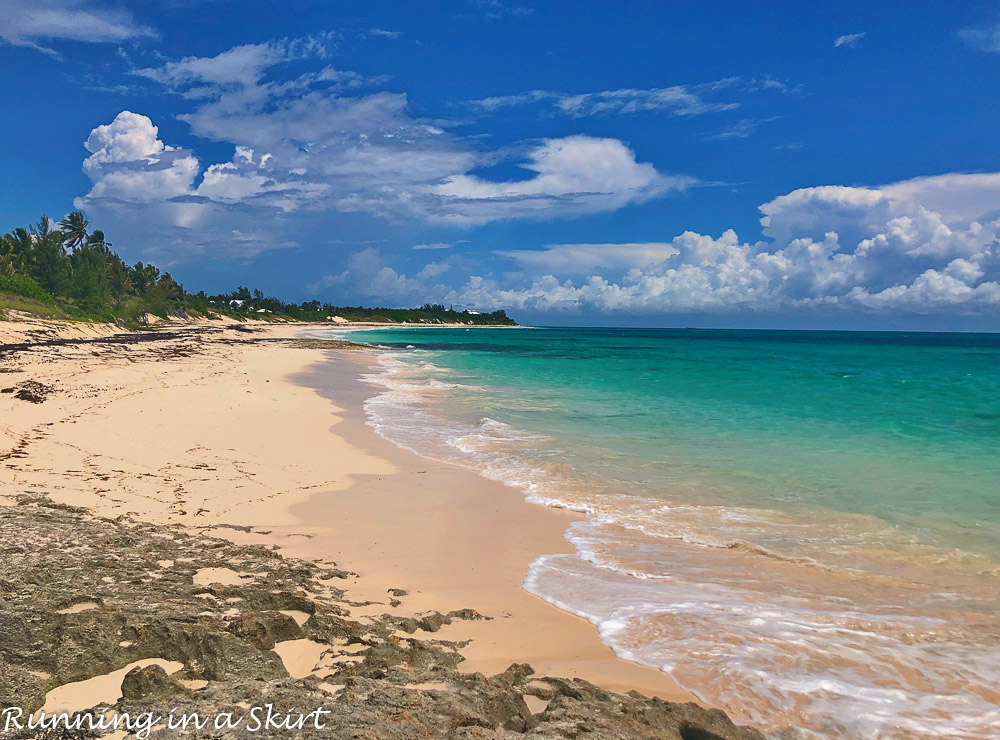 For dinner, we go to the nearby Abaco Inn, which is one of my favorites on the island. It has reopened and is back in business post-storm.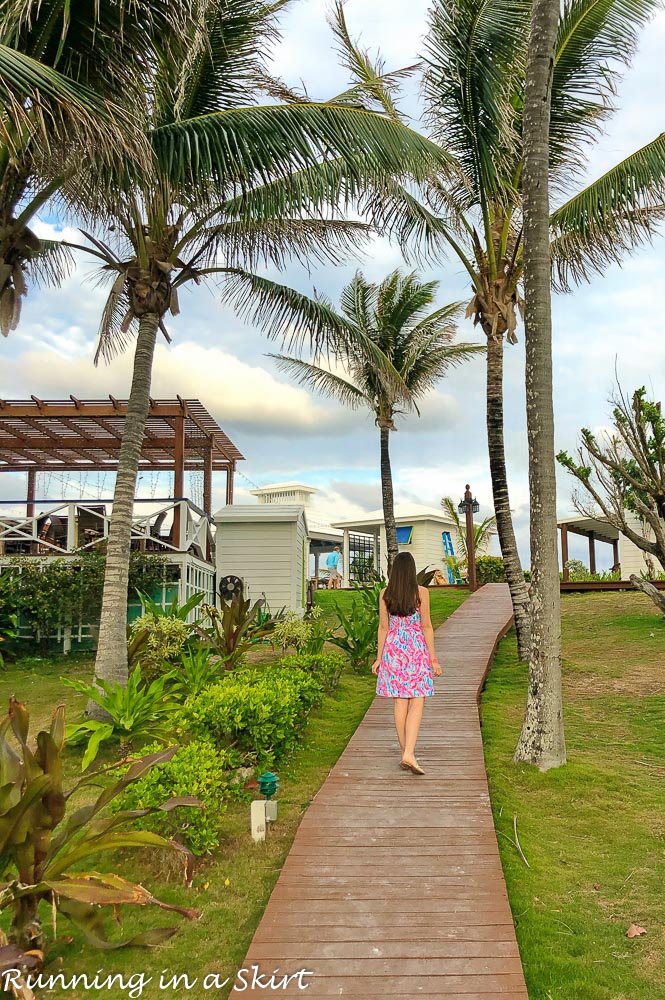 There were some clouds, which actually led to one of the prettier sunsets we saw the entire trip.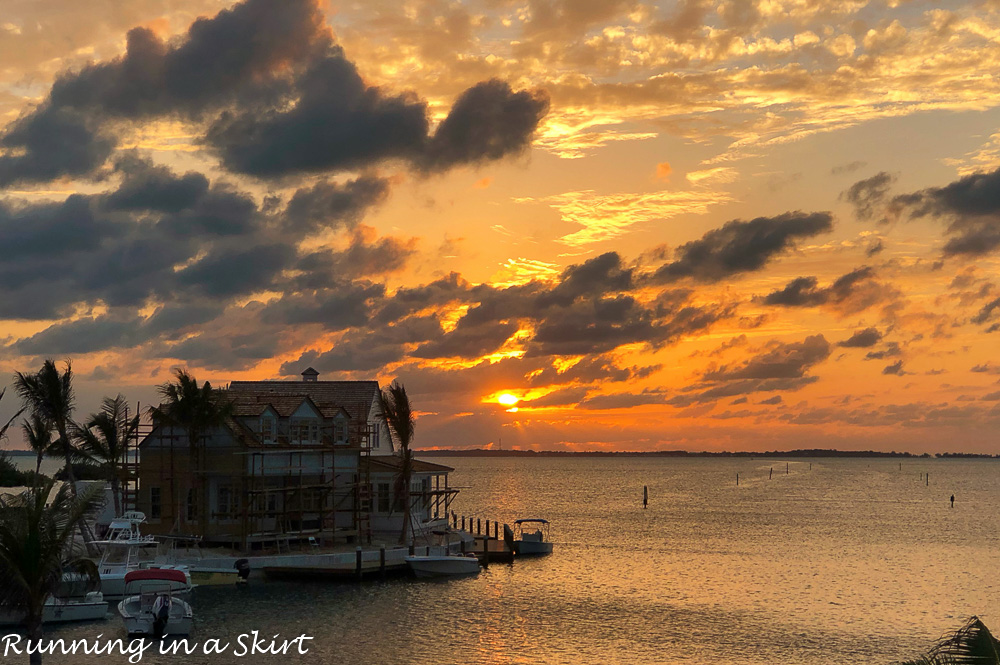 I ended up running across the street in the middle of dinner to snap this one :-).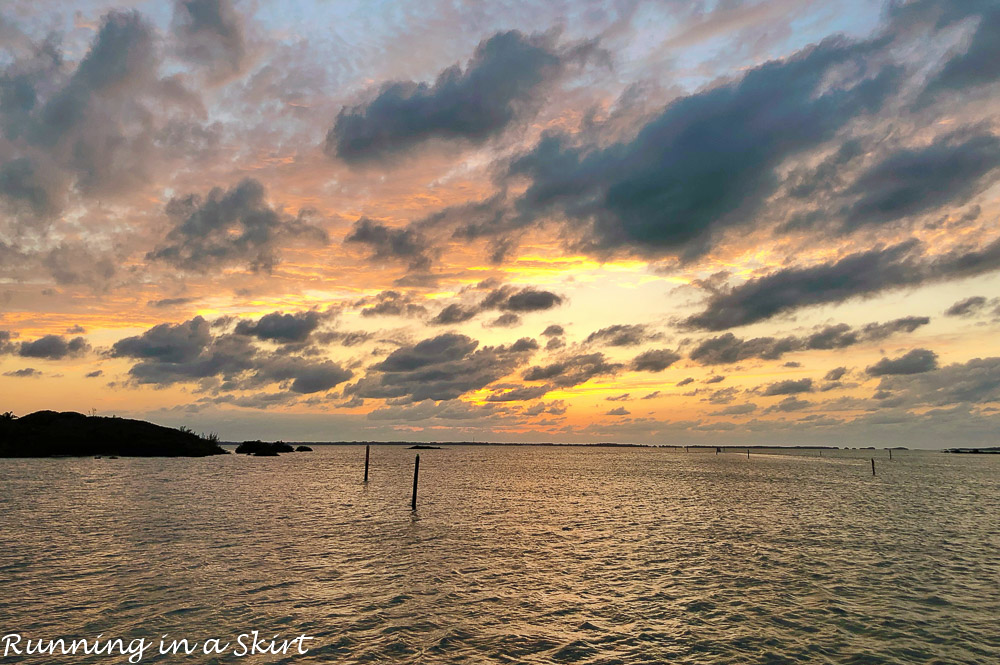 When I was walking back to our table I turned around and this gorgeous pink and purple sky was behind the sunset. It was one of the most magical moments of the trip.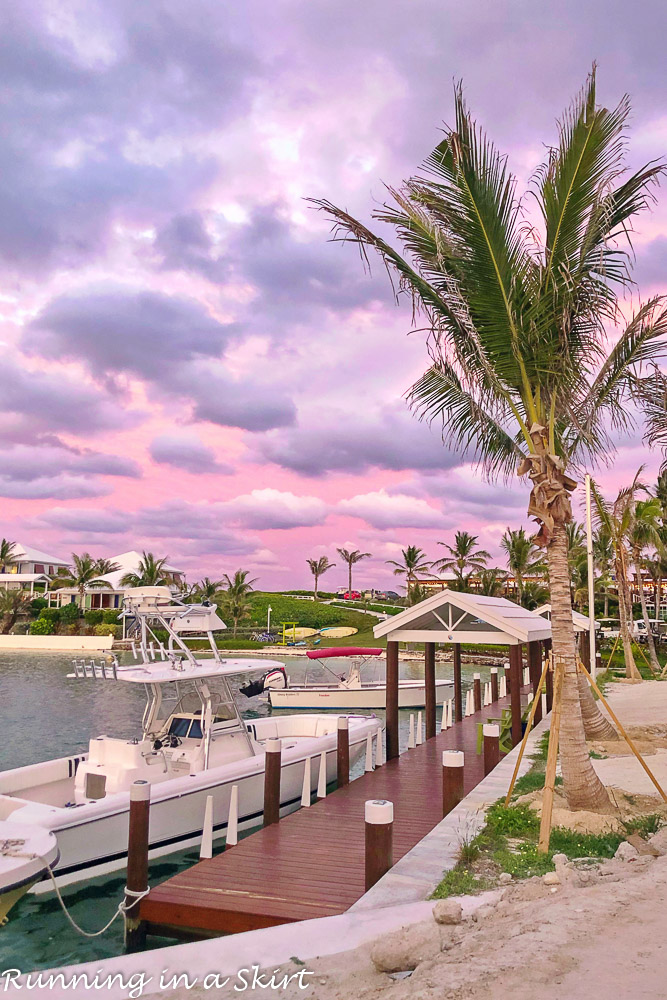 For dinner, I ordered the Caribbean lobster which was nothing short of dreamy.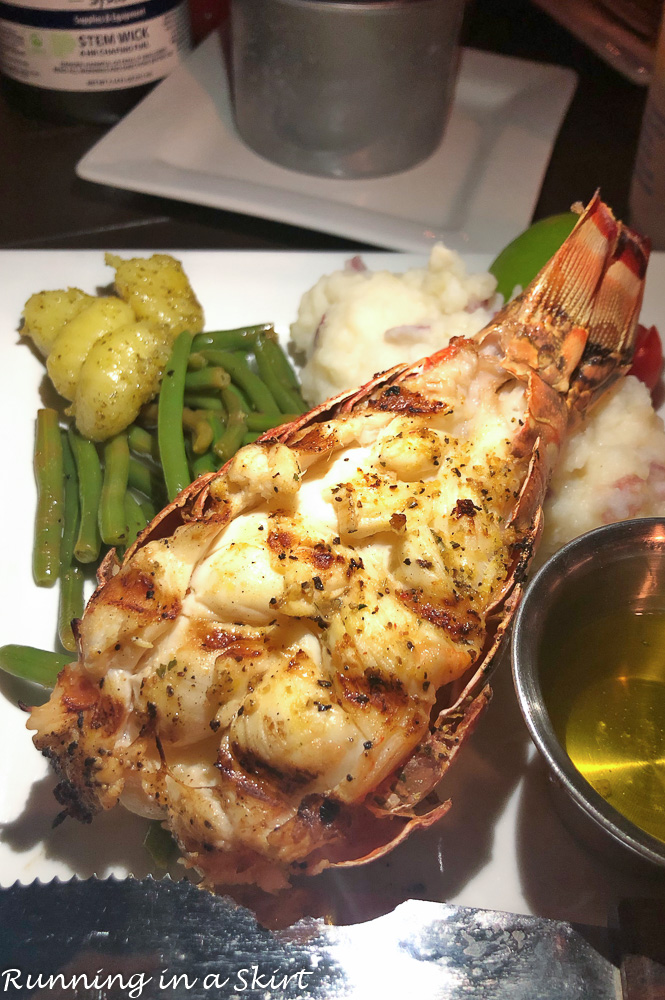 We ended the evening early to get ready for a busy first full day of vacation.
Day 1 - What to Do in Hope Town Bahamas
We woke up early on our first full day in Hope Town Bahamas and Abacos. Our plan was to go boating for the day.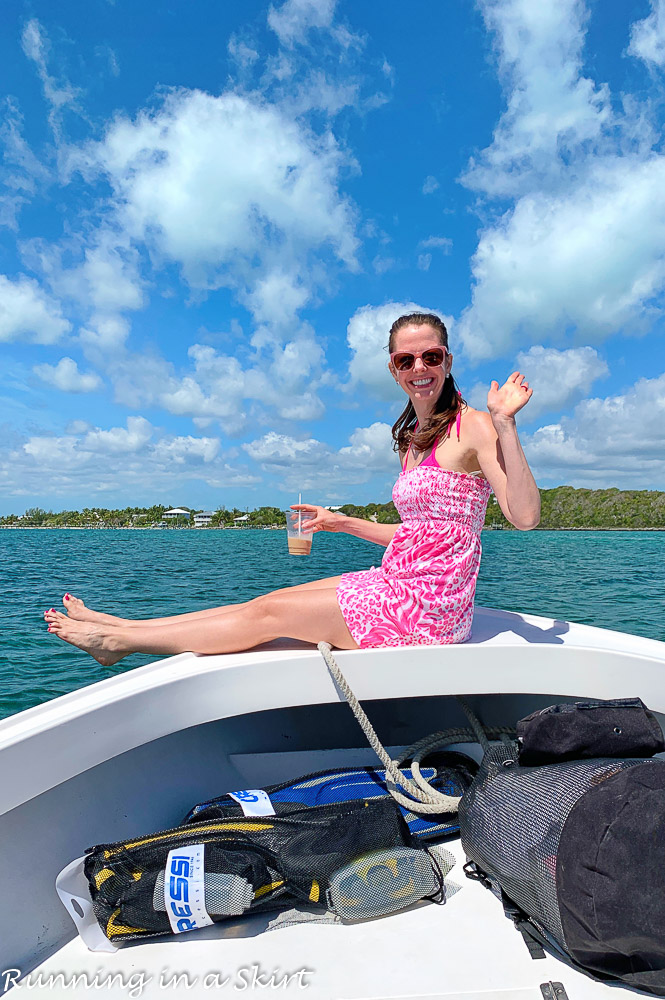 My first stop was Pete's Pub in Litte Harbor, which is my favorite little beach bar in the world. I'm happy to report that Pete's Pub is back in business too.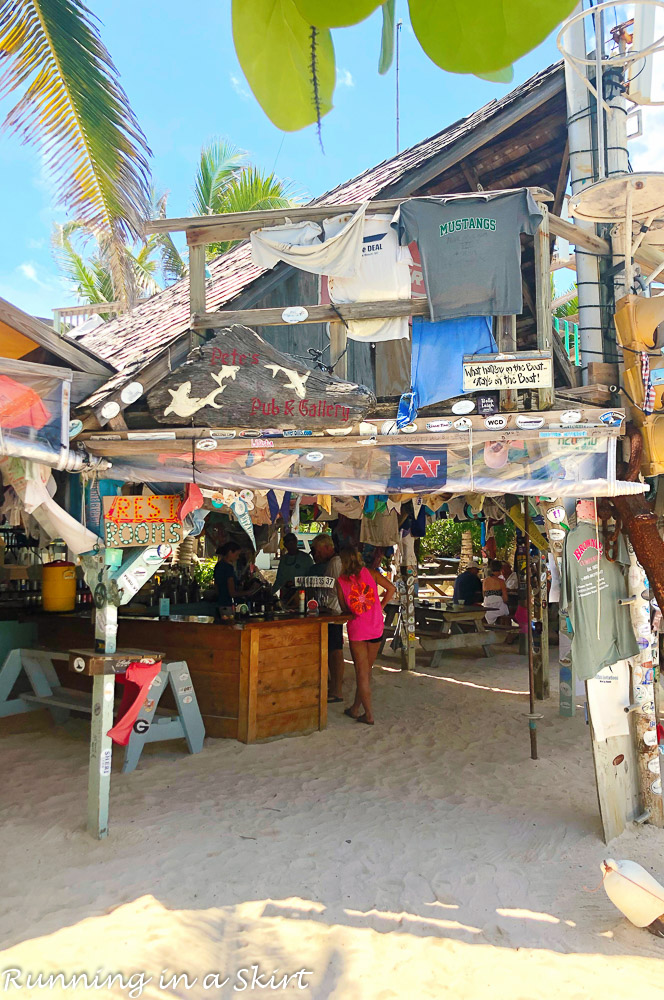 I like to say it's the beach bar that the rest of the world is trying to imitate.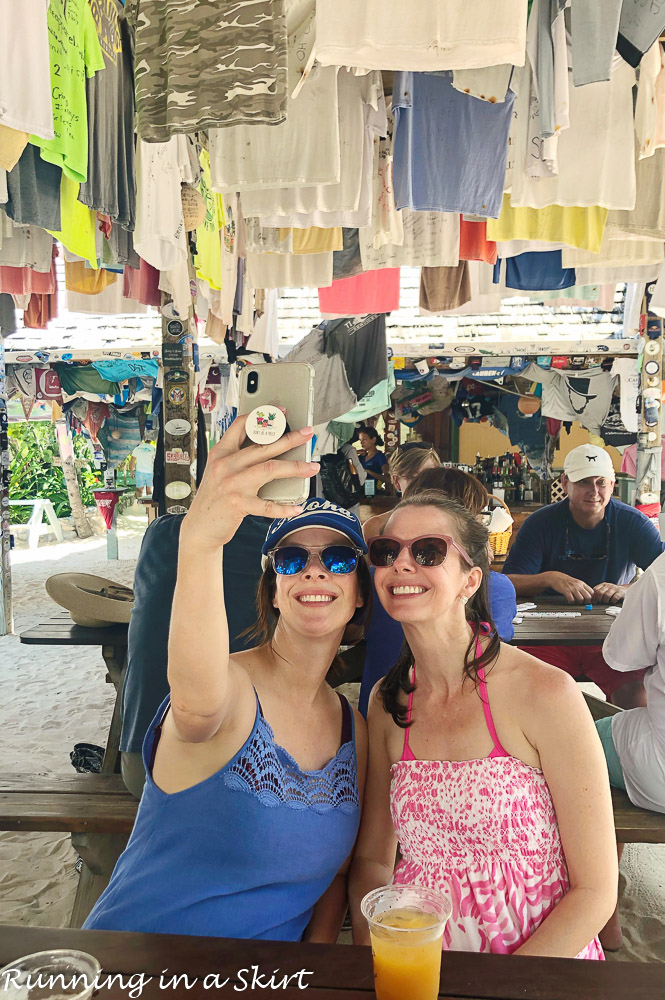 We ordered a few of their famous Blasters and a spread of fish sandwiches, which were TO DIE FOR!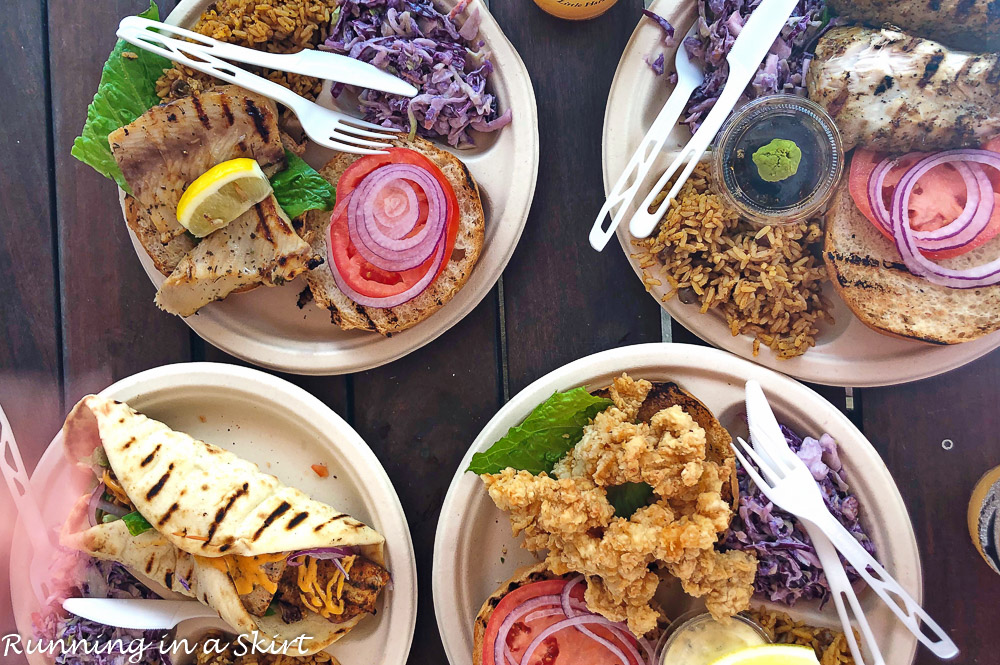 I love it when a dive bar is not just fun but has really good food and Pete's Pub has epic food.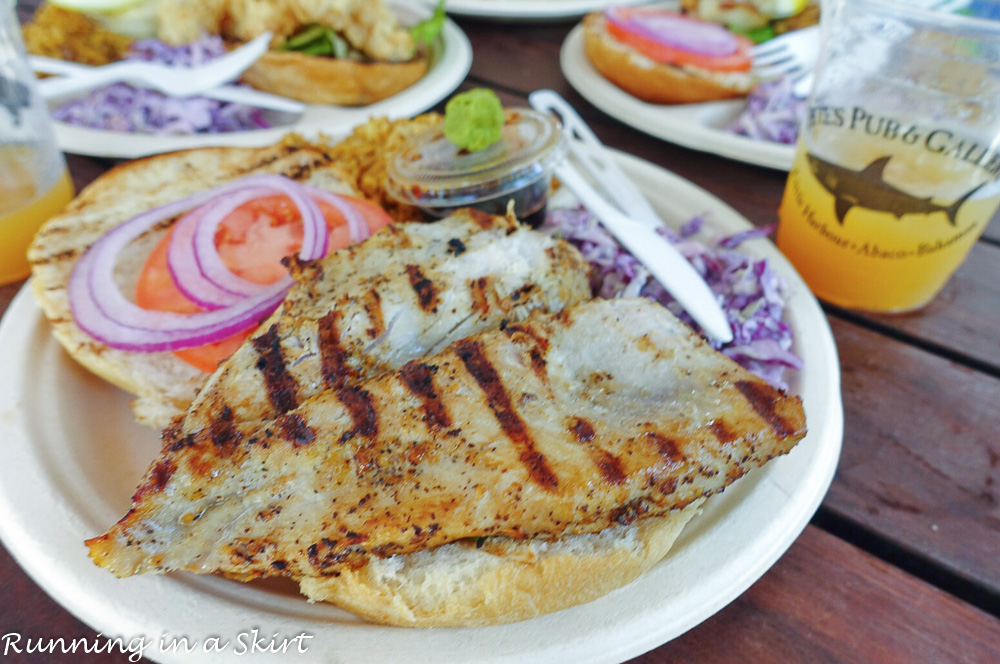 The last time we went we brought a t-shirt to hang on their wall (It was STILL there 2 years later!) and this time we brought onesies to celebrate Hunter and Jackson!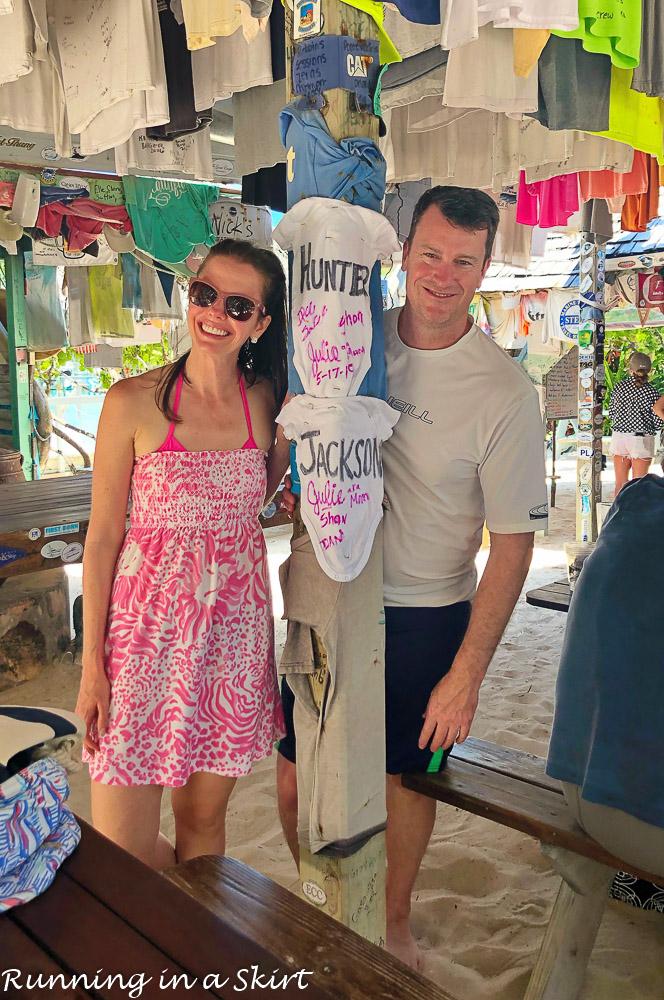 We spent several hours just relaxing and taking in the views.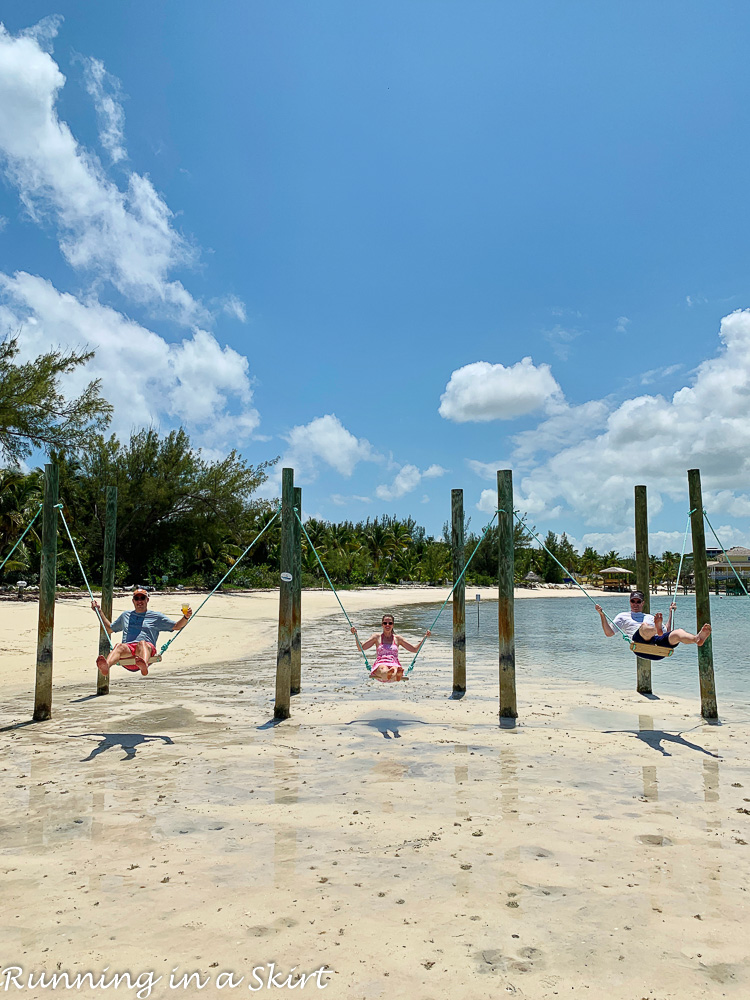 Our next stop was past Tilloo Cay to look for starfish. We didn't spot any BUT we did spot a beautiful stingray.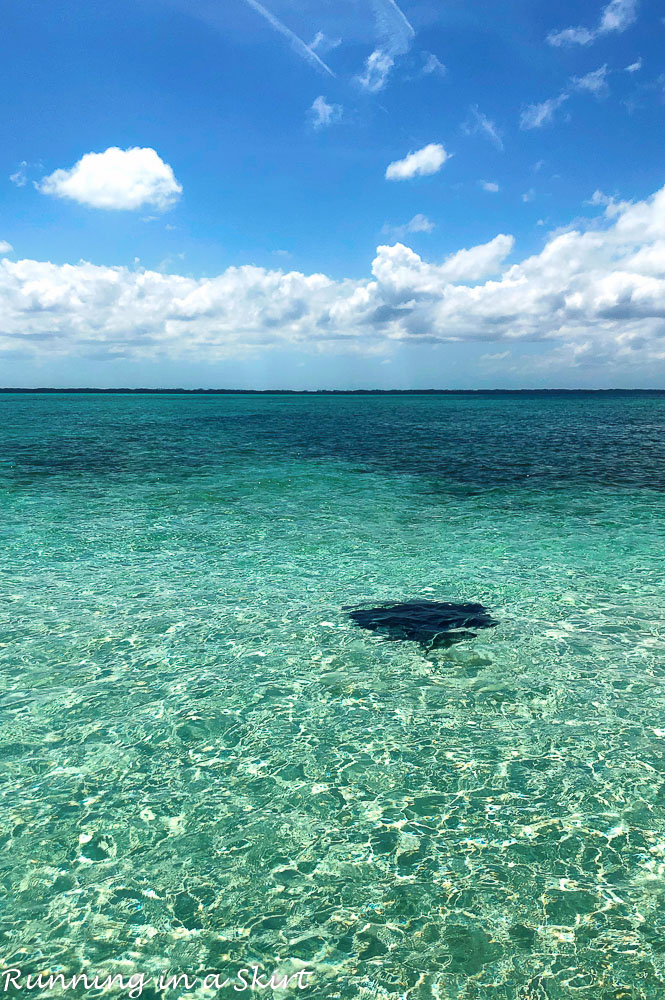 Our last stop of the day is Tahiti Beach, which is on the far end of Elbow Cay. If you are curious about what to do in Hope Town Bahamas this is it!
Tahiti beach is this beautiful sand bar that stretches out into the ocean. It is surrounded by shallow water making it the perfect place to dock a small boat and hang out. Watch the tide charts for the best time to go. It's one of the main attractions on the island.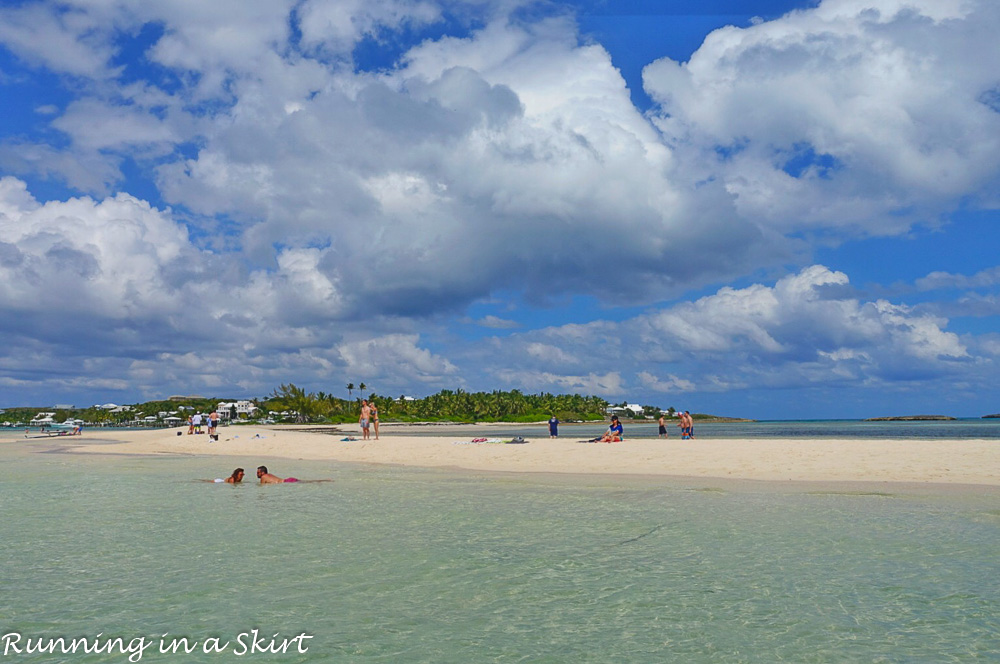 Since we visited last, a fun boat bar opened up on Tahiti Beach called Thirsty Cuda. We stopped for a drink, which was a fun addition to the area. Thirsty Cuda is also back in business post Hurricane Dorian.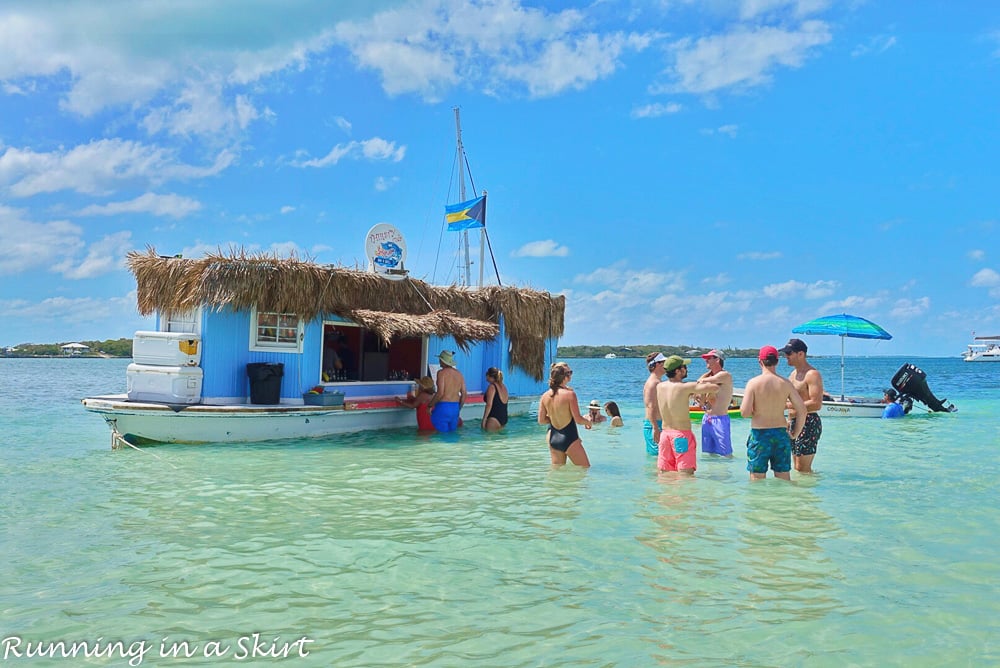 We spent a few hours lounging in the shallow waters before heading back to Firefly Sunset Resort for dinner. The sunset turned this gorgeous shade of pink ending another magical day in the Abacos.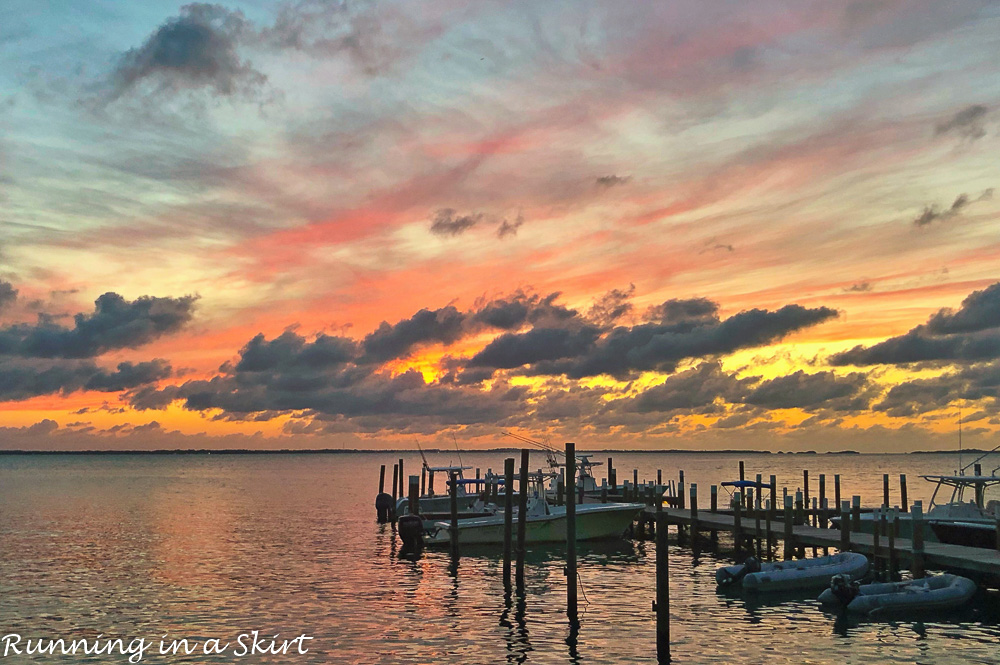 Day 2 -What to Do in Hope Town Bahamas
The weather looked picture perfect for the second full day of our trip so we decided to head out for another boat day! I brought my giant unicorn float along for the ride.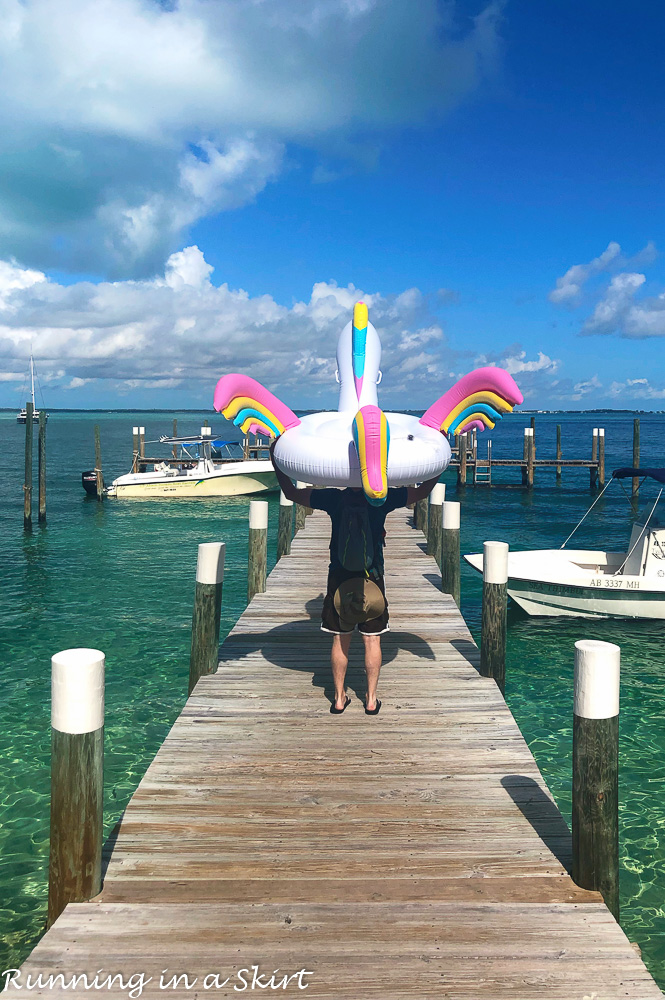 Our first stop was snorkeling at Mermaid's Cove, which is full of tropical fish. I spotted this starfish on the way there. Don't worry, I put it right back :-).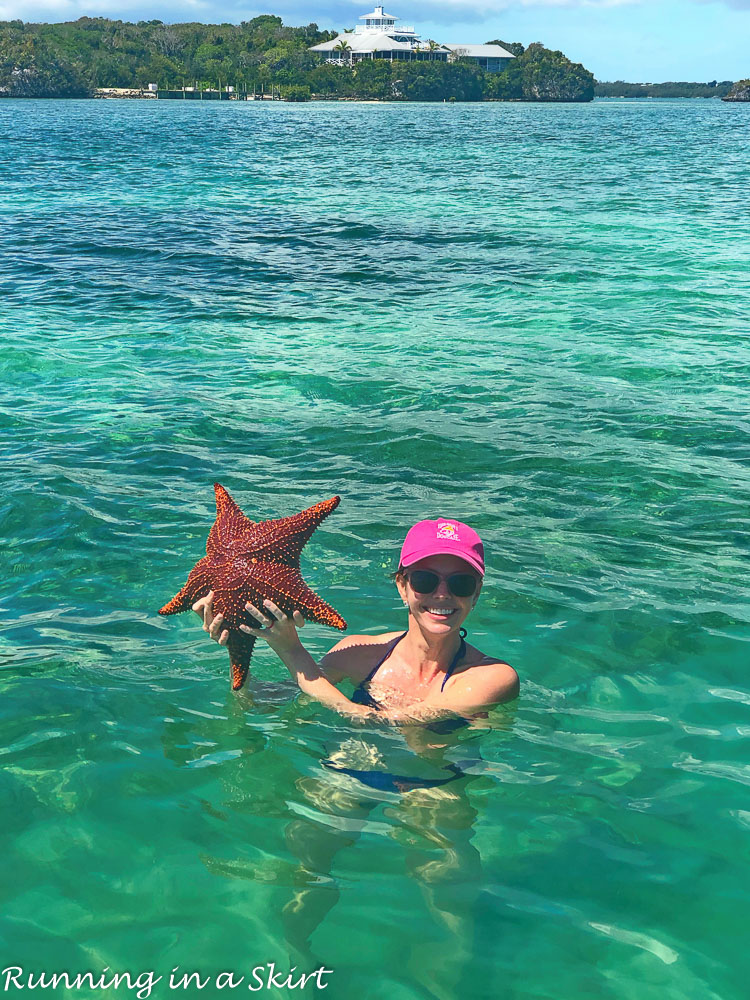 After snorkeling, we took the boat to Man o' War Cay and the Dock and Dine restaurant. Unfortunately, I can't find anything online confirming that they have reopened after the storm.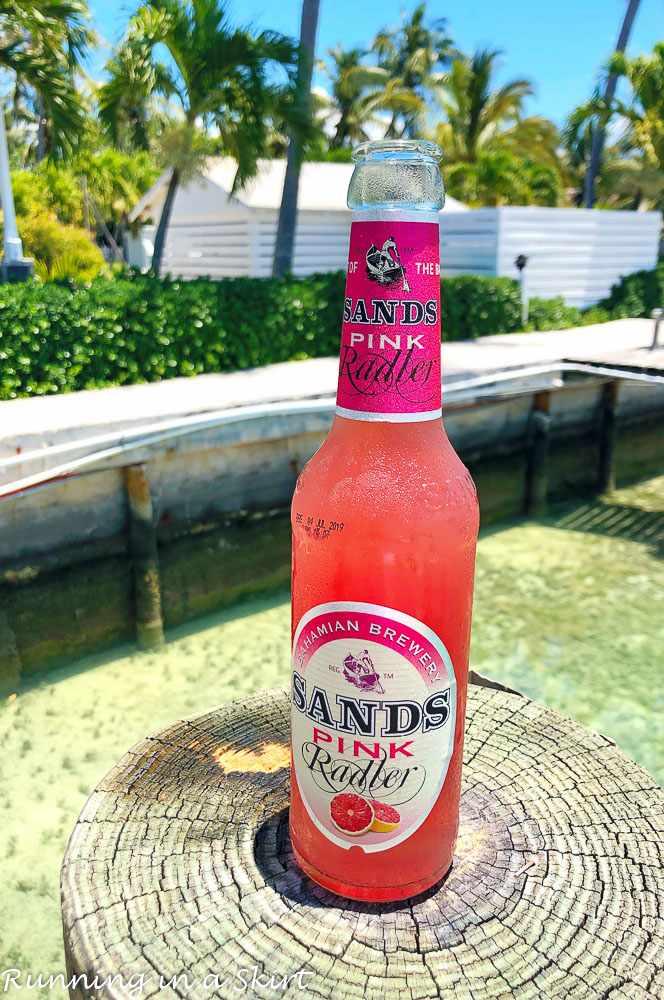 The entire crew really enjoyed the lobster cakes and the Cracked Conch.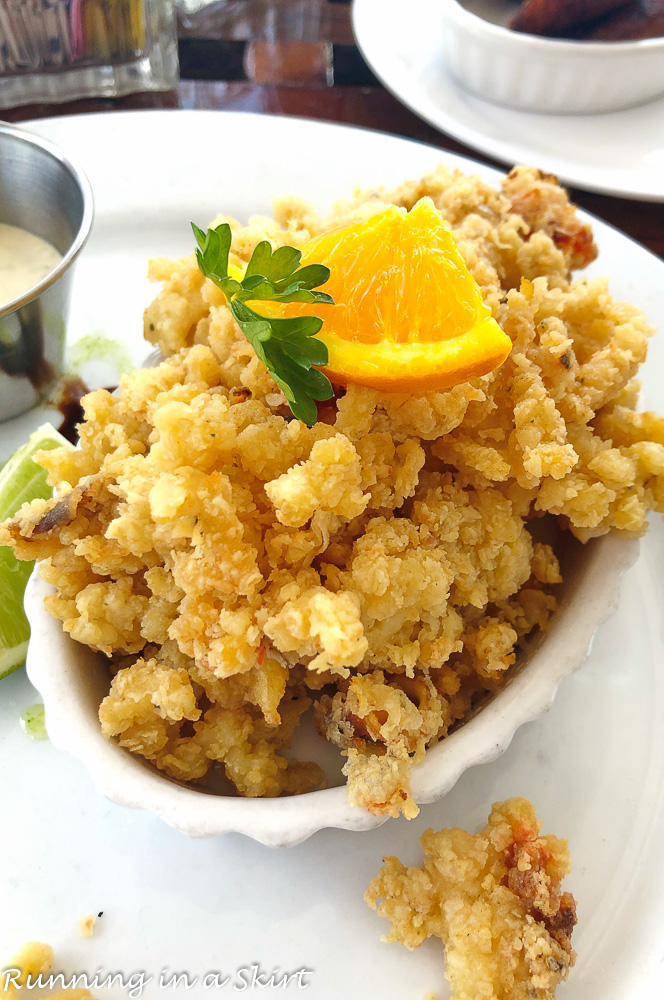 The next leg of our journey was a secret cove where the water is never more than a few feet deep.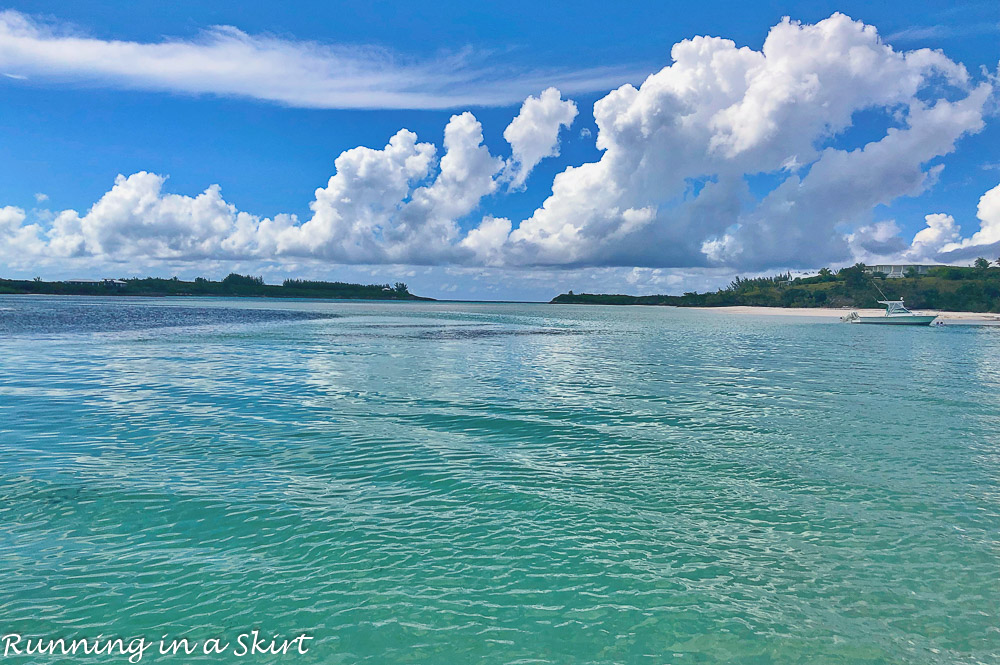 I had the best time on my float!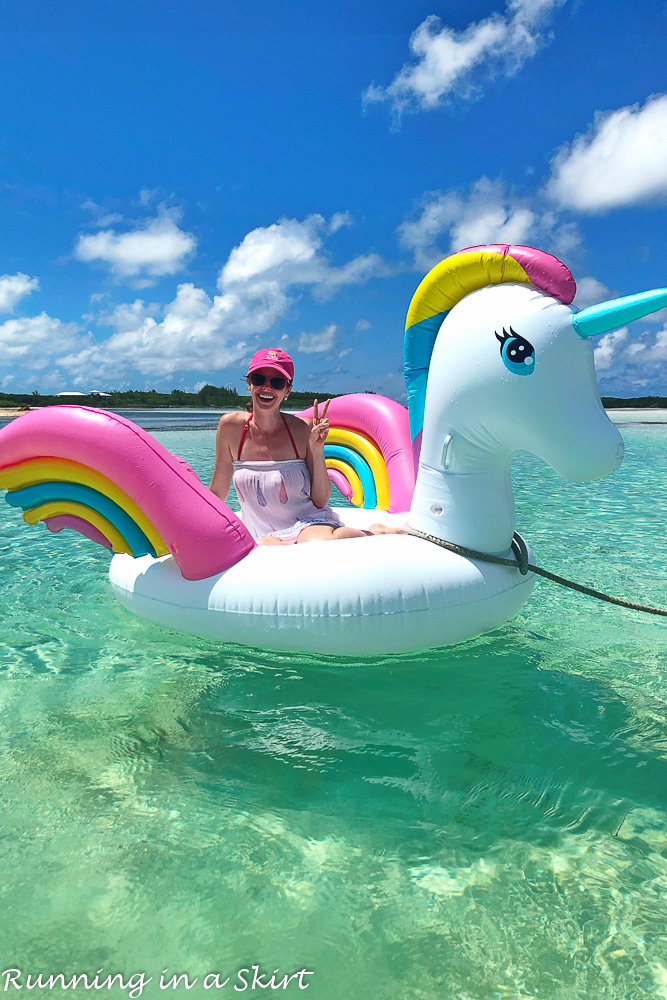 AND I even brought floats for our drinks, which was too much fun.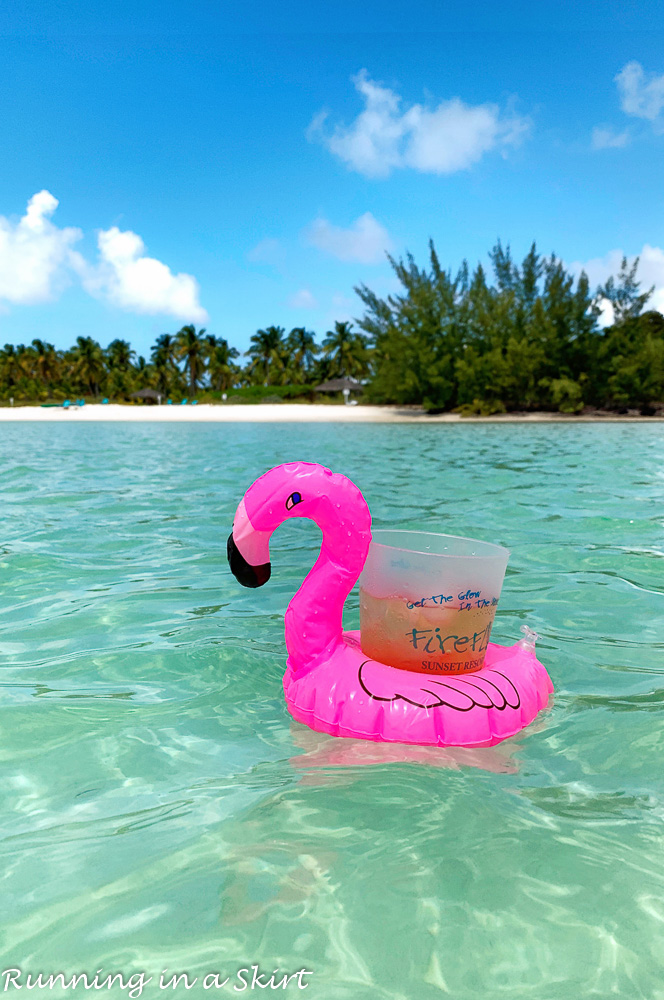 The last stop of the day was Great Guana Cay. We had a drink at the infamous, Nippers Bar, which is back in all of its fun glory.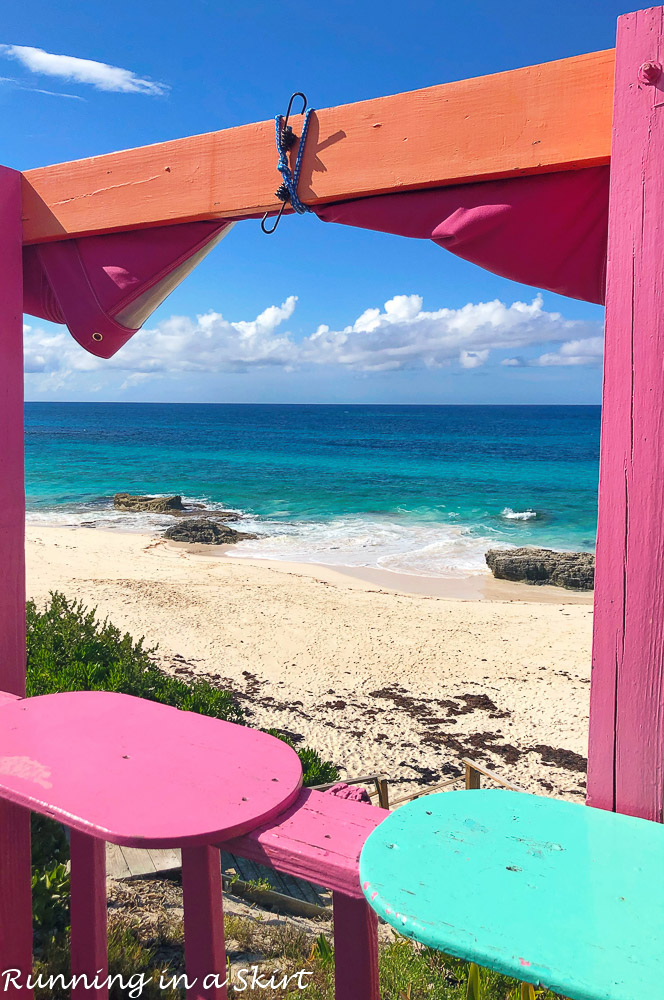 We also walked the gorgeous beach.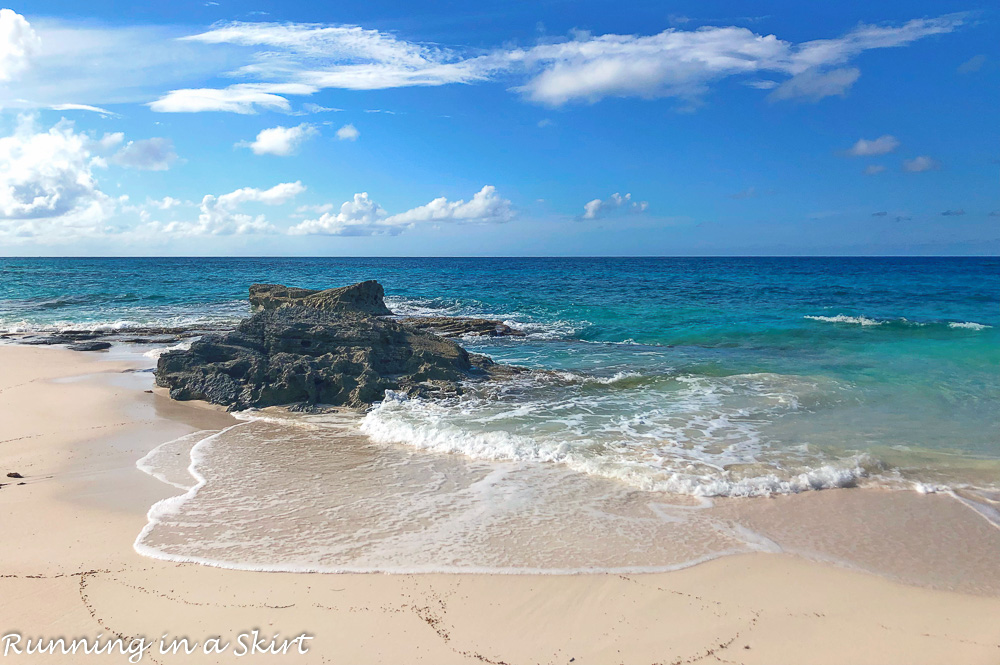 This place is just so gorgeous!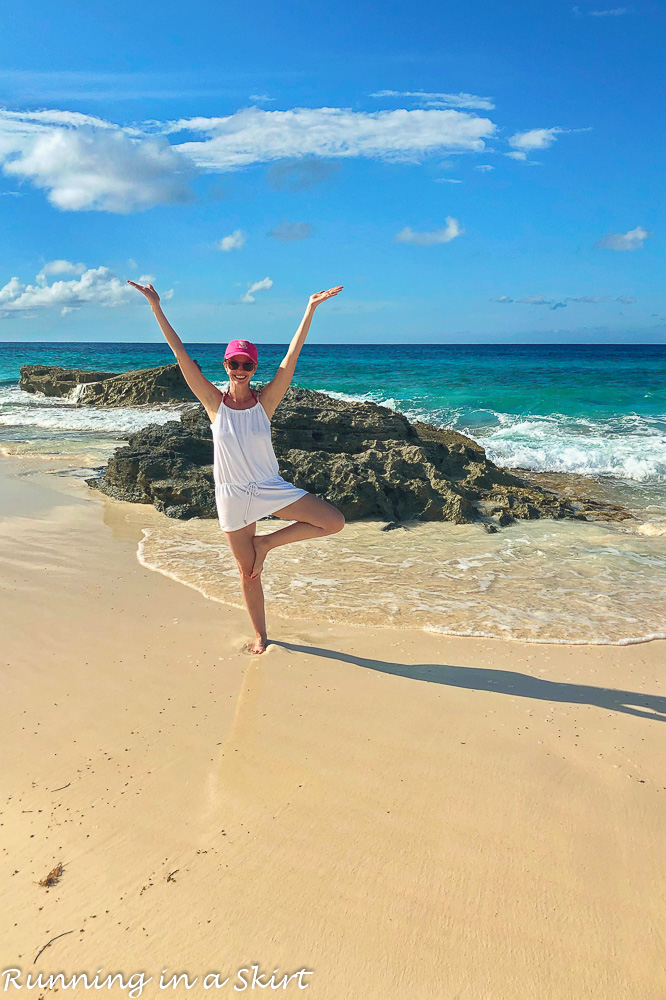 We also briefly stopped by Grabbers, another local bar, restaurant, and small resort.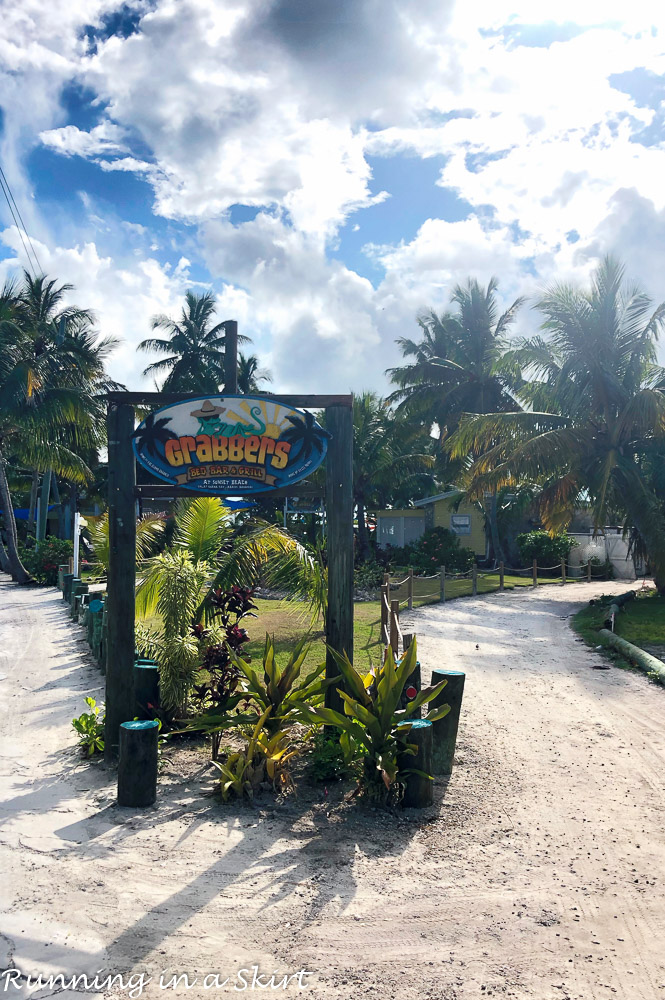 It was our first time there and we loved it!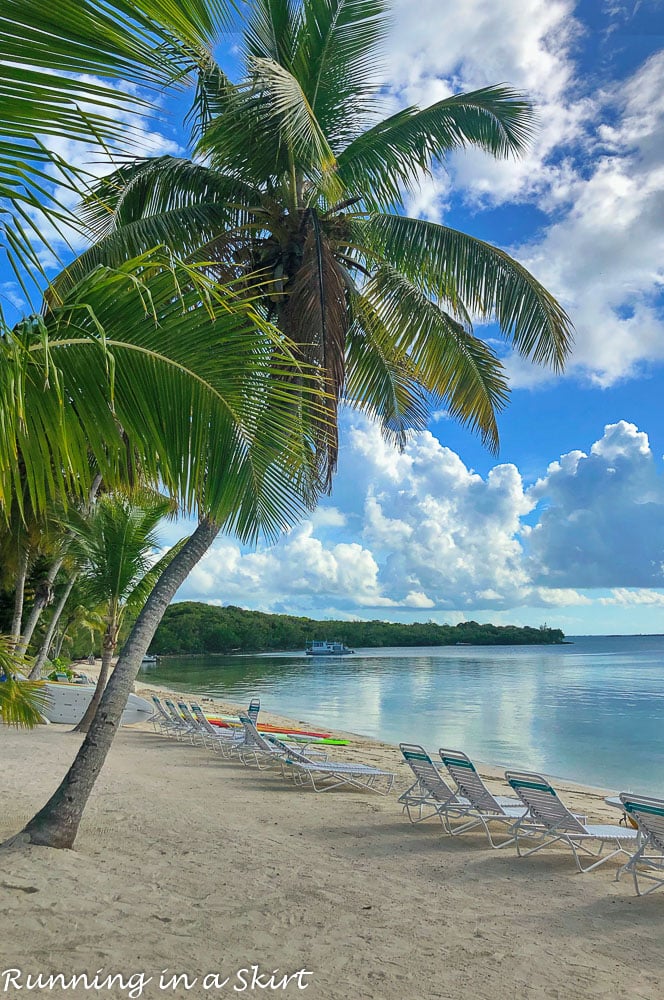 We had a LONG boat ride back to Elbow Cay and Hope Town Bahamas where we quickly got ready to see another sunset.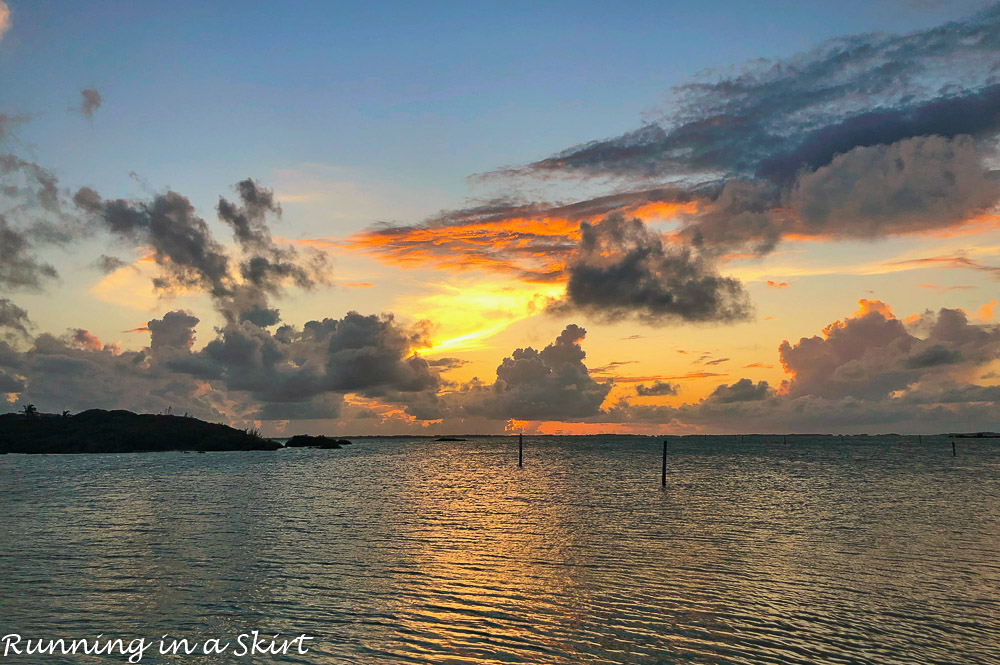 We were all exhausted but enjoyed another quick fish dinner. This grouper was one of the best meals of the trip!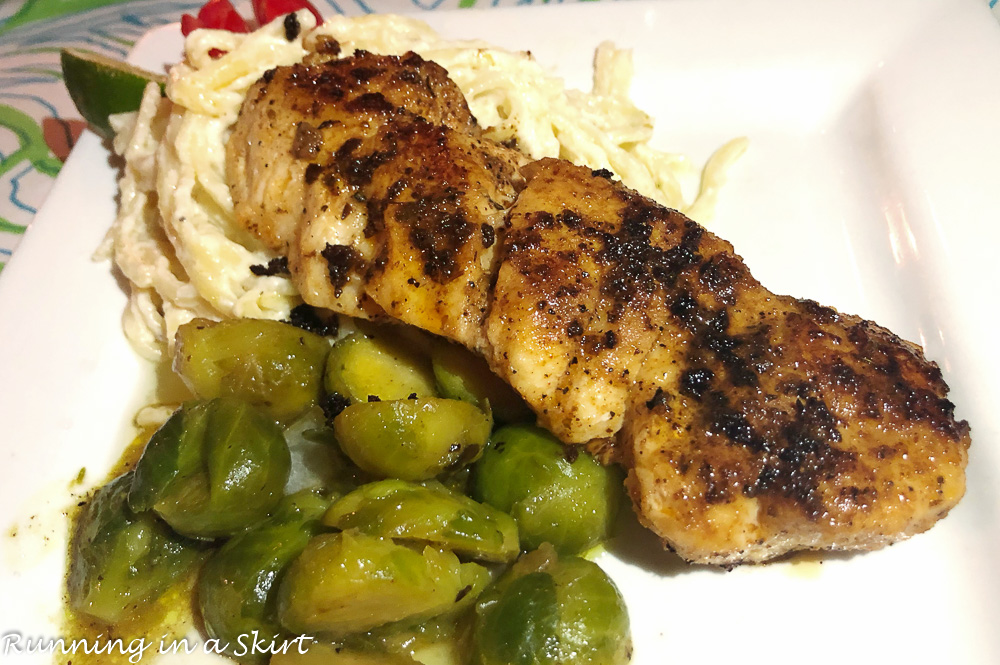 Day 3 - What to Do in Hope Town Bahamas
Since we had spent the better part of 2 ½ days running around, we decided to take our last day of vacation a bit slower.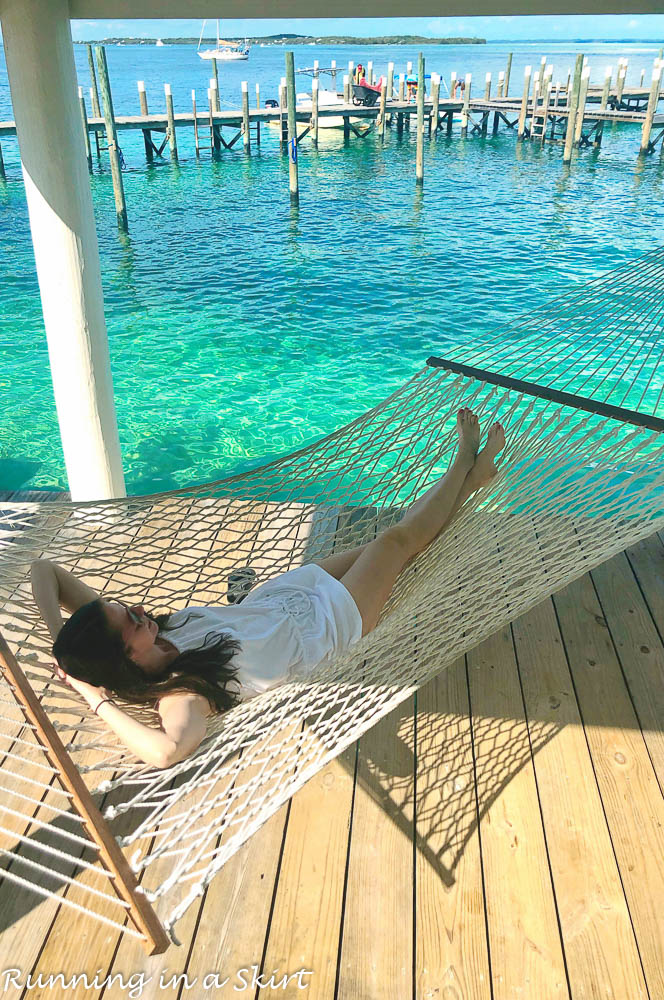 We hung out on the dock of our resort. We even spotted a nurse shark. (That's the little boat we rented for the trip!)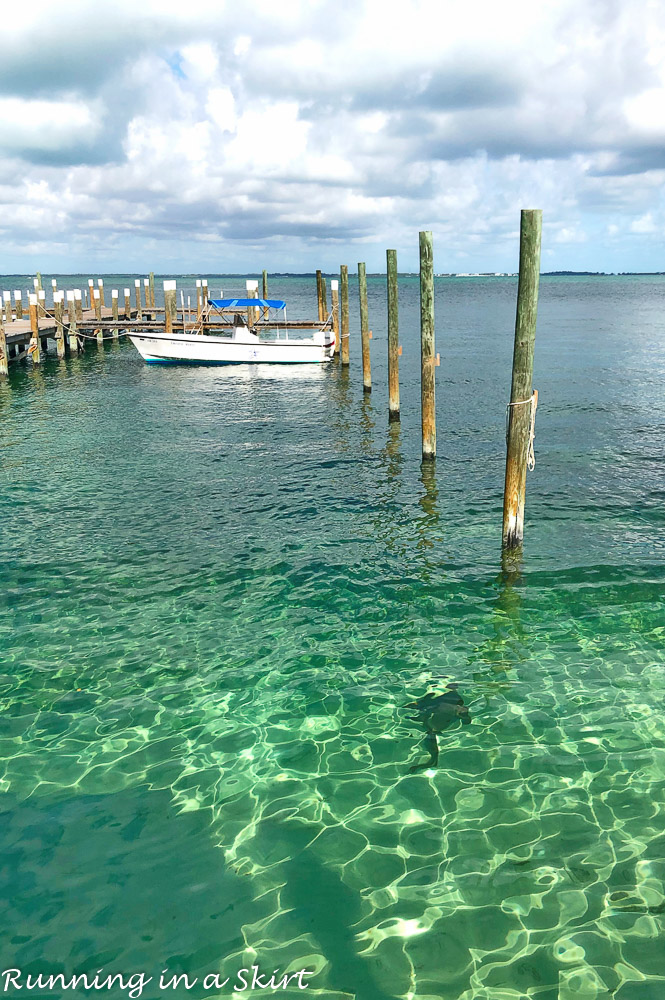 We decided to make a few stops for lunch including Munchies, which is known for their takeout. They were closed for a long time after the hurricane but are now BACK open.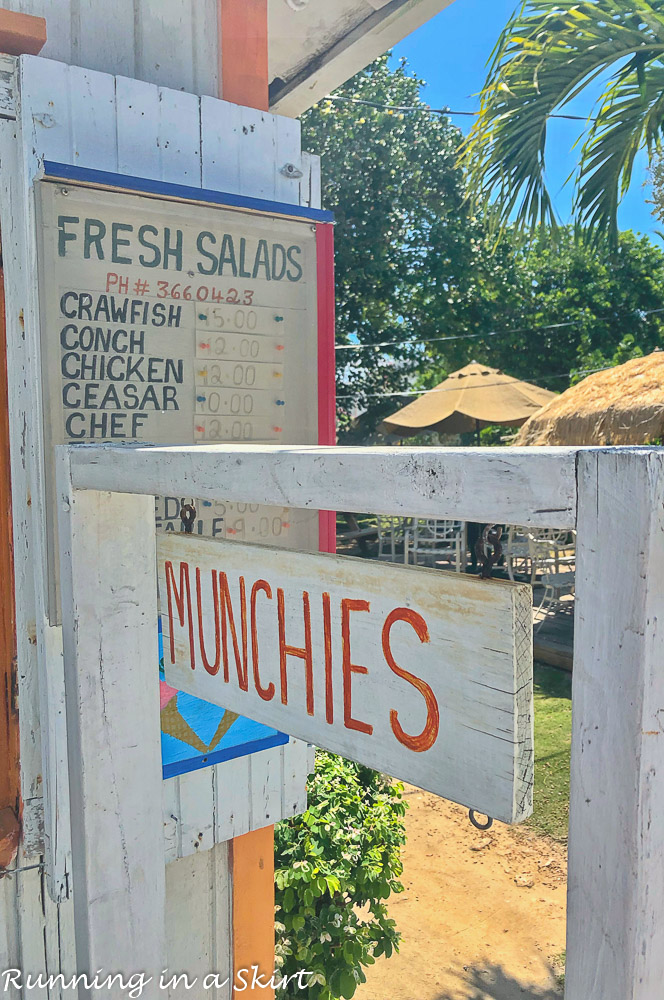 We got conch salad and it was incredible. If you aren't familiar with conch salad it's like ceviche with conch. If you ever see it on a menu, do yourself a favor and order it!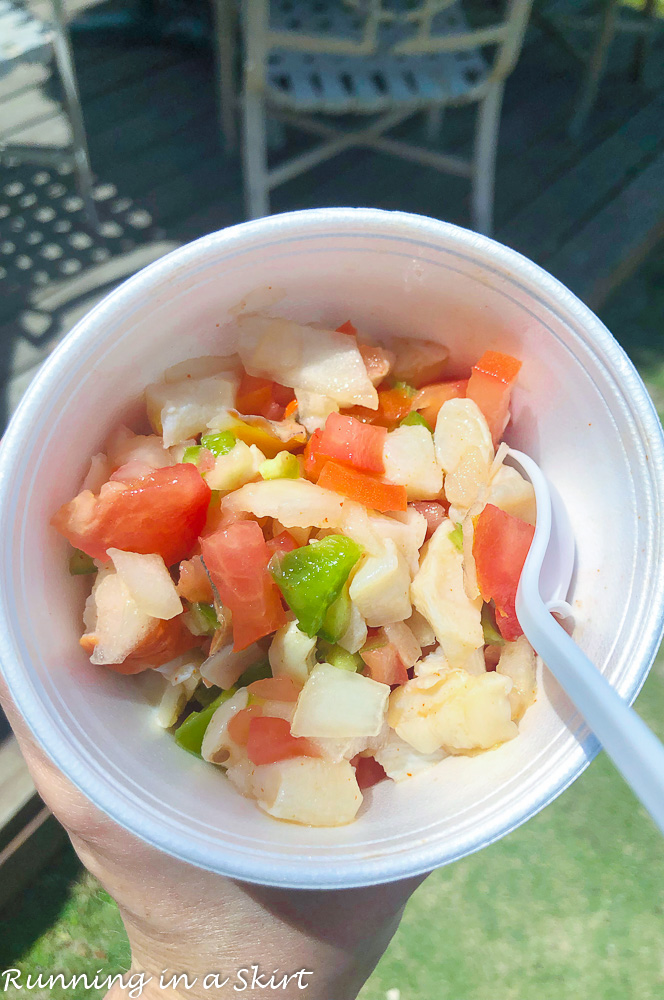 We explored Hope Town Bahamas and these spectacular views.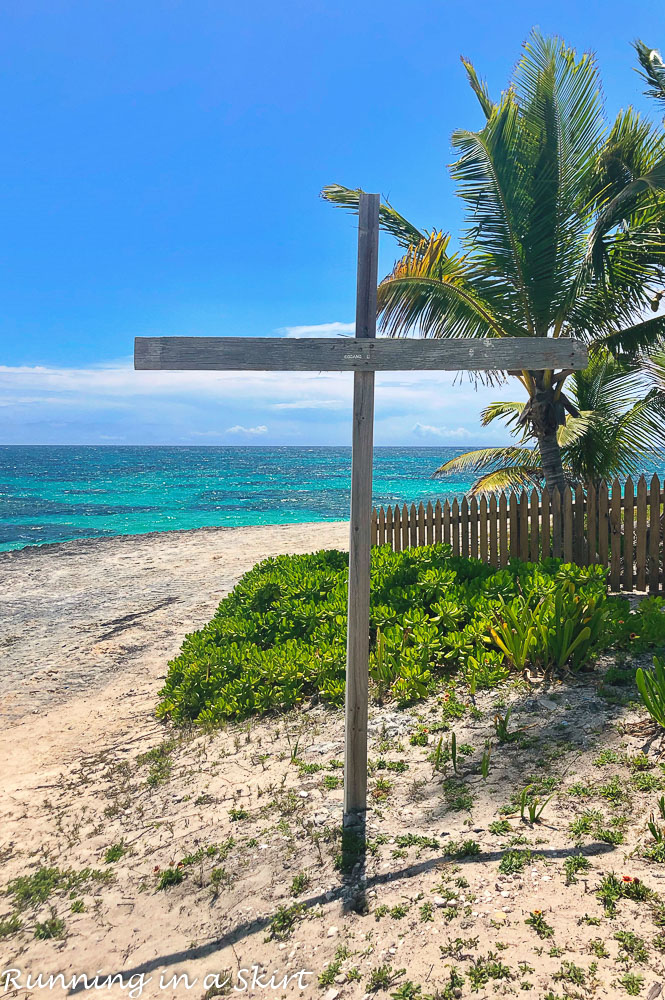 Next stop for lunch was On Da Beach Bar and Grill. On Da Beach at Turtle Hill Resort is open like old times!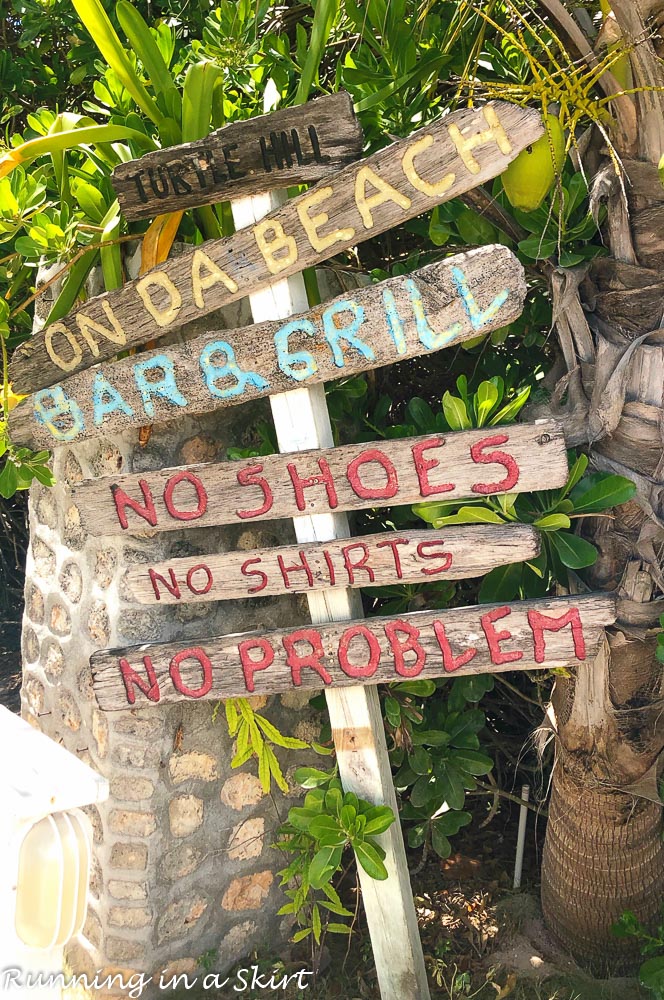 In my opinion, they have the best Pina Colada in the world.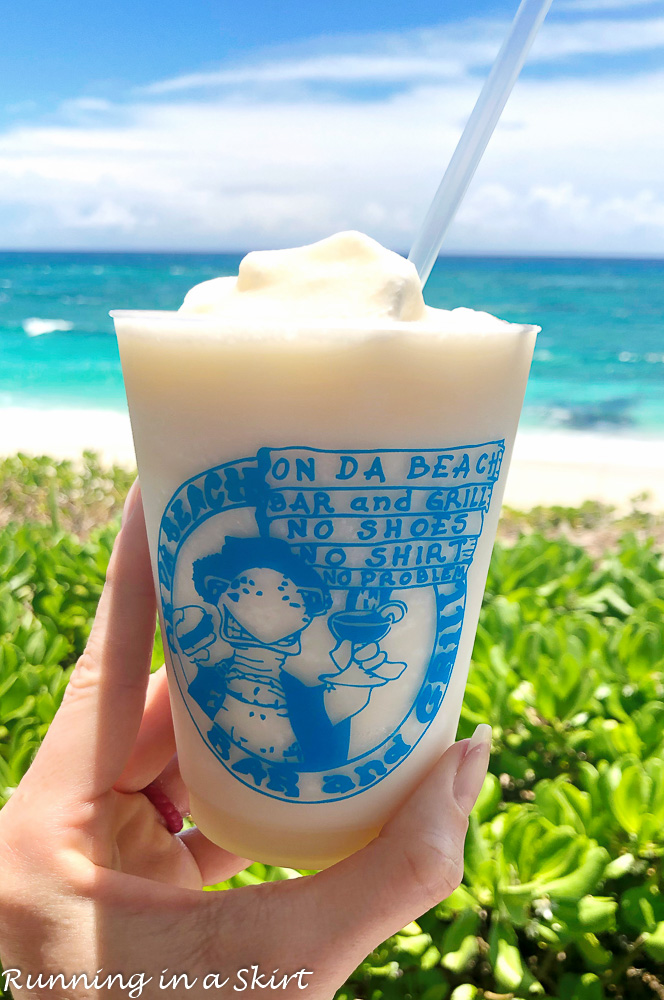 We also got a fish melt, which I know sounds strange but it is SO GOOD.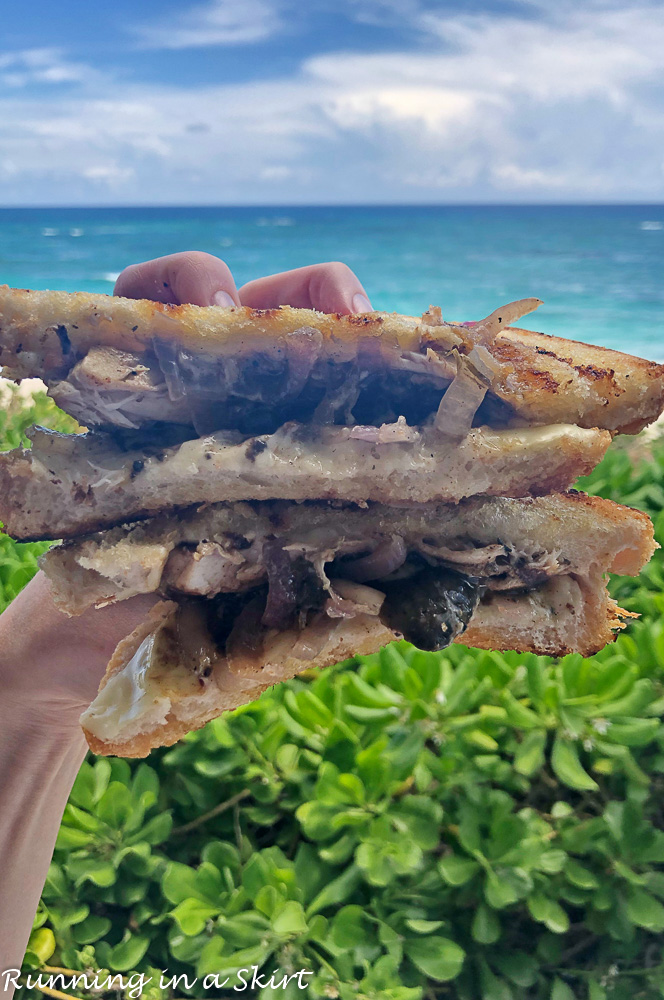 The rest of the afternoon we spent relaxing on the dock and beach.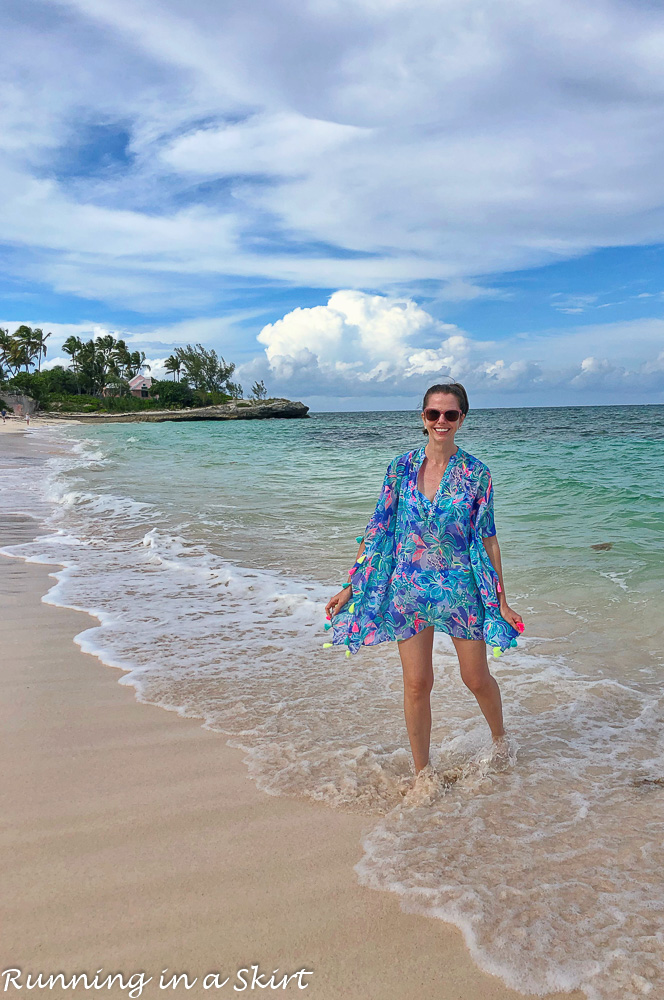 For our last dinner in Hope Town Bahamas, we had another lovely dinner at Firefly.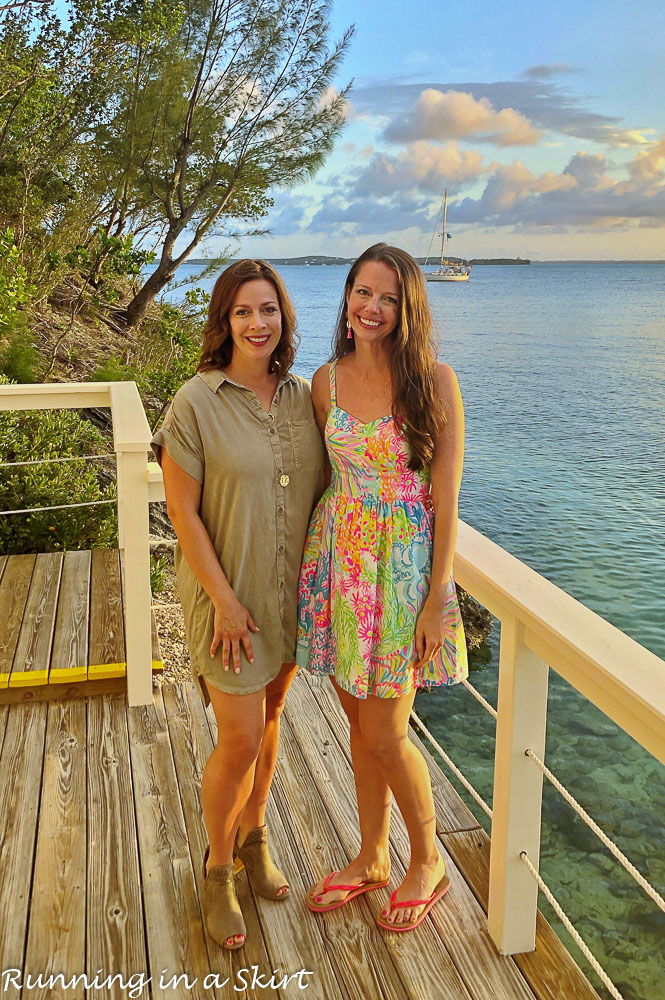 It started pouring just as the sunset, but that meant we got to watch some pretty thunderstorms from the bar overlooking the water. Our last dinner involved more Caribbean lobster and lots of good conversation.
I wanted to get a group of the entire group, but it turned out awful. I think every year something happens to my group photo, so I guess it's a thing :-).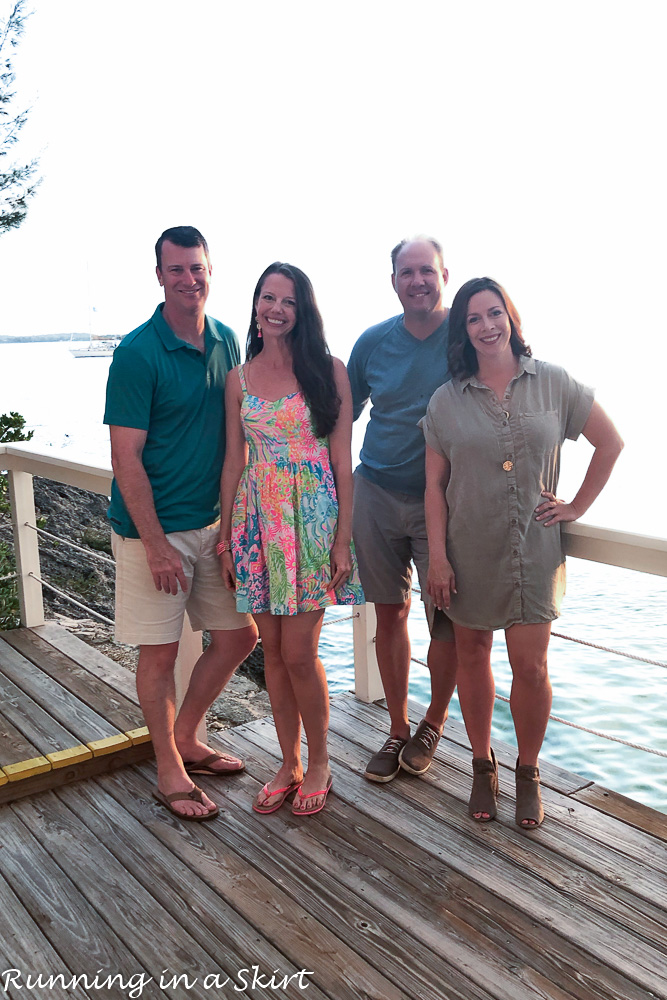 Regardless, we always have the best time traveling together and exploring Hope Town Bahamas. This little corner of the world is nothing short of magical for visitors. I hope you get to see this beautiful part of the world one day too.
What to Do in Hope Town Bahamas Checklist
There aren't a huge number of traditional attractions to see in Hope Town Bahamas BUT this island is chock full of hidden gems and natural adventure.
See the Hope Town Lighthouse
Explore Abacos Sea by Rental Boat
Pete's Pub - technically on Marsh Harbor
Tillow Cay - look for starfish!
Tahini Beach
Snorkle Mermaid's Cove
Boat to Nippers and Grabbers on Great Guana Cay
Boat to Treasure Cay
Wyannie Malone Museum - Currently under repairs, but hoping to reopen soon.
See the Swimming Pigs on Green Turtle Cay
Where to Eat Hope Town Bahamas
Here's an overview of where to eat in Hope Town Bahamas, but make sure to read my entire guide to the best Abacos Restaurants.
Where to Stay & Lodging on Hope Town Bahamas
Vacation rentals through VRBO
Sea Spray and Hope Town Harbour Lodge have not been rebuilt after the storm.
If you are curious about what to do in Hope Town Bahamas, check out my other trips...